Best Bar & Lounge Clutter CC for The Sims 4
This post may contain affiliate links. If you buy something we may get a small commission at no extra cost to you. (Learn more).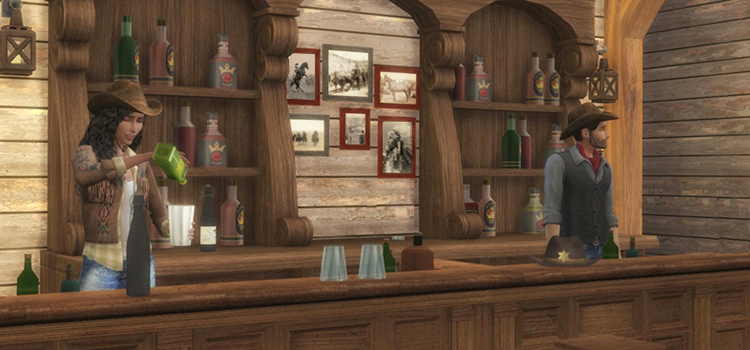 I love letting my sims loose on the town and watching them make bad choices.
When the Sims expansion pack 'Hot Date' came out, it changed the whole game by adding an inventory and the ability to leave your house and travel via taxi to SimCity, where you could visit different venues, including a nightclub.
I was thrilled about the idea of my sim going out and about. My eight year old self somehow convinced my parents to buy the game and now nightclubs and bars hold a special place in my heart.
In The Sims, anyway.
Sometimes the bars in TS4 feel a little empty or charmless. That can easily be fixed with the right CC to bring your downtown scene to life. Whether you're trying to make your venues more realistic or just more exciting, we've got the CC to make your dreams come true.
So grab your buds or find a date and hit the town with purpose.
1.

Atomic Signs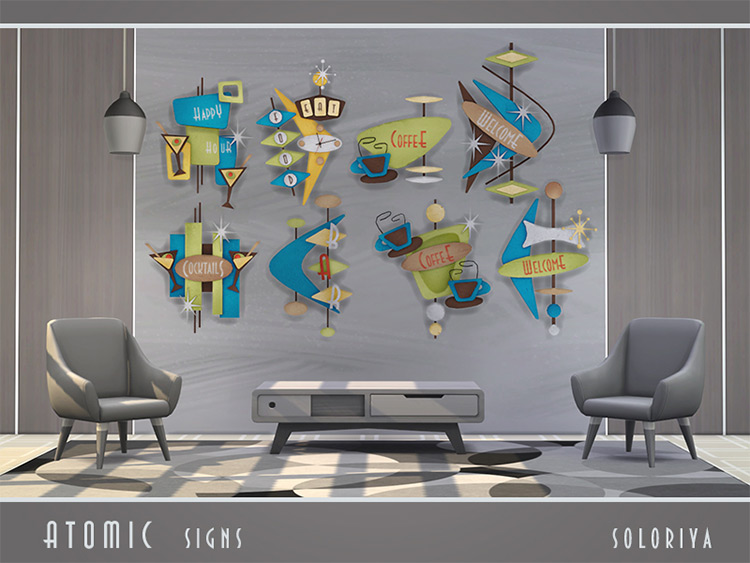 These fun atomic signs are the perfect way to invite sims into your retro 50's themed lounge.
This set comes with a bar, cocktail, and happy hour sign as well as a restaurant, two coffee, and two welcome signs.
They come in two different color choices, red and blue, and also come in Simlish or English text.
2.

Industrial Bar Caipirinha Set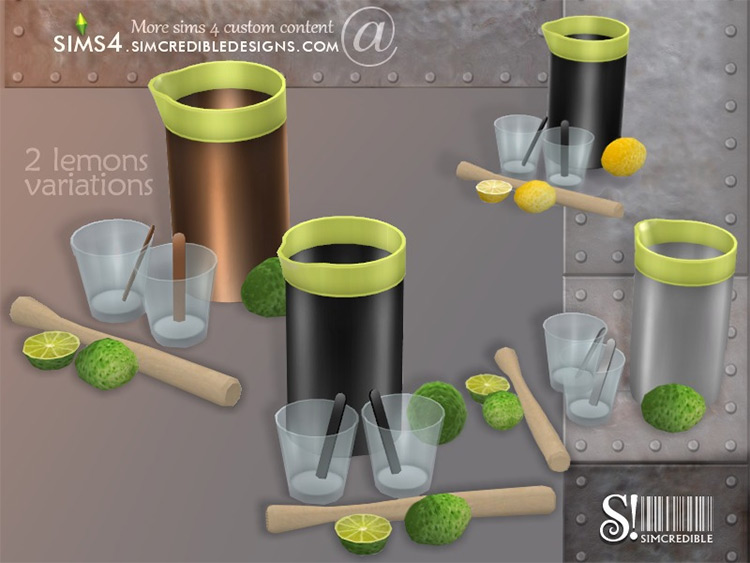 This sleek set desperately makes me want mojitos.
Or a Moscow mule.
Really, anything with lime.
I love that it comes with a muddler too. Now your sims can experience the delicious wonder of fresh fruits and herbs infused in their drinks. At least it will look that way with this modern looking set.
And there are three color variations available: copper, black, and clear.
3.

Industrial Bar Drink Bottles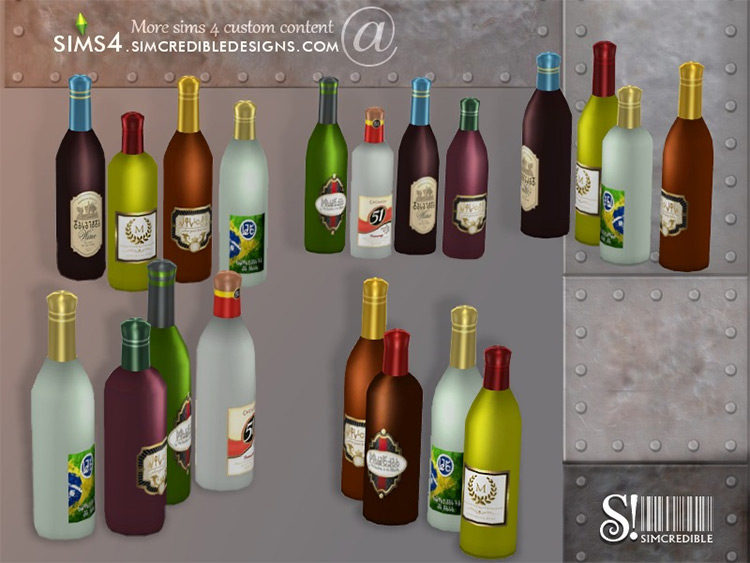 Is a bar really a bar without bottles everywhere?
This CC set will help your sim feel immersed in the nightlife vibes with a mixture of wine bottles and liquor bottles.
The five different variations of colors and labels make it easy to mix and match so you can build up a whole counter's worth of bottles with ease.
4.

Flamingo Fruit Board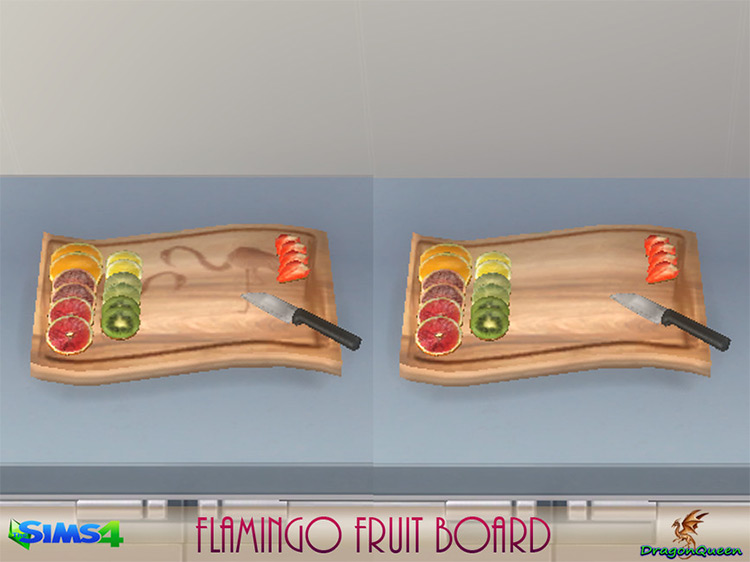 I can only imagine that chopping fruit is an endless task behind the bar, and these detailed fruit boards are the perfect realistic part of bar decor.
Feature some lemon, lime, orange, blood orange, kiwi, and strawberries on a cute flaming board either behind a bar or in your sim's kitchen.
If flamingos aren't your thing, the board also comes without the design.
5.

Summer Drink clutter at Caramelize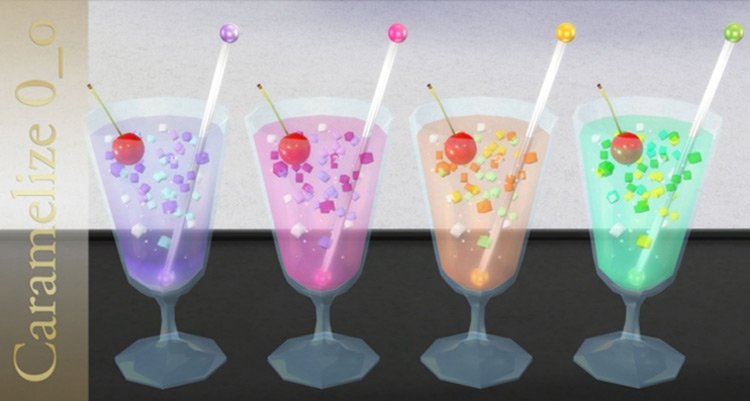 I am in love with these drinks.
The stirring rod reminds me of candy and the colors are super fun. The cherry on top is the perfect addition to this bright summer drink.
You have your choice of purple, pink, yellow, and green.
Each comes with a matching stir rod and all of them are the perfect addition to lay around your beachy tiki bars.
6.

Silicon Drink Crate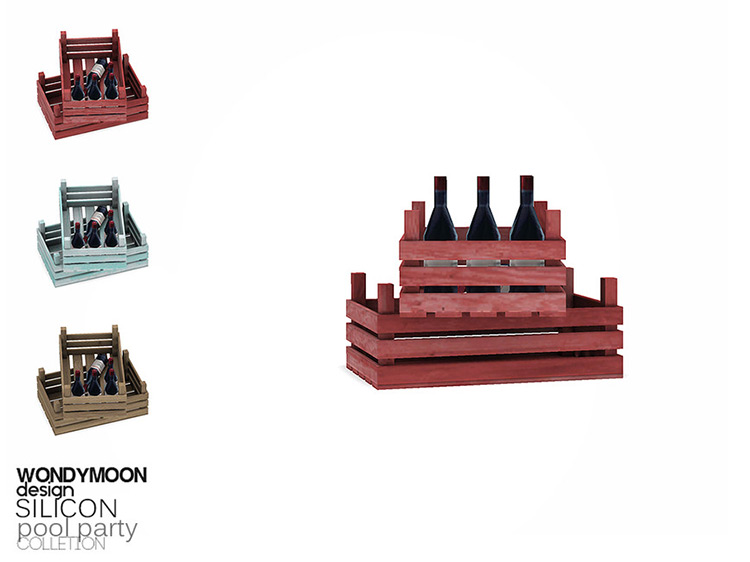 Lay these bad boys around the back of the bar, or outside the back door, to give your favorite venue that extra oomph.
These could also be used in your fancy restaurant builds or bougie lounges to lay around their wine cellars.
These crates come in three colors of stained wood – so you can choose from birch, ash, or mahogany.
7.

Vortex Club Party Clutter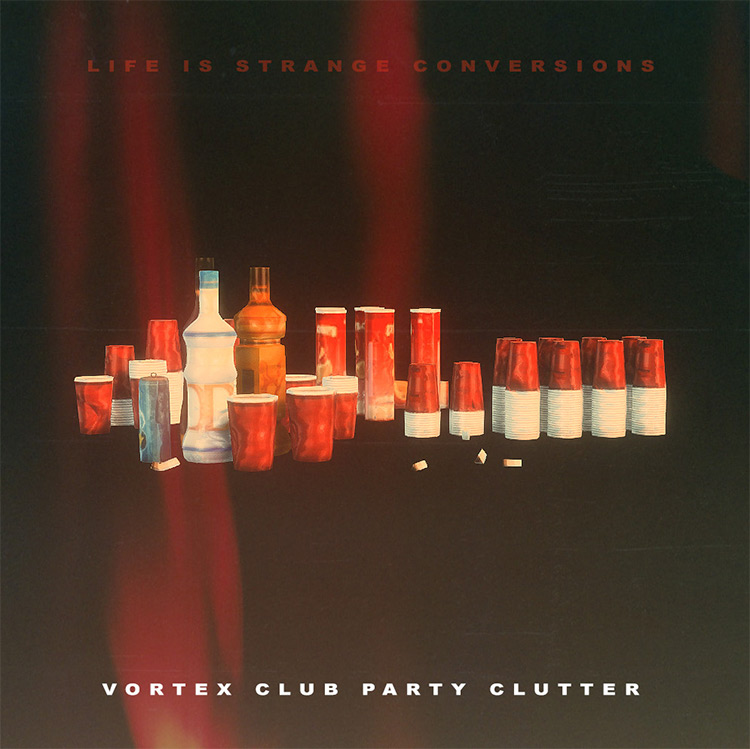 Into more of the college scene?
Then the red solo cup will always be a prominent icon of college bar life.
It's actually well known around the world for its presence in the US college party scene.
And this CC pack is also great for decorating a trashy dive bar, or a bar in your sim's college town. It comes with a few liquor bottles, two stacks of cups in different heights, decorative cigarette butts, solo cups (full and empty), and an energy drink.
8.

Flavie Bar Set Part 2 Clutter by Syboubou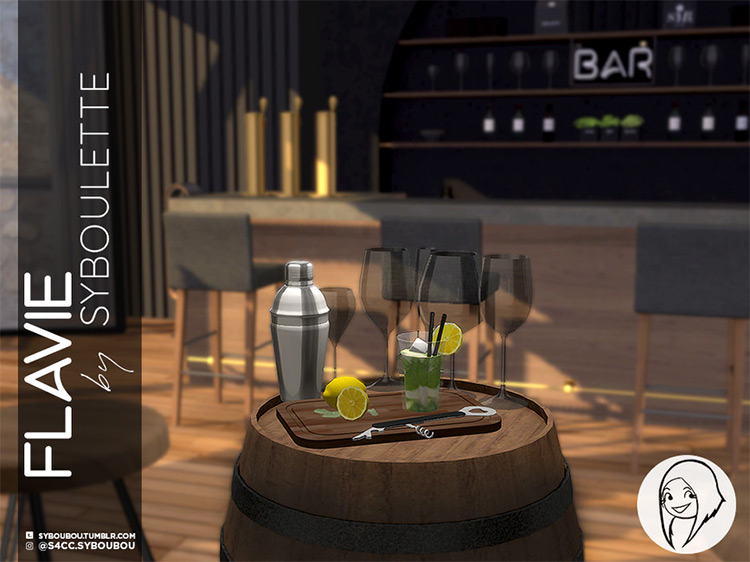 I love this stylish bar set.
It would look at home in any bar, lounge, or even on the kitchen counter at home.
The set comes with a flat bottle opener, a shaker, a cutting board, some lemons, and a delicious mixed drink garnished with a lemon.
And within all of this clutter you'll also find five wine glasses to place at your leisure, perfect for decorating a classy lounge next to some wine bottles. There's a dessert wine, a white wine, a burgundy wine, a champagne and a red wine glass for your high class sims who can tell the difference.
9.

"Last Call for Alcohol!" More Recolors for Liquor Bottles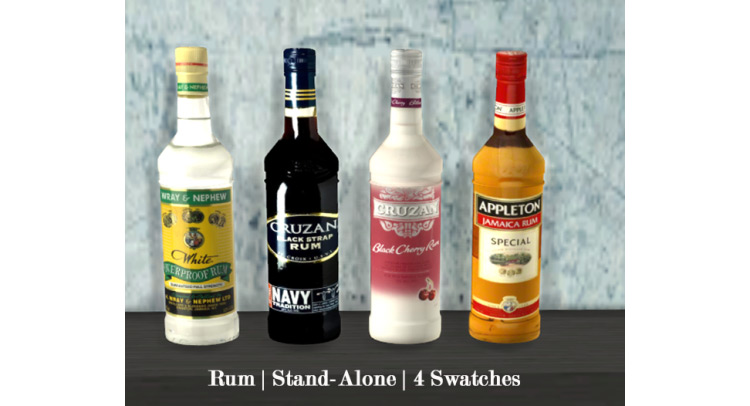 These realistic bottles will make your sim's nights out wilder than they could ever imagine.
There are lots of labels included in this bottle set, including several Hennessy and Remy swatches for Cognac bottles, four types of Ciroc labels for vodka, Cruzan and Appleton for rum, and three different swatches for Bailey's bottles.
These are sure to stand out and would add that final touch to some bottle service booths in your coolest lounge.
10.

Pay Tray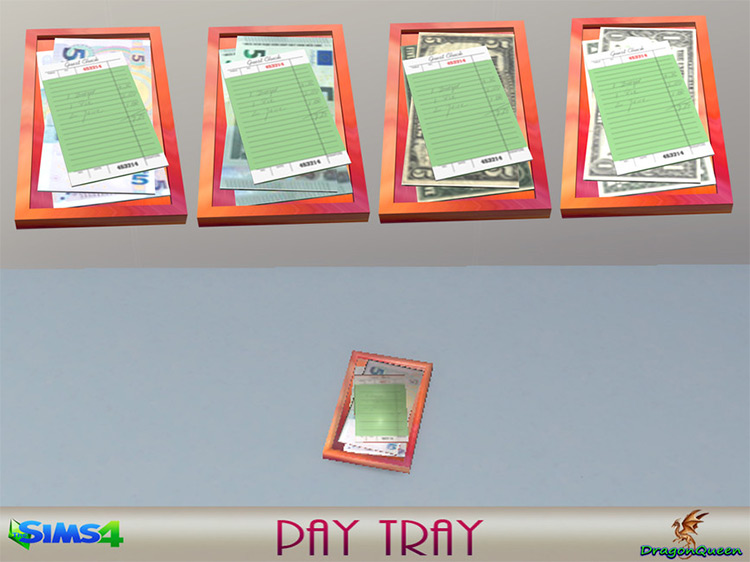 Bring your food and beverage clutter to the next level with this cute pay tray.
I love to leave these on tables that my sims can't actually access (bb.moveobjects is my best friend) or at the end of the bar as decor.
The pay tray comes with five different currency styles including Euros, Yuans, and one USD or five USD bills. Don't forget to leave a tip!
11.

Karaoke CC by Syboulette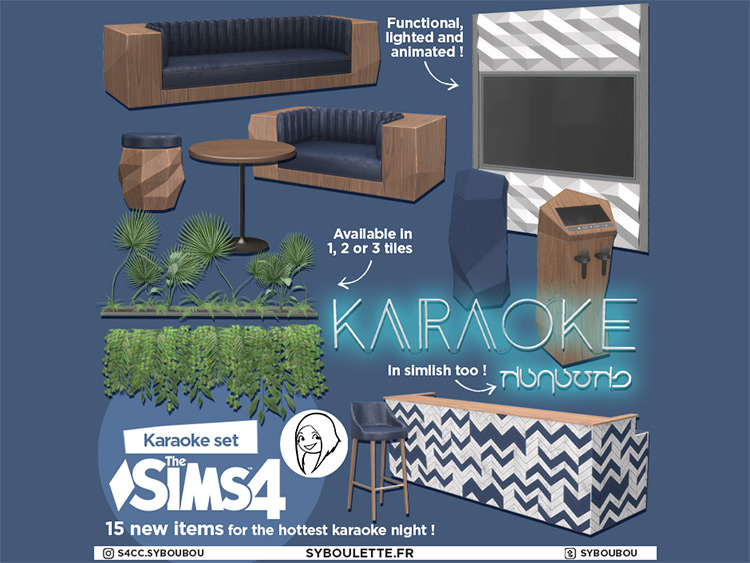 This clutter set is an absolute must-have for a karaoke lounge or bar.
The furniture could easily fit into any bar or lounge build and I love the fun design on the bar. Plus it comes with some stylish karaoke machines.
This set also includes a light up TV wall piece, a neon karaoke sign in English and Simlish, and two stunning plant fixtures which come in one, two, or three tile formats. There are also five color schemes available: pink, white, blue, teal, and black.
12.

Wild West Set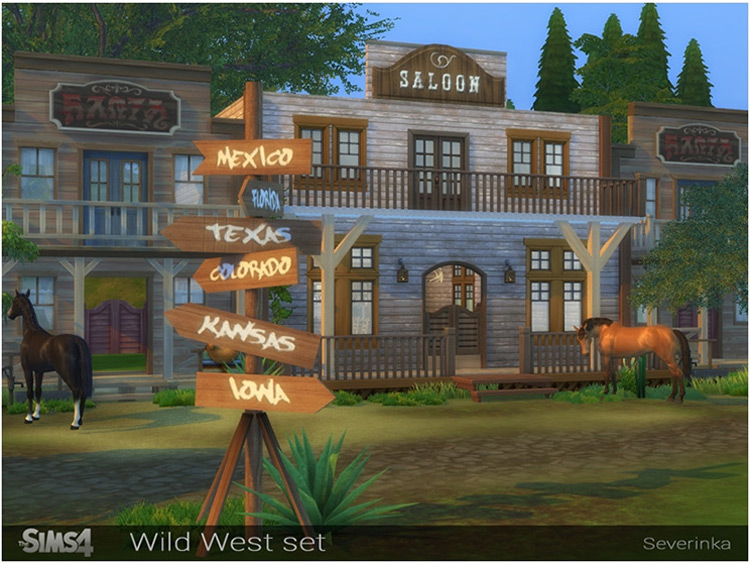 I love themed bars, and a western one is on my radar for my next bar build.
Beyond the fact that this set comes with an awesome old timey, playable piano, stools, and swinging saloon doors, this set also comes with items that come pre-cluttered and some clutter to really make it your own.
A large 'saloon' sign also comes with this set, which can be scaled down to use as wall decor next to the charming framed picture set featuring some antique photos.
There are also some cowboy hats (in light and dark brown) to place on a bar stool or to hang on the wall.
The bar that comes with the set is covered in bottles and empty glasses, making it look way more realistic than the pristine bars included in the base game. There's also a matching bar shelf fitted with bottles, with the perfect amount of space in between to house the included photo collage.
13.

Nora Décor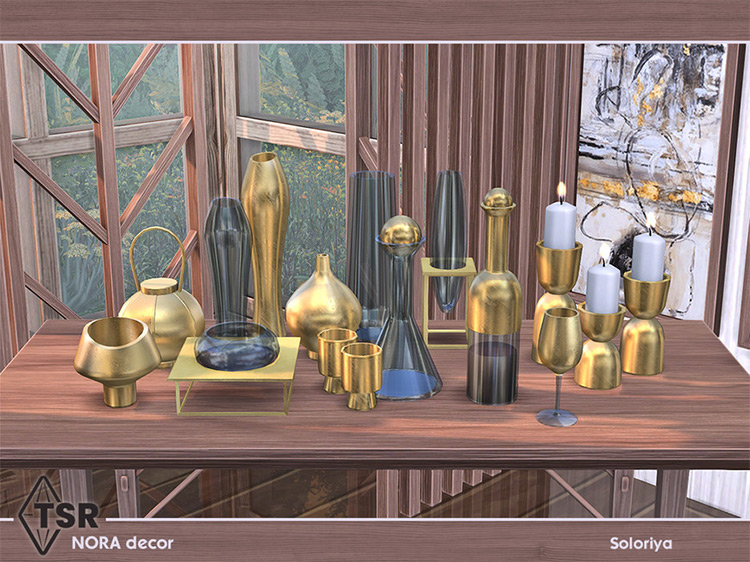 These shiny clutter items will automatically make your lounge the classiest in the neighborhood.
Inside this set you'll find some modern looking carafes, five different kinds of vases, decanters, bottles, glasses, and some functional candles.
They come in two colors, silver and gold, and look stunning as centerpieces, wall accents, or can even be scaled up to be simple decorative room accents.
14.

Inauguration Champagne Tray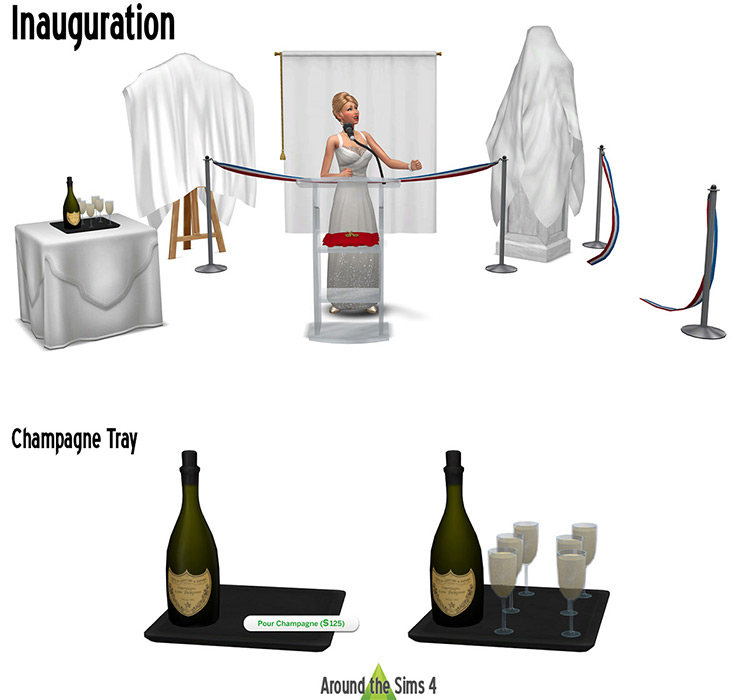 This nifty champagne tray is something I always love to include in the "VIP" section of all my bars.
You can have your sim pour some champagne and their party people can drink to their heart's content.
It's perfect for bachelorette and bachelor parties, or just for those sims who want to go all out.
This is also fun to fill and leave at the back of the bar during holidays or to put on an inaccessible table as ritzy decor.
15.

[Avignon Dining] Dangling Glasses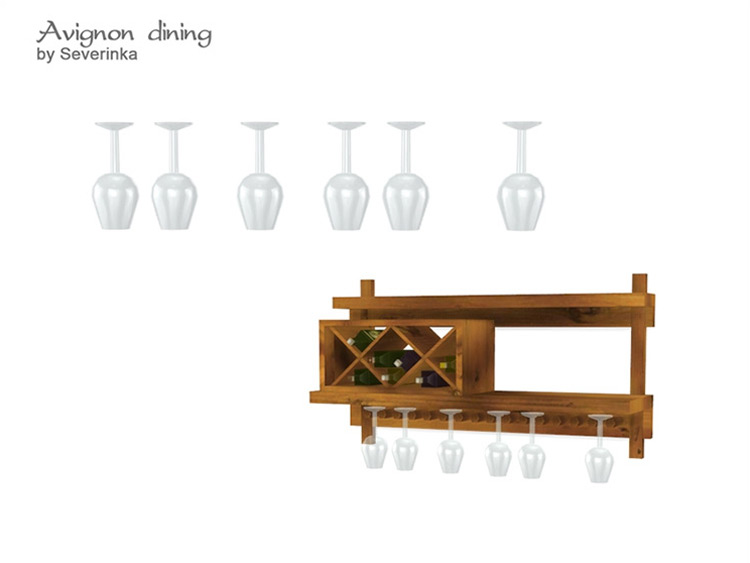 I swear I've seen this fixture in most of the swanky bars I've been in, and this could also be a great addition to the bar area or dining room of your sim's home.
This wine rack is the perfect extra decor for the wall at the end of a bar.
I love that the hanging wine glasses are optional and that there is a shelf to add more clutter as well.
16.

Art Deco Home Bar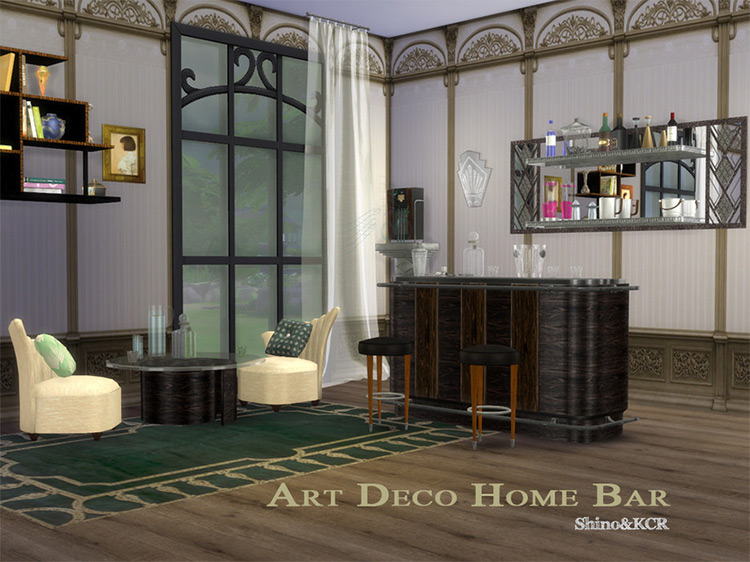 This set not only comes with gorgeous art deco furniture, but also some stunning glass and stainless steel bar clutter which will effortlessly match any setting.
A speakeasy would be easily decorated with any of the furniture in this set, and of course the matching clutter.
It also comes with a decorative shaker, bartools, decanter, glasses (with and without mixer spoons), jugs, radio, and my personal favorites – two types of ice buckets, a smaller one in stainless steel and a larger one made of glass.
17.

Wicker Decorative Set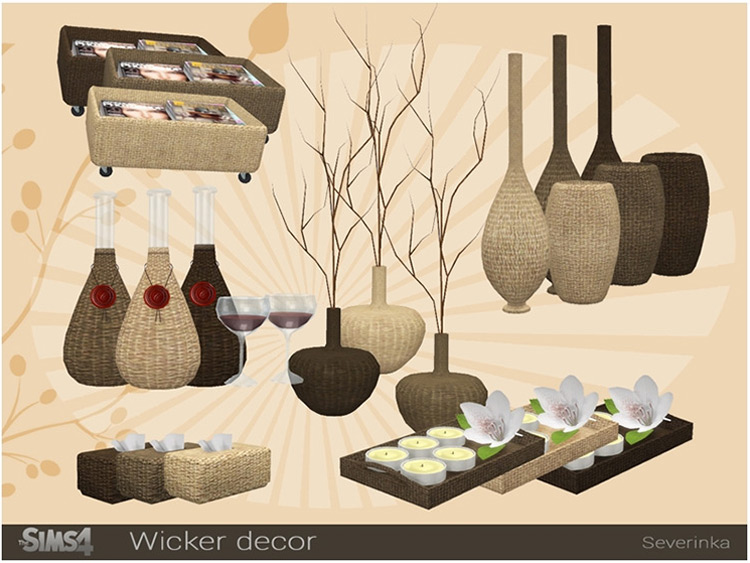 Are you getting total vineyard vibes from this wicker set or is it just me?
This clutter pack would fit right into a relaxing lounge setting, or even a spa or fancy restaurant.
The wicker wine carafes adorned with a wax seal would look so chic on a shelf or counter behind a bar, or even as decorative centerpieces. The two filled wine glasses are classy accents that would look great on a table, or scattered about the lounge to make the place look more active.
18.

Wine Cellar (Sims 4 CC Set)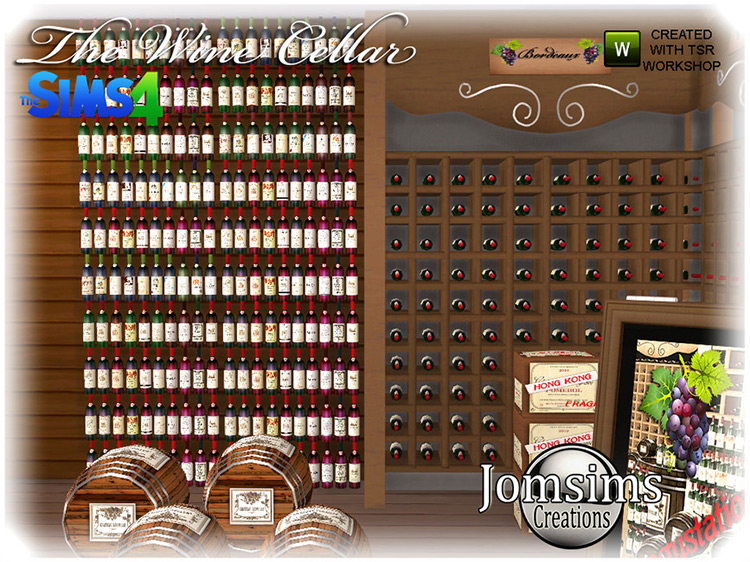 Whether your sim is filthy rich or you're trying to go for a French themed lounge or bar, the best way to sum up this clutter set is 'c'est magnifique'!
There are tons of bottle decors with a wall to store wine, a set of four wine bottles to place inside the storage wall (so it can be completely filled or filled sparingly), a full wall decoration of wine bottles, and a set of four bottles to place at your leisure.
And there's also a stack of boxes, some wine barrels on their side, and large wine barrels with cute labels to use to decorate as well.
Browse:
Lists
The Sims 4
Video Games