Sims 4: Barbie CC & Mod Packs (All Free)
This post may contain affiliate links. If you buy something we may get a small commission at no extra cost to you. (Learn more).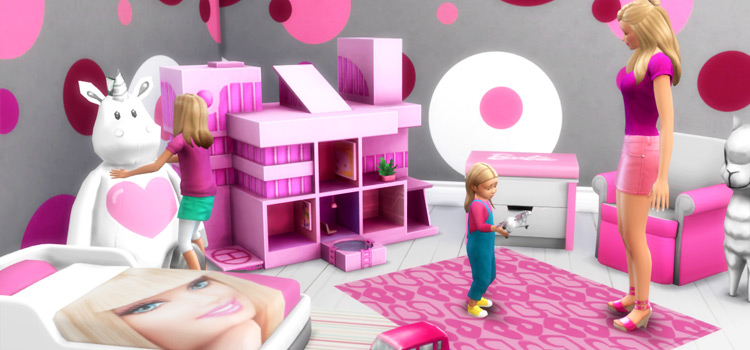 Most little girls' first friend, aside from her family, is usually a girl named Barbara Millicent Roberts. You know her.
She's 5 foot 9 with long blonde hair, blue eyes, and is around 61 years old. Although she does seem to have stopped aging at around 20, with no trace of fine lines or wrinkles (drop your skincare routine, sis!)
No, we're not talking about a supernatural creature. We're talking about the ever-iconic Barbie!
If you don't know her, you better make sure you're a living, breathing human. Barbie has been a household name for decades and has a massive following all around the world. This doll, created by Mattel, has truly encompassed time.
And if you want your Sim to love (or live) all things Barbie, then check out our list of the best Barbie-themed CC for The Sims 4.
10.

I Can Be… Career Pack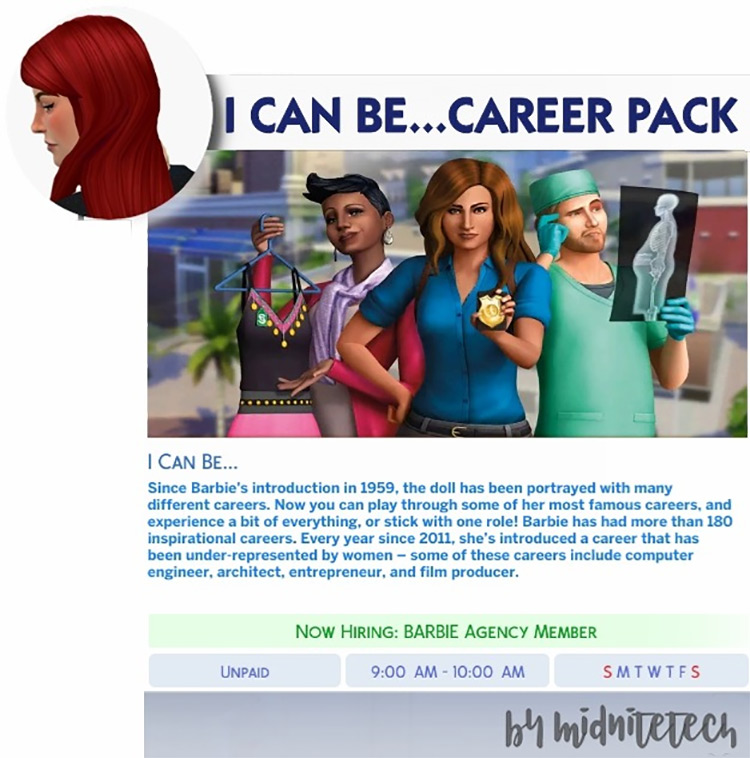 Barbie has long shown girls to not be afraid of anything!
Ever the go-getter, Barbie has been everything you can think of. She has even had careers that women are mostly underrepresented in. Talk about a feminist icon.
The "I Can Be… Career Pack" by MidniteTech celebrates the most famous careers Barbie has had since 1959.
It features over 10 branches with 80 careers such as architect, computer engineer, and entrepreneur.
9.

Barbie: Life in The Dreamhouse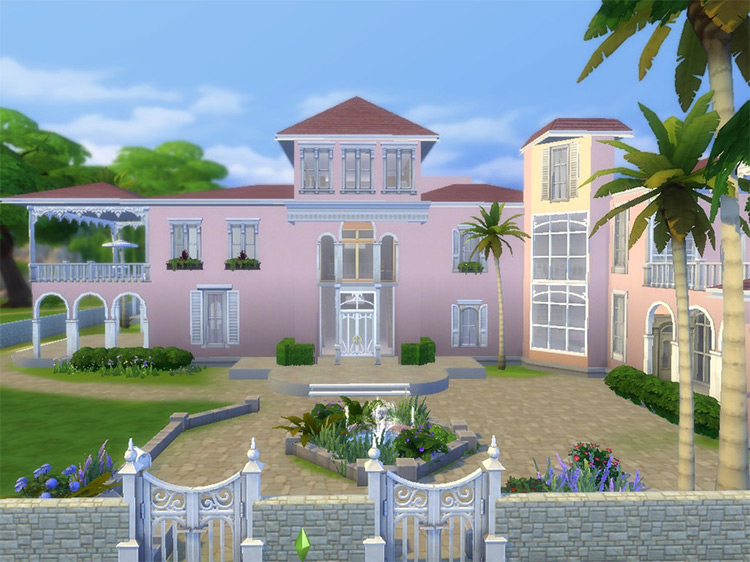 Let's be honest here – one of the most taxing (but fun) tasks in The Sims is creating your home.
I love creating the houses from scratch, but want to give up halfway because it's just too much work.
Looking for your Barbie dream home without the work?
Look no further with this premade and fully-furnished Barbie: Life in The Dreamhouse mansion lot mod by creator Probnutt.
This Malibu mansion will make your Sim as opulent as Barbie with five bedrooms, three bathrooms, a balcony, and a patio. Barbie has been raking in some serious coins!
8.

Barbie Dolls Paintings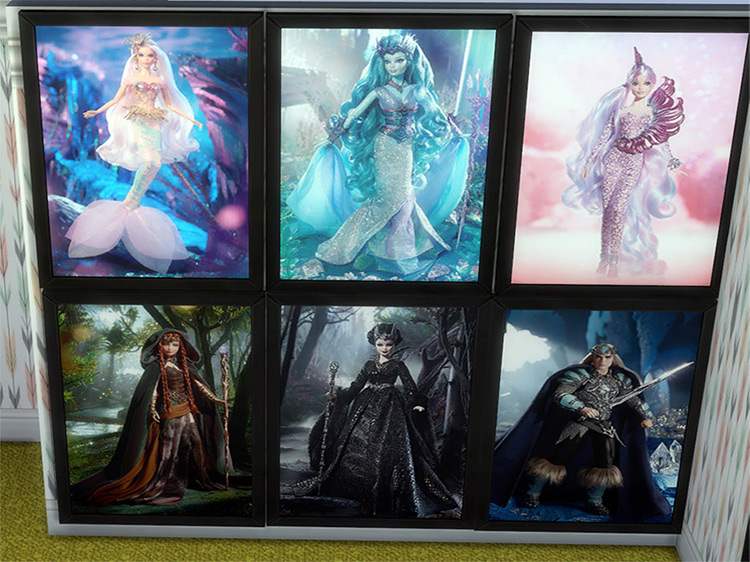 Pink is synonymous with Barbie. So much that a deep shade of pink is named after Barbie.
Are you a Barbie stan who wants to adorn their Sim's home with Barbie, but are not quite about that pink life?
GeekyFairy created these Barbie Dolls Paintings that feature images of the actual fantasy dolls from The Faraway Forest collection, featuring characters such as The King of the Crystal Cave and Queen of the Dark Forest. You don't even have to be a Barbie fan to use them, as they'll go well with any fantasy-themed room.
7.

Moschino Barbie Outfit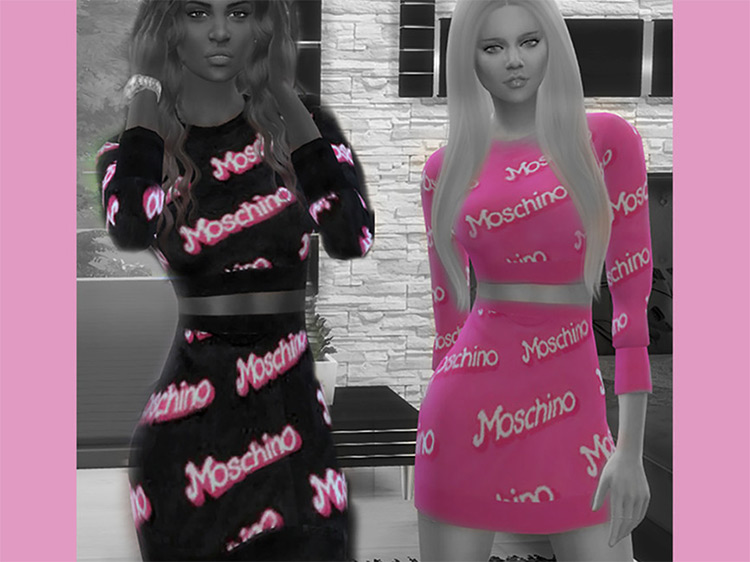 There's no denying how huge Barbie's cultural impact is.
Her brand and likeness are not just associated with kids anymore. Barbie is also a fashion icon – so it makes complete sense that she has transcended over to that world as well.
Have your Sim strut her stuff with the Moschino Barbie outfit, which was part of the actual Moschino x Jeremy Scott Spring 2015 collection!
Converted for The Sims 4 by simmer Mis_O, the crop top and skirt combo is totally chic. 'Moschino' is printed all over, with the Barbie font – showing other Sims on the block that yes, Barbie IS fashion!
6.

Barbie's Lip Kit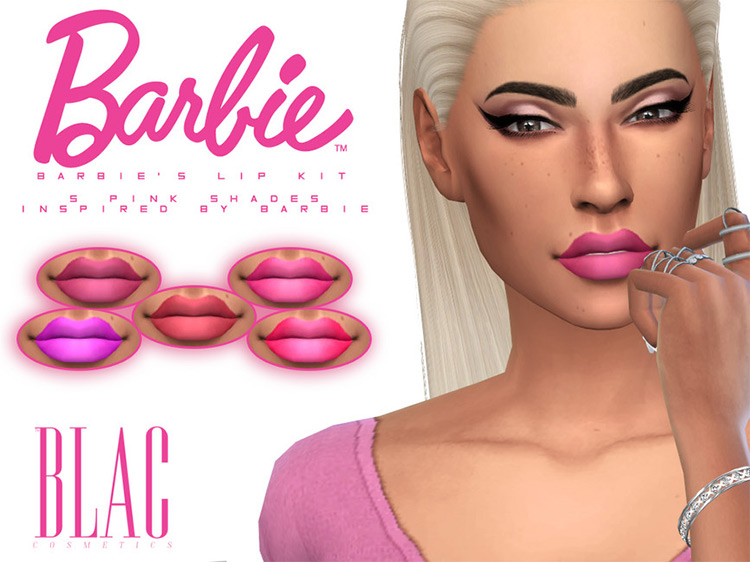 Lipstick, like Barbie, has come a long way from being created from crushed bugs.
The new trend is lip kits, popularized by the youngest member of an infamous clan – an all-in-one set that usually includes a lip liner and a gloss.
Pucker up with BLACcosmetics' Barbie Lip Kit. Give your Sims luscious lips, without needing to schedule an appointment with the nearest clinic, inspired by Barbie's colorway.
This CC comes in 5 shades, with 2 neutral and 3 neon colors sure to match any of your Sim's dos.
5.

Barbie Eyelashes + Eyeliner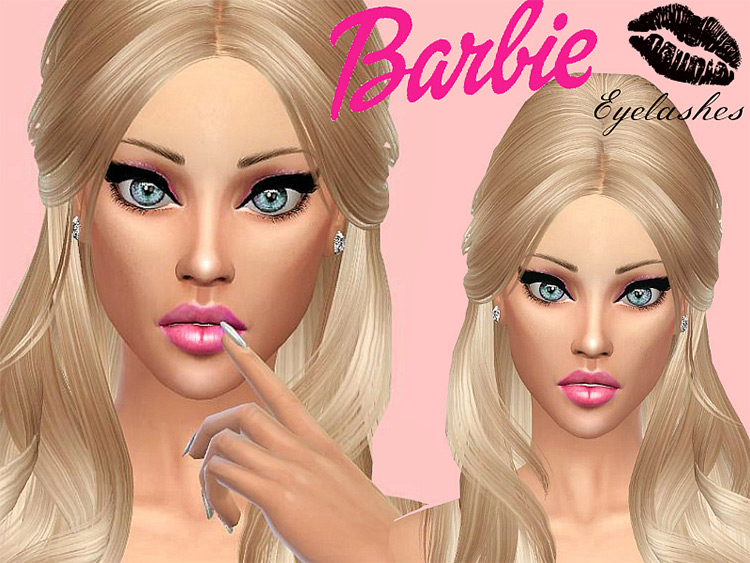 Baby-doll eyes, aside from being a Pokémon move (I swear), is a sought-after physical feature.
Big, round eyes with lashes that go on for days… can anything be cuter?
If you want to recreate Barbie in your Sim world, then you best get Queen BeeXxx21's Barbie Eyelashes + Eyeliner CC. Get those doll eyes – literally!
The CC set includes thick dolly lashes and Barbie's wing eyeliner that gives you that babydoll look. It also evokes 60's glam, so this will also go well with anything that revolves around that era.
4.

Barbie Kids Room Stuff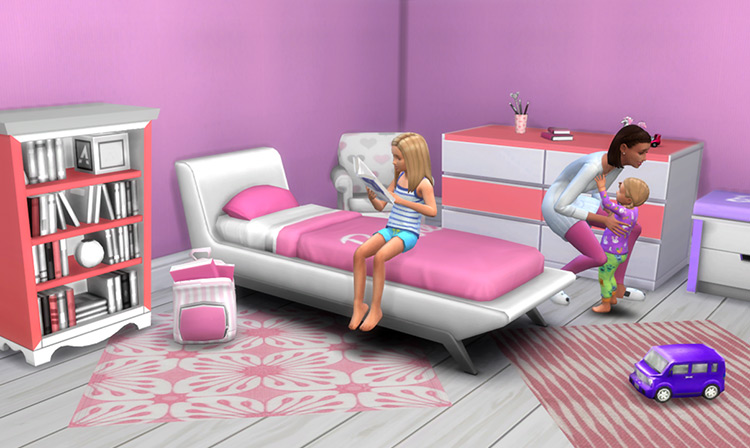 It's not hard to understand why young girls are drawn to Barbie.
Here's a seemingly perfect beautiful doll that you can shape into whoever you want. Neat!
Pihe89 created the Barbie Kids Room Stuff for your Barbie-obsessed young Sim. This CC pack contains 20 adorable Barbie-themed objects such as a dollhouse, a bed, and a drawer. It also comes in two colors – pink and purple, for added variety.
3.

Barbie's Dreamhouse Stuff Pack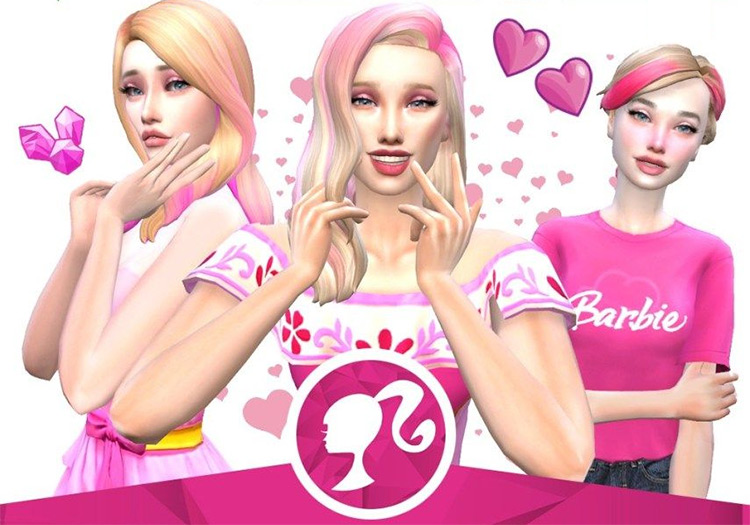 So you've come to look for the ultimate Barbie CC pack?
Say no more, cause we found MiaBlack's Barbie's Dreamhouse Stuff Pack perfect for the ultimate Barbie fangirl or fanboy.
Get all your Sim's Barbie needs in one download.
This dream pack includes all the elements you need to create your Barbie dreamhouse with custom furniture. You can even cop Barbie's look with added freebies such outfits and hairstyles that scream Barbie.
2.

Barbie Catsuit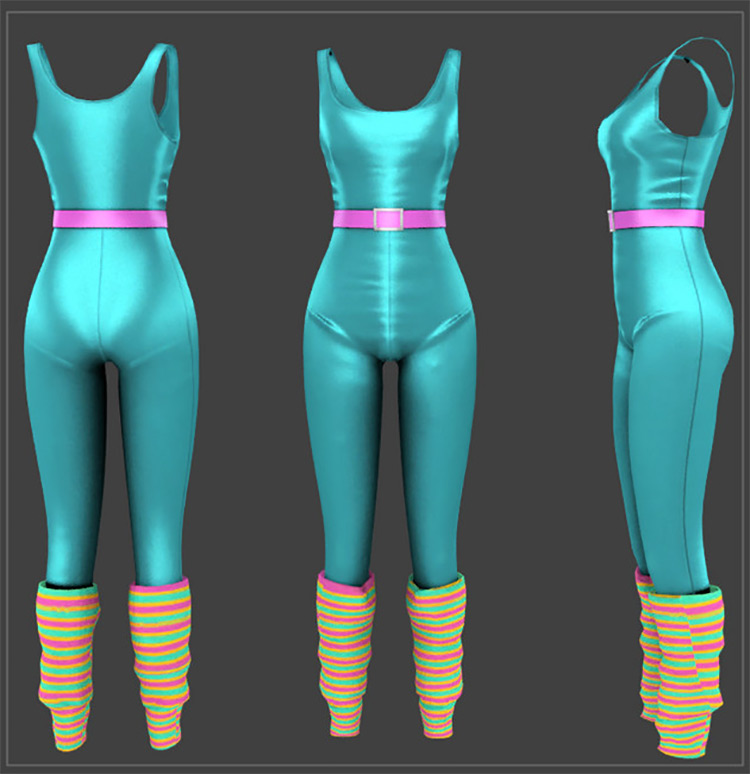 This Barbie Catsuit by Belalo Allure is probably one of the most iconic Barbie costumes that has graced Halloween parties for ages.
Let's get physical with this turquoise catsuit from the legendary 1984's Barbie Workout Center set. This will go well with teased hair, cloth wristbands, and some classic headbands.
Have your Sim workout in true 80s fashion, accompanied by new wave music and lots and lots and lots of hairspray.
1.

Barbie Malibu Hair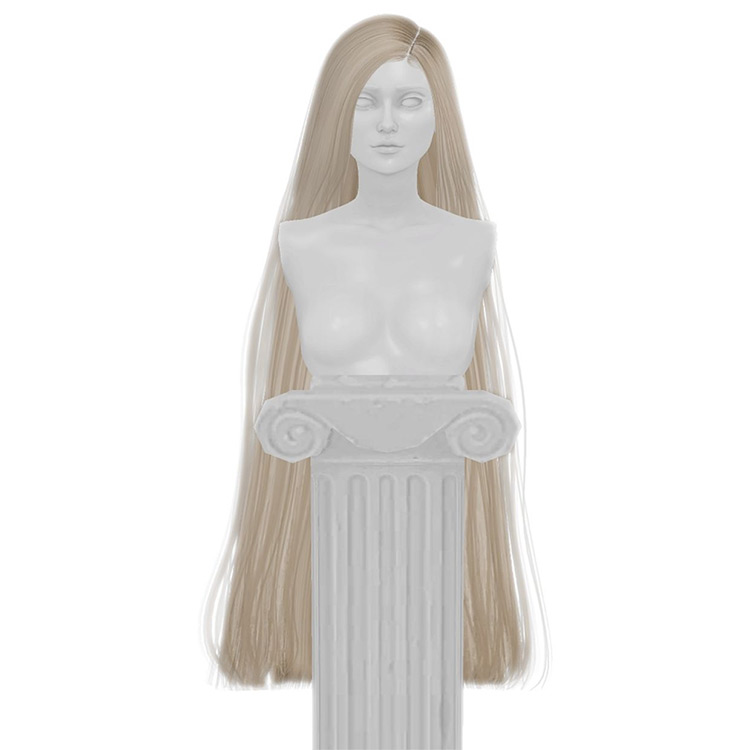 A wise popstar once claimed in her hit song that California girls were unforgettable, and they're so hot that they'll melt your popsicle.
I'm not sure how the latter works, but I will admit that California girls lookin' hot rings true. Especially with the highly sought-after Malibu Barbie!
Released in 1971, this version of everyone's favorite doll is still a hot commodity for collectors after all these years.
Give your Sim her trademark bleach blonde locks with GramSim's Barbie Malibu Hair. Your Sim doesn't need a mansion or to live near the sea to rock this look.
Browse:
Barbie
Lists
The Sims 4
Video Games