Sims 4 Baseball CC: Uniforms, Bats, Caps & More
This post may contain affiliate links. If you buy something we may get a small commission at no extra cost to you. (Learn more).
Even though I stubbornly do not keep up with sports – professional or otherwise – I know how big baseball is.
I know the impact it has on pop culture.
And it's widespread enough that I know some of the bigger teams despite never having researched them.
So it makes sense for The Sims 4 to have baseball in it, right?
I don't think there are any actual animations for an actual, full-blown baseball game… but at least we've got custom content. Check it out!
Baseball Packs & Sets
1.

Baseball Pack: Collab by @daddysprince and @drewdsims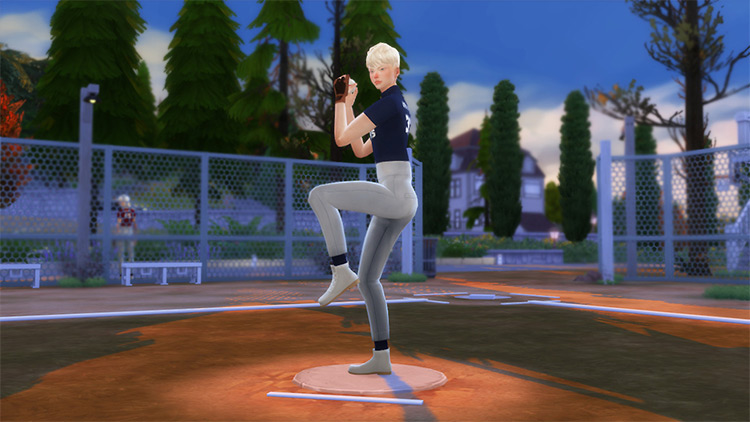 I'm going to start with this absolute beast of a baseball-themed Sims 4 pack, because literally everything you could want is in it.
Clothes, accessories, poses, a baseball field… it's all here.
I've linked daddysprince's part of the collab, as it contains most of the CAS CC: a baseball hat in four swatches, high pants and uniform (the short-sleeved, turtleneck kind), a baseball glove, and socks.
The eight poses included in the set need a baseball bat accessory. It's included in the downloadable pack, but do note that the baseball bat is from a different creator (credit where credit is due and all that).
Tip: For the baseball court (which looks stunning, by the way) head on over to drewdsims's part of the collab.
2.

BBat Acc + Pose by RJ
This is the baseball bat accessory that daddysprince used for their poses (see previous item).
The creator also included their own pose for the bat in the download, but the actual .package files are separate so you can choose one over the other.
(The pose won't make much sense without the bat though, but hey. Do you!)
Baseball CAS/Clothing CC
3.

Harlem Baseball Shirt by McLayneSims
A standalone item available in five swatches!
Whether your Sim really is batting for a team or sports apparel is just part of their everyday look, this baseball jersey's for them.
Also great for showing your team spirit even in-game.
4.

Askin Baseball Shirt by McLayneSims
This one's a baseball jersey that's been layered over a long-sleeved, button-up tee. Definitely meant for everyday wear then, since I don't think playing in such a getup is advisable.
This layered shirt-and-jersey combo comes in eight swatches.
Each swatch is a different color combination, a different jersey design, and a different team name/logo.
5.

"Stressed Out" Baseball Tee by arianesims
This isn't a baseball jersey or a baseball uniform.
What it is, is a very stylish, very practical baseball tee in thirty fun color swatches.
It's definitely not standard issue for any team, but for casual, every day wear? Definitely cute enough.
6.

Baseball Caps (Mesh Needed) by jupho
Just some fun, unisex baseball caps in basic white and black colors.
Each one's got a different logo. Designs include the South Korean flag on white and black backgrounds, BTS (a popular K-pop group) with white and black variations, and the 100 emoji. Great for tying together casual outfits.
7.

Backward Strapped Baseball Hat by luumia
Finally—something a little less bulky than EA's vanilla baseball caps.
Luumia's caps sit just right on a standard Male Sim's head with little to no awkward extra bulk.
Plus, the visible details – i.e., the seams, the stitching, and even the little holes (which I can never, for the life of me, figure out the reason for) – provide great texture to the accessory's visual.
8.

DAYDREAMIN' DIY Basecap Set by Pralinesims
This is the mother of all DIY Sims 4 accessories.
I cannot even begin to explain how detailed this set is.
You can create virtually any baseball cap you can dream of. For goodness sake, there are even options for the visor: regular, lifted, low, and backwards.
I am not exaggerating when I say the options here are darn near limitless, because Pralinesims also included 100 different colors. With variations.
I'm not going to try and rewrite their notes here, so please do make sure to read the creator's description for a full summary on what this set includes!
Also, don't forget to download the Tumblr-exclusive motif decals for the caps! They'll add another element of customization.
9.

Kids Baseball Jersey CC by nitropanic
Whether your Sim's kid really is on the baseball team or they just love the effortless athleisure look, these Child-friendly baseball jerseys are handy to have on-hand (or in CAS, as the case may be).
They look good, they probably feel great (basing on texture and looseness), and they come in a wide range of designs and colors. Fifteen variations, to be exact.
And each variation proudly presents a different IRL baseball team.
10.

Toksik – Strike Jersey by toksik
A surprisingly fashionable-looking baseball jersey that sorta perfectly blends "cool" and "sporty," this Strike Jersey by toksik works both on and off the field.
As an actual baseball uniform? Yeah. It's got the stripes, the cut, and the team name emblazoned on the front and back.
As an everyday outfit? Also yes.
Maybe more so, because it's giving off "effortlessly attractive" vibes.
11.

Los Angeles Dodgers Jersey by RJG811
I didn't want to bring actual sports teams into this article, because I know how loyal and invested some sports fans can be.
However, I also think it'd be a shame not to recommend awesome CC like this jersey by RJG811.
If you and your Sim are rooting for the same team, custom clothing like this is hilariously perfect.
12.

New York Mets Baseball Jersey by RJG811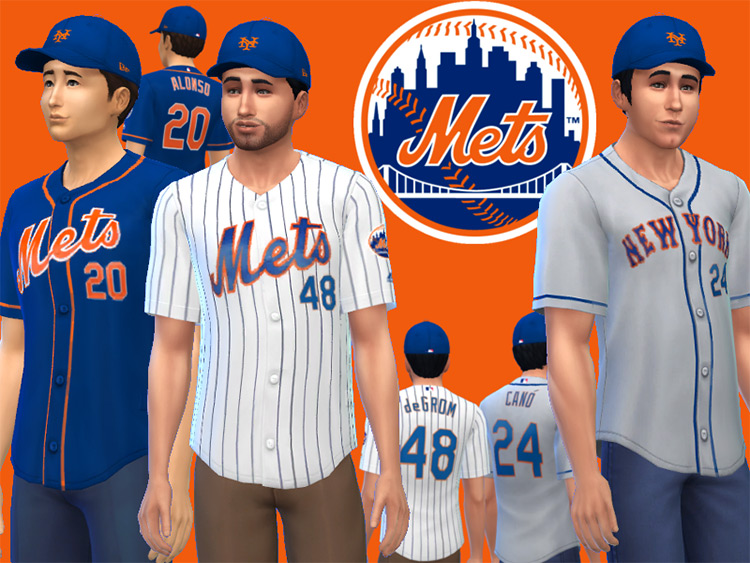 From the same creator of the Los Angeles Dodgers Jersey, this custom baseball jersey is for the New York Mets! Again, not recommending any of these based on teams.
My criteria is purely design and functionality, and these impressively accurate jerseys work a treat!
13.

Baseball Jersey Dress CC by NitroPanic
Unlike the other baseball jerseys on this list, this beautiful number by NitroPanic is obviously meant to be a fashion item and nothing else.
I do not recommend letting your Sim play baseball with this sort of jersey. It's highly impractical.
Also probably illegal, considering universal sports uniform regulations and all.
But as breezy sleepwear or a saucy casual outfit? This style of jersey definitely works.
Baseball Deco Items/Clutter
14.

Clothes Minded – Baseball Hat by Ravasheen
Now we've got the baseball-themed décor/clutter items!
Starting with Ravasheen's pretty genius wall décor of a random, displayable baseball cap (comes in ten colors). I also need to include the creator's description here, because it's genius:
"When your accessories cost as much as a small army it would be a crime NOT to display them. Look. Don't touch."
You heard them.
15.

Gym & Sports Equipment: Baseball by Around the Sims 4
There isn't actually a name for this set, but based on the items I'm seeing, I'm going to guess Gym & Sports Equipment.
You'll find a whole lot of cool items in here that look like they belong in the backyard of a budding or veteran athlete (or just someone who's really into sports).
Part of that list is a baseball with a tennis ball swatch (or is it the other way around)?
Pretty simple, but great for when you need to set the stage with a baseball or two.
Browse:
Lists
The Sims 4
Video Games