Best Sims 4 Bathroom CC: Everything You Need From Toilets To Bathmats
This post may contain affiliate links. If you buy something we may get a small commission at no extra cost to you. (Learn more).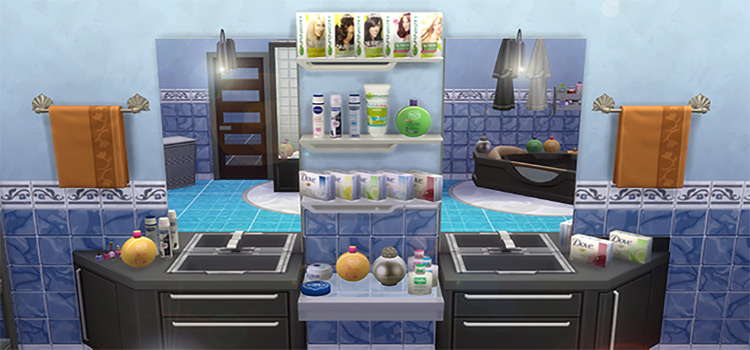 Today we'll be looking at some CC that you gotta have, when you gotta go.
From bathmats to bathtubs, all the way to toilet paper and toothbrushes.
Yes, we're looking into all the best CC for your fancy bathroom in the Sims 4.
So you might want to hold off on that cold shower for now, because we might find your Sim a better place to wash off!
20.

Alex Décor Toilet Paper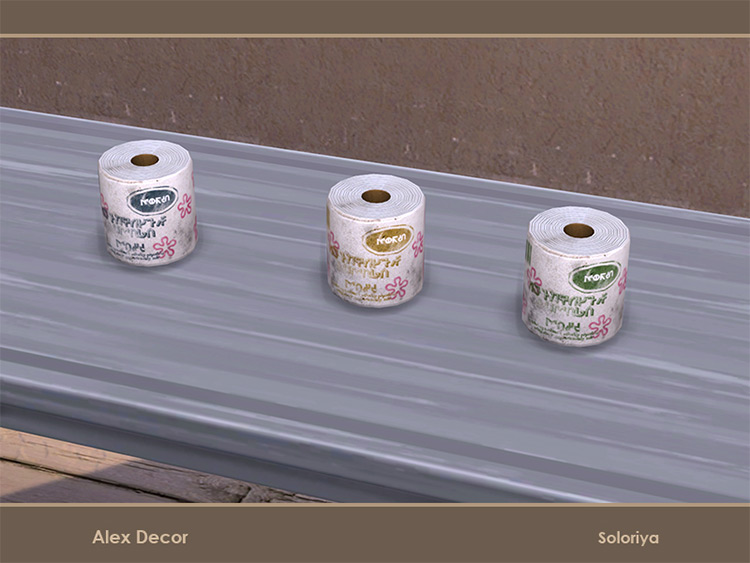 Kick-starting our list is this décor toilet paper by soloriya.
The toilet paper comes in 3 color packages and is great for filling up shelves or sink space in your Sims bathroom.
Also great to use, of course.
It might not be Charmin but at least it's a start, right?
19.

Oakes Toilet Paper Holder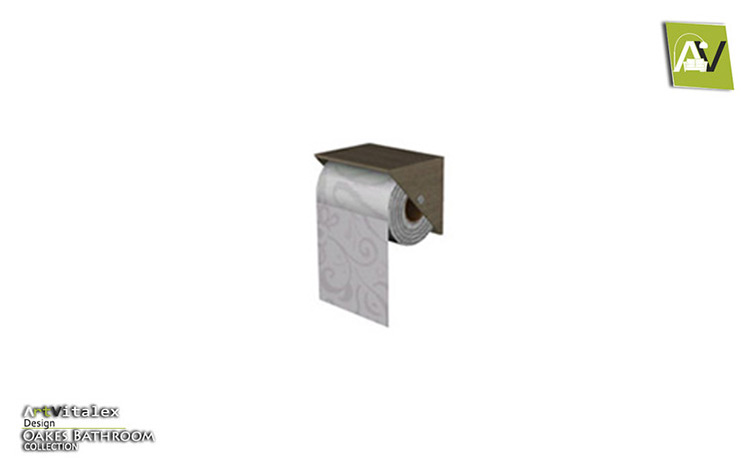 Keeping with our current toilet paper theme, have a look at this holder.
Popular creator ArtVitalex goes for a nifty wood design to give this item a unique touch in upscale bathrooms.
I saw several similar holders out there, and even toilet paper stacks that almost made the cut. But this particular design really stands out to me.
Not to mention, the toilet paper in this holder also has a rich design. Talk about wiping in style!
18.

Dama Sink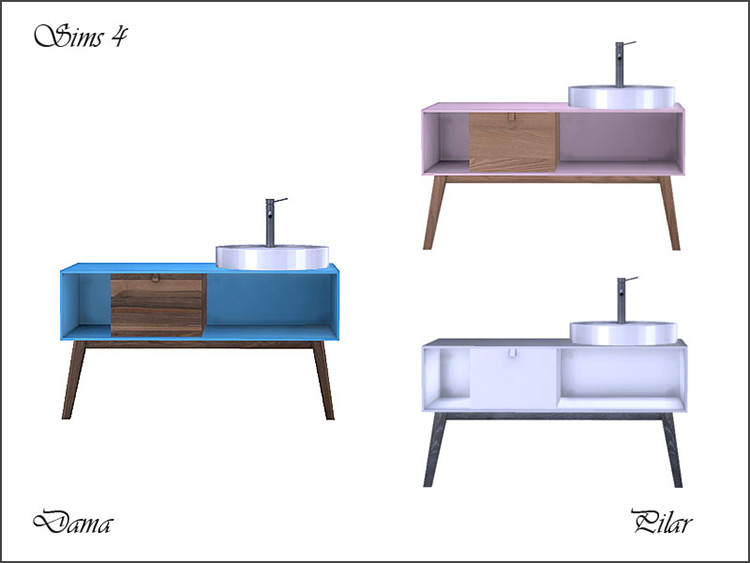 Considering how we started off this list, I think it might be time to wash our hands.
The Dama Sink by Pilar is a sharp-edged sink with 3 sleek color swatches.
The design is diverse in the sense that it could be used in multiple areas of the house, too.
A workplace bathroom in Get to Work is a solid placement for this piece, or a nice upstart home in City Living works as well.
My favorite of the three swatches is the white and black design. This really showcases the sharpness and eye-popping lore of this piece. Perfect for the bathroom.
17.

TeKa Shower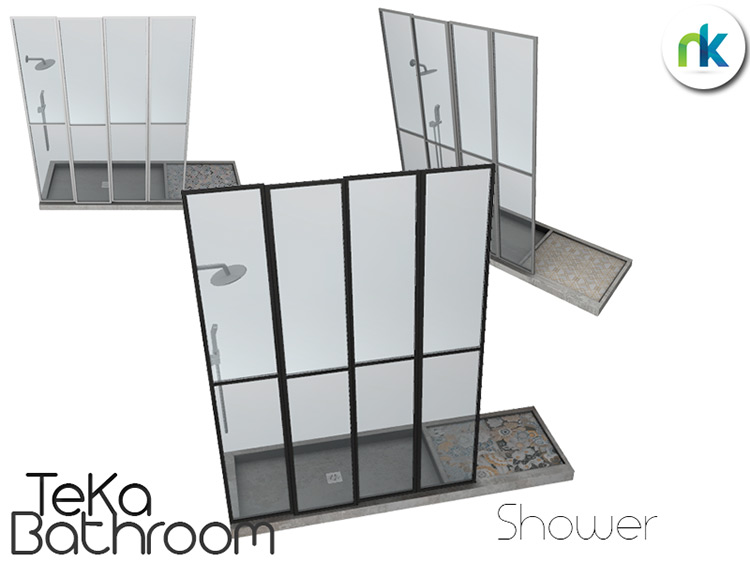 Our first shower to hit the list comes from creator nikadema.
The TeKa shower features a large glass frame with enough room for your Sim and their significant others to enjoy each other's company.
Be wary, though, this shower definitely needs more space than you'd think.
This feels like more of a fit for someone living in Del Sol Valley rather than Strangerville.
But hey, who am I to judge?
16.

Black & White Bathmats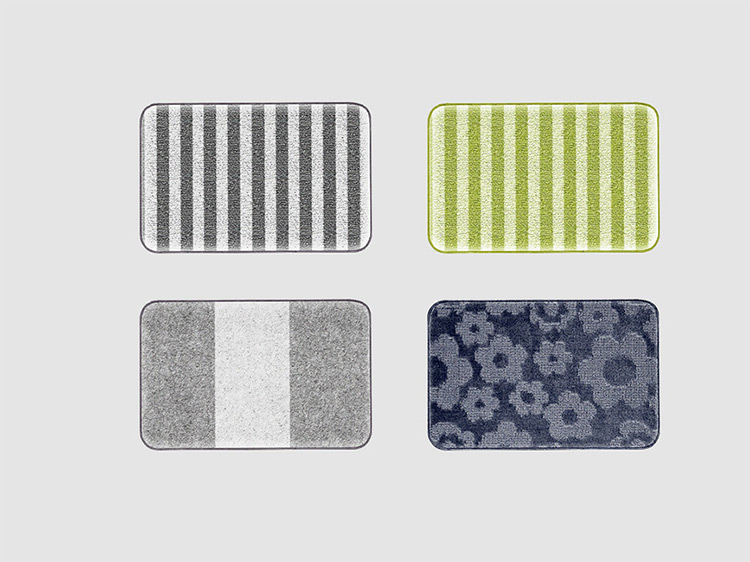 When you step out the shower, you never want to step onto the tiled floor.
That's where the true unsung hero of bathrooms can strike: bathmats!
These specific bathmats created by ung999 are simple and classically designed.
While the main design comes in black and white stripes, there are 4 total swatches including a deep sea blue floral design.
15.

Keep it Clean DIY Shower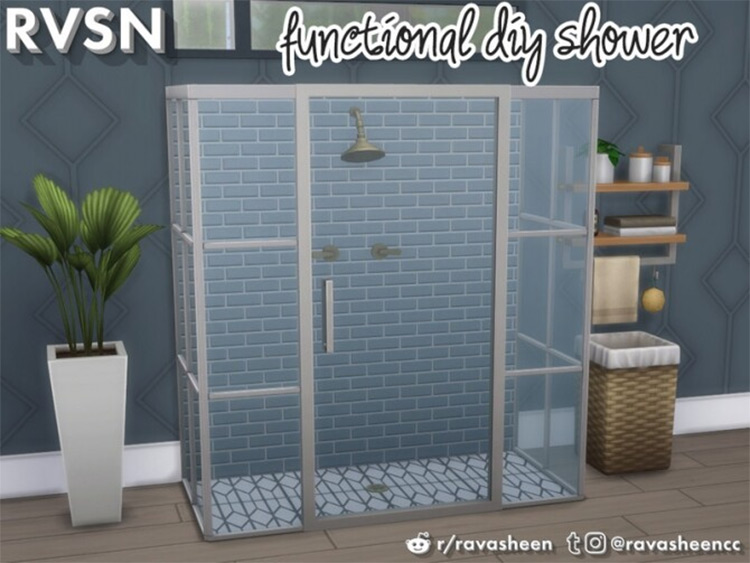 Another glass framed shower makes our list, this one coming from CC creator Ravasheen.
Now this particular shower comes with a small set to help design your shower with the pieces given by the creator.
This includes two unique shower heads, two doors, or one door, or even glass framed shower sides.
All these pieces can be used to make your shower unique.
How much space you got? Larger or smaller, your call here.
My favorite is the original prism design, which looks amazing and features a stunning white brittle backsplash.
Plus, you have to give a creator props when they actually include a Do-It-Yourself to all us CC fans.
14.

Platinum Toilet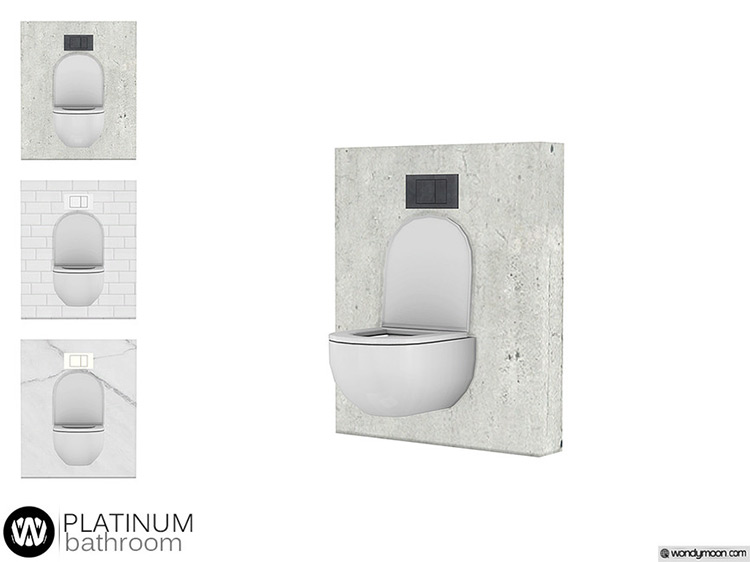 If the shower is our knight in shining armor.
And the bathmats are the unsung hero.
Then it's pretty obvious who's the king of the castle… the almighty toilet.
One of my favorite creators wondymoon gives us another gem with this Platinum Toilet CC.
For Discover University or Get to Work owners, this is the toilet you would want to find in public spaces.
The design comes with a built-into-the-wall loo, including the sensor flush which appears in many real-life public washrooms.
The wall unit also has 3 unique swatches depending on where you're placing this toilet. For newer areas, there's also a nice backsplash and cement wall.
For something like an old shopping mall, a cracked backsplash has been included to help diversify and match the contrast of where you place these toilets. Great for home or otherwise!
13.

Towel Rack Holder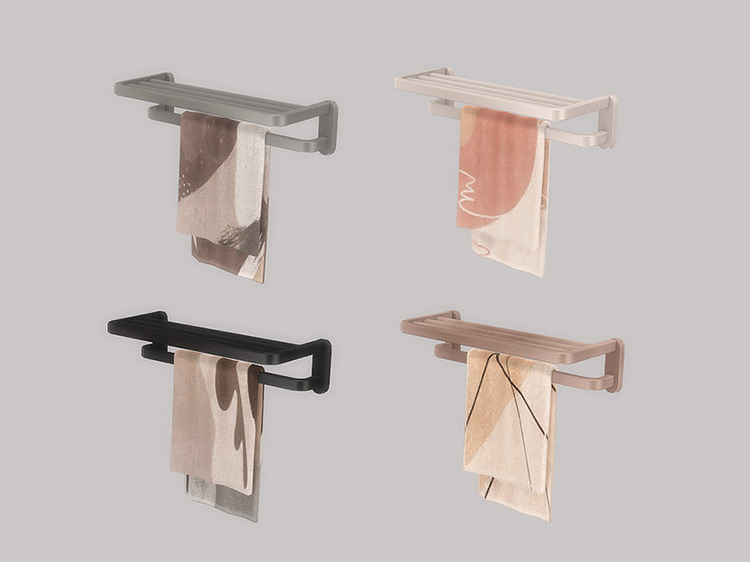 Here we have custom content creator ung999 making their second appearance on this list, with a unique towel rack holder.
This is a great piece for filling space, not mention towels are essential in the everyday bathroom.
I love the oaky textures used for the towel designs, plus the towel rail colors included gives a good sense of variation for this item.
12.

Gemini Shower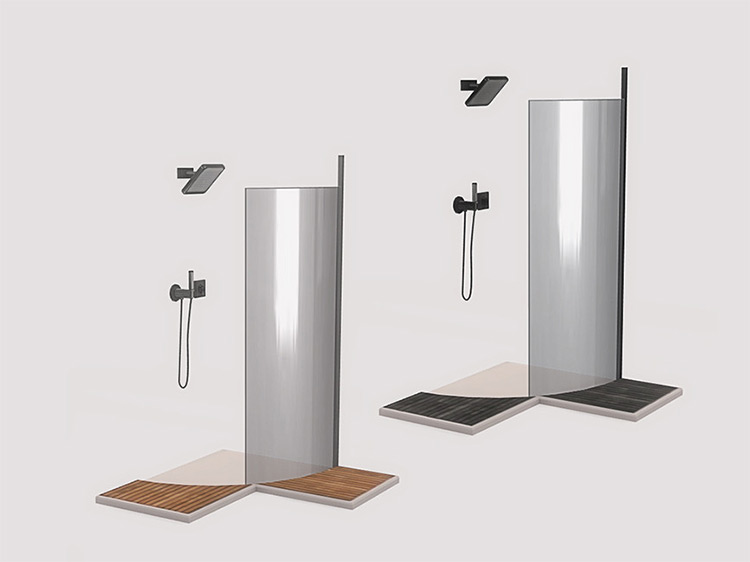 For all you dual-personality lovers (aka Geminis) this shower is uniquely named after you.
The slickest design to make it on this list, ung999 gets the hat-trick with their third appearance on the list.
This is the quintessential modern look.
A stain glass rotating door polished with a square shower head and detailed handle, what's not to love?
Just from a glance, this is definitely one of the more attractive items on this list.
All Virgos and Pisces beware!
11.

Shaving Bathroom Clutter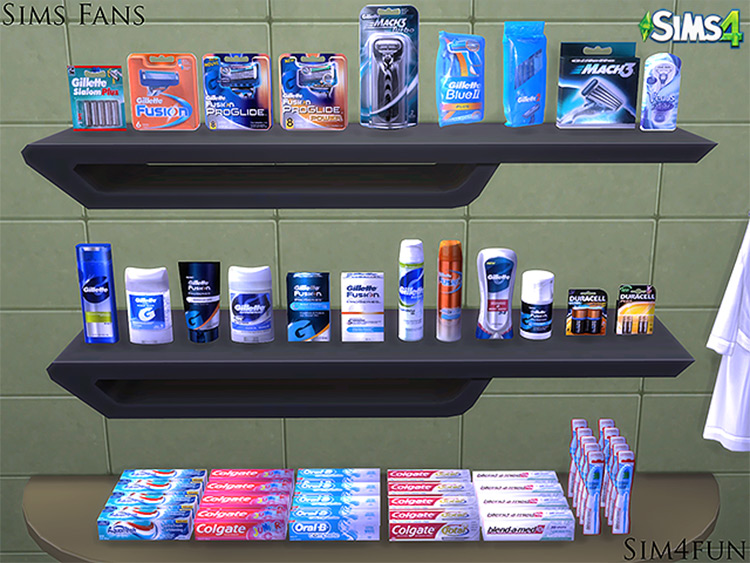 We've discussed space filling items quite a lot here. And now we're going to look at items that not only fill up space, but have real life branding on them.
Sims4Fun takes it up a notch with this men's bathroom clutter.
This includes several shaving creams, gels, deodorants and razors all with Gillette branding. Truly the best a man can get.
It also features Colgate products (toothpaste and brushes) which is a nice touch to an already loaded pack of CC clutter.
10.

Bath & Beauty Products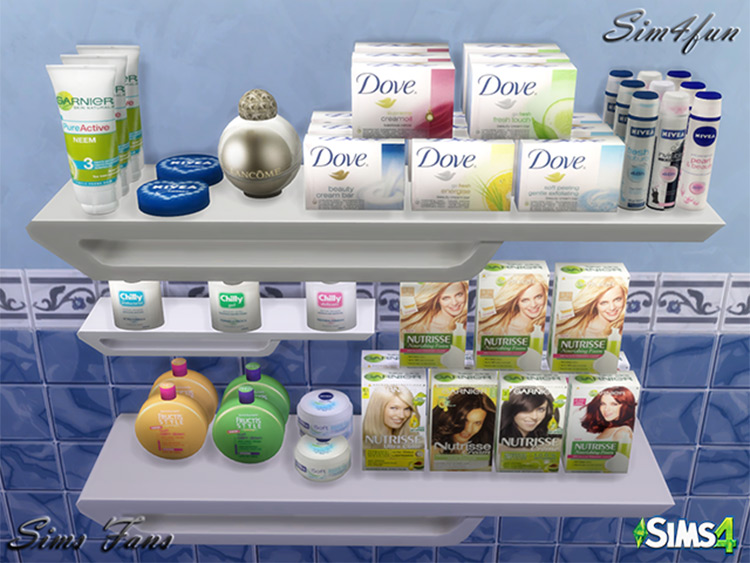 Sims4Fun goes back to back with a similar product slightly edging out the last one.
This particular clutter is more female orientated, but really gets the advantage for having more unique brands across these various items.
This CC set includes Garnier face cream, Dove soap and Nutrisse hair color, among a few others.
The difference in products and brand names gives this CC pack a little more juice for the squeeze.
At least now I can give myself some real branding when I decide to change my Sim's hair color every few days.
9.

Tempura Tub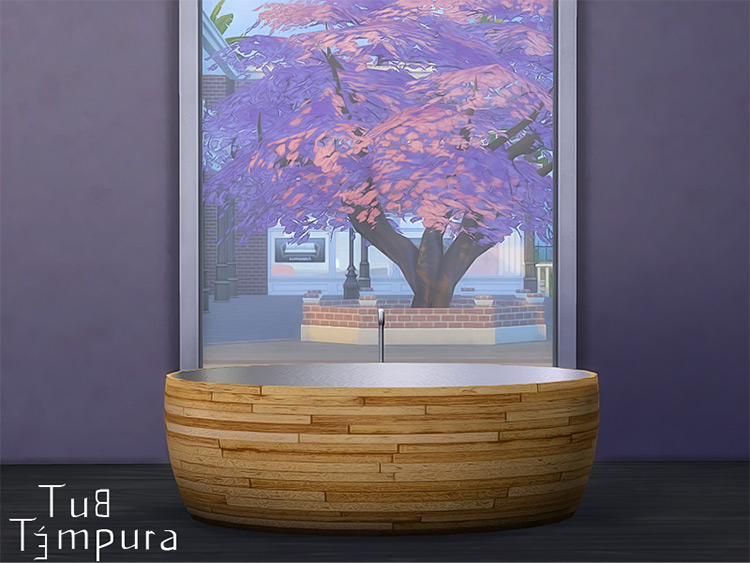 To all you Eco Lifestyle enthusiasts, read closely!
The Tempura Tub by nikadema is the way to go if you're looking to be surrounded by nature's aura during your bubble bath.
This bathtub comes in a wide oval design, made perfectly from a smooth hazelnut wood.
For any Sims who need to carry their Yoga tendencies into their late night bath, look no further than the Tempura Tub.
8.

Cuky Shower Curtains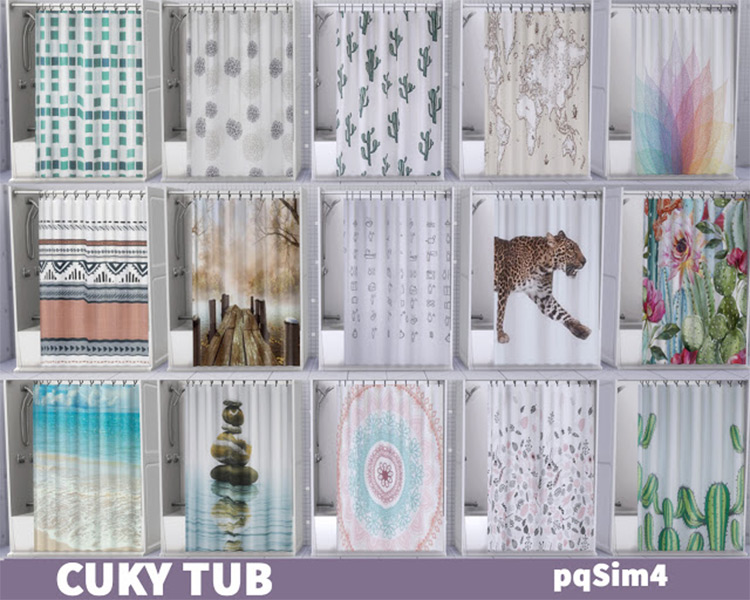 Time to dazzle up some of these showers and tubs we've been talking about.
You want your bathroom to pop, right?
CC creator Pqsims4 offers us 15 unique shower curtains, and all of them are unique by design, not just color.
My standouts include the leopard curtain, the beachfront one, and the rattlesnake in water.
This is an awesome add-on to whichever shower or bathtub you decide to use. Kids are sure to love 'em too.
7.

Soho Shower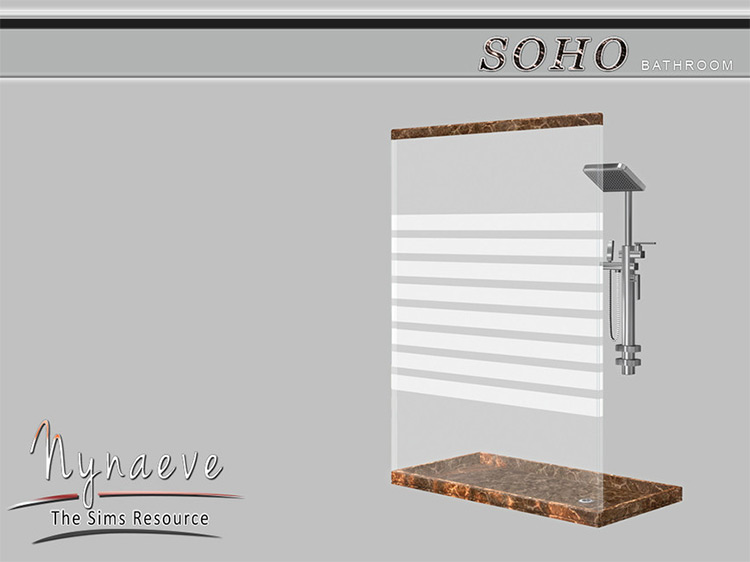 By far the best open concept shower design to grace this list.
The Soho Shower hits every aspect of the new age look right on the head.
This includes a nicely-shaped glass frame, a polished marble floor finish, and a large towering shower head.
Every time you shower, it'll be showering like royalty.
This is a must-have for high class Sims. And it fits well with other luxury bathroom items, whether that be vanilla stuff in-game or through CC.
6.

Eleanor Bathroom Sink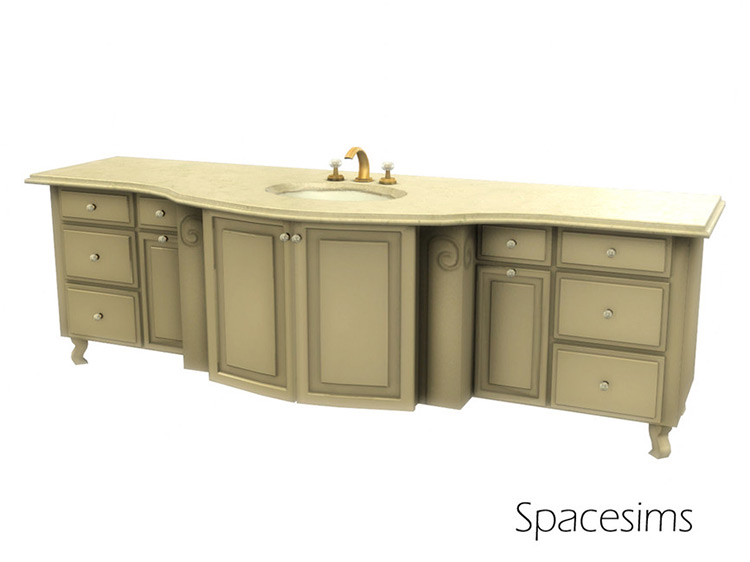 Before we sink into the top 5, let's talk about a sink. (That sounded better in my head)
Creator spacesims pulls out all the stops with this luxurious long sink table.
For any sims with the 'Mansion Baron' aspiration, you definitely want this piece included in your large manor.
With a cream color scheme topped with golden handles for the sink itself, it stands out.
This CC also gives a lot of extra room to place other decors pieces, such as shaving cream, or maybe some of the beauty clutter CC we shared earlier.
5.

Bathroom Lusso Mirror Wall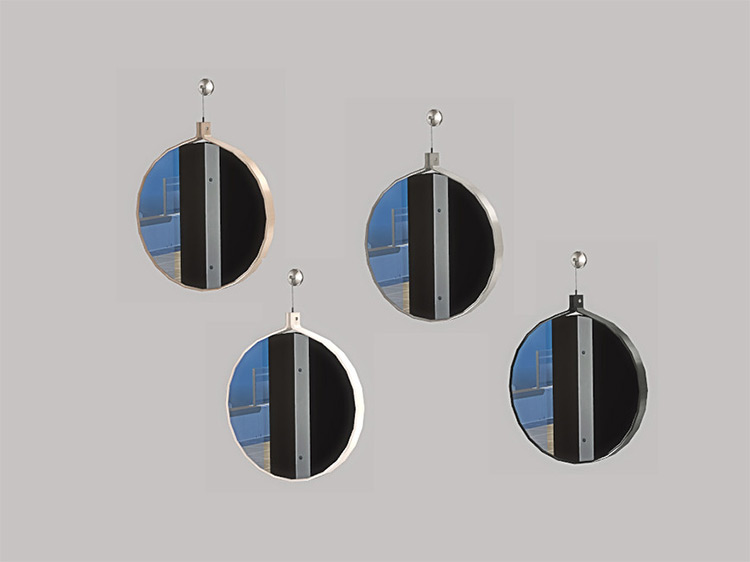 Everybody needs to see their reflection to see how amazing they look every day.
In a weird way, I think's it kind of healthy for you… that's why in The Sims you gain confidence from mirror preening.
If only real life hit the same vibe, eh?
I went through a lot of different mirrors, but didn't really see any that stood out or differed enough from base game content.
Until I saw this Lusso Mirror Wall.
The mirror features a unique circular shape, dangling from the wall almost like a large earring.
I get serious aquatic vibes from this mirror, and I feel it was the most unique one out there.
Another plus with this CC: having many of these mirrors in the same room can create an aura of cool, which is a rarity when talking about mirrors in general.
This is another item coming to us from ung999, who is clearly one of the best CC creators alive.
4.

Belle Cosmetics Set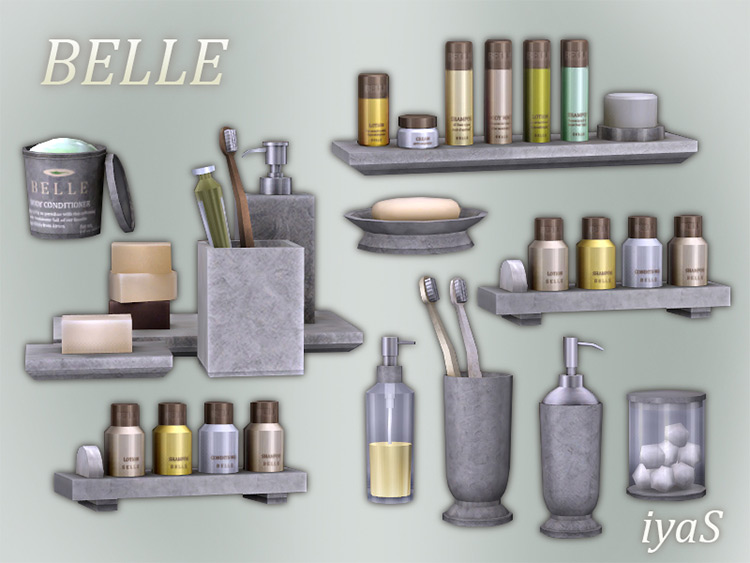 Sometimes you're playing The Sims and you honestly ask yourself, "can some people really make anything look good?"
Like a gnome, no one expected that to be such a staple in The Sims series.
And since the rise of Custom Content, this pot of "any design style" has become even larger.
Well this cosmetic set by soloriya does just that: the items in this CC offer stuff I would have in my actual real-life home.
This set comes with 6 singular pieces including toothbrushes in a holder, a soap dispenser, and a bar of soap (plus a few other goodies).
It also includes 3 decorative combo pieces, with small shelves of gels, creams, and soaps. Basically realism at its finest.
The detail on the items and their individual holders are vivid and excellently crafted.
Not to mention that this set comes in three varying swatches too.
This CC set is definitely the best when it comes to value. And it once again proves that anything in The Sims 4 can look good, even a cotton swab holder you never knew you needed.
3.

Urban Bathtub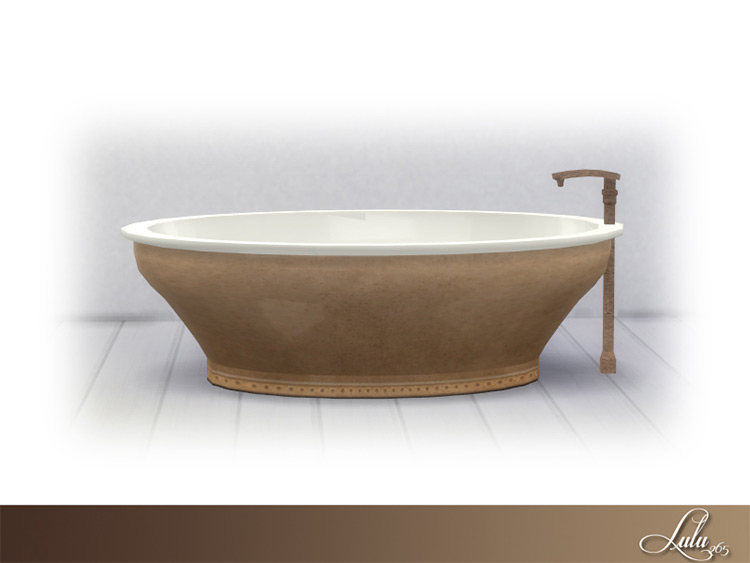 For all you loner Sims working hard all day and coming home to no one, this tub will definitely be a companion.
The Urban Tub by Lulu265 features a smoky brown exterior with a shallowed white finish on the inside. Just lovely.
The tub works in pretty much any house style, whether you're the rich snob with oaky furniture, or a tiny-living Sim trying to spice up your bathroom space.
Give it a try, you won't be disappointed.
2.

Asuna Toilet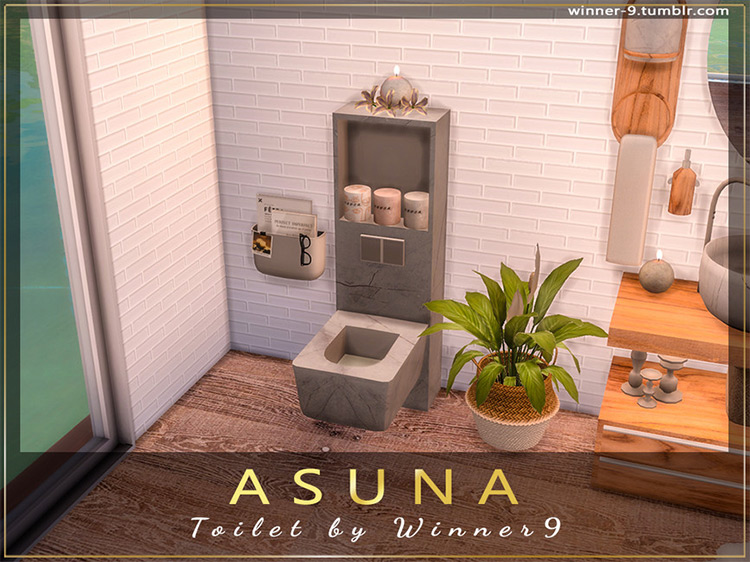 I'm going to be completely honest here:
When I first started this list I didn't think I would even have a single toilet in my top 10, let alone my top 5.
But I came across the Asuna Toilet by Winner9, and I knew if I had it any lower in this ranking, I would be doing this CC an injustice.
This item hits all the checkmarks: it's unique, well designed, and comes in a whole bunch of variations.
I mean just take a look: this toilet features a modern square-ish seat and has an upper wall attachment to it, similar to the Platinum Toilet CC earlier.
The big difference here is the Asuna Toilet features shelving space inbetween the wall and toilet, which is perfect for placing toilet paper décor or candles. Or dirty magazines or whatever you get up to.
It also features 6 swatches, with arguably the best one being the black marble design.
Regardless, all of these 6 swatches are pretty unique. And the shelf space along with the overall look of this toilet definitely flushes away most of its competition.
1.

Garden Breeze Set
Numero uno for our list of awesome bathroom CC goes to this Garden Breeze Set by Pocci.
There's one thing that makes this set stand above all else, and that's detail.
Here you'll find an okay tub and some unique items like an ottoman. But the detail is what sets it apart, starting with the shower curtains.
The curtains feature a light transparency making the whole thing look so realistic. The patterns actually fold where the curtain meets the tub. Talk about attention to detail.
Things like this separate a good CC creator from an artisan CC creator.
The details are also great on the wall patterning, as well as the carpet styled ottoman to boot.
It was hard for me to give the best spot to a set rather than a single item, but the sheer detail that went into this set is just not something you should pass over.
Bravo!
Browse:
Lists
The Sims 4
Video Games