Sims 4 Beach CC: Clothes, Towels, Decor & More
This post may contain affiliate links. If you buy something we may get a small commission at no extra cost to you. (Learn more).
Everyone likes to take long walks on the beach. Most can appreciate the beautiful waves, the Jet Skis in action, and all the kids building sand castles.
The beach life is definitely one giant good vibe. And today we look at how to bring the laid-back lifestyle to your Sims.
Rock your best bikini, say surf ups, and get ready to feel the waves.
14.

Coast Beach Starfish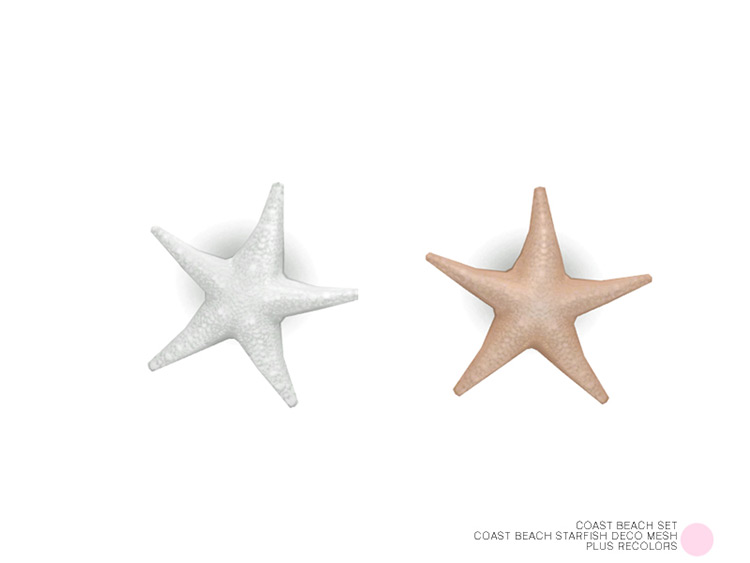 Every beach needs its starfish.
These vibrant creatures shaped like the Gold Stars your elementary school teacher gave you are an absolute must for most beaches.
Creator DOT gives us two unique looks with smoky white and dried beige for you to plaster all around the oceanfront of your beach.
Like any person, I prefer these cute little stars rather than those pesky sea urchins any day of the week. (Yes, I've stepped on one).
13.

Vintage Beach Parasol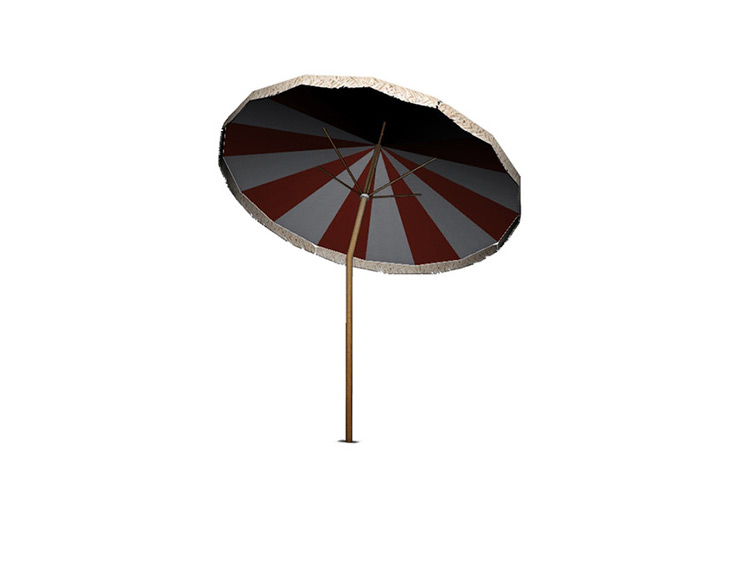 Sometimes the heat of the sun is too much for your Sim (especially for you vampires).
But with Angela's vintage parasol you don't need to worry about that no more!
Grab some shade with this classic parasol, and even bring your Vampire Sim to the beach.
There's always a first for something.
12.

Beach Buoy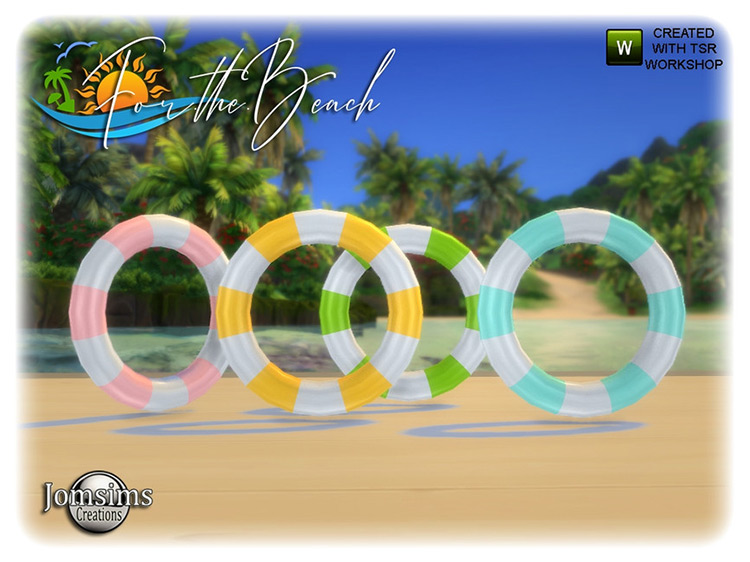 Now that we have some shade, let's add some saving.
And as in saving, I mean some good ol' beach buoys.
Your child sim having a hard time in the water? Throw them the buoy.
Your local elders getting washed up by waves? Throw them the buoy.
This buoy CC by jomsims comes in 4 unique swatches, my favorite being the sky blue one.
Always remember that when in doubt, throw them the buoy.
11.

DSF Swimwear Top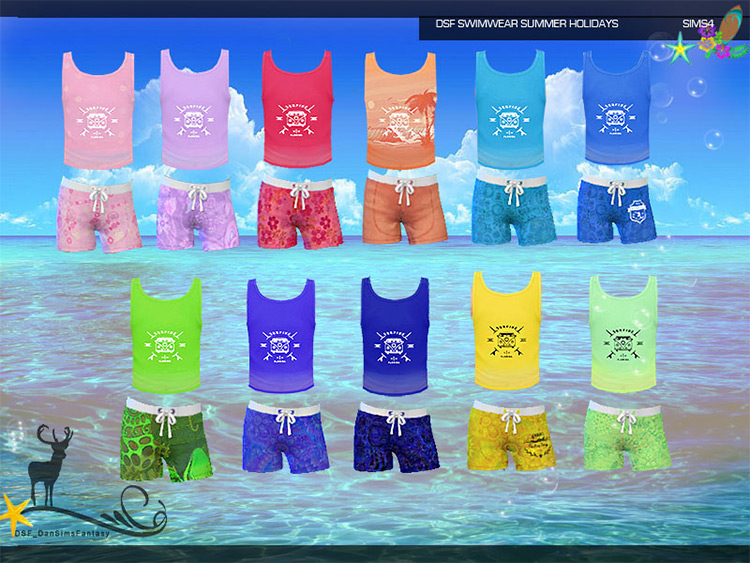 Now here we have DanSimsFantasy's swimwear tops for children.
It features both a top and swim shorts for a complete set, and features a whopping 11 different designs.
While all designs are great, the lime green design with the tribal shorts are my personal standout.
This is a great outfit set, especially if you have multiple Sim kids and don't want to look too far for various designs.
10.

Near the Beach Signs
You're walking up to the beach, but your friends told you to meet on the West end.
How else would you know where that is (unless you have a compass handy)?
Well, how about adding a prodigal beach sign!
Creator soloriya gives us this décor piece that most real life beaches feature, even including 4 different designs for each sign.
Sign me up!
9.

For the Beach Cocktails
The vibes at the beach are always good.
But sometimes your sim might need that extra kicker to fully relax.
Jomsims makes that happen with these awesome beach cocktails.
Now you can rest up, enjoy your Piña Colada, and watch the deep blue sea in front of you.
Cheers to that!
8.

Beach Deck Chair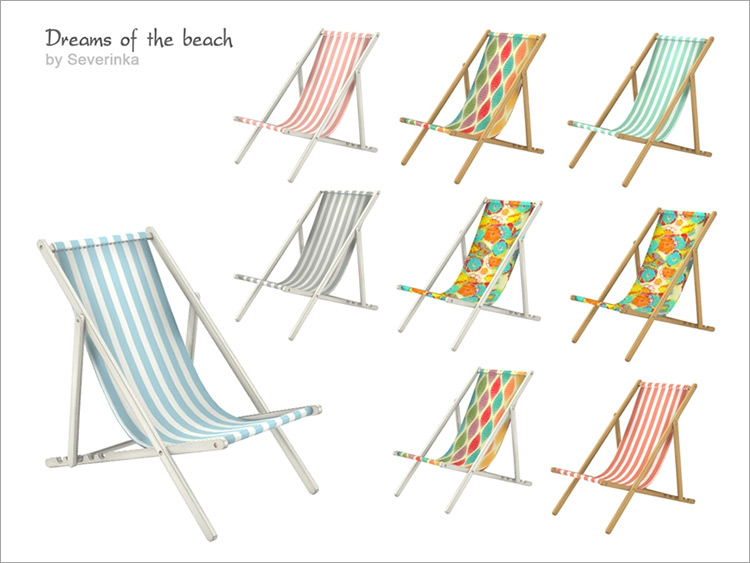 We've talked a lot about laying back or sitting and relaxing. But haven't really discussed what we're sitting or relaxing on.
Well thanks to CC creator Severinka, we have these awesome beach deck chairs.
With a fantastic swoop design for your sim to literally fall into, these chairs feature 9 fairly unique designs to try out.
From checkered red to floral stamps, the choices vary a lot, and can fit whatever theme your beach is flowing with. Or maybe add these in with your own backyard pool area?
7.

Print Bikini Swimsuit
CC Creator Sims House brings us these bikinis which will most definitely have your sim stand out on the beach.
With over 20 different options including geometric and tropical patterns, this bikini swimsuit is an absolute head turner.
For your fashionista sims, this is right on brand.
Or for any of your sims that just love attention in general, this is the piece I'd choose.
Tightly designed and sleek finishes make this swimsuit better than most options included in-game.
6.

Beach Umbrella Slanted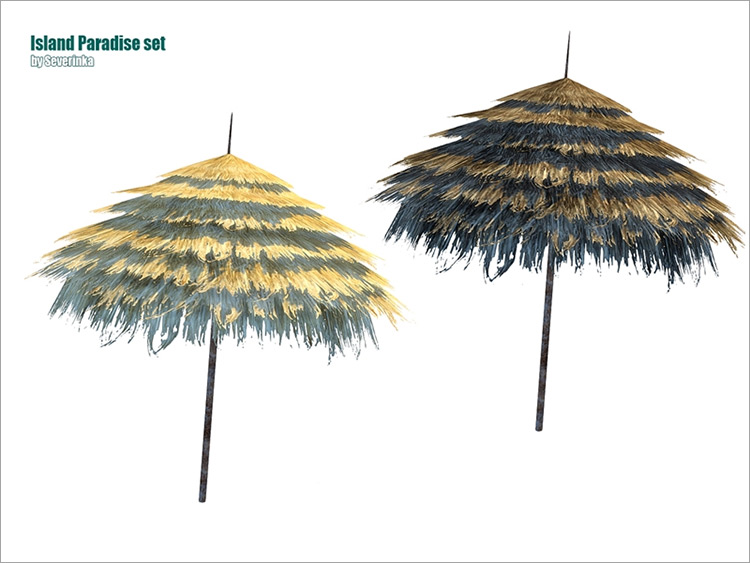 We get another umbrella parasol here coming from creator Severinka_.
But this one features a more tribal, island vibe.
Featuring two colors, these umbrellas have brittle leaves that help give off that rustic island look.
And this CC is the perfect addition for those using the Island Paradise pack.
5.

Sand Black Swim Shorts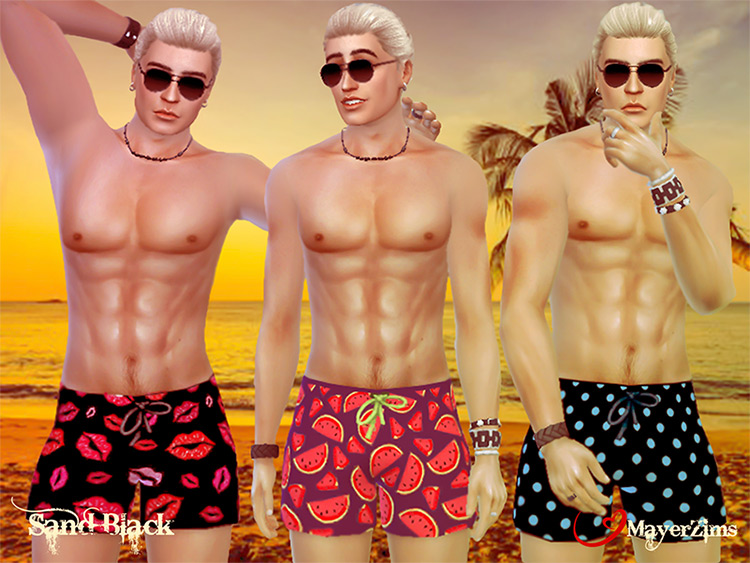 All the dudes at the beach need to have some hip gear as well.
MayerZims makes that possible with this awesome line of men's swim shorts.
The standout feature here has to be the 10 different design options included with this piece.
We got Homer Simpson shorts, Watermelon shorts, Bugs Bunny shorts and my personal favorite: Joker shorts.
Including real life elements along with the short cut style make this piece a must-have for any of your sims looking to wear a bit of swag while you catch some waves.
4.

Beach Hut
Doesn't matter if you're at home or out and about.
Everyone's got a bladder.
Thankfully you can save your Sim from some public peeing embarrassment with this awesome wooden beach hut by ShinoKCR.
Or you could just pee in the ocean, the choice is yours.
3.

Big Beach Clutter
Every beach needs some of that classic beach clutter.
This set includes everything you would find in the family bag on the way to the beach.
This includes sunglasses, sunscreen, and magazines, among lots of other things.
The branded touch this clutter adds just enhances the items more, going the extra mile with little details.
My favorite item has to be the pink sunglasses, which look like they're straight out of a Barbie commercial, or a Migos music video depending on who you're asking.
2.

Wet & Wild Bikini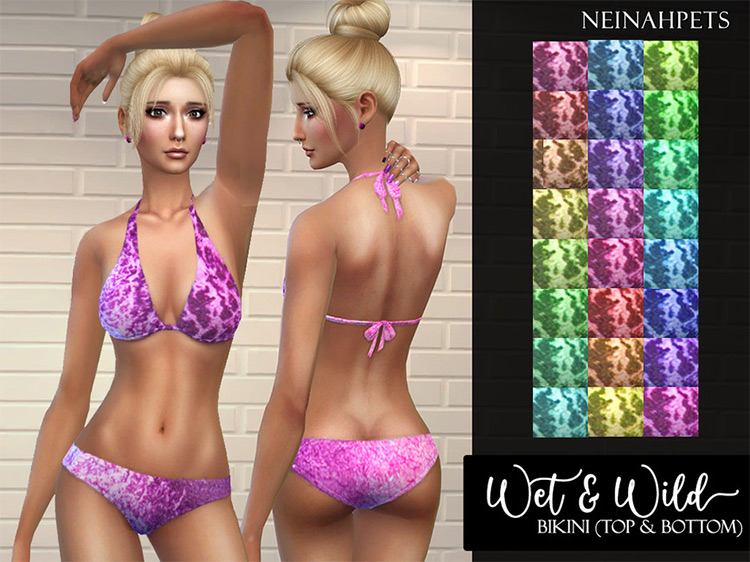 Here we get a stunning swimsuit high on our list here by neinahpets.
This beachwear look features a brash two-piece bikini, which definitely does more then make you standout. This'll make you the talk of the whole beach.
This beautifully detailed piece includes 24 gorgeous colors, with standouts such as hot pink and deep-sea blue to name a few.
This bikini set hits a home run in every area, being well detailed, extremely sizzling while still having a touch of elegance.
But if you're looking for even more bikini (or non-bikini) ideas, check out our list of awesome beachwear CC.
1.

Bohemian Egg Lounge Chair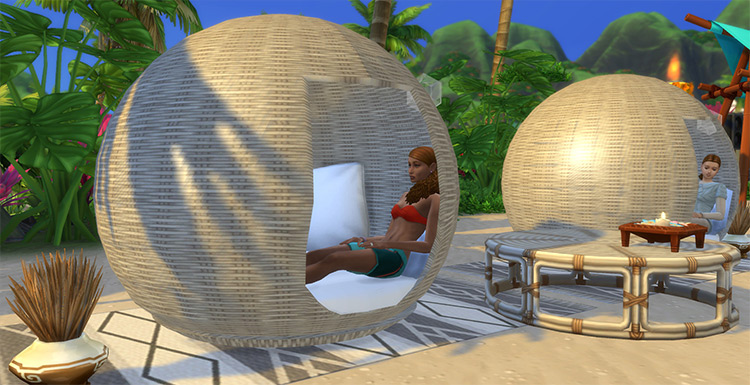 Comfort finds it way at the top here with this egg lounge chair.
Creator thegoldsim definitely pulled out all the stops when designing this extremely unique comfort piece.
The piece is exactly like it sounds: a giant beige egg-shaped dome filled with pillows and cushions for maximum comfort.
Everything from the color scheme to the design is brilliant. This particular piece fits perfect on any modern-day beach.
I can see many sims falling asleep for hours in this thing while listening to the whoosh of the waves.
Browse:
Lists
The Sims 4
Video Games