Sims 4 Belle Disney Princess CC: Hair, Dresses & More
This post may contain affiliate links. If you buy something we may get a small commission at no extra cost to you. (Learn more).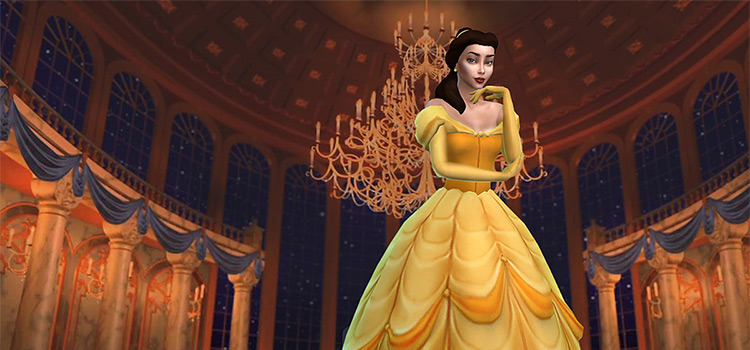 Belle is one of my favorite Disney princesses.
She's smart, independent, loves books, and is one of the few princesses in her twenties. What's not to love?
Belle is also the seventh generation of princesses in the Sims 4 Disney Princes challenge. If you haven't tried a Sims 4 challenge yet, this is a super fun one to start with. You basically go through ten generations of sims and follow a loose set of rules for each.
Once your Belle becomes a young adult, the challenge begins.
Your sim must have the 'bookworm' trait, date at least five men, marry an ugly sim, and have children. Her husband becomes beautiful (through CAS) after their first child together. And if you have the Get to Work expansion pack, her husband has to be an alien.
So now it's time to get the CC.
Below we've curated some Belle-inspired creations to fully immerse yourself in the fairytale of your dreams.
1.

Princess Belle Dress (2 Versions)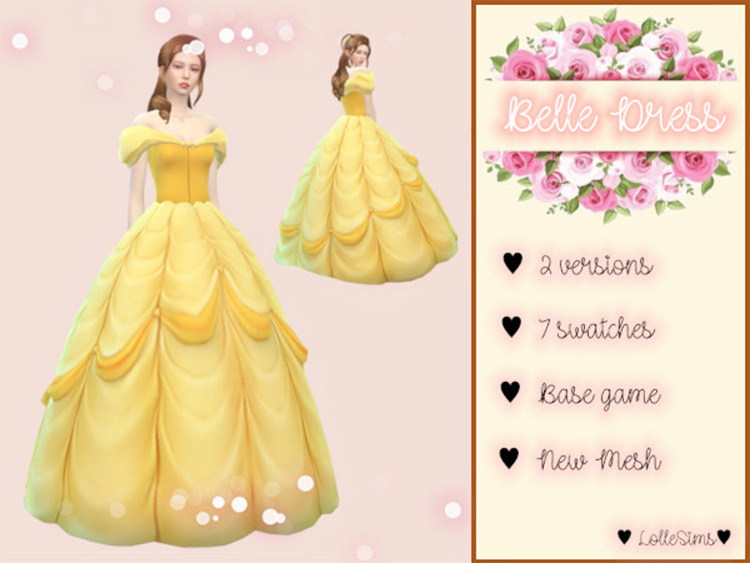 The unmistakable, iconic gown in all its glory.
This dress comes in two versions, one where the dress moves with the legs and one where it stays put.
It also comes in seven different swatches, the sunny yellow we all know and love, blue, pink, and four more which are a lovely white with colored trim accents.
2.

Belle Hair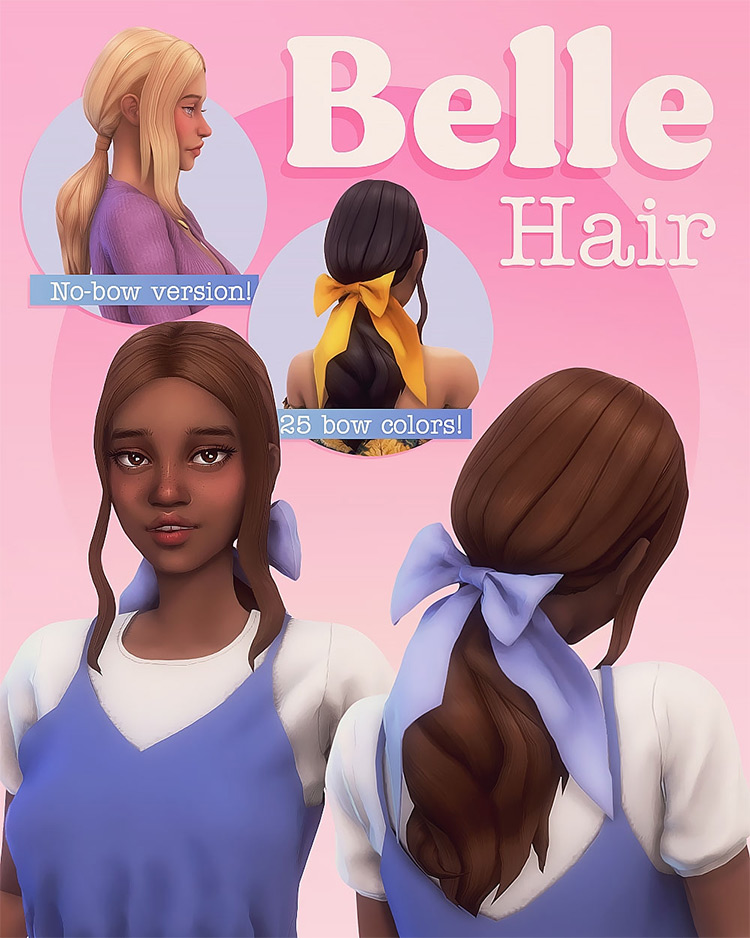 Did you know that Belle was the first brunette Disney princess?
I've always loved Belle's lazy ponytail embellished with a big bow, it's so chic.
This stylish hairstyle has been recreated for your future royalty by the talented Miiko. It comes with or without a bow and there are twenty-five different colors to choose from for the bow.
There are also 18 Maxis Match hair color swatches and three fun ones – white, purple, and pink.
3.

Belle Christmas Gown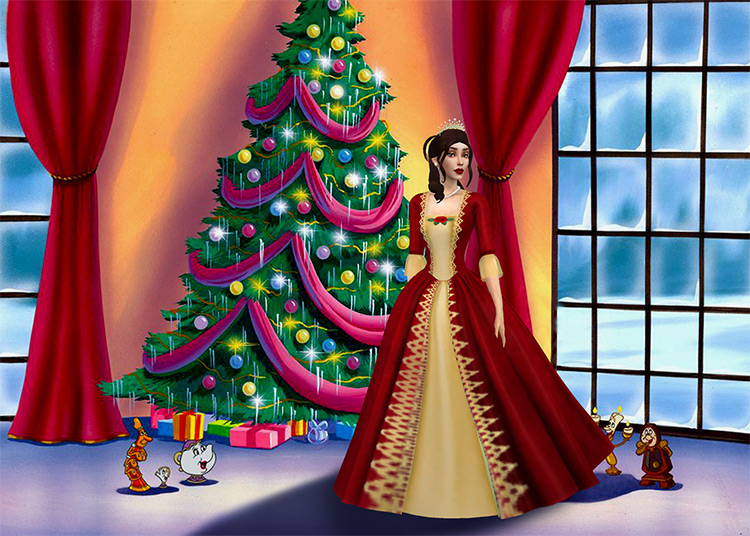 Get outside in the snow and show off your animal affinity in this stunning gown.
I know there are other more identifiable Beauty and the Beast outfits, but the most stunning is without a doubt Belle's Christmas gown. The gorgeous gold and red velvet against the snow is just breathtaking.
This outfit also comes with a beautiful gold tiara and the Christmas gown in the same style as the movie, so with less detail.
4.

Madlen Rosangela Boots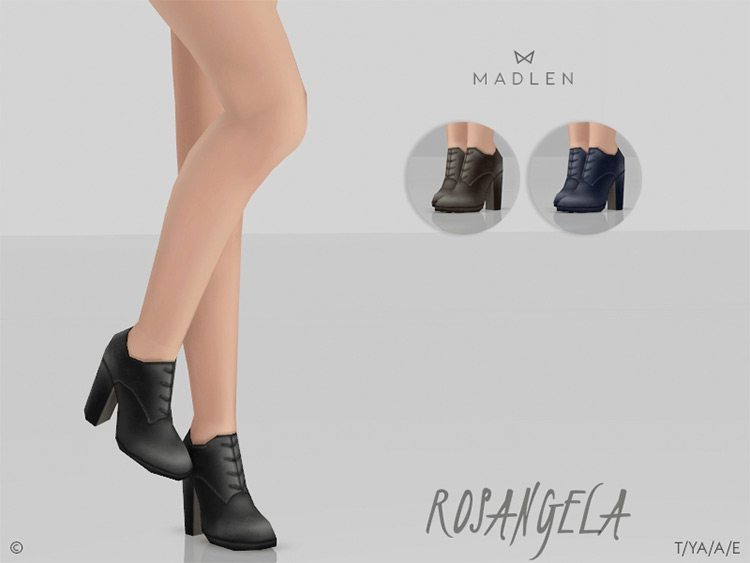 While Belle may have worn flats through most of the movie, my sims tend to be a little too glam for flats.
If you feel the same, these super cute booties are for you.
So why not have your sim strut their stuff through an idealistic French villa in these adorable Chelsea booties. They only come in three different colors: brown, black, and navy.
5.

Belle Village Dress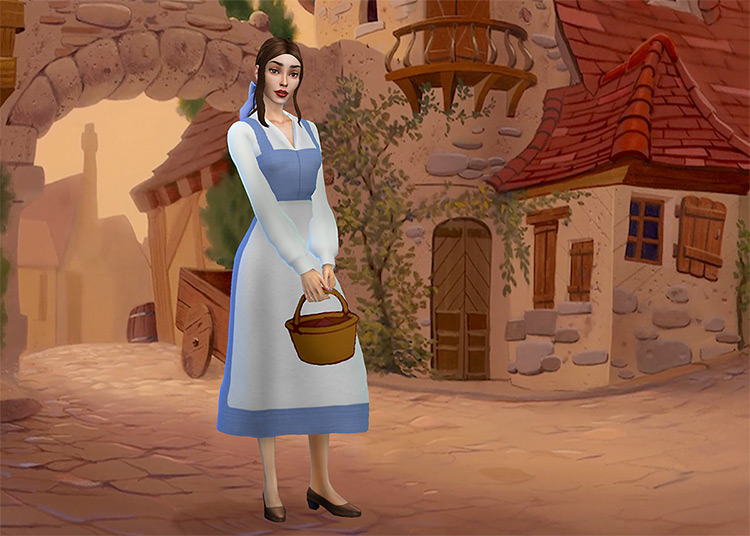 Stardust Sims is back at it again with this perfect recreation of Belle's village outfit.
Fun fact, if you watch closely throughout the beginning of the movie, Belle is the only villager wearing blue.
The simplicity of this dress makes it even more perfect to imagine your sim as Belle in her quiet French village. This outfit only comes in the color scheme you see here, and it matches the bow from the Miiko hair.
6.

Tekri Sims Belle Ea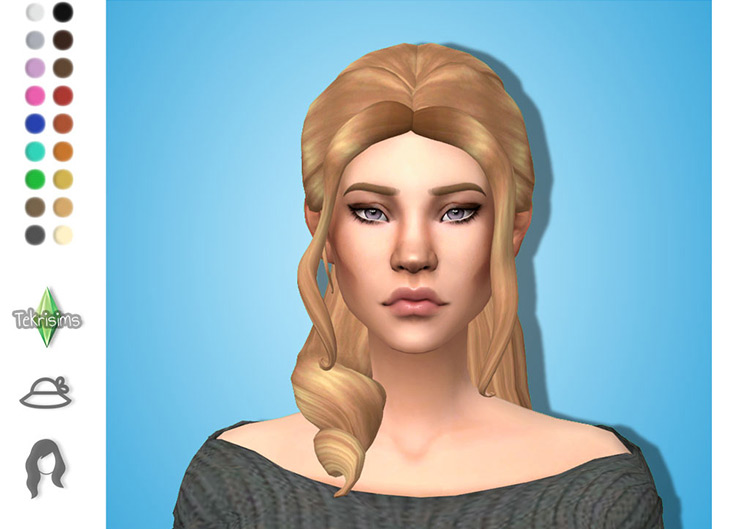 I know you didn't forget the hairstyle that marks Belle as a true Disney princess.
Pop your girl in a gown, give her this hairdo, and watch her glide across the dance floor to the song we all know and love.
This updo comes in 18 EA color swatches and is available for any sim aged teen or above. Which is perfect since this is such a great choice for a prom hairstyle.
7.

French Village (Lot)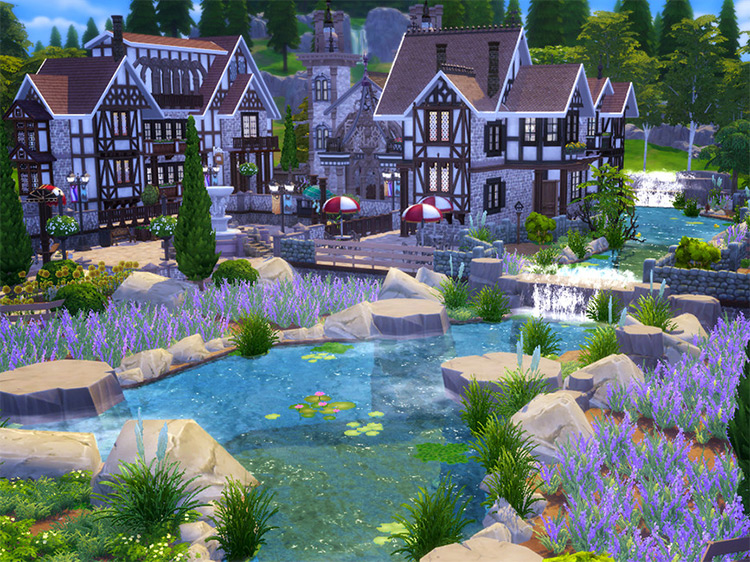 Bonjour! Bonjour!
This is such a wonderfully quaint little French village to wander and sing in.
The 64 x 64 lot has a school, doctor's office, shops, a market, and two houses. I'm blown away by the architecture and the lovely river running through the square. You can really see the love put into this build.
8.

Door Set: Belle, Beast & Tiana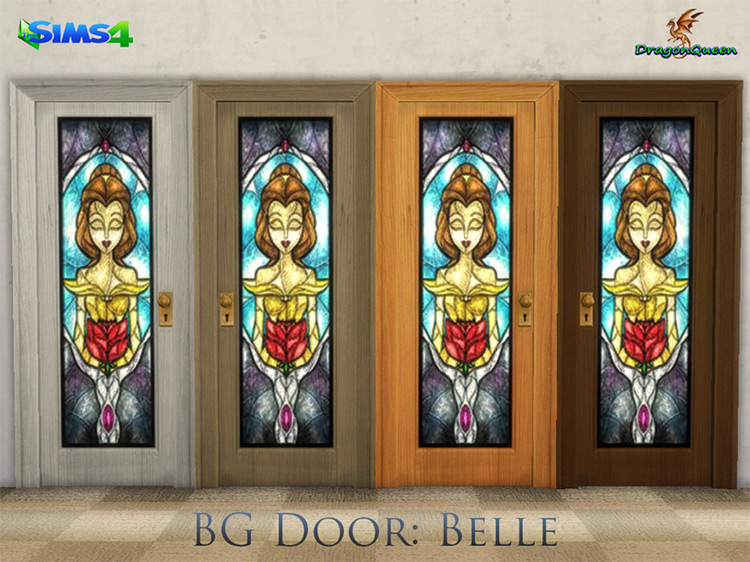 Pay homage not only to you and your future husband, but also to your great-great grandmother Tiana (the third generation in the princess challenge), with these eye-catching stained glass doors.
While the beast may seem a little scary, I love the incorporation of a rose in both Belle's and Beast's glass designs.
They are the perfect meta decorations for your future castle.
9.

Belle 2017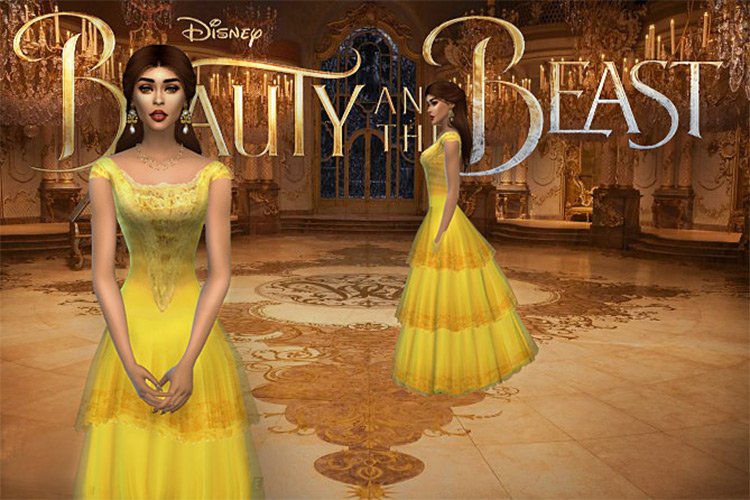 Did you like the more understated version of Belle's gown from the most recent film?
Then this dress was made with you in mind. The way this creator imitated the layers on the bottom half of the gown is breathtaking.
This dress comes in two different shades of yellow and is sure to distract from your rather large and unkempt fiancé.
10.

Beauty & The Beast Castle (Lot)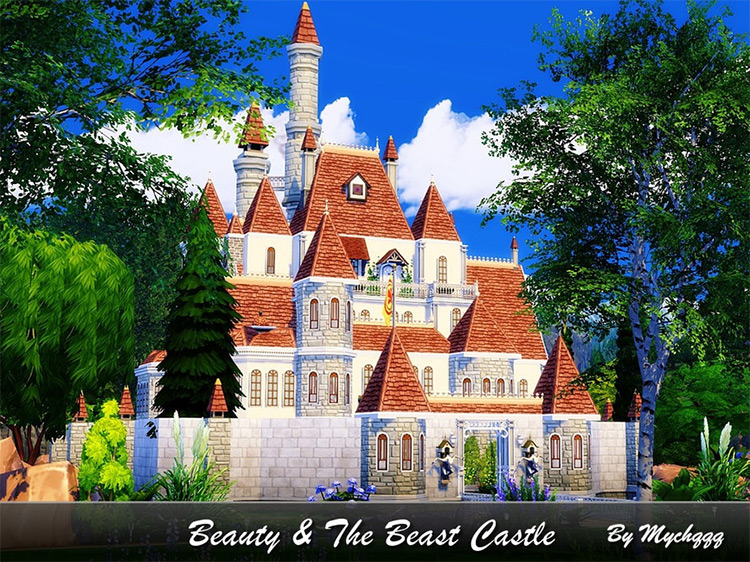 This absolutely stunning creation is the perfect place to settle down once your Belle weds her Beast, or while he's holding her captive. It's up to you.
There are four bedrooms, three bathrooms, two living rooms, a kitchen, and gorgeous decor to spoil your sim, which she truly deserves.
Browse:
Disney
Lists
The Sims 4
Video Games