The 30 Best Sims 4 CC Creators To Check Out
This post may contain affiliate links. If you buy something we may get a small commission at no extra cost to you. (Learn more).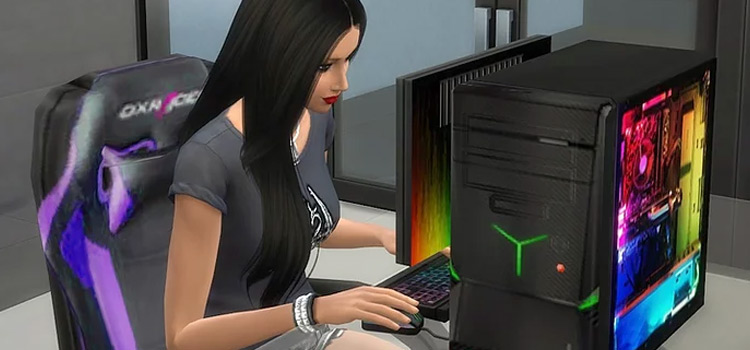 You know that feeling when you're trying to create a new Sim or style a new build in TS4, but the current options you have just feel so bland and boring?
No shade at all to EA, but CAS and Build/Buy items play a huge role in TS4's replayability value.
There are only so many times you can use the same five or six hairstyles or the same statement rugs, you know?
If you're hankering for some new content for The Sims but you don't quite know what you want, why not check out some Sims 4 CC creators? These guys, gals, and non-binary pals of the TS4 community may have created the very thing you need to inspire you back to full Simming mode.
I've split the list up into four categories:
All/General CC, for the creators who have items for every conceivable aspect of the game
Recolors, for the creators who recreate, retexture, or re-skin existing TS4 objects
CAS CC, for the creators who specialize in items specifically for creating Sims
Buy/Build CC, for the creators who exclusively put out furniture and building content.
---
All/General CC Creators
---
1.

Natalia-Auditore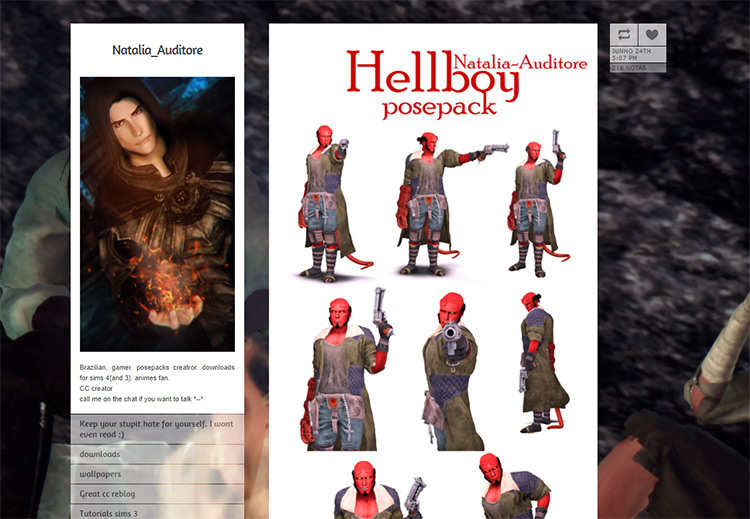 Although I mostly download hair and custom poses from this creator, Natalia-Auditore actually produces custom content for a lot of TS4 categories:
Accessories, clothing, Build/Buy items, and some decorative pieces.
Their textures—especially for the hair—lean more towards the Maxis Match end of the spectrum.
I personally adore this creator because they recreate a lot of fantasy-themed popular media icons.
Think Kylo Ren from Star Wars, dragons from Skyrim, Cloud Strife from Final Fantasy VII, and Akali from League of Legends (KDA version).
There are more. A lot more.
And they do the whole package, too: custom hair, custom outfit and accessories, custom poses—the whole nine yards.
You can find a ton on their Tumblr blog, or check out their Patreon for even more TS4 stuff.
2.

Katverse
If you've searched for any sort of Sims 4 CC, you've probably come across Katverse.
Clothing, accessories, custom poses, CAS backgrounds—you name it, Katverse has done it.
I personally love their custom poses.
The concepts are one-of-a-kind and they're always extremely well-done. And there are a lot of them, too.
From simple solo poses to full-on group shots, you're sure to find the exact pose you need from their 10+ pages' worth of poses.
Yep you read that right.
They've also put out quite a bit of unique CAS backgrounds and CC makeup pieces. You'll spend hours browsing their website, guaranteed.
3.

SimPlistic
SimPlistic is another of the "OG" CC creators that caters to most categories.
They have a couple CAS items—mostly clothing—and a lot of Build/Buy stuff in Maxis Match textures.
Their story is that of a long-time Simmer turned custom content creator inspired to share the stuff they made for their own game. And aside from selflessly sharing their hundreds of CC pieces for free, they're also one of the few creators with their own neatly tagged, organized, and categorized website.
The effort SimPlistic has put into the TS4 CC community is insane, and we love them for it.
4.

Tamo
Although Tamo doesn't have a lot of CC items to date, their creations are all incredibly high-quality.
And Maxis Match too, which is pretty much a bonus for me (and everyone else who prefers their CC merge seamlessly with the actual game).
Hair, makeup, accessories, clothing, lots, and a miscellaneous outfits save file, I'd say they've covered a decent number of categories.
Again, there aren't a lot of items in each.
But the ones that do exist are extremely well-crafted. I'm personally a big fan of their chokers, boxy sweaters, and cropped turtlenecks.
---
Recolors CC Creators
---
5.

Piscis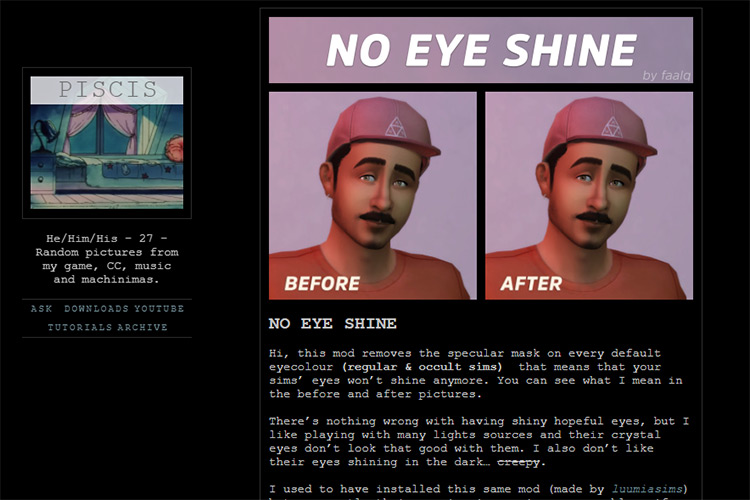 I think it's a well-known fact within the community that TS4 doesn't give many color and style options for their items.
Whether it's hair or skin tones (thank goodness for the recent update), counters or cushions, you're not going to have a lot of variations.
Thank goodness for recolors, and thank goodness for CC creators like Piscis.
Piscis produces vanilla base game items with new colors and/or new meshes to make them more interesting.
For instance: shrinking the top half of a base game ponytail to make it less bouffant. Recreating some ragged, ripped shorts to remove the tears and add two new denim swatches.
Or adding five new color options to a pair of combat boots, bumping the number of variations up from three to eight.
These edits may seem pretty minor.
But there's a huge chunk of the community that actually loves the small changes and tweaks made by Piscis' (re)creations.
6.

NoodlesCC
NoodlesCC (also known as "tainoodles" from their main blog) has created a unique 76-color palette lovingly named "Sorbets Remix".
And they've recolored dozens—if not hundreds—of vanilla TS4 objects using that palette.
Hair, clothes, eyes, beds—you name it, they've re-done and released it in 76 new colors; 19 total colors that come in four shades (light, light pastel, medium, dark).
This makes in-game items more versatile and interesting, consequently increasing the game's playability.
Us Simmers just want more color options, okay?
This is why TS3's color wheel was so well-loved.
---
CAS/CC Creators
---
7.

Pralinesims
There probably isn't a CC Simmer alive who doesn't know Pralinesims… If you've ever looked for any sort of custom content—be it hair, makeup, accessories, skin details, or default replacements—you've probably run across Praline more than once.
Ask any Sims 4 player which CC creator they'd recommend, and I guarantee Pralinesims will be on that list.
This creator makes hands-down some of the most gorgeous Alpha CC pieces in the Sims community.
From lip tints that can make any Sim's lips look plump and juicy to photo-skinned freckles and beauty marks, I swear everything they make is freaking magic.
(And they're honestly responsible for, like, 80% of my TS4 custom makeup.)
All you need to do is look at the preview photos of their stuff to see just how talented they are. Thankfully their site is pretty neat and organized, so finding what you want on their page shouldn't be too hard.
And if you want to browse on TSR you can check out Pralinsims' page right here. Lots to go through!
8.

Kismet Sims
I feel like Kismet Sims is one of those underrated custom content creators that most Simmers sleep on.
They have a very unique way of designing Sims, and it shows in their CC skin details (eyebags, lip masks, etc.) and hair.
Again, as their creations are still within the realm of Maxis Match, I thoroughly love each and every piece they put out.
If you prefer Alpha CC or hyper-realistic textures, they may not be your cup of tea.
Regardless, their original meshes are quite unique and whimsical, and I've seen plenty of recolors of their work (especially for their Oceans hair), so I feel they definitely deserve a spot on this list.
9.

GoppolsMe
GoppolsMe, just like Pralinesims, is one of those TS4 CC creators that has found a niche for themselves and claimed a permanent spot.
I personally love them because I am a huge fan of K-beauty: skincare, makeup, color palettes—you name it, I'm bound to fall in love with it.
And I'm sure I'm not the only one.
So if you share the same passion for soft roses, pale rouges, and shimmery pink eyeshadow with subtle winged liner, you're sure to fall in love with GoppolMe's creations. They do a lot of gorgeous Alpha CC makeup sets.
10.

Pyxis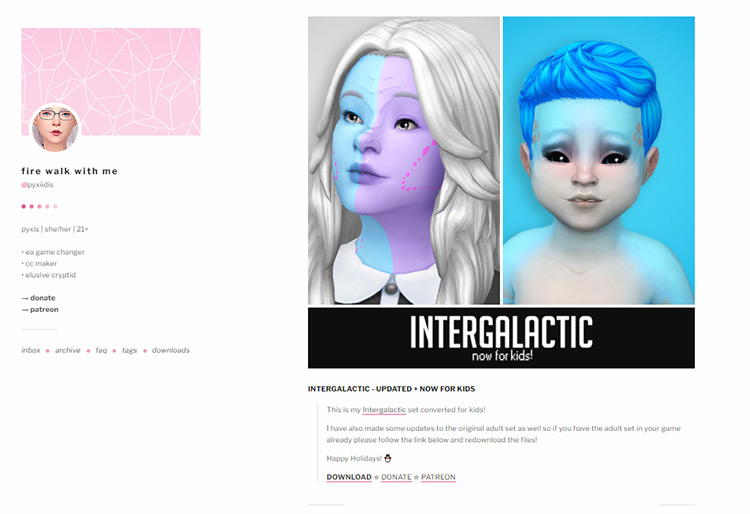 Pyxis (who uses the username @pyxiidis) is a TS4 CC creator that makes one-of-a-kind content.
And this is absolutely not an exaggeration.
They do a lot of Maxis Match skinblends, skin details, body overlays, and body details of the supernatural variety.
Think chrome-glittered aliens, minty-hued faeries, horned satyrs, and milky-eyed monsters. Just check her downloads page: fangs, scales, horns, antennae, eye replacements, and pointed ears by the dozen.
Her original Sims are pretty cute, though, and she definitely nailed the whimsical-fantasy aesthetic.
If her style appeals to you, 10/10 would recommend checking out her content.
11.

Hoshi
If you've ever come across the brand Simsphora before, then you've definitely run into Hoshi (or hoshi-sim).
This creator has taken on the absolutely genius project of recreating popular makeup items in the Sims 4.
Your makeup-loving, beauty-guru Sim can use real best-selling eyeshadow palettes, lipsticks, blushes, and contour kits in-game thanks to their custom creations.
They don't have a lot of CC to choose from. But the quality of their content more than makes up for it.
All of their downloads are Alpha CC and can be found under the Navigation tab of their site.
12.

S-Club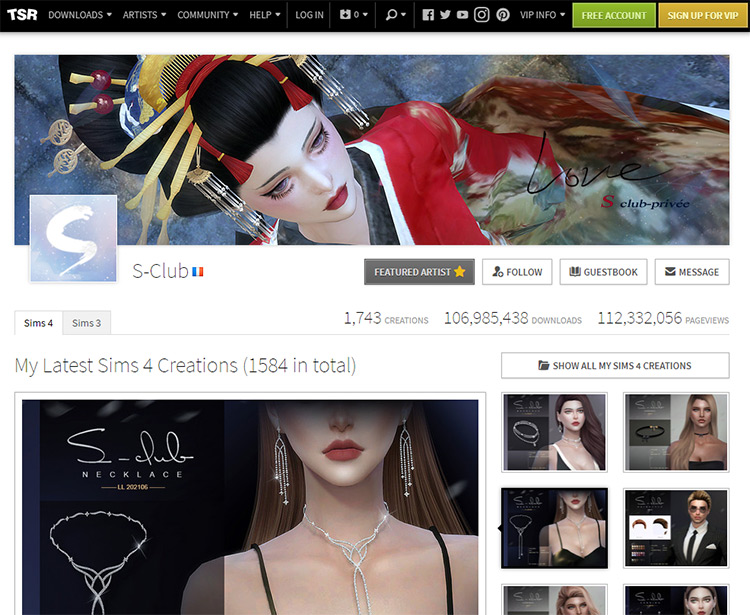 Yet another big name within the TS4 CC community, S-Club is actually a creator account founded and run by several people (simply named MK, LL, and WM).
They make a fair amount of makeup, hair, and skinblends/skin details.
But I would say the majority of what they put out are Alpha CC clothes and accessories.
And they, without a question, have delicate and elegant down to an art form.
Seriously – that's the vibe of every freaking piece: thin, dainty, and looks like it would cost more than my rent. Think pearl necklaces, rose gold earrings, designer brooches, and pretty diamond clips.
They even have fake press-on nails (for the high-class Sim who is well above doing menial manual labor, you know?)
13.

Sims4 Marigold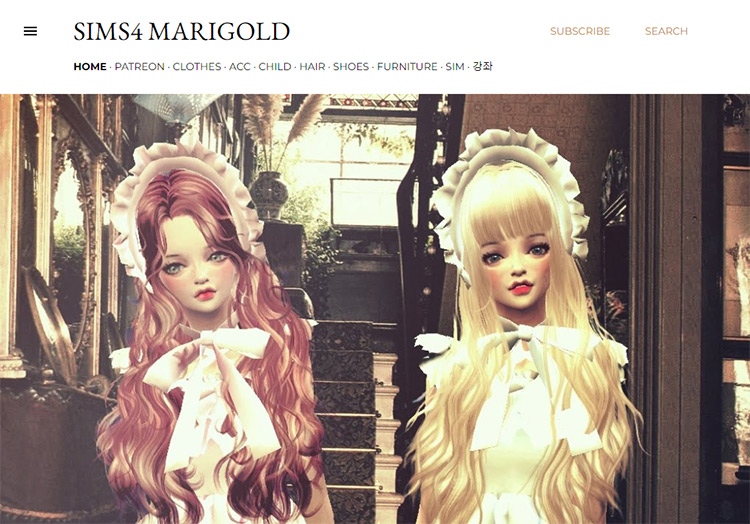 When you want Alpha CC shoes for the Sims 4, you want something made by Sims4 Marigold.
As a Korean content creator who perfectly replicates Korean fashion for TS4, all of their items are incredibly unique.
Their catalog includes ruffled cropped sweaters, gingham skorts, peasant blouses, oversized jersey dresses, and the like.
All original designs that you'd be hard-pressed to find anywhere else, if I'm being honest.
Clothes and dresses aside, I would say that their real crowning glory—and what they're most known for—is arguably their custom shoes. The style range is insane.
From chunky white dad shoes to slouchy combat boots with exaggerated soles, the pieces in their (shoe) portfolio are the eccentric kind of fashionable that would look great paired with most any bottom.
14.

Simpliciaty
If you prefer photo-skinned Alpha CC over Maxis Match textures, then Simpliciaty should be one of your go-to's for CAS content.
They have custom hair, makeup, clothing, and accessories available for free on their website—and they're all extremely well-made.
They only have a handful of pieces for each category, but the item quality makes them worth checking out.
And if you're into makeup, Simpliciaty also has some TS4 recreations of IRL beauty products like Kylie Jenner lip kits Anastasia Beverly Hills matte liquid lipsticks.
15.

Pinkzombiecupcakes
Some of the best Alpha CC clothing I've seen for TS4 comes from this creator.
Personally, I don't like how some Alpha CC clothes look on my Sims. Since I don't modify the default Maxis Match textures for them, and all the CC hairs I use are clayified, the difference can be jarring.
However, I will say that most of Pinkzombiecupcakes creations blend quite well with unmodded vanilla TS4 textures.
Because the details of the clothing—like the wrinkles, the creases, etc.—are subtle and sparingly used, the clothes don't look hyper-realistic.
So even if you're more of a Maxis Match Simmer, you can still use and enjoy much of their content.
16.

NataliS
NataliS is a Featured Artist on The Sims Resource. So you know you're getting some of the best custom content around when you download their creations.
They specialize almost exclusively in accessories, and have dozens (if not hundreds) of earrings, necklaces, chokers, tiaras, and handbags.
All of the pieces are one-of-a-kind and cover a wide spectrum of styles: elegant, classy, tasteful, simple, novel, flashy—you name it, they've got a ring, pendant, or designer hoop that fits the bill!
17.

Madlen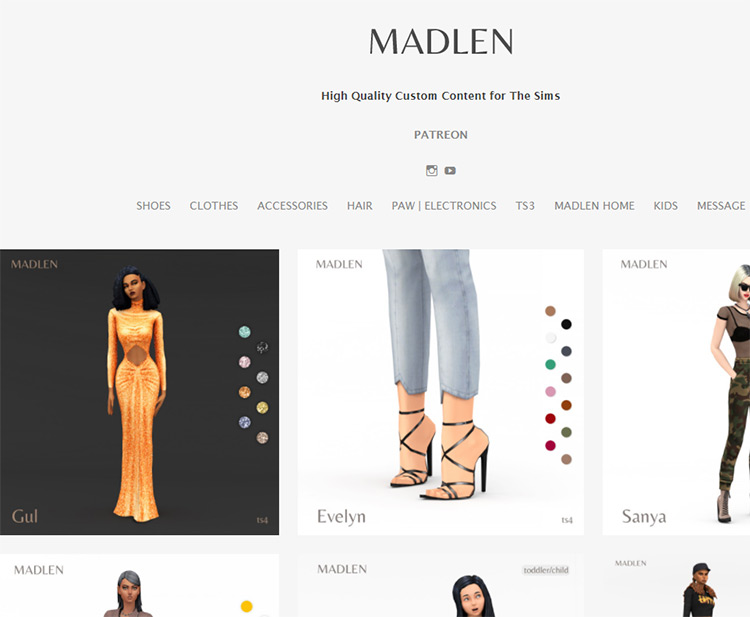 For fashionable Simmers and fashionable Sims, Madlen (or madlensims) produces some of the most high-fashion, high-end custom pieces for TS4.
Pleather peacoats, beige trenchcoats with faux fur, skin-tight bodysuits with fur trim, corset-front rompers… the spread is unbelievable (and unbelievably beautiful).
Each item comes with a decent number of color variations, too.
And if you're ever bored with the vanilla game shoe selection, worry not.
Madlen has 700+ Maxis Match shoes available for download. Current number at the time of writing stands at 767, which means you've got quite a bit of shopping to do if you ever decide to explore their downloads page.
18.

ChloeMMM
Do you know how hard it is to find trendy Maxis Match CC clothes for TS4?
Most talented custom clothing creators veer towards Alpha CC or photo-skinned textures for their products.
I'm not sure if it's because the realistic blend makes it easier to recreate real clothes for the game? But that's the reality I face as a particularly picky CC Simmer.
That's also why I'm an avid follower of ChloeMMM.
They create incredibly fashionable clothing items that perfectly match the default EA textures, and the quality of each piece is fantastic.
Your Sims—and even the townies!—can prance around in cheerful crop tops, colorful candy pants, and summery sundresses without there being a huge disconnect between the body and the clothes.
19.

Nightcrawler Sims
Next to clothes, I genuinely feel like custom hair will always be one of the Simming community's biggest demands.
It seems like no matter how many Game Packs, Stuff Packs, and Expansion Packs EA puts out, the vanilla game hairstyles will always be limited.
I mean, I totally get it. A lot of us express ourselves with our hair. And not everyone finds the appeal in chunky bobs or girl-next-door waves.
Thankfully, Nightcrawler Sims is here to fulfill that demand with stunning high-quality pieces.
They have 200+ Alpha CC hairstyles available for download, and all of them are beautifully crafted.
Not to mention incredibly diverse. From long, stick-straight hair to urban-chick-esque space buns with bangs, they seem to have content to suit anyone's personal style.
20.

Wingssims
Wingssims is another Featured Artist on The Sims Resource, and it's not hard to see why; their custom hairstyles are jaw-droppingly gorgeous.
Sleek, shiny, and beautifully detailed.
I'm talking strands of varying length, little flyaway wisps, smooth, silky highlights, soft edges … the whole nine yards.
If you love using Alpha CC for your CAS stuff, I cannot recommend their creations enough.
They've got over 300 hairstyles to choose from, and they're all stunning. And that's not an exaggeration. Each item they put out has its own unique charm.
21.

Simandy
As someone who runs into Alpha CC hair more than I do Maxis Match, I cannot stress how happy I am to have found this creator.
Simandy does a lot of custom hair (both original meshes and recolors) and custom skinblends.
I personally love the soft, blush-y, airy vibe that all of their creations carry.
I think it suits the clayified texture quite well. And it also looks great in-game.
Many of their custom pieces are quite whimsical and one-of-a-kind. Think messy space buns, pseudo-Hime cuts, two-toned slashed styles, and middle-parted hair with pompoms.
I genuinely think you'd be hard-pressed to find similar hairstyles from other creators.
They do have a couple pieces of clothing and accessories under their belt, but a large part of simandy's portfolio (I'm talking more than five pages) is made of custom TS4 hair.
22.

Leah Lilith
Whereas wingssims' hair was photorealistic and incredibly detailed, Leah Lilith's approach is a lot softer and subtler.
Their creations are still undoubtedly alpha CC, but there's a bit of "chunkiness" to them that's almost reminiscent of Maxis Match.
Almost.
I personally think it works quite well for their style.
There's a softness and wispiness to all their content that makes me think of super-soft, super-fluffy hair—the kind that's subjected to deep-conditioning, hair masks, and professional treatments at least once a week.
Most of their content also comes with a decent number of color options, so. Yay, variety!
23.

Marsosims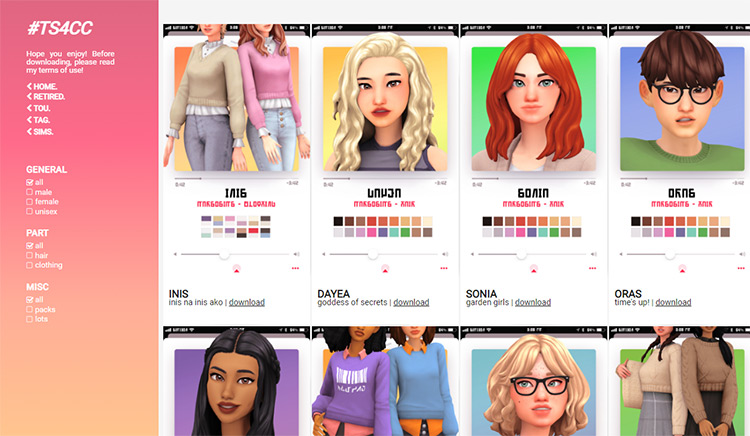 Even though I don't use a lot of their stuff for my games, I genuinely enjoy scrolling through marsosims' gallery.
First off, their original Sims are hella cute. They have that quirky 3D-animated-film quality that I absolutely adore (and would kill to be able to pull off for my own Sims, not gonna lie).
Second, their creations are gorgeous. Hands-down some of the best Maxis Match custom hairstyles I've seen around the community.
Most of the content they have is for Female Sims, but the pieces she does have for Male Sims are just as unique and high-quality.
And even though I put them under Hair, I highly recommend you check out their custom clothing, too.
Fun Fact! The creator uses Filipino words to name their CC (hair + clothes), and the backstory of some pieces can be pretty funny.
If you speak the language, you'll get a kick out of reading their explanations/taglines.
24.

Feral Poodles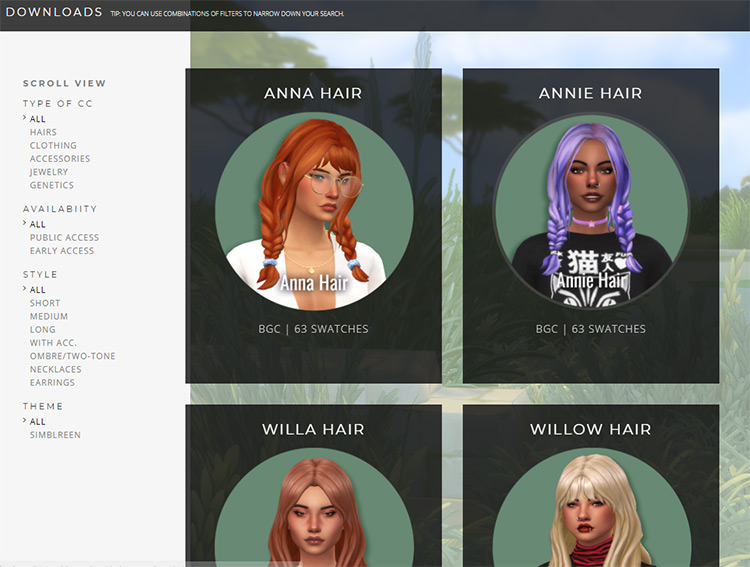 A big reason why some Simmers don't quite like Maxis Match hair is because of the lack of shine and body.
The clayified texture can often come off as thick, chunky, and too cartoon-y—especially when compared with Alpha CC's realistic highlights and wispy strands. So I totally get how it might not be their cup of tea.
However, Feral Poodles seems to have taken that into consideration when creating their pieces, because all their custom hairstyles have soft hints of highlights and a sort of "matte" shine that gives each piece so. much. character.
Some pieces (like the Bella and the Hazel hair) even have visible individual strands! It's a charming blend of both textures that works way too well.
25.

Anto
If you're into sleek Alpha CC hairstyles, you'll absolutely love Anto's custome creations.
The hairstyles they put out are the kind you'd see on the smart, successful, New-York-thriving, semi-stuck-up dragon lady character in a cheesy rom-com.
They're all some degree of neat, elegant, slicked back, immaculately straightened, effortlessly tousled, or perfectly coiffed.
The phrase "not a hair out of place" comes to mind when I see their content. And I think it's pretty easy to see why.
And, bonus: most of their custom hair comes with more than 30 color options. I love when creators give us variety.
Again, I don't use a lot of their stuff often. But I'm incredibly guilty of just scrolling through their TSR gallery and enjoying the pretty pictures.
Word to the wise if you're planning on doing the same: it can get addictive.
26.

Greenllamas
Greenllamas has a very distinct matte feel to his hairstyles that look excellent in-game.
I will say that their content also doesn't look as thick, clumpy, or chunky as most Maxis Match hairs tend to do.
I personally prefer the clumped, clayified look, but I can also see how their softer, thinner, and subtler style would appeal to other people.
I also think they have some of the best custom variations for shoulder- to chin-length bobs.
From blunt cuts to slightly wavy numbers, bouffant curls to playfully tousled strands, they make short hair look extremely good.
100% recommend if you're looking for ways to spice up your manic-pixie-Sim's look.
---
Buy/Build CC Creators
---
27.

Severinka_
Severinka is another staple in the Sims CC community (and another Featured Artist on TSR).
If you've ever wanted a different kind of rug, a more elegant-looking dining chair, or some gorgeous hand-crafted wooden decorative toys for your toddler Sim's nursery, you should check out their gallery.
Severinka currently has over 2,000 creations available for download, so you should have very little trouble finding something you want from their gallery.
Also, they specialize almost exclusively in furniture sets.
So those 2,000+ creations contain at least three or more items in them.
Yep, Severinka_ is undoubtedly a treasured gift to the Sims community.
28.

Rirann
The Sims 4 may have the best and most intuitive Build/Buy mode of all The Sims games so far. But that doesn't mean jack if you're a hopeless, talentless builder (aka me).
Seriously, when left to my own devices, all my houses would look like boxes with windows and a roof.
Don't even get me started on painting the terrain.
This is why Rirann is my personal hero.
They create a lot of custom furniture sets and CC builds that we can download (and use) for free!
The lots are fully furnished and absolutely gorgeous, inside-out. The furniture sets are also created with the room in mind (i.e., Kitchen Set, Bedroom Set, Foyer Set, etc.), so you can use their preview photos as a guide.
All their custom pieces are so high-quality, it's almost ridiculous.
29.

K-hippie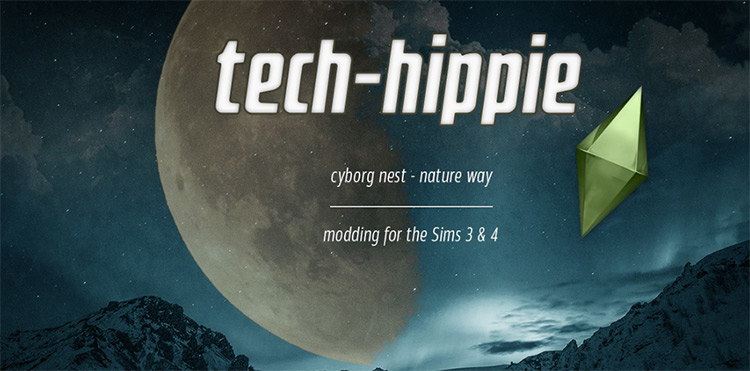 This Sims 4 CC creator has a very distinct "grungy, worn, urban-industrial" style to their custom Build/Buy items that I rarely see anywhere else.
Unlike Rirann and Severinka_, they don't release furniture sets or room packs.
Instead K-hippie puts out CC bundles that are drastically different variations of one or two custom items—think different textures/designs for a container van wall, or different colors and rust patterns for an old industrialized door.
What they do is a little different, but they're my personal go-to when I need just one specific item for a build.
I also love how high-quality and incredibly detailed their pieces are.
The "grungy, grimy" look is a bit of a gamble for TS4, as it can come off as dirty and unpolished in-game if the creator doesn't know what they're doing… Well that's clearly not the case for the K-Hippie Team.
30.

SIMcredible!
This creator is another one of my personal favorites—largely because their custom pieces come in a lot of nice, wooden swatches.
I love using wooden textures for my builds.
Unfortunately, the vanilla game options are pretty limited…
Call me boring, but I prefer my Sims' homes to be in warm earth tones and safe beige shades.
SIMcredible!'s creations fulfill those stipulations almost perfectly. Wooden furniture, wooden shelving, coffee-colored carpets, cedar-red trim… I rarely run out of variations when I'm using their stuff for my games.
This isn't to say their creations don't have color, either.
In fact, a lot of their custom pieces come in bright, cheery hues!
They just have a very diverse color palette to suit different decorating styles. I genuinely appreciate how they go out of their way to give us Simmers quality and variety.
Browse:
Lists
The Sims 4
Video Games