Best Sims 4 Hoop Earrings CC To Download
This post may contain affiliate links. If you buy something we may get a small commission at no extra cost to you. (Learn more).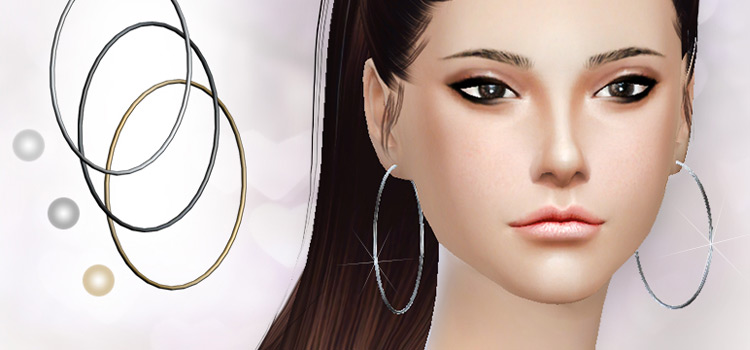 In real life, hoops are the easiest things to put on. Get it through the gap, snap, and glam! Your simple outfit is a bad ass yet casual look, worthy of a Jenny from the block comparison.
The not so easy, not so glamorous aspect of it is actually going to the store and choosing what to wear.
Do I need them gold and big? Silver and small? Pink and thin, black and thick?
In the end, what you don't want for yourself, you probably don't want for your Sims. And with all those bland hoops, who can we call to save us avid hoop enthusiasts?
Our dear Custom Content makers, the local artisans of the Sims 4 community. They save us the trouble of spending hours looking for that cute pair we want.
And then comes me, the mediator. I'll save you the trouble of searching hundreds of hoops CCs, because I can deliver them on a silver platter right here. Let's dive in!
10.

Wavy Hoops
Hoops are usually smooth, round, and simple.
And if you look around, they're pretty much everywhere. Then, like the waves of the ocean, come the waves of the hoop.
These wavy hoops by Giulietta can give your simple and sleek outfit a bit more personality. They can turn a casual dress into a classy looking, well thought out combination.
Just like the ocean thanks the blue waves, you'll be thanking these wavy hoops for the extra sass that you can get in gold, silver, bronze, and black.
Or if you want some matching earrings for yourself & your little girl, they're available for kids too!
9.

Small Heart Hoop Earrings
Some of us are not all about that sass life.
We'd prefer our inner cuteness to shine! That's where these adorable heart hoops by Giulietta come in!
They're small, cute, shiny metallic pieces that come in four different colors: rose pink being the cutest of them all.
Combine it with a cute neckpiece, some subtle lip gloss, and pose; because your Sim is going to look so cute you'll want to treasure it forever.
Additionally, as other earrings by Giulietta, this pair is also available for kids and toddlers!
8.

Designer Hoop Earrings
When it comes to shine and innovation, CC designer Giulietta does not disappoint.
This pair of designer hoop earrings can be downloaded with 10 different swatches. With such a unique design, these earrings are meant to be shown. Here's how:
First, put your hair up high in a fashionable bun or ponytail. Some kind of updo, really.
Follow it with neutral makeup, a matte lipstick perhaps. Don't wear too big a necklace, or a shirt that's too puffy. And voila!
You, your confidence, and your earrings will perfectly fit into any outfit.
7.

Layerable Hoops
Have you heard the saying "two is always better than one"?
It's true! And these layerable hoops by NightcrawlerSims are proof of it.
Although big at first glance, these earrings are going to bring attention towards your Sim's lovely face of your Sim. So be sure to cake them up nicely to match!
These hoops are fit for a boss; put your Sims hair back in a nice pair of braids and watch the glam give you a flirty bad girl aura.
Be careful though! As with most hoops, you should keep your other accessories simple to balance out your style.
6.

Snake Drop Earrings
Truth be told, most of us are afraid of snakes; although in secret we've probably wished to be able to turn a Sim or two into stone like Medusa did in her golden days.
This is the reason these snake drop earrings by DarkNightTt take a spot on the list.
We all deserve to be a little bit different, dangerous, and exotic once in a while!
Available in four colors, this pair looks best with a short hairstyle that brings out the fierceness in your Sim.
Or maybe these are for the day that your Sim wants to be more grunge.
5.

Geometrical Hoops (square, star, hexagon… you name it!)
Hoops are known to be round with some real personality to them.
But what about the days when you just want that extra edge? You know, some girls want their hoops to match their personality.
And what better way to do it than some geometrical hoops for the sharp, strong willed Sim?
Just like in real life, the geometric shapes found online are few & far between.
But check out these Star hoops earrings by Giulietta that are simply out of this world.
And then there are these Square crystal earrings by NataliS; fit to match your daring and sharp outfit.
4.

Bobur Earrings
So you want hoops, but don't want the same old round ones?
Well you're in luck!
These Bobur earrings by Bobur3 give you the circumference of the hoops, while an opening allows for freedom and length.
Dangling from your Sim's ears you'll find little pearls that change color depending on one of four colors you can choose, all connected by a chain that will doll up any type of fancy outfit.
3.

Peach Earrings
If your Sim is more of a stud type, then these Peach Earrings by christopher067 are a match made in heaven for your Sim & their adorable new outfit.
Available with eight different metallic colors, these earrings give a more delicate, less abrasive look.
Who said studs and hoops don't match?
2.

Bare & Simple Hoops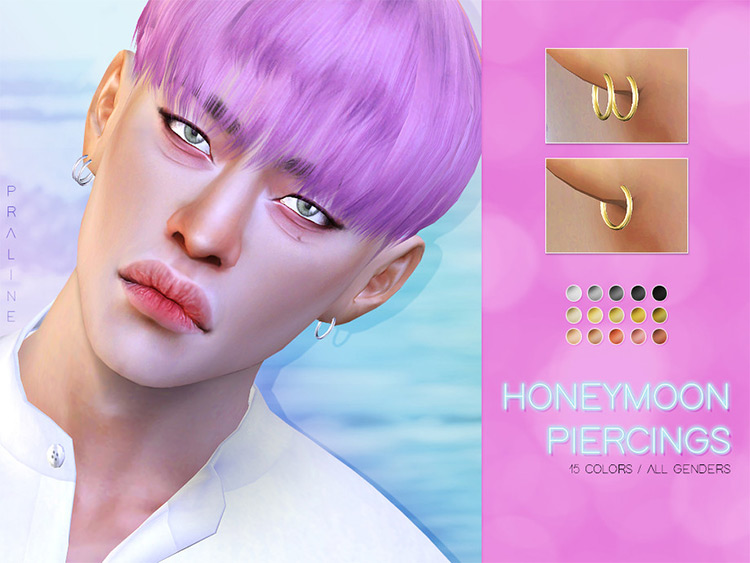 Some say the bigger the better. I say the more the merrier.
That's quite true of these Honeymoon Piercings by Pralinesims, available in fifteen colors that come in many pairs.
Want three?
These Bare Hoop Earrings by christopher067 got you covered.
And the best thing? All of them are genderless, simple, and they open the possibility of mixing(and matching!) regardless of how you dress up or dress down.
1.

Classic Hoops
People say you can never go wrong with classic black; I think the same can be said about the Classic round hoops by Pralinesims.
Or maybe try these ones by S-Club, just as nice!
Feel like keeping your Sim underdressed, but want a nice casual look? Put a hoop on it.
Feeling like your Sim came all dolled to a party that's maybe a bit more chill? Put a hoop on it!
All the hoops on this list come from many Custom Content creators. But I think the ones by Pralinesims are the best—there's just so many of them!
Their classic hoopes come in 25 different colors, some of which are fancy metallic finishes, allowing for fun matches for any outfit no matter the occasion.
Browse:
Lists
The Sims 4
Video Games