Top 40 Best Katverse TS4 CC & Poses: Our Top Picks
This post may contain affiliate links. If you buy something we may get a small commission at no extra cost to you. (Learn more).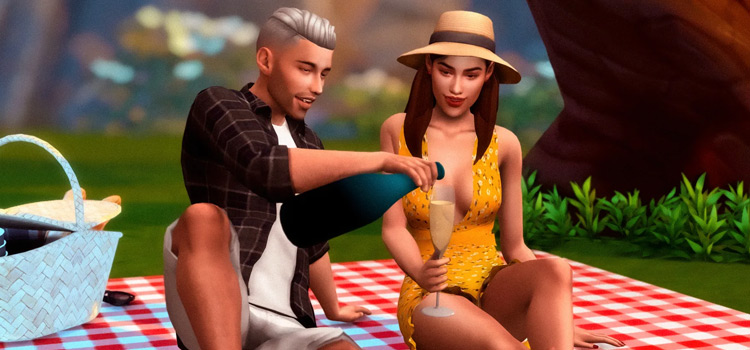 Katverse (or KatverseCC) is one of the best custom content creators for The Sims 4.
They put out a fair bit of CAS items, like clothing and makeup, and a lot of poses. In fact, when I'm looking for certain poses, they're my immediate go-to (as I'm sure they are for many others).
The pose concepts they come up with are incredibly creative, and the execution is always on-point.
That being said, here's our list of katverse's best CC across all categories.
Katverse Custom Clothes
1.

Alice Pajama Shorts
I do think my Sims' could use more options for sleepwear.
I mean, I feel like I'm cycling between baggy sweatpants, skimpy lingerie, or sporty bootyshorts. There's no in-between!
These Alice Pajama shorts have a fun, frilly design, come in 20 versatile colors, and can be used for daywear. Literally no drawbacks.
2.

Frida Pants
I've got a weakness for billowy dancer pants with fun prints.
Sue me. I think Frida looks like just the right blend of comfy and stylish to justify adding her to your Sims' wardrobe.
Plus, she comes in 25 swatches (20 solids, five prints). She's pretty darn versatile!
3.

Kalyn Pants
Like I said; dancer pants. Fun prints. My weakness.
These are a little too structured 'round the hips and thighs to be dancer pants, but they certainly look loose and comfy enough at the calves! And, seriously; look at the print options. These pants are ready to party!
4.

Vickie Pullover
Something sweet, simple, and casual; katverse's Vickie Pullover is a great way to add more spice to your Sim's wardrobe.
Sure, you can't go wrong with safe solids.
But prints and patterns can really level up an outfit! It's an easy way to cheat looking put-together when, really, all your Sim did was shrug on a single pullover.
5.

Isabel Top
I don't know if bandana tops are still trendy, but I do know that they work ridiculously well with high-waisted bottoms.
And I personally love the designs katverse came up with (around six patterned swatches, if I'm counting it right) for this casual crop top, so I'm throwing it on the list!
Katverse Poses & Pose Sets
6.

Dance for the Sun Poses
Here are some gorgeous, contemporary-esque dance poses for the super-flexible Sim!
I like pose sets that are fairly generic but not too run-of-the-mill, and I feel like this concept checks both boxes. It's fairly specific but not narrative-specific.
So you could use it just to take pretty pictures without having to think of some backstory.
7.

Pillow Fight Pose Pack
This fairly unique set of poses for Young Adults is cute, wholesome, and well-executed. Of course I'm going to recommend it!
It reminds me of the 'Have Pillow Fight' interaction you could trigger in The Sims 3, so. Plus points for mild nostalgia!
8.

Reading Pose Packs (2 Packs)
These two pose packs – Reading a Book and The Beauty of Reading – share the same theme, the same accessories, and the same peaceful, chill vibe.
So I figured I'd combine them into one bulk recommendation.
The Beauty of Reading – which you can download here – is better suited for outdoor shots, like picnics and lazy beach days.
The Reading a Book Poses set (from here) is best suited for a quiet, cozy day (or night) indoors.
9.

Pregnancy Poses
Another two-for-one recommendation, because the pose sets are pretty freaking similar!
The Pregnancy Selfies Pose Pack is pretty explanatory; it's a Sim (in the third trimester, me thinks) taking sweet mirror shots of her and her belly. The Hello 3D Trimester Poses set – download here! – contains five poses of an equally-as-pregnant Sim lovingly cradling her beautiful baby bump!
10.

The Other Side of Pregnancy Pose Pack
I'm sure everyone knows pregnancy isn't all glamorous mirror selfies, happy couple shoots, and that mysterious pregnancy glow.
There's also aching feet, morning sickness, and horrid cramps every five hours — or five minutes, depending on how active the baby is.
Katverse does an excellent job of capturing all that in these poses. And by making it a couples' thing, they managed to make it look so wholesome, too!
11.

Male Modeling Poses Set 1 & 2
These poses are generic modeling poses which, let's be honest, everyone has a use for.
Maybe you created your most drop-dead gorgeous Sim yet. Or you downloaded some beautiful custom clothes and you want to setup a little photoshoot.
Katverse is known for her high-quality custom poses so I'm fairly certain you'll love how the pics turn out! Download the Pose Set 2 here.
12.

Pose Pack 6 & 16
We've got the Males covered, so now it's time for the Females to strike a pose!
Katverse's Pose Packs number 6 and 16 carry the same chill, out-and-about vibe that's perfect for casual shots.
Pose Pack 6 has a more candid feel than Pose Pack 16, but both yield pretty, pretty pictures all the same!
13.

Portrait Poses Part 1 & 2
These sets contain some generic modeling poses best suited for capturing your Sim's facial features. Pretty straightforward, yeah! I decided to combine parts 1 and 2 (download Part 2 here) so you can have a total of 13 poses to choose from.
Part 1 is more playful and sultry while part 2 gives off more subdued 'pose for the photo!' vibes.
14.

It's Not Working Out
Them's the breaks, huh?
If you need to put your Sim through devastating heartache – and if you'd like to capture that devastation on camera, because that's just how we Simmers are sometimes – this set of poses is perfect.
The title and the preview photos are pretty explanatory, and you get a total of five poses for two Sims.
15.

Despair (Pose Pack)
Sometimes, your Sim just needs a good cry.
Life is tough, and keeping it all bottled up is never a good option.
These poses will make sure your Sim looks stunning even when they're curled up and moaning about their situation!
16.

Bored in Bed Poses I & II
You know those days when you've finished all your work, everyone else you know is busy, and you're just not in the mood to go out? So you end up flopped on the couch or in your bed, complaining that there's nothing to do?
Now your Sims can go through the exact same fugue state of neutral ennui. And even with their phone (set II—download here!), they're just trapped in a bored, motionless cycle of endless scrolling and browsing.
17.

Can I Have This Dance Pose Pack
These poses are sweet, romantic, and perfect for storytelling Simmers.
It's just specific enough to fit a narrative but not too specific that it wouldn't suit most storylines. Plus, I think private dances are just really cute.
These poses would work well in both a public (like a dance or a ball) and private setting. See; preview photos!
18.

Kids With Their Phone Poses
If your Sims' kids are fond of scrolling through the TS4 equivalent of TikTok, Twitter, and/or YouTube, these poses are literally perfect. Just some chill, wholesome shots of a Child busily tapping away at their phone (and taking the occasional selfie).
Hey, as long as they're not glued to the screen 24/7, your Sims can cut them some slack!
19.

Picnic for Two Pose Pack
When the sun is shining brightly and the weather's just right, send your Sims a-picnicking!
This set of five poses from katverse will have them snuggling, cuddling, giggling, and feeding each other strawberries under the blue, blue sky.
It's a scene straight out of a movie (or a very romantic plot point in some Simmer's TS4 storyline)!
20.

Dandelion Pose Pack
For something florally fresh and wholesome, try katverse's Dandelion pose pack.
It's a beautifully done set of five poses depicting a Sim posing with a fuzzy little dandelion. It's honestly one of the sweetest pose sets I know, and it gives me just the cutest, prettiest pics!
Katverse Makeup
21.

Dyre Eyeshadow
For the aspiring and veteran e-girls, this gorgeous Dyre Eyeshadow set provides the perfect starting point to achieve that iconic look! It's got the vibrant colors, the avant-garde feel, and – most importantly – the tiny graphic heart on the upper cheekbone.
It's giving scene queen vibes in the best way!
22.

Rayne Eyeliner
Your Sims can now sport that soft smudged-out eyeliner look (that's oh-so difficult to achieve IRL) with katverse's Rayne Eyeliner.
It comes in five gorgeous colors, and each color has two different wing sizes, for a grand total of ten swatches. And, bonus; it works for Male frames, too!
23.

Winged Eyeliner WEY02
I'm a sucker for liner wings so sharp they could kill a man.
This fantastic makeup look has both a nice, thick wing and a pop of color for the lower lash line.
There are eighteen swatches in total for the bottom liner; your basic black (for sultry eyes) and white (for a wider, clear-eyed look). The rest is a mishmash of fun party colors!
Don't worry; the top wing remains a beautiful matte black for all iterations.
24.

Eyeshadow EYS01 and Eyeliner EYL01
I feel like no eyeshadow look is ever complete without some falsies or a nice, neat swathe of eyeliner.
So this two-for-one set by katverse makes total sense.
Get your Sim a nice, bold, and beautifully blended look with pink, purple, or red eyeshadow, then accentuate it with a smooth, neatly-lined lash line. Comes with fourteen color combos to choose from!
25.

Lipstick LS05
I like my eye makeup bold and my lipstick soft and muted.
I like the balance of the aesthetic.
So of course I'm going to recommend this lightly saturated, lightly smudged lipstick look by katverse. The shades make your Sim's lips look naturally plump and bitten.
26.

Ameri Face Highlight
If your Sim wants to achieve that goddess glow, katverse's Ameri highlight might be just the thing they need.
It's smooth, it's subtle, and it highlights the planes of the face like nobody's business.
It comes in different placements and opacities (total of eight swatches) so as to suit a wide range of skin colors and face shapes. It works for Male Sims, too!
27.

Glitzy Lipstick
Make your Sim a hot topic with a li'l bit of razzle-dazzle — on their face!
I know I literally just said I like muted lipstick looks, but I also acknowledge that a bold lip can be a gorgeous accessory.
This Glitzy Lipstick may be a bit too glittery to pass as a wearable, everyday makeup look. But for special events? It's gonna turn some heads for sure.
28.

Jayla Lipstick
According to the creator, this lipstick features "darker shades that are perfect for this season".
I'm guessing fall or winter is the season, because those are some drop-dead gorgeous autumnal shades.
Some of them would even work in other seasons, methinks, for Sims with deeper skin tones! Especially the reds and dark roses.
29.

Mae Face Contour
I don't know if 'snatched' is still an acceptable term to describe one's cheekbones, but that's what this Mae contour does to your Sims.
It slims their face, defines their cheekbones, and makes the apples of their cheeks pop. In the best way, of course.
30.

Roxy Blush
I'm a huge fan of the e-girl/Igari makeup look where you just dump copious amounts of blush all over your cheeks and nose area.
It gives that feverish, flushed, recovering-from-a-hangover aesthetic that I never thought I'd find so appealing. But there you go. Roxy comes in ten shades!
Katverse Custom & Overlay Eyes
31.

Cartoonish Eyes
If you've been trying to recreate animated characters in the Sims, these wide, doe-shaped peepers may be a huge help! They kind of look like Disney eyes, what with the long lashes and exaggerated almond shape.
I initially thought cartoon eyes would look jarring paired with Alpha CC (since Alpha CC leans more towards realism). However, katverse's preview photo is proof that these eyes can work with all textures.
32.

Eyes ES02
As per the creator's description, these are "simple yet pretty eyes," for Sims. Totally agree.
The edges of the iris look soft and natural against the sclera.
And the highlights and shadows are subtle enough to make the overall eye look mesmerizing.
33.

Omar Eyes
These eyes, for me, are as hypnotizing as they are intimidating.
I think it's the slightly bloodshot corners combined with the very, very pale irises.
Even some of the darker hues still look crystalline and glassy! Needless to say, these Omar eyes can help you achieve some really interesting looks.
34.

Deshi Eyes
These Deshi eyes would actually work quite well with katverse's Cartoonish eyes if they were a preset!
The edges of the iris are solid and clearly lined. The pupils are large and in charge, with two neatly-placed highlights dotting them. Overall, it gives off an appealing hand-drawn look!
35.

Eyes ES01
Big, bright, and beautiful; this set is actually katverse's first attempt at making custom eyes for The Sims 4!
As expected, they look gorgeous.
They have a clean and warm look to them that's quite appealing. And they're available in four gorgeous shades of brown.
Katverse Skin Details
36.

Philtrum Skin Detail
I never knew that upper lip thing was called a philtrum until I found this, so. You learn new things every day!
This cute skin detail from katverse allows you to easily manipulate the prominence and depth of your Sim's philtrum without having to mess around with the CAS sliders even more. Plus it can add more dimension to a Sim's face.
37.

Mollie's Freckles
Who doesn't like freckles?
Freckles are adorable.
People (e-girls especially) will painstakingly dot them on everyday just to look cuter and fresher. At least with katverse's Mollie's freckles, your Sims have the luxury of choosing the color and opacity!
(But, as with real life, you can't change the spread, the intensity, or the placement).
38.

Simple Freckles FR01
More freckles!
What can I say? I have a soft spot for them.
These freckles are a little denser than Mollie's Freckles, but they're in roughly the same area; upper cheeks and nose bridge. I would have liked to see the spread go up to the forehead, but it's still cute regardless!
39.

Eye Bags 01
Eye bags, like philtrums, add extra dimension to a Sim's look.
It's the equivalent of painting on grain paper or adding an overlay layer in photo editing; it gives the whole piece texture.
Plus, I personally think these kinds of eye bags look especially sexy on Male Sims faces.
40.

Nose Mask 04 Overlay
Nose masks are a godsend for people like me who struggle with noses.
I usually make okay-looking Sims (I think) but the noses. Good God, do I struggle.
That's why I've got a whole folder for custom nose masks. And this simple (but super smooth) nose mask by katverse just happens to be in it!
Browse:
Lists
The Sims 4
Video Games