Best Maxis Match CC Creators for The Sims 4
This post may contain affiliate links. If you buy something we may get a small commission at no extra cost to you. (Learn more).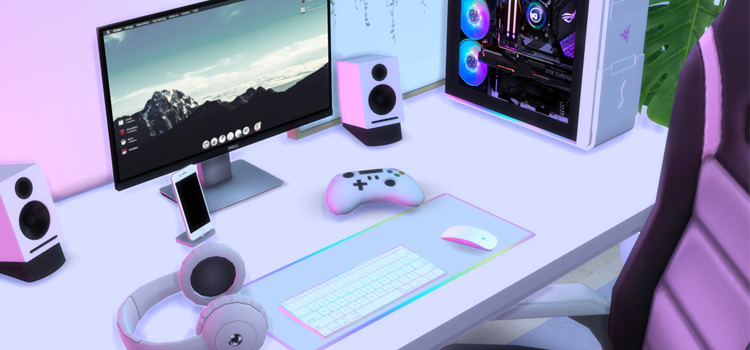 Custom content for the Sims 4 generally falls under two styles: Maxis Match and Alpha CC. Alpha CC is often described as "photoskinned" texture, and using it often results in a Sim or object that looks hyper-realistic or graphically generated.
Maxis Match, on the other hand, blends in with the default texture of The Sims 4.
It's often described as "clay" or "clayified" due to how chunky and round-edged it looks. The hair especially is often clumped together with minimal hints of details (like strands, knots, etc.). Obviously, there is no "better" texture.
Both, if done right, are supported by the game. It's all a matter of preference.
But if you prefer Maxis Match CC, then buckle up. We're listing some of the community's top custom content creators who put out purely Maxis Match items.
Now, at first I tried splitting this list into specific categories like Hair, Eyes, Makeup, Build/Buy, etc. But, as it turns out, a lot of these talented CC artists have their fingers in multiple pies. Some only do CAS stuff, some only do Build/Buy stuff, and a lot of them do a bit of both.
So just know that there's no particular order to this list.
Here we go!
1.

Simandy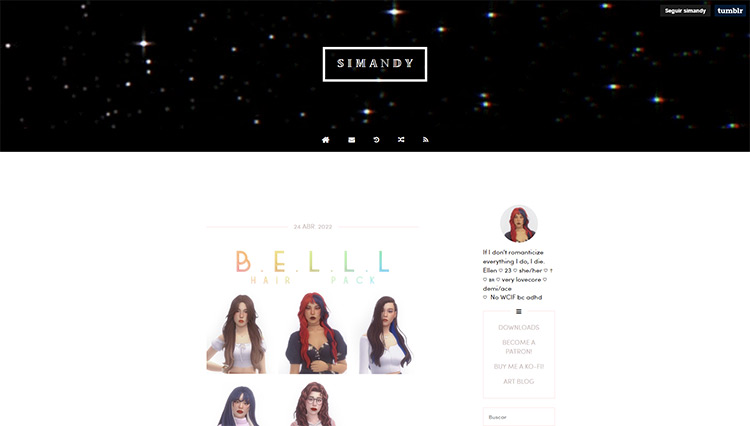 I'm starting out with one of my personal favorites, if that's alright.
Simandy's content always has that mystical, numinous feel to it. Sort of like it's not meant for casual, everyday wear because it's too pretty and too unique. Especially their hair!
Some pass muster as wearable cuts, but a lot of their other pieces are dramatic, fanciful, majestically windblown pieces that look like they belong on promotional media.
Their genetic replacements – aka eyes and skinblends – are a little more down-to-earth, but they still manage to retain a semblance of flustered, wide-eyed charm.
Either way, their content is great for creating unusual, "main character" Sims. You know; the kind that easily stand out from the crowd because of how attractive – and a wee bit odd – they are.
2.

Dogsill
Dogsill's custom hair pieces look absolutely stunning in Maxis Match!
They do a lot of common, wearable cuts in different hair textures, lengths, and styles. Tight curls, stick-straight locks, soft waves, teased strands, beautiful afros, stylish dreadlocks… you name it, they have several styles of it.
Honestly, their range is so extensive, it's downright impressive.
I actually downloaded some of their recent works (specifically the Lennon hair and the Venus bun) for personal use!
3.

Okruee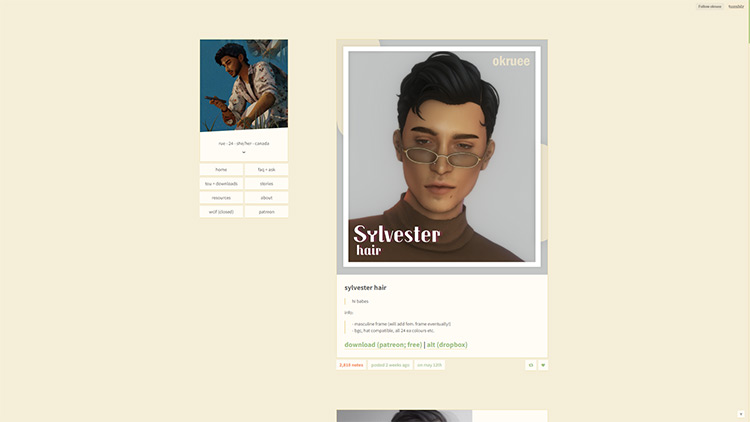 Okruee is another personal favorite for unique and uncommon haircuts.
Their style is more quietly quirky and rough around the edges, with a few surprisingly elegant and/or whimsical pieces thrown into the mix.
If you're ever looking for cuts with loose curls and tight waves – for both Male and Female Sims – then I highly recommend you check out their downloads.
They also have a couple custom clothing items and maybe two or three Build/Buy items you might want to look at, too.
4.

The Plumbob Tea Society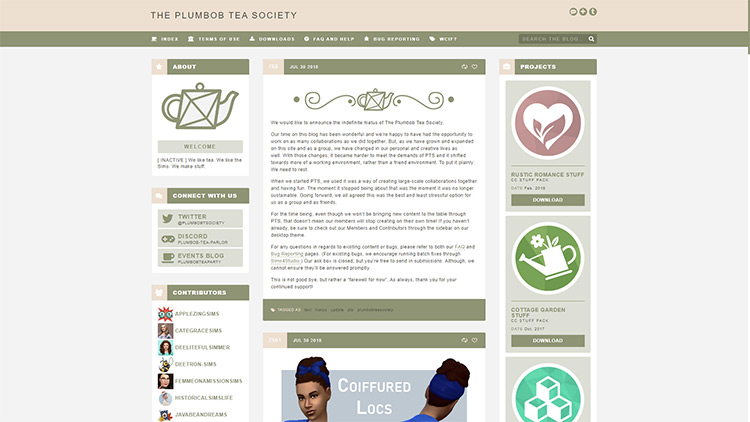 I first encountered The Plumbob Tea Society through their Rustic Romance Stuff pack. It's a CC pack that was full of drop-dead gorgeous CAS and Build/Buy items.
Plus, the download itself was insanely organized.
I felt like I was downloading an actual EA stuff pack—for free.
So I came for the Rustic Romance, I stayed for the quality. And the pretty concepts.
There are about twenty or so of them on the team, which explains why they can release incredibly extensive and incredibly detailed sets.
Sadly, as of this writing they're currently on an indefinite hiatus, so no one knows for sure if and when we'll get new content from them. But while waiting, feel free to browse their previous downloads. There are a lot of goodies waiting to be discovered!
5.

Ridgeport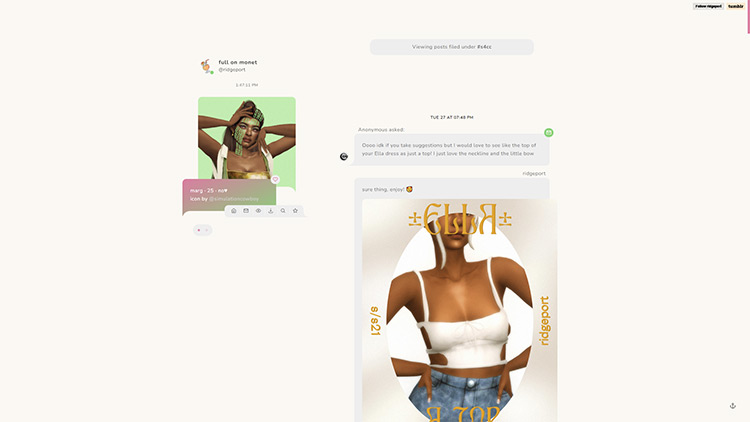 If you're looking for fashionable Maxis Match clothing, Ridgeport has a fairly extensive set of downloadable CC to fill up your Sim's closet!
They mostly do dresses and full-body stuff, but they're latest work has included tops with interesting cut-outs and unique necklines.
Unfortunately, they're last CC post was dated July 2021, and they haven't released any new public content since.
But their old CC is still free for download on both their Tumblr and Patreon pages though, so don't worry!
6.

Pyxis/@pyxiidis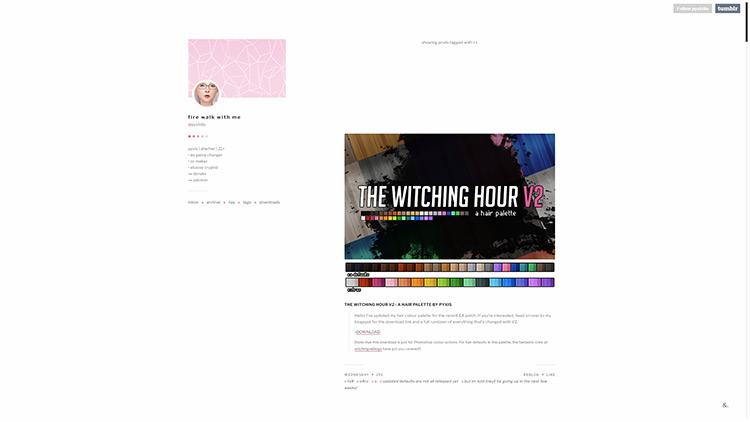 EA game changer and talented CC maker pyxis (or @pyxiidis) is one of my go-to creators for supernatural, mythical, occult, and otherworldly Sim builds.
They're very, very good at making weird and wacky features look visually pleasing. In fact, they're downright adorable (if I do say so myself).
Their content is also one-of-a-kind. Seriously; I'm often hard-pressed to find sets or CC with the same – or even remotely similar – concepts.
Some of my personal and frequently-used items from them include their Gossamer set (for fairies) and their Aloha! eye set.
7.

Syaovu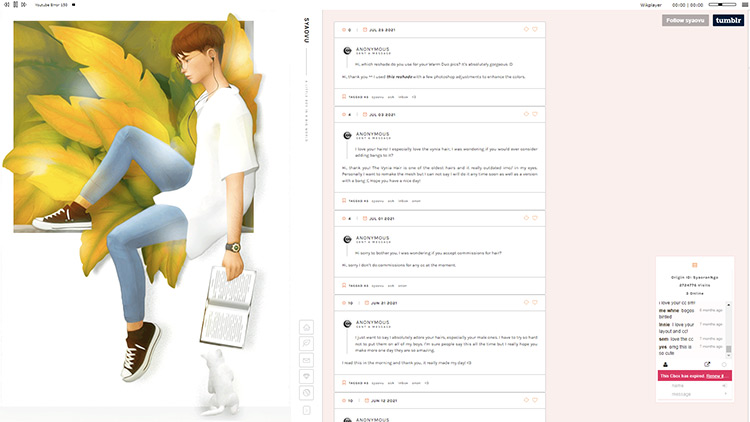 Syaovu's content has a quirky, whimsical feel that's perfect for casual Simmers who prefer staying true to the TS4 animated cartoonish vibes.
I'd say 98% of their CC is hair, with the remaining 2% being hair and head accessories.
One of my favorite pieces from them is their Luda Bang accessory, which works surprisingly well with a lot of other custom hair from other CC creators!
Their selection is quite limited, but the items they offer are unique and well-made, so it balances out.
8.

Katverse/KatverseCC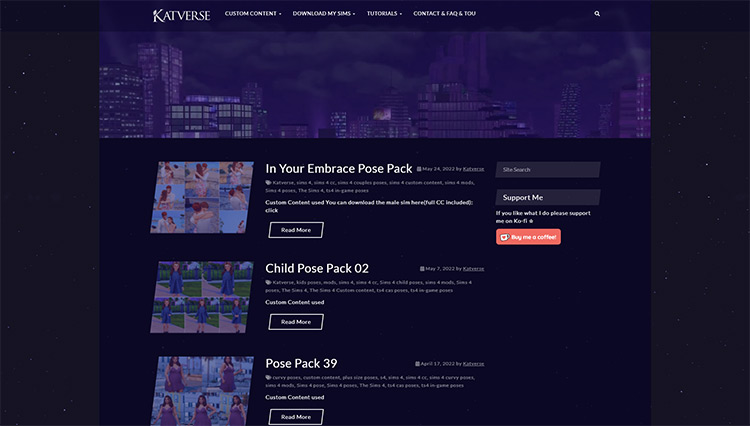 Katverse (or KatverseCC) is another big name in the TS4 CC community.
They're known for their custom skin details, miscellaneous accessories, and overall highly organized content. Not to mention their gorgeous preview photos.
Katverse has also released incredibly helpful tutorials for their fellow CC creators and Simmers. ReShader guides, building a custom CAS background step-by-step … you get the idea.
I actually know them best for their custom pose packs.
In fact, I'd say they're one of my favorites for casual, everyday slice-of-life poses.
They like to pick a specific theme or concept (like waiting in line, ordering food, couch potato-ing) and then offer multiple takes of it. It all plays out quite well, actually, and I definitely recommend scrolling through their pose gallery if you ever have the time.
9.

Greenllamas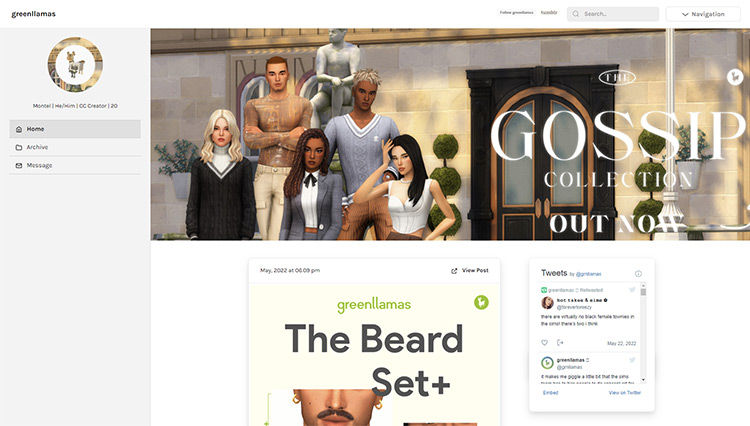 Greenllamas is another CAS content creator who releases a lot of custom hairs and hair accessories. In fact, I would argue that a good chunk of all the randomly recommended TS4 CC hairs come from them.
There are also a lot of recolors of their popular pieces – like the Callie and Sapphire hairs – floating around.
Plus, Greenllamas puts out items for both Male and Female frames, so there's a certain level of variety and inclusivity to their posts, which is great.
10.

Squeamish Sims (moved to @squea)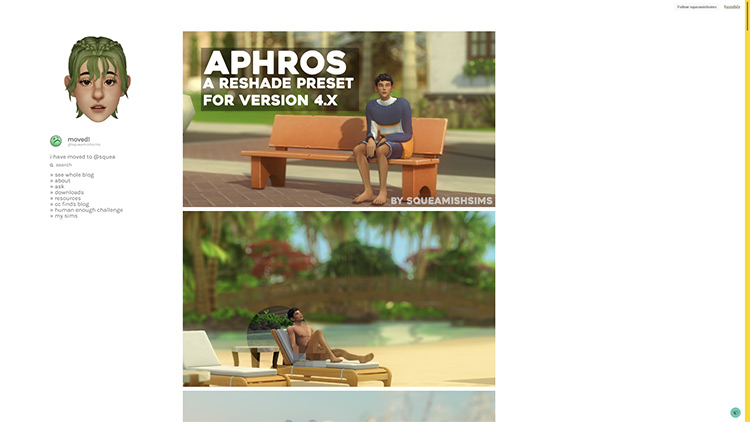 Squeamish Sims (who has recently moved to @squea) is a Maxis Match creator that I only recently encountered, but they've been creating beautiful custom content for The Sims 4 for quite a while now!
Their most popular download is their Beetle Eyes set, which is a gorgeous default replacement for eyes that look good both in CAS and in-game. (Check it out on their Patreon if you're curious!)
Their other downloads follow a similar vein in that they're mostly custom default replacements and presets for Sims—skinblends, nose presets, lip presets, etc.
If you prefer the soft, blurred, and feathered aesthetic, you'll no doubt love their content.
11.

Feral Poodles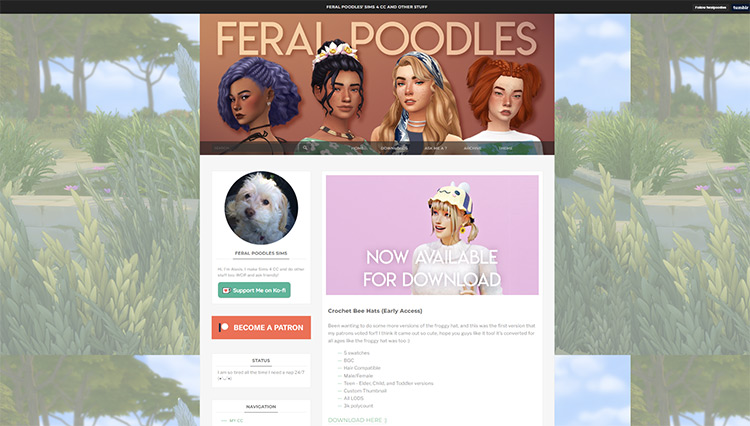 Feral Poodles is another CC creator who releases mostly CAS stuff.
If you check their Downloads page, their CC categories are as follows: hairs, clothing, accessories, jewelry, and genetics. But I'm sure a good chunk of the community knows them most for their custom hairs.
They've put out a lot of interesting and beautiful styles over the years, including my favorite Rosie hair (a really adorable pigtailed look) and Callie hair (which I immediately downloaded when I saw it in a Plumbella video).
Plus, almost all their custom hair comes with 50+ to 60+ color options. I mean, talk about variety!
12.

Marsosims
Marsosims's style is very distinct—both in the way they title their CC and the way they create Sims. You'll see what I mean if you check their Downloads page.
The characters definitely have an aesthetic, and it's one that I personally find visually attractive.
As far as their CC goes, they do a lot of hair and clothes.
Their collection may be small, but the quality more than makes up for the quantity. Highly recommend for stylish short hairs and interesting hairs for Male frames.
13.

Standardheld
Standhardheld's content is a mix of original Maxis Match items and recolored meshes from other creators.
A fair chunk of what they put out is clothing and accessories.
They do, however, offer some recolors for Build/Buy Mode items.
One of the reasons why Standardheld remains one of the top TS4 CC creators is because their content is so extensive and varied. They don't keep themselves (and their talent!) in a niche.
The variety in their website pretty much makes it a safe one-stop Maxis Match resource for Simmers new to Sims 4 CC.
14.

AHarris00Britney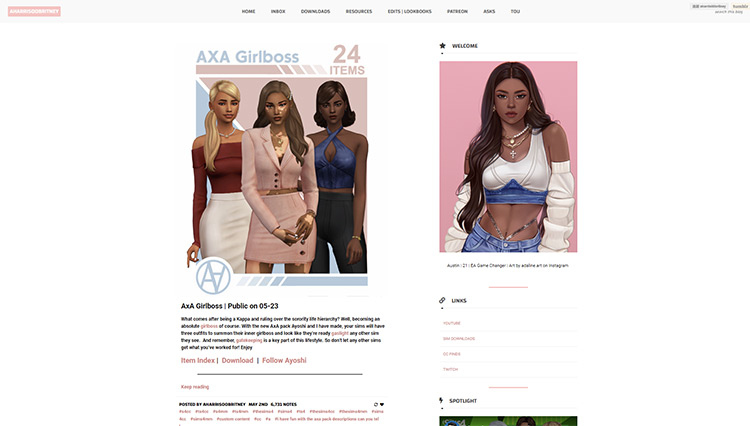 I only recently found out that AHarris00Britney is an EA Game Changer, like Pyxis and grimcookies (who we'll cover later). I think that's so cool, and it's made me fall in love with their content even more.
AHarris00Britney creates a lot of custom content for CAS, with most of their focus being on hair and accessories.
I would actually argue that some of the most fashionable Maxis Match clothes and accessories out there come from them!
15.

grimcookies/akalukery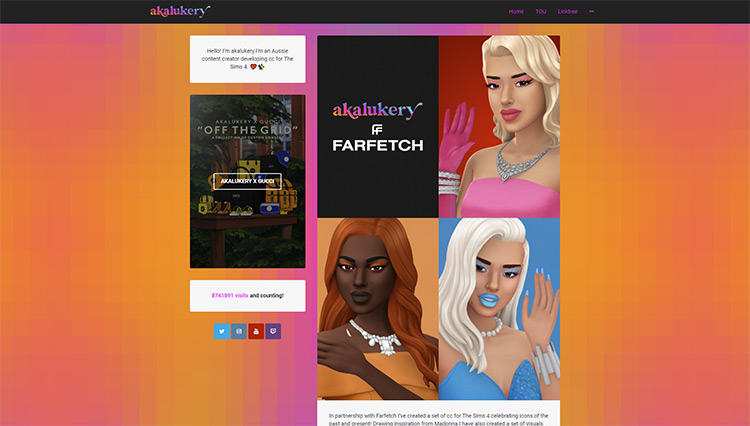 As I mentioned earlier, grimcookies (now Akalukery) is an EA Game Changer, popular Sims YouTuber, and incredibly talented TS4 CC creator to boot.
Yep, they're one of the big ones, kiddos!
They have collaborations with some big names in the TS4 community, including Savvy, Deligracy, and Ridgeport (who we covered earlier).
And if that's not enough to convince you of their sheer awesomeness, they also have a TS4 collaboration with Gucci. Yes, Gucci. As in, the actual luxury brand.
It's called the Off the Grid collection, and you can find it here.
Grimcookies mostly puts out CAS items, but do note that they also have a handful of custom Build/Buy Mode sets under their belt (or on their Downloads page, in this case).
16.

MM Outfitters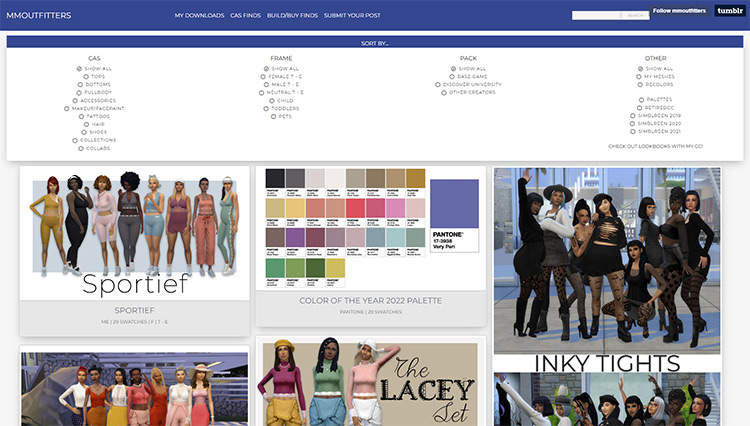 Their name already says a lot about what you can expect on their blog.
MM Outfitters is a custom CAS content creator. However, they put out a combination of original content and curated Maxis Match finds.
Don't worry; everything is clearly tagged and organized, and they always give credit where credit is due.
Their original clothing sets also happen to be incredibly extensive, which means you're bound to find one or two packs that'll have your name all over it.
17.

Ilkup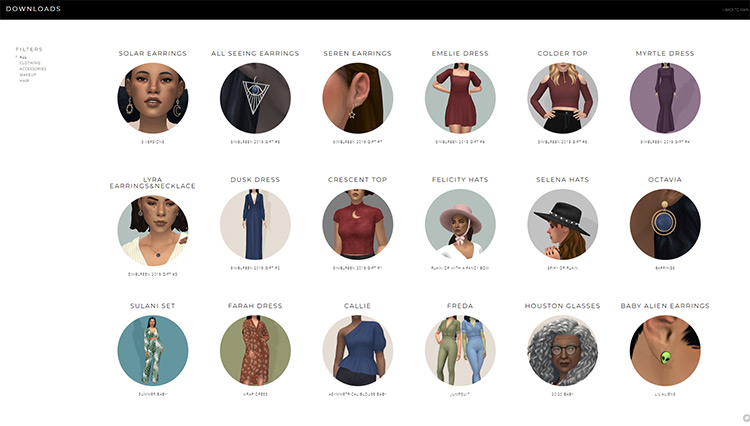 Ilkup's TS4 CC safely straddles the line between Maxis Match and Alpha CC.
Their texture is definitely smooth and clayified, which is typical of MM. But the hyperrealism in some of their Sims plus the emphasis of skin details leans more towards an Alpha feature.
You see it more in their Sims than in their clothing, though. Their custom clothes are definitely Maxis Match. Regardless, Ilkup's CAS items are a visual treat.
Their catalog may not be extensive, but there's no denying the quality.
18.

CrazyCupcake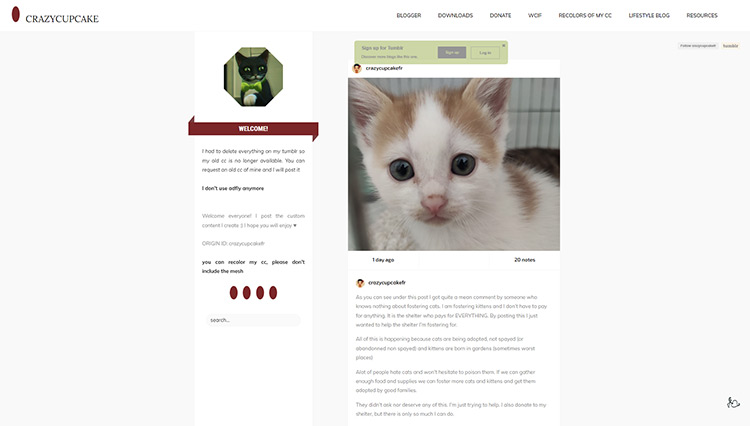 Now, this CC creator specializes almost exclusively in makeup.
Yes, they do have a fair amount of beautiful Maxis Match hair and clothes under their belt.
But most of their recent creations that have caught my eye have been their eyeshadow and lipstick sets
It's incredibly difficult to create good makeup using EA textures, especially since makeup and default EA skin doesn't seem to blend very well (for some reason). But CrazyCupcake's custom eyeshadows, blushes, eyeliners, and lipsticks look fantastic on both the vanilla, unmodded default and on CC skinblends.
They apparently had to delete everything on their old blog, so a lot of their older CC is no longer available and/or supported. But followers can request a reupload via their new site.
19.

Nolan-Sims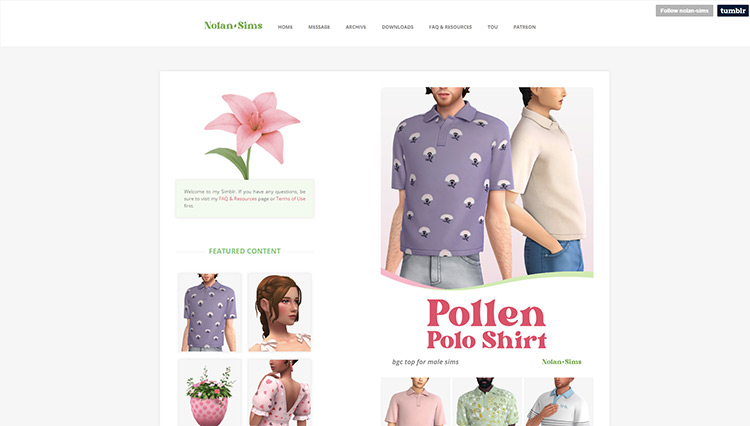 Nolan-Sims has such a pretty and dainty aesthetic. Most (if not all) of their CAS items have a sweet, elegant softness to them.
Florals, sweet lace trim, and pastel accents a-plenty!
They do custom hair, clothes, and accessories. They also have half a dozen Build/Buy items that give off more or less the same soft, delicate vibe.
20.

Natalia-Auditore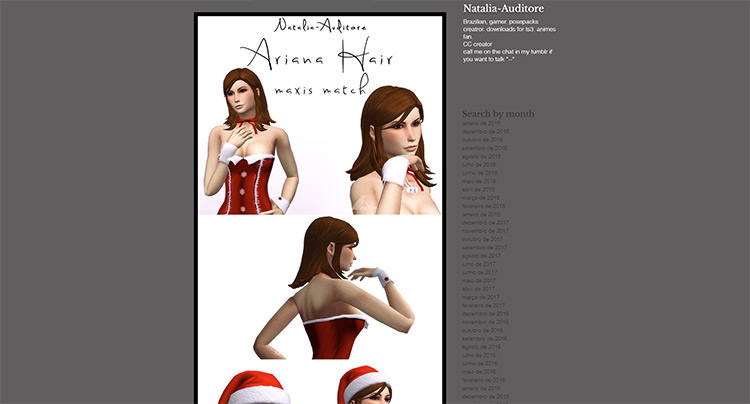 Natalia-Auditore is, for me, an enigma. A very talented enigma.
A lot of their content is based on other media and digital franchises. Games, cartoons, anime shows, comic book series, and so on.
Their downloads range from hair modeled to look like it's blowing in the wind to gravity-defying cuts based on an anime character. They put out content like rugs made to look like summoning circles and decorative statues of fantasy beasts.
Plus they have pose packs for fighting, pose packs for doing magic, pose packs for dancing, and pose packs for being revived.
I'm not even exaggerating.
It's safe to say that they're all over the place. But despite that, their consistency remains steady.
In fact, I'm surprised they have such an admirable control over the quality of their content given the sheer quantity.
Because of that, I have to recommend them. They're absolutely perfect for when you want to crossover other stories and franchises with your Sims games.
21.

Isjao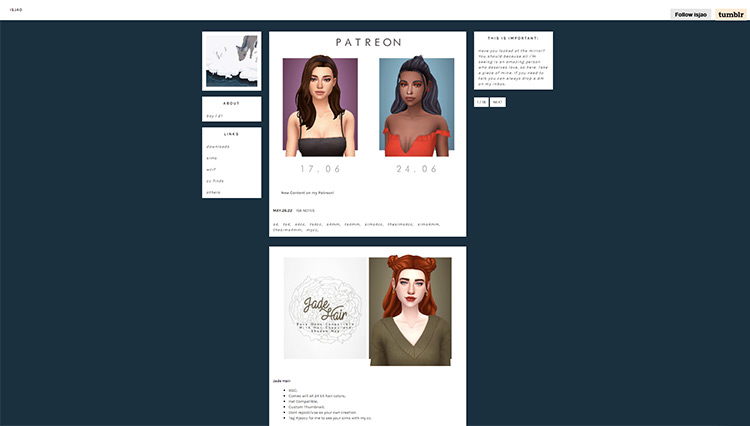 I initially thought that Isjao was a purely custom hair creator for the TS4, as all of their popular and most-recommended items are, indeed, hairstyles.
Turns out they do a lot of clothing and accessories as well!
Their style is very sweet and simple, and I'd argue that their CC items are actually some of the closest to base EA style in terms of looks and aesthetics. With Isjao, what you see is what you get!
22.

Simsational Designs/Peacemaker IC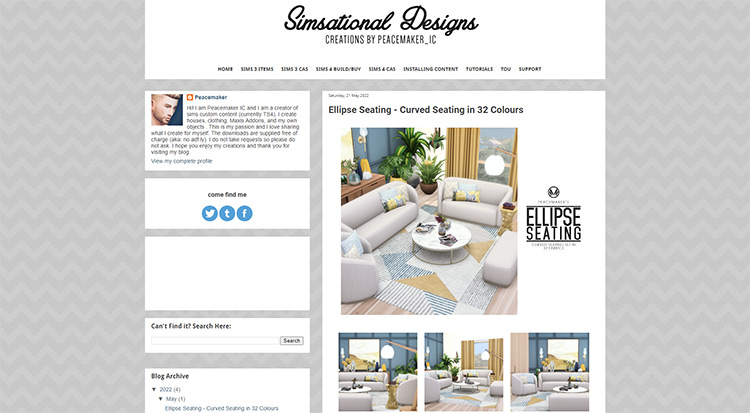 Here we go—our first dedicated creator for custom Build/Buy content!
Peacemaker IC creates a lot of new meshes for houses, clothing, and clutter items. They're mostly known for their Build/Buy sets following certain interior design styles or using specific set pieces (like Adirondack chairs or sectionals).
Simsational Designs also does a lot of build sets dedicated to TS4 worlds or packs. Case in point; their Sulani – World Makeover set and their Cottage Living: Grand Henford Addon set.
That's another of their claims to fame, by the way; Maxis Match Addons for Build/Buy Mode. They do a lot of those, too!
23.

Stephanine-Sims
Stephanine-Sims' content is the definition of slice-of-life.
They're sweet, understated custom CAS items that are suitable for casual, everyday use. Think stylish ponytails, straight cuts, practical tops, and sensible shoes.
If you're looking for custom content to expand your options but you don't want anything too crazy or out there, their downloads could be your best option.
24.

SimPlistic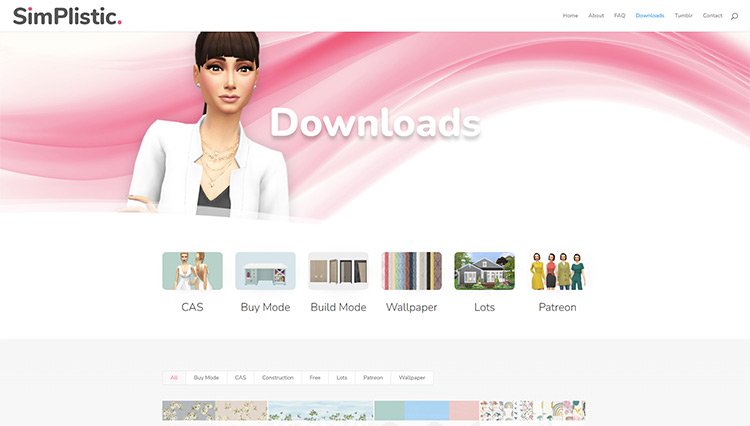 SimPlistic is another all-rounder CC creator who manages to keep their quality consistent over different categories.
They recently moved to a new website, and it looks so professional. There are categories for strictly CAS stuff, Buy items, Build Mode items, and Patreon-exclusive content.
A quick browse through their catalog will show you just how extensive and varied their content is. And don't even get me started on the quality.
You can also find some exclusive CC on their Patreon.
As someone who prefers the way Maxis Match textures look, I find all their items so visually satisfying. Their CAS content is also quite close to the vanilla, unmodded EA aesthetic.
25.

Illogical Sims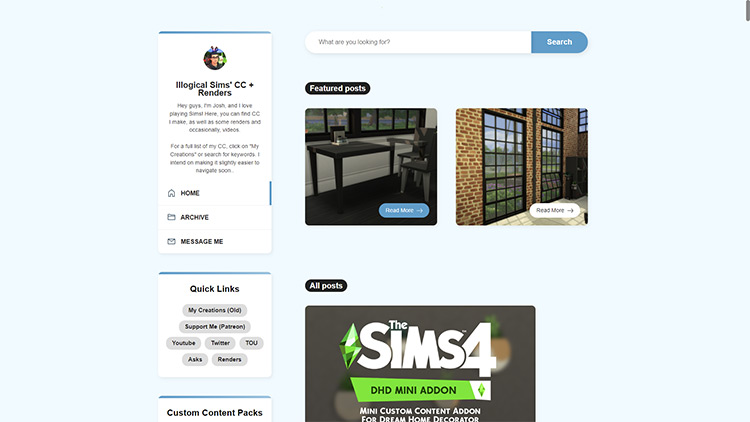 One of the most consistent CC creators in the community, Illogical Sims is well-known for their insanely detailed and extensive Build & Buy sets. Most – if not all – of their most popular stuff packs contain well over 20 items, and they're usually a mix of functional and decorative objects.
Even their smaller sets, which range from 5 to 10+ items per bundle, are so helpful and so high-quality.
And they're all base game compatible.
Some of their most popular downloads include their Contemporary Living Stuff, Sleek Kitchen CC Stuff, and my personal favorite, Minimalist Bedroom Stuff (which has about 25 items of pure, minimalist beauty).
I think one of their more recent creations that made waves in the community is the SIMKea Furnishing pack, which gave Simmers over 45 new objects (yup!) inspired by IKEA furniture.
26.

Vanila Sims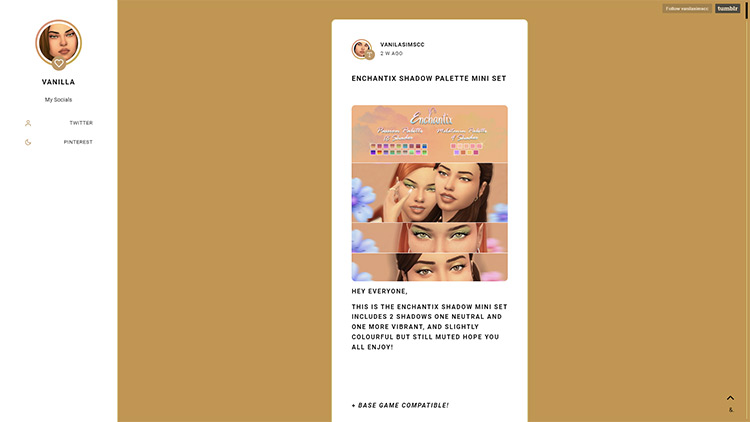 Vanila Sims is another CC creator that I've only recently stumbled across, but they've apparently been releasing content for over three years!
The content in question is mostly CAS stuff, with a heavy emphasis on makeup sets. I think they have one or two clothing items and skin details in there, but their specialty is definitely face makeup.
Custom eyeliner, blush, lipsticks, eyeshadow palettes … heck, they even have custom manicures with colored nails and French tips!
One of my recent favorites from them is their Bratz Pack Mini Set, which contains some really cool (and unique!) frosted metallic blends.
I'd describe their catalog overall as a solid one-stop shop for quality TS4 makeup (for free!).
27.

Sims on the Rope
Sims on the Rope's catalog is an interesting one.
To say it's varied would be an understatement, because they have a mix of custom clothing, custom hairstyles, custom lots, and custom families.
Yeah, it's pretty overwhelming. But still pretty impressive, don't get me wrong!
Aside from creating and repurposing original builds and existing lots, they also create numerous households that you can use to populate your saves. It's pretty genius, actually, especially if you're the kind of Simmer who likes to micro-manage most of the game's aspects.
It's also a great fix for when the game glitches and forgets to fill empty homes.
Their CAS content is mostly simple, casual clothing that are excellent for quick Sims creations.
And their downloadable lots are incredibly decorated and decently priced.
Basically, the stuff they put out mostly seems like they were created to make things easier for Simmers. And who doesn't want that?
28.

Nords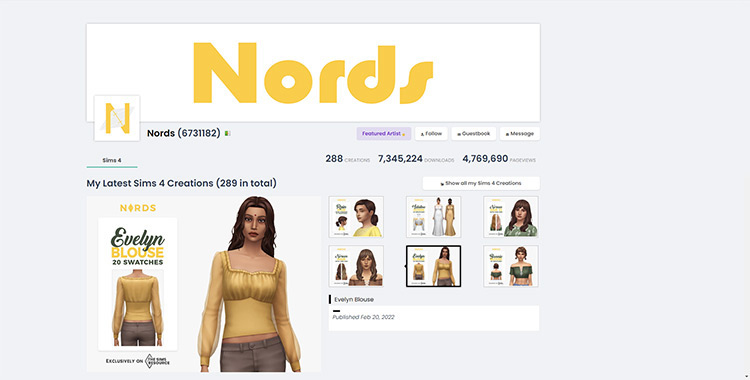 Finding Nords' gallery was a game changer for me.
They do mostly hair and clothing, but it's their custom hair that speaks to me. Their styles are simple and classy, with a sort of casual beauty on that that works on a variety of face shapes and facial structures.
As someone who's not very good at creating Sims, these hairs are a godsend. They also have several custom clothes worth checking out! I especially love their tops.
29.

Luumia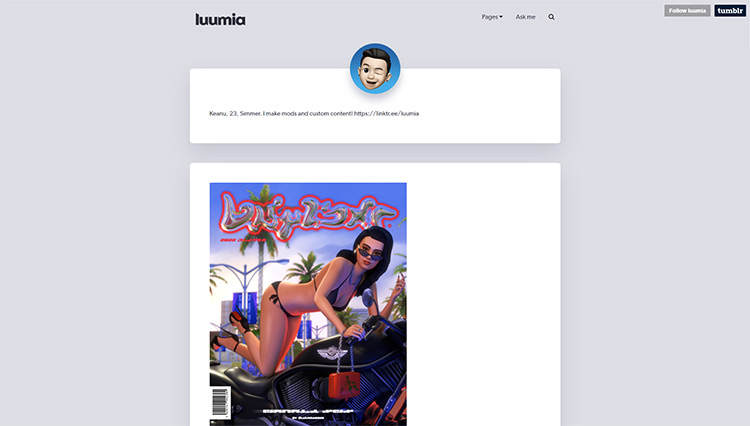 Luumia Sims specializes almost exclusively in genetics, overlays, and small CAS details that make a huge difference to the look and feel of the game.
Their lip tint overlays, for instance, add so much life and color to a Sim's bare face. They also have great skinblends, custom skin details (like body hair), and some small CAS tweaks (like in-CAS lighting and shadow adjustments).
And because they do such awesome work, Luumia was hired by EA as a Cinematic Artist!
30.

Weeping Simmer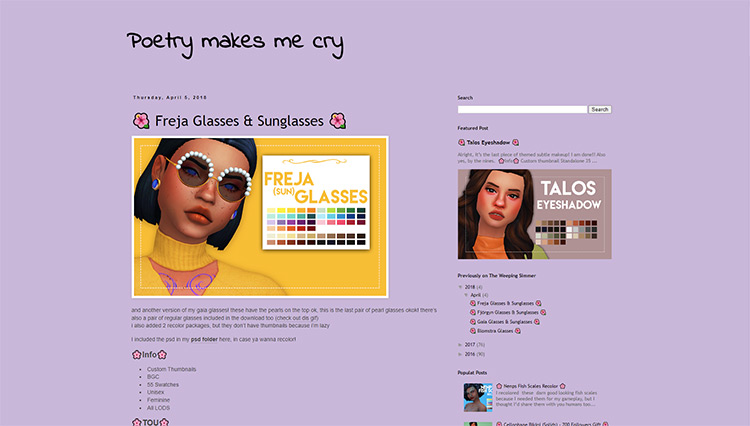 Last (but certainly not least) on this list is Weeping Simmer.
They are, in my opinion, a little overlooked in the Sims CC community.
I rarely get recommended any of their items, and most of what I find from them, I discovered by browsing their catalog.
But they do amazing work for a majority of custom CAS items.
I especially love their makeup and accessories, but one of their most popular downloads (that I also recommend whenever I can) is their recolor of Nenps Fish Scales. Highly recommend you check it out if you've got a mer!Sim.
Other notable stuff from them includes their Kynareth eyeshadow set, and their Unisex Flower Crown (for adults and toddlers).
Browse:
Lists
Maxis Match
The Sims 4
Video Games