40+ Best CC from Ravasheen for The Sims 4
This post may contain affiliate links. If you buy something we may get a small commission at no extra cost to you. (Learn more).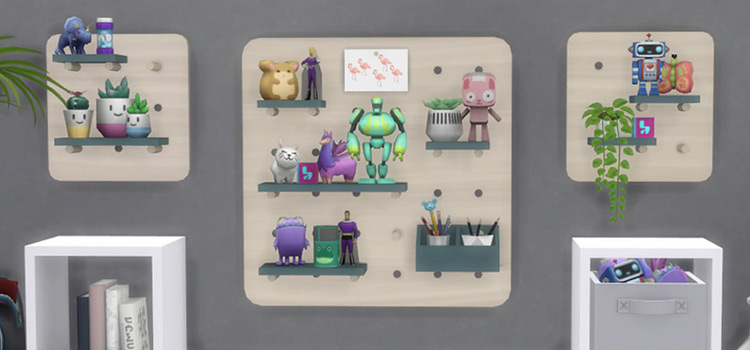 Some content creators are basically household names among Simmers, and Ravasheen is one of them.
This creator has an enormous catalog of game-changing content.
And with this curated list of Ravasheen's top CC, you can choose from some of the best & most unique objects and mods from their library.
1.

Ken You Not Dollhouses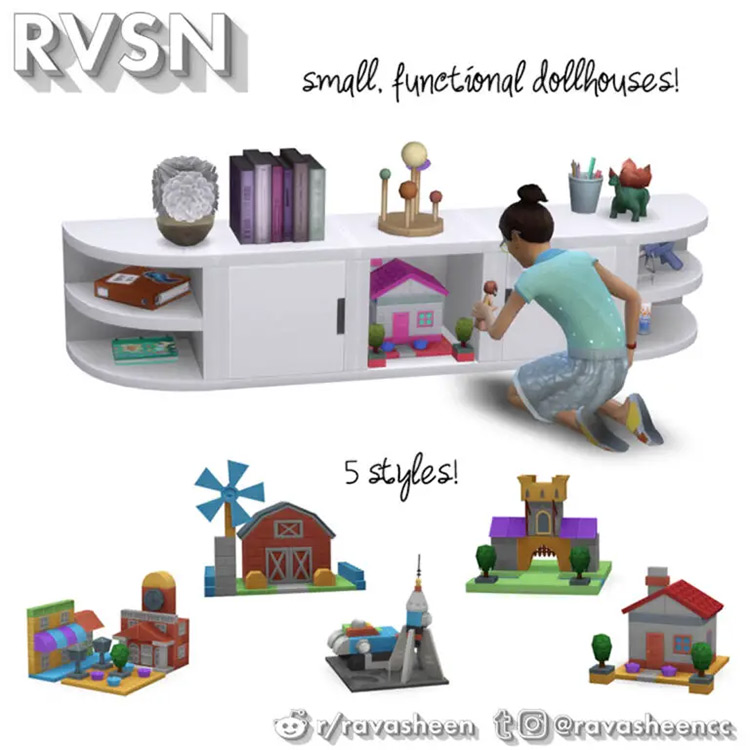 Since all of the in-game dollhouses are both enormous and expensive enough that only the Landgraabs can afford them, something had to be done.
Ravasheen's functional but much smaller dollhouses come in five different styles and can easily be placed just about anywhere.
2.

Toddler Lunchbox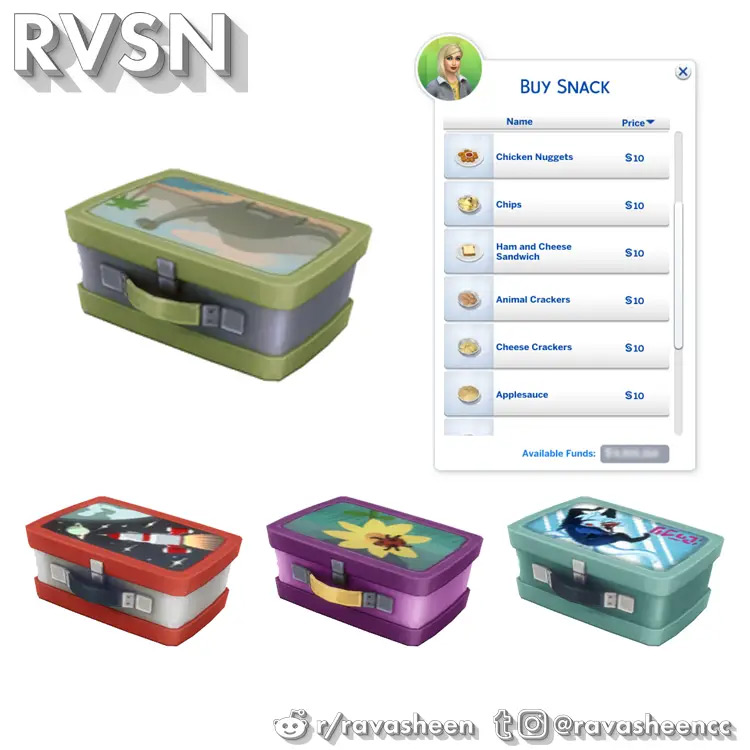 The struggle of feeding a toddler in The Sims 4 is one every player knows all too well.
As if the high chair isn't bad enough, it can really be a pain taking them anywhere.
With this modded base game lunchbox, your tots can have a meal anytime, anywhere!
3.

Modern Family Portrait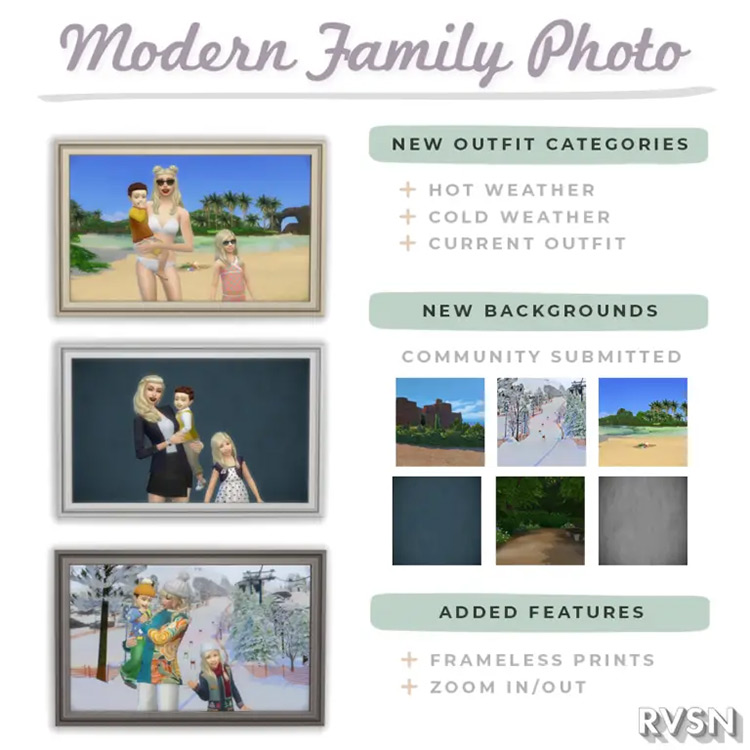 This is without a doubt one of Ravasheen's most popular creations.
It's the simplest way to get a photo of everyone in your Sim's household without the use of poses.
Just place the frame and a photo will generate of your Sims, just like when they are saved to your library.
4.

Buyable Cakes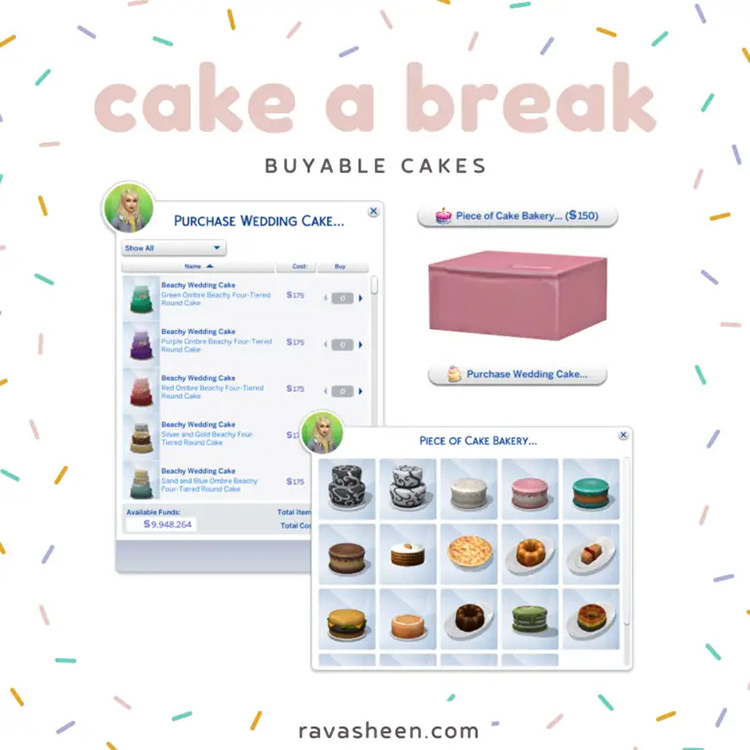 It's safe to say we all know how infuriating it is to have your Sim bake a cake for a birthday, only for someone to take a slice before the candles are on.
With this nifty pink box, everything has changed.
A high-quality cake will be delivered and it will remain untouched until you're ready.
5.

Customizable Graves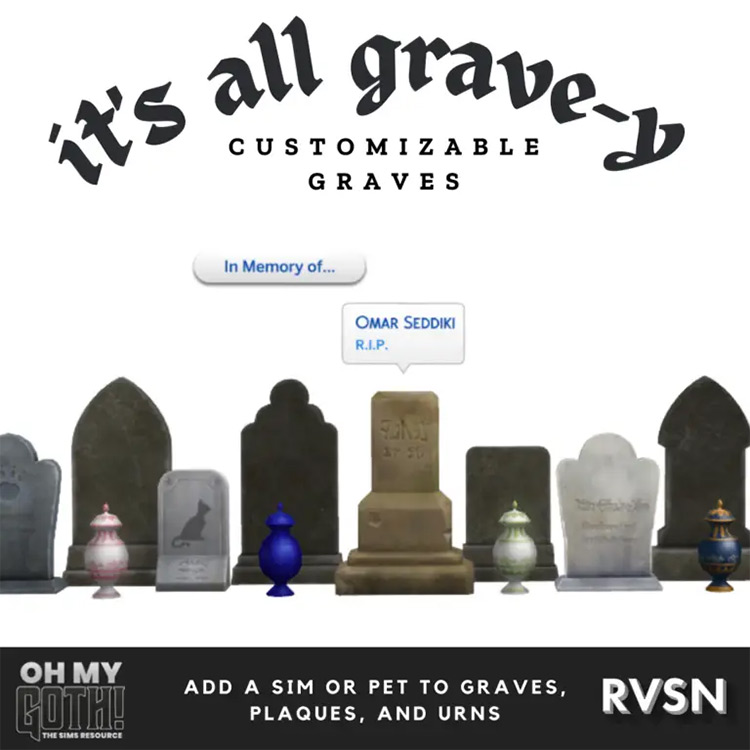 Is it kind of morbid to get custom graves for your Sims? Absolutely.
But any one who has been playing TS4 for a few years now is probably a little tired of seeing that same old default headstone.
This set brings not only multiple new headstones and urns, but the ability to assign deceased Sims to them, so you can have the same options as before.
6.

Tabletop Pumpkin Carving Mats (Spooky Day Stuff Required)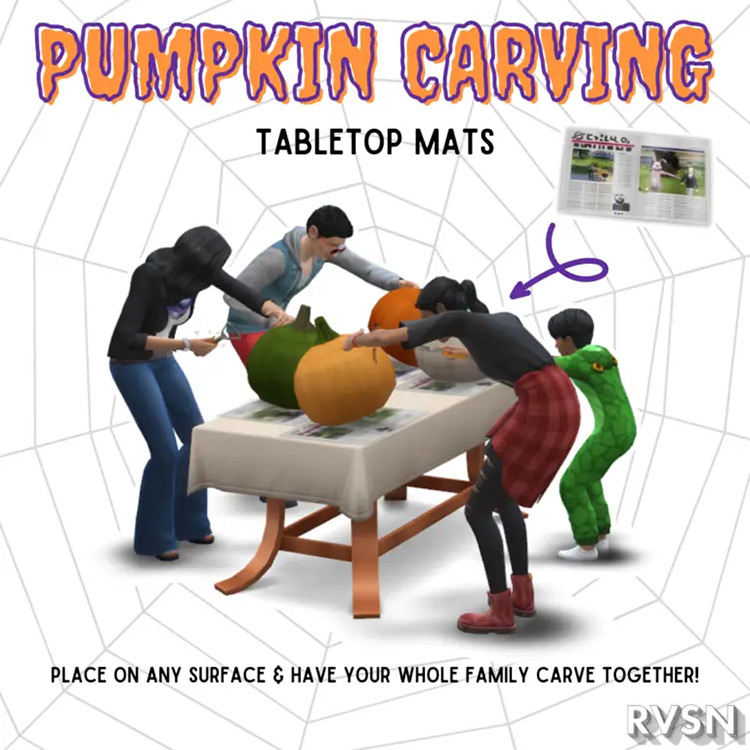 A Sim's life is simply too short for the entire household to take turns at Spooky Day Stuff's pumpkin carving station.
This simple but brilliant mod makes this fun activity one for the whole family, just like it was in The Sims 3. Just place this mat on any surface, and you're good to go!
7.

Clip Art Display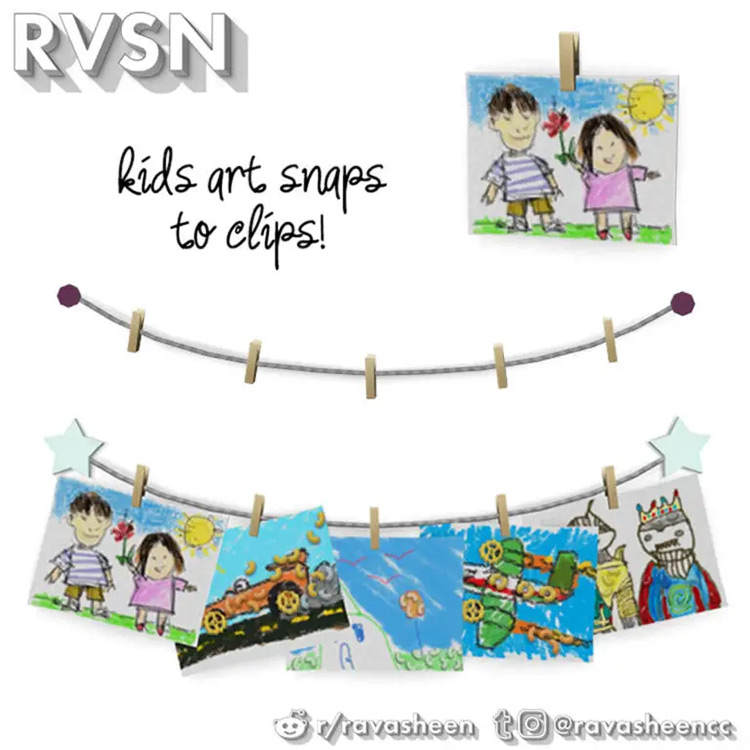 Any family player will surely adore this as much as I do.
Kids can make a lot of different art in this game, especially if you have multiple packs.
A more aesthetically pleasing way to display that art is a must, and this string is perfect. Each one holds up to five papers.
8.

Feel The Burn Mantels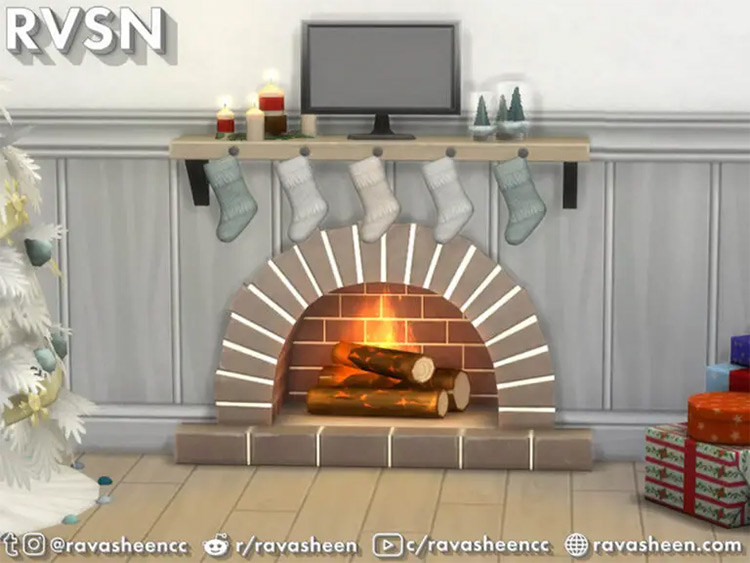 Not all fireplaces are created equal, and there are a ton of them in this game.
Now your ability to decorate is not nearly as restricted, thanks to this simple shelf that was made specifically to serve as a mantel. Clutter can be placed on this just like any other slotted surface.
9.

Beat Me To The Punch Set
Here are three new punch bowls to make your Sim's parties a little juicer. Literally.
Not only do these look amazing, but they are fully functional! No matter which style you choose, they come with some very tasty-sounding beverage options. And what's a party without some punch!?
10.

Meow-dern Cat (Cats & Dogs Required)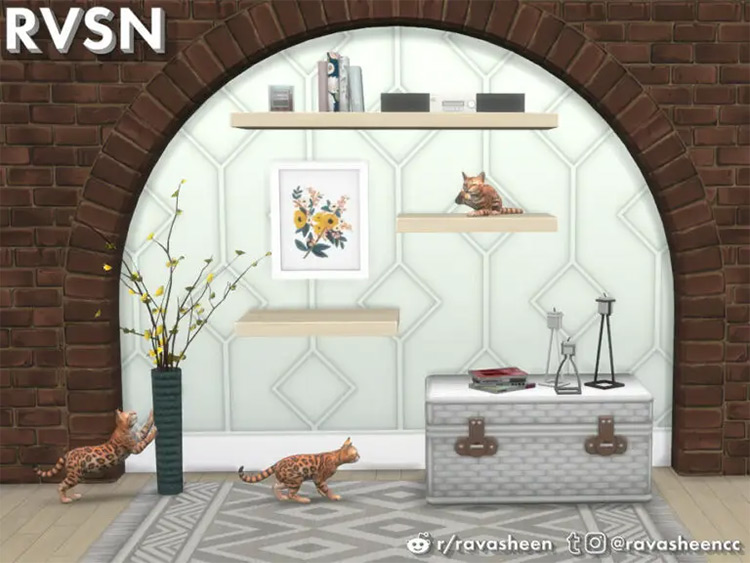 For those who prefer contemporary, minimalist interior design, the content that comes with Cats & Dogs may be a little much.
This set comes with several brand new but still functional pieces, which are great for small builds or apartments.
Beds can even be placed on surfaces now!
11.

Work is Desk-picable Office Set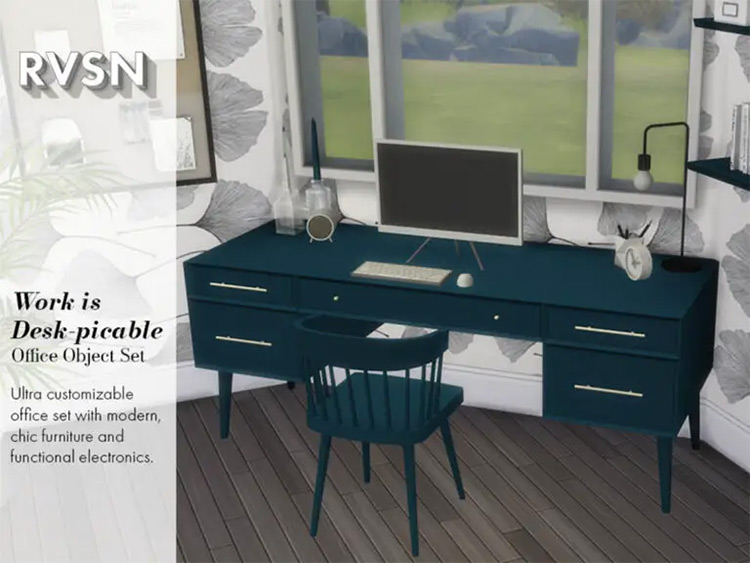 Like most of Ravasheen's content, this set is incredibly customizable.
The six separate desk pieces can be mix-and-matched to create the exact desk your Sim's office needs, and everything comes with matching swatches. There's even a new functional computer and smart speaker as well.
12.

Easy Peasy Recipe Unlock Book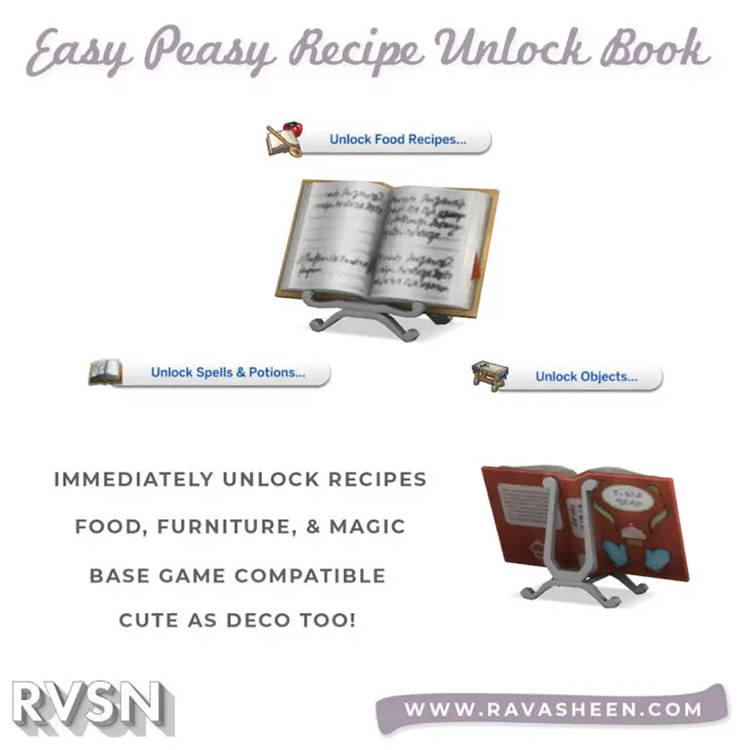 These days, anyone can look up a recipe and try it out, but Sims have to work super hard just to eventually make more than mac & cheese.
Well, not anymore!
Forgot all that nonsense about promotions and skip right to cooking incredible meals with this modded item.
13.

Landgraab Self Storage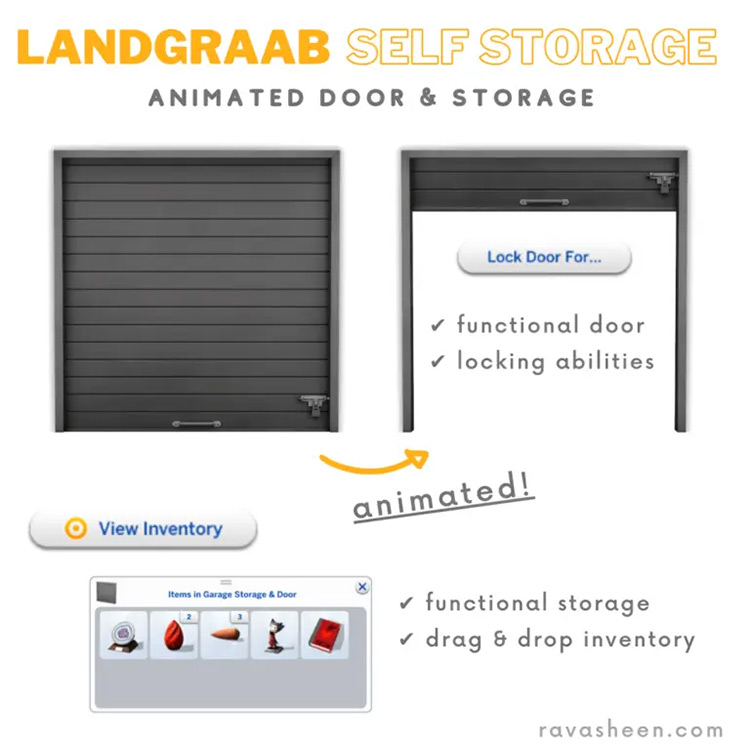 Instead of placing your Sim's stuff in the household inventory and forgetting about it, this functional garage door brings a much more realistic option to the game.
Your Sim can walk through them just like any other door, and you can even lock it to keep others away from your stored items.
14.

Paint of Heart Paper Sketchpad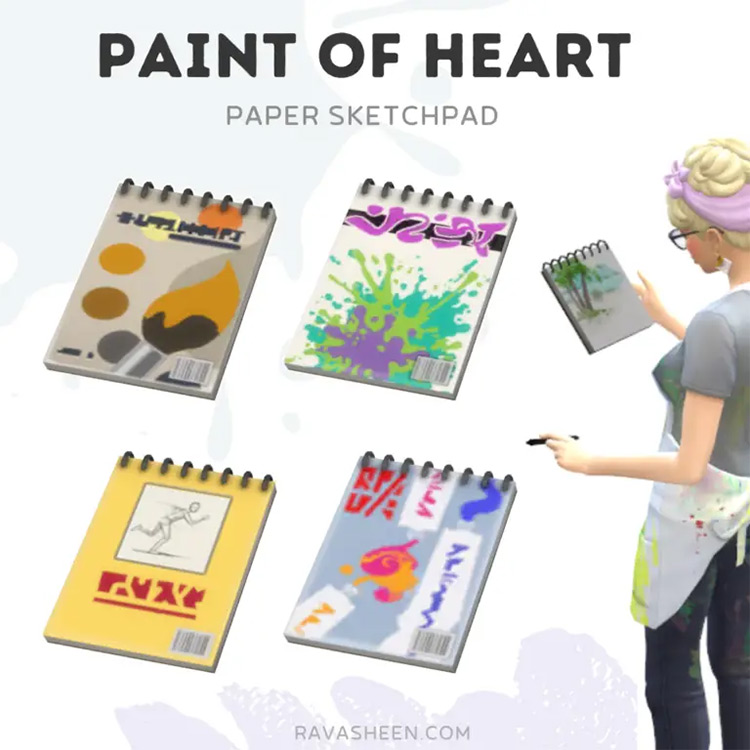 Sims have access to most modern tech, but sometimes it's nice to go old school.
As someone who's never been particularly fond of how the base game electronic sketchpad looks, I adore this simple paper version. Something about it is just so charming, and it works exactly the same.
15.

Llamazon Marketplace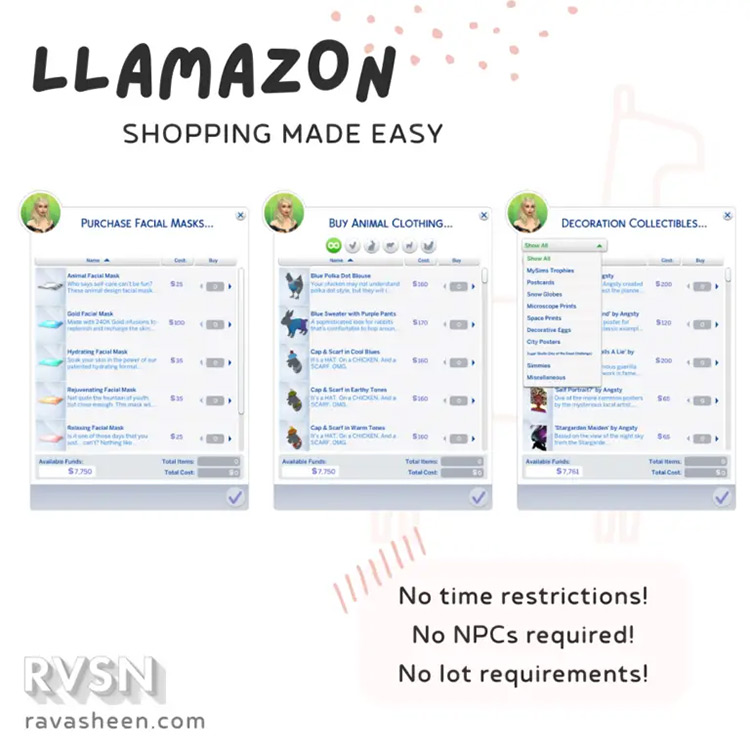 Never again will your Sim have to leave their house to buy a thing.
Now that's the real-life representation I'm looking for!
They can buy basically anything you could want with this CC shopping card, including livestock, entertainment, collectibles, produce, and much more.
16.

Perfect Match Fireplace & Decor Set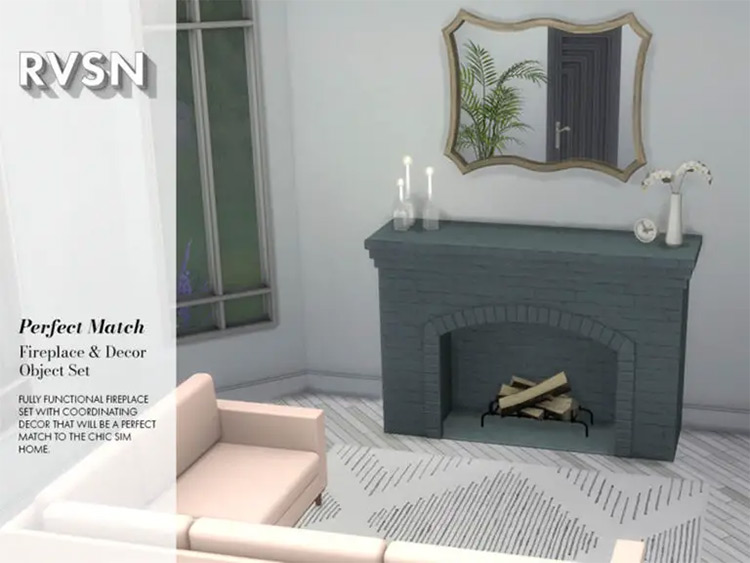 In the absence of TS3's beloved color wheel, interior design can sometimes be a struggle in The Sims 4.
Thankfully, this small but practical set brings some much-needed modern, complimentary pieces to your build.
The fireplace is easily made functional by the neatly organized wood pile, and the matching deco fits right in.
17.

Major Inspo Pinboard & Art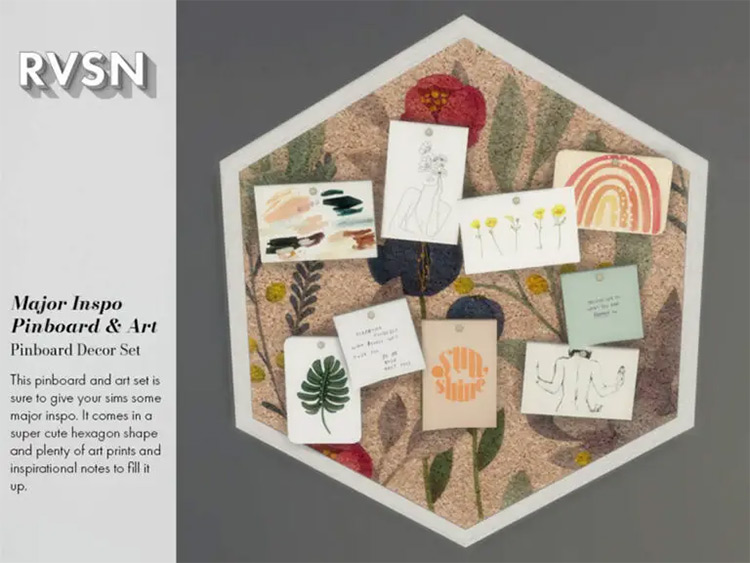 It's always great to be able to add some personal touches to your Sim's home. This cute pinboard comes complete with little notes, artwork, and sketches.
The hexagon shape is a nice update from the old school, very corporate rectangular versions we currently have in the gun.
18.

Chop It Like It's Hot Kitchen Set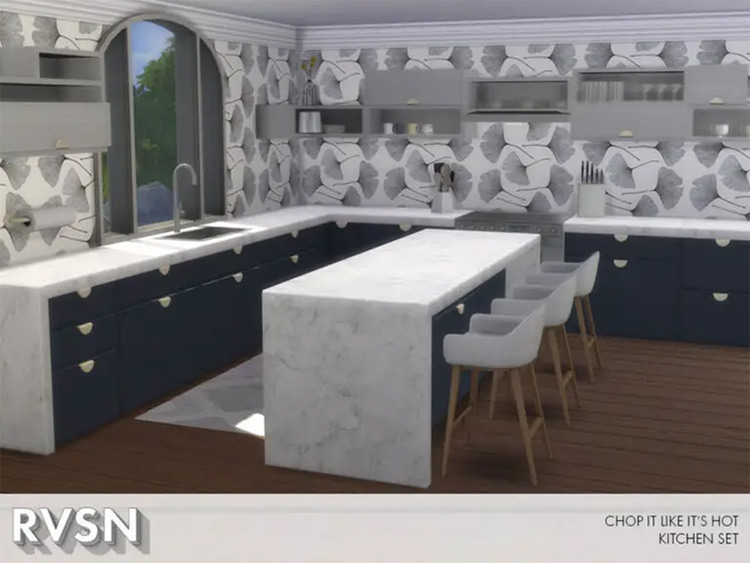 With this set, Ravasheen brings us all of the most modern staples of home designing and decorating.
Those familiar with HGTV will know these cozy styles well, with marble countertops, solid but vibrantly colored cabinets, and minimalistic but organized clutter objects.
19.

Sleigh-in' It Modern Winterfest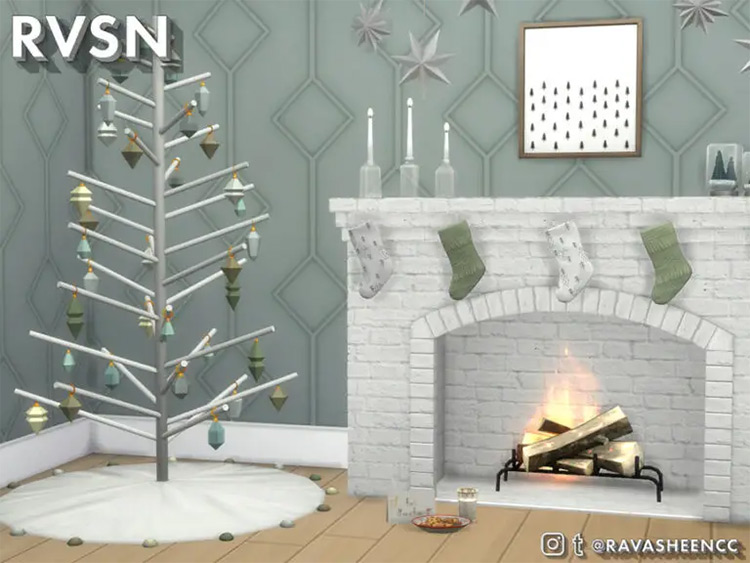 The holidays often revolve around nostalgia and tradition, even for Sims. But that doesn't mean you can't mix things up a bit.
Here, bulky trees and busy Wintertime clutter sets are out.
Everything in this collection is sleek, simple, and indeed very 2020s.
The classic red and green color palette is still available, but also swatches of teal, purple, and white.
20.

Peg To Differ Pegboard Series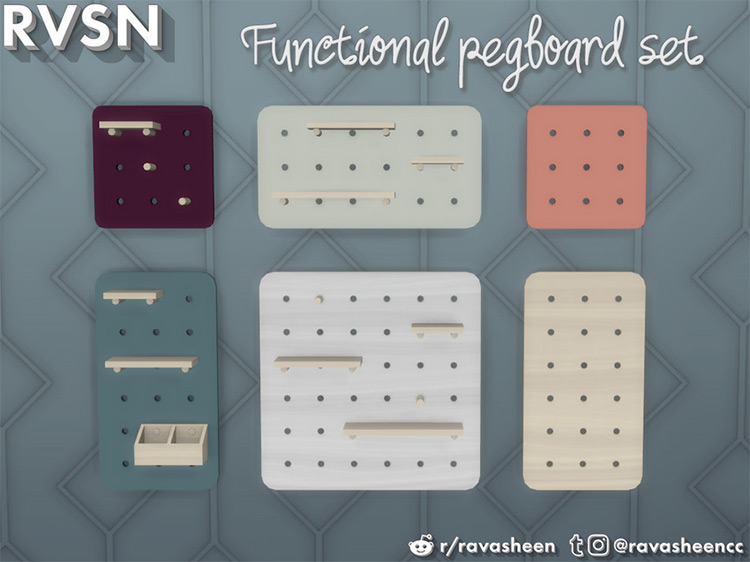 This highly customizable pegboard set ties into some of Ravasheen's other creations, so if you really like decorating your Sims home with little touches, you'll definitely want to grab these.
Shelves and decor can be added in basically any arrangement you please across all five boards.
21.

Peg To Differ Kitchen Clutter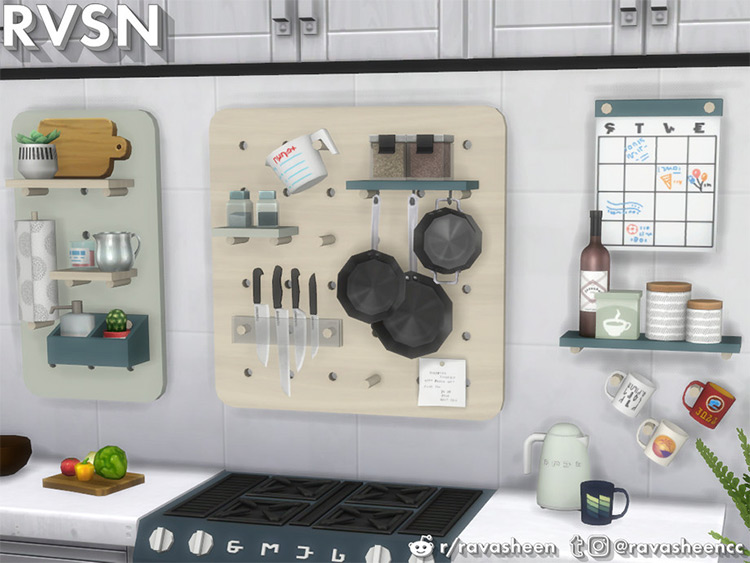 Clutter always makes a build look more lived in. But that doesn't mean the place has to be a free-for-all and leave your Sims with no counter space.
Utilize all of that leftover wall space with this pegboard that can hold kitchen essentials like spices, pots and pans, and of course a cute little plant or two.
22.

Simmer Down Kitchen Clutter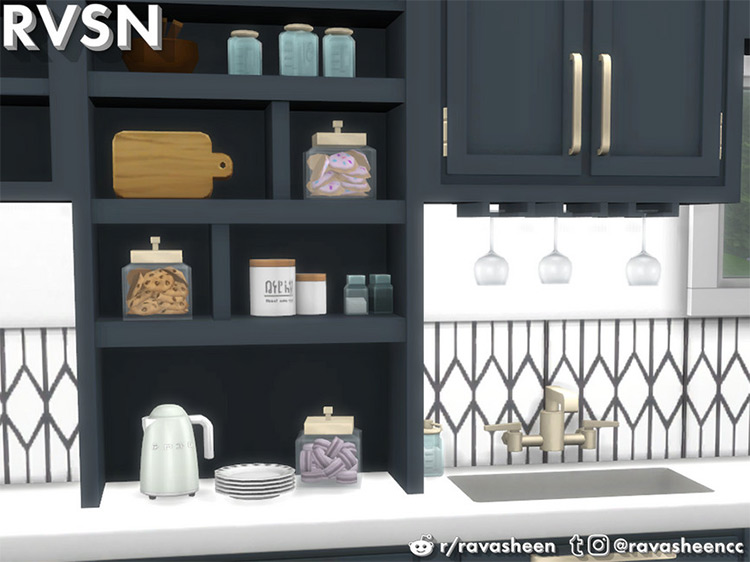 For those awkward empty Sim's spaces on countertops and shelves, these small and simple objects are perfect.
Multiple cookie jars, a stack of plates, two tea kettles, a soap dispenser, and a throw rug are included.
23.

Procraftination Art Clutter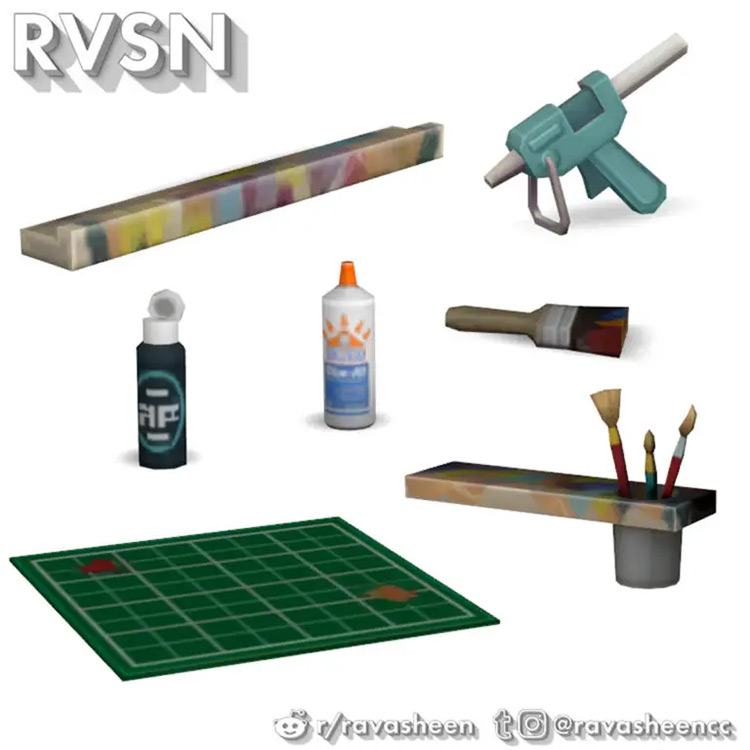 Add evidence of your Sim's artsy tendencies to any surface with this small collection of clutter.
It's just what you'd expect to see in the home of any crafter: a glue gun, glitter, tape, paint brushes, plus many other odds and ends.
24.

Sofishticated DIY Mini Aquarium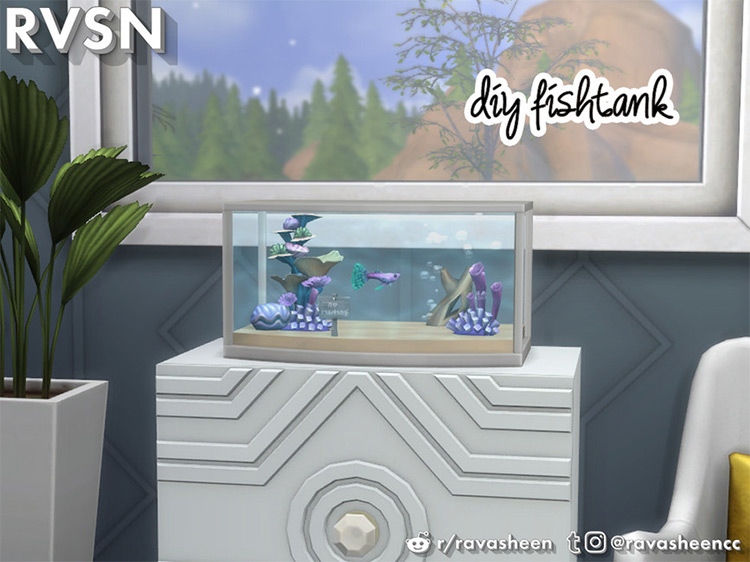 There's so much to love about this little fish tank.
The best part might just be that you can place any decorative item from the game inside.
Up to five fish can call this place home at once, including the ones from your Sim's own inventory.
25.

Sip Back and Relax Functional Bar Cart Set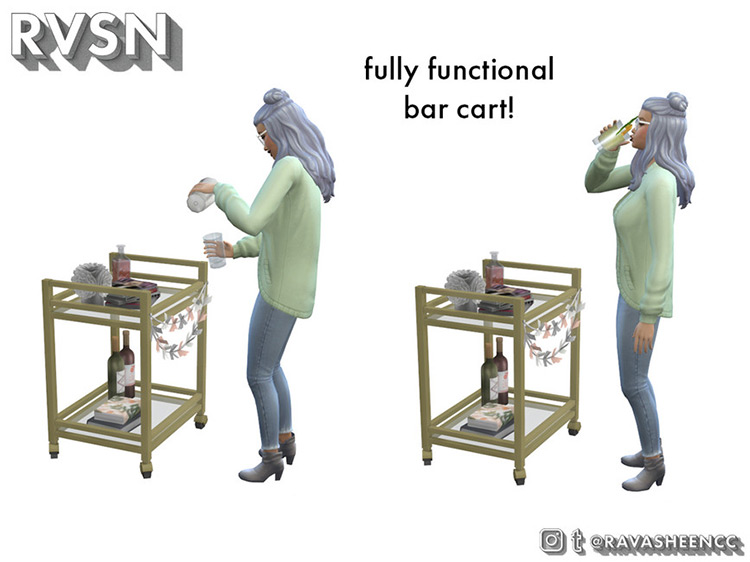 Players with Vintage Glamour Stuff may recall a similar beverage cart. But while that one was strictly decorative, Ravasheen's brilliance brings us a functional base game version.
That's right – forget having a whole huge bar with stools just so your Sims can have some drinks. All they need now is this!
26.

Modular Cubbies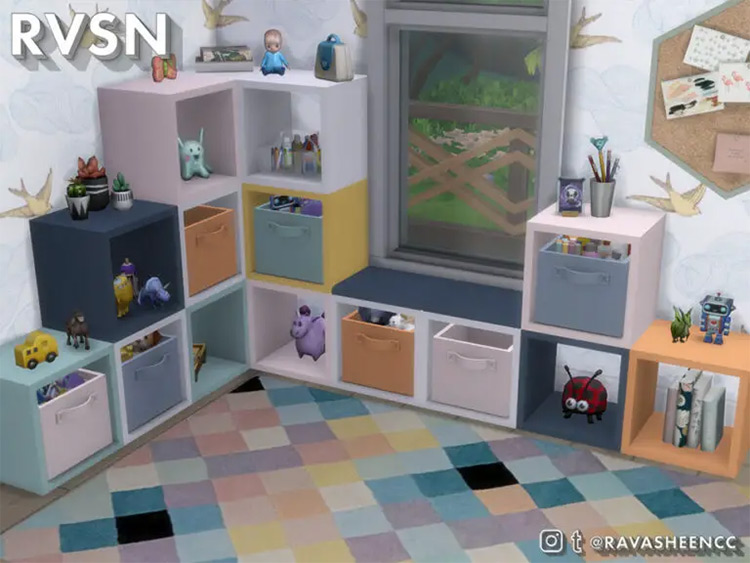 Most of this creator's content is customizable beyond most Simmer's wildest dreams, and yet you may still be shocked by how amazing these cubbies are.
Not only can you use these to stack and line walls for storage spaces of any size, but you can even turn them into a seat!
27.

Freeze Flame Toilet Fire Prevention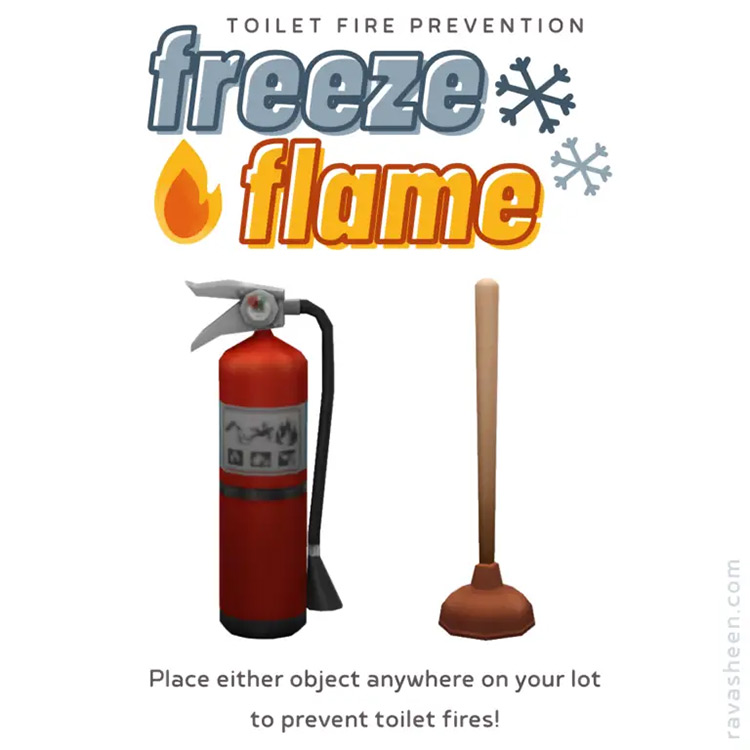 The issue of toilet fires in The Sims 4 is kind of hilarious – but it does get old after a while, especially since it has plagued some players for years.
Just by placing this Maxis Match fire extinguisher or plunger in your Sim's home, this crisis will no longer happen.
28.

Happy Llamakkah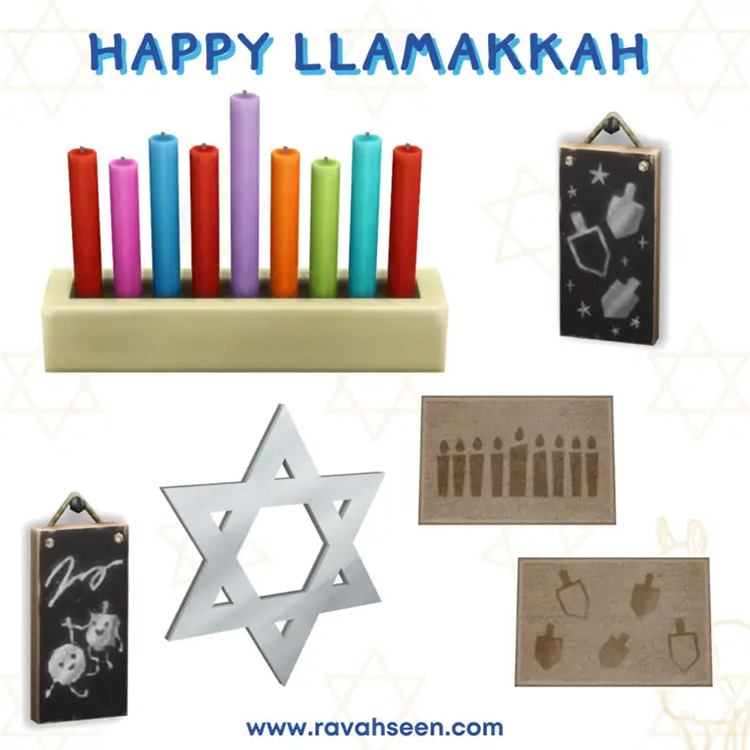 Everything about this CC set is just incredibly cute.
Just as Christmas is Winterfest, Hanukkah is Llamakkah!
Bring Jewish celebrations to your Sims with these candles, Star of David, dreidel-adorned wall hangings and mats, and more.
29.

Procraftination Kids Activity Table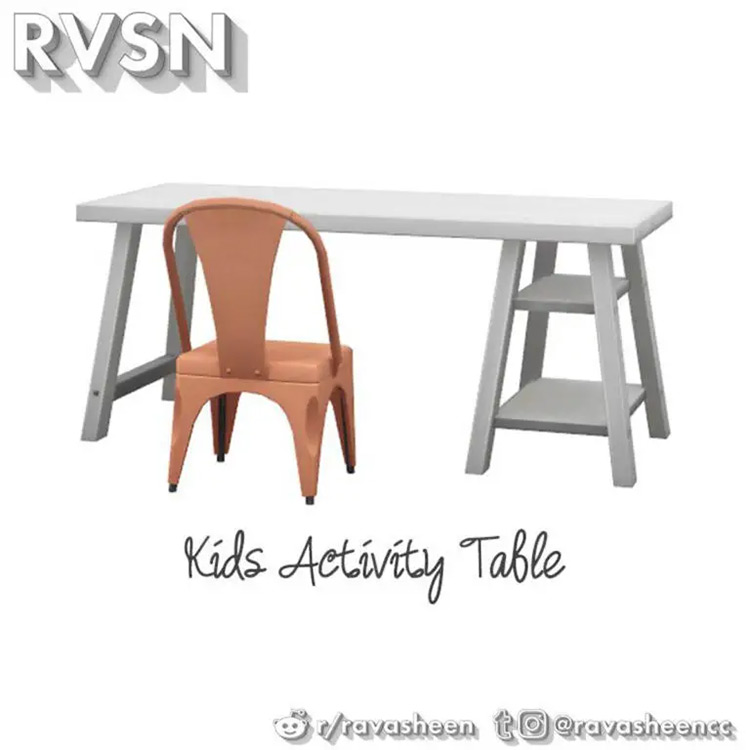 We only have about a hundred activity tables for kids now in TS4 and they all pretty much look the same. It's high time we had a fresh option, and you can't ask for much better than this basic modern desk.
It's got plenty of decor slots, too!
30.

Elgato Content Creator Set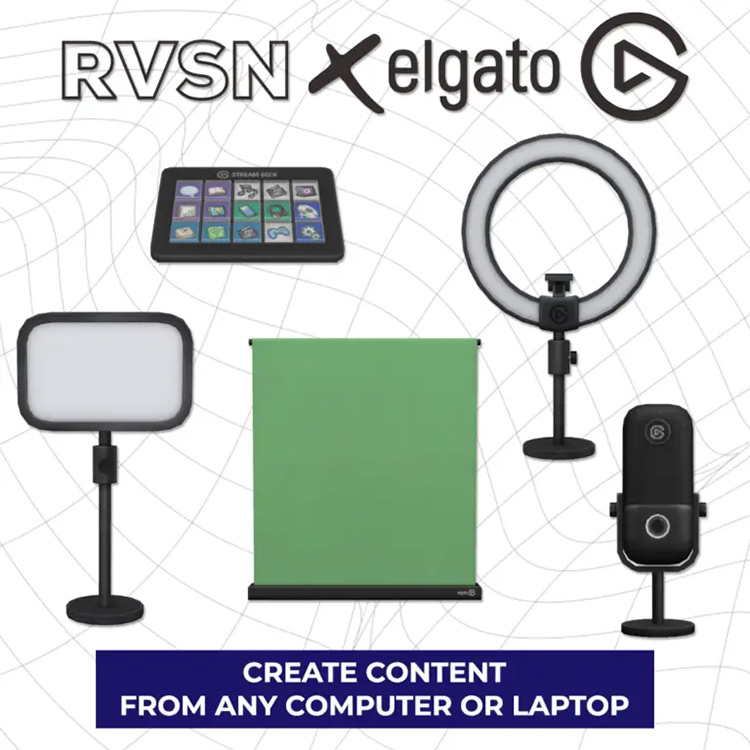 Make your Sim's dreams of being a content creator become a reality with this functional equipment.
Even if you're short on space, this is all very compact so you won't need to dedicate a whole room to your Sim's setup or anything.
31.

Hide & Squeak Hamster Cage (My First Pet Stuff Required)
This may just be the most elaborate creation in this list. With the help of PandaSama, Luddy, and Little Dica, Ravasheen brings us this ridiculously cute hamster cage.
It's basically just as fleshed out and impressive as you would expect from official content, with 60 animations and 12 unique swatches.
32.

Full Control Camera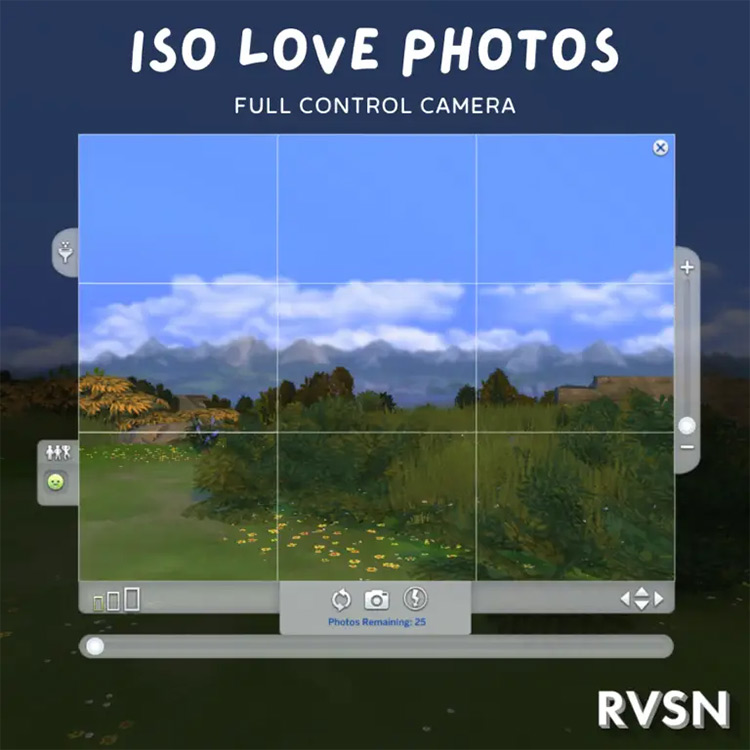 I'm sure I'm not the only player who has snatched a townie off the street to use them as a photographer.
Things are much simpler with this first person POV camera. Now you can use poses to your heart's content, without needing an extra Sim on hand.
33.

Straight Outta Compost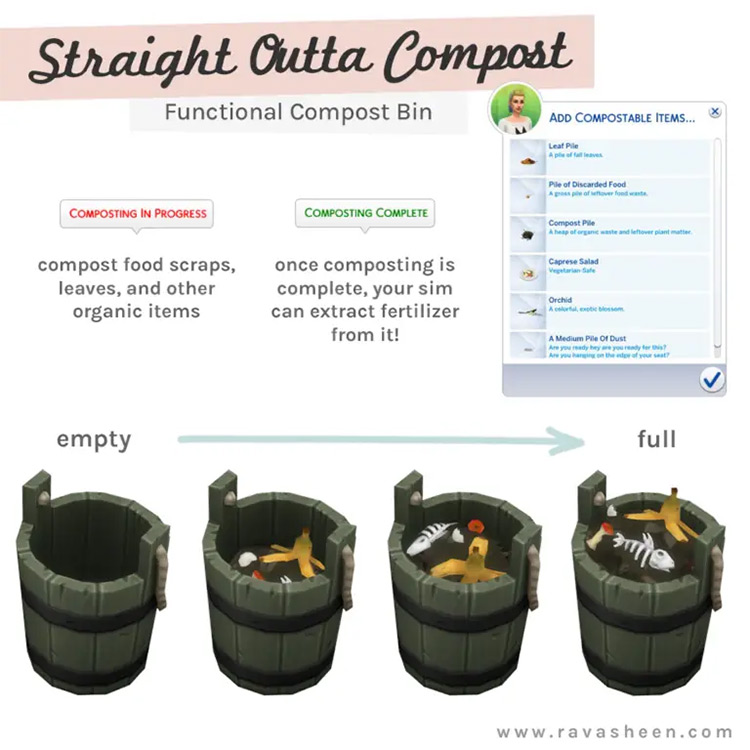 Reduce, reuse, recycle!
Sims no longer have to throw debris straight in the trash.
Instead, everything from left over food and dust to leaves and flower clippings can be put in this handy bin and turned into fertilizer.
34.

Im-Peck-Able Birdhouses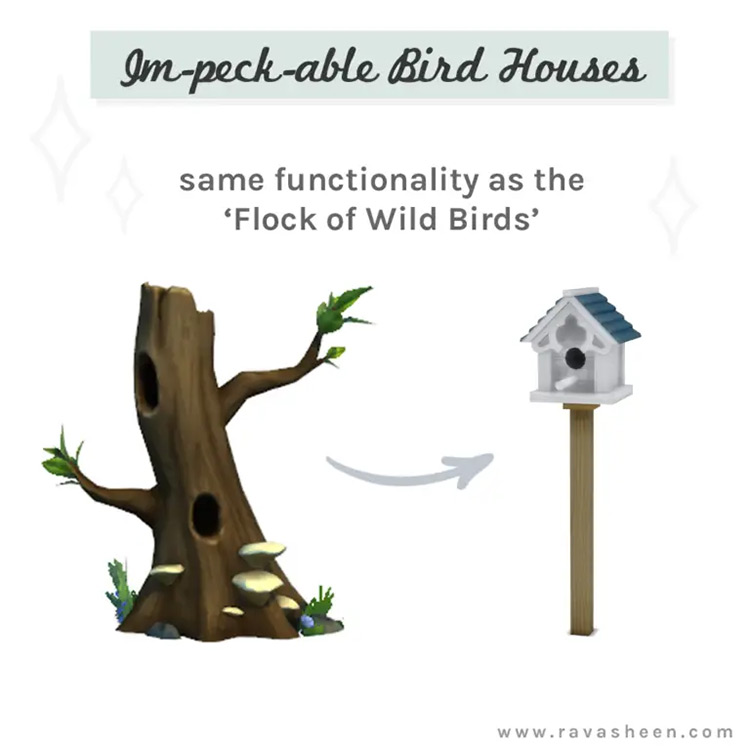 Your Sim's backyards will have never looked better once you place one of these base game birdhouses.
It would already be a lovely addition if they were strictly decor, but even better, you'll actually see birds come and go from time to time.
35.

In Your Safe Piggy Banks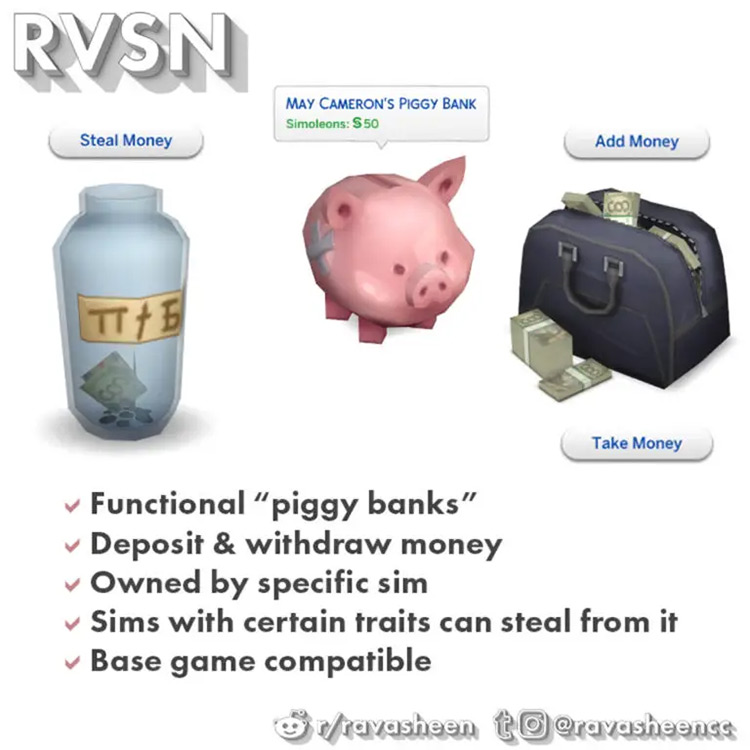 Whether you'd like your Sim's kids to have a little money of their own or just like the look of these piggy banks as clutter, they're a solid download.
Unsurprisingly, these are fully functional objects.
Some Sims can even steal the money!
36.

All-In-One Rabbit Hole Bathroom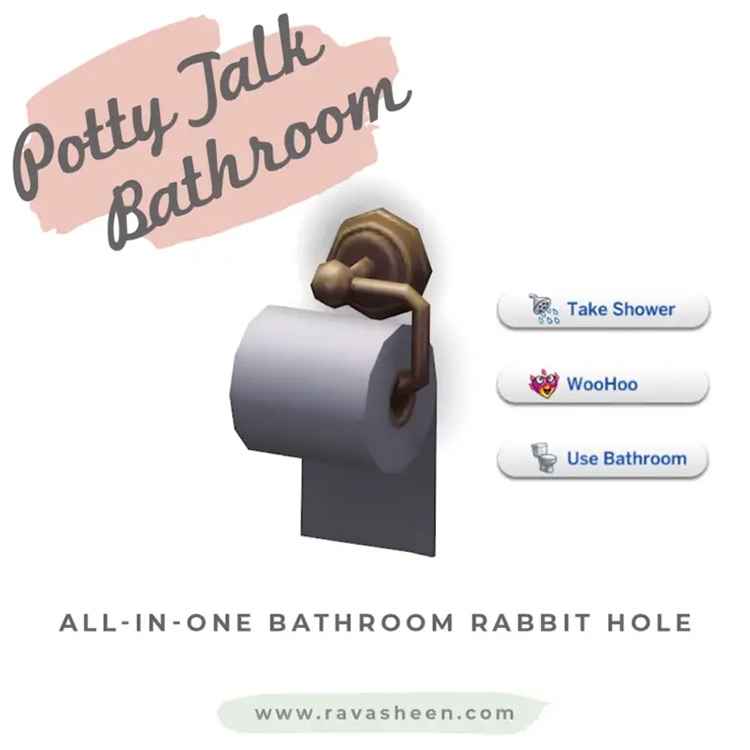 This roll of toilet paper may look like any other – but on the contrary, it brings new interactions into The Sims 4.
Sims will no longer need a whole bathroom to satisfy their bladder needs, take a shower, or even WooHoo. This will allow them to get it all done offscreen!
37.

Candle With Care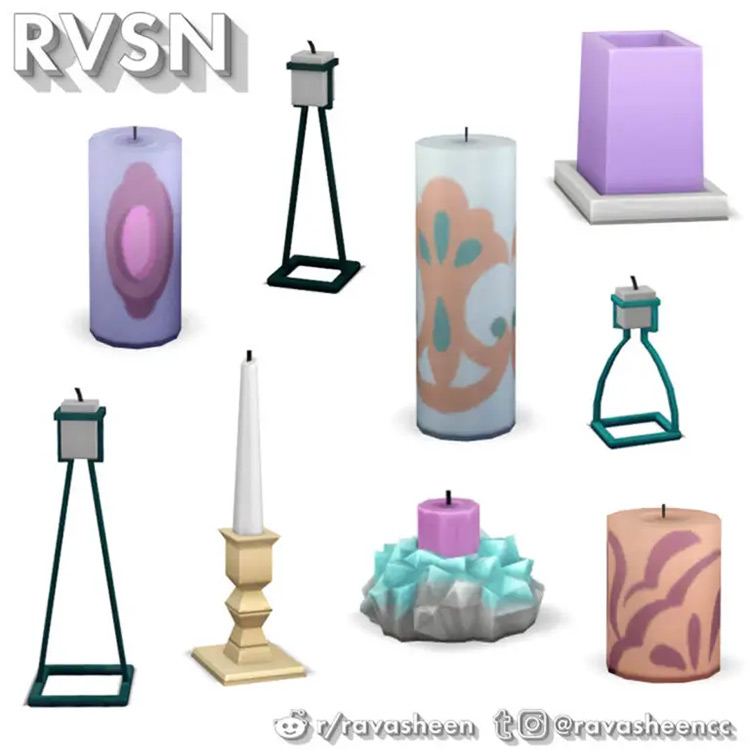 Here we have nine creative and colorful candle holders to add a splash of color to any room.
They come in all shapes and sizes, perfect to use for special occasions and everyday decor alike.
38.

Right On Track Toy Train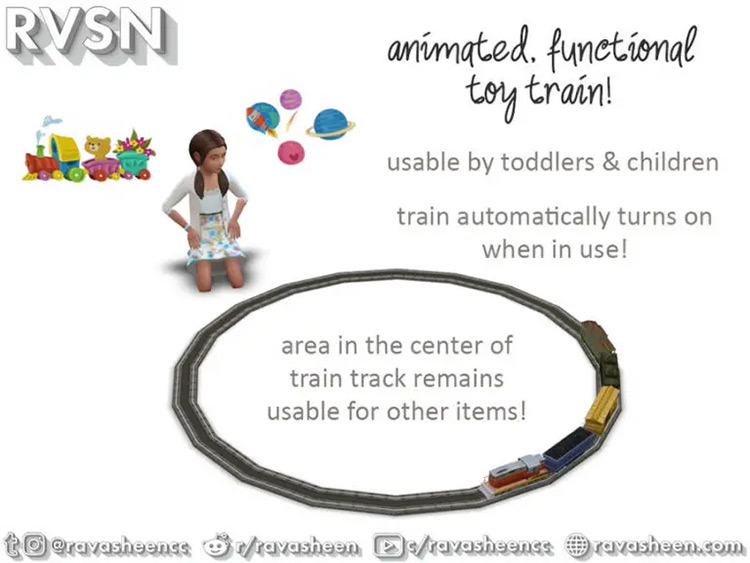 Have you ever wished your Sim's kids could have more than the same old toys that come with the toy box? This train track is a fun change of pace for sure.
And when it's time to break out the Winterfest decor, you can put the tree right in the center!
39.

Glow With The Flow Lamps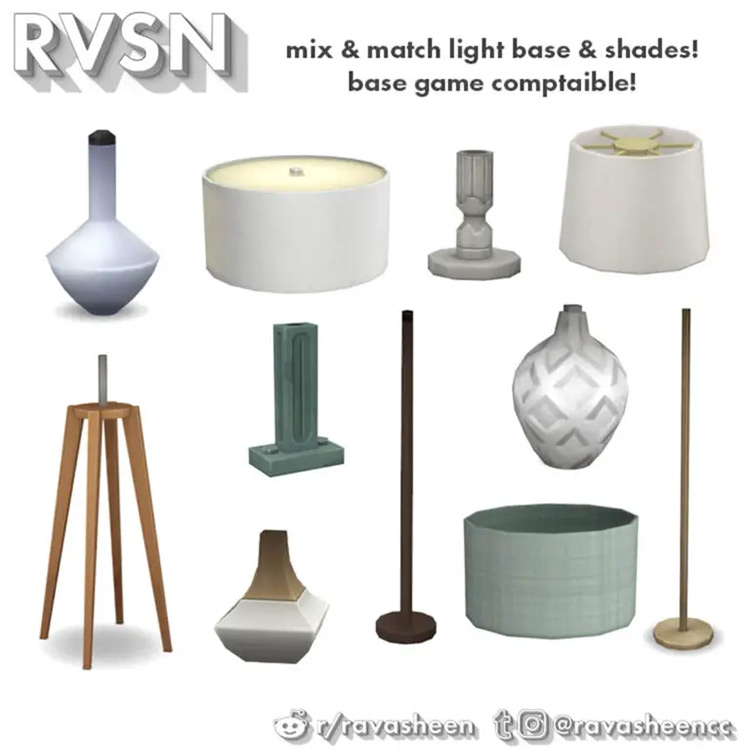 If you're as picky as I am, then there are only about two or three lamps you use regularly.
That can leave your builds feeling a little monotonous, so it's not a bad idea to grab this mix-and-match set of lamps and lampshades, so you can have exactly what you want.
40.

Instant Pizza Delivery
Forget gambling with your Sim's hard-earned Simoleons by using the phone service to order pizza, and waiting for a delivery person who's probably never gonna show.
These realistic and functional menus allow you to get pizza sent directly to your Sim's inventory instead.
41.

What's Fork Dinner Food Spawner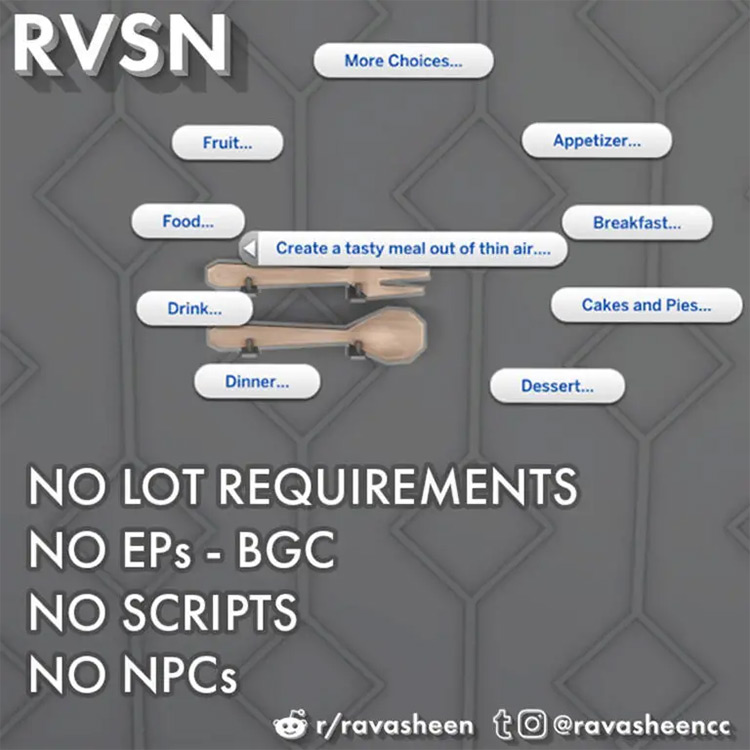 Cooking in this game can really be a pain sometimes, when a Sim can only make one thing at a time.
Turn their lackluster dinners into a true feast with this convenient food spawner. You can make any dish or drink appear like magic!
42.

Little Chef's Toy Kitchen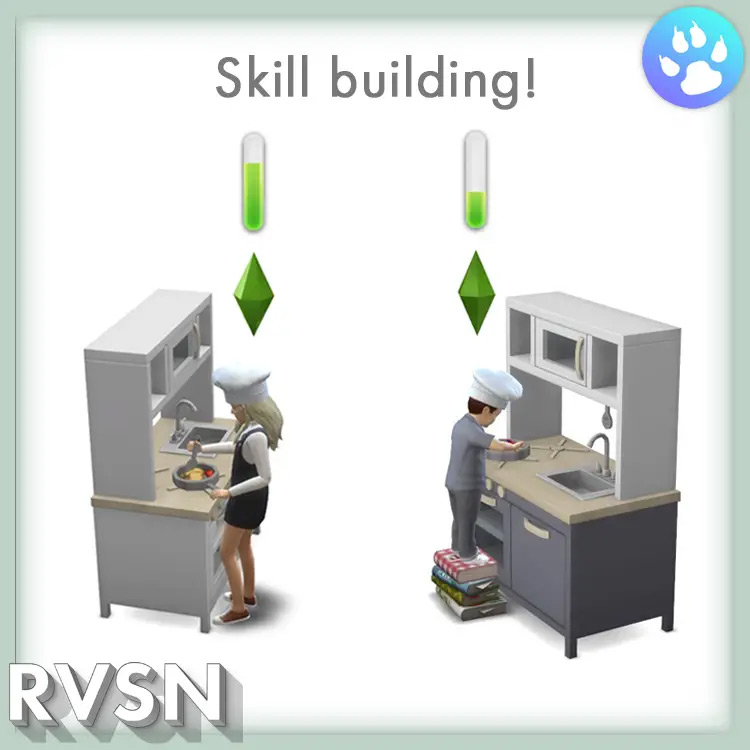 This play kitchen is the best kind of toy.
It has new animations, will build skills, and even produce custom objects!
Not to mention watching children and toddlers use it will just do your heart good, it's so cute.
43.

Groutest Of All Tile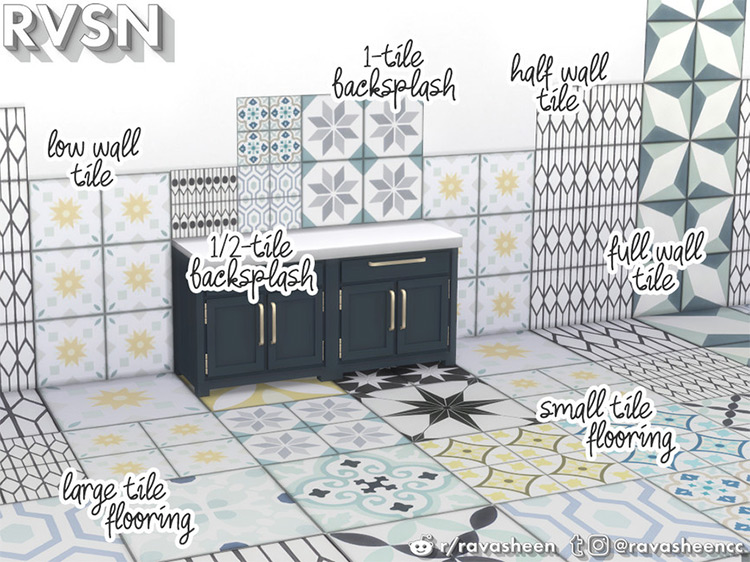 For builders, this pack of wall and floor coverings is revolutionary. You can mix and match these in any room and the many bold, unique patterns will really make it pop.
You can even choose between single tile and half tile options for the walls and floors both, to make the designs larger or smaller.
44.

Play Chess On Computer Or Tablet Mod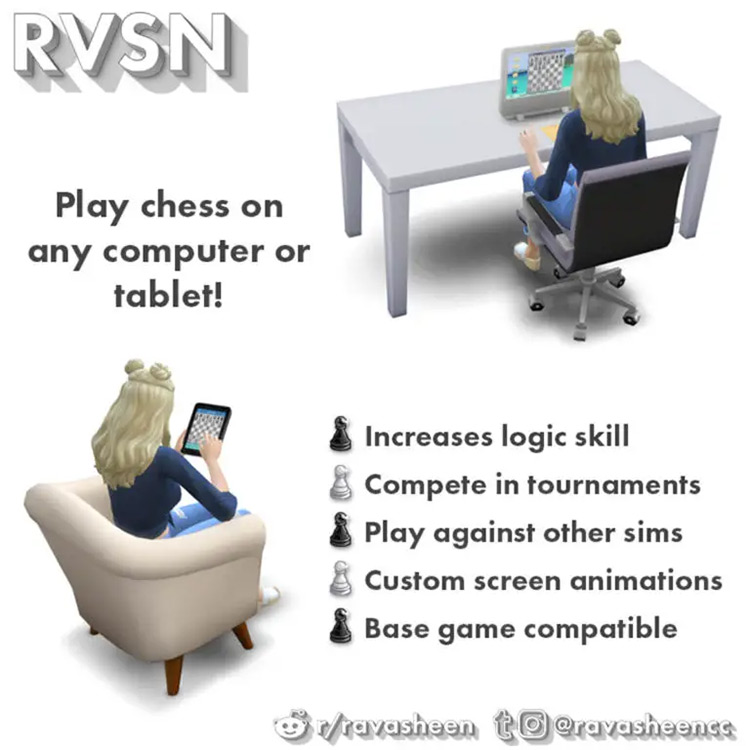 The logic skill is one of the most useful ones a Sim can have, and yet building it up is a bit of a drag.
Instead of purchasing a bulky chess table or going to the park every day, Sims just need this mod to have the same options at home.
45.

Bus Upon A Time (Travel Mod)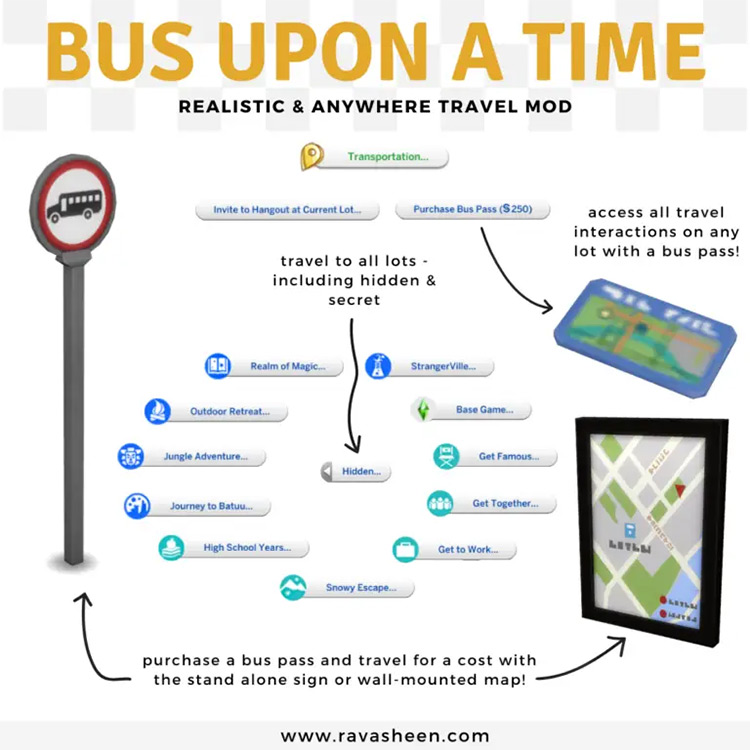 Well, our Sims may or may not ever see real moving cars.
But they can hop on a bus with this realistic & complex mod.
It works with whatever assortment of packs you have to offer transportation options to all available locations, even the hidden ones.
Browse:
Lists
The Sims 4
Video Games