Best Sims 4 Towns & Worlds To Move Into (Our Top Picks)
This post may contain affiliate links. If you buy something we may get a small commission at no extra cost to you. (Learn more).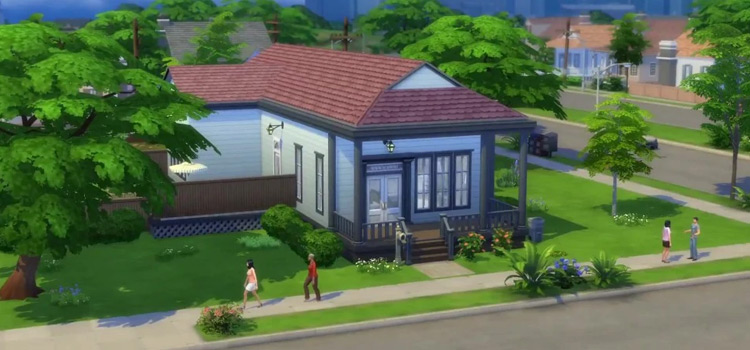 The Sims 4 is undeniably the most beautiful game in the series so far.
The environments might not be as open as some others, but with the added beauty of a new graphical interface it gives us a lot to love. Not to mention all the exploring of new worlds that its predecessors could only dream of having.
We recently covered a post on the best worlds in Sims 3 so for this piece I've made a list compiling all of the best Sims 4 worlds & towns where you can live. The list excludes the University campuses so the focus is just on typical towns and cities in the game.
Let's dive in!
11.

StrangerVille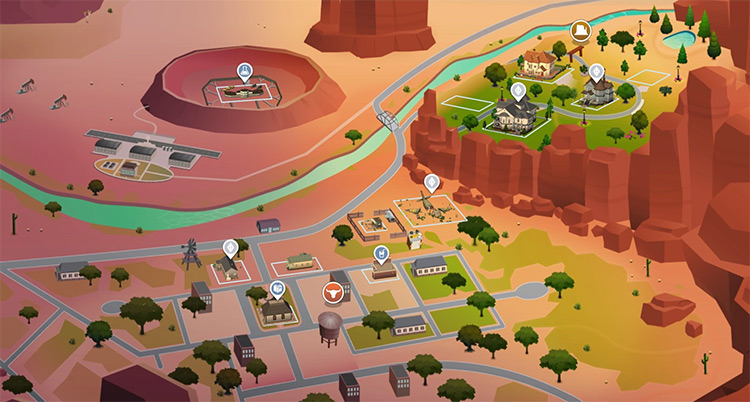 StrangerVille is not really a bad region. But it feels more like a place where you'd go adventuring rather than a place where you'd want to live.
Based on the Stranger Things universe, StrangerVille lets you experience an adventure and explore the secrets that the area has to offer.
It's not really too cozy and you'll feel like the story is following you around everywhere. I think it fits for quite a few people so it deserves a spot here, but if you want a more traditional dwelling then keep on reading.
10.

Forgotten Hollow
Forgotten Hollow is the darkest region in The Sims 4.
It adds a place where vampires love to live, as darkness is the main selling point in the town.
Granted it's not one of the biggest fan favorites, but vampires will certainly love to make a living here. If you're into the dark of night and sucking blood, and if you hate onions, well I think you'll fit in here just fine.
9.

Newcrest
Newcrest gets a spot on this list because of how much freedom you have to create whatever you want this town to be.
Newcrest has no other homes.
It's just an empty place where you can build anything you want and give this town a custom shape like never before seen in The Sims 4.
Keep everything simple or go over the top with your creations – Newcrest is whatever you want it to be!
8.

Willow Creek
Willow Creek is a cozy green region, and the first place where you could build a home in The Sims 4 prior to the release of all DLCs.
It offers everything you need to get your life started.
The starter homes available here look like traditional American homes where families can make a living and enjoy the benefits of such a culture-packed and rich town. Beautiful space and well worth a visit, especially if you're familiar with the Americana style of houses.
7.

Oasis Springs
Oasis Springs might've been one of the first town introduced to the game, but it's certainly one of the coolest places to live in when it comes to the entire Sims franchise.
It feels like an updated version of the desert map introduced in Sims 3, and it feels a tad more alive in terms of its natural resources as well.
Imagine living in a nice desert town with lakes and ponds galore. If you love the sound of all this then head straight to Oasis Springs and get started building. And take some pictures while you're at it for me to see!
6.

Glimmerbrook
Glimmerbrook is a very small little town which is clearly inspired by the north plains of America(or possibly the Midwest).
It has one peculiarity and it's the reason why so many people might want to start their saves here – it is the only town in which you can enter the portal to take you to the Magic Realm of SimNation.
This map was added with the Realm of Magic game pack and it's the one place where you can fulfill all of your magical needs.
You can also visit even if you don't wish to live here, but to be honest it's quite a cozy place to rest your head at night.
By the way, you can also visit The Magic Realm and purchase an enchanted home there too if that's what you're into.
5.

Brindleton Bay
Brindleton Bay is the place where you and your pets can live together in harmony.
Pet parks, space for vet clinics, and an environment that makes you feel like one with nature.
Build a mansion or a cozy little home in the warm but welcoming region of Brindleton Bay. Take a trip to the lighthouse or visit the many cultural points of the town in your free time. So much to do, so many simoleons to spend!
4.

Sulani
Sulani is the go-to home of beach enthusiasts.
It was added with the Island Living DLC and it's clearly based on Hawaii (even the names are references to the Hawaiian culture).
It allows you to take your sim to an island and experience what it feels like to live near the beach for the first time in The Sims 4. It's truly a tropical paradise.
3.

Del Sol Valley
Del Sol Valley is the home to artists and superstars in the world of The Sims 4.
In here, you'll be able to find hotspots where artists from all over the world come to hang out. And you can even meet the superstars that you see in movies if you're lucky enough to bump into them.
Fancy following the path to fame?
Del Sol Valley might just be the place where you can get started.
2.

Windenburg
Windenburg is a beautiful town based on the German homes of old.
It features bars and cafes where you can hang out with your friends ever since it was added with the Get Together DLC.
It's a beautiful map that offers a bit of everything for everyone, including a small island retreat with modern homes that you can move to if you wish to be farther away from the town.
There really isn't much to not love about Windenburg, and I have a feeling your sims will think the same!
1.

San Myshuno
San Myshuno is the city where you can rent or purchase your first apartment.
It's the biggest town in The Sims 4 and the one that feels the most vivid by a landslide. It's got crazy festivals happening every other day, artists performing on the streets, and many people dressing oddly and just loving life in the big city that is San Myshuno.
It's a masterful cultural hub for almost everything.
If you love to interact with people from all over the globe then move to the big city and don't look back.
Browse:
Lists
The Sims 4
Video Games