Sims 4 Beyoncé CC: Hair, Clothes & More
This post may contain affiliate links. If you buy something we may get a small commission at no extra cost to you. (Learn more).
Nowadays, everyone is a "kween" – and rightfully so.
But it just hits different when it's directed at the most powerful woman in music.
Heck, she might even be the most influential musician alive right now.
Beyoncé was only 16 when she debuted in the music industry, and at only 19 years old, she won her first Grammy as part of Destiny's Child.
Fast forward to present times; she practically has the music industry under her perfectly shaped nails.
One article isn't enough to celebrate Beyoncé, but in her honor, we're rounding the best Sims 4 CC inspired by the one and only Queen Bey!
1.

Coachella 2018 Collection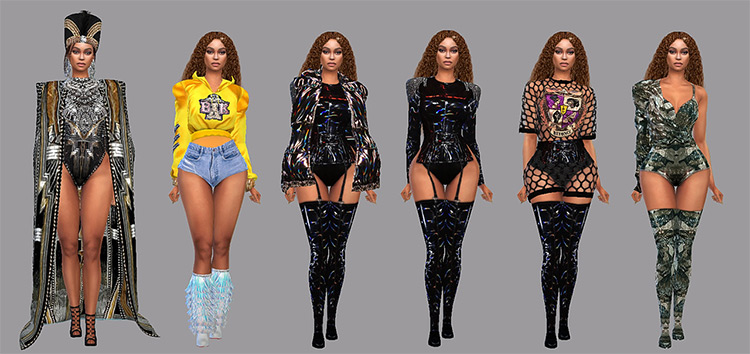 I think we could all agree that Beyoncé's 2018 Coachella performance has reached legendary status.
Adoringly dubbed as "Beychella," the two-weekend event was nothing short of historic.
It marked the first time a black woman headlined the famed music festival, and she did not disappoint.
For two hours we saw Beyoncé perform her greatest hits, reunite with one of the most successful girl groups of all time, pay tribute to the HBCU experience, plus she had multiple costume changes!
No one can truly do it like her.
And no one but your Sims could ever pull off this collection of outfits from one of Coachella's best shows in recent memory.
2.

Beyoncé in Ralph & Russo
It's no secret that Beyoncé still has enviable curves, and she knows it.
Not one to miss an opportunity to show them off, Queen Bey attended the 2018 Roc Nation Brunch (thrown by hubby Jay-Z) clad in this Ralph & Russo floor-length dress.
Despite having Cassie, Kelly Rowland, and Winnie Harlow on the guest list, Bey undeniably stole the spotlight with this ensemble.
3.

Apeshit Outfit
If you've hit a wall on where to shoot your TikTok videos, try renting out the Louvre – The Carters did it.
Beyoncé and Jay-Z showcased their mighty star power by filming the music video of "Apeshit" inside the most-visited museum in the world.
And like a true powerhouse couple, the two were seen chilling in front of the Mona Lisa in pastel suits.
Guess they had all the time in the world to lounge in front of the most famous painting ever.
Now your Sims can even own the Louvre by copying Bey's Apeshit outfit from the music video, courtesy of CC maker Daniel Sims!
4.

IVY Park x Adidas x Rycreezy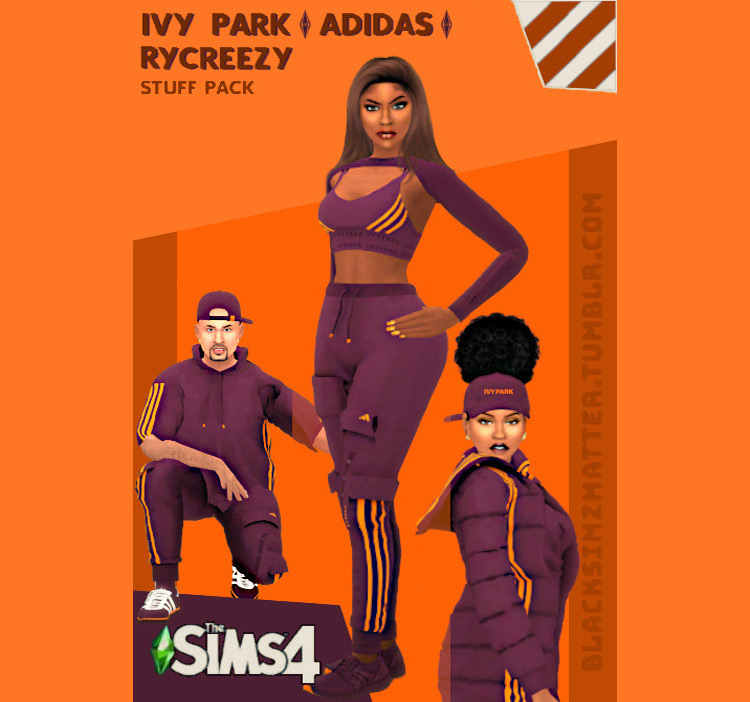 When you've already conquered the music scene, what else can you do?
Dominate the fashion industry, of course!
There's no question that this venture would be successful, seeing as Beyoncé was the face of her athleisure brand.
True enough, the business is so lucrative that I can't even get a hold of it at my local branch due to always being sold out.
Luckily, Sims now have an unlimited stock of this on-demand wear just by downloading this CC Set.
5.

Beyoncé in Mugler and Maison Michel
When singing and dancing to a song like "Formation," it's required to wear your sexiest outfit and twerk like your rent depends on it.
That's what Beyoncé does whenever she performs this specific hit song – and that kind of confidence is too empowering to ignore.
Get your Sims in line and have them try Queen Bey's custom Thierry Mugler leather corset and Maison Michel hat ensemble. It's easy to setup in CAS, and it looks amazing.
6.

Queen B Dress
One of the songs that I frequently play whenever I need motivation at the gym is "Freakum Dress."
I had no idea what a freakum dress was back when I first heard it.
But all I knew was I wanted to look like Beyoncé, which meant a lot of ab workouts and cardio.
Fifteen years later, I still haven't achieved that look.
But thankfully, our Sims are customizable enough to replicate Queen Bey's famous curves – and they can fit right into this sexy dress.
7.

Fringe Dress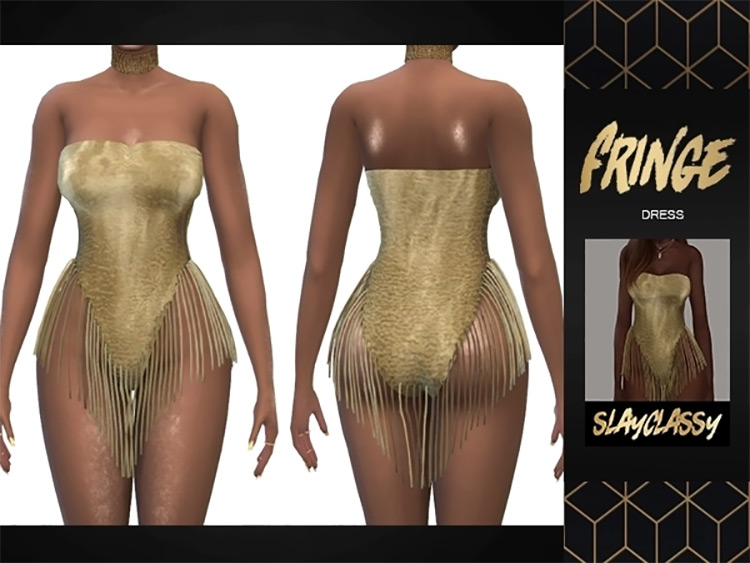 Part of Beyoncé's appeal is her ability to dance so energetically while singing.
Not everyone can shake their hips and jump while maintaining a perfect pitch, but Beyoncé does it so effortlessly.
And to top it off, she loves wearing fringe dresses. Why?
Because she's just that bootylicious, and she knows it.
Emulate Bey's queenly energy in this booty-shaping dress, tailor-made by CC creator SlayClassy.
8.

Beyoncé Inspired Hair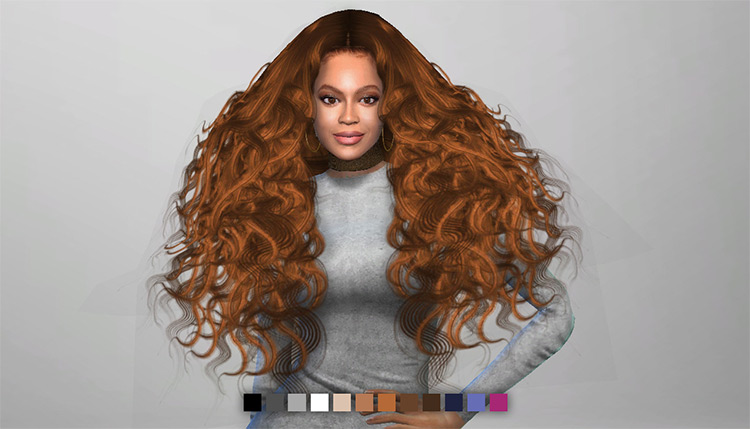 If you've been in the music business for more than two decades, you're bound to go through a hair evolution.
But unlike Katy Perry and numerous K-Pop idols, Beyoncé's hairstyle changes are relatively conservative.
Her best look though?
Those long and luscious curls that seem to defy gravity.
Get B's classic hairdo right here with this CC by candyforniasmoonlight.
9.

Bey Bob Hair
Beyoncé's hairstyle of choice has always been long, luscious locks.
So seeing her in an asymmetrical bob in her "Drunk In Love" music video was a cultural reset.
But let's say you really liked it. Would you want to bring it into your Sims game?
Of course!
And now you can create a Beyoncé-inspired Sim with this custom bob 'do from savvysweet.
10.

Beyoncé's Skinblend
Here's a hot tip for a good time:
If you can't be Beyoncé in real life, then try your best to be Beyoncé in The Sims 4.
And if you really need to match, you can get that diva transformation by downloading this custom-made skinblend set.
In this way, you now have the Queen of Music (as Lizzo puts it) immortalized in your ideal simulated realty world.
I'm sure your Sims wouldn't want it any other way.
Browse:
Lists
The Sims 4
Video Games