Sims 4 Billie Eilish CC: Hair, Clothes & More
This post may contain affiliate links. If you buy something we may get a small commission at no extra cost to you. (Learn more).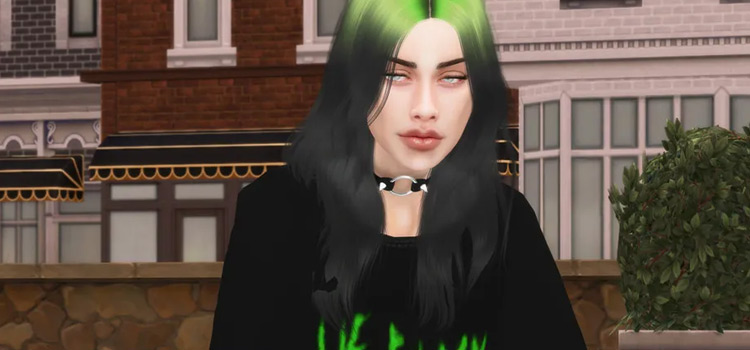 Nowadays, people go viral over the silliest things.
Social media and streaming platforms have become the main springboards for the world's newest celebrity obsessions, and Billie Eilish was no exception.
She was just 14 years old when she became a viral superstar thanks to uploading the 2016 hit "Ocean Eyes" on SoundCloud.
Most teenagers during that time would've been stuck at home playing Overwatch, but here was Billie unknowingly launching her career into the stratosphere.
Well now you can have a Grammy-award-winning teenager in your Sims world – all with this incredible custom-made CC.
1.

Billie Set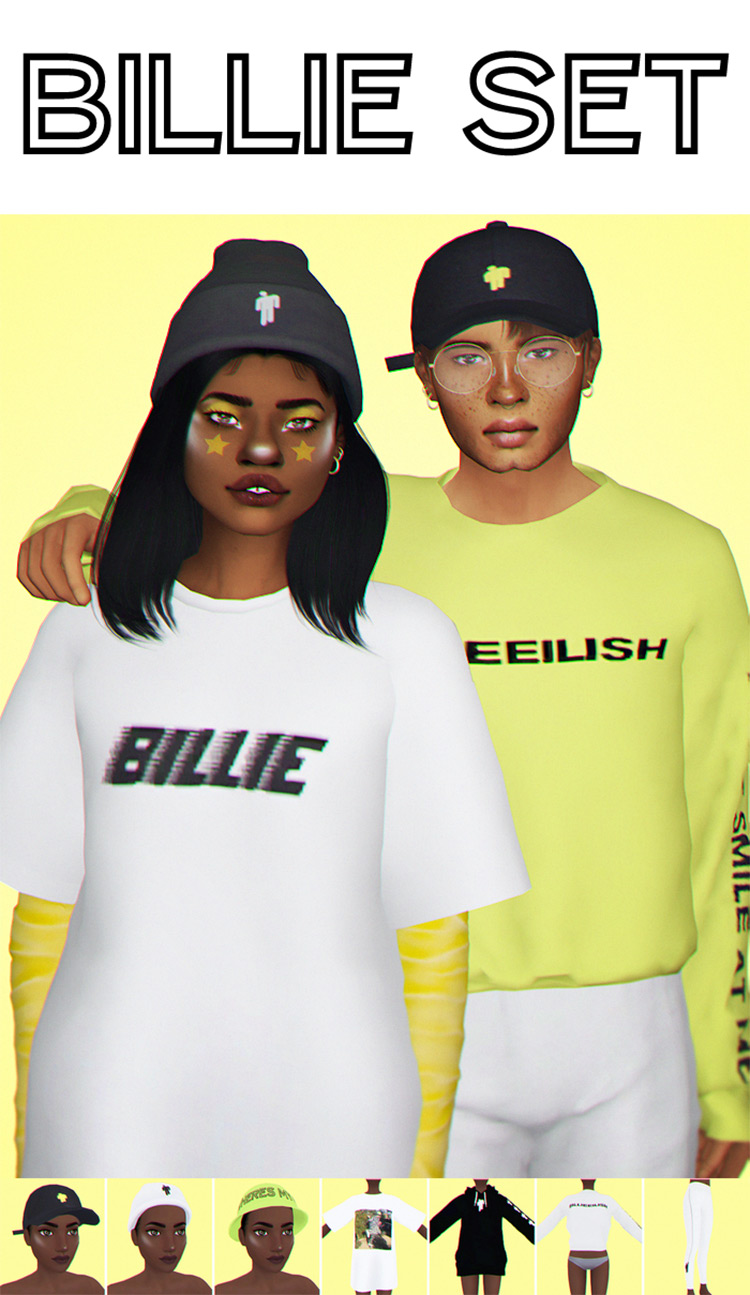 Billie Eilish is making every teenager look bad by releasing merch before she can even learn how to drive.
But if you're one of her fans who are too broke to get it online, well, there's always the TS4 alternative – and it's completely free!
Score this massive Billie Set for your own Sims, which includes beanies, bucket hats, hoodies, and a whole lot more.
2.

Billie Shorts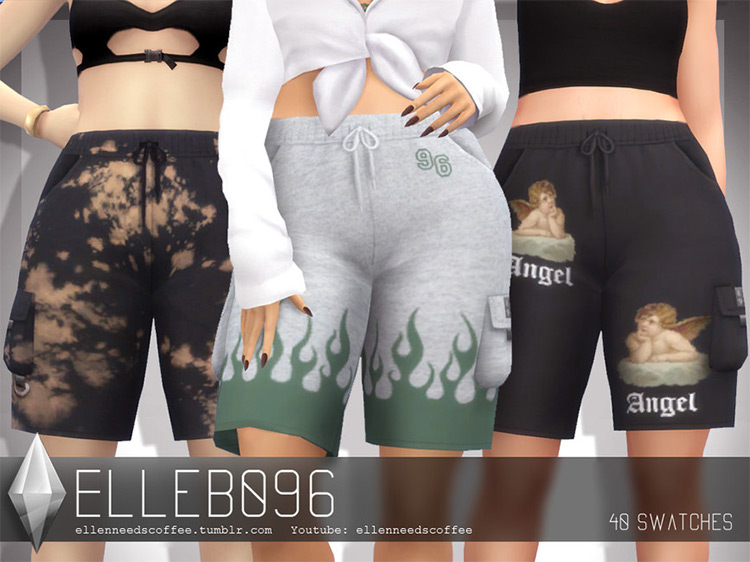 Most pop stars prefer sexy designer clothes as their go-to ensembles on the red carpet.
But Billie isn't one to conform to standards.
Compared to Lady Gaga's iconic seashell G-string and Dua Lipa's birdcage skirt, Billie's baggy shorts look is more suited for a Netflix all-nighter.
And you know what?
She doesn't care – not when fashion houses like Gucci and Burberry supply her chill style.
And now your Sims can get comfy wearing these custom shorts by Elleb096.
3.

Ridgeport Socks Recolor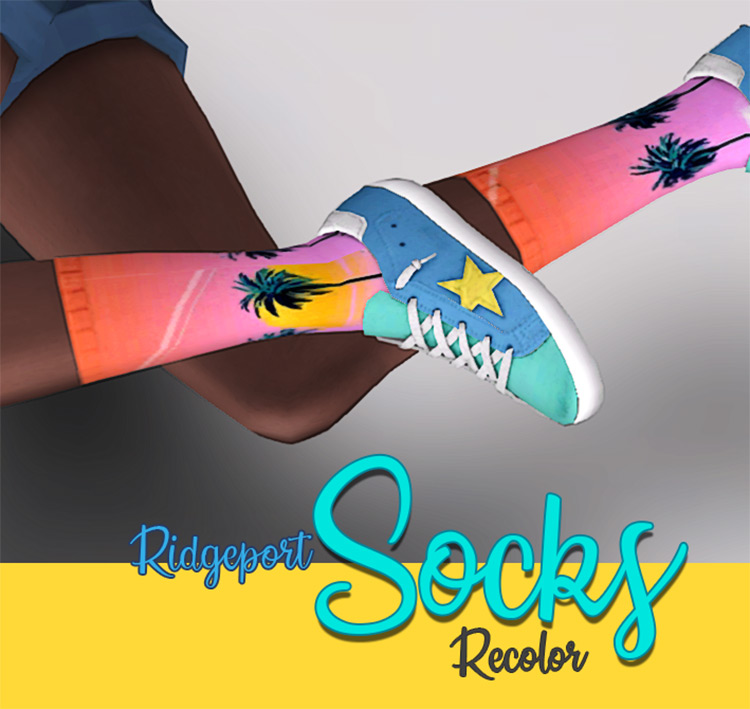 On top of her incredible collection of hit songs, Billie also has an extensive assortment of socks.
She's been spotted wearing socks with avocado prints, in neon green color, and in plain hues paired with a Gucci pillow around her ankle (because why the hell not).
So I say it's time to start investing in your Sim's footwear like Billie, just by getting these trendy sock recolors for Ridgeport's CC.
4.

Oversized Puffer Jacket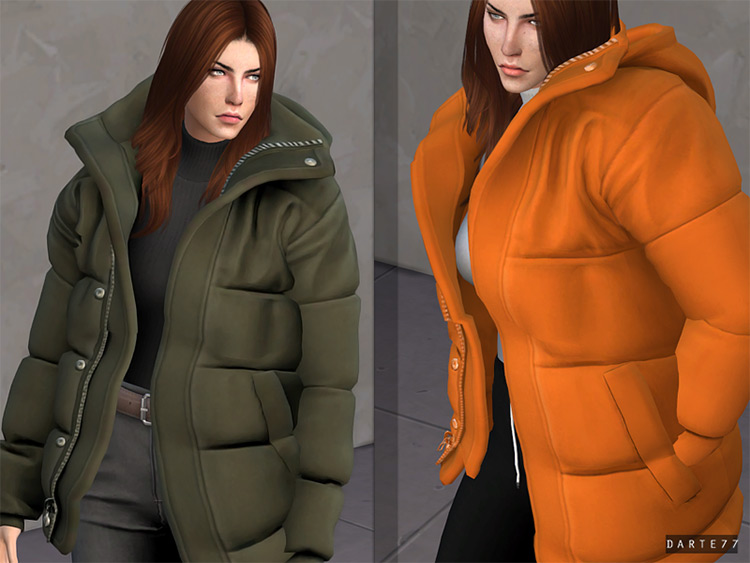 Early in her career, Billie Eilish was rarely seen sporting tight-fitting clothes or even dresses.
You'd typically see her in jackets four times her size, leaving people to wonder what she might be hiding underneath.
It turns out she's got nothing to hide but a lot to protect.
And because netizens and paparazzi are essentially piranhas in disguise, baggy clothes offer shelter to her privacy.
Whenever the spotlight becomes too hot to handle, get your Sim huddled inside this custom puffer jacket design. It could even go great to match with a scarf during the winter months.
5.

Oversized Sweater Recolors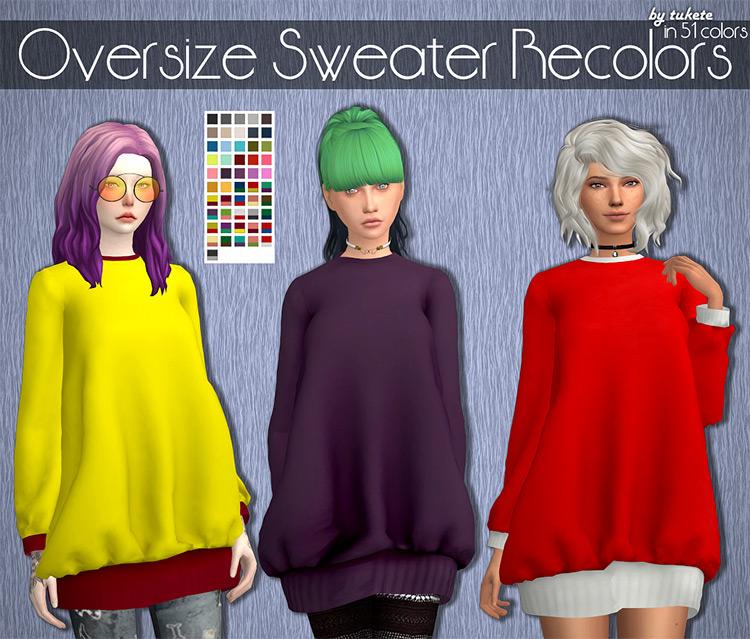 No one loves oversized sweaters more than Billie Eilish.
It has become one of her signature looks.
And thankfully, they're easy to get by with.
There's a lot of oversized clothes in The Sims 4. But if you wanna match Billie, then stock up your Sim's wardrobe with a wide selection of vibrant sweaters with this CC set.
6.

Billie Eilish Ghouls Character T-Shirt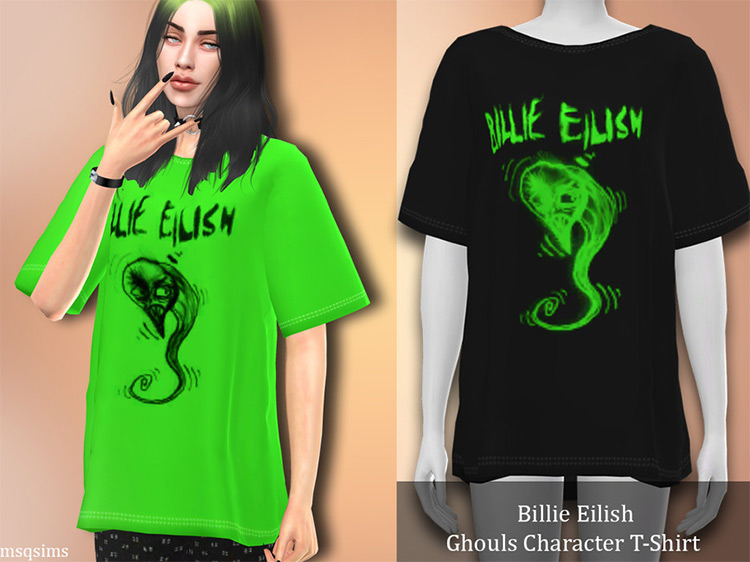 If you haven't seen a Billie Eilish music video, then be warned – you might want to keep the lights on.
"Bury A Friend," "All the Good Girls Go to Hell," and "When The Party's Over" are just some of her top-viewed videos on YouTube, and it's downright creepy and eerie.
So it's no surprise that some of her merch features ghouls and the Chiller font.
Learn to love Billie's signature edgy style by having your Sim wear these shirts with pride.
7.

Billie Eilish Style LV Outfit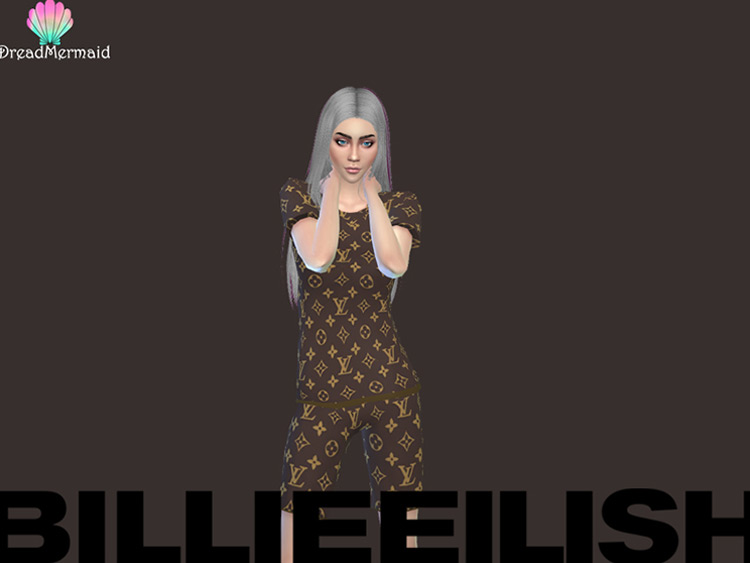 Nobody does streetwear quite like Billie Eilish.
And it's all because she's not afraid to fake it.
If you're wondering how Billie gets what seems like customized pieces from fashion powerhouses like Louis Vuitton, the answer is that she doesn't.
Many of her clothes are bootlegged, but the lack of authenticity never bothered anyone – not when you're talented and real AF.
And with this outfit you can turn your Sim into a teenage fashion icon.
8.

Billie Hairstyle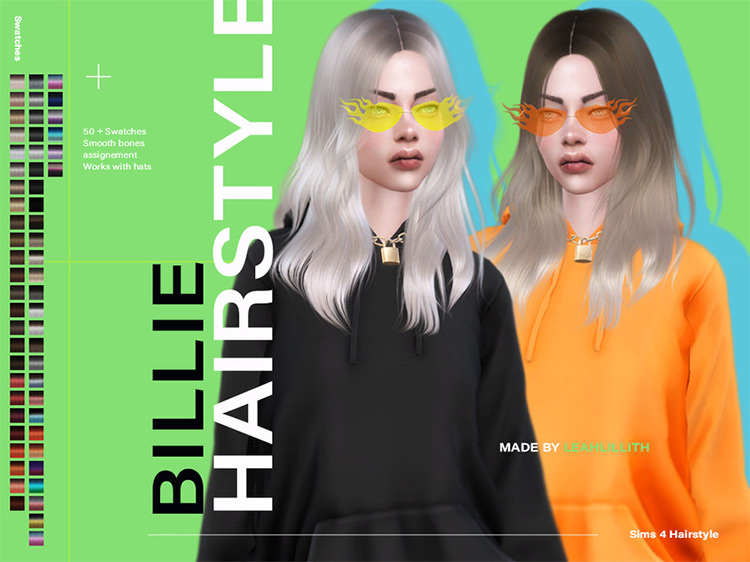 From bleaching her hair in platinum white, to dyeing it in bright blue colors, Billie's scalp has been through a lot over the years.
But her most daring hairstyle came in the form of neon green roots and a black base.
This look has become so iconic she became one of the most popular costumes in 2019 – even Nina Dobrev joined the bandwagon!
And now your Sims can join in on the fun too, all without having to subject their hair to brutal bleaching.
9.

Billie Eilish Wall Poster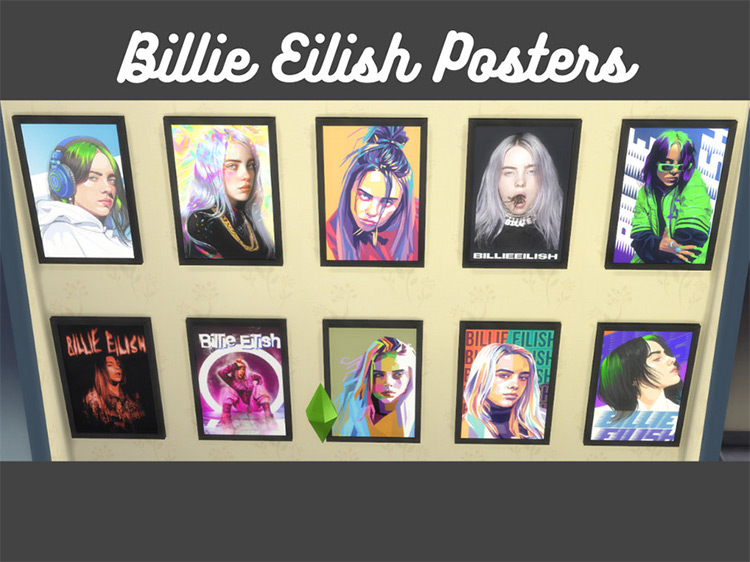 Many can argue with me on this one, but Billie Eilish has some of the most beautiful eyes I've ever seen.
I guess when you have a song like "Ocean Eyes," that's a given.
But at least your Sim can have those blue-gray eyes watching over them, just by putting up these Billie Eilish posters all over your Sim's walls.
10.

Billie Eilish CAS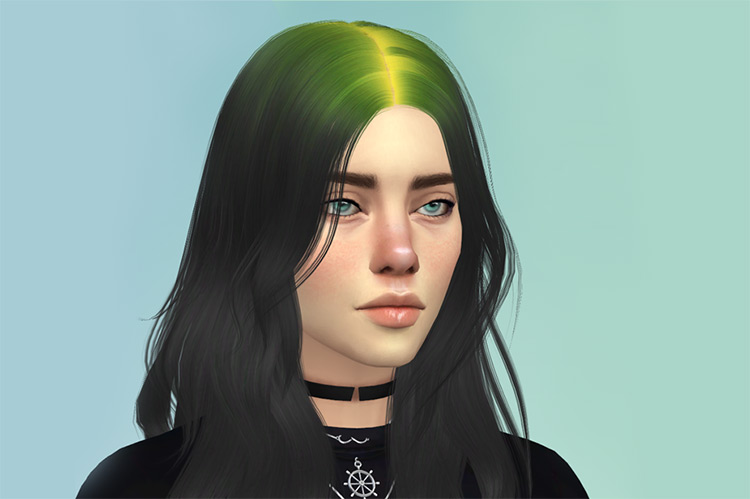 You almost have all the CCs you need to build your Billie Eilish obsession in your Sim's town.
The only thing missing is accurately capturing the likeness of this chart-topping Gen Z star with just a few clicks.
And other Simmers have just the solution in this custom character build.
Complete your Sim transformation in no time by downloading this CAS CC build from Simslab! The page is in Portuguese, but you can easily translate it with Google Translate to read the install instructions.
Browse:
Lists
The Sims 4
Video Games