Sims 4 Toddler Binky & Pacifier CC (All Free)
This post may contain affiliate links. If you buy something we may get a small commission at no extra cost to you. (Learn more).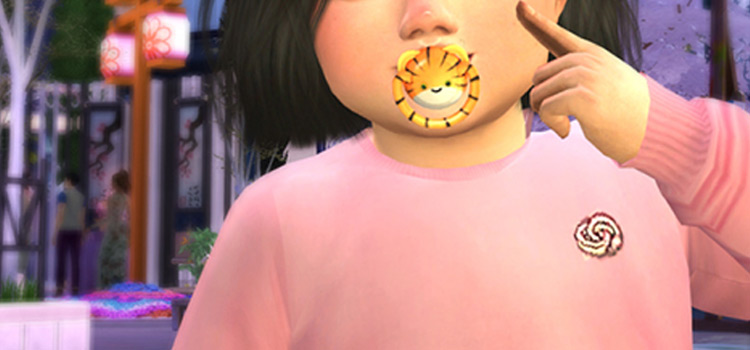 Toddlers and Children in The Sims 4 have a fairly limited CAS selection, if I'm being completely honest.
I guess that's because there are only so many variations of onesies and feetie pajamas available.
So let's give them a little more variety in the one CAS item that's uniquely their own:
Binkies.
1.

Simple Toddler Pacifier by lehgaming
Before I show you all the cleverly-shaped pacifiers and the pacifiers with cute cats and harmless puppies, let's start with something straightforward.
This Simple Toddler Pacifier by lehgaming is exactly what it says it is.
One design, one use, eight cute powder shades.
2.

Emysims Pacifier – 3T4 by simiracle
Originally made for The Sims 3, this cute li'l binky (decorated with a carton pup) can now be used by TS4 Toddlers thanks to simiracle.
It comes in thirty colors – all shades in baby, powder, and dusty pastel – and doesn't need the original mesh to function!
3.

Cat Pacifier by feyona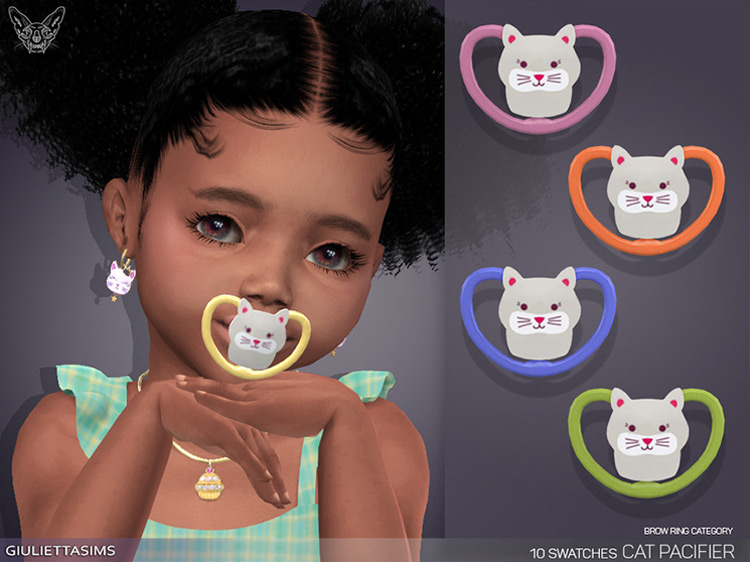 Cute, quirky, and just a little catty.
That about sums up this adorable kitten pacifier.
It's got a brightly colored plastic ring on it (ten color options) for easy handling and a cutely smiling cat face to make you go d'aww.
Quick note from the creator: this binky can conflict with finger accessories (aka rings) on the right hand, so plan outfits accordingly.
4.

Bow Pacifier – 3T4 by simiracle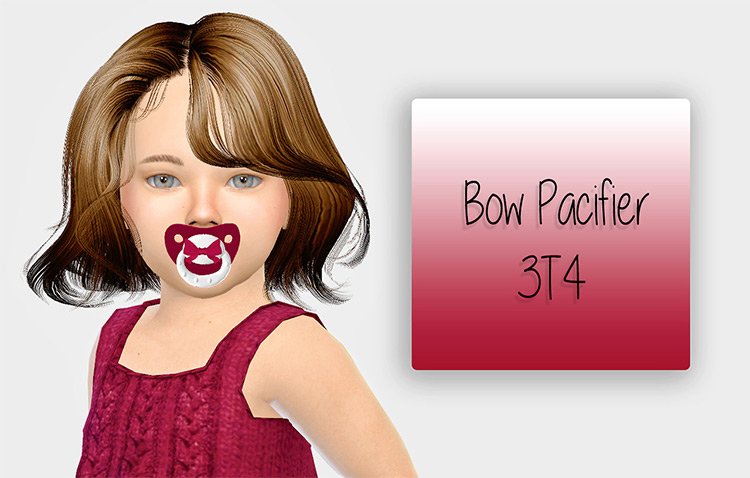 Wrap your little bundle of joy's binky up in a pretty little bow.
Classic pink, powder blue, stunning gold? Simiracle's TS4 conversion of this TS3 mesh by ThesePrettyLittlePixels includes 47 swatch options to choose from!
5.

NUK Pacifier – Acc by Miguel Creations TS4
These are a whole bunch of pacifiers converted into TS4-compatible binkies from The Sims 3 meshes (originally by Emysimss again).
There are three different sets that you can download here, and each set follows a specific theme for the design: Mickey and Minnie, Animal Faces, and Colorful.
6.

Voidcritters Pacifier by simiracle
This is another of simiracle's TS4 conversions (originally made for TS3 by Emysimms, as per usual) with a cute-and-clever concept. Every respectable Simmer knows Voidcritters.
They're on-par with llamas and the Freezer Bunny.
It makes perfect sense for your Sim's toddler to have one—or several!—of these voidcritter merch items.
7.

Pacifier for Toddlers Accessory by soloriya
Exactly what the name says. Can't get any simpler than that!
Plus the eight designs all have little faces on them. Of course I've gotta recommend them! Look at the one that looks like a precious li'l ladybug.
8.

Angelas-Boutique Pacifiers – 3T4 by simiracle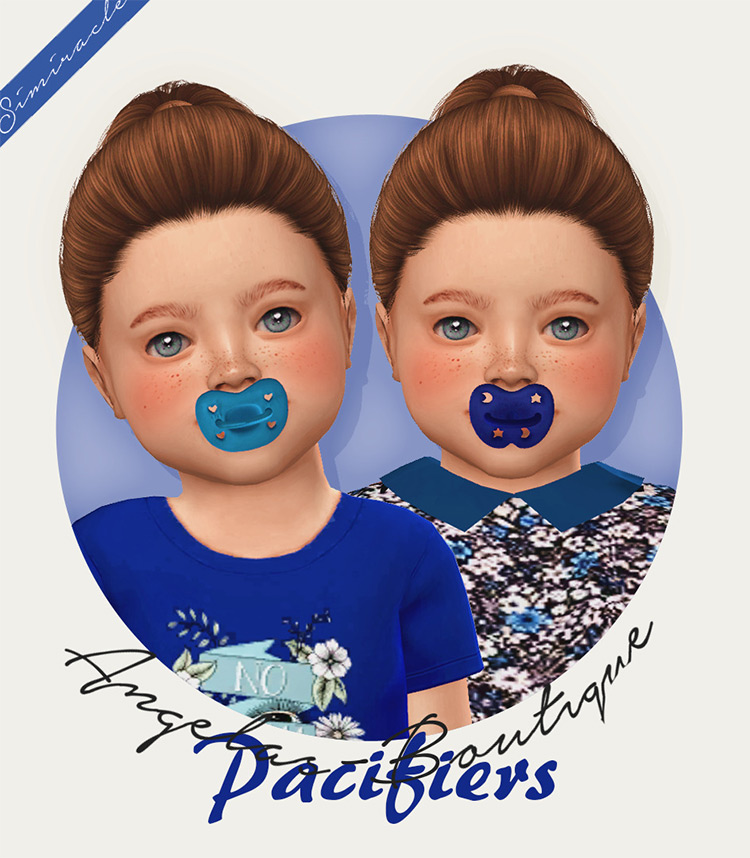 These little boutique binkies are decorated with cut-outs rather than graphics.
Choose between some Soft Silicone Hearts or a dreamier Stars and Moons theme. Both come in 30 swatches!
9.

Elephant Pacifier by simiracle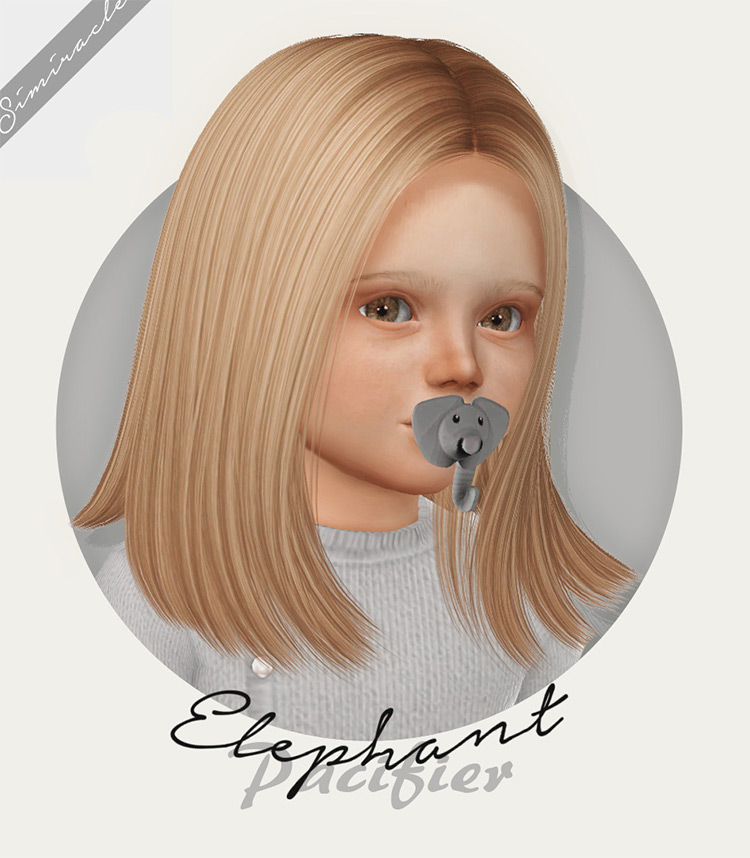 I think this one's my favorite.
Like, forget the kittens, the flowers, the bowties — this is the pacifier I want for my Sim's Toddler.
Is the shape unnecessary? Yes. But the pacifier ring has been replaced by a teeny elephant trunk and that's good enough a reason for me to download it.
10.

Pacifier Love by simiracle
I'm wrapping up this list with another 3T4 conversion from simiracle. This time, the mesh they're working with is yosimsima's Pacifier Love, which is an adorably simple pacifier with a standard cage and a cute heart drawn on the knob.
It comes in 40 colors, and they are – surprisingly! – not all varying shades of red and pink!
Browse:
Lists
The Sims 4
Video Games