Sims 4 Bird CC: Birdcages, Bird Feeders & More
This post may contain affiliate links. If you buy something we may get a small commission at no extra cost to you. (Learn more).
When you're playing The Sims 4, birds don't usually get your immediate attention – unless a fried chicken's being served.
They're like clouds:
You see them every day in the sky and you admire them for a bit, until it starts to rain poop – literally.
These flying menaces might not have much to offer in real life. But in TS4, they're surprisingly helpful and a good inspiration for CCs.
So let's dive into this list and swarmed by the coolest bird custom content you could ask for.
Near The Sea
Paintings are so overrated – how about birds and vases instead?
Get your sims introduced to Soloriya's Near The Sea set:
A sailor-themed living room that would fit right into SpongeBob SquarePants' pineapple!
With this pack you'll have all the pretty clutter you'll ever need to recreate a life out at sea.
Shabby Living Set
Try setting the mood for afternoon tea parties once you grab Severinka's Shabby Living CC pack.
Instantly achieve a Pinterest aesthetic at your Sim's home by incorporating light wood tones and pastel hues.
Then add on fragile and floral bird ornaments to complete your image of a fancy host.
This is a bird-themed list, after all.
Chlorophyll Hanging Cage
Who said birdcages could only contain birds?
Get creative lighting at your Sim's outdoor lounge with this custom cage from SIMcredible's Chlorophyll set.
Just remember not to put actual birds inside, lest they burn to death.
Unless that's what you're going for…
Birdhouses Set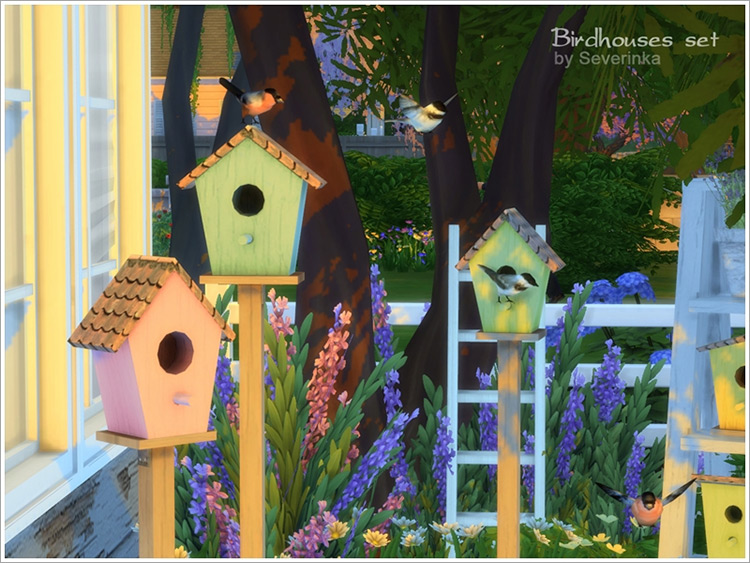 Want to have your own Disney princess-inspired alarm clock?
I've got just the CC for you.
Wake up to a cacophony of birds chirping by getting this simple CC set from Severinka.
Breed a homey nest for these feathered creatures as they signal the start of a brand new day in deafening decibels.
Indigo – Sculpture
Yes, bird clutter exists in TS4.
And boy, do these sets look beautiful.
Place these small pieces of art around your home for that extra flair you never knew you needed!
Get all 6 variations by downloading the whole set from ung999.
Silver Outdoor Set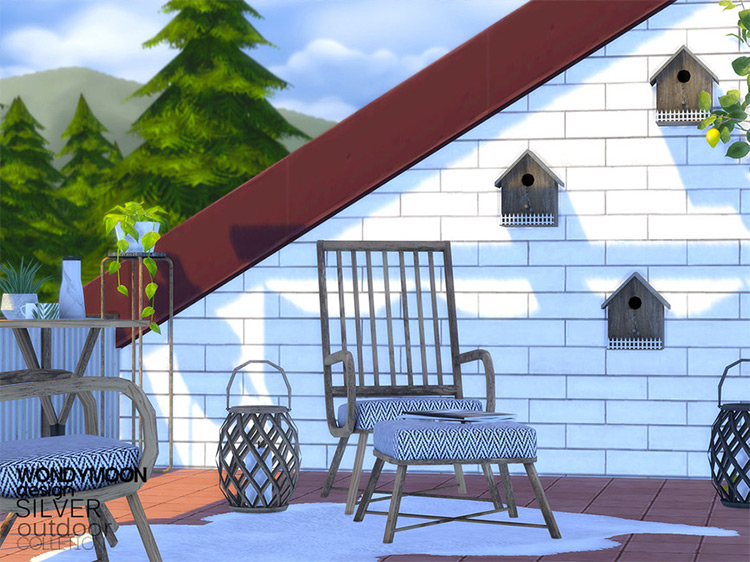 Are you fascinated by the idea of having birdhouse décor, but you don't want to deal with actual birds?
No worries – I got you.
Design your patio or balconies with wondymoon's Silver Outdoor set, which includes rustic-style chairs, tables, ottomans, and birdhouses.
Now your Sims can get comfortable without having to be responsible for another living thing (unless they're parents).
Simply Curvy Bird Feeder
Birds have simple pleasures in life:
Fly, eat, migrate, poop, and repeat.
But that doesn't mean they won't appreciate a bird feeder upgrade.
Get a little bit extra with caring for your pet birds with this functional bird feeder CC from Snowhaze.
Just pick a color and start getting into that bird-feeding habit in no time.
Cage Shelves
Do you know what I love about TS4 CC creators?
They're some of the most creative people I know (well, "know" online).
And this CC is proof of that.
Ditch your Sim's boring old shelves and get them setup with these unique cage-style shelves from leosims.
Confine your belongings in the most unique way and keep that bird theme alive.
Paper Birds
I'm not the biggest fan of origami.
But these custom paper bird décor items are worth a thousand paper cuts.
You can easily litter your Sim's home with these adorable art pieces, all in varying designs.
And while you're at it, why not get a thousand of these and make a wish?
Metal Decorative Sculptures
Who would've thought that a gilded parrot would look like a million bucks?
It would not have been my first guess, that's for sure.
But check out Severinka's Metal Decorative Sculptures CC set for a collection of majestic avian décor, all ready for your next Sims 4 build.
Golden and gleaming, this CC would make a fine addition to any Sim's space.
Browse:
Lists
The Sims 4
Video Games