Best Birthday Cake CC For The Sims 4 (All Free)
This post may contain affiliate links. If you buy something we may get a small commission at no extra cost to you. (Learn more).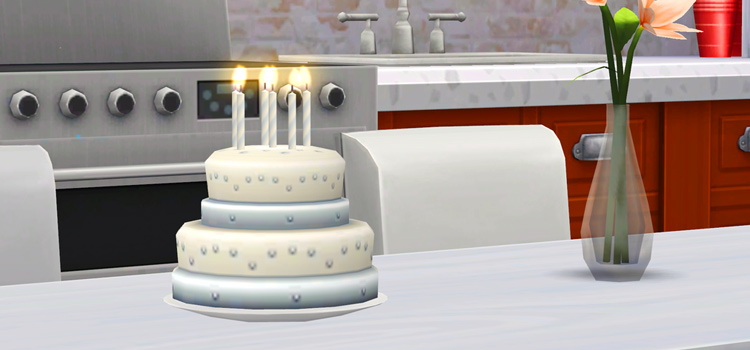 The lives of Sims, although action-packed, are a lot shorter than ours.
The chances that you'll experience being a married woman with grandkids while 3 coworkers, 1 neighbor, and your childhood friend are all vying for your romantic attention are slim, but so are the chances that your Sim will live through more than 36 hours of TS4 gameplay.
Assuming we live to 90, we get to have 788,940 hours of real life gameplay.
It's a fair tradeoff, I guess.
If you aged that quickly, you might be tempted to skip birthday celebrations altogether; but savoring the chaos of life is what TS4 is all about.
So if you're going to party, you might as well have some cake, right?
1.

Kakkumaakari Cake Decoration Set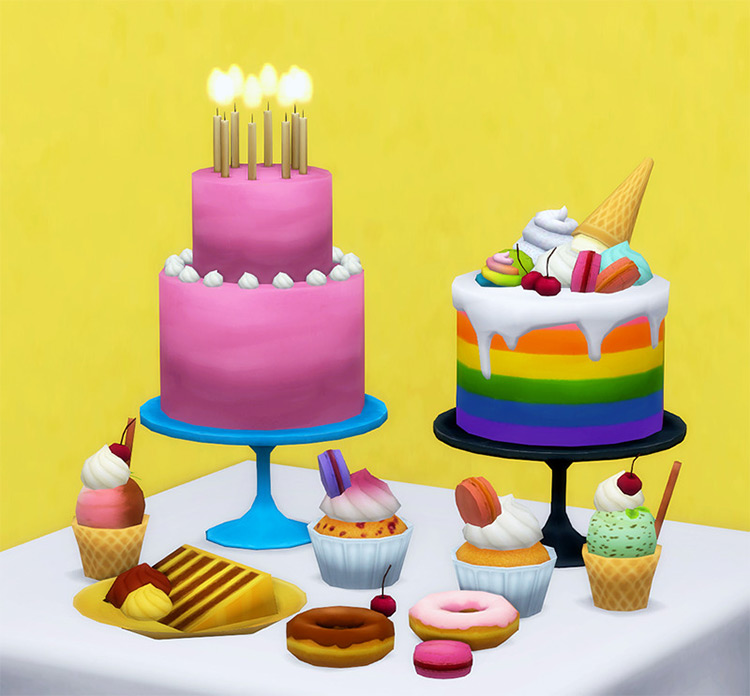 Decorating your own cake either sounds like an awful chore to have to do on your birthday, or a really fun birthday event.
But no matter which camp you fall into, customization is king in the realm of the Sims.
If you're hand-picking your sim's birthday decorations, outfit, guests, and location, you might as well customize their cake too.
This Cake Decoration CC Set will let you do just that.
There are 16 new meshes here, with each averaging around 5-6 swatches. Even better, you can combine different cakes, plates, and ganache meshes to create the cake of your dreams.
2.

Black Crystal Cake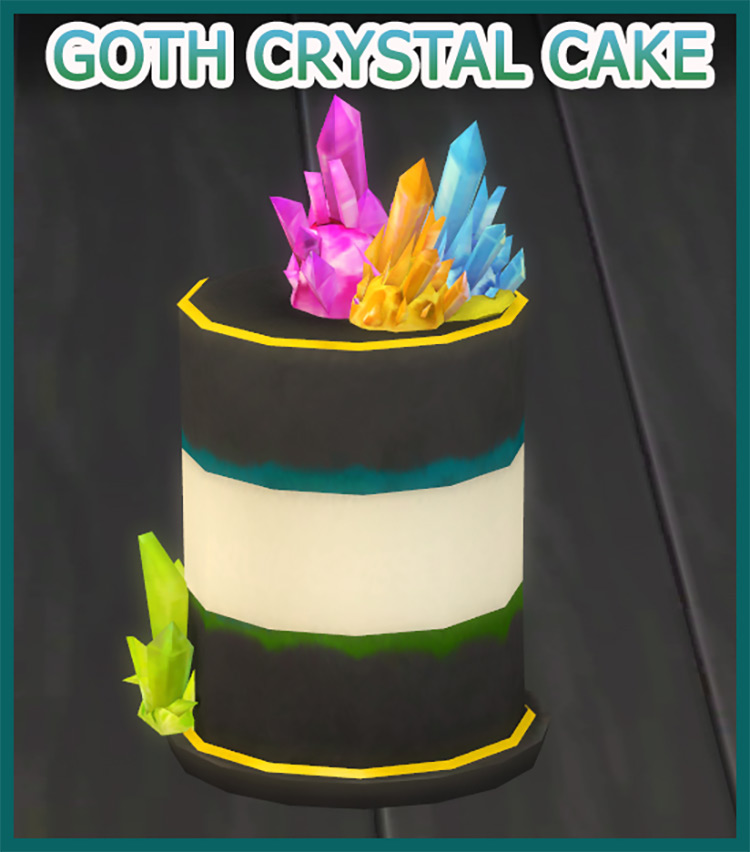 This delightfully dark Black Crystal Cake will hopefully impress any of your goth Sims, or really just any Sim that enjoys some black now and then.
Initially, I thought that the realistic crystal toppers were very impressive for a cake design, since the cake is fully edible.
Then I realized that this cake actually asks for 2 crystals as baking ingredients.
I have now revised my position on the matter: the fact that our Sims can eat whole crystals and not have tummy troubles is way more impressive than any cake decoration.
3.

Scandifever Cake Decor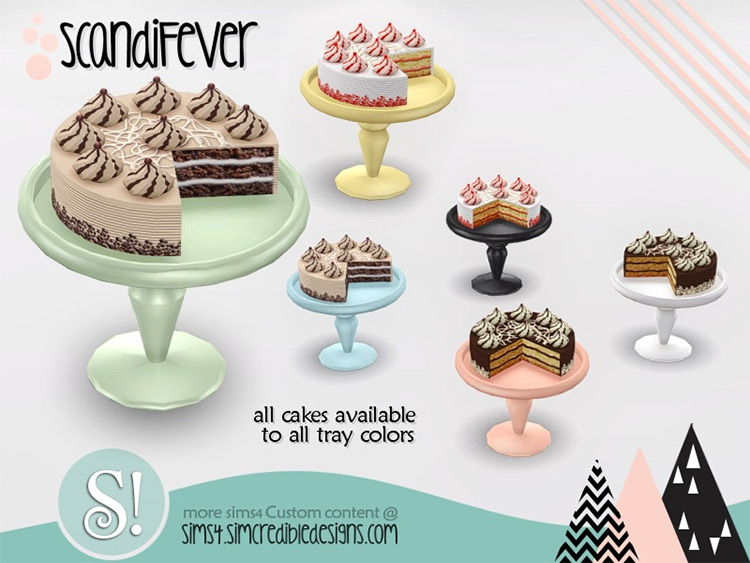 Scandifever's Cake Décor CC pack will add an air of refinement to your sim's birthday party, and that's a promise.
The only issue is that the cake is only décor.
Thankfully, the cake would really have been too pretty to eat, even if it were real. Just look at that "chocolate" drizzle on top!
There are 3 main colors of cake here, but there are extra swatches so that you can match any color of cake to any color of platter.
4.

Simcredibles Funny Kitchen Time to Bake Cake
Buying a birthday cake might be tempting in real life, but Sims have a much easier time of cooking than we do.
They don't even need to check the recipe more than once – they just get to work without a second glance. Lucky.
These strawberry-topped cakes have a simple and elegant design that would fit perfectly for a nice celebration with close friends and family.
There's only 1 mesh, but there are 4 recolors, so you have some "flavor" options.
One of those swatches looks suspiciously like a refined version of the Portal cake. Coincidence?
Yeah, probably.
5.

Girl's Birthday CC Set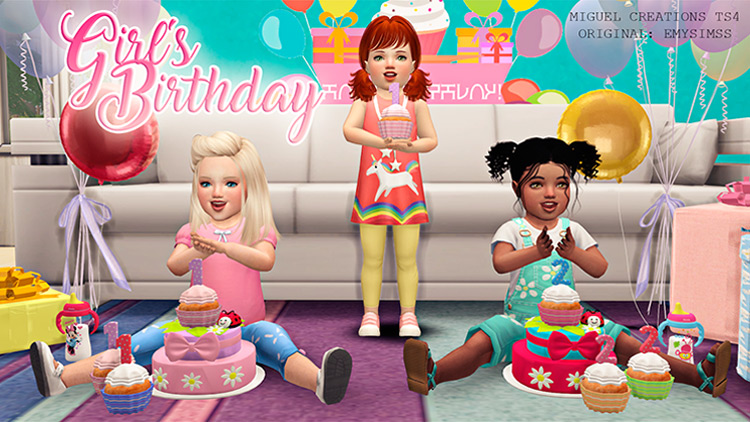 Unless you're inviting over an entire goblin hoard of Sim children for a birthday celebration, a big cake is probably too much for your little one to eat.
Cupcakes, on the other hand, are the perfect bite-sized treat to serve to toddlers.
This set offers cute individual cupcakes with either a 1 or a 2 candle on top and a couple literal cake stand designs.
Even though this CC only has decor cupcakes, it includes poses for "eating" the cake.
6.

Birthday Set by Syboulette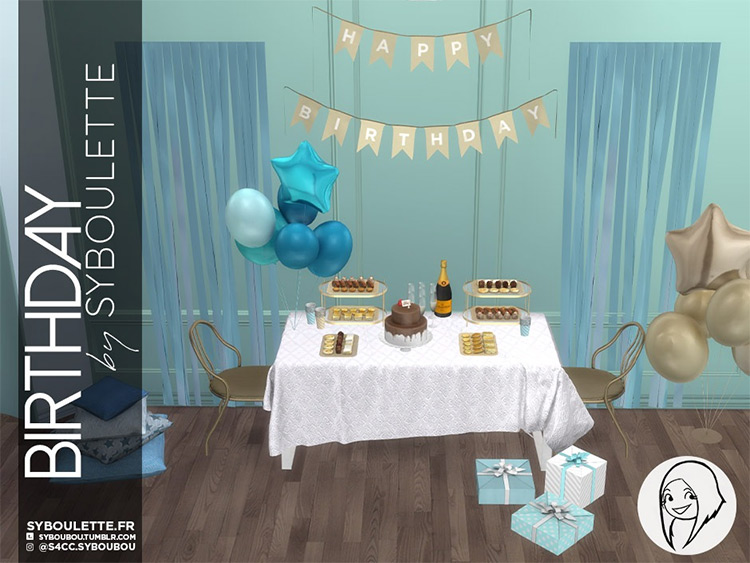 This custom birthday pack will ensure you aren't missing a thing for your next sim's birthday celebration.
Elegant and modern, it will also ensure that all the Sims you invite are impressed by your interior design skills.
Content creator Syboulette made this CC as a present to herself on her birthday, which I have to applaud. Self-indulgence is an important part of life in moderation – and one that our Sims tend to be very good at.
There are 14 items in the set, but only one gorgeous birthday cake.
The other items are mostly decorations and extra party snacks!
7.

Cakes Variety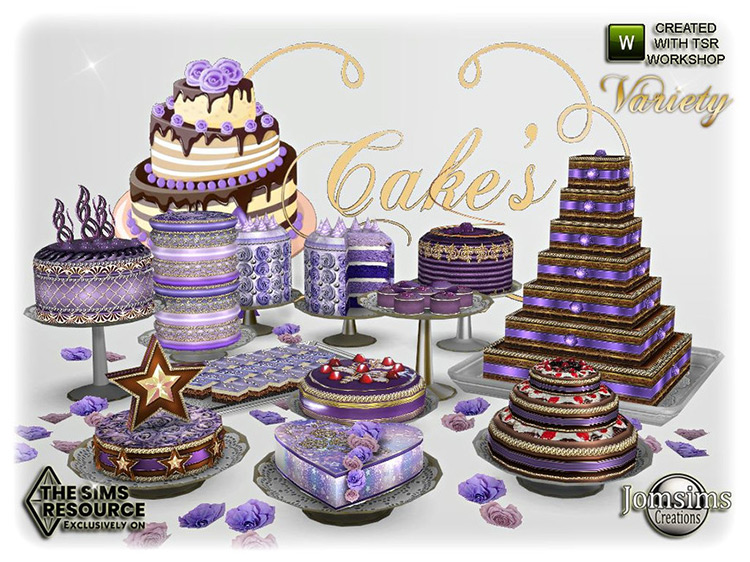 As the name implies, this CC is literally a variety of cakes; 11 of them, to be exact.
None of them are specifically for birthdays, but all of them are unique designs that would make incredible birthday cakes.
Cake designs are not in short supply with the Cakes Variety CC, and neither is the color purple.
I have to admit, it may be a little jarring if your Sim's birthday party doesn't have a purple-y theme.
Still, I can't help but imagine how amazing it would be for February birthdates. Amethyst colors galore!
8.

Mermaid Cake w/ Happy Birthday Topper
Mermaid themed everything is a trend that's not going away any time soon.
Some people thought it was a fad. It was not.
And this mermaid cake will delight your younger Sims, or any older sim who never "outgrew" their magical mermaid phase. I didn't either, so I can't judge!
In addition to the tail topper, there is a happy birthday topper and your birthday Sim's name on the side of the cake.
It defaults to Elliette, but can be changed to whatever you need it to be.
9.

Bundt Cake (Vanilla & Lemon)
Bundt cakes have a fun name, a cute shape, and taste delicious.
It might not be the classic rectangle or circle layer cake that seem the most popular for birthday cakes, but why wouldn't you want a bundt cake for your birthday?
This décor cake CC takes the shape of the oft-neglected vanilla and lemon bundt cake, and it wears it with pride.
There's only one color available here (since it's meant to be a particular flavor of cake), but there are swatches to show the cake being eaten.
If only we could be a part of that process!
10.

Cherry Cream Cake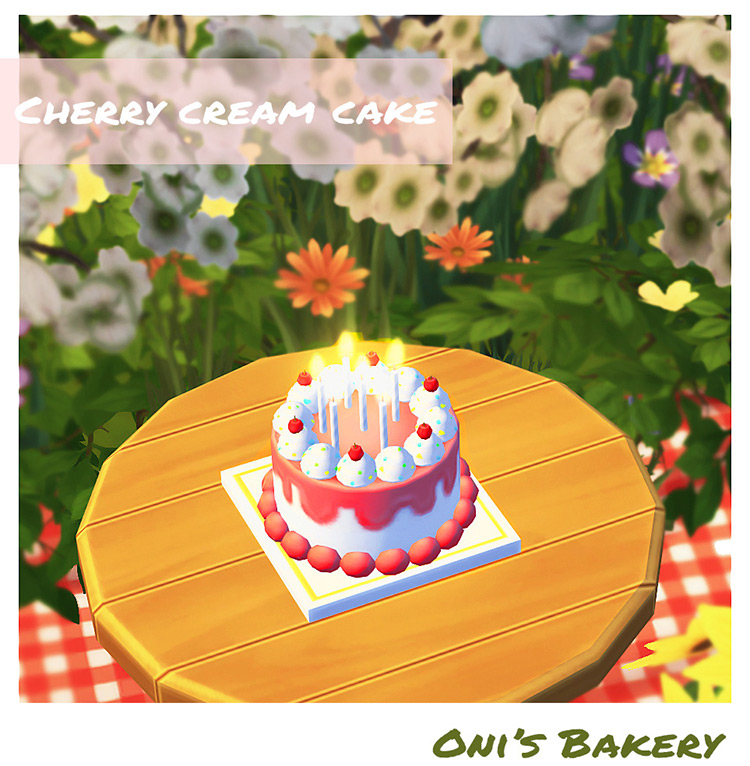 Out of the cakes on this list so far, this Cherry Cream Cake CC sounds the most appealing to me by far.
And to be fair, most of the CC names don't describe the flavors… but this cake has another thing going for it.
It's actually bakeable in game, costing a neat 25 simoleons.
I shouldn't be surprised that the decor-only cakes don't seem as edible as the edible one!
The swatches for this set change the size of the cake (large, small, smaller, single) and not the color or flavor.
No, this CC will always be cherry cream, until the very end.
11.

Strawberry Cake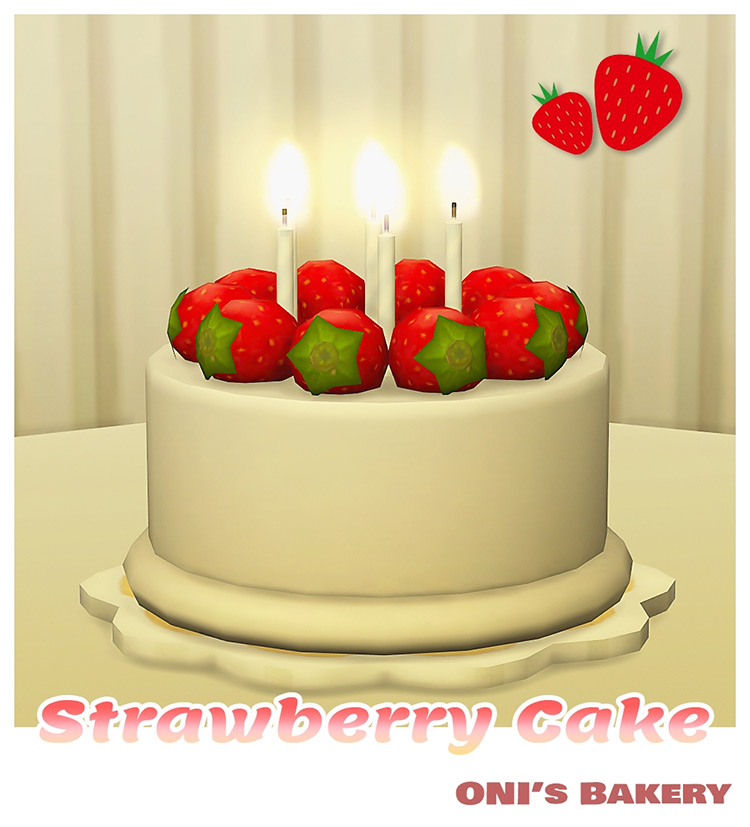 This Strawberry Cake is another wonderful bakeable option for those of us who prefer strawberries over cherries.
Just like its predecessor, it's dotted with candles waiting to be blown out by your sim.
It does require content creator _Oni's recipe mod, which is free to download on this page.
And you need the Get to Work game pack, which is definitely not free. Sorry about that.
The good news is that this cake is Maxis-match, group cooking compatible, and will serve 8 Sims in total.
12.

Cow Plant Cake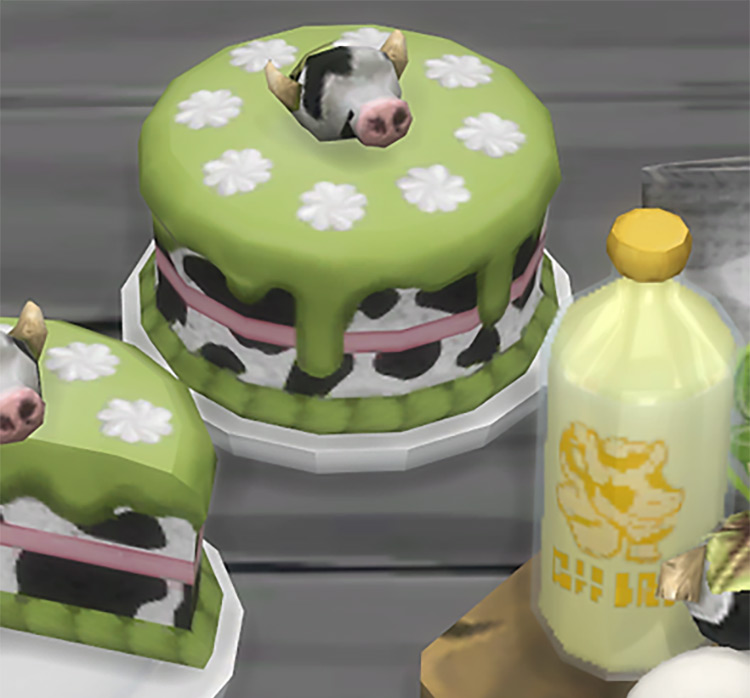 Is your little Sim a little fixated on cow plants?
Well in that case, I have just the birthday cake for you (although I must admit I'm a little concerned).
With ingredients, this cake is totally free to bake.
If you don't have them, your Sims will still be able to make the cake, but for a cost – possibly their lives. It is a cow plant, after all.
It's also surprisingly cute, like a Sims version of a ferocious dinosaur cake.
13.

Lemon Blueberry Cake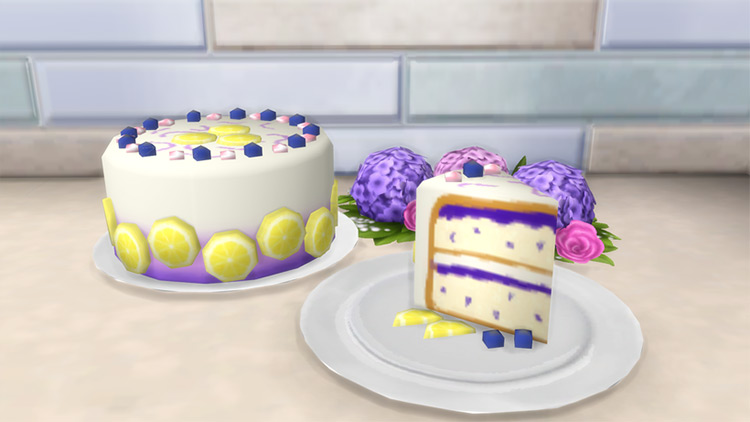 I have no idea what a cow plant cake would taste like (for some reason, I've never had the luck of seeing a cow plant in real life), but I definitely know what lemon blueberry cakes taste like.
Citrus fruits and tart berries are a match made in heaven.
And there are plenty of Sims out there who would love to chow down on a combination like that- especially if it involves copious amounts of sugar.
This bakeable cake gives you the option of excluding the lemon. But you would never do that, right?
14.

Red Velvet Naked Cake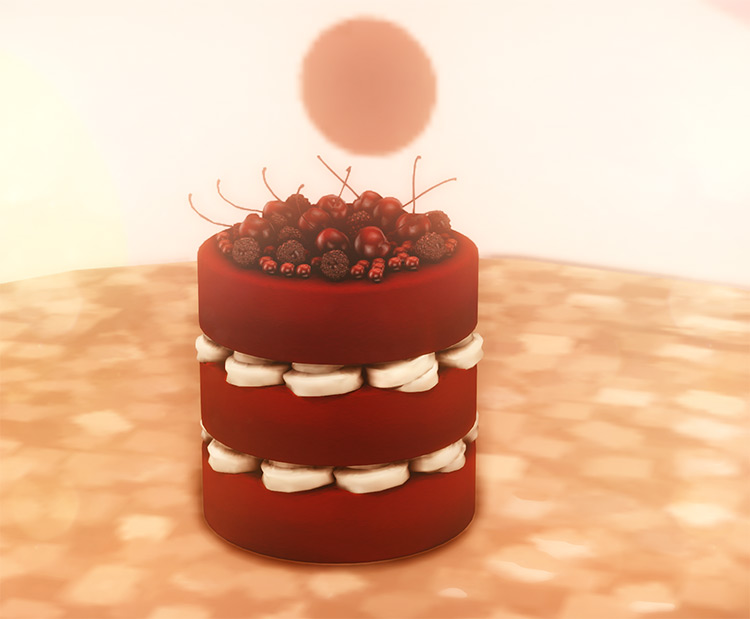 Naked cakes took the cake decorating world by storm a couple years ago – and that means they've shown up in the sims, too.
Not in the base game, obviously, but in the form of CC!
This Red Velvet Naked Cake pushes the upper limits of Maxis-match CC with detailed berry textures and minimalistic textures everywhere else.
More than that, it looks absolutely delicious.
There are 3 swatches available here, each representing a different flavor: red velvet, dark chocolate, and vanilla.
The poly count is on the higher end, though. So be careful if you're unsure if your computer/game can handle that!
15.

White Birthday Cake (Basic)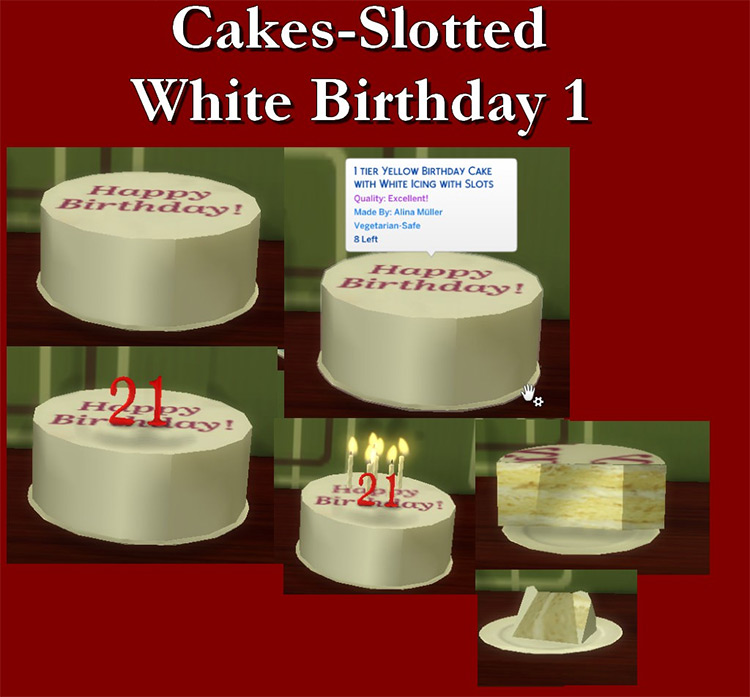 This basic birthday cake is pure white with 'Happy Birthday' printed on the top and has no extra swatches.
If that's not exciting enough for you, then look elsewhere.
But if you're searching for an exceptionally normal cake, then this CC is going to be right up your alley.
It also requires your Sim to have the level 6 Gourmet Cooking skill, so despite its looks, it's probably delicious!
Aside from that, it doesn't really have any requirements.
And with a poly count of 200 it doesn't even require much from your computer.
16.

Pride Cake Pack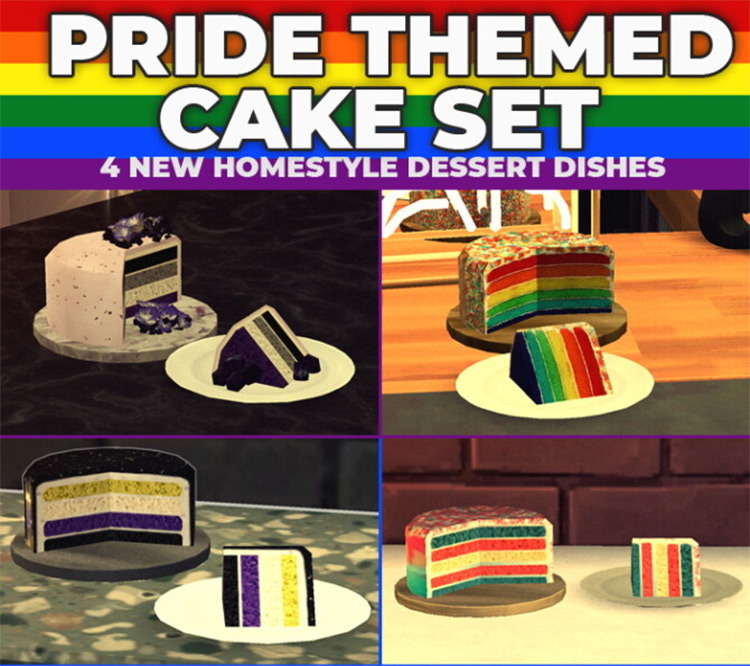 Some people like their birthdays to be as uneventful as possible, and I can respect that.
For my parties, though, I feel that it's always best to have a little drama.
Your Sims can combine coming out with birthday celebrations with these hand-baked pride cakes.
There are only 4 swatches (trans flag, nonbinary flag, asexual flag, and lgbt flag), but that's more than enough to get the point across.
Any additional questions can be directed towards the Sim coming out!
17.

Funfetti Birthday Cake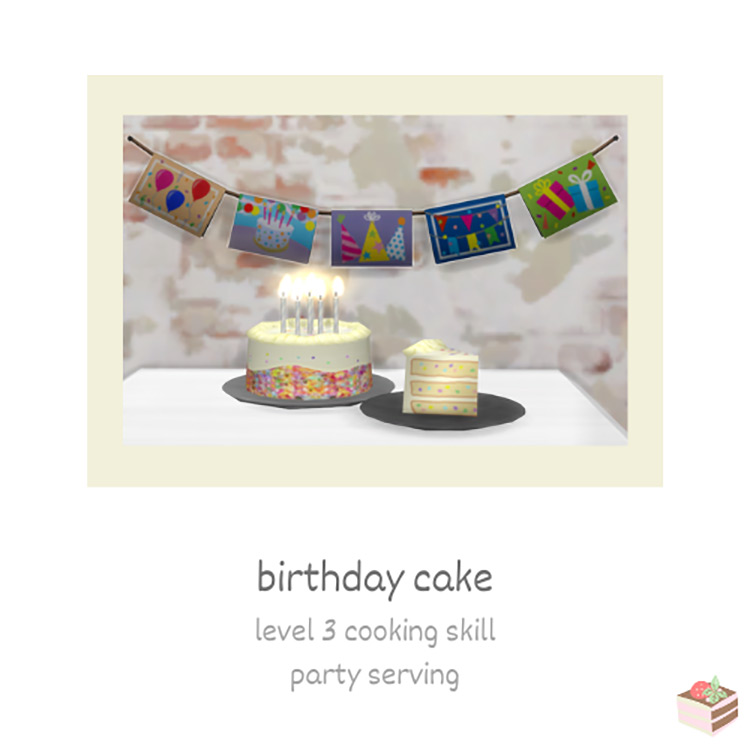 You know how most birthday cakes come in basic flavors, like vanilla, chocolate, strawberry, or lemon?
And yet there's a special flavor of ice cream called "birthday cake" that usually just tastes like vanilla and birthday sprinkles.
I guess that's just how ingrained the Pillsbury funfetti cake mix is with our pop culture.
This birthday cake is bakeable in-game, and it doesn't come from a cake box mix (probably).
What it does come with, though, are 8 servings – and lots of white candles!
Browse:
Lists
The Sims 4
Video Games