Best Sims 4 Birthday Party CC + Mods (All Free)
This post may contain affiliate links. If you buy something we may get a small commission at no extra cost to you. (Learn more).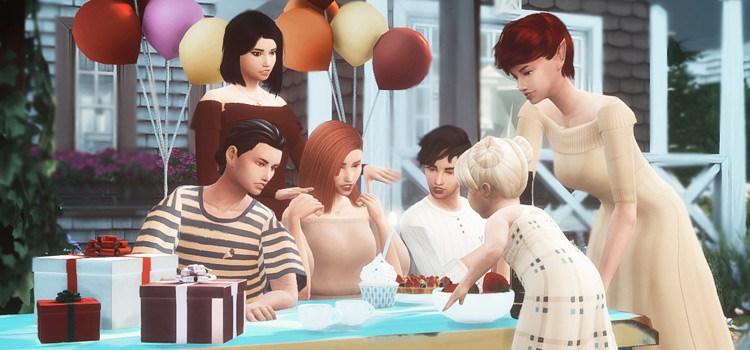 Birthdays are a strange, wonderful time.
At its base level, you're just commemorating another rotation around the sun since you left your mother's belly.
And technically, with each passing one, you're one year closer to…you know. Meeting Grim.
Sorry if I just gave you an existential crisis. This is supposed to be fun!
The act of celebrating the day one came to be in the world goes back thousands and thousands of years, but I imagine it wasn't much fun back then. To be specific, birthdays date back to the Egyptians. (Of course, they pioneered everything cool.)
But did they have cake, decorations, and hats? Maybe. I don't really know.
But I've never seen a birthday cake hieroglyph, I'll tell you that much.
In the modern times, we get to celebrate in style and really make it a memorable time. And so can your Sims!
1.

Happy Birthday Miniset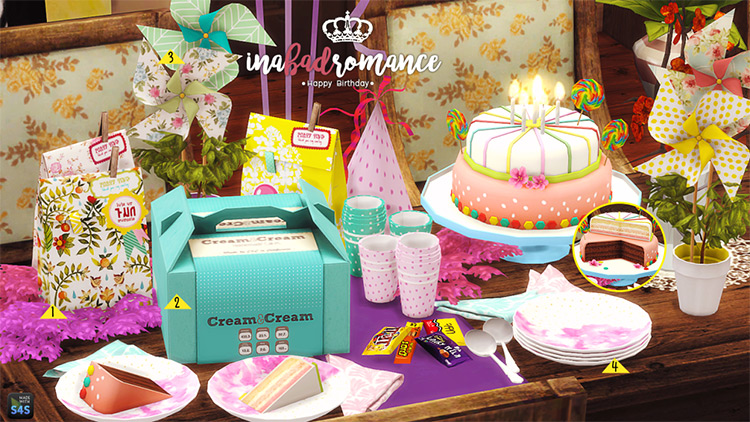 Isn't it always great when you can find a whole set themed around the CC you're looking for? I think so. It's like someone else has already done the work for me.
Man, I'm lazy. And when it comes to birthdays, now your Sims can be lazy too.
If that ain't a selling point, I don't know what is.
In all seriousness, everything included in this CC set is so pretty and festive. You even get little gift bags that hold edible cakes!
I've always felt my Sim's birthday parties were lacking a little bit, but I couldn't put my finger on what was missing. Obviously the answer is gift bags and cake that isn't burnt.
2.

Birthday Party Decor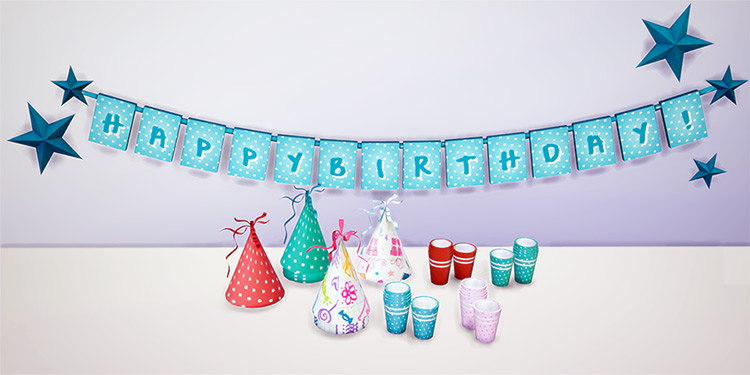 The Sims 4 is really lacking in banners.
There's no quicker way to set the tone for whatever type of party you're throwing than to hang up a banner.
These decorations will add a nice little detail to your Sim's bash, with cups and those classic pointy hats included as well.
3.

Birthday Party Set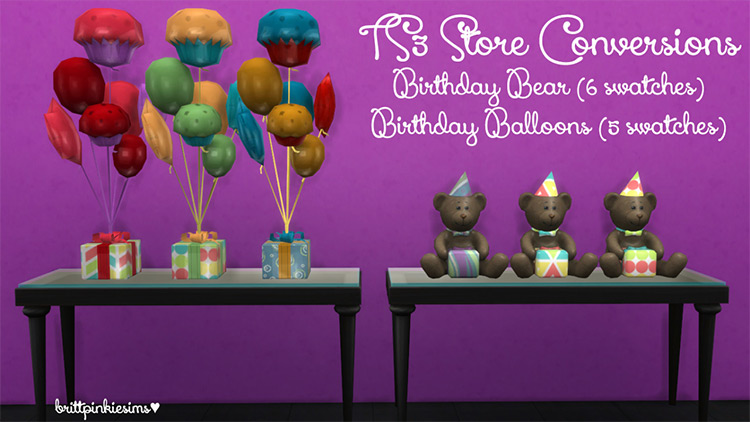 Now this set basically has everything you could want or need to celebrate your Sims ageing up.
Let's talk about the wall decals first.
Brilliant creator brittpinkiesims gives you plenty of options to choose from, and each looks equally fantastic. The numbered candle stickers especially will add a nice touch, since a Sim's age is left up to your imagination outside of vague life stages.
Then there are adorable balloons and birthday teddy bears, perfect for placing all around the table and really driving the celebratory atmosphere home.
And lo and behold…there are birthday cards! This is such a sweet addition, sweeter than any cake.
I've always been a big sap and still have basically every birthday card I've ever gotten. Now your Sims can be sentimental too. Even after the party is over, these will look nice on their dresser or desk.
These are just some of the highlights, of course. We can't discount the wonderful present stacks, colorful streamers, or cheerful chalkboard drawings also included!
4.

Happy Birthday, Dear! Posepack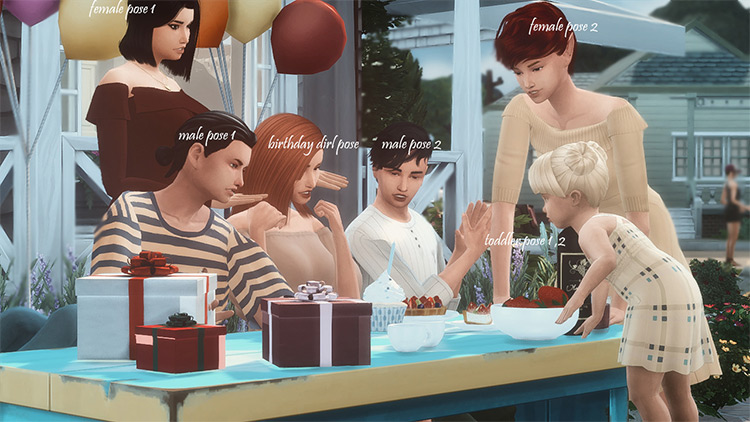 Everyone knows that once the house is all decorated and the cake is out, it's picture time. Usually whether you want it to be or not.
Birthday parties are always great photo opportunities.
The whole family is together and they're all happy. Hopefully.
Well this posepack from limiam-sims captures that perfectly, right down to the little kid staring at the dessert
5.

A Special Birthday Posepack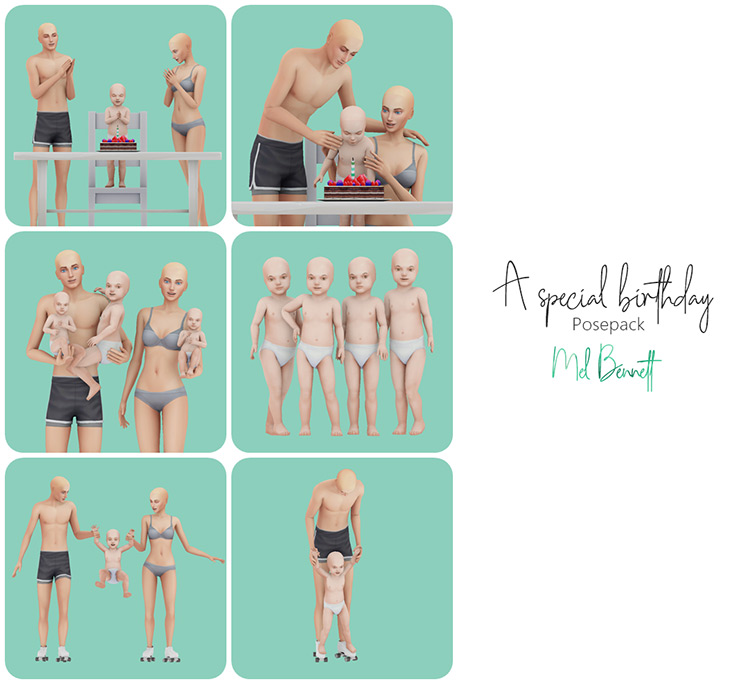 Here we have another posepack, this time all about celebrating the little ones getting older.
I am so, so grateful for this. If you're reading this, I'm assuming you've played The Sims, so you know. You know.
A Sim's birthday party is typically a little messy. There often isn't a chance to snap a photo and immortalize this special time. Especially if a toddler is the center of attention.
These poses fix that right up. You can actually capture the kiddo and their parents, all in one image, with the cake!
Oh, the power of mods. Making cute family moments possible in Sims since…forever.
6.

Happy Birthday Themed Decals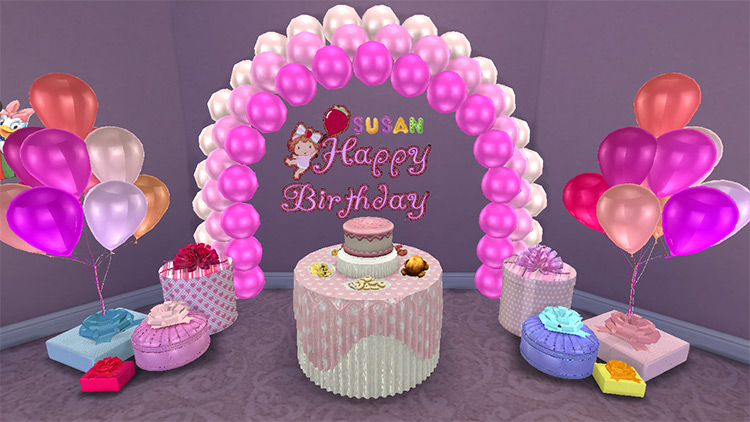 I understand that we can't have obviously themed items from The Sims devs for copyright reasons… but it's nice that CC can bridge that gap for us.
These decals are adorable and include lovable characters like Strawberry Shortcake, My Little Pony, Mickey Mouse, and nearest and dearest to my heart, Winnie the Pooh.
Like, the whole gang – Pooh, Tigger, Piglet, Eeyore, even Kanga and Roo.
These are the most wholesome decorations on this list, I think. The sight of them unleashed some memories.
I'll let you take a wild guess which birthday theme I myself had.
It's safe to say everyone probably loved at least one of the above as a kid. And it's really sweet we can bring the tradition of themed birthday parties into our Sim's lives.
7.

Fortnite Birthday Cake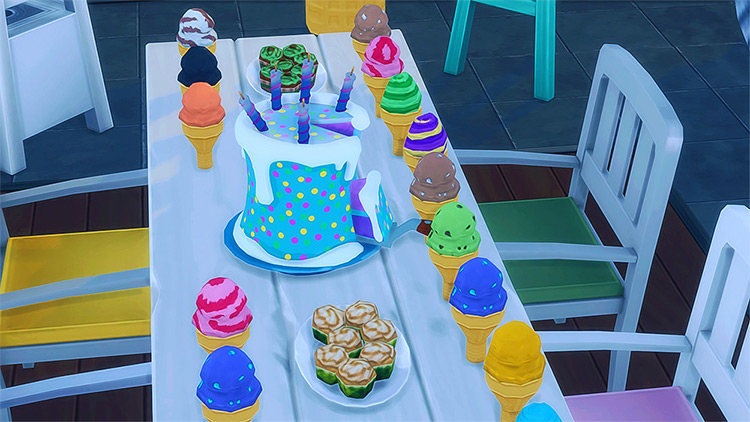 I'm truly amazed by the creativity of CC makers.
A Fortnite cake never even entered my mind as a possibility in The Sims. But now that I've seen it, it just makes sense.
Considering it's an insanely popular game beloved by children (and adults) everywhere, it's fitting to bring Fortnite into the Sims a little bit. I suppose Sim kids would be in on the craze too.
Now we just need SimTok and it'll really be a life simulator.
Even if you know nothing about Fortnite, this cake is a nice change of pace from the ones offered in game. They're all pretty one-note, so this tall, blue, polka dotted cake will certainly add an original twist to your b-day bash.
8.

Birthday Cards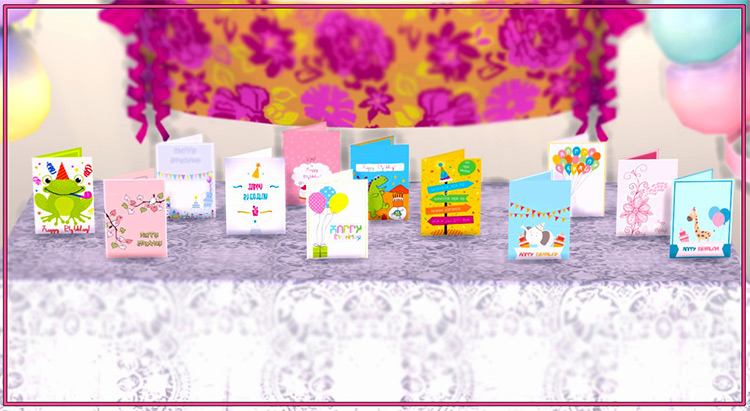 More birthday cards! Yay!
These even have little 'messages' written inside, which makes my heart happy.
I like the variety in these cards. Some look like they'd totally be from grandparents, others give off clear extended relative vibes. Or maybe I'm just really looking too hard at some decor.
9.

Ageless Birthdays Mod
Birthdays are a really big deal in The Sims, because it means your Sim is entering the next life stage.
And that's always a massive leap.
It's a lot more dramatic than real life, where most of the time one birthday isn't a huge deal unless it's a milestone.
Now your Sims can also casually celebrate one more year gone without plunging into the next phase of their lives.
Yes, thanks to lemememeringue, you and your Sims can now have the fun of a birthday party without a major change.
I play super long life spans most of the time. I don't like my Sims to get too old too quickly. So this is a much needed way to get around that and still be able to indulge in life's little moments.
10.

Party Hats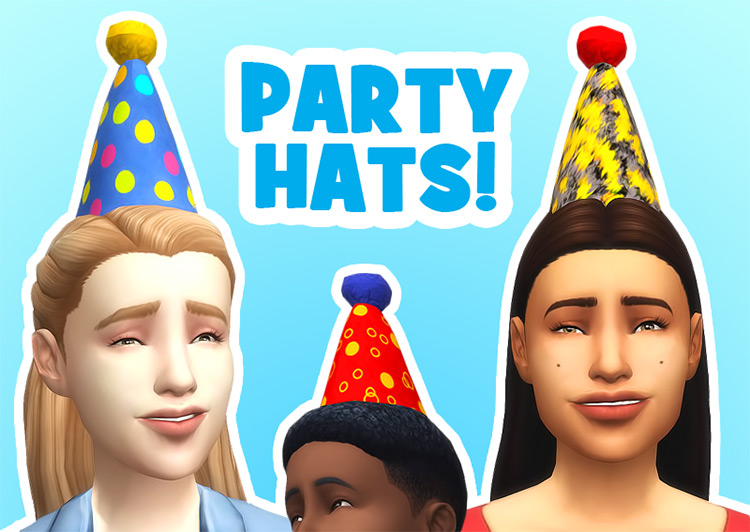 Wearable party hats, guys! I'm already obsessed.
This is another one of those things that I didn't realize was missing until I saw it.
I have no idea if these are even still a popular item nowadays, but it brings me fond memories.
Now Sims can have those fond memories to look back on, too.
These hats are for all ages, so you can get the whole family lookin' like clowns.
I'm actually a little curious now…where in the world did this style originate from? Why do they look so similar to those creepy, old school clown hats? I guess most people don't think about things like that.
Just put the hat on and eat cake, no questions!
11.

Let Friends Age Up Mod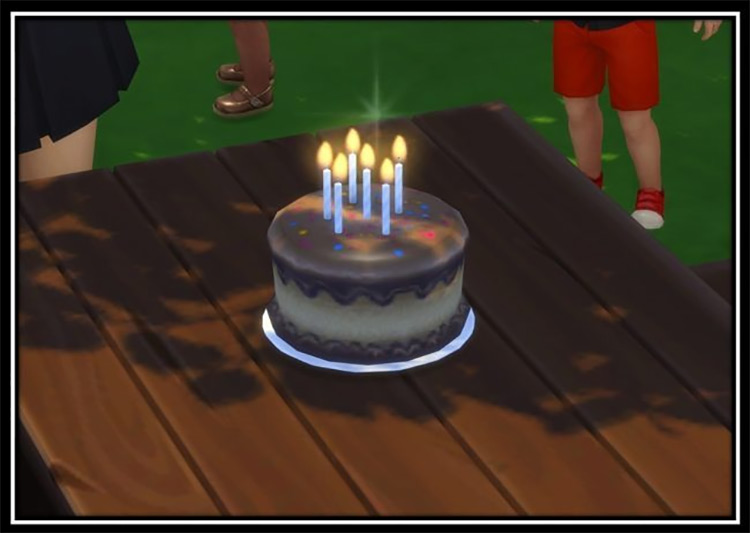 How weird is it when your Sim ages up and all of their friends are suddenly way younger?
Children who are BFFs with toddlers. Teens whose entire social circle are still children. Young adults who only hangout with teens.
Things get awkward pretty quick, since every life stage is so different in Sims 4.
Well now you can keep everyone in the same generation by aging them up at the same time thanks to this mod from LittleMsSam.
12.

Birthday Number Balloons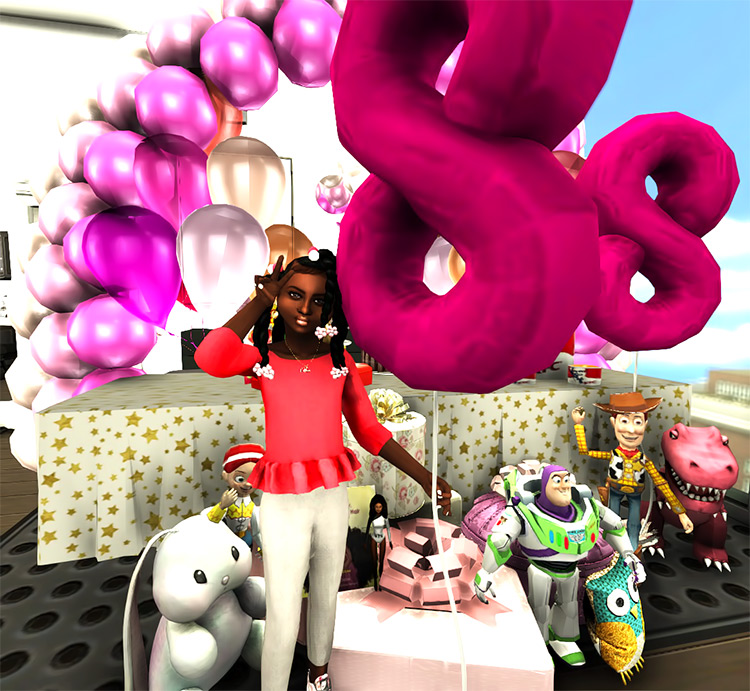 I swear, I have seen balloons like this in so many pictures, but never once seen them in a store. What's with that?
As usual, it's a lot simpler for your Sims to be part of what's popular.
These will look so nice beside your birthday Sim, and offers another opportunity to put a number to their lifestage.
13.

Toddler Birthday Bodyvest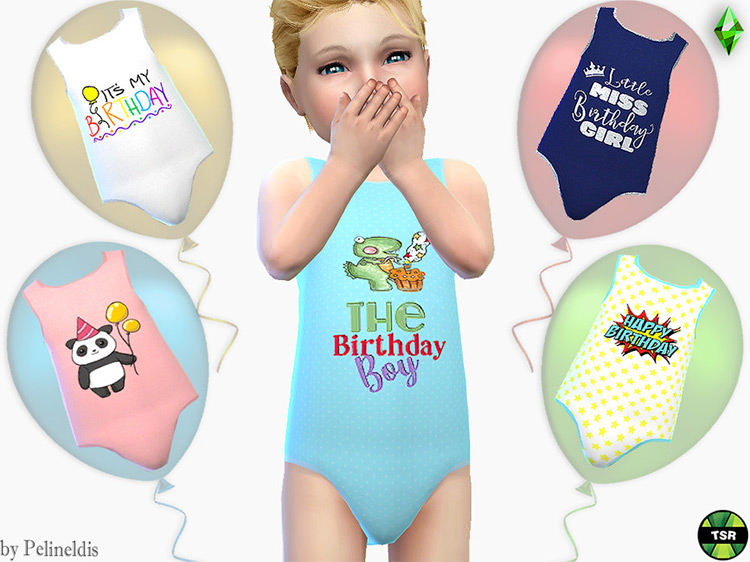 What better way to make a toddler feel special on their birthday than a whole outfit dedicated to the occasion?
This is such a cute idea, and sure to make for more memorable photos of the birthday boy or girl.
I don't think anyone is more excited about their birthday than a toddler, and for good reason. At that age, it's still all about the sweets and presents.
They have no concern for the crushing responsibilities that come with getting older.
Lucky little buggers.
14.

Mermaid Cake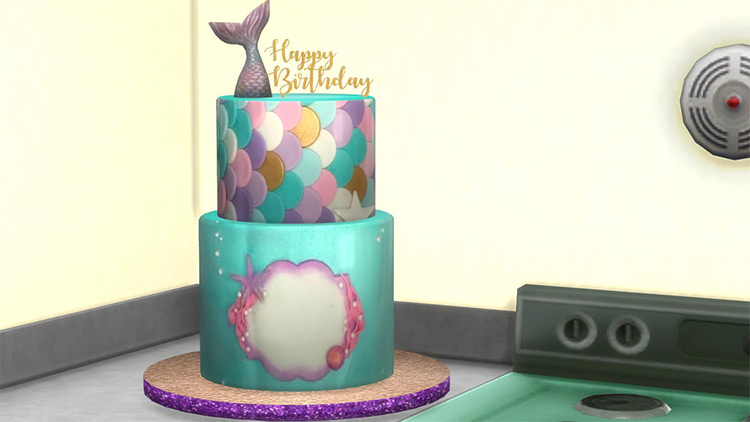 This is an option for all ages, because who wouldn't want a beautifully colored and decorated mermaid cake?
Well, probably a lot of people.
But this really is jaw-droppingly gorgeous.
I'm stunned by the color and detail. Before I even saw the amazing tail sticking out the top, I was thinking mermaid.
As if this wouldn't be incredible as-is, you can also put your Sim's name on the cake!
I would never have thought that would be an option, even for CC. But creators like cropzsims just continue to push the envelope in the best ways.
15.

Birthday Presents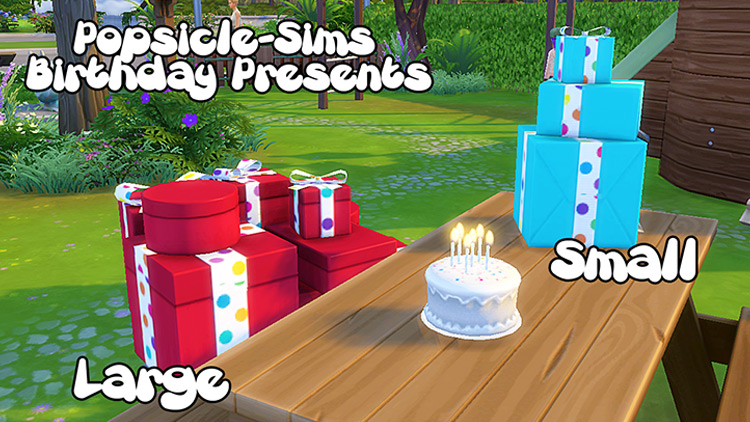 Depending on how many or few of these presents stacks you use, you can make your Sims look as spoiled or deprived as you wish.
Or you can just use a normal amount and give them a nice party. That's an option too.
I do love how festive and cheerful these are.
The way they're stacked is also very satisfying.
You can choose from either a large pile or small pile, and of course you can also combine them in however many ways you want.
Browse:
Lists
The Sims 4
Video Games