Best Sims 4 Nose & Face Blush CC
This post may contain affiliate links. If you buy something we may get a small commission at no extra cost to you. (Learn more).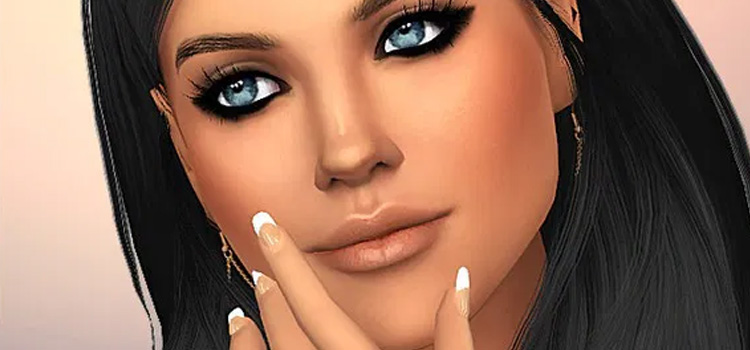 Thanks to beauty vloggers and talented makeup artists, the science of applying cosmetics has become ten times harder and more complicated.
From the two-step magic of powder and lipstick, we now have a twelve-step introduction to modern makeup application, which comes with its own glossary of terms.
However, among that bloated list of items is a subtle miracle worker that would take no less than 5 minutes to deliver an effortless look.
No matter what your fave beauty guru says, a blush is one of the most important products you can have in your beauty arsenal – in real life and in-game.
To avoid the fate of looking like Annabelle, here are the best blush CC add-ons to bring out that natural beauty from your Sim in no time!
15.

Kawaii Star Blush
Just like painting, makeup is an art form that requires creative imagination.
And even though this Kawaii Star Blush is far from a Monet masterpiece, its colorful display and star add-ons are worth a glance.
Have your Sim look extremely kawaii in shades of red and pink with this free CC from LadySimmer94.
14.

Cupid's Blush
Blushing is the body language of attraction, and a deadly signal for your crush.
A blush is an uncontrollable and involuntary reaction to someone attractive, which is adorable in a rom-com setting, but awkward in real life.
Sims, on the other hand, are natural extroverts, and are capable of charming dozens of other Sims or creating romantic relationships under half an hour.
Even though appearances don't play a part in the Sims' Law of Attraction, it won't hurt to have Cupid's Blush when whispering sweet Simlish gibberish in one's ear.
13.

Nose Blush NB03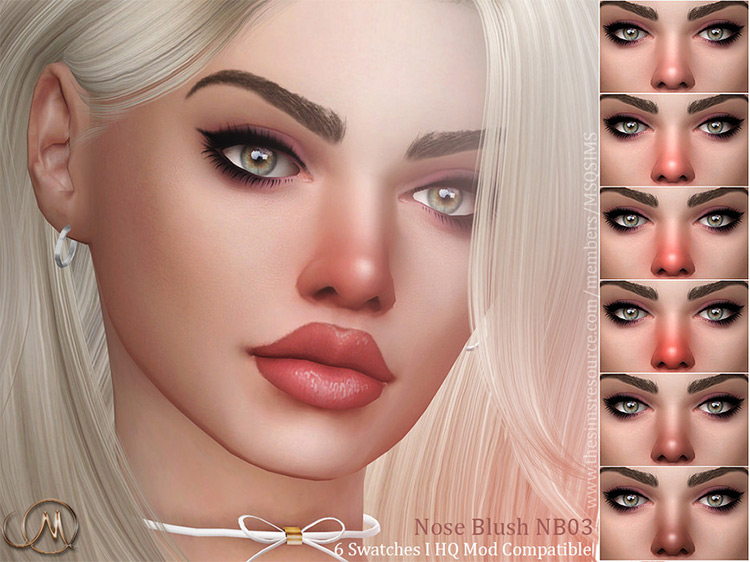 ICYMI, the Rudolph the Red-Nosed Reindeer aesthetic is now a makeup trend.
The sniffle-esque look is the latest craze that proves the versatility of a blush.
The idea of applying a subtle color on the tip of the nose creates a pinkish, frostbitten visage that actually looks cute when done right.
It takes some time getting used to. But once you disassociate the image from a stuffy nose, this CC will become your Sim's newest cosmetic favorite.
12.

Cinder Blush
If you're a fan of anime, then you've probably noticed that when characters blush, their whole face literally burns up like a red giant star.
This Cinder Blush CC creates that same effect, but more subdued and less steaming hot.
Get that intense pigment on your Sim's cheeks and enjoy the big burst of color!
Choose from 35 swatches ranging from your typical light pink to dark brown hues.
11.

Morgan Blush N53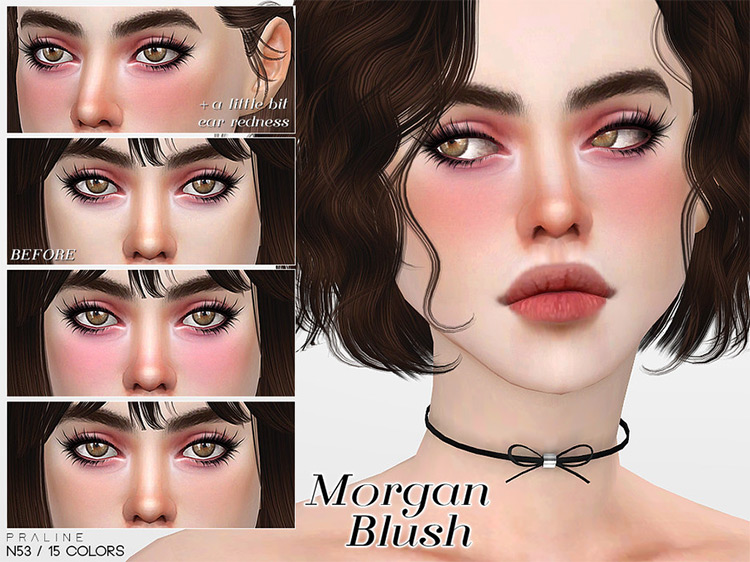 Here's a tip for all the makeup newbies out there:
A blush isn't a one-trick pony – it's the ultimate multi-tasker.
It's a fact that blush makeup is usually applied on the apples of your cheeks. But it can also hide unwanted dark circles under your eyes after binge-watching a Netflix series.
Swap those eye bags with a rosy complexion covered by Pralinesims' Morgan Blush N53.
10.

Light Peony Blush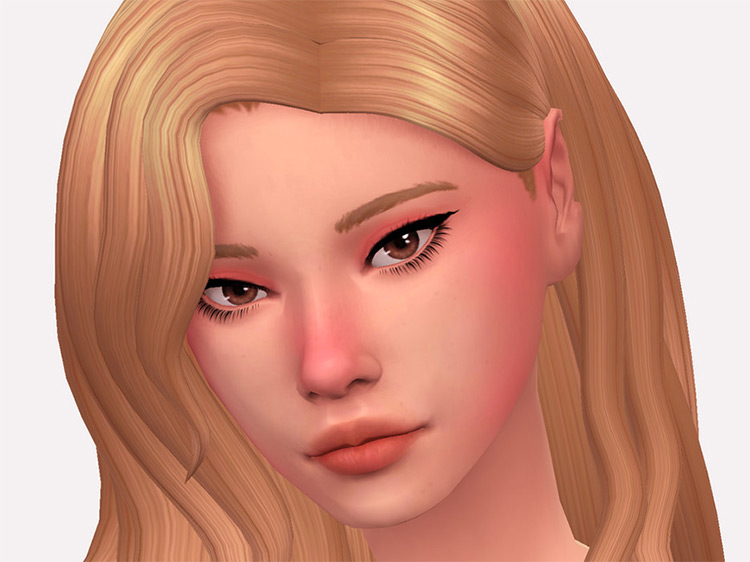 There are multiple ways to get the No-Makeup makeup look, but the best hack is to trust the blush.
Eyeliners, eyeshadows, bronzers, and highlighters can sometimes feel too much for an ordinary day out in the sun.
But a few swipes of blush is enough to dazzle anyone 24/7.
Enhance your Sims' bare features with a Light Peony Blush that can easily maximize their natural beauty.
9.

Autumn Blush
One of the perks that comes with highly customizable Sims is that you can easily remedy makeup fails.
Like putting on too much blush and looking like a Matryoshka doll.
Perfect your Sims' blush cosmetic scheme with this CC from bluemoonsims which comes with face and nose blushes in varying colors.
8.

Summer Blushes
Want to have that sun-kissed skin without having to fry your Sim under the sun? Then this CC pack is the balm to your problem.
Miiko's Summer Blushes is your foolproof solution to achieving that evergreen warm, rosy glow out of the beach – along with other surprises.
Summer Blushes Part 1 includes a "shy blush" on the nose and cheeks in varying shades of pink, with an option to add a blueberry or flower face paint.
More face paint options are available in part 2 which includes heart and orange wedge images, and (for some reason) a Disney version of comedy/tragedy masks.
Overall, it's a refreshing makeup set to use for all seasons.
7.

Sunburns are Cute Blush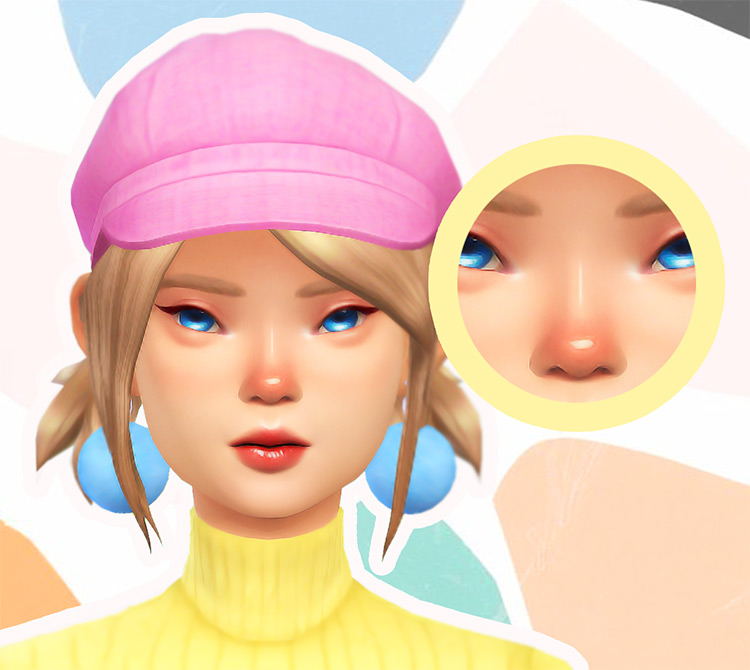 Sunshine gives life to many living things, but it's also a killer force of nature – and an inspiration for this CC.
Getting too much vitamin D from the sun can cause irritating sunburns.
But unlike us fragile humans, your Sims see this as an opportunity to popularize a new trend.
Make itchy red noses look fashionable with this CC from candygarden and get to appreciate sunburns in a whole new light.
6.

Blush 4
A rookie mistake made by makeup noobs is when they blindly swirl the blush around the cheeks and end up looking like someone sucker punched them in the face.
Applying blush is a delicate process that needs light touches. And with enough patience, the result can be like this CC from MMSIMS.
The Blush 4 set can greatly accentuate cheekbones and the shape of your Sim's face.
This CC can be applied to any gender and is available in 45 stunning swatches to match varying skin tones.
5.

Sunshine Blush
If your Sim has a darker skin tone, then the Sunshine Blush is formulated exactly for them.
This CC by cherrypiesims comes in 13 shades to mimic an "I just talked to my crush" flush, without having to go through that awkward interaction.
If you're the kind of player who prefers a subtle beauty enhancement, then this CC is your newest holy grail makeup item.
4.

Priscilla Blusher N55
By now, I'm a firm believer in Pralinesims's ability to create the most amazing makeup CCs for TS4.
The Priscilla Blusher N55 is a flawless display of when a blush is correctly applied.
It's placed on the apple of the cheek, has that ideal Nike swoosh shape, and has just the right color intensity to not be considered as clown makeup.
If you're worried about not finding the right shade for your Sim's skin tone, then you'll be glad to know that this CC has 45 swatches available for you to try out.
3.

Blush 1
In this era of social media, having a selfie-ready face is a 21st-century requirement.
Almost anyone old enough to post selfies on their Instagram account knows how to put on makeup, simply because it does make you… well, prettier.
But makeup doesn't always have to be as extra as Kylie Jenner's daily makeup regimen.
It can be as simple as a swipe of Blush 1 under the eyes and voilà – your Sim's ready to put plastic surgeons out of business!
Have your Sims look as beautiful as possible with little to no effort with this CC by MMSIMS.
2.

Igari Blush
There are makeup tutorials that teach people how to cover up a hangover.
Then there's the Igari makeup trend from Japan that's basically "hangover makeup."
This ironic twist of events produced a makeup style that focuses on adding blush directly under the eyes and over the bridge of the nose to mirror the flushed appearance of the Japanese when they get drunk.
While the backstory is really ~something~, the trend eventually blew up and has since become an intoxicating (heh) look to replicate.
Have your Sims look sick, literally, in the prettiest way possible by applying this Igari Blush CC as the cherry-on-top.
1.

Booboo Blush
My definition of a perfect blush CC?
A unisex blush set for all ages that can accommodate light, medium, and dark skin tones.
And blush makeup doesn't have to be limited to female Sims – you can also have males, kids, even the Occult enjoy the aesthetic benefits of a natural flush!
The Booboo Blush by squeamishsims is an all-inclusive cosmetic add-on for any Sim who's looking "meh" from the neck up.
If you're searching for that all-in-one quick fix to a Sim's dull facial complexion, then let this CC work its magic.
Browse:
Lists
The Sims 4
Video Games