BMW Car Mods & CC For The Sims 4
This post may contain affiliate links. If you buy something we may get a small commission at no extra cost to you. (Learn more).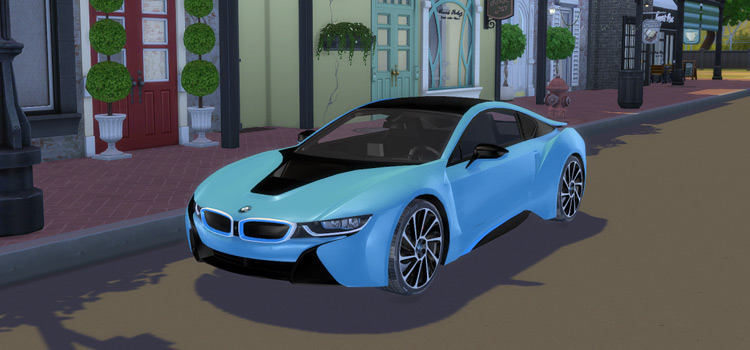 BMW is synonymous with three things: performance, reliability, and luxury.
For decades, this German car manufacturer has been making some of the most well-loved cars on all economic strata.
The top-tier ones are expensive, that's for sure. But they rarely approach supercar territory.
Because of this, BMWs are something you see on the streets quite often. You don't need to travel to New York or Dubai to admire these beauties, and there's probably one sitting outside your own driveway if you've been dealt a generous hand in life.
All of these things make the BMW a very coveted car in The Sims 4.
So let's take a look at some of the best BMW CC options.
1.

BMW M6 (2013)
Considered by auto enthusiasts as one of the best-looking BMWs of our time, the M6 Coupé is an ultra-high-performance two-door beauty with all the markings of the brand.
The M6 is the everyday car for someone who has a lot more money than they know what to do with – but doesn't necessarily want to draw so much attention.
It's luxurious for sure.
But you'll notice it more in the interiors and the smooth drive it provides.
In honor of the first-generation M6 from back in '83, this re-imagining of the classic features a kidney grille with an M6 badge on the front.
2.

BMW 2002 Turbo (1974)
Those who enjoy more vintage designs will find the 2002 Turbo will be a fantastic addition to your garage.
Don't get confused by its name. The original 2002 was released back in 1968, and its turbocharged sibling only hit the streets six years later.
While you'd typically think of such an old car as something a not-so-wealthy Sim might own, the 2002 Turbo is actually one of the rarer BMW models and heavily sought-after by collectors.
Only 1,672 were made – and very few of these remain.
Its purported 170PS may sound average the 2020s, but back in the day, it was the bomb.
This mod could even blend perfectly with other CC for a 1970s-era build.
3.

BMW M2 (2016)
Another turbocharged offering is the M2, which takes the comfort and looks offered by the 2 Series to the next level with a more robust custom BMW N55 engine, reduced weight, and more.
Why you'd need to supercharge an executive car like the 2 Series isn't an easy question to answer, but the simple reason might be just that buyers always want more.
Something fun about the M2 is that it was unveiled through Need for Speed: No Limits, a mobile game based on the world-famous video game series.
Whether that constitutes an endorsement of using the M2 for illegal street races on the part of BMW is better left for you to decide.
Hopefully your Sims will know better or have outstanding life insurance.
4.

BMW 750Li (2017)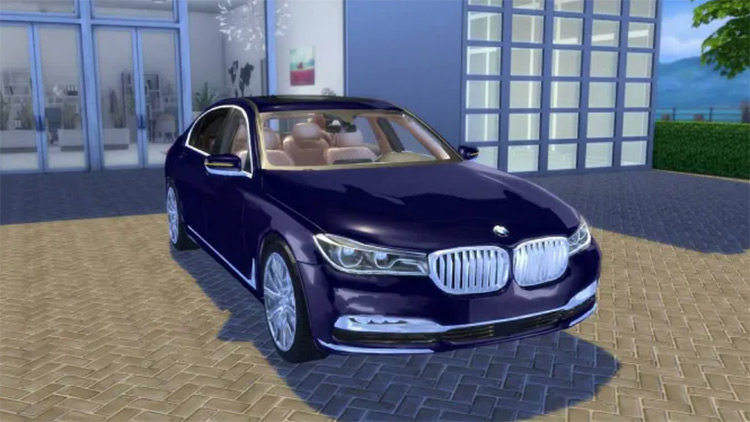 Being part of the 7 Series, the BMW 750Li is a full-size luxury sedan that carries the legacy of over 40 years of high-end four-door vehicles for discerning customers.
This is BMW's flagship car, meaning it embodies its design principles: comfort, reliability, and imposing looks.
What characterizes the 750Li is the long wheelbase – the L in its name – which provides a smoother drive by distributing the force of any bumps in the road.
It's also lovely from an aesthetic perspective.
Get this for the Sim with a big family and an even bigger wallet.
5.

BMW Z4 (2018)
BMW is known for good-looking, comfortable, and high-performing cars that don't draw as much attention as a Porsche or a Ferrari.
The Z4 is an exception.
This amazing two-door roadster features a soft-top convertible rooftop and a bold design with long horizontal lines that seem to scream one word: speed.
Though not in the range of Lamborghini or Ferrari supercars, the Z4 can quickly reach a respectable top speed of 240km/h.
Try that without the roof on, and you won't feel the need for any more speed – though admittedly, your Sims are only getting it as a decoration for their garage (that said, it's still a pretty nice decoration).
6.

BMW M3 E46 (2005)
I love early 2000s BMWs.
There's something about the delicate balance between square and round shapes that makes them charming – and I've got a soft spot for the M3 E46.
Back during my late high-school years, my best friend drove one of these.
It wasn't the safest idea to put a 16yo at the wheel of a car with a 250km/h top speed, but it was definitely fun.
Finding this 2005 M3 E46 was like a dream come true, and it inspired me to dial back the clock and make some teenager Sims resembling me and my bestie.
They'll only be admiring the car from afar, though!
7.

BMW X6 M (2016)
BMW's X series is one of my favorite car families made by the German brand.
It brings together the elegance and comfort BMW is known for with a bold, powerful appearance that'll make the driver feel like the true master of the road – or the offroad.
The BMW X6 is a luxury crossover SUV with a unique design that places it in the category of "sports activity coupé." Its sloping back may give you less storage space, but it pays back in style.
You'll never go back to dull, ugly SUVs after driving this beauty – or displaying it in your driveway to show your neighbors who's boss.
8.

BMW M4 Competition (2021)
Now we're getting to the real good stuff.
Discerning Sims with a taste for high speeds will feel attracted by the second-generation BMW M4 Competition released in 2021.
There are two main differences between this M4 and previous versions:
More horsepower, and the twin-kidney grille seen on the BMW 4 Series.
The M4 Competition also has considerably larger wheels than the standard package, giving it a bolder, more dominant personality.
9.

BMW i8
While beautiful and elegant, BMW cars generally look a bit ordinary.
They're not your average Toyota Corolla. But their design rarely looks unorthodox or futuristic like Lamborghini or Ferrari cars.
Most of them, at least.
The BMW i8 breaks the mold with a very sleek, just slightly futuristic design. This "near-future" look is probably intentional.
The i8 is a plug-in hybrid sports car, and electric cars are a thing of the near future.
Something else you'll find in the near future is this car sitting in your Sims 4 driveway. Also a great choice for any futuristic build in your Sim's neighborhood.
10.

BMW iX (2022)
To wrap up our list on a high note, this spot also goes to an eco-friendly car.
Though in this case it's 100% battery-fueled and therefore has no carbon emissions.
Of course, that's not what you care about in a Sims 4 mod.
This BMW luxury SUV brings together the appeal of both the X6 and the i8.
Its looks reflect its forward-thinking design philosophy, but it's also imposing and meant to give the driver a feeling of dominance over the roads ahead.
In other words, it's like a futuristic electrically-powered tank – and I love it.
I'm sure your eco-conscious Silicon Valley exec Sims will love it too.
Browse:
Lists
The Sims 4
Video Games