Sims 4 Boho & Hippie CC: Best Clothes And Styles To Download
This post may contain affiliate links. If you buy something we may get a small commission at no extra cost to you. (Learn more).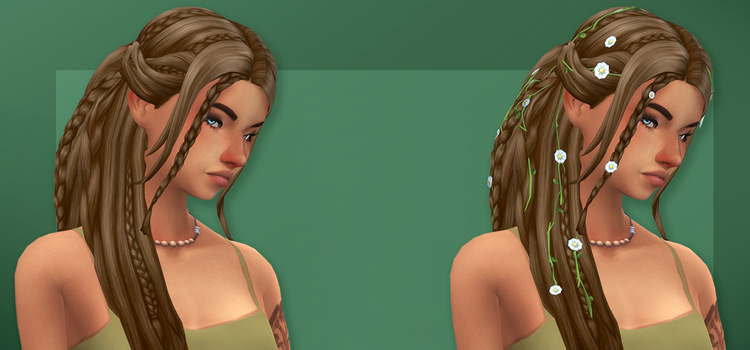 We owe a lot to the free-spirited youths of the '60s for liberating society from the suffocating trend of white picket fence fashion.
Coachella has much to thank hippies for helping them gain millions of attendees who are all eager to dress in bohemian styles from head to toe.
More than half a century later, hippie fashion is still alive and kicking as the unofficial music festival dress code.
Or maybe as a quick outfit to wear for last-minute Halloween parties.
But even though the world has moved on from the era of peace, love, and harmony, The Sims can still benefit from a major throwback with these free CCs that exhibit the best of hippie and boho fashion!
20.

Flower Crown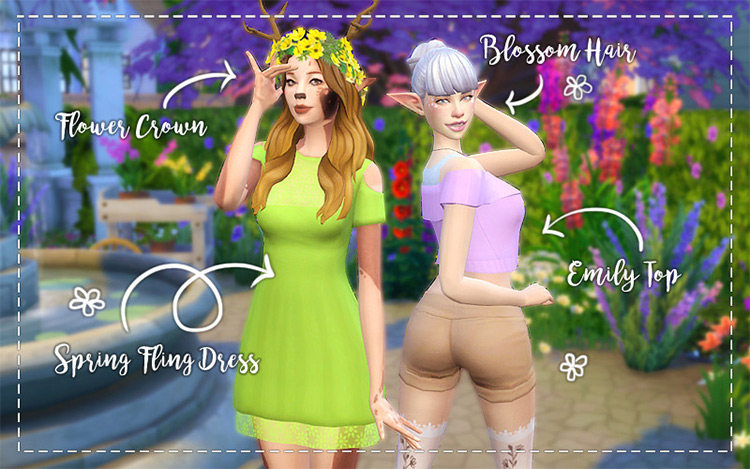 This fun stuff pack from nolan-sims is loaded with all the spring season stuff you'll ever need.
But I'm more interested in that Flower Crown accessory that just screams FLOWER POWER!
Natural beauty is strongly advocated in hippie fashion.
So what organic material is more beautiful than a crown of freshly-picked flowers?
Ditch the pretentious tiaras and be in favor of Mother Nature's reign with this Flower Crown CC available for all ages and genders!
19.

Fringe Mini Skirt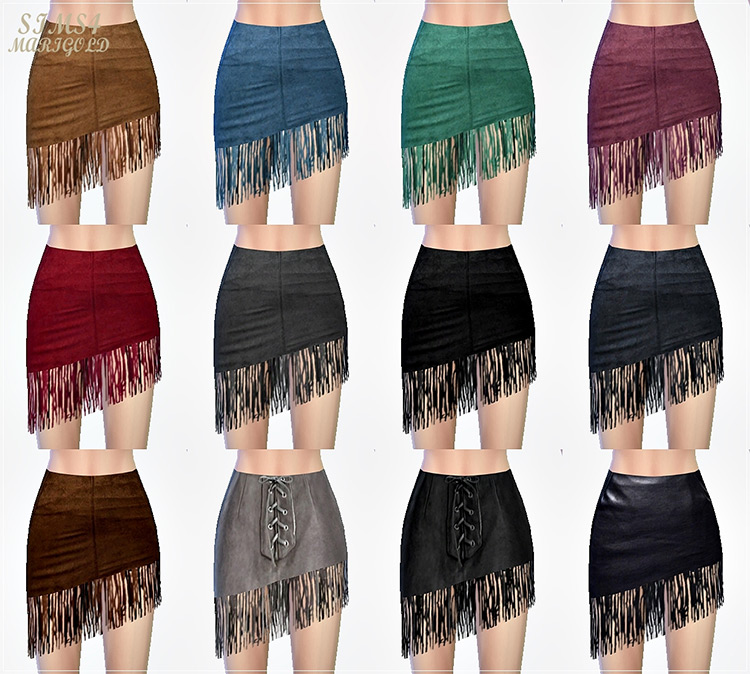 If you think a fringe is atrocious, then you must be confusing hippies with hipsters.
Fringe vests and tops often serve as a hippie's pièce de résistance, especially during the 1969 Woodstock Music Festival.
Despite not being Jimi Hendrix's iconic white fringe jacket, this Fringe Mini Skirt is still inspired by the Native American style that hippies adopted in their multicultural fashion.
And obviously, it's a cute skirt that would look divine with neutral-colored booties!
18.

Peasant Top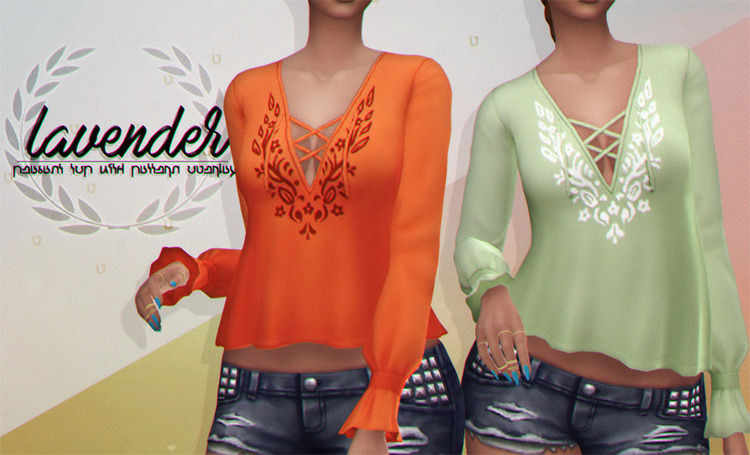 Without going detail on why peasant tops are called peasant tops, this specific style is a hippie staple for many reasons.
Relaxed, freeing, and casual, peasant tops feel like heaven.
Especially when the No Bra movement was at its psychedelic high in the '60s.
Imagine the breathing space!
Even with the long-sleeved style of this Peasant Top, there's no doubt that this piece indulges every hippie's appetite to get loose.
17.

Small Round Glasses and Shades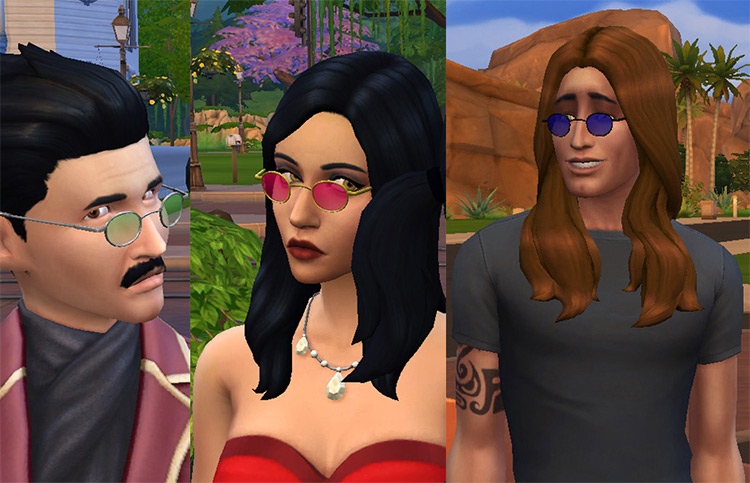 As champions of peace and positivity, hippies often wear rose-colored glasses – specifically the round vintage sunglasses that John Lennon used to wear.
Nowadays, bohemian trendsetters are wearing more modern eyewear to adapt with the times.
But IMO, nothing beats these small rounded shades that could barely hide those crazy eyes.
This CC has clear and coated versions with a vibrant collection of 10 colors each to match your Sim's erratic but hip personality.
16.

Barracuda Top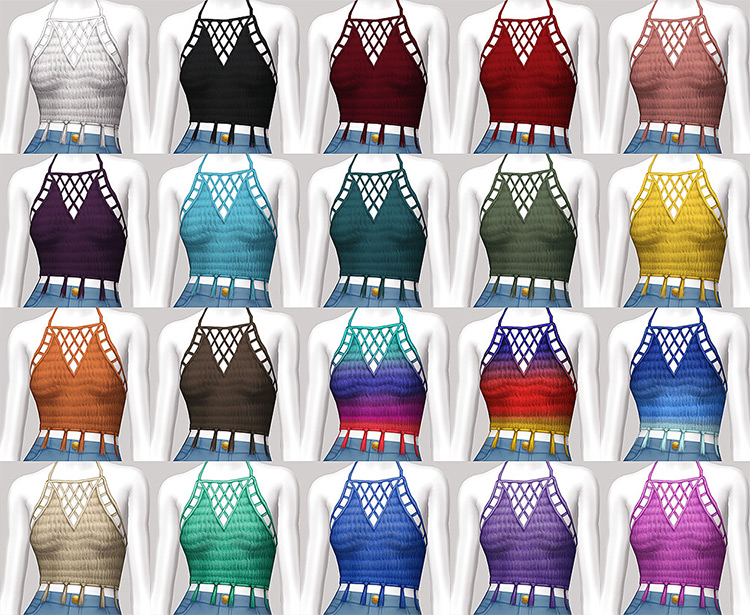 In a decade where Beatlemania and the first man on the moon were all the rage, there was little awe to give for handmade tops.
But not for the flower children of the world.
Anything homespun and handmade was prized by hippies.
Can you imagine how valuable your crochet skills would be at the height of rebelling against mass-manufacturers?
Loss opportunities aside, this Barracuda top would've been a hippie hit with its collection of 30 bright colors that fits a psychedelic palette.
15.

Boho Dress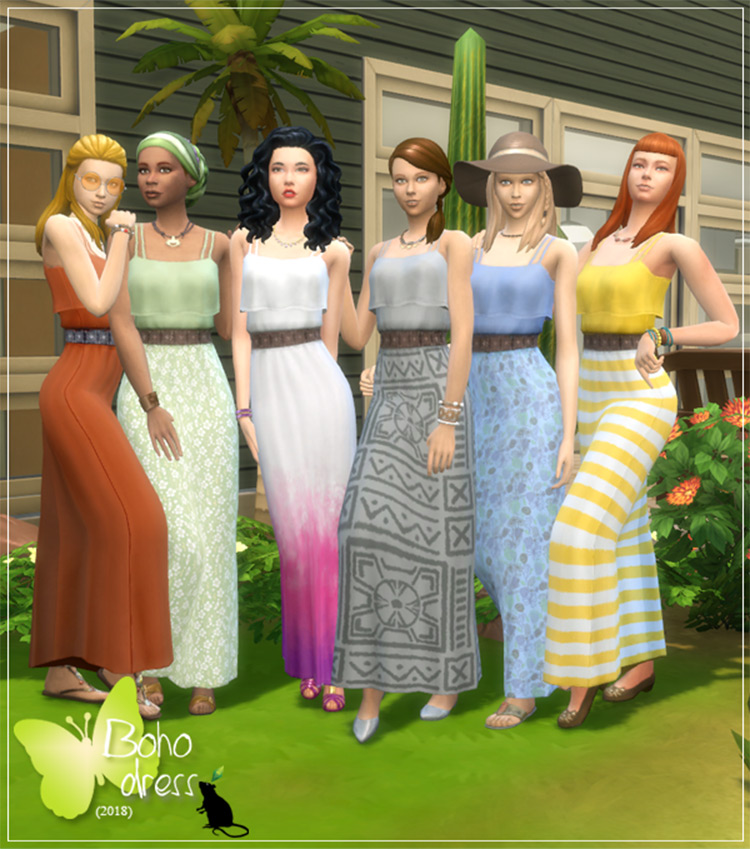 When nailing the bohemian aesthetic, it's sacrilegious to not have at least three maxi dresses.
With its flowy ankle-length skirt and refreshing sleeveless style, a maxi dress is built for hippie comfort that could outlast even the worst wipeouts.
But the best feature of this boho-styled dress is its ever-changing fabric, colors, and patterns.
This can make a gorgeous boho-chic out of your Sim.
To deliver more mind-blowing info, this dress has a staggering amount of 183 swatches, the most I've seen in a single CC!
14.

Florence Kimono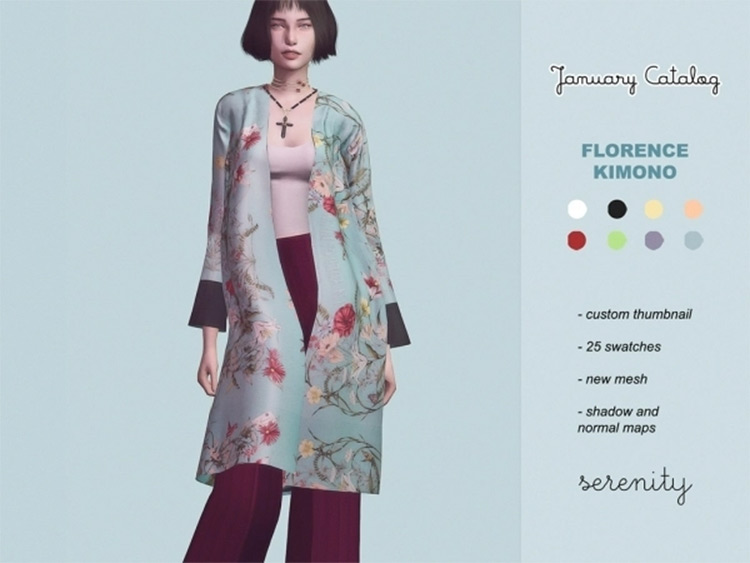 According to the hippie style rule book, wearing less is more.
Whereas others took this rule by heart (attending festivals naked as the day they were born), others preferred a more stylish approach.
If you find tank tops and peasant skirts a lackluster pairing, adding on a Florence Kimono can do just the trick to elevate your Sims' look and keep them from getting mosquito bites.
This CC has 25 swatches and a flowery design that will definitely make happy hippies.
13.

Sunny Hair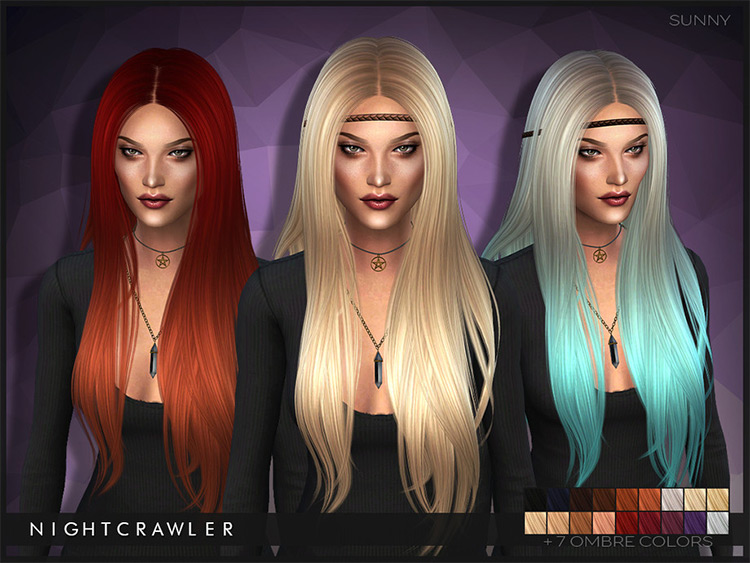 In my opinion, creator Nightcrawler has been consistently making some of the best hair CCs for The Sims 3 and 4.
So it's no surprise for this Sunny Hair CC to be one of the best hippie hairstyles available for TS4 players.
At a glance, you can easily identify the mermaid-length hair and leather headband combo as a classic hippie look.
Of course, boomers won't agree with ombre hair colors. But that's exactly what peace-loving rebels live for.
12.

Primrose Hair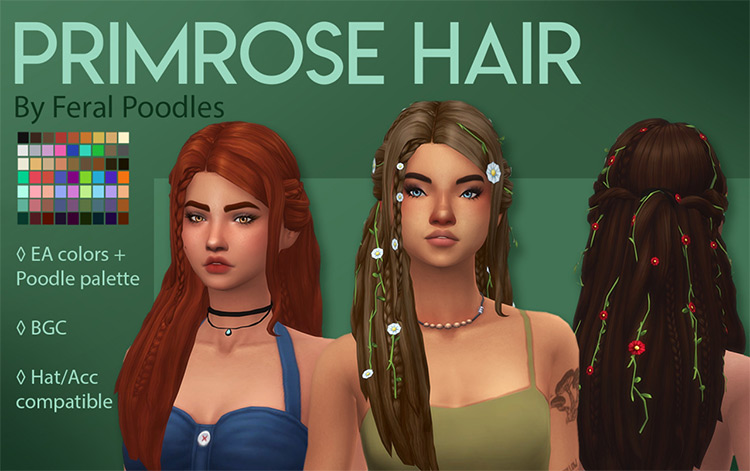 Hippie accessories contrast the jewelry worn by typical housewives back in the conservative '50s.
They loved long-beaded necklaces, leather bracelets, and leather headbands.
But not as much as they adored flowers.
Flower crowns are an obvious accessory choice when starting your hippie-bohemian wardrobe. But why not take it a step further and have actual flowers woven in your hair?
If we're talking about a hippie's desire to feel in tune with nature, this Primrose Hair CC achieves that and more.
Plus with 63 swatches available, I'd say this CC is nothing but magical.
11.

Outfits and Shorts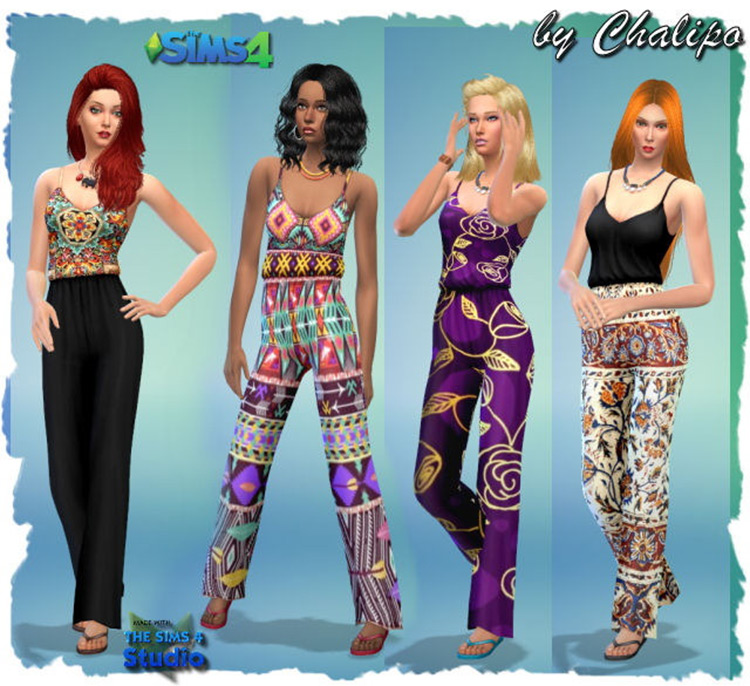 Let's face it: free time is precious, and weekends are sacred.
Who has the time to sort through hundreds of tops and bottoms on The Sims Resource?
CC creator Chalipo thought about the same thing and did us all a favor by compiling outfits that hippies would horde from a thrift store.
There are floral jumpsuits, Indian-printed maxi skirts, you name it – this CC has everything you would ever need for your Sim to become a true hippie at heart.
10.

Nouk Dreads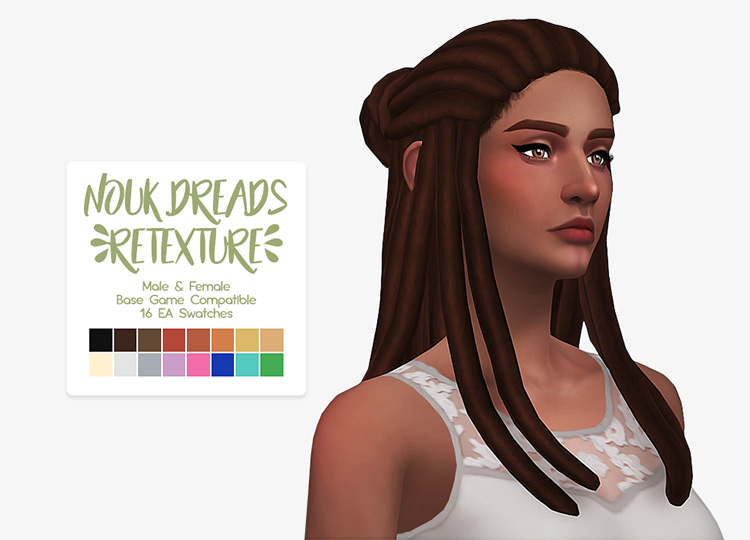 Even though a lot of neo-hippies sport dreads (thus creating a modern stereotype), the decision to get one isn't always based on its status as a trendy hairstyle.
Dreadlocks have been around for millennia not because it's cool, but because it has deep ties to one's spirituality.
It symbolizes freedom and this hairstyle is a form of self-expression.
This CC simply shows just how gorgeous dreads are when mixed with free-loving fashion, even more so in 16 colors.
9.

Hazel Hair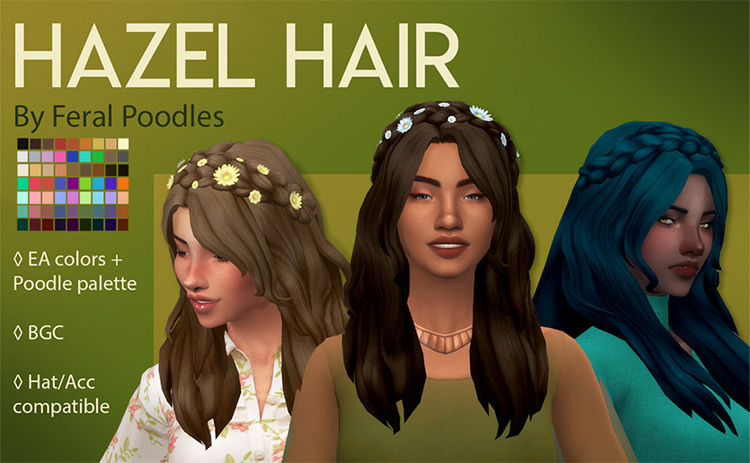 When creating a bohemian mega babe, a Sim's hairstyle can either make or break the overall look.
That's why it's always a good idea to rely on flower power.
And what better way than having a smattering of flowers on a crown braid?
This CC has 63 swatches to make your Sim's boho-chic dreams a reality from the neck up.
8.

Amani Retextured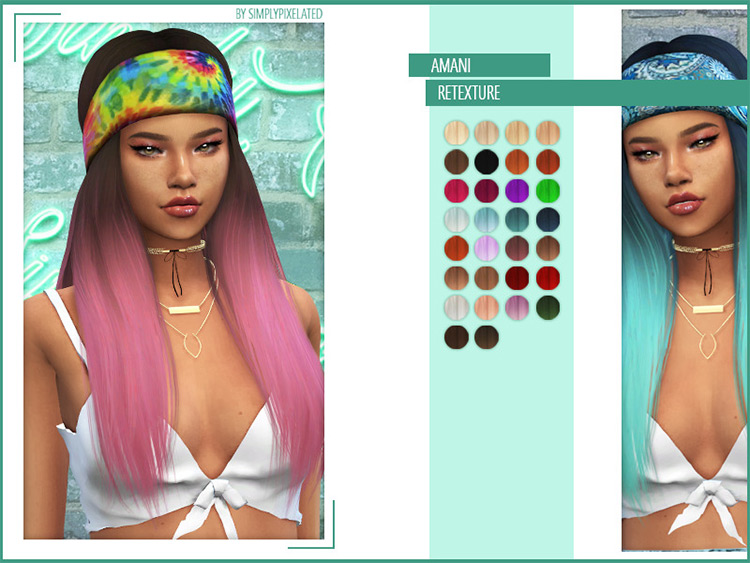 It was the year 1967, and the Summer of Love gave birth to a creative explosion of hippie fashion that painted the world in non-conforming color.
Among the swarms of flowers, beads, and bell-bottom jeans are the vibrant bandanas that experimental youths loved.
Lucky for you, this CC has a 4-in-1 advantage to save you some time from hunting down this killer accessory.
Get the Amani hair in dreads, flat, or braided versions, along with dozens of bandana designs that display the best of what hippies love.
7.

Boho Loose Pants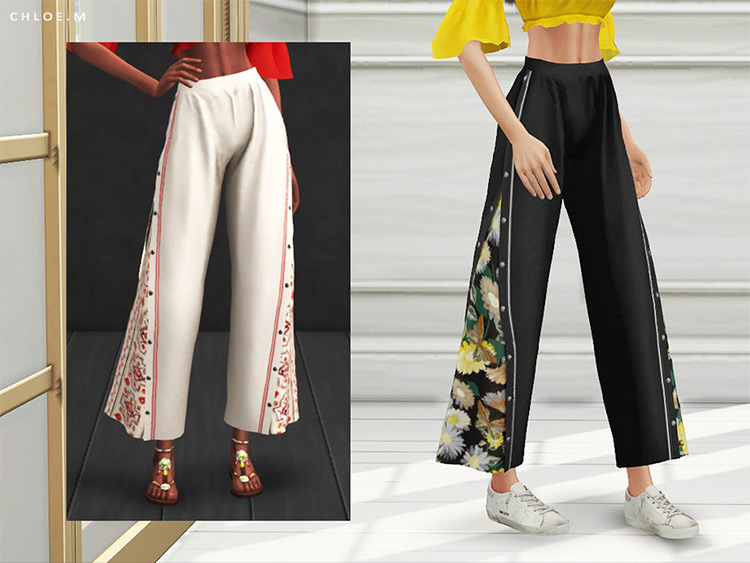 Bohemian or hippie fashion has almost non-existent style rules to follow.
If anything, all it ever decreed was for people to wear whatever outfit they feel relaxed in.
And so here we are with ChloeM's version of Adidas sweatpants in bohemian style.
Which is, surprisingly, not an awkward combination at all.
The Boho Loose Pants is available in 12 swatches best paired with gladiator sandals and a laid-back attitude.
6.

Boho Style Jumpsuit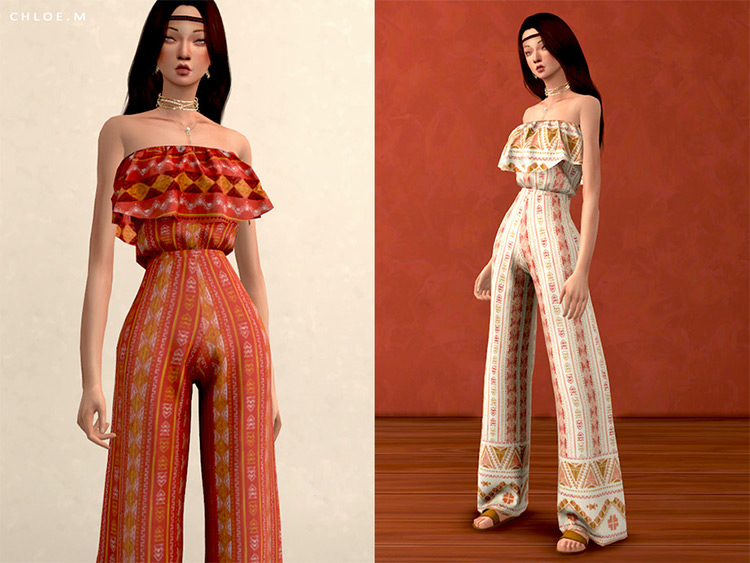 Being the Queen of Coachella like Vanessa Hudgens is not as hard as it sounds.
Not if you have this Boho Style Jumpsuit as part of your arsenal.
Although more boho-chic than hippie, there's no denying that this modernized style looks comfortably amazing.
Especially when your Sim's just loitering around the world (or their house).
But aside from the breezy wide-leg bottoms, have you seen the patterns on this jumpsuit?!
5.

Lirio Boho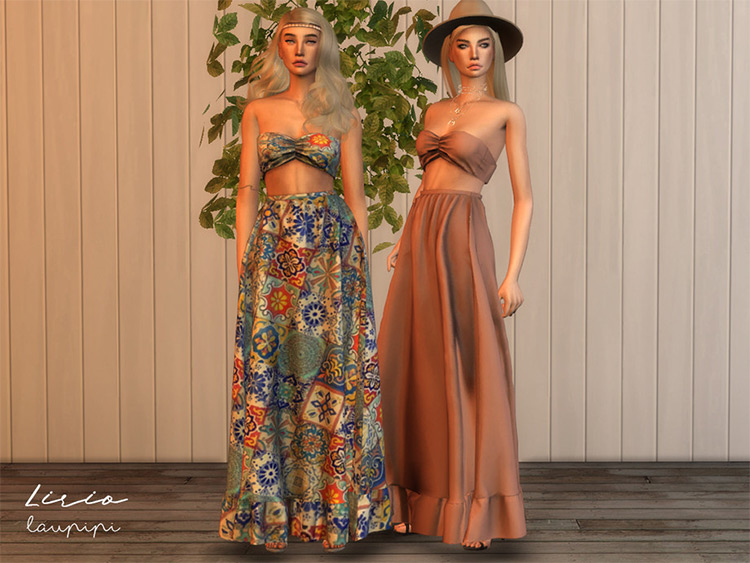 Peasant skirts are a bit hard to pull off without looking like an old lady (if your Sim is not already).
And since we're listing the best boho CCs, we're going to have to find a miracle – in the form of Laupipi's Lirio Boho.
Despite not bearing the same crinkly and flouncy texture of typical peasant skirts, the Lirio Boho can still deliver that gypsy flair that hippies took inspiration from.
I can also guarantee that the 13 swatches available are 100% stylish for all ages!
4.

Nina Boho Dress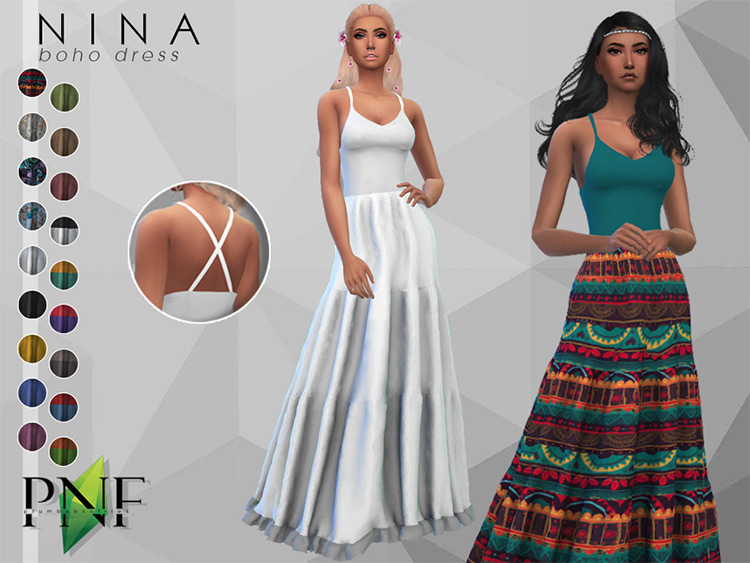 It's disappointing that maxi dresses aren't that popular in real life, considering the world is literally (and figuratively) burning up to supernova degrees.
But our Sims are in for a treat with this Nina dress that just oozes airy luxury and subtle sexiness.
If you're gunning for that hippie fairy look, then you don't have to wish for much.
The Nina has 4 patterns, 8 solid colors, and 6 mixed colors to bring out your Sim's carefree personality.
3.

Sigyn Dress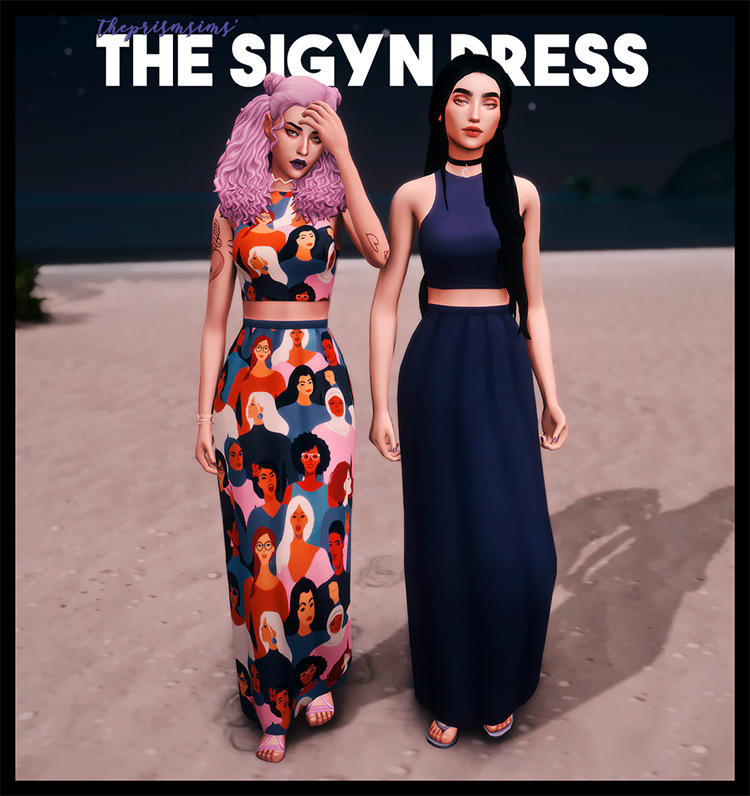 This CC was a last-minute find that completely mesmerized me with its minimalist design and artsy swatches.
This toned-down bohemian look can be worn on various occasions like Keg Parties, Kava Parties, any party. Your Sim would still look fresh afterward.
But who are we kidding?
Sims always look fresh no matter how much daily torture we inflict.
And the Sigyn Dress has 26 swatches to keep you busy matching your accessories. Maybe try it with a cute hair bow?
2.

Desert Rose Top & Skirt Set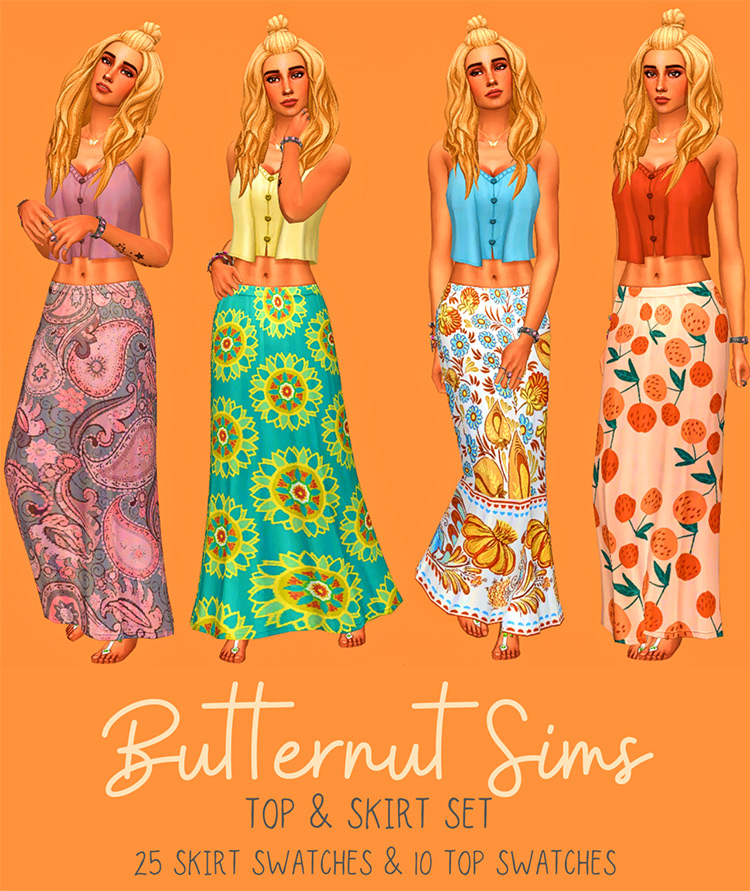 There's a lot to admire about the hippie movement.
But if there's one thing that meant the most, it was the sense of self-expression.
Through that, people created art with their personal styles that made this list possible.
That makes this CC set exist for Sims to wear, and not care one bit. Because what do they know?
But I trust that you know better than skipping this classic hippie ensemble.
To make it more appealing, this CC has 25 skirt swatches and 10 top swatches to mix and match your way to hippie fashion obsession.
1.

Gogobebe Flare Pants Recolor by Butternutsims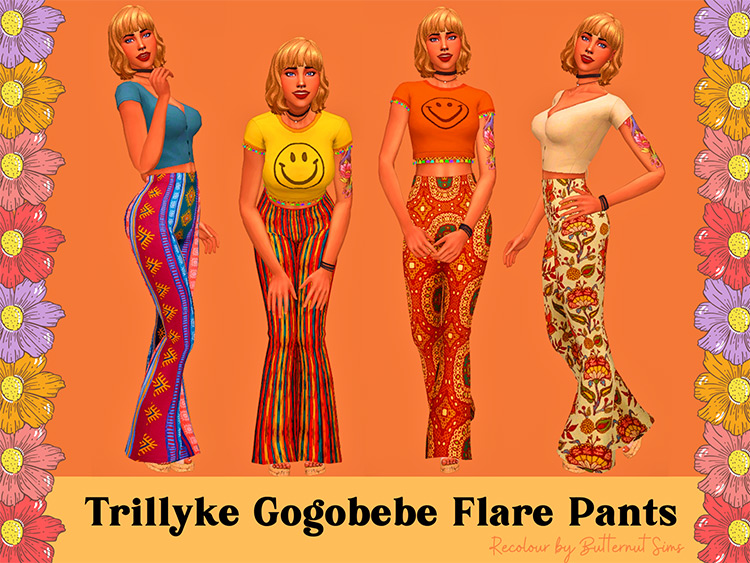 You didn't think I'd forget about the bell-bottoms of the '60s, did you?
Always remember that the quintessential hippie has one or more pairs of flare pants to make love, not war.
Also, no hippie or boho wannabe can be considered as such without floor-grazing pants that make you wanna boogie.
On top of this awesome pack from Butternutsims, check out Heartfall's version to have more options in building an authentic hippie look.
Each CC has 20+ swatches, giving you a total of 40 more reasons to appreciate the iconic movement.
Browse:
Lists
The Sims 4
Video Games