The Sims 4: Books Clutter & CC Packs (All Free)
This post may contain affiliate links. If you buy something we may get a small commission at no extra cost to you. (Learn more).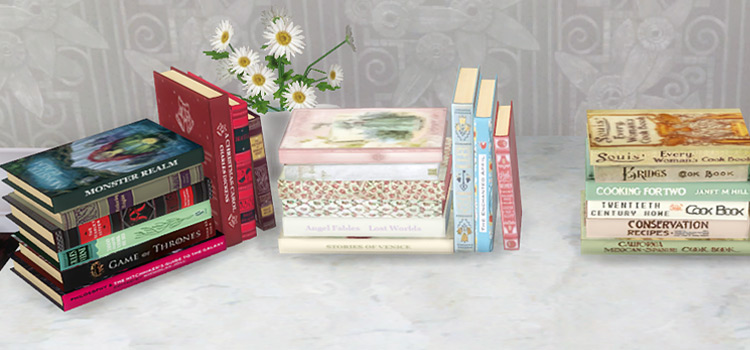 We may be living in an age where e-readers are growing more popular every year, but it'll be a long time before physical books are totally eliminated.
For many people, there's still something preferable about feeling the weight of a paperback or hardcover in their hands.
Besides, those stacks of books almost everyone has in their homes aren't going anywhere except maybe to the thrift store – where they'll be snatched up by eager new owners.
In The Sims, books make for the ultimate clutter choice.
There's plenty of empty space on surfaces and shelves, sometimes way too much, and books are the perfect space-fillers.
Neat stacks, singles, messy and towering piles… there's a lotta options out there. Custom content makers have given us plenty to dig through, and you're sure to find just the right kind of clutter for your Sims in this collection.
1.

Decorative Book Collection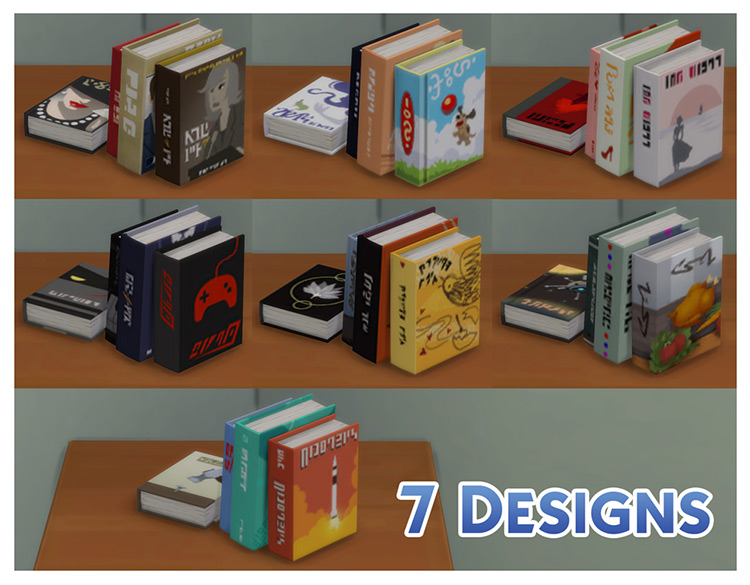 These four books will be good to fill space or serve as décor… but they're actually functional too!
You'll be able to treat them like a bookshelf since the creator included all the standard options, like the ability to purchase books or read them right from the stack.
The 7 swatches contain a nice variety of different patterns and colors, incorporating designs from various packs to give a more unique look.
Bedrooms and offices alike can benefit from this clutter collection, as well as any surface that has a free slot.
2.

Book Trio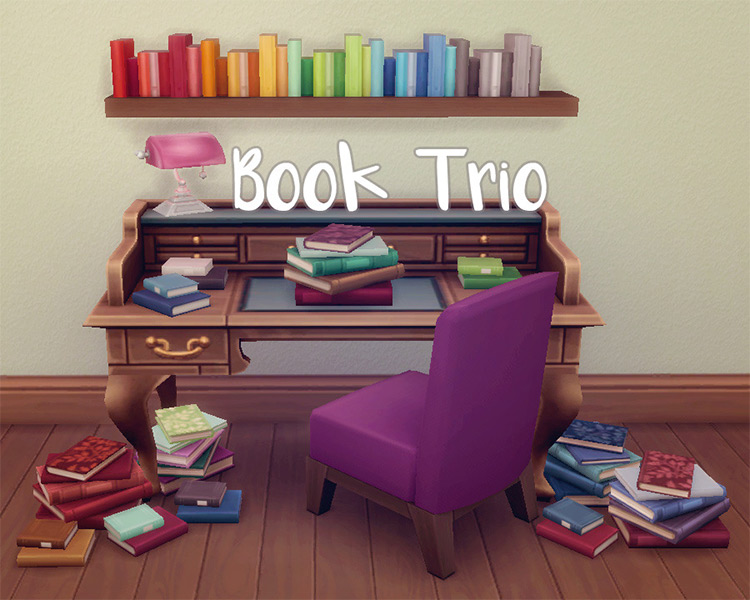 If you've ever been trying to make a shelf less empty, then I'm sure you're acquainted with the decorative books that come with the base game.
They're pretty handy and will get the job done.
But after all these years, some players are ready for a change.
It's nothing major, there's nothing exactly wrong with those books… but a splash of color almost always improves an old item.
This Simmer recolored the little stack of two books, as well as the vertical collections meant for shelves.
They have 15 and 8 new swatches, respectively, and these are sure to please every interior design fan.
Plus the new options offer a great variety, from softer shades to bright colors that really pop.
In the real world, we don't usually consider whether or not the book we want will go with our décor. And that should definitely not be a defining factor in what you read.
We've all been hearing "don't judge a book by its cover" since we were in elementary school, but that idiom goes out the window in The Sims.
Something that clashes with the rest of the interior is always glaringly obvious, which makes having so few swatches with the base game books that much more noticeable.
Well, those days are over.
You'll be able to easily match these books to any color scheme you want.
3.

Antique Stacks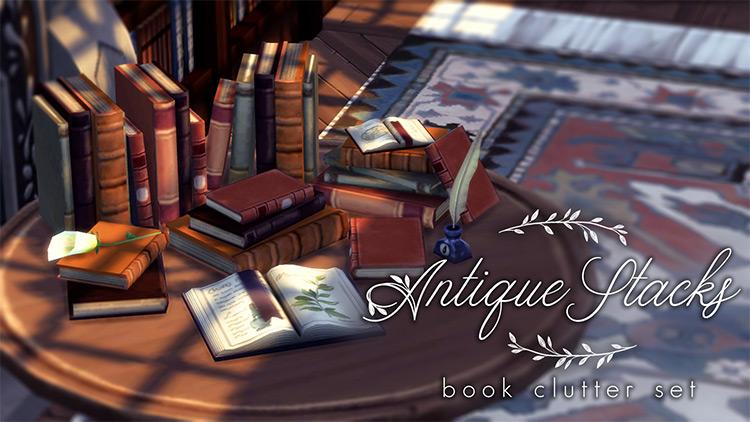 Any avid reader will tell you there's just something extra special about antique books.
The book itself has a story as rich as the one told within it.
Depending on the age, it may have survived wars and been handed down through generations. It could've been a birthday gift for a nameless person a hundred years ago, lost to history.
And of course, and great as it is to ponder these things, it's really all about the story.
It'll transport you into the past, into the time it originated from and introduce you to a whole new world.
Plus they just look really, really cool.
This creator did a fantastic job at replicating the antique vibe for these book stacks.
These come in six stack styles, and they have a slightly weathered look, as if they're old but have been taken care of.
4.

Deco Books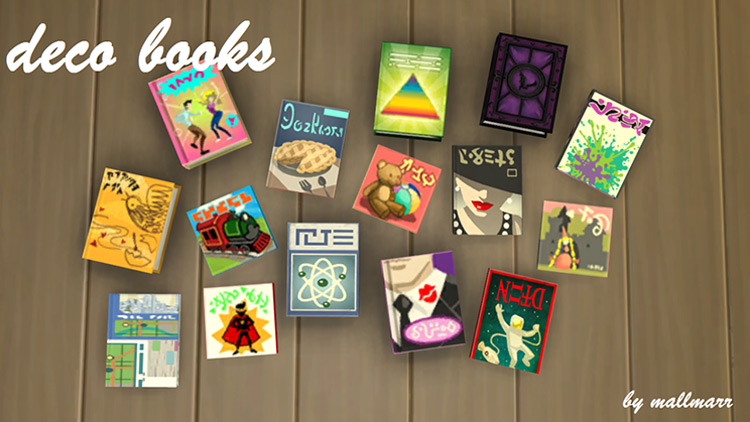 Sometimes all you need to do is look within to find what you've been looking for.
Did that sound philosophical and deep? That's what I was going for, but I'm really just referring to the debug items you can find in the game.
Many players spend years unaware that there's a whole treasure trove of potential decorative and clutter items already available in The Sims 4, no mods necessary.
The thing is, to access them you need to enter a cheat – and then a huge amount of items will be at your fingertips.
There are so many, in fact, that it can be overwhelming to sort through it all.
Not just for you, but for your computer, too.
This is actually why I don't explore the debug items often, because I can always hear my poor laptop start wheezing.
A simple solution is to find custom content that extracted those items and made them buyable.
That's exactly what Mallmarr did here.
She made it possible for you to have 114 decorative books to choose from, all in one clutter pack.
5.

Edith Book Stacks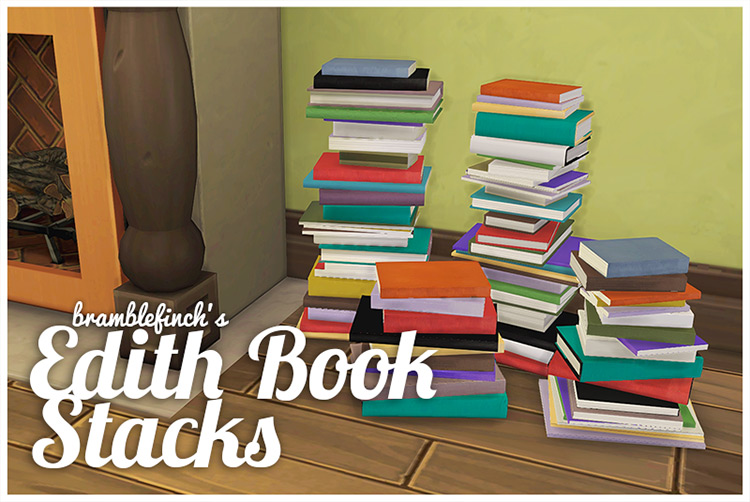 Storing books isn't as easy as utilizing a shelf.
Sometimes your Sims have more books than they have room for. Or maybe they've been attempting to organize and just haven't returned them to their rightful home yet.
You can come up with whatever backstory fits for your Sims, but you'll be glad to have these tall stacks when you find yourself needing such a thing.
These have a more disheveled and messy look, which will make them the ideal clutter for many scenarios.
And there are four stack sizes in total. Two are taller and look a little precarious, while the other two are about half that height.
All of them have a good number of color options, though, so they don't look too matched.
6.

School Books

Textbooks are a necessary evil.
Just the sight of them might trigger unpleasant memories, but they're a staple in any student's room or dorm.
You'll find 10 designs of school books here, with some great graphics.
They're in Simlish, but it's still easy to tell what the subjects are thanks to the imagery.
They're actually part of a whole school CC set, but you can download the books alone.
I know I always feel a little lost when decorating a teen Sim's bedroom, even with tons of CC to help.
But these will be some nice décor for Sims focused on academics.
7.

Pile o' Books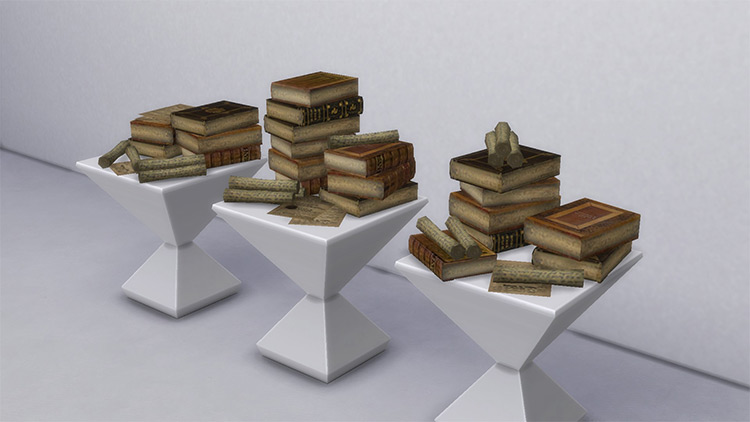 These books go beyond antique, and look straight-up ancient.
I don't know how many houses have stuff like this sitting around, but this is The Sims 4.
You can use these for anything, whether it's gameplay that's set in another time period, or building a modern museum.
TheJim07 converted these from The Sims 3 and did a great job at it.
They come in three different styles, each one featuring side by side stacks. And each stack also has some loose papers and scrolls, which definitely add to the "ancient" appearance.
Another idea is to use these as basement clutter, since they look a little bit like they've been forgotten.
But since these were originally from the old Supernatural expansion pack, they'll fit right into any occult gameplay in The Sims 4, too.
8.

Marvel Comics Decor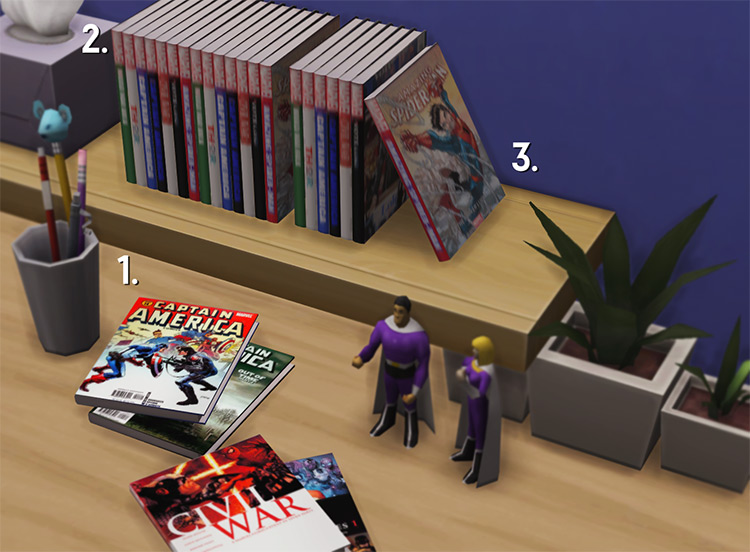 Though many moms and teachers may disagree, comics are books.
They're massively popular among kids and adults alike, so it's rather surprising there aren't some already available for you to set around in the game.
But with this CC set, you'll have neat, organized comics lined up, as well as a leaning option and some that will lay on surfaces.
They all have identifiable images from Marvel like Captain America and Spiderman.
There's a readable option as well, but using the clutter options is really when you'll see them the most – and these look so great that you'll want them visible all the time.
9.

Readable Harry Potter Books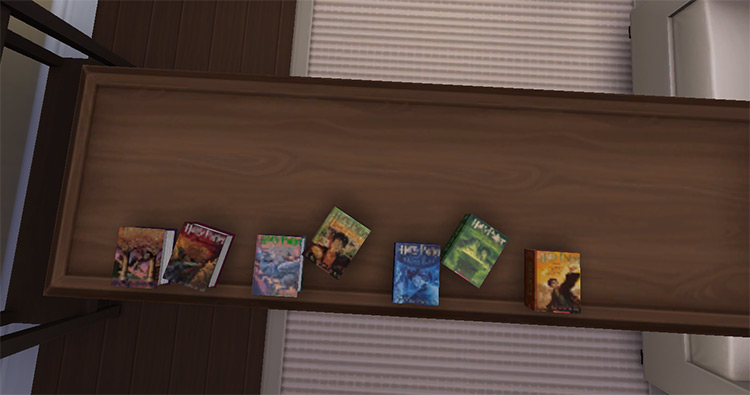 Here's something I know will excite a lot of people… functional Harry Potter books!
This set has all 7 of the iconic books, and they look flawless.
They're not detailed to the point where they'll be out of place or stand out in your game, either, so the creator made them perfectly.
Yet you'll still easily be able to identify each book. And that'll make for some fantastic décor.
I know I'm gonna have to set these somewhere they can be proudly displayed in my game!
Your Sims will even be able to read them as well, just like any other book. Maybe even alongside some other Harry Potter CC.
10.

Toddler and Kids Books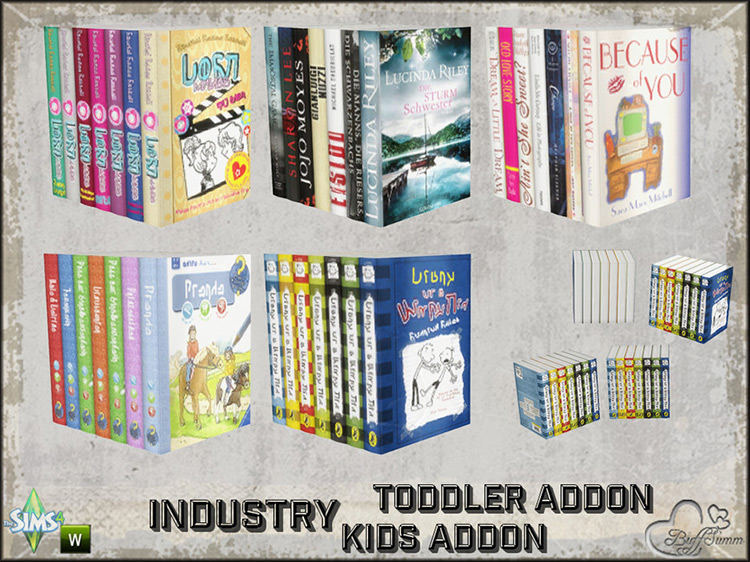 A love of reading usually starts in childhood.
So the younger kids get into books, the better.
Authors do a great job at weaving stories that captivate young minds and capture their hearts. Even before the kids themselves can read the words, they can enjoy the stories as they are told to them by family members.
It all provides a great foundation.
Reading cultivates so many positive things, like imagination and literacy, plus that's often how kids learn new words.
Sim children don't have a whole lot to choose from, especially to fill out their rooms.
But this set from BuffSumm has some beloved titles like the Diary of a Wimpy Kid series, among other recognizable tales.
Most of them have Simlish options too – so these collections will fit right into any build.
11.

Books & Diaries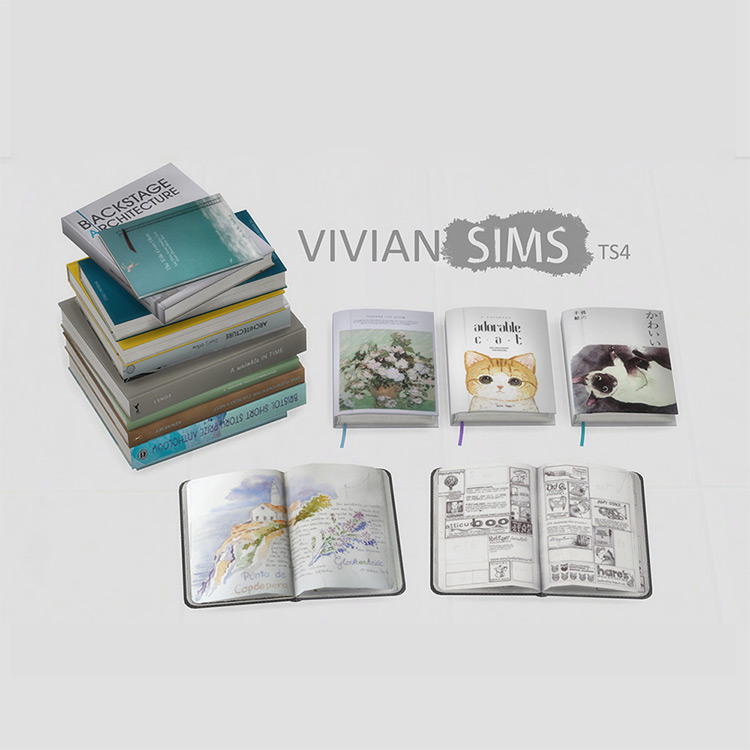 These detailed books will add a cozy feel to any space.
They even have detailed covers with watercolor art, like flowers and cats. It doesn't matter what an item is – a cat on the front will always be an improvement!
There are solo options here, as well as a stack of books, and the diaries are quite aesthetically pleasing as well.
The ones that lay open even have visible writing and drawings – so they'll provide additional décor when you look closely.
In fact, these are among the most versatile clutter items on the list.
The covers are fairly neutral too, so you can place them pretty much anywhere, from fireplace mantles to dressers.
12.

Books x9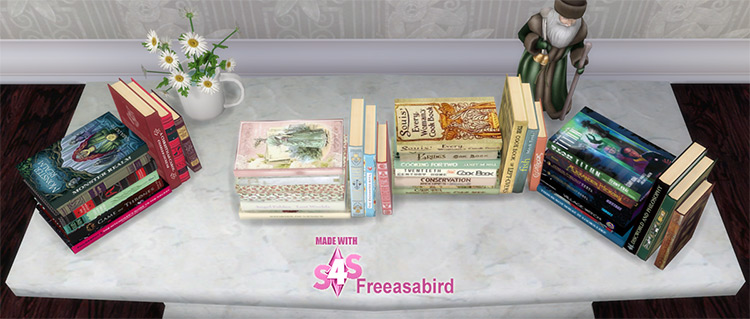 Here are some stacks that'll be fitting to go throughout your Sim's home.
There's a little something for everyone here, and the book titles are the sort of things most people have.
I mean, there are the fiction books, and fantasy novels like Game of Thrones and Monster Realm. You'll find a few different options for books of that nature, and they all come in realistic stacks, with some standing upright leaning against the others.
There are even cookbooks here, because if there's anything a kitchen can never get enough of, it's clutter.
It may seem like I'm being sarcastic, but I'm not.
We have to worry about fire hazards in the real world – but stoves burst into flames in The Sims for no reason. So you might as well pack the place with décor items, it'll make no difference!
13.

Dragon Age Books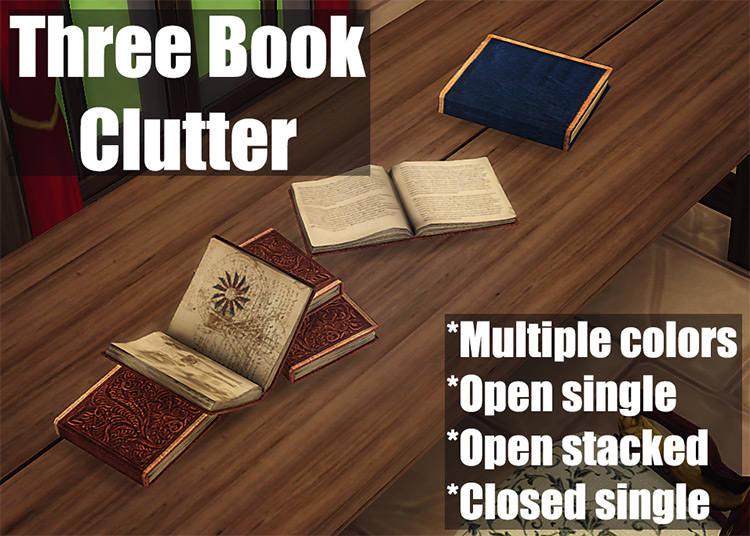 Time periods are fun to play around with in The Sims 4.
And there are nearly endless ways to add depth to the world your Sims live in.
You can create history, or have them live through it.
But to do either of those, you'll need the proper clutter.
This Dragon Age set has some books that are unique, and can be used in modern times just as much as you could use them playing through other centuries.
There are three variations offered, including an opened single book, an opened book on a stack, and a closed book.
Each one is really nice to look at.
The covers have a fantastic texture, and the opened versions have detailed writing.
You'll have plenty of colors to choose from for them too, in the rich tones expected of Dragon Age.
14.

Witchy Sim Books
When it comes to witchy decor, I just can't get enough.
And this is coming from someone who's primarily a realistic family-focused player.
But who can pass up the old-timey aesthetic witch stuff brings? Certainly not me.
And if you feel the same then you'll love these books.
Spa Day is required to use them, but if you have that, you're really in for a treat.
This little pack includes 13 singular witch-themed books. That's a rather fitting number, huh?
The cover art is beautiful too, featuring earthy designs like flowers, herbs, and the sky, plus there are some books from the "For Dummies" series as well.
Just what every aspiring witch needs!
15.

Narissa Cookbook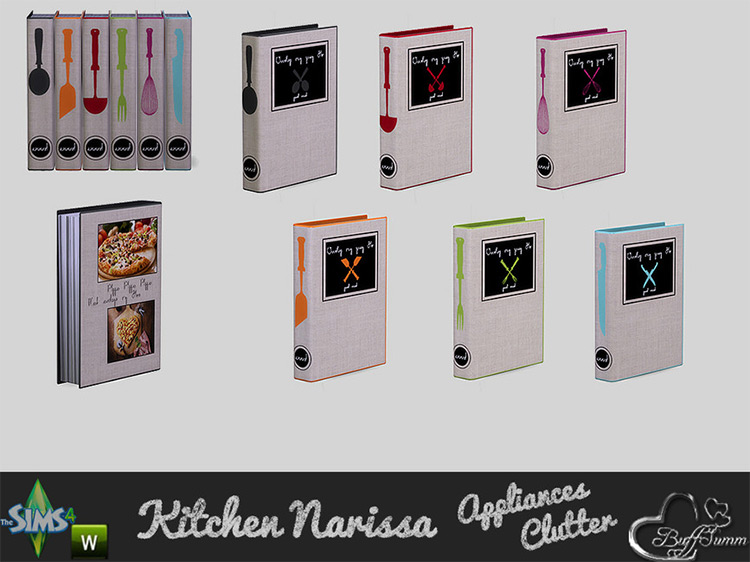 Cookbooks make me feel warm and fuzzy inside.
And I know I can't be the only one.
Food can take you back in time or to certain memories just like books do. Millions of people have treasured memories of cooking with their mom or grandmother, and those recipes getting passed down is what creates traditions.
Even though a lot of cooks today stick to the internet for recipes, it can still be handy to go the old school route and have some cookbooks on hand.
This CC set comes with six different books.
Each one has Simlish writing and a slightly different design and coloration.
There's also a bit of theme with the colors and symbols, such as a pink whisk or an orange spatula.
When placed all together on a shelf or counter, it'll really look like your Sim is an avid cook who likes to have their recipes close by.
Browse:
Lists
The Sims 4
Video Games