Best Sims 4 Bow Tie CC (All Free)
This post may contain affiliate links. If you buy something we may get a small commission at no extra cost to you. (Learn more).
The custom content modding scene has always been a thriving community for The Sims 4.
But what's one space that has always seemed particularly sparse for the franchise?
Male clothing.
Men's accessories have always been a little lackluster at best, particularly for the formalwear category, with very few options in the base game or most expansions.
So we've hunted down our favorite iconic accessory for men: the bow tie. Now you can jazz up any masculine Sims' wardrobe for their next big event.
1.

Bow-Tie For Men by rustysims
First up, we have this classic bow tie that can be the perfect accompaniment to any suit or men's formal shirt.
Choose from over 30 different flamboyant colors to rock, from the classic black tie look, to eye-catching modern pastel swatches.
Available for teens, adults, and elder age groups, your male Sims will be ready for any red carpet event in no time.
2.

S-Club MK TS4 Bow Tie by S-Club
This bow tie mesh is one of our favorites on this list, and it's easy to see why.
With a gorgeous suede leather look, this contemporary accessory can be found under the Necklace section of CAS Mode.
And it's available for both male and female Sims, plus there are 7 different color swatches to pick from. So you can switch up your look whenever you need.
3.

Satin Self Bow Tie
If you're looking for something a little more laidback for your guys, then you can't go wrong with this suave take on a bow tie look.
This undone tie gives your Sims a carefree attitude. Perfect for any neighborhood 'bad boys'.
It's found in the Necklace section of CAS, with 12 colors to choose from, and it's fully compatible with any HQ mods you already have installed.
4.

Bow Tie Accessory by OhMySims
This amazing bow tie accessory from OhMySims comes as part of a collection of separate clothing items for men, and we love it all.
The bow tie itself comes with 3 different palette options (not swatches, palettes!) so there's plenty of choices to mix and match for any look.
Plus it's actually available for both genders. Good stuff.
You'll find this under the Necklace section of CAS, with 2 different options for different collar heights. And it's also base-game compatible for easy use.
5.

Snazzy Boy Aaron by SuperNerdyLove
Who says kids can't join in with the formal festivities?
This bow tie is technically part of a CC shirt design for male children, but we couldn't resist including this adorable look.
You'll notice how this button-up silk dress shirt comes with a plush textured bow tie, with six color swatches compatible with the base game.
It's a welcome addition to the CAS boys section that already has so few clothing options.
6.

Printed Shirt With Bow Tie by lillka
This cute shirt design from lillka provides even more bow tie options for kids.
Featuring funky shirt patterns in 4 different styles, from Hawaiian to checkered, this design beautifully complements the overall formal look for kids, without looking stuffy.
It's also available as an everyday look for the more well-dressed male children of your TS4 households.
7.

Suspender Shirt With Tie by OranosTR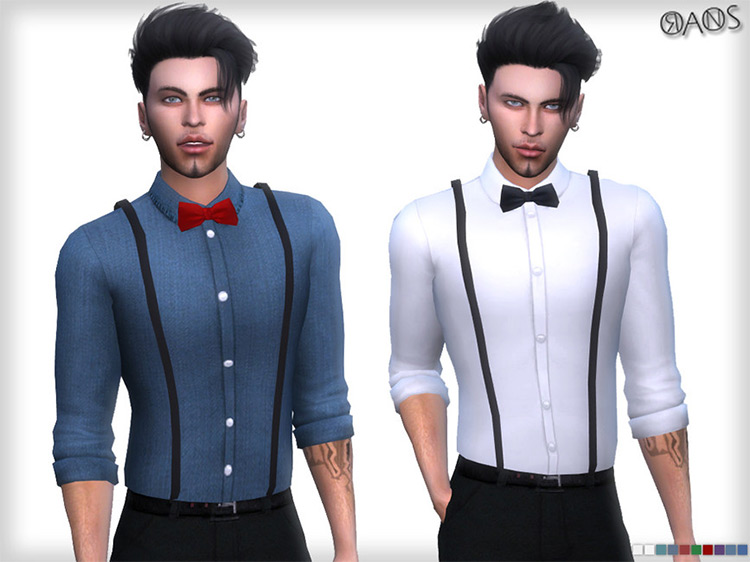 Pair your bow tie with suspenders in this retro shirt design from OranosTR.
Perfect for any Simmer looking for a 1920s style, or it could even just be something a little different from the regular suits for your male Sims.
This design also features a brand new mesh and 10 different selectable colors.
Plus it's available for all ages from teens to elder Sims. So grab this and keep your male Sims looking effortlessly fresh and formal across their entire lifespan.
8.

Tie For Small Dogs by remaron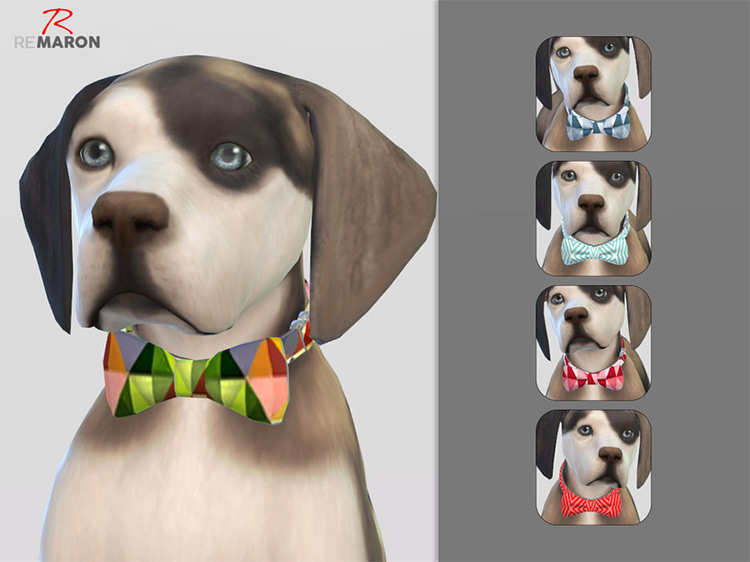 Why leave your pooch out of the formal fun?
Style isn't just for humans!
Check out this adorable bow tie for small dog breeds, available in 5 different swatches of funky patterns to ensure your furry friend is ready for any occasion.
Just be aware that you do need the Cats & Dogs expansion pack in order for these to work correctly. But it's a small price to pay for pet fashion.
Browse:
Lists
The Sims 4
Video Games