Sims 4 Boxes CC: Moving Boxes, Shoe Boxes & More
This post may contain affiliate links. If you buy something we may get a small commission at no extra cost to you. (Learn more).
One day, someone realized they were tired of putting things in hard, impractical, wooden crates.
And voila, the cardboard box was invented.
Or something like that.
These have become a big part of our lives, for many occasions. There's nothing easier than just throwing some stuff in a box, right?
Your Sims are deserving of the same luxury. And thankfully, our beloved custom content creators have come up with several ways to incorporate boxes into your Sim's lives, both functionally and decoratively.
Moving Out Collection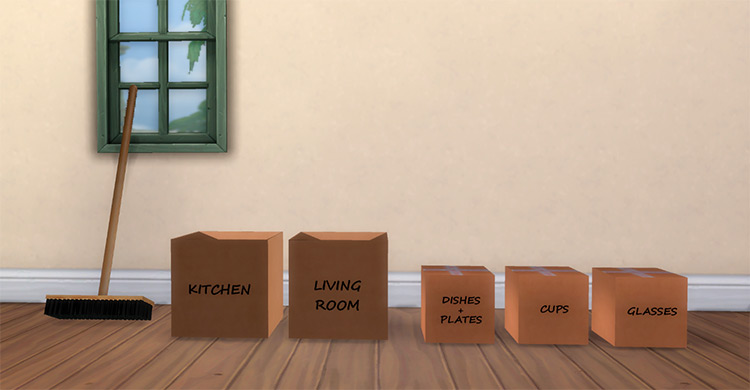 Anyone who has ever had to move or store something long term will recognize this sight.
Cardboard boxes with writing indicating what's inside are as old as, well… cardboard boxes themselves, I would guess!
The writing on these is a lot neater than you normally see, though.
It implies these Sims took the time to neatly write out the category, rather than hurriedly scribbling it on there with a Sharpie so no one can even tell what it says later.
There are two different sizes here: one large with the flaps pushed in, and one small that's already taped up.
Packages CC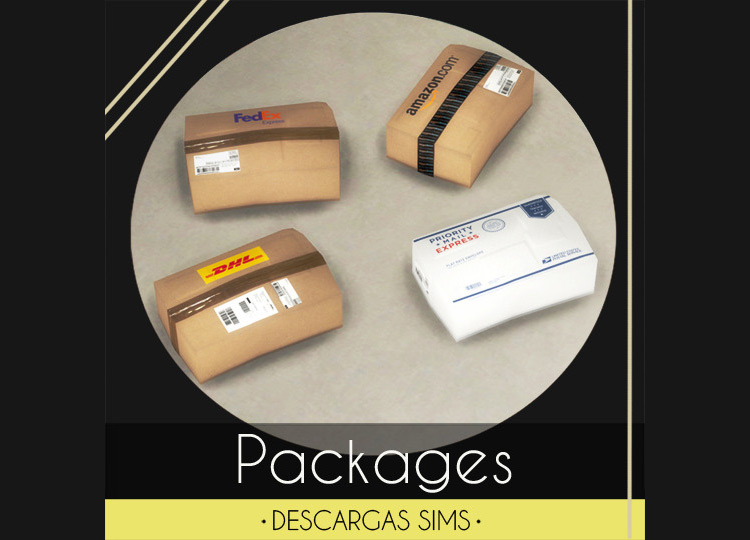 There are few things in this world that universally spark joy.
But getting a package in the mail is definitely one of them.
Everyone loves to check their porch or mailbox and find a lovely cardboard bundle of joy. Maybe it's something you have wanted for a long time, or even a gift from someone else.
Sims don't get to actually order things.
They can buy something off their phone and it'll automatically appear in their inventory. That arguably takes away most of the fun of online shopping, which is rooted in the anticipation.
And these packages may not fix that. But they will at least add a nice touch of realism to your game.
The designs feature companies you already know and love, like Amazon, as well as just general post office-type boxes.
Moving Day Set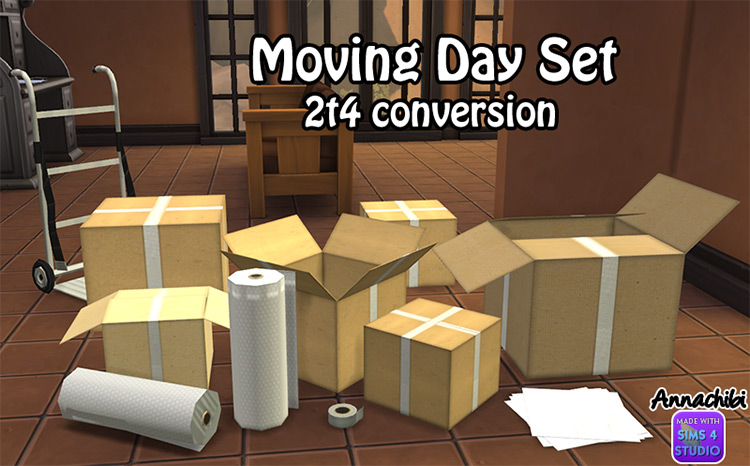 Moving is always a pretty big deal.
And real life is not as simple as The Sims – it seldom is.
You don't just get to toss everything in the ambiguous 'family inventory', pick a new house and wait.
We all know the actual process is much more complicated and involves a lot of boxes.
This CC set will portray that very well, if you want your Sim's moving process to be more than a loading screen.
There are a good variety of boxes available here, in three different sizes and with both open and closed options.
Shoe Box Clutter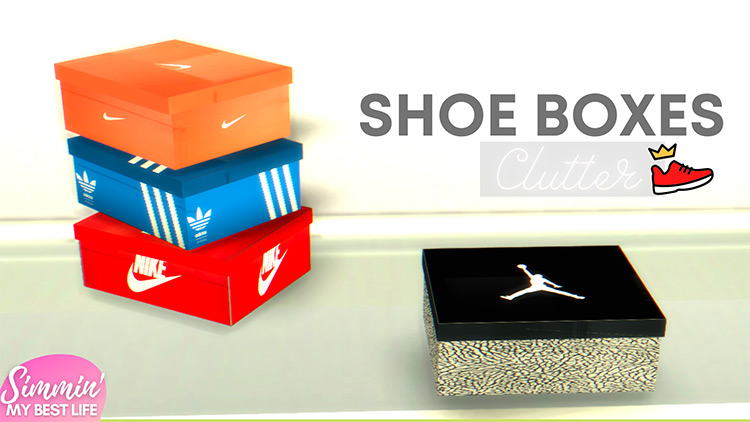 A shoe box usually indicates you got a cool new pair of kicks.
Maybe it was recently, or maybe it was years ago and you just like to keep them.
They do make for good little storage containers too. A cheap and semi-safe way to store papers, small collections, and of course shoes.
We all know if Sims love anything, it's collecting.
Now you can depict that hoarding spirit all through your Sim's house now. There are twelve swatches here, with famous brands like Nike and Louis Vuitton, as well as some less specific boxes.
PS5 + XBOX X Boxes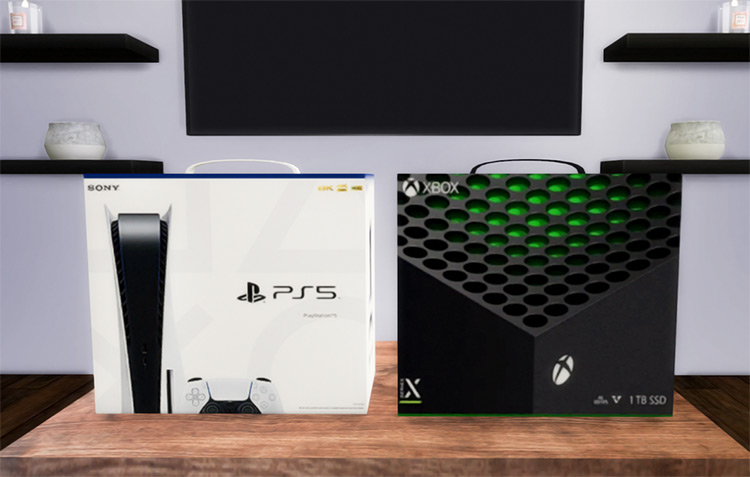 I think there's only one thing that tops a package in the mail.
And that's the box containing your new game system.
There are millions and millions of people who would love to see one of these in their home – assuming the console is actually in it, of course.
In this CC, it isn't here.
These are strictly decorative, since our Sims have been deprived of the console gaming experience in this iteration.
But they do look pretty cool.
Either one of these (or heck, even both) will look great sitting around the holiday tree during your next Winterfest.
Not So Secure Storage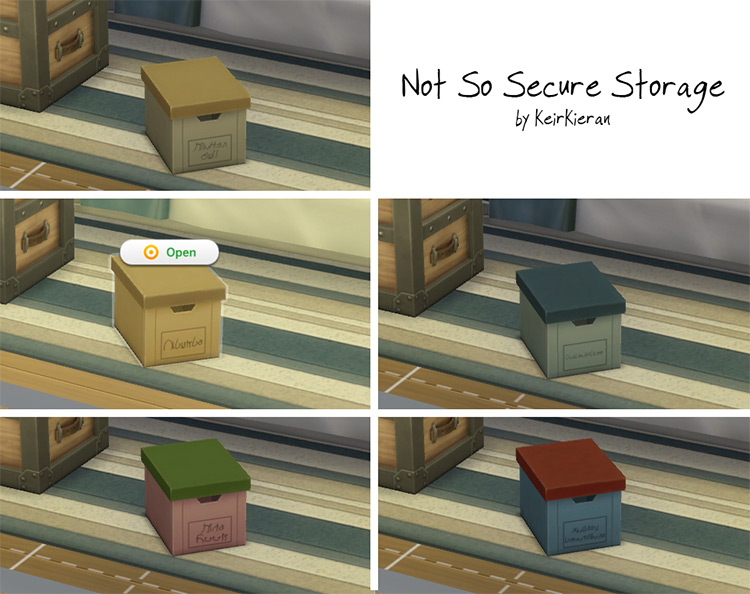 The trusty old file box will always be there for you.
Whether it's important papers you need to store or just some crap you found while cleaning your room, a sturdy box with a lid will get the job done.
I actually prefer these to the 'regular' cardboard boxes.
Despite the name here, the top is more secure, and you can store more things on it.
The best part is, this one is actually functional!
You can toss whatever you want in here.
This is a great alternative to the family or personal inventory if you don't like your Sims holding tons of random stuff at any given time.
Aged Wooden Coffin Storage Box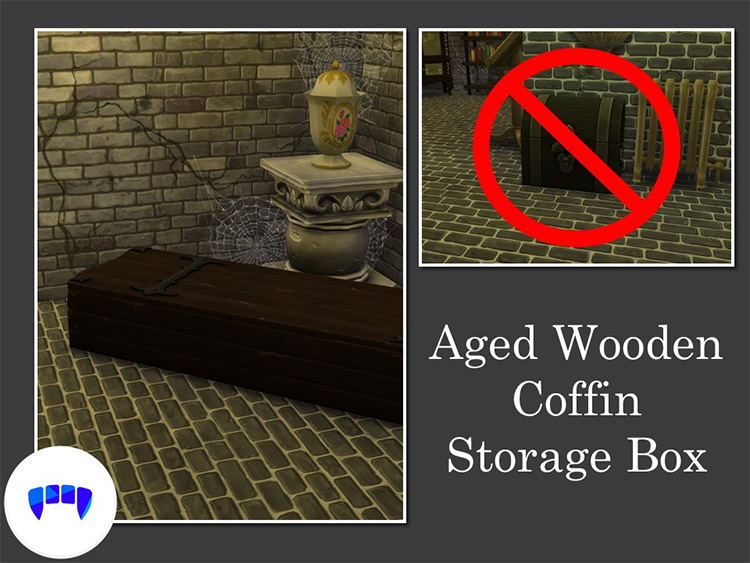 I bet when you clicked on this article, you never expected to be presented with a coffin storage box.
And well, I didn't expect to find one!
Although if you think about it, they are technically storage boxes anyway.
But um…this isn't for that.
Simmers know no bounds when it comes to the imaginative, or the macabre. Some of the best creations have come from the two being merged, clearly.
And now you can again store whatever you want inside your Sim's very own coffin!
Storage Box CC (30 New Swatches)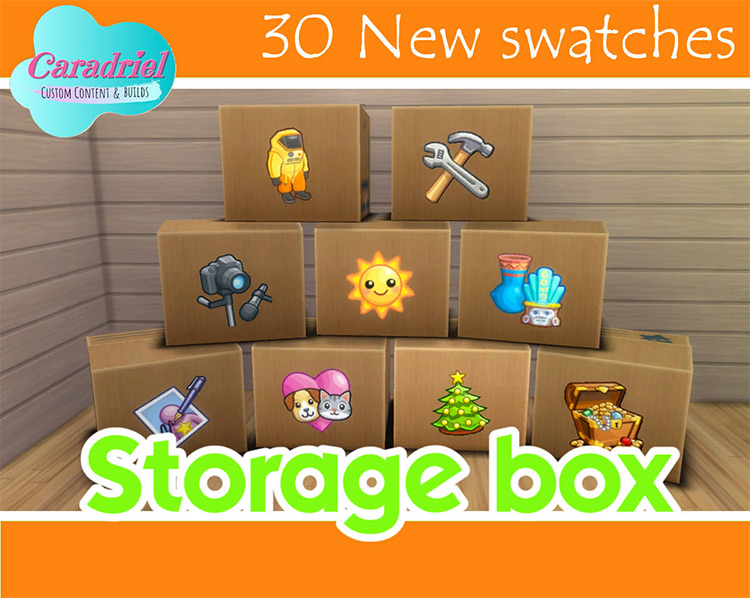 After what's above, we can all use some cute stickers.
This is a much more dignified way to label boxes than marker scrawls, I must admit.
There are 30 ways to do so here, with big and bright decals.
They can be strictly decorative if you want them to, but they can also serve as functional items as well.
Use the one with the Christmas tree on it for holiday decorations, the one with the pets sticker for pet stuff… you get the idea.
Browse:
Lists
The Sims 4
Video Games