Cutest Braided Hair CC For The Sims 4 (All Free)
This post may contain affiliate links. If you buy something we may get a small commission at no extra cost to you. (Learn more).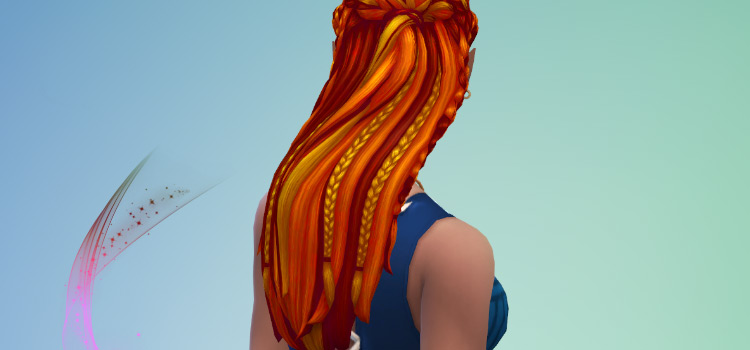 Let's talk about hair for a minute.
One of the biggest things that can make or break your look is your hairstyle. Sure, maybe you don't want something that's going to be too extravagant or fancy… but you're still looking for a little extra something for that Sim you care so much about.
Here's where braids come in! Braids are coming back, and they're better than ever. Any length, color, style… braids are simple yet cute, and help bring your Sim's favorite look to life.
If you find yourself at a creative stand-still when you're in CAS, stuck trying to figure out what your Sim is missing, these braided hairdo CCs might be just what you need.
Let's take a journey and look at some of the best braided hairstyles for your Sim that will have them bringing their hair game to the next level.
15.

Maargareth – Parallel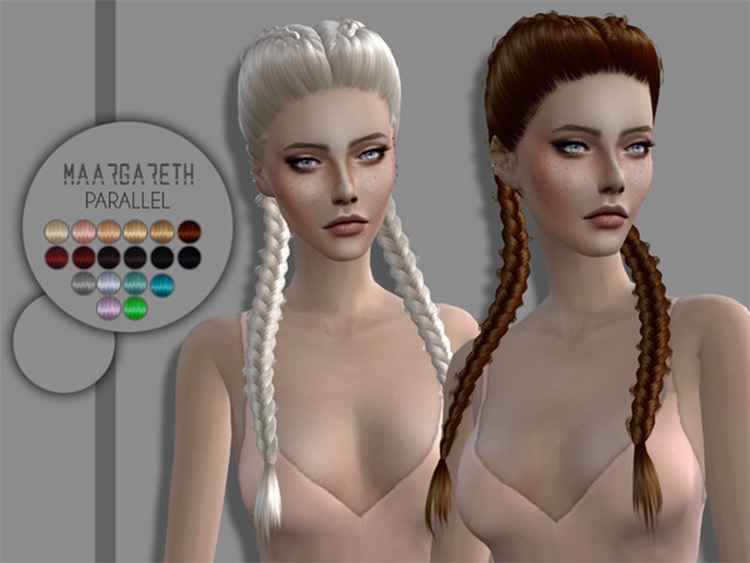 Braided hairstyles are one of the most versatile out there.
They're effortless, they're fun, and they can be used with just about any outfit that you can think of.
These braids are an interesting textured spin on traditional French braids, featuring a nice length and a variety of colors.
Not to mention, these come in two different styles: one with the braids reaching closer to the front of the hairline for a more dramatic look, and the other for a more relaxed, chilled-out vibe.
14.

LeahLillith Nightrunner Hair
This braided CC is too unique to leave out of the list.
What really stood out to me was how the braids started off as a pigtail-inspired look at the top, and came together at the bottom to create a beautiful braided ponytail.
And this style isn't too long, or too short, making it perfect for not only a cute daytime outfit, but really great for a night out too.
Maybe even wear this up to the gym for a workout.
13.

Reyah Hair
The Reyah Hair is one of my favorite styles out there.
What I love the most about this look is how simple it is.
Personally, I tend to lean towards hairstyles that are a bit longer. And if you're anything like me, this CC satisfies that need to have long luscious hair, even with a braided look.
Some of my favorite features here? Well how about dozens of colors?
I mean come on, 36 total! No matter your Sim's mood, you'll always be able to find what you're looking for.
The Reyah Hair is also compatible with hats, so go ahead and put on that super cute beanie you have in your collection – these braids were meant for it!
12.

Braids With Bangs (Kids)
If we left out kids hairstyles from this list, it would be pretty unfair.
Well we can't leave the little ones out from looking cute, and braids are a must have.
These braids are the perfect example of a simple hairstyle that was made for your toddler Sims to wear. Maybe when they go to the backyard to play on that pirate ship you just bought for them.
The bangs give an extra touch of youth and playfulness, perfectly paired with any outfit you can think of!
11.

Zelda Hair 2
Tell me if this is you: not only have you been a lifelong fan of The Sims, but of Zelda series, too.
Breath of the Wild has been one of those games that's been in my rotation for quite some time. And if you fell in love with it the same way that I have, this hairstyle is a solid fit for your Sim.
Bring your two loves together!
It's also important to mention that if you're looking for a nice Zelda hairstyle, yet maybe this one isn't quite what you had in mind, this Custom Content creator has many more to browse through!
You can find all of her amazing styles here.
10.

Nadia Bun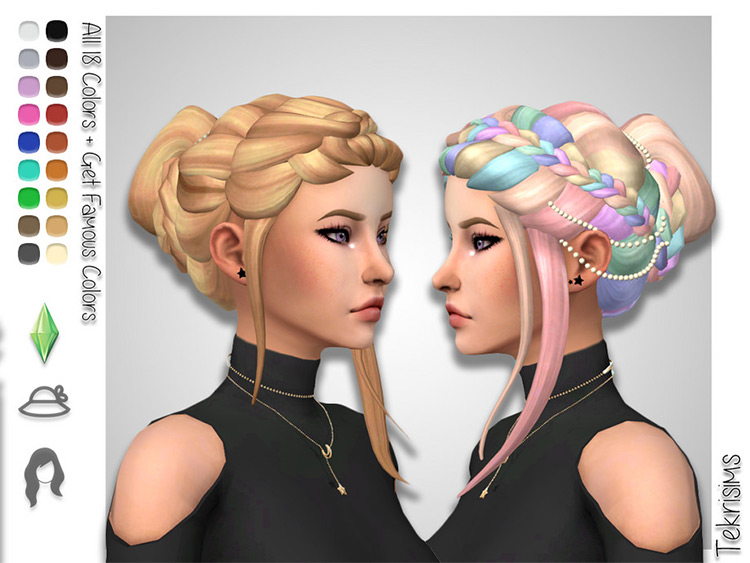 Earlier I mentioned about the versatility of braids – and I meant it!
Braids worn down can help tie looks together for sportswear, streetwear, and other similar casual looks.
On the other hand, a braided updo creates the complete opposite. These hairstyles are perfect for a date night, or a formal event, and can even be fancy enough for your Sim to wear on their wedding day.
The Nadia Bun hair CC is a sleek example of that.
And with a bunch of exciting colors to choose from, your Sim can have just the classy hairstyle she needs for any big day(or night).
9.

Hair Retexture by Dachs
This custom content hairstyle by Dachs is a good middle ground from the fancy feeling of the last 'do, but still isn't as casual as some of the braids on this list already.
These loose, carefree braids are still cute enough to be worn on Sim's date night. Or to the bar for some karaoke.
All without making them look too overdressed for the occasion.
8.

Nelli Hair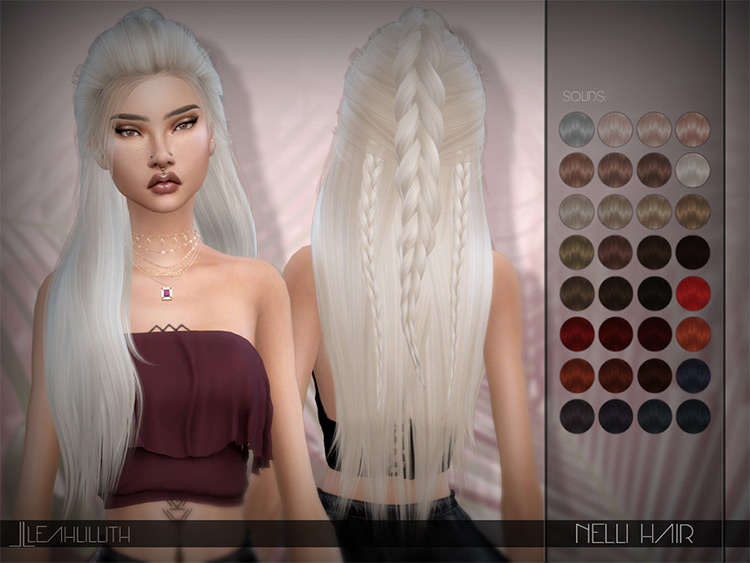 From the same creator that brought us the Nightrunner Hair, we have this edgy, intricate Nelli Hair CC!
Not only are braids great by themselves, but sometimes they can make for a nice accent to an otherwise basic hairstyle.
Any ordinary, down look can now be transformed with not only the braid in the middle, but the two braids on either side, making this piece one of my all-time favorites.
7.

Lala Hair
Another adorable hairstyle for the younger ones, but not just toddlers!
The Lala Hair is a unique spin on braids for children, fading out into regular pigtails from the french braids, making sure your younger Sims are ready to board the bus bright and early.
This style also pays close attention to detail, adding in wispy baby hairs/edges in the front for even more cuteness.
6.

Anto's Apple Hair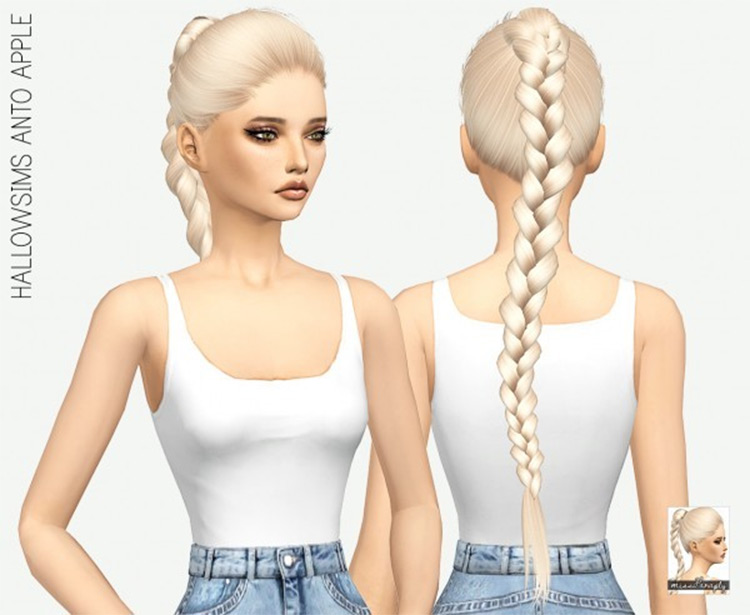 So far there's been a lot of options for double braids. But it doesn't always have to be that extra when it comes to choosing a braided hairstyle for your Sim.
Sometimes, one single braid running down is all they need to keep things looking relaxed.
With Anto's Apple Hair, your Sim can achieve exactly that ;ppl/
With this beautiful ponytail-inspired braid CC, your Sim can spend their days staying in shape or getting things done. All while keeping their hair out of the picture.
5.

Iconic Jessica Hair
Another option for all the single-braid lovers out there!
One thing that I personally like about this CC is that it gave me some major Disney vibes.
Elsa anyone?
Let it go into your CC folder, and be sure to add this into your Sim's regular hairstyle rotation.
4.

Anto Slowly (Hair)
Now here's another braided hairstyle that would look amazing for all of your Sim's formal attire needs.
It's similar to the braided bun we had before, so when I saw this particular hairstyle, all I could think of was a wedding.
Whether it be for the bride herself, or maybe even for a close friend of the bride coming to support her as she ties the knot in her backyard under the arch (this is The Sims, after all!)
This braided & pinned-up hairstyle is sure to pair well with one of those beautiful gowns you have in your collection. You know, the dresses that you've been waiting oh-so patiently for the right occasion to wear!
3.

Anna Braid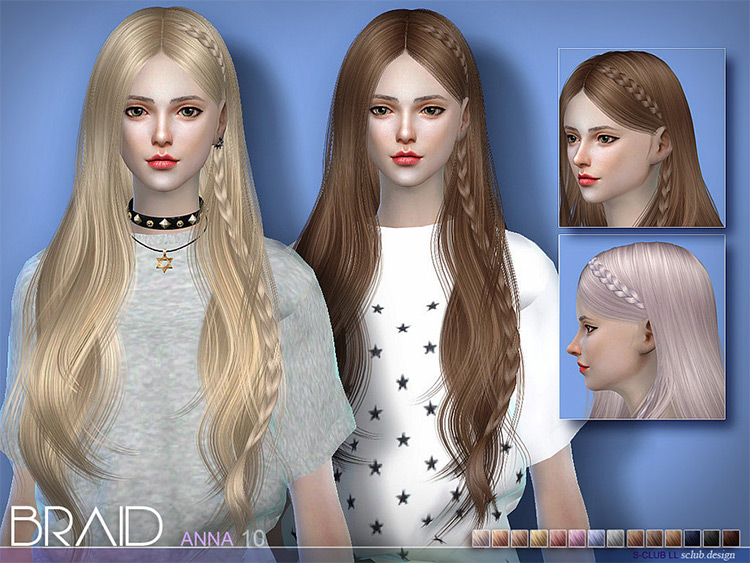 Sometimes, less is more.
That's definitely true for this style: a simple braid in the front makes for a nice, dainty detail. Which sets this apart from all of the other styles we've talked about.
Serving up girl next door vibes, this makes a very cool hairstyle for some of the younger teen and young adult Sims.
Great to get the perfect look while they're out trying to achieve all of their wildest aspirations!
2.

Magic Braids
Magical. Whimsical. Mystical!
If any of these words speak to you, well then try out this hairstyle.
This is perfect for any of you simmers who are out there trying to live your Sims life like a magical fairy in the middle of the woods.
It features some of the most fun color combinations I've ever seen, and an intricate braid design to match.
Awesome hairdo to wear while your Sim is busy out there casting spells.
1.

Jasmine Agrabah Braid
Ladies and gentlemen, we have our winner!
This braid is iconic. It's been loved by many for years.
And now you can throw it into The Sims 4 to bring the magic with you wherever you go.
Princess Jasmine was (and still is) my favorite Disney princess of all time.
An independent princess with a tiger as a pet? Say no more!
If you have a soft spot for this character, you'll have a thousand times more fun playing with Jasmine's hair for a whole new world of possibilities. Try it out!
Browse:
Lists
The Sims 4
Video Games