Best Sims 4 Bridal Shower CC & Mods (All Free)
This post may contain affiliate links. If you buy something we may get a small commission at no extra cost to you. (Learn more).
Getting married and the sacred time as a bride is an amazing, once in a lifetime experience for millions. Hopefully.
For a while, the bride to be is supposed to feel like royalty. After all, this is her big day! Committing to love for the rest of your life is certainly deserving of some fanfare, and I suppose that's why all things "wedding" or "pre-wedding" have become such cherished traditions.
There are engagement parties, bachelor and bachelorette parties, and bridal showers.
All celebrations focus on rejoicing, gift giving, and of course some food.
A bridal shower is about all of those things coming together, as friends and family support the bride to be.
Such a special time deserves to be played out for your Sims. And after this list, you'll have everything you need to do just that.
Small Present in Three Heights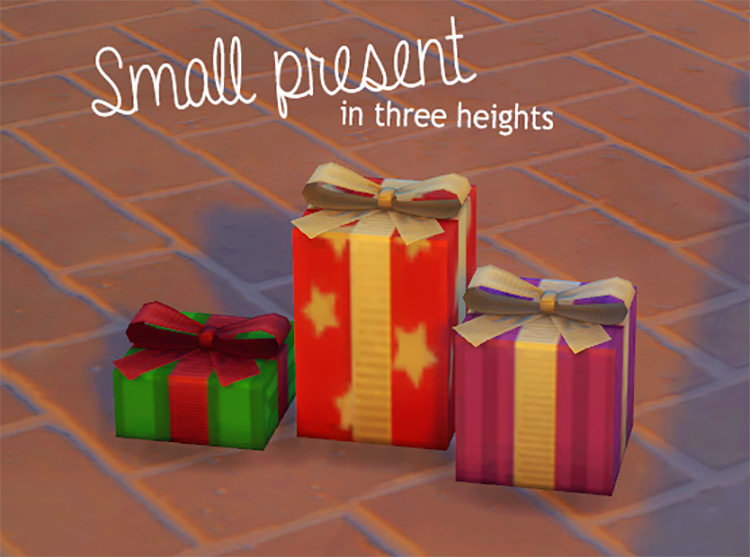 If your Sim is having a bridal shower, it's absolutely integral that there are gifts.
The gift-giving system in this game isn't that stellar to begin with (unless it's Christmas). So personally I'm glad to just have some decorative boxes.
You know, the illusion of a gift exchange without the future bride receiving a garbage can or something.
There are no hard feelings if no one actually opens anything.
And these three presents, ranging from three different heights and sizes, will look great.
Buffet Table with Five Food Choices
Like any gathering, there's got to be food at a shower.
It doesn't really matter if it's a taco bar or elaborate appetizers, there just needs to be something for hungry guests to stuff their face with.
Well, some might be bothered by the spread, like perhaps Snob Sims.
But nobody should really complain about free food, anyway.
This round table with a covering has just the right look for a bridal shower.
You can choose from three different sets of food items, including breakfast, gourmet, and spooky. I think only one of those would really be appropriate, but hey, you do you.
Party Decor Recolors
All of the gifts and food in the world, great as they may be, don't make a great party by themselves.
There needs to be nice decor as well, to set the mood and separate a bridal shower from any other day.
Normally, you'll only see these items in The Sims 4.
But with just a touch of cheating, you can have everything you want at your fingertips.
These banners and balloons are too pretty not to cheat to get them, especially now that this Simmer has recolored them. There are options for purple and green, purple and blue, and red and green, any of which will work nicely for a bridal shower.
My Girls Posepack
It's always nice to have some pictures from any happy occasion to look back on.
This pose set, made for 11 Sims, is probably just the right size to get everyone from your Sim's bridal shower into one picture.
The party probably won't have many more guests than that, anyway.
I mean, 11 Sims?! That's basically the population of Willow Creek.
So make sure everyone is looking their best – not a time for townies in their awful outfits to show up. Then you can capture a memory of your Sim with all of her favorite gals.
You can also check out some of our favorite friend pose sets too, which could also fit nicely into your bridal shower.
Custom Centerpieces

Any party is bound to have tables, whether they're meant for seating, food, or gifts.
So why not spruce them up with some centerpieces?
Most of the pots available in this CC set are white, which is perfect for the whole "bridal" theme.
The flowers within are beautiful, and there are plenty to choose from.
Whether you want to mix and match or just find one you really love and use it over and over, there are more than enough swatches to go around.
Collab with Friends Posepack
Although the poses above have enough space for everyone attending the bridal shower, it's nice to snap some pics with your Sim and those really closest to her.
You know, the squad. Ride or dies.
Probably her best friend and/or sister.
This pack includes some sweet, casual poses for anywhere from 2 to 4 Sims.
Many include peace signs, which really makes them seem candid.
Using any – or all – of these six poses will give you and your Sims some awesome photos to keep forever. Or until you grow tired of that Sim, at least.
Anyway, using poses really makes every big event in your Sim's life feel a little more special.
Carla Dress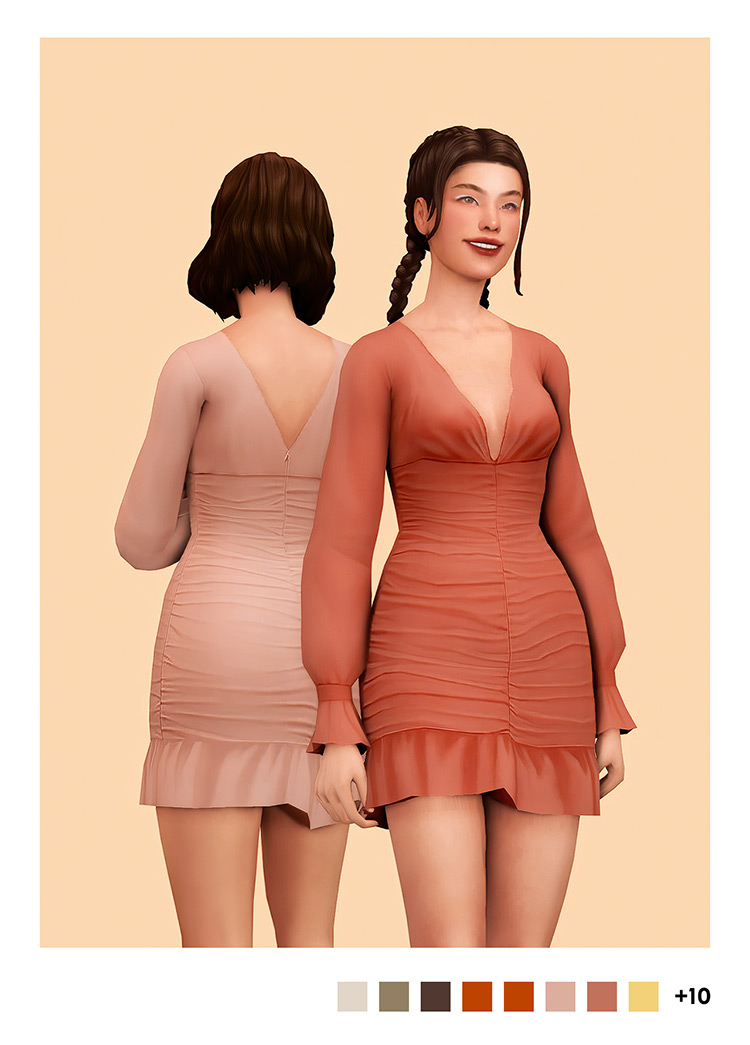 The bride to be will almost certainly not want to show up to her shower in just any old dress that she's worn a million times before.
It's nice to be a shining star at events sometimes… especially if they're all about you!
Adding this dress to your game will give you a fantastic option for casual yet stylish and classy bridal shower attire.
The deep v-neck will allow for plenty of accessorizing as well.
There are 18 swatches with a range of warm fall tones as well as white, in case you really want to make sure no one forgets who the bride is.
Dgandy's Dress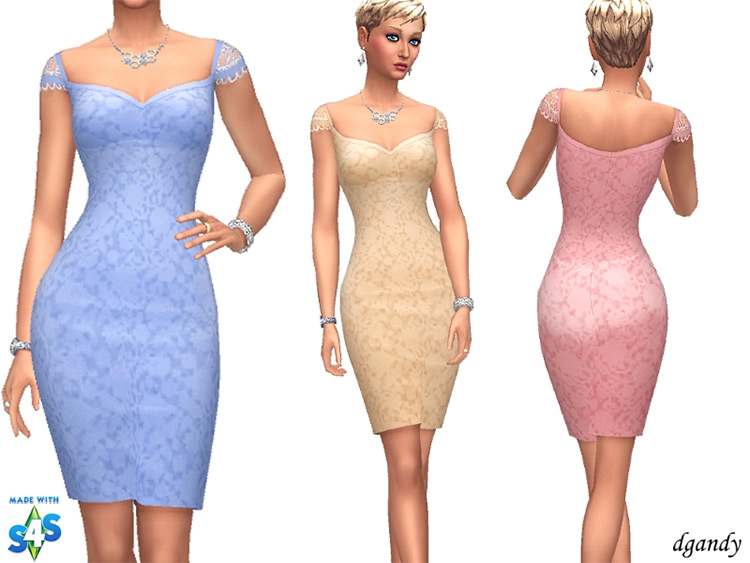 Here's another great choice for those betrothed Sims as well as potential guests.
It has a wonderful lacy design which inherently makes it a little more formal.
From what I've seen, the dress code for bridal showers is pretty broad, meaning there usually isn't one.
Unless it is officially declared by the hosts, you just have to go with your gut and decide whether casual, formal, or somewhere inbetween will be the most appropriate.
As almost anyone will tell you, it's always better to be a little overdressed than completely underdressed. And that's the perfect medium this custom dress offers.
Party Decor TS3 to TS4 Conversion
Say what you will about The Sims 3, it sure had some great decor.
Sure, the game might have some lagging and crashing issues. But those Sims knew how to party!
From banners to balloons, some of the best stuff that TS3 had for making an event look just right are now available to us in The Sims 4.
There are even some banners specifically with wedding bands pictured!
But if that's a little too on the nose for a bridal shower, the others will still be great choices.
Flowers and balloons (both on the banner and off) definitely still have bridal shower vibes.
Resized Gift Stack
Well, we started off this list talking about presents.
I guess it's only right that we end it the same way.
As with most CC presents you'll find for The Sims 4, these are technically for Christmas.
But the great thing about swatches is that you can get rid of any Christmassy feeling pretty quickly by choosing the right colors.
Red and green might make it feel like a holiday party. But the different shades of blue, pink, beige, white, and more will look just fine at a bridal shower.
Especially now that they've been downsized by this creator, Martine.
The EA version is pretty massive, and would give the impression that someone bought the bride something the size of a stove. But now these custom presents are much more fitting.
Browse:
Lists
The Sims 4
Video Games