Best Sims 4 British CC And Mods: Clothes, Décor & More
This post may contain affiliate links. If you buy something we may get a small commission at no extra cost to you. (Learn more).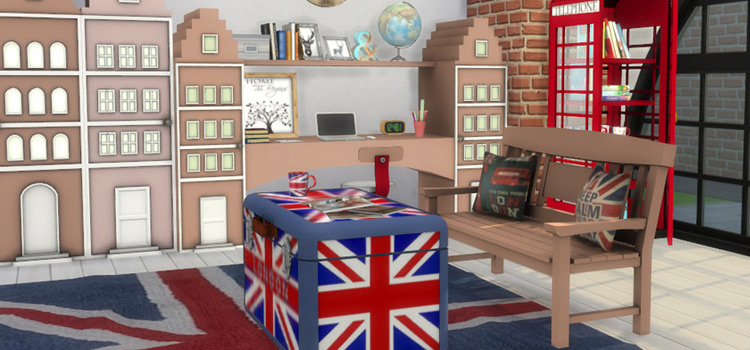 Ah, Britain.
Where bagels run rampant, rain is constant, and the air smells like football.
There isn't a clear indication that Britain exists in the world of The Sims. But it would be really cool if there was a way to introduce British stuff into the game, right?
Well I think that something must be done about it. And actually, something has been done: custom content!
Here's my picks of the best CC & mods to appease anyone's need for British stuff in their next TS4 game.
Be warned, though – immersion might become an issue if you don't like seeing "actual" letters in the game. None of these mods are adapted to Simlish!
15.

Union Jack Denim
Nothing screams more "I love Britain" than wearing an actual Union Jack as part of your outfit.
I mean, it's either that, or the fact that you miss the days of old when the British Empire ran half the world with an iron fist.
Regardless of why your Sim loves this symbol, you'll now be able to do it in denim. And what's better than that, really?
This set of clothes is designed to be worn exclusively by women, too. Don't worry, though – I've also included some male British clothes CC further on this list.
14.

Bullet for my Valentine Shirt
I'm more of a pop-punk dude myself. But I have to admit that having my Sims wear a Bullet for my Valentine shirt was nothing short of cool.
The shirt model is not as highly detailed as others that I've come across. But there's a severe lack of British music outfits out there!
And a Bullet shirt is always welcome, at least in my book.
The version I'm linking here is the female version of the shirt. But worry not, fellow mal Sims: there's a variant for us as well.
13.

Union Jack Living Room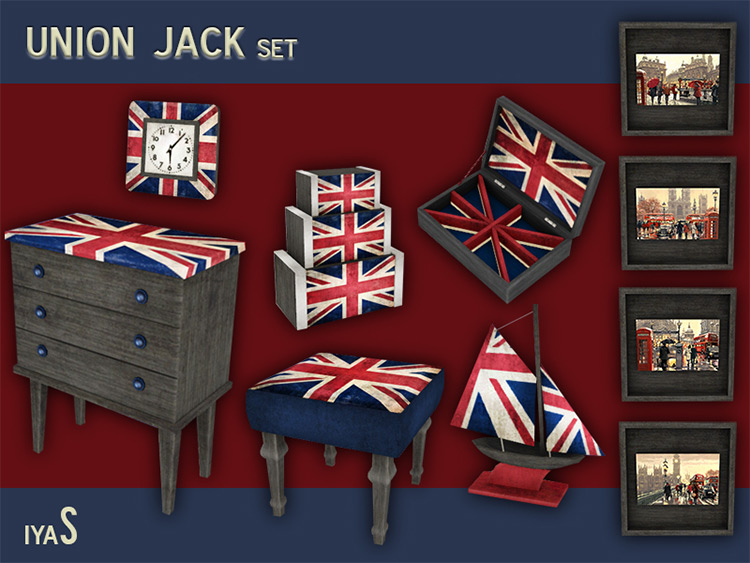 This mod will make your living room so British that it might suddenly sing "God Save the Queen".
Red, white, and blue will be all over your house if you download this mod and make the best use of this furniture.
And no, not the USA colors!
From small British sailboats to actual chairs with the Jack on it, this CC set comes packed with everything you need to decorate your house like someone who's never lived in Britain, but wants to make sure people know that they love it.
Cause let's face it – Sims who go overboard are very rarely British.
12.

Union Jack Male Sweater
In contrast to the denim set that I mentioned at the beginning of this list, the Union Jack Male sweater is the one type of male outfit that every Brit (or British wannabe) would want to wear.
Jokes aside, the textures here are fantastic and make me want to get one in real life.
I wonder if there are any British shops near me…
But I digress. This male Union Jack sweater is a fantastic item to download if you just want to add new clothes to your game, or to make your Sims wear something a little different.
11.

Austin Bedroom with British Theme
Technically, this isn't a British mod. However, given that it includes items in 10 different themes, I feel like it's fair to add it here.
I mean, one of the themes combines the "road life" of the US and Britain together.
The British-themed bedroom set comes with an inscription in English, though. So you might want to avoid putting that one in your game if you don't like the non-Simlish stuff.
But if you don't mind such a small detail, then for sure try this mod. Even after you get tired of the British changes, this mod's variety allows you to enjoy a plethora of different room styles.
10.

British Tudor Home
There are many British homes & lots out there for TS4. They're all just waiting for you to download them and help you imagine that you're living in England.
I'm adding this one to the list because it looks amazing and uses no CC of its own. Which means that you can simply download the house and place it without having to grab any other downloads.
The house itself is beautiful and rather big.
It comes with a handful of rooms and even a children's room. You can either move into the home and turn it into a giant bachelor pad, or start that family your Sim has always wanted.
9.

London Mug
Ah yes, a small mug with a British theme on it.
You'll be able to reminisce about those days when you were still in beautiful rainy England, all with a quick glance at your morning coffee.
This London Mug is your perfect British CC companion for whenever you feel like drinking some coffee, or bringing out that British tea for a special occasion.
It might not be a tea mug. But you're not in Britain anyway, so live a little!
8.

Royal Lifeguard Set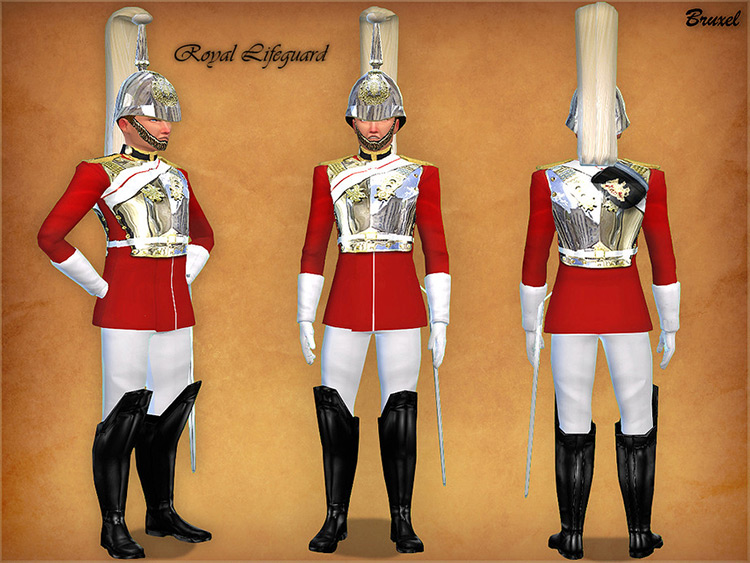 Have you ever wanted to feel like a true guard of the Crown? As if you were ready to defend Britain from a Napoleonic invasion?
If you want your Sim to look just like that, then this is the mod for you.
The Royal Lifeguard set comes fully textured as the type of outfit that was worn by Dragoons back in the days of colonization.
It doesn't fit the game at all, so maybe you could wear it during Halloween. Or just be honest and say who cares about matching the game's textures?
7.

British General Set
You might not be mentally prepared to embark on a mission to liberate the world. Or to conquer somewhere in the name of the crown of Britain.
But this British General Set will truly make you look like you're ready.
I'm amazed by the level of detail put into this CC set. And I love the way it looks, even though it does seem more like a festive outfit than something your Sim would wear on a day to day basis…
I mean, you can always download a mod to be part of the Royal Army right?
6.

Victoria Memorial
The Victoria Memorial might be located in Kolkata… but it was made in honor of Queen Victoria, so it gets a spot on my list.
Besides, it's still technically a British monument!
Although I have to be honest with you – the creator of this mod seems to have put a lot of effort into it, but the building looks a tad unpolished. Might stand out against other similar buildings.
I still say it's worth a try!
5.

British Clock
Why look at your regular clock each day, when you can look at your British Clock instead?
This mod adds a small clock object can be hung on any wall, which comes with a British pattern stamped onto it.
It was originally intended to be part of a children's set (you can see in the name) but it does seem to fit quite well in any part of your home, provided you have an interest in British culture.
Or maybe if your Sim is a big Harry Potter fan and they want a British clock to go with all those magical decorations.
4.

British Rug
This is another one of those mods meant to be part of a child's room, but that suits other parts of your Sim's home as well.
A small British rug with the Union Jack pattern. What's not to love?
3.

Union Jack Paintings
So, this mod doesn't really add Union Jack Paintings.
Instead it adds four different pictures of London, which will make your home look more alive than ever.
Especially if your Sim feels all that's been missing from their rooms is a picture set of a rainy day in England's capital.
2.

British TV Show Posters
British TV shows are awesome (at least the good ones).
And this mod allows your Sim to display their favorite posters in any room of the house. Loud and proud.
So it's up to you where you want your guests to find out that you're a huge fan of The Crown.
1.

London-Themed Children's Room
I'm not sure if there's a way to refer to some kind of British equivalent of a weeaboo… but this gets close.
And this mod will certainly put a British feeling into your Sim kid's room.
It'll either make them grow up wanting to drink tea, or rebelling against the empire that you foisted onto them.
Either way, a cute London CC set!
Browse:
Lists
The Sims 4
Video Games