Sims 4 BTS CC: Hair, Clothes, Merch & More
This post may contain affiliate links. If you buy something we may get a small commission at no extra cost to you. (Learn more).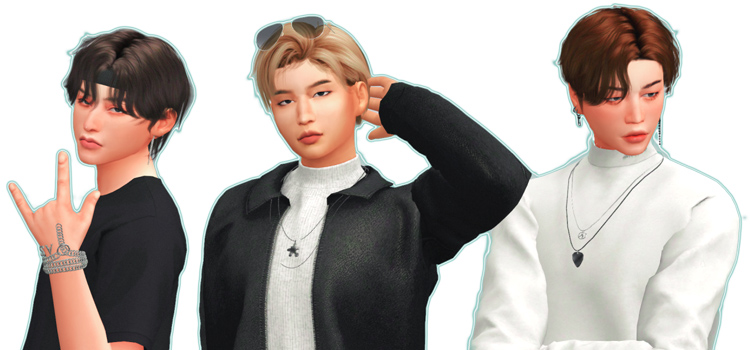 As a K-Pop fan since 2008, believe me when I tell you that no other group has come close to the achievements of BTS.
They've had multiple no. 1 albums in the Billboard Global 200, became the first South Korean artist to reach no. 1 in the US Billboard Hot 100, and got nominated for a Grammy.
There's no doubt that the septet is bonafide history makers who constantly outdo even their own records.
Enter the magic shop with all of this BTS-inspired CC to inspire Sims 4 ARMYs!
1.

BT21 Collection
BTS is currently the most significant influencer in the world.
And with that popularity comes adorable merch.
BT21 was a 2017 project between LINE FRIENDS and BTS, where each member was represented by a character they created.
Unsurprisingly, the project was successful, giving Koya, RJ, Shooky, Mang, Chimmy, Tata, Cooky, and Van (representing ARMYs) a permanent place in official BTS merch.
Get your Sims a bunch of swag from this massive collection! This includes BT21 pajamas, shirts, notebooks, shopping bags, and more.
2.

BTS Fan Pack
If you're considering becoming an ARMY, then kiss your savings goodbye.
The price of being a K-Pop fan is not cheap, especially when there's rare official merch involved.
Photocards would have bidding wars, signed albums are treated like gold, and don't even get me started on concert tickets.
Still, these things make fans happy – what could be more important than that?
Start your Sim's journey as a newbie ARMY with this BTS CC Fan Pack, which includes a light stick, posters, photocards, and other essential merch.
3.

Jungkook's Tattoos
In the chaotic world of K-Pop, image is everything.
While still very advanced in many aspects, South Korea is a conservative country where tattoos are still considered taboo.
That's why K-Pop idols who want to get inked would have to get permission from the company or agency managing them, or keep it a secret and hope no one finds out.
However, it seems BTS' Jungkook didn't get the memo and went on to have a sleeve tattoo anyway.
Hopefully more idols would get to have the body art they've always wanted… but let's stick to our Sims for now.
4.

RM CAS
When I first got into BTS, Kim Namjoon's original stage name "Rap Monster" threw me off.
But that didn't stop me from thinking that he deserved the title when I first listened to "Cypher Pt. 3: Killer."
Besides his industry-standard rap skills, RM is credited to have written and composed 170 songs, taught himself how to speak in English, has an IQ level of 148, and is probably one of the best leaders of any K-Pop group today.
Get yourself a simulated RM with this fantastic handmade CAS build.
5.

Jin CAS
Kim Seokjin, better known as Jin, is the eldest member of BTS.
Oh, and he's also one of two designated "visuals" in the group – a position given to someone who fits Korean beauty standards the most.
Jin's looks can hit you like a truck the first time you see it.
But beyond his beauty is a hardworking idol and a caring brother to other members.
Score that Worldwide Handsome face with this custom CC build from creator simtzen!
6.

Suga CAS
With a stage name like Suga, you'd expect someone who's super sweet. But Min Yoongi is far from it.
Suga is one of BTS' resident composers and producers, who has always been one of the coolest members – with an even colder appearance.
Beneath that cool exterior, though, is a passionate rapper who has produced and composed over 130 songs for BTS and other artists such as Suran, IU, and Epik High.
Not to mention he's been my bias since 2015, and I haven't jumped ship since.
7.

J-Hope CAS
Every k-pop group has that one member who's more extra than others.
In BTS, that's J-Hope, a.k.a Jung Hoseok.
Hobi is that vital ray of sunshine that provides your daily dose of vitamin D.
IMO, he's the funniest member in BTS who embodies his stage name in every performance and interview since his debut.
Your Hobi Sim awaits!
8.

Jimin CAS
"Hey, how much is this? EXCUSE ME!" will forever be a cherished moment in the BTS fandom, all thanks to Jimin.
The Busan-born idol is known for his elegant dancing, smooth voice, and trademark eye smile.
Which is why it's a surprise that fellow member, V, named Jimin as the scariest member in the group.
How someone with a nickname like "Mochi" could be scary is a mystery. But I've seen enough of BTS content to say that Jimin is also the sweetest guy you'll ever meet.
Fall in love with Chimchim all over again by adding him right into your TS4 neighborhood.
9.

V CAS
With so many idols and groups debuting, it's getting more challenging to stand out in the saturated industry of K-Pop.
Good thing for V though – he's one of a kind.
V (or Kim Taehyung) is a natural-born performer who can dazzle fans just by sticking his tongue out and smirking a bit.
More than that, his deep, husky voice is my favorite among all the members (mainly because it doesn't fit his playful looks).
And okay, fine, he's really gorgeous and deserves the top spot in all TC Candler lists.
10.

Jungkook CAS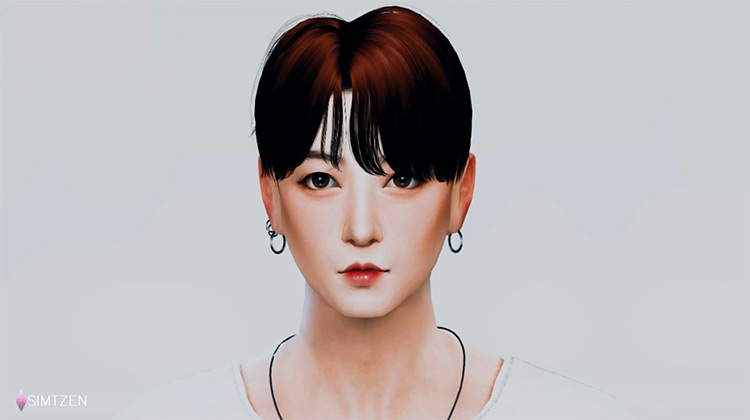 Last but not least for our custom CAS builds is the one and only Jeon Jungkook.
Jungkook was only fifteen when he debuted in BTS. But he didn't let his age stop him from taking on the Main Vocalist position.
Heck, he's even great in dancing, rapping, sports, and painting, earning him the title "Golden Maknae."
He may be the youngest in the world's biggest boy band, but he has proven time and time again that he's an undeniable Ace of K-Pop.
Browse:
Lists
The Sims 4
Video Games