Sims 4 Bunk Bed CC & Mods For All Ages
This post may contain affiliate links. If you buy something we may get a small commission at no extra cost to you. (Learn more).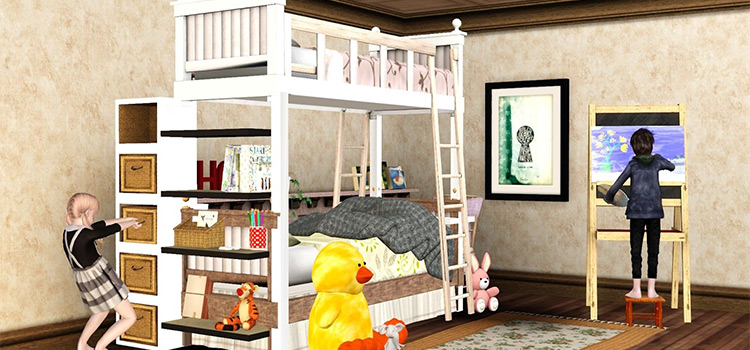 There were 3 things I wish I had when I was a kid: a swimming pool, a toddler-high dollhouse, and a bunk bed.
Unfortunately, I enjoyed none of these when I was growing up. Not when my whole family was battling for every square meter they could get their hands on.
It sucked, but people grow up and are forced to abandon their childhood dreams when it no longer seems practical. But that isn't the case for Sims, or bunk beds.
As more people settle into our little green planet, it's becoming clearer that this generation's ark is in the form of bunk and loft beds.
And although Sims remain unscathed from overpopulation and rising rent prices, there's no harm in investing in space-saving solutions, right?
No worries, custom bunk beds are on the way.
10.

Functional Toddler Bunk Bed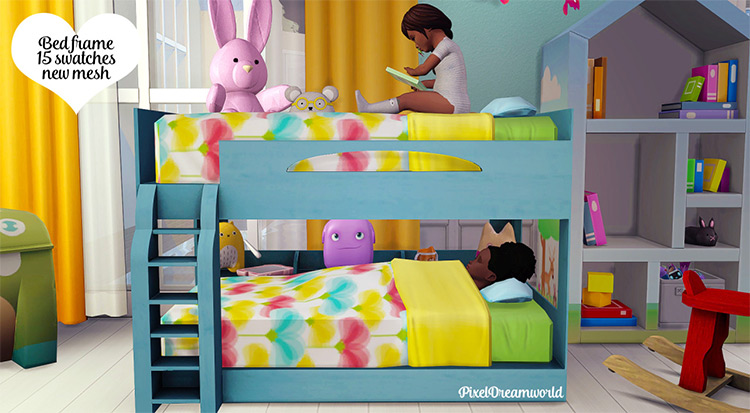 If your Sim's a responsible parent, then it should be obvious that allocating separate rooms for each spoiled brat is wasteful (and a child hazard).
They can yap all day about wanting to have "space" and privacy at 3 years of age, but there's no way kids can be trusted to be left alone to their own devices.
Plus, it would be great for their social development to share a room with their beloved sibling and bond over whom mommy and daddy love the most.
Start teaching your Sims' kids a lesson about companionship and frugality with this Functional Toddler Bunk Bed that comes with the most adorable sheets and mattresses for your little devils.
9.

Toddler Club House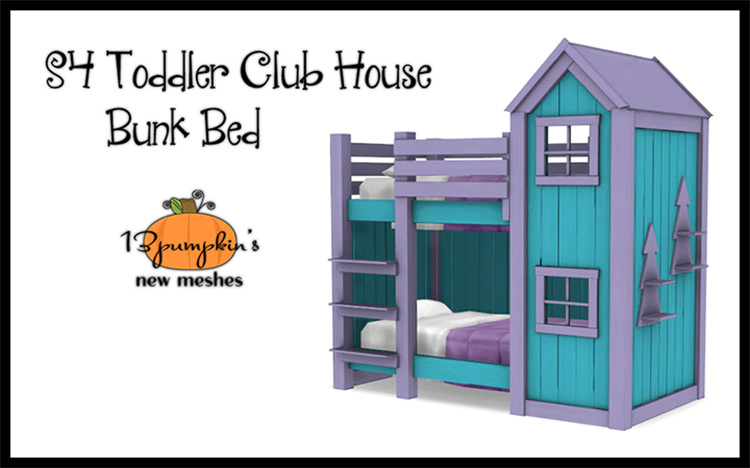 As kids, we often think of sleep as an inconvenience and a major cause of delay for afternoon playtime.
Now, all I could think about is how wonderful it would be if my boss issued mandatory naps on top of lunch breaks.
But children are frustratingly stubborn and notoriously gullible, making it easier to coerce them into loving bedtime with just the right CC at hand.
This Toddler Club House Bunk Bed features a playful design that's meant to lure young boys and girls into their sleepy demise (that's a bit dark, but you get it).
With its colorful and inviting structure, no child shall ever leave unrested.
8.

Alwine Kids' Room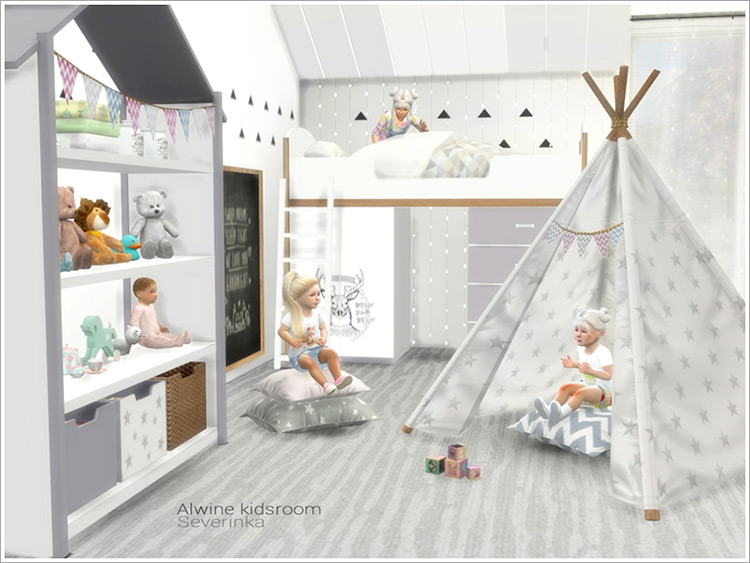 It would be quite hard to believe that children would have a sense of style as early as they could walk.
But Sim children are smarter than most, and can easily adapt to whatever remodeling you have planned this time around.
It's not like they have a choice, do they?
Grow your kids' appreciation for the mainstream Pinterest aesthetic with this Scandinavian-inspired CC from Severinka!
7.

Jimi Bedroom
There are two major reasons why someone would want to have bunk beds: either they're clingy, or they want to experience sleeping 6 feet above the ground.
With the Jimi Bedroom, you can have one or both!
This CC comes with 2 bed frame versions that can accommodate solo sleepers and clingy roomies.
First, you have your ordinary bunk bed framework, followed by a loft bed frame where you can attach an optional bottom bunk.
This is the perfect CC for top bunkers who initially found it impossible to kick out problematic roommates during Friday nights.
6.

That's What She Bed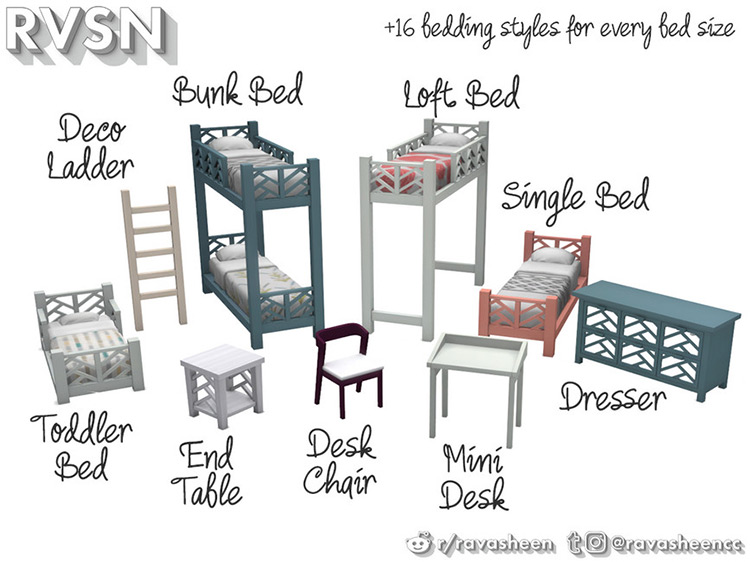 When it comes to bunk beds, Ravasheen's "That's What She Bed" is one of the most downloaded CCs in this category.
It comes as no surprise, considering this CC applies to toddlers, kids, and struggling adults who tolerate tiny homes.
Customize your shared accommodation and pair up loft beds with whoever is unlucky enough to share a bottom bunk with your Sim!
On the other hand, you can ditch a bottom bunk altogether and replace it with a functional desk to make room for busy Sims working at home.
Get more than 16 bedding styles for each bed size and 8 frame colors when you download this CC for your next household cost-cutting.
5.

Loft Bed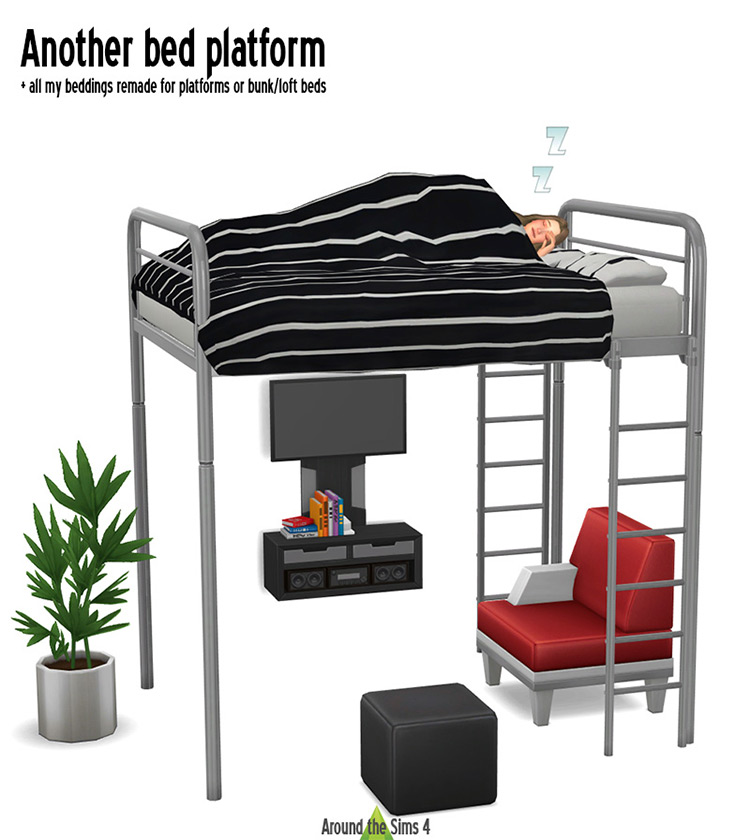 Do you also lie awake at night pondering, "Why is it so damn cramped in here?"
Over the years, it's been indeed hard to own or rent a residence large enough to fit the bare essentials.
But rather than go with the usual bedroom set up, why not maximize the unused vertical space and install a loft bed?
This CC from Around the Sims 4 comes with basic sleeping essentials and a loft bed that looks sturdy enough to bear the weight of sleepless nights.
Free up much-needed square meters below deck and finally have enough space for a desk, additional storage, or even a tiny living room if the furniture fits.
4.

Tropic Like It's Hot Beach House Set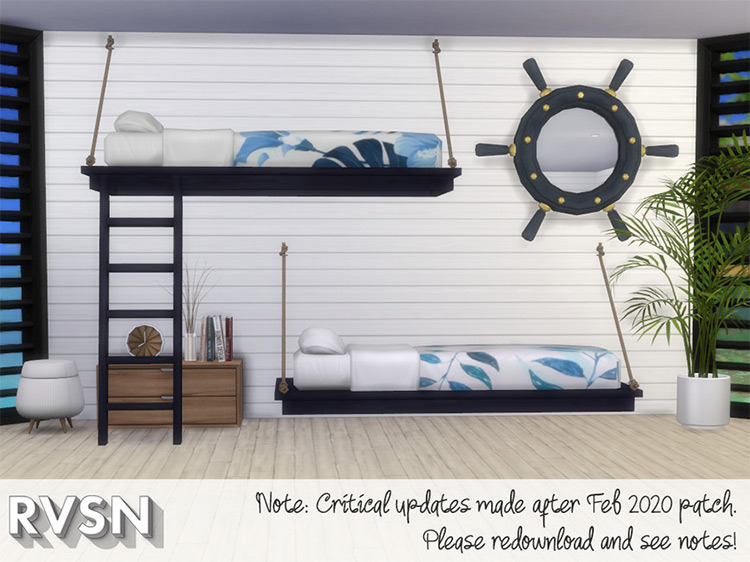 When you're an introverted kid with a bad case of acne, it's hard to be the most popular kid in school.
But what your Sim kid lacks in confidence can be easily remedied by a super cool bedroom.
Have your kids become the King and Queen of Sleepovers with this CC from Ravasheen!
Arrange a sailor-inspired room (or maybe pirate themed) and get all the cool kids on board weekly sleepovers that even bullies would want to go to.
This "Tropic Like It's Hot Beach House Set" includes a Captain's Wheel mirror and decor, functional upper and lower bed frames, and tropical-themed wallpapers to remind kids of endless summer fun.
3.

IKEA Tuffing Loft Bed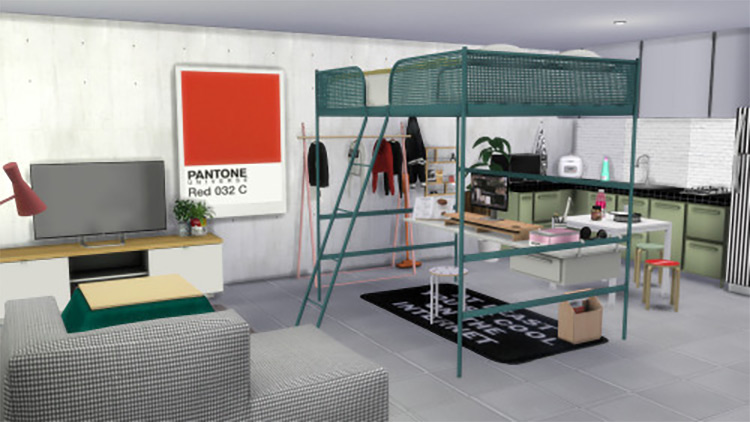 If you've ever tried living in a condo, then you know that every inch is sacred.
In just one space you have the kitchen, living room, and bedroom all merged to form a cramped sanctuary.
There's simply no room for an expansive wardrobe and other useless trinkets that don't contribute to survival, much less a proper work-from-home set up.
But even the smallest of spaces can find a little bit of relief with some creative thinking.
Get your Sims this IKEA Tuffing Loft Bed CC that comes with a built-in desk, and opens up a whole new area for professional needs.
Have more room for clutter and decor and find yourself wanting one for your own.
2.

Vello Bunk Bed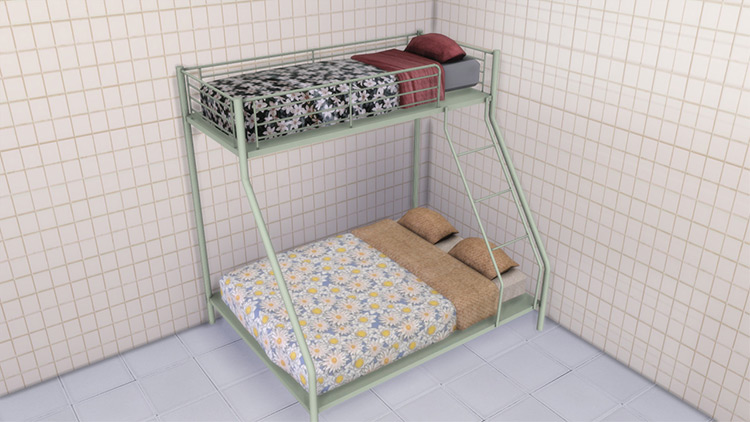 This Vello Bunk Bed CC presents the only time where the lower bunk is better than the upper bunk.
This CC features the usual bunk bed framework, but with the bottom bunk housing a double mattress.
If you think fights over who gets the top bunk can be bad, then wait for things to escalate when it's a grumpy adult fighting for the extra legroom.
1.

Bunk/Loft Bed Sets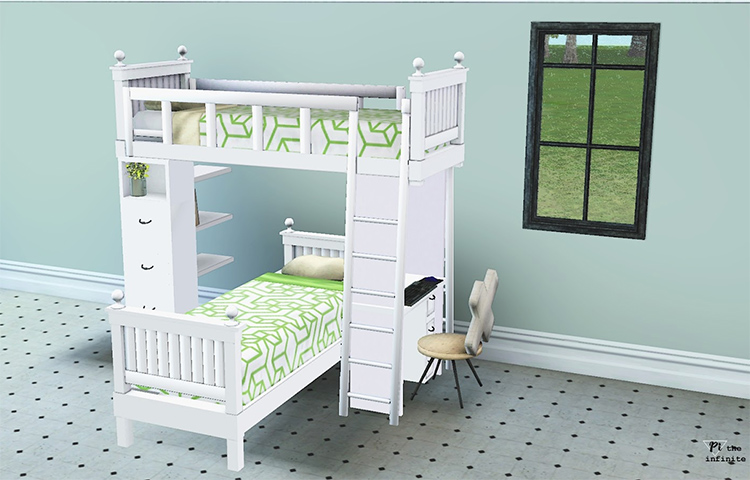 Children can't be choosy beggars. Not when Sim mommy and daddy are working 5 days a week to pay for three meals a day, and this month's Netflix subscription.
But what mommy and daddy didn't know is that they'll only need this handy CC to restyle those little Simmer's attitudes.
Easily configure bunk and loft bed frames to accommodate the growing needs of your Sim's children. Give the kids more incentive to gravitate towards their sleeping areas by installing more storage and workspaces for their arts & crafts, hobbies, and more.
Did I mention it's easy to setup?
Although making the bed each morning will be a little tricky, there's no greater joy than seeing rowdy kids behaving and confined to the spaces they love most.
Browse:
Lists
The Sims 4
Video Games