Sims 4 Burger King CC & Lots (All Free)
This post may contain affiliate links. If you buy something we may get a small commission at no extra cost to you. (Learn more).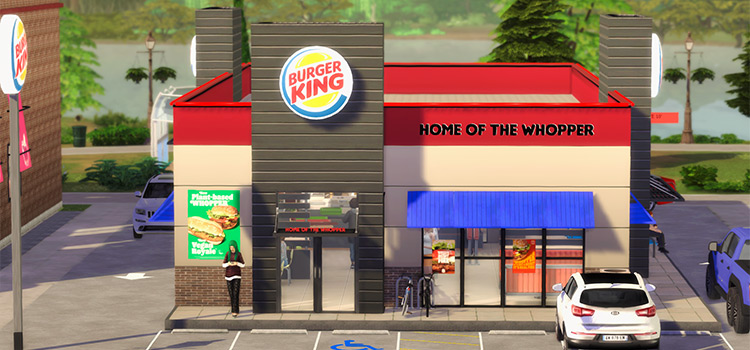 Founded in 1954 in Miami, Florida, the Burger King name has long since risen to the ranks of the fast food Immortals (alongside other iconic brands like McDonald's, Wendy's, and Chick-fil-A).
Given that it's pretty much everywhere you look in the real world, why not bring some of that greasy fast food goodness into The Sims 4 universe?
Well here's some custom BK-themed goodies to get you started!
1.

Simblreen Gifts 2017: Day 3 by yourdorkbrains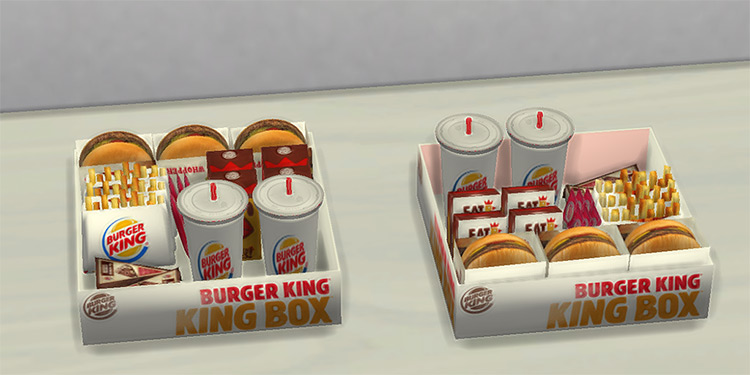 For Day 3 of Simblreen Gifts last 2017, yourdorkbrains put out a tasty-looking set of decorative Burger King food items.
The pack contains BK fries (both the potato and chicken kind), a BK Halloween Whopper, a plain Burger King Meal, the dependable BK to-go box, and many more.
The full list of all 11 items is in the creator's description, and you can always use the preview photo as reference to see what you get.
2.

Burger King Restaurant Lot by JCTekkSims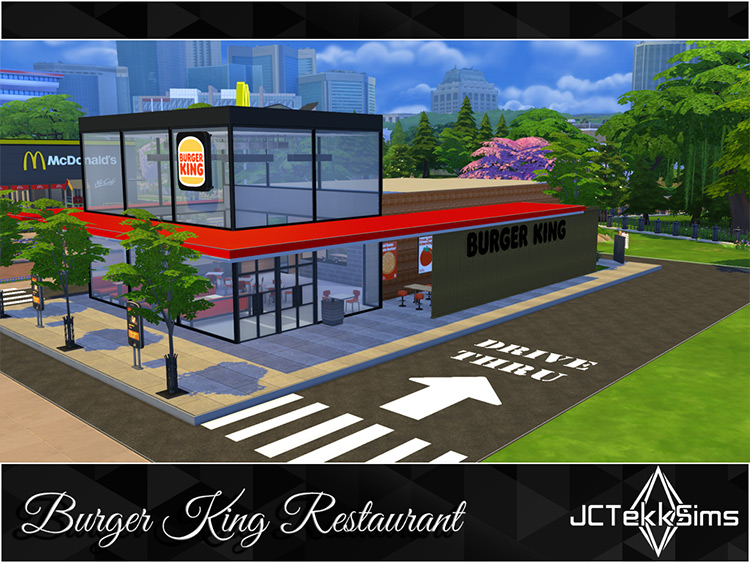 TS4 CC creator JCTekkSims really said "have it your way!"
This 40×30 lot contains a spacious and fully decorated restaurant with all the usual BK fixings; posters, LED menu boards, grills and fryers at the back, drink machines at the side, booth seats… the works.
There's even a drive-thru section complete with signs and speakers!
As of August 2022, this lot has been updated to work with the latest patch. The creator also added a couple new CC items to spruce up the build. Everything you need to download is in the Download tab on the post's page.
3.

Burger King by Bean's Builds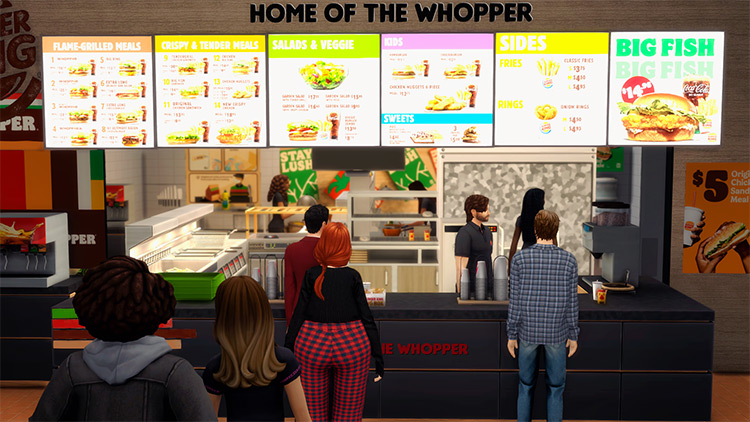 How about a fully-decorated, fully-functional Burger King community lot? Complete with decals, posters, light-up menus, and – wait for it – BK uniforms for the staff.
Yup! Bean's Builds doesn't just build, apparently. The uniforms even have separate versions for Male and Female frames!
The build itself is a lot smaller and cozier than JCTekkSim
s' version, with just one floor and less free floor space to around. It's great for more modest, small-town franchises rather than big-name, big-city, fast-food edifices.
4.

Burger King Lot 1.0.0 by audrcami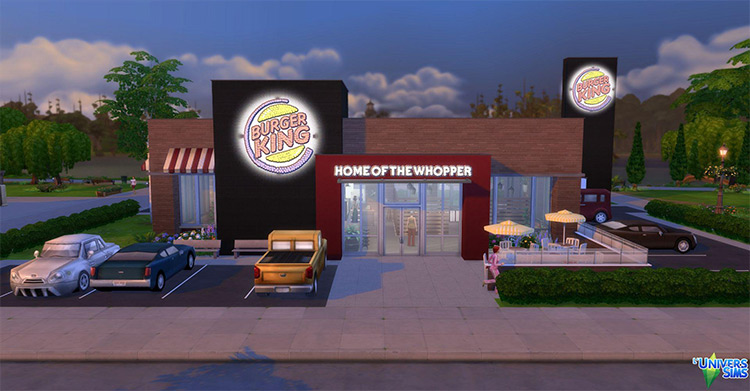 One more Burger King lot for the road?
Sure! You can never have too many options, right?
I like audrcami's take on the popular fast food resto's color scheme and floor plan.
It's perhaps the smallest iteration out of the three lots I've introduced so far, so the use of indoor space really stands out.
The tables are quite close to each other (but not to the point of cramping), every corner is fully utilized, and there are some ingenious seating arrangements for optimal accommodation. The creator even managed to sneak in a play corner for kids!
That, combined with the liberal use of wooden textures and the earthy color palette, makes this BK build feel exceptionally warm and welcoming.
5.

Paper Crown by llazyneiph
Match Bean's Builds' Burger King Uniform with this wearable Paper Crown and you've got yourself a solid BK outfit!
Seriously; this tiny paper crown is as on-brand as they come. And as far as fast-food marketing costumes go, it's definitely one of the tamer options. Pick the bright yellow swatch and you're good to go.
P.S. Ignore the added Taco Bell swatch, please. I have no idea if the companies have any beef (haha) with each other, but we don't want to start anything.
6.

Round Wall Signs (Burger King) by Bill L
This custom item's pretty self-explanatory.
It's a pack of eleven light-up wall signs (or, more accurately, a light-up wall sign with eleven design options) that you can use to decorate specific restaurants and retails stores.
Logos include Starbucks, Target, AT&T, and of course, good ol' Burger King.
I guess when it comes to these advertising beacons, you can have it your way!
7.

Fast Food Signs: Burger King by RockAngelSims
This is sort of like Bill L's Round Wall Signs, except they're more 2D wall decals than they are lit logos.
Plus, all the names in this pack are for popular fast food joints (no department stores or retail establishments here, sir). McDonald's, Taco Bell, KFC, and Burger King.
They're great for community fast food lots, in-game build replicas, or room décor for self-proclaimed foodies.
Browse:
Lists
The Sims 4
Video Games