Sims 4 CC: Button-Up & Button-Down Shirts (Male + Female)
This post may contain affiliate links. If you buy something we may get a small commission at no extra cost to you. (Learn more).
Whether this type of shirt is going up or down is kind of up to interpretation. It's like the glass half full, half empty thing.
We all know they look great, though.
No matter if your Sim is masculine, feminine, or somewhere in between, these shirts are a solid choice.
1.

Alessandro Shirt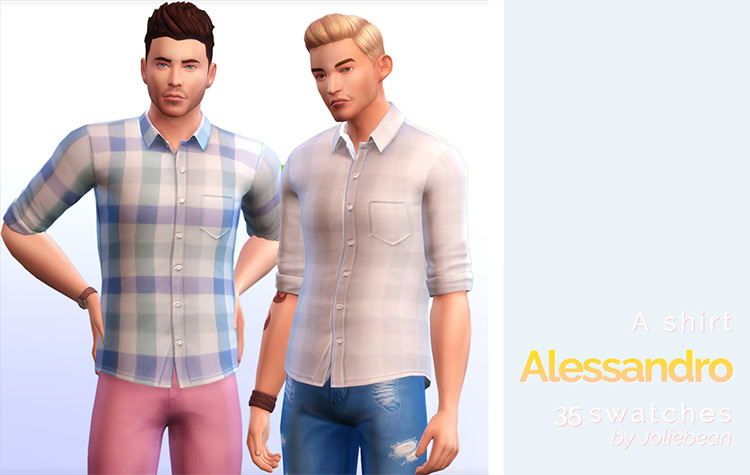 Thanks to CC creator Joliebean, we have one of the best tops for men right here.
It's no secret that this is such a dashing look.
From the rolled sleeves to the classic swatches of subtle colors and patterns, this is one shirt that any Simmer can get a lot of use out of.
2.

Lazerly Honey Top
Here's a simple button up just for the ladies.
What's so cool is that it's also oversized.
Everything is perfectly tailored to fit our Sims, but sometimes that's not the look we want! In this case, it's a baggy fit that's still stylish. No worry about frumpiness here.
3.

Weekend Top
Part of the fun with buttoned shirts is all the different things you can do. Such as leave a few buttons undone and tie the shirt in a knot, like the Weekend Top!
More than 45 swatches have got every preference covered, from unique patterns to basic solids.
4.

Escale Shirt
This tucked shirt is such a flattering style for any guy.
No matter the season, it has got the makings of a great outfit.
Some really fun swatches are included, like cacti, airplanes, and even koi fish. But you can always keep it simple with the plain colors, too.
5.

Arthur Shirt
These recolors of the above Escale Shirt bring on even more wacky, original prints.
You just won't get this kind of stuff outside of CC!
Blue and orange checkered patterns, bright pink hearts, and palm trees with ice cream cones are just a few examples.
6.

Denim Shirt
No matter your Sim's vibe, a denim shirt is a solid addition to their wardrobe.
The end result really all depends on what they wear with it. More denim, in the form of jeans or skirts, definitely lends towards a more country feel.
Patterned skirts or khakis, on the other hand, are really modern.
7.

Summer Shirt
When those vicious heat waves hit your Sims, you've got to balance stuff that'll keep them cool with stuff you actually want to see them wearing.
It'll tuck into any bottoms you pair with it and the swatches are all just right for this season.
8.

Cool Boy Button Up
I mean, it's right there in the name for this one.
It's indeed for cool boys!
Casual shirts like this are something most Simmers love to collect and these brand new swatches are definitely worth it. Skeleton Mickey Mouse just isn't something you see all the time.
9.

Guys Bar Shirt
We're back to the basics with this super simple layered shirt for men.
It's the kind of thing that will work for so many different needs and occasions.
Everyday outfits, maybe more laidback formal affairs, clubbin' attire. Your guy Sims will be stunning no matter what.
10.

Western Shirt
The western style is one that's pretty easy to put together. Some jeans and cowboy boots are a good start. Maybe a hat, if you really wanna commit.
But for a top?
Well, a button up is a safe choice.
18 swatches are included here, covering a whole range of shades.
11.

J.D. Hibiscus Top
While we're on the topic of western fashion, what better than StrangerVille add-ons to.
One of these edits has removed the ornate pattern from the shirt, making it BGC but also a little more versatile due to so many new colors.
The other version still has the design, but now both will tuck in.
12.

Basic Bloke Button Up
If you have Romantic Garden Stuff, then this might just be one of your go-to tops.
It's no coincidence that this came with that pack, by the way. Nothing will make a gal smitten and like a well-fitting button up!
Of course more options are always a plus, and we get dozens of them here.
13.

Button Down Shirt
Much like so many of the other tops we have seen so far, this one is all about keeping it casual.
There's a v-neck beneath the button down, and it just doesn't get much more laidback than that.
Cepzid's huge range of color combos are what really makes this special.
14.

Inferno Shirt
This top is fashionably baggy but also tucked in. So you get the best of both worlds!
And Trillyke went all out here.
There are 60 total swatches and this collection has it all.
Dragons, flowers, pizzas, animal print, headstones, bananas… yep, these are some of the most original options around.
15.

Paradise Top
Here's another creation from Trillyke and it's just as special as the previous CC.
The tucked fit, matching collars and sleeves, and classic designs make this an absolutely adorable blouse. It's also super feminine and modest, so it will work for Sims of all ages.
16.

Rosebud Button Up
This top is just delightfully frilly. Ribbons and lace are almost always a nice touch!
Other than those aspects, Cloudcat's Rosebud Button Up is pretty straightforward. It'll tuck into any skirt, shorts, or pants and the long sleeves round the whole look out.
17.

Matteo Button Up
Unlike more complicated or mature styles, this is one that's just fine for both kids and adults.
Any toddler will be extra adorable with these vibrant recolors. There may be just 5 swatches but each one is just perfect, not to mention rather unique.
18.

Child Short Sleeve Button Up
OnyxSims has got something for the little dudes and girls in your game.
They'll be the cool kids on the block for sure with such trendy, modern patterns.
Besides the basics like denim, black, and blue, the floral prints and cute critters are very cute.
19.

Salvia Shirt
By leaving a few of the top buttons undone, this shirt definitely feels a little more saucy.
It's also tucked in, which honestly just adds to that feel.
But the design of a shirt can only go so far, right? We need options, and Ridgeport definitely comes through on that front, with 30 swatches.
20.

Moriarty Top
We're back to the basics once more with the Moriarty Top, which is a sensible shirt for men and women both.
If you look closely, this has a really nice texture. Maybe it's the plain solid colors that make it seem realer than the base game version, but this is definitely an improvement.
Browse:
Lists
The Sims 4
Video Games