Best Sims 4 Calvin Klein CC (Male + Female)
This post may contain affiliate links. If you buy something we may get a small commission at no extra cost to you. (Learn more).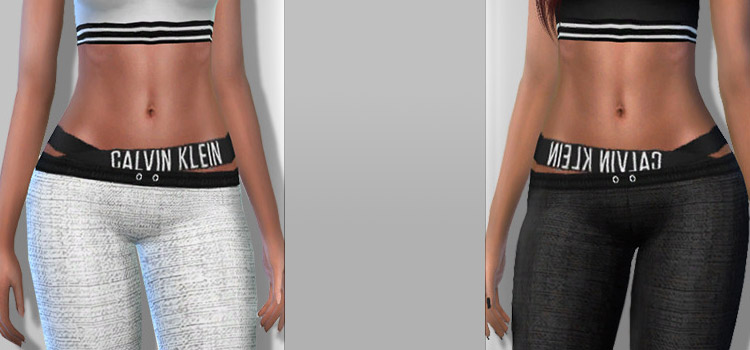 Calvin Klein is one of the most popular clothing labels of all time.
So it's only right that it belongs in the most popular life simulator of all time!
There's a huge CC sub-culture dedicated to including real-life brands into the game. If you're part of it, you know that the more designer items for your Sims to wear or carry, the better.
Missing out on CK content for your game? Well don't worry about searching – we've done the research and found some truly awesome Calvin Klein items to expand your high-fashion wardrobe.
Calvin Klein Inspired Boxers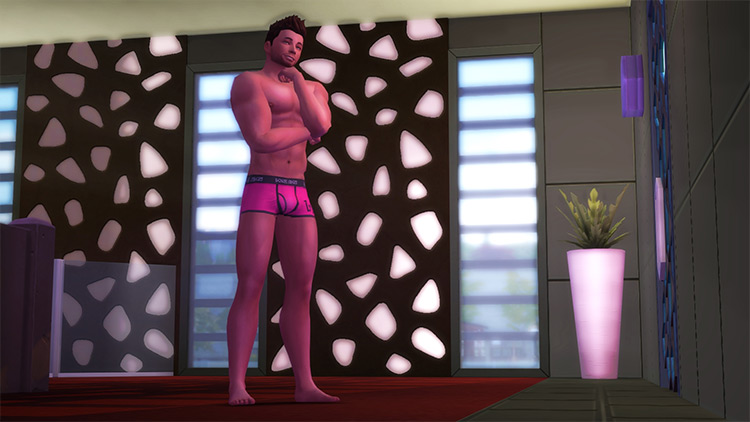 There's a group of Simmers who love real-life brands and products in game, but want to keep things lore-friendly with a Simlish version.
Well, these Calvin Klein-inspired Boxers by Littledica give us exactly that:
The classic CK men's boxers, written in Simlish instead of English.
There's also a light wrinkle texture that gives the undies a bit of realism, and 16 different swatches (some CK-inspired, some originals by the creator).
Calvin Klein Simlish Version
RenoraSims' Calvin Klein Simlish CC set has all the benefits of the previous entry on our list, but made just for your female Sims.
It features boy-short style underwear and a comfy, wide-band bra, both of which have the CK-labeled band above and below.
This one's Maxis-Match friendly and has 15 total swatches:
Ten from RenoraSims and five from the original mesh creator, Jordutch.
CK Sleepwear Set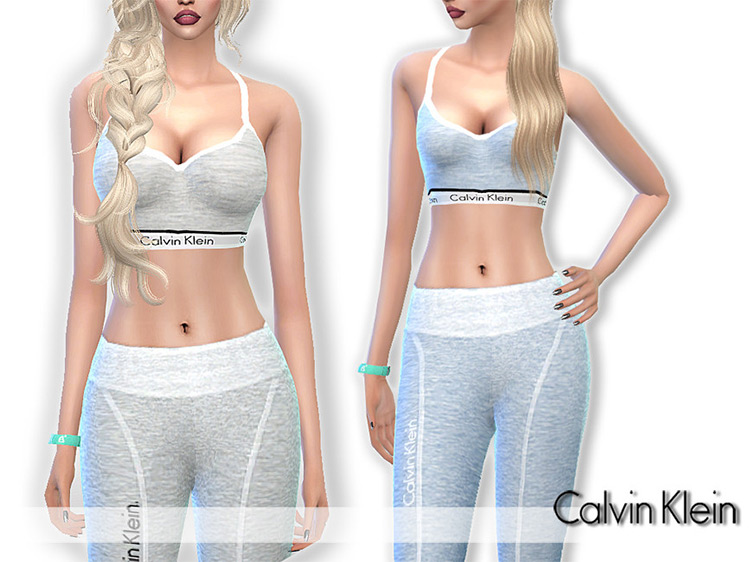 The Calvin Klein brand is associated with comfort as much as it is fashion.
And this custom Calvin Klein Sleepwear Set from Pinkzombiecupcakes combines them perfectly.
This five-outfit collection has a variety of soft, plush 'fits for your Sim to relax in, including a sweatshirt, sweatpants, underwear, and two different kinds of tops.
Each item has one or two variations and comes in one to 35 unique colors!
It's also very high-quality CC, for Simmers who prefer a more realistic look.
And if you only want one particular outfit, no worries: the creator also offers them in separate downloads.
Calvin Klein Bustier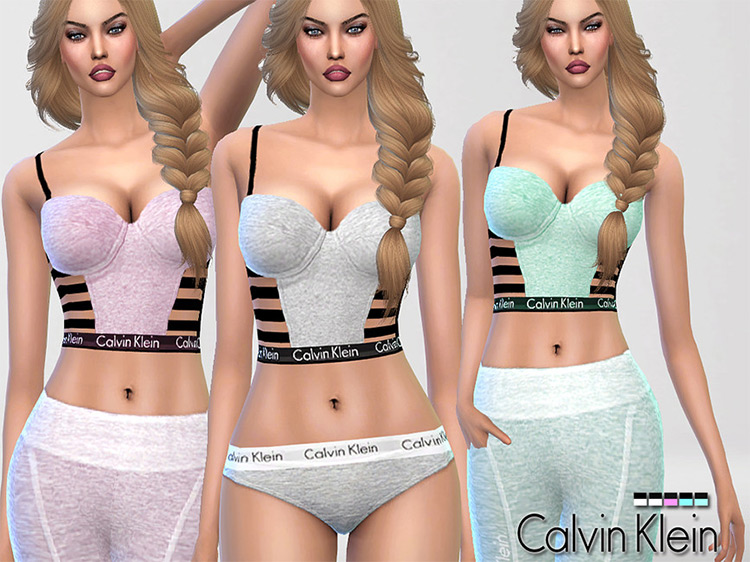 This wasn't featured in the CK Sleepwear Set above, because it definitely stands out on its own.
Pinkzombiecupcakes is back again with the Calvin Klein Bustier, a mashup of a comfortable bra with a lingerie feel.
It comes in five colors and just like the other items from this creator, it's high-quality and Alpha friendly.
Find this item in the tank top and brassiere categories in CAS.
Calvin Klein Bralette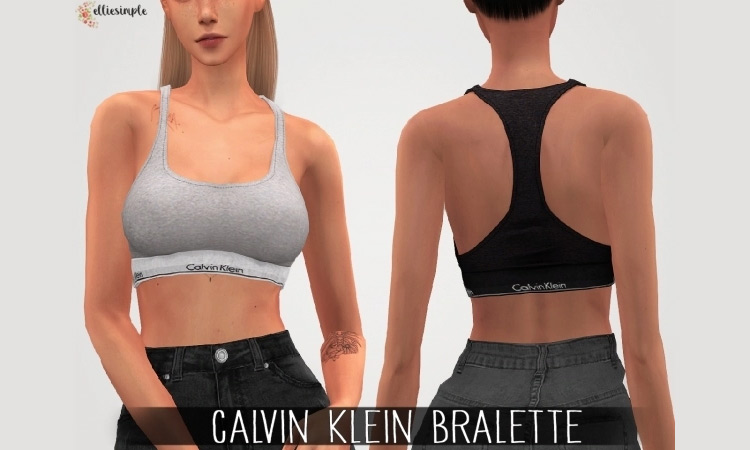 Active Sims that workout in style will love Elliesimple's Calvin Klein Bralette CC.
The racerback-style straps give enough open space for your Sims to feel comfortable, while also providing the support they need while on the go.
The colors for this one are classic white, gray, and two shades of black.
There's even a matching set of underwear for this top! Head over to Elliesimple's Patreon to check it out.
Calvin Klein Men's Underwear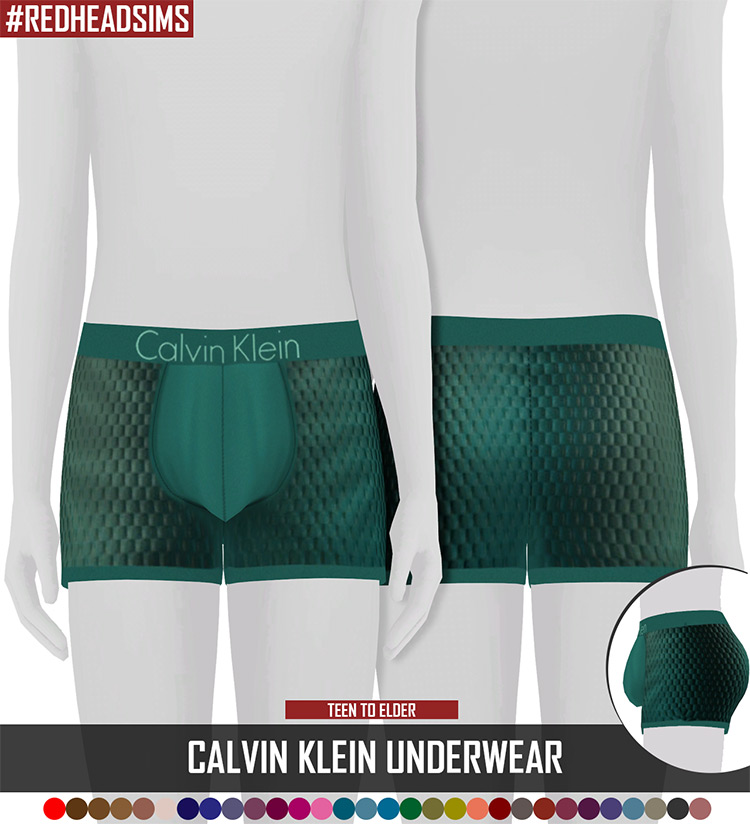 Whoa.
This Calvin Klein Men's Underwear CC set from RedHeadSims is full of total head-turners (in a good way!)
HQ compatible, 29 colors… and there's even a transparent swatch with nude mesh that leaves nothing to the imagination.
Yeah.
We'd keep those for special occasions, unless your male Sim is looking to give onlookers a heart attack.
Classic Calvin Klein Men's T-Shirts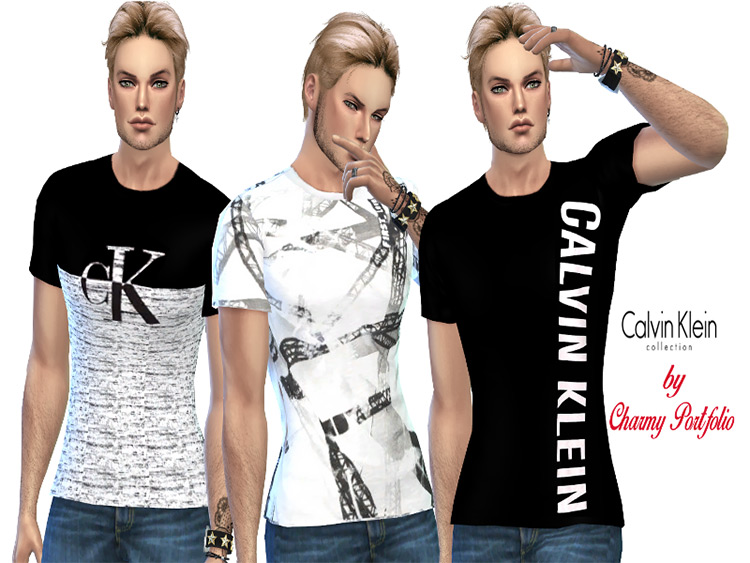 While the Calvin Klein brand is best known for their intimates, these next entries on our list shake things up with actual clothing options.
First up is CharmySims' Classic Calvin Klein Men's T-Shirts Set.
Three tops with a bold black/white color scheme, two featuring the CK name and one with a funky crisscross pattern.
Alpha players would love these, and only the base game is necessary to wear them in-game.
CK Jumpsuit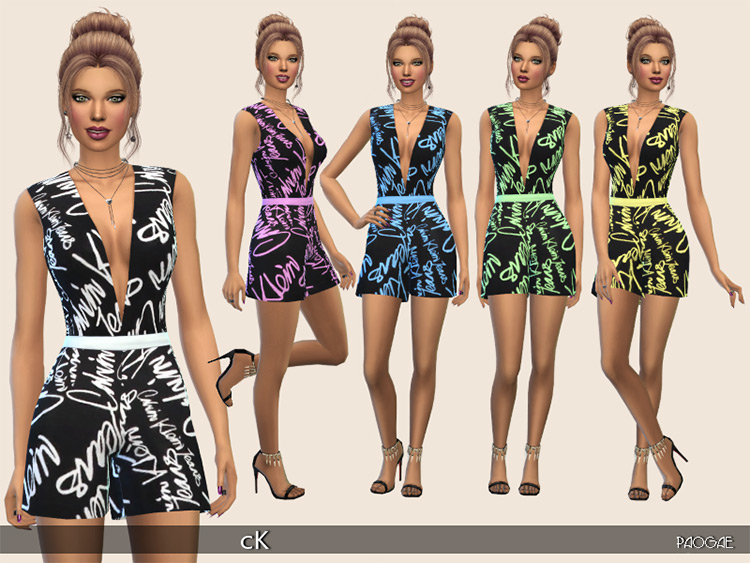 Jumpsuits are amazing go-to warm weather outfits.
And this custom CK jumpsuit CC from Paogae adds to the much-needed collection in-game.
This sleeveless, mid-thigh length jumpsuit comes with a thin belted waist. And the Calvin Klein name written all over in a cursive font.
It comes in five colors, and since this CC uses a mesh from Get to Work, you'll need to have that pack to use this.
Calvin Klein Jeans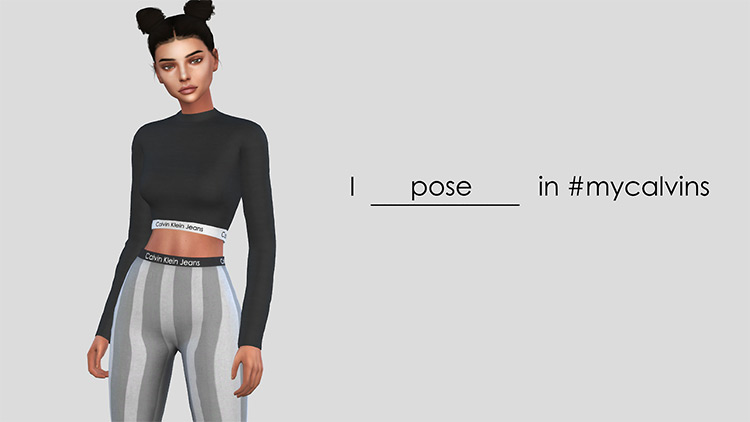 While they aren't jeans in the traditional sense, Jordutch's creation adds an unrivaled look to CAS that makes it worth downloading.
Bold dark and light stripes contrast for a chic look, and have the much beloved CK band at the waist.
They just look so soft and plush, while still giving a fitted silhouette.
These pants are HQ (but wouldn't seem to clash too much in a Maxis-Match friendly world) and come in three variations.
Browse:
Lists
The Sims 4
Video Games