20 Best Camping CC & Mods For The Sims 4
This post may contain affiliate links. If you buy something we may get a small commission at no extra cost to you. (Learn more).
I'll be completely honest with you: I don't think the camping system in The Sims 4 is half bad.
In fact, I'd say that it's pretty complete if you happen to have all of the DLCs installed (or at least the Outdoor Retreat Game Pack).
However, with how much potential this game has by installing extra CC, I couldn't help but make a list of some CC sets & mods to improve your camping experience in the game.
I'm mainly focusing on objects, but I also dropped in a few fishing mods on the list too. Cause let's face it – no camping trip would be the same without your friends trying to fish for a giant bass!
20.

Travel Fam Photos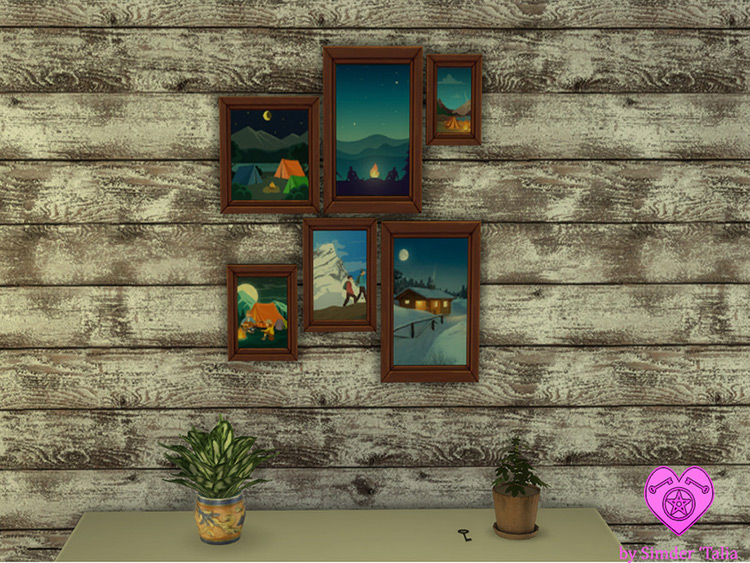 Well, this isn't technically a camping mod. And I know that's not the best start for this list, but bear with me!
There's nothing that screams "camping trip" louder than hanging pictures of the trip in your home. And we all know that none of us are really too good at taking pictures in this game…
If you are, well, go for it.
But if you aren't, you might want to install this mod to have some cool camping pictures added as CC!
19.

LilyPad Lake
If you're looking to go on a cozy outdoor retreat, but you still don't feel like leaving the city, you might want to pay a visit to the LilyPad Lake.
This fantastic custom lot can be freely placed on any public lot in TS4. And it comes with a lake where you and your Sim family can swim with the fishes (but not in a morbid way, don't worry).
Plus this lake includes a small shack with two public bathrooms. So there's no need for you to get THAT close to Mother Nature.
In any case, LilyPad Lake is cozy, beautiful, and with plenty of room for you to camp. Make the best of it!
18.

Magic Tree Campsite
The Magic Tree Campsite is a small and basic campsite where you can get in touch with nature and put the brakes on your city life.
Rediscover what it's like to live naturally with this amazing lot CC.
Easy to install and easy to have loads of fun, maybe with your new Sim guy or gal.
17.

Sleeping Bag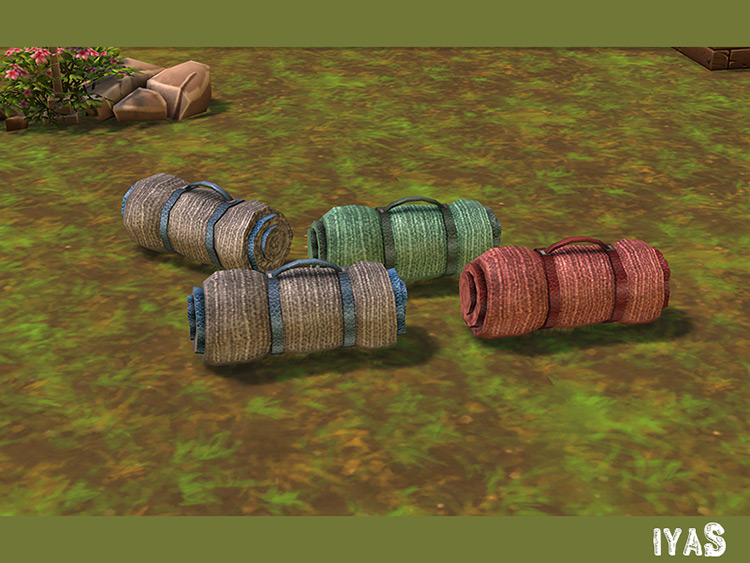 Yes, this mod only adds a sleeping bag to the game.
It's an essential part of a camping trip, so why wouldn't I add such a simple mod to my list?
This is the only "basic" mod on my list. But I felt the need to add it because we all know the game could use more take-it-with-you beds.
16.

Advanced Fishing Mod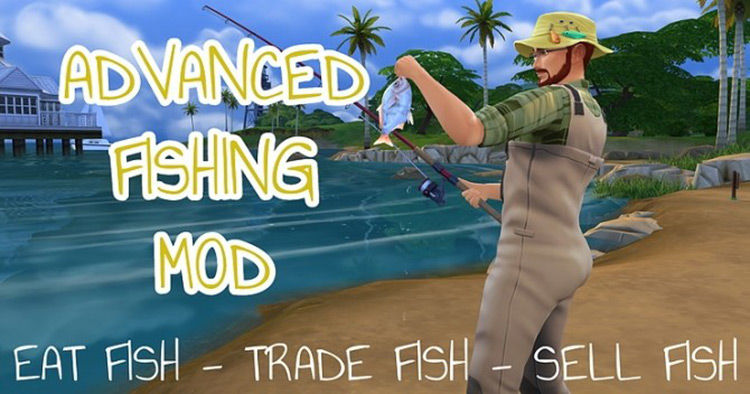 Now this Advanced Fishing Mod incorporates a whole bunch of new fishing mechanics to Ts4.
I find them to be fundamental if you're looking to add more depth to your camping experience.
Every good camper also needs to make some money, right? So why not fish and sell your most valuable catches once you return to the city?
15.

Nature's Lover Tattoo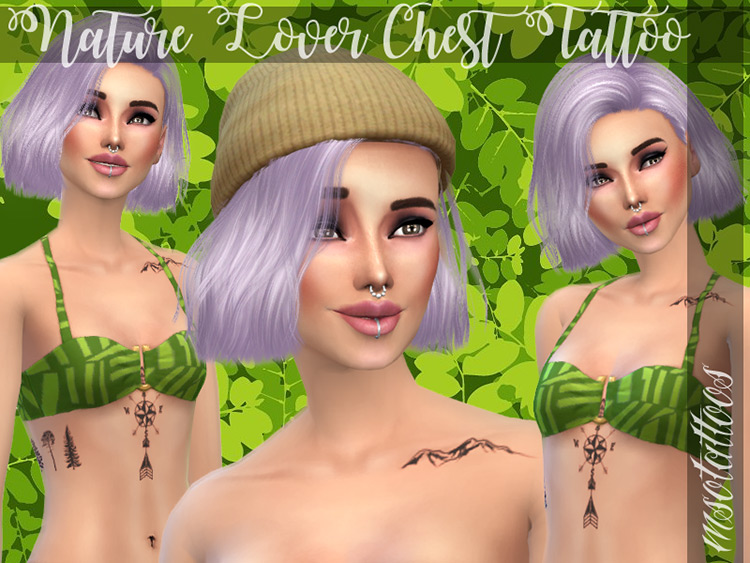 Nothing says "I love nature" more than having a mountain or a compass tattooed on your Sim.
And the base game doesn't give us that choice.
Thankfully, someone decided to add three of the most normie tattoos in the world to The Sims 4, which gave birth to this amazing CC set.
Feel like your next-door neighbor Jessica and get these tattoos on your character's skin. Maybe Jessica will take notice!
14.

Dish Rack
This might not be the first thing that comes to mind when you think of a camping trip. But a Dish Rack is an essential item to have if you don't want to feel the pain of not knowing where to put those dishes after you eat.
Especially out in the wild.
Trust me, there's nothing worse than carrying dirty dishes around just to find a place to wash them… only for you to realize that you have nowhere to put them once they're clean.
Make life easier on your Sim, yeah?
13.

Modern Camping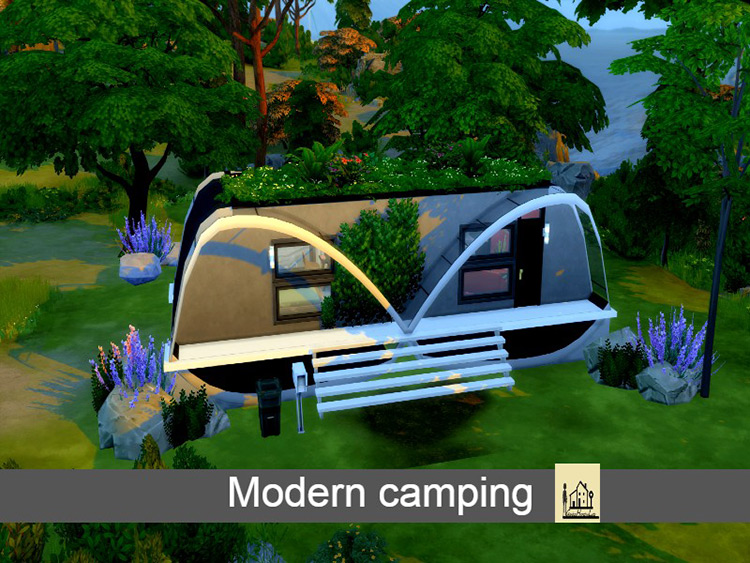 Modern Camping is a special little home that is designed to work with the Tiny Living Stuff Pack.
It allows you to live a truly "small" life, where your only goal will be to keep yourself in touch with nature in what (looks like) a small trailer-shaped home.
Place this and enjoy the life of someone who has forgotten what living in a home with a master bath feels like.
You'll be looking to move to a bigger place almost as soon as you install this one.
12.

Modern Lakeside Cabin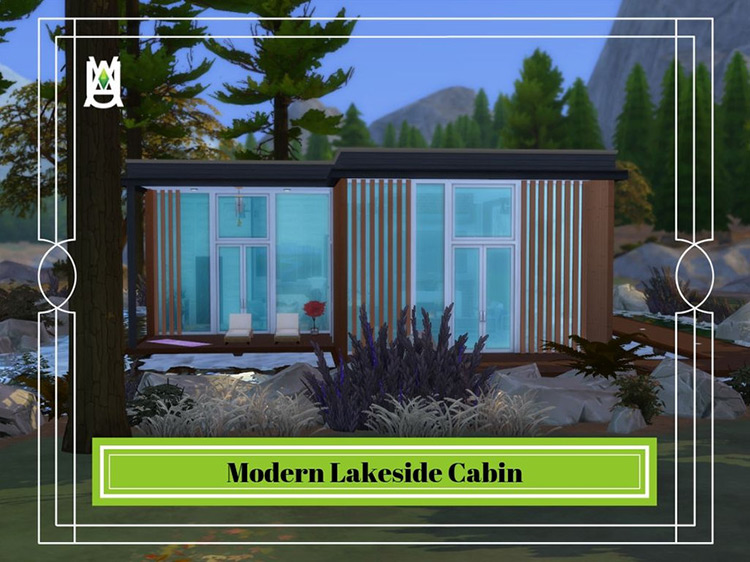 This list is mostly centered around the act of sheer camping.
But if you're looking for a more traditional experience where camping becomes a secondary thing that you do in your garden, then you'll want to check out the Modern Lakeside Cabin.
This beautiful little house is as cozy as it is fancy.
It comes packed with everything you need to live a simple campy life, and it's ideal to be placed alongside any natural lake. Maybe keep a natural garden by its side.
11.

Waterfall Park
A waterfall in the city with a cool little garden on the site, with enough room for your sim to camp and enjoy nature? Sign me up.
This park fits right into any town in the game – all you need to do is install the mod, select your favorite sim, and choose your favorite tent.
The rest will be history for you and your sim family!
10.

Oasis Lake National Park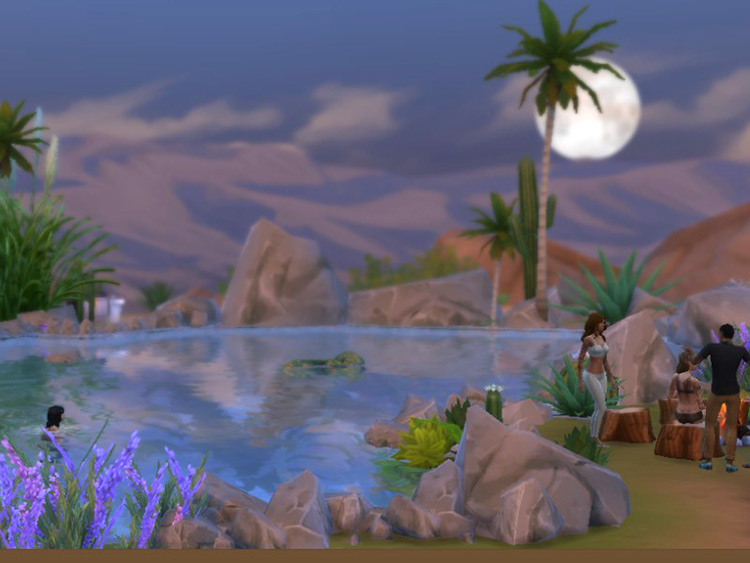 Oasis Lake National Park brings life into the desert and sets up a perfect location where you and your family can spend an afternoon roasting marshmallows by the campfire near a desert oasis.
There's no better place for your sim to be than the Oasis Lake National Park.
I mean just look at the name, doesn't it scream "camping adventure"?
9.

Desert Lake National Park
You might often associate camping with being in touch with trees, forests, or prairies.
However, some people also love to camp in more arid places. Maybe that's your sim's personality.
And the Desert Lake National Park is one of the best custom lots to do just that.
Laugh at your sims as they struggle to sleep while also being on the lookout for scorpions and bats. There's no better way to have fun camping than in the desert.
8.

Literate Sims Mega Book Set 4
OK this isn't exactly a camping mod either. However, it does come with a book about camping… and we all know that camping enthusiasts are a bit extreme when it comes to the stuff that they read.
They often have galleries filled with books about camping, how to cook outdoors, and more things that would otherwise be useless for a non-camper.
This mod adds some essential books for your Sim's library.
They all come with custom covers, although the fact that they aren't written in Simlish is a bit of a let-down.
Well if you don't care too much about immersion you'll want to check this mod out.
7.

Open Sea Camping
If I had the time and money to drive an RV to a pier and camp there, I would do it.
However, considering that I'm not in a position to buy an RV, nor do I live near any sort of pier… I guess I'm going to have to settle for the Open Sea Camping CC lot in The Sims.
You will be able to explore a camping spot that the game didn't intend to have, so be ready to discover what a truly unique experience feels like.
A fantastic mod and one that will keep you Sims busy for hours.
6.

Cinema Camping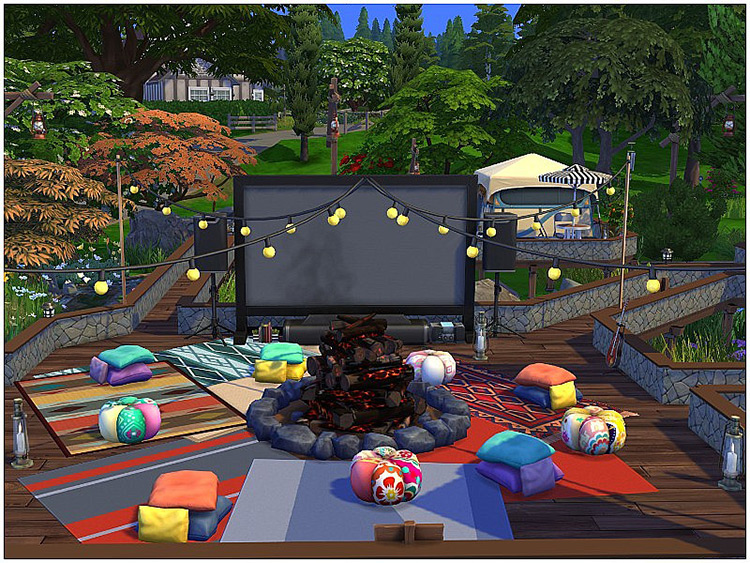 Puffs, carpets, and a giant TV that might become irreparable when it rains.
There's no better way to get in touch with nature than to do it with a gigantic TV in front of you.
This amazing mod incorporates a new location to the game, which is basically a giant outdoor movie set where you can sit with your friends and enjoy the wonders of nature watching The Avengers.
Let's just hope that no bird with stomach problems fly around – it would be real unfortunate if you had to clean bird poop off that screen (or off your head!)
5.

The Ozone Camping
The Ozone Camping is a beautiful place with tents set up for Sim families to enjoy one of the most fantastic camping adventures.
Bonfires surrounded by rocks where you can sit. Tents that feel a bit too close to comfort.
And people walking around whole you try to sleep.
There really is no better place to spend a Saturday afternoon than in this CC lot.
4.

Nature's Way
It's not really a camping trip unless a bunch of leaves gets inside your tent.
Nature's Way is a custom-made lot that comes with a ton of camping stuff, all of which is placed in a small forest where many other camper Sims will join you in your adventure.
Part of the magic of camping is dealing with the annoyance of other people being around, isn't it?
If you only go with your family, there will be no one else you can scream at after you get bitten by mosquitoes.
Nature's Way makes your sim's camping trip feel a little less lonely.
3.

Camping Set
Aha, a small set of essential items for my camping trip!
This is the best mod to download if you just want to have a simple adventure with not too much large stuff getting in the way.
Say goodbye to those large tents and overly decorated umbrellas – this basic Camping Set mod allows your sim to live the life of an adventurer the way it used to be lived many a year ago: with nothing but the basics.
Light your campfire, cook some soup, and roast some marshmallows.
With this mod, you'll be able to feel like our ancestors felt thousands of years ago. Or rather, your Sim will.
2.

Carbon Camping Stuff – Part II
Alright, this mod only gets the second place on my list because it would only be fair for the first installment to get the first place.
The "Part II" of this fantastic CC set includes a whole bunch of new objects to complement your camping experience, so trust me it's worth snagging. Along with part 1 if you like it!
As you'll see, this Carbon Camping CC set comes packed with all of the basics to have a happy camping adventure. But with the second set here, you'll get even more fantastic stuff to create your own little "home in the woods".
Or in your backyard.
A must-try for new camping add-ons into TS4.
1.

Carbon Camping Stuff
It's time that we dive into the number one mod on my list, and the first installment of arguably the best custom-made stuff pack for campers.
Carbon Camping Stuff opens a door to whole new world of camping adventures in TS4.
You'll find new tents, beds, tables, outdoor fireplaces, and many other cool items that complement (and surpasses in quality) what comes in the Outdoor Retreat pack.
Many of the mods on this list can (arguably) be replaced by others. But the Carbon Camping set offers necessities, the most important stuff for a fun camping trip.
If you want the most unique and complete camping experience in The Sims 4, be sure to snag this CC.
Browse:
Lists
The Sims 4
Video Games