Sims 4 CC: Candles, Incense, Yankee Candles & More
This post may contain affiliate links. If you buy something we may get a small commission at no extra cost to you. (Learn more).
Listen, if there's one thing we all have in common, it's the universal obsession with candles.
Admit it – you love shopping for candles. You love going to the store, smelling all the different jars of wax, and then deciding if you want to buy only five candles or get a nice round 10.
I'm the same way. Whether it's Yankee candles, Woodwick candles, or just some regular drugstore candles, I want them all.
They smell nice, they look cute, and they make me feel like it's a cozy fall afternoon all year round. This love for candles doesn't exclude anyone.
Even your Sims feel it. I bet they love candles just as much as us.
If you're in the mood for treating them (or are simply looking for a way to buy more candles without spending your actual money) then you've come to the right place.
1.

Waxsim Candles – Halloween Set by LuckiSelki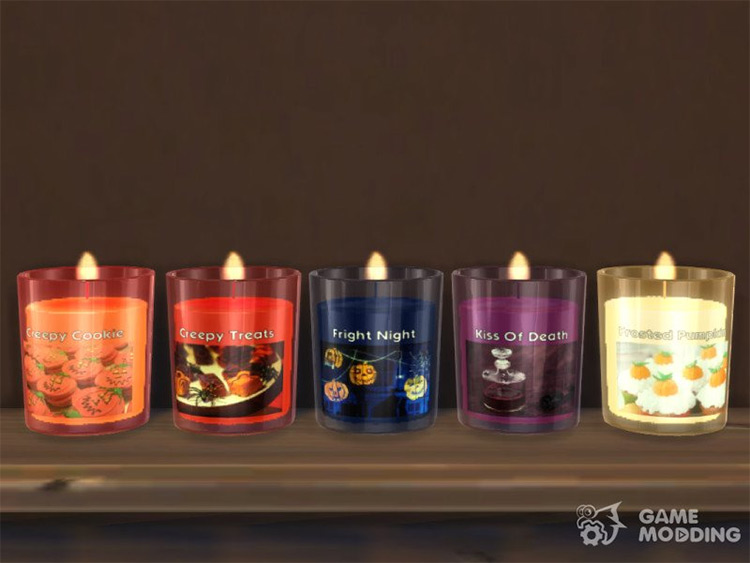 Who doesn't love the spooky season?
Well, lucky for you and me, we can still celebrate Halloween any time. In fact, we can do it all year round. Just boot up The Sims and let's get going.
This CC set contains 15 candles, and is the perfect way to get your Sims in the right mood.
Just light some of these and get ready to share your ghost and vampire stories.
With scents like Creepy Treats, Fright Night, or my personal favorite, Kiss of Death, your Sims are bound to have the creepiest night of their lives.
2.

Bath & Body Works Candles by sooky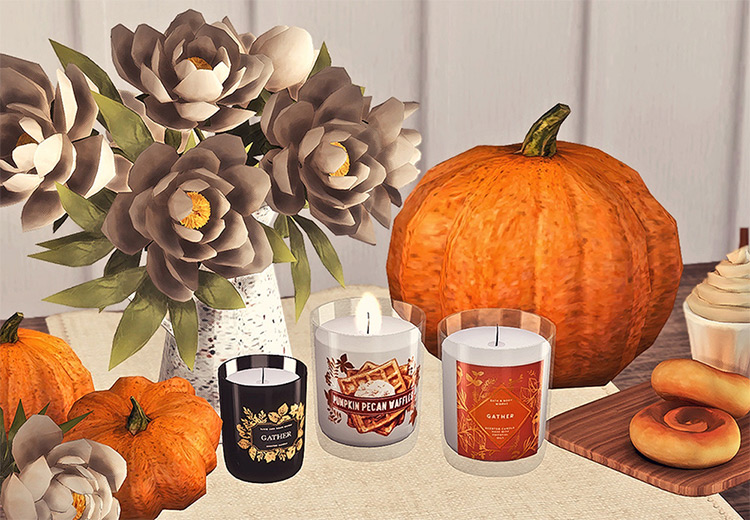 I love Bath & Body Works Candles. If I had enough storage space in my flat, I'd buy them all.
I don't, though… which is a shame.
Or is it? Because I can still make my Sims get them!
And this gorgeous set has tons of swatches to choose from.
It doesn't matter if you're looking for nice autumnal candles or just some classic White Barn candles – this free CC set has them all.
3.

Bath & Body Works Winter Collection by sooky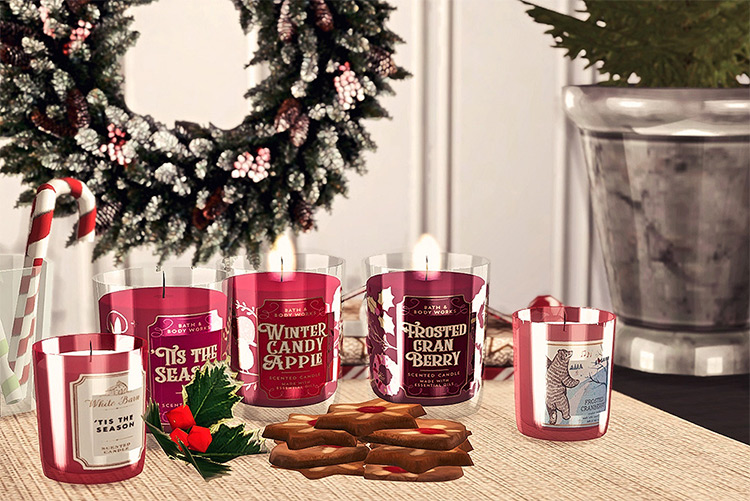 Did I hear you say you need even more Bath & Body Works candles? Don't worry, I've got you covered.
Here's a pack that has everything you need to get ready for the winter.
Looking for a Christmas candle? Try Vanilla Bean Noel!
A candle for New Year's? How about Party Dress?
Maybe you want to get your kid into candles? Give them Hot Cocoa & Cream.
There are candles for every occasion and person – and Sim.
4.

Kala Bathroom Candle by NynaeveDesign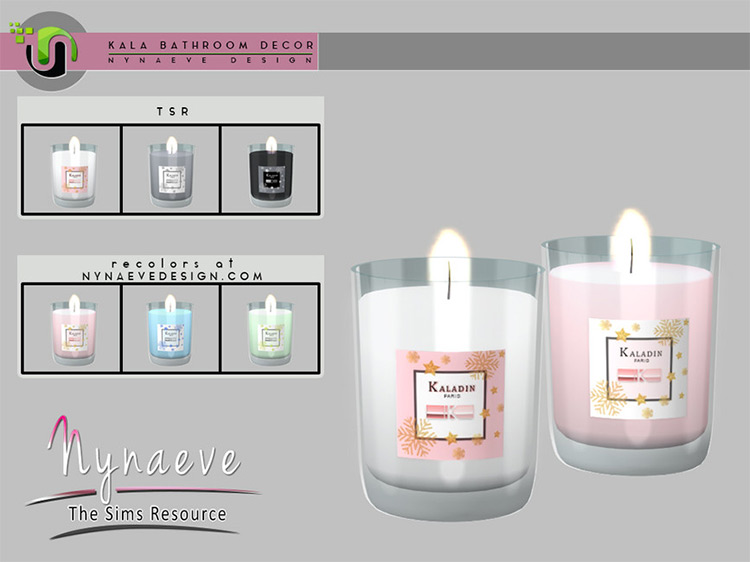 I can't help but think these candles would be perfect in a bathroom. How do I know that? Because they're a part of a stunning bathroom set that you can also download here.
But for this set of candles you can get them in 6 different colors, including black, white, and some lovely pastels.
My personal favorite is the grey – there aren't enough grey candles if you ask me.
5.

Yankee Candle Collection by sooky
One of my all-time favorite candles is Vibrant Saffron – which is Yankee Candle.
I love Yankee Candles. And there's a reason for that.
They always come with the best scents and names. Every candle fan has at least one Yankee candle in their collection.
And now your Sims can have one too! Or more. Depends on how much you want to spoil them.
And you'll find 27 incredible swatches in this CC set, so you have lots to choose from.
6.

Mila Living Candle Tray by BuffSumm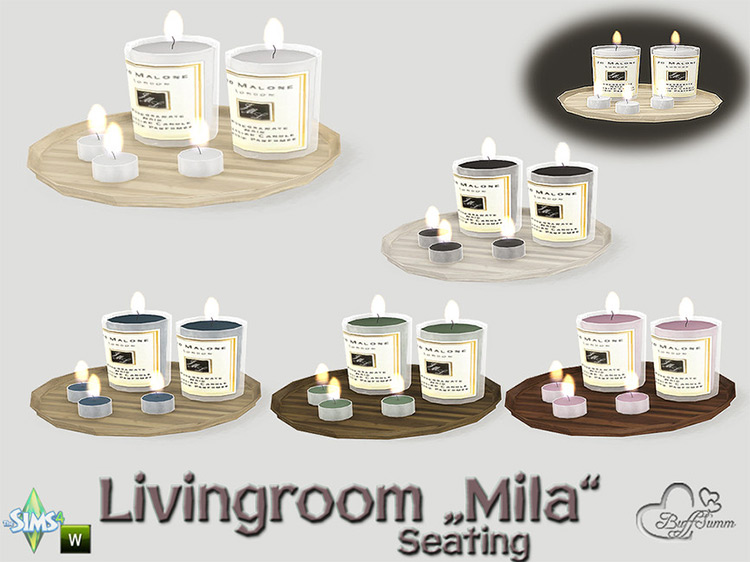 Have you ever been to a house of someone that's middle class? Well, I have. And let me tell you one thing – they all have Jo Malone candles.
It's a thing, trust me.
If you have that one Sim family that is doing particularly well, maybe it's time to make it official. Download this candle set and let them live their dream, financially stable lives.
7.

Zone Patio Incense Holder by NynaeveDesign
It's not just candles that we all love – because incense is great too.
It smells lovely.
It lasts longer.
It makes you feel like it's less of a fire hazard.
And for your Sims which are basically walking fire hazards, this incense holder is a must-have. It's shaped like a leaf, comes in 6 colors, and has its own incense stick.
8.

Meditation Time by Sandy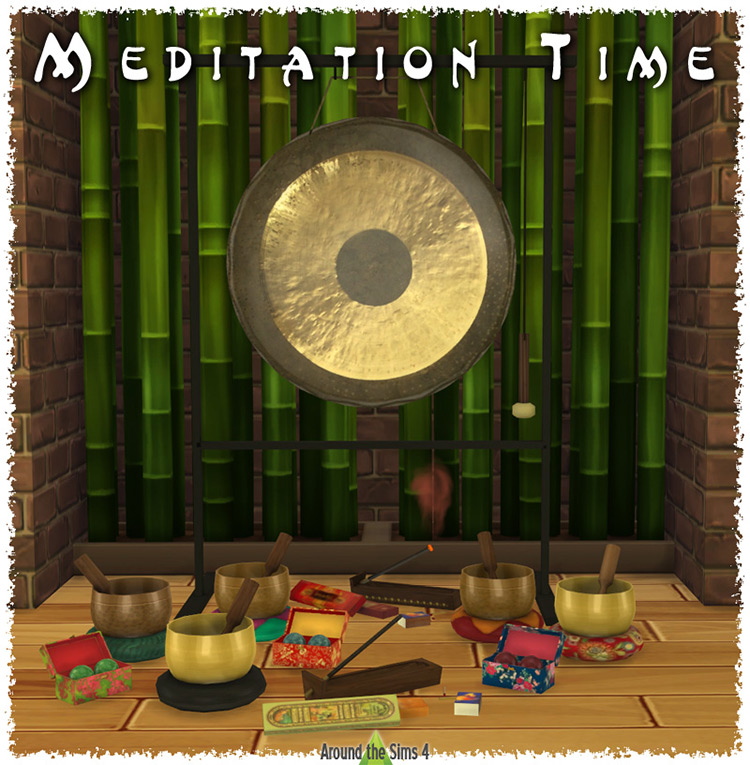 There are many items available in this meditation CC pack – including these beautifully ornate incense holders.
And let me just say there's a lot of detail going into them.
My favorite bits are those two used matches next to the matchbox. If you're going for authenticity in your Sim's house, this is the way to go.
We all leave matches around.
9.

Essential Oil Diffuser by Ravasheen
There have been many moments in my life when I'd wished that I could just become a Sim and live in that virtual reality.
This is undoubtedly one of them.
I really want to own these elegant essential oil diffusers. They look so pretty, and they come with some of my favorite smells of all time, like Romantic Sandalwood and Invigorating Cinnamon.
There are 8 swatches here and 6 unique scents available.
What's more, these diffusers are functional. Each smell will get your Sim in a different mood.
Need them to focus? Try Sharpening Saffron.
Do they need to relax? Give Soothing Sage a go.
Give 'em a try and see what you think. I have a feeling your Sims will love them.
10.

Bedroom Faye Reed Diffuser by ung999
Reed diffusers are an essential item in every young adult's life.At some point, we all move out of our parents' house and find our own place.
And sometimes these places (whether college dorms or shoddy rentals) don't allow candles. Apparently young people can't be trusted not to set the place on fire.
This is when reed diffusers come in.
Now you can still have your room smelling lovely while appeasing your landlord. They truly are the perfect compromise – both for your lifestyle and for your Sims.
Get these Faye Diffusers for any of your Sims that are only just started uni. After all, they'll need it for the brand new dorm build you'll be making for them.
I mean, dorms stink. Everyone knows that.
11.

Luxury Chanel Candle & Diffuser Set by PlatinumLuxeSim
If your Sims are looking for a way to flaunt their riches, this is the CC that you've been looking for.
It includes a diffuser, a small candle, and a big candle (lit and unlit). And they're all by Chanel.
There's nothing more luxurious your Sims could possible decorate their house with (aside from even more Chanel CC).
Now go get that massive mansion smelling magnificent.
12.

DIY Tray with Candle by BuffSumm
And to wrap up our list we have these cute outdoor candles.
If you're bored of all the traditional candle shapes, this set is worth a try. It's innovative, fresh, and super modern.
A statement piece that is sure to liven up your terrace.
There are a couple of swatches available, too, so you can make sure they match your other décor.
Browse:
Lists
The Sims 4
Video Games