Sims 4 CC: Candy Bowls, Candy Dispensers & Gumball Machines
This post may contain affiliate links. If you buy something we may get a small commission at no extra cost to you. (Learn more).
Everyone loves candy.
It may be a dentist's nightmare, but it's also the average person's favorite treat.
Gourmet chocolates, Jolly Ranchers, bubblegum… it all depends on your mood what sounds best!
But what about after you get it home? It doesn't have to be left as a bag on the table, destined for the garbage can. We can make our candy partially decorative.
It's something that's really missing from The Sims 4. Or at least it was missing.
Here's our collection of CC featuring plenty of brand new objects to showcase your Sim's sweet tooth.
1.

Creep It Real Candy Bowl
No holiday is linked quite as closely to candy bowls as Halloween.
That could be because no other holiday is almost completely based around sweets, either.
But there's nothing that'll bring joy quite like a spooky bowl filled with goodies on Halloween night. You just know the depths of this cauldron are filled with chocolatey, gooey, caramel goodness.
This feels like as authentic of a cauldron as you're gonna find for the base game – perfect for Spooky Day parties and general décor.
But there's a catch – and it's no trick.
In fact, there's nothing but treats all day long when it comes to this bowl.
RAVASHEEN made it fully functional, so your Sims can know the joy of plunging their hand into a sea of goodies.
2.

Candy Jars Set
These are part of a much larger set that's actually intended for a bakery.
They just so happen to be an organized minimalist's dream.
You can place these in your Sim's kitchen for a bright pop of color, or in a business if you're ambitious enough.
All I'm saying is as chaotic as my Sims' home lives are, I'm not about to trust them with a whole business. But your mileage may vary on that one.
The simplicity of these large glass containers is exactly what'll allow them to work wherever you see the need to use them. Obviously, a perk of glass is that everything inside can be seen in its full glory.
Bonbons and Skittles and what appears to be sprinkles, oh my!
They're as vibrant as the real thing, and would surely be just as delicious if your Sims could get the lid off.
3.

Harry Potter Candy Dispensers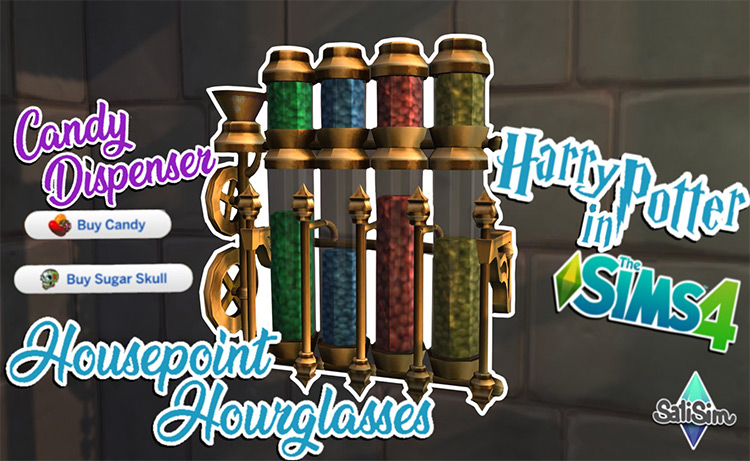 This is the first time I've found CC on Twitter.
It was also one of the few times I've actually gasped out loud because of a creation.
Harry Potter candy dispensers, y'all!
This is incredible. And amazingly enough, it's functional as well.
But first we have to admire its beauty before getting into the cool features. It's just like the House Points Counter that's sometimes portrayed in the films and games, just on a smaller scale.
That's okay, though. You don't really want four gigantic hourglasses in your Sim's house, do you?
Well… all the Potterheads definitely do want just that. But right now this awesome and reasonable version will have to suffice.
The colors are perfect to represent all four houses, plus the brass accents have the Hogwarts vibe. And you can tell it's authentic because Ravenclaw is dead last in the competition.
Your Sims will be able to purchase candy from it as well as Sugar Skulls, so this is one time where it's fine for them to spend all their money in one place!
Forget bills, Sims need candy.
4.

Functional Candy Dispenser with Edible Candies
Here's the source of most functional candy-themed items for The Sims 4.
Icemunmun really changed the game with this groundbreaking mod which allows your Sims to buy a variety of treats from candy dispensers.
The selection here is on par with Willy Wonka's factory.
Your Sims will be able to enjoy all of the basics, including gum drops, peppermint swirls, gummy bears, jelly beans, and much more.
One of the coolest aspects is that Icemunmun even updated this for the release of Spooky Day Stuff, so there are themed candies here as well – like eyeballs and bones. Delicious!
Each candy comes with its own buff that'll give your Sims a little mood boost.
But the sweets aren't just falling out of thin air here.
There are several dispensers to choose from, all of which have the classic gumball machine appearance, except for a Halloween-y bowl if you have the Spooky Day Stuff pack.
5.

OhMySims' Functional Candy Dispensers
Here we have another Simmer who ran with the above mod to give us something unique, brand new, and absolutely amazing.
This set contains a full-sized gumball machine, complete with a transparent front so you can stare in disappointment after it eats your quarter.
Oh, what? That doesn't happen in The Sims? Moving on!
Several of the other objects are Spooky Day themed. At long last the cute ghost holding a candy bowl can do more than serve as a decoration.
Thanks to clever Simmers, it now can dole out the sugary delicacies whenever your Sim wants – as it should.
There's also a big bucket, and even the weird cake saver thing with a purple cake inside has a purpose.
Just so you have all the bases covered, the creator also added an everyday dish with colorful wrapped candies.
6.

Serena's Sweet Treats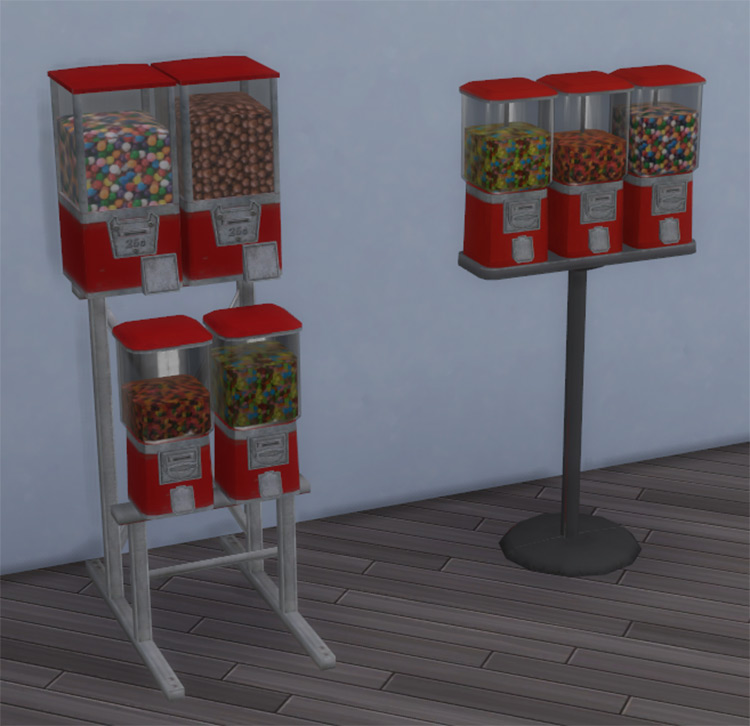 Even with their tendency to betray you, gumball machines are a lot of fun.
For kids, they promise something exciting and sweet during a boring shopping trip.
And by the time those kids are all grown up, they may just have the money to finally fulfill their childhood dream of buying their own personal machine.
This set from sg5150 has every gumball machine design you could think of.
From the classic dome-shaped versions, to the triple threat version that's prominent today. Nothing is left out.
There are even a couple countertop models, which will make really cute decor in a kid's bedroom!
7.

Halloween Candy Bowl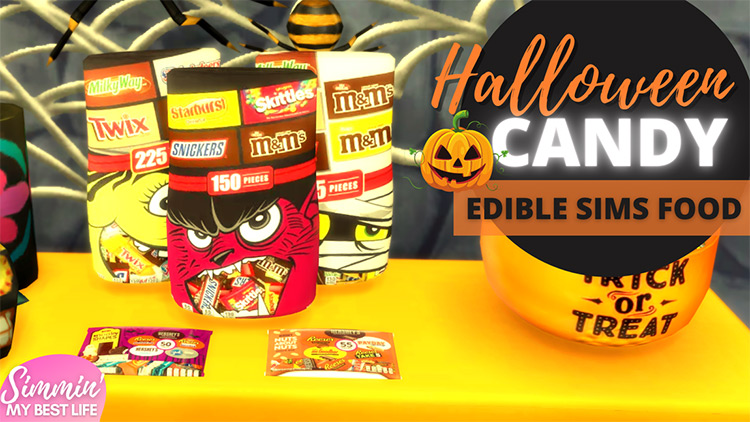 It's no surprise that most of the candy bowls available are Halloween themed.
Simmers from regions that don't celebrate it may not get all the hoopla – but it's a pretty big deal.
I love Halloween, and firmly believe we can never have enough Halloween themed objects in the game… Er, I mean, Spooky Day! Totally a different thing.
What's cool about this CC is that the candy inside is not only super detailed, but it's the good stuff.
KitKat, Snickers, M&Ms, Milky Ways… yum!
They're delicacies as far as candy is concerned. And this bowl is practically overflowing with all of that and more.
8.

Candy Tin & Candies
It's funny how some of the coolest CC is often released as part of a random collection.
This Advent Calendar set has everything from razors to encyclopedias, but it's the candy tin that got it onto this list.
You'll have to scroll a little bit to find it, but the bright colors are rather striking.
I'm all for adding more clutter and colorful décor to the game – and these tins (combined with the additional loose candies) are just the thing.
Much like cookie tins, you'll find almost anything but candy inside these in most houses.
That's because the contents get gobbled up so quickly, and then you're left with nothing but a pretty container.
But this CC is just decorative, though. So your Sims will be doing no snacking.
I'll admit that having candies lying around seems to defeat the purpose of a tin or dish, but they still look nice.
Browse:
Lists
The Sims 4
Video Games