Best Sims 4 Canopy Bed CC & Mods (All Free)
This post may contain affiliate links. If you buy something we may get a small commission at no extra cost to you. (Learn more).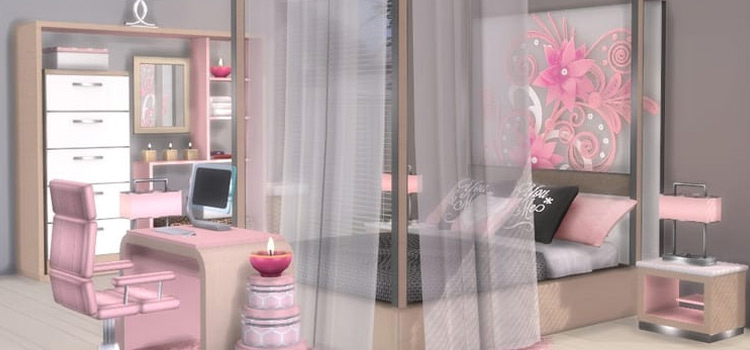 Canopy beds? In this economy?
Why yes! Contrary to popular belief, canopies never went out of style. Whether you need it for warmth and a little more privacy in the bedroom (wink wink), or for just feeling like a member of the royal family first thing when you wake up.
Canopy beds make your room feel a little bit more luxurious. Same goes for your Sims, too.
Let your Sim live a life of luxury by adding in this glorious piece of bedroom furniture, specifically one of these free canopy bed CCs.
Plenty of styles to dig through to find the perfect match for your new Sim household.
10.

Bedroom Industry Canopy Sheer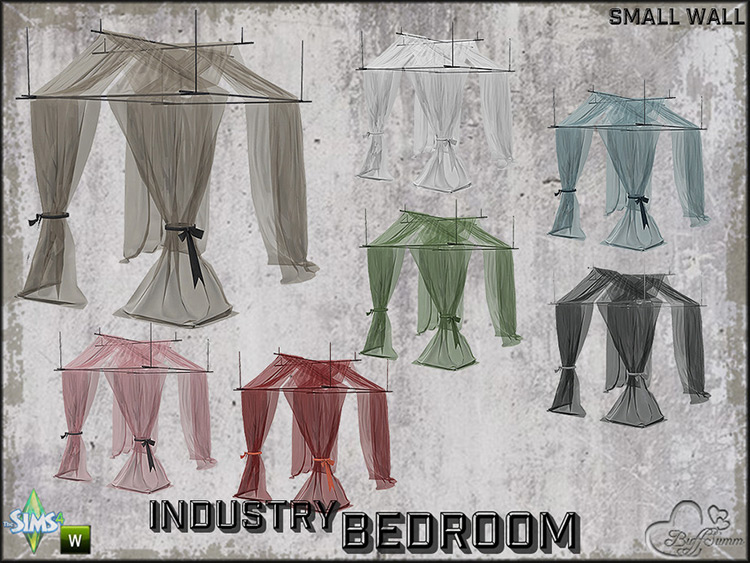 If you want a canopy for aesthetics and not warmth, then sheer canopy curtains are your best bet.
Usually made from tulle, chiffon, or organza, they can help soften any room that needs a more airy feel.
If your Sim's room theme is industrial, then this CC by BuffSum is great choice without being so canopy-y.
It fuses industrial elements with its metal bars and adds a little bit of softness with the sheer drapes. And it comes in 7 colors.
Great for a tough Sim in touch with his sensitive side!
9.

Princess Bedroom Canopy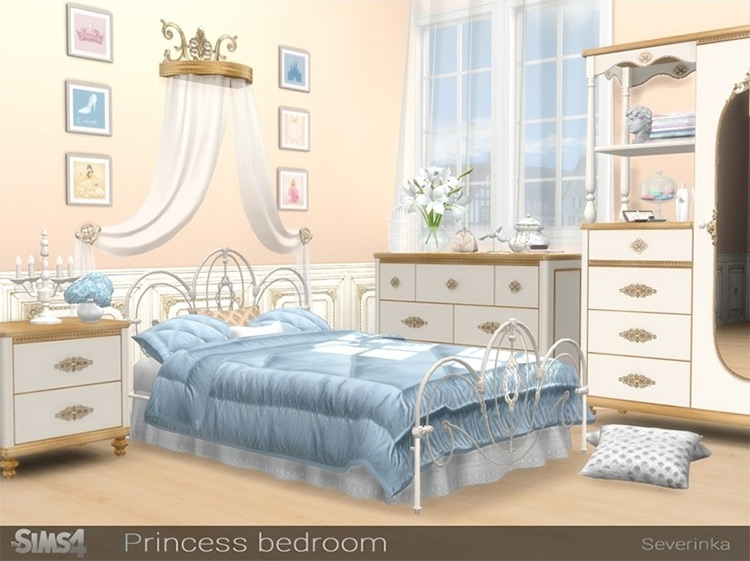 Heavy is the head that wears the crown. So why do they even bother wearing it?
Remind yourself that you don't need to be of royal blood to sleep like one with this bed canopy, included in the Princess Bedroom set by Severinka.
Choose from either a gold or white gold crown adorning the top of the canopy, with flowy white drapes held by crests. May it help you dream of your Prince Charming.
8.

Toddler Bed and Canopy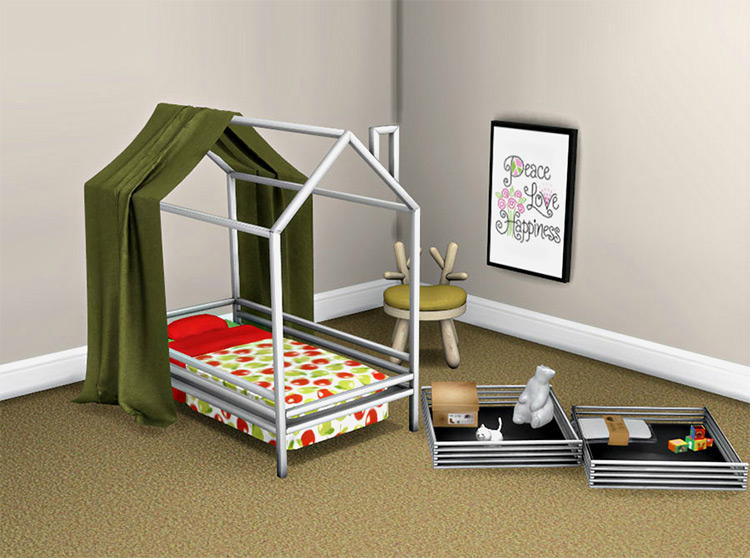 Parenthood is a magical thing.
You get a chance to raise and mold a human being you can call your own. Which, to be honest, is what we do when we play The Sims…
Talk to anyone with offspring and they would all agree that sometimes, they wished that child would grow up and move out already!
Give your toddler Sim that feeling of emancipation with the Toddler Bed and Canopy CC by LeoSims. This canopy bed is shaped like a house, with a cloth drape over it.
There are 8 drape fabrics to choose from and 7 canopy bed colors suited for every room theme.
Level up your "Get back to your room!" dialogue up to "Go to your house and have a time out!".
7.

Canopy Set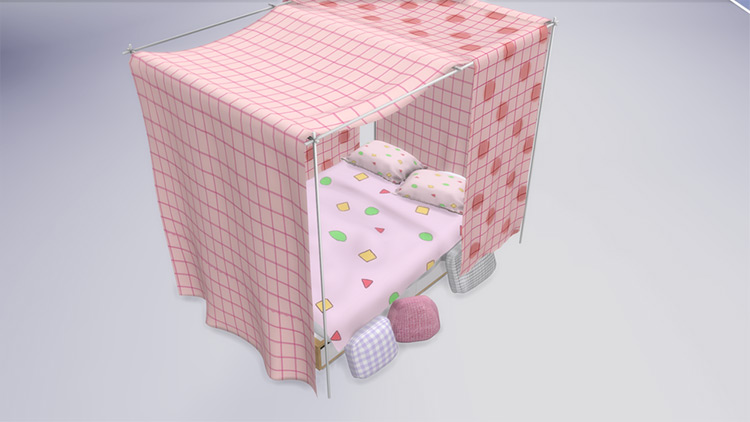 Now here's a canopy that is flexible enough to place in and out of your home!
Korean Simmer KKB created these two sets of standalone canopy that suits both the bedroom and your outdoor lounge area.
This four poster canopy will suit rooms that have a more modern, structural feeling And will replace outdoor canopies that make you feel like you've ran away and joined the circus.
It comes in two versions, the first having a massive catalogue of 35 colors and designs, with the other version having 25! Kamsahamnida, KKB!
6.

Dreamer Bed Canopy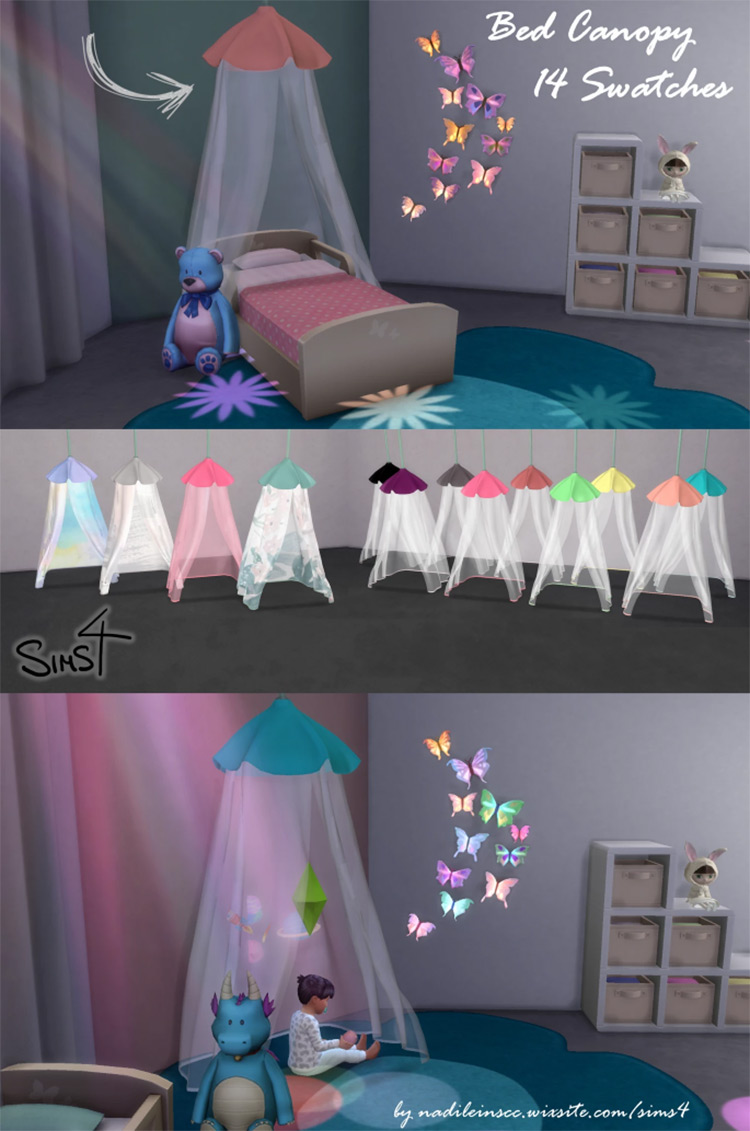 This Dreamer Bed Canopy mod created by modder Nadilein will cast a dreamy spell to your toddler Sim's room.
It has 14 swatches with choices that will suit both genders, too.
The canopy is shaped like an upside-down flower, with tulle hanging out to cover the single bed. It is not required to even hang this cute canopy over the bed, as they can also be used just simply by the floor or even outdoors.
It's only a matter of time before the fairy godmother comes.
5.

Curtains and Canopy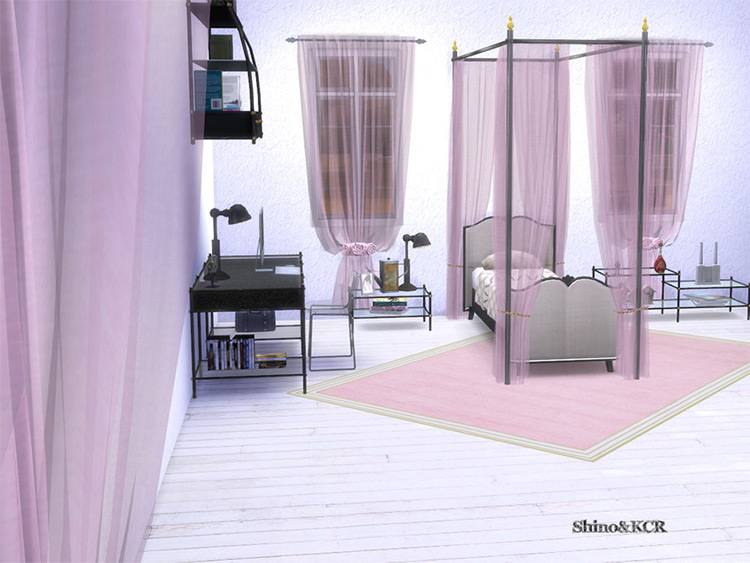 If you don't mind, here's a personal question for you: does the curtain match the canopy?
With ShinoKCR's Curtains and Canopy set, you bet they will!
This CC pack includes canopies for both single and double beds, plus curtains that you can mix and match. The canopies come in 5 colors of sheer fabric, with the same number of bar color variations.
Never sleep in a mismatched room again.
4.

Kids Delight – Canopy Single Bed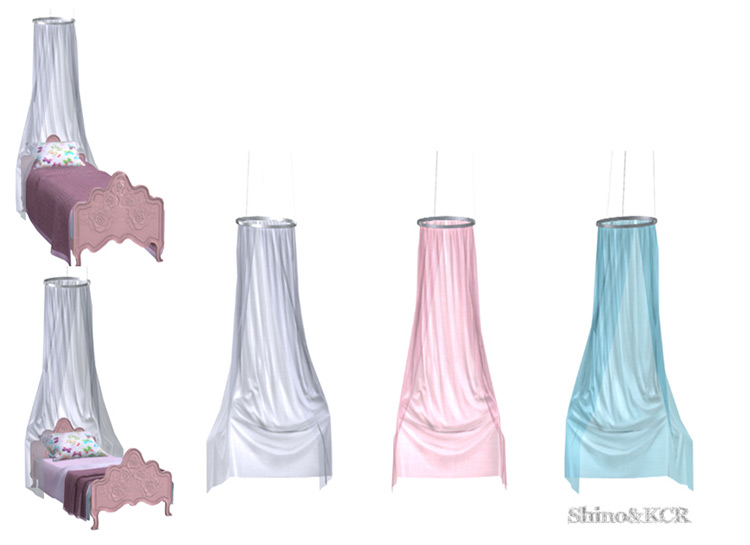 Harken back to the old Victorian era, without the fear of the scarlet fever, with this vintage style canopy for kids, also created by ShinoKCR.
It's a single bed canopy featuring a simple silver bar and sheet fabric. And it comes in three colors: pink, blue and white for a heavenly vibe.
This fits single beds and can be found in Sculptures. Place it above a Baroque or Victorian style bed for a classy, clean look.
3.

Boron Double Bed Canopy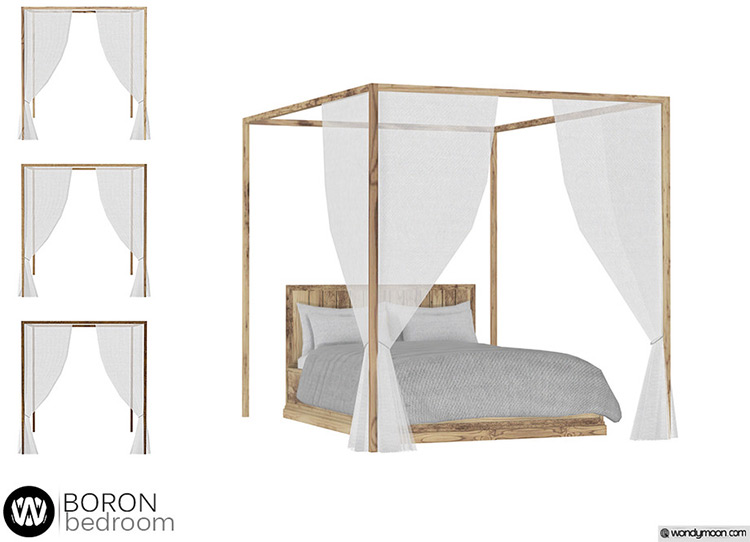 Sometimes the best choice is to go back to the basics.
No frills, no drama for your mama.
We believe Wondymoon created the Boron Double Bed Canopy with minimalism in mind.
Both bed frames and the four poster canopy is made from wood, and features two pieces of sheer fabric only by the foot of the bed, eliminating the possibility of getting a face full of tulle during windy days. You know how they can be itchy.
This canopy bed also evokes a sense of peace. So not only will it suite light and airy minimalist rooms, we're sure it will also go well with your Sim's zen bedrooms!
2.

Can Do Canopy Double Bed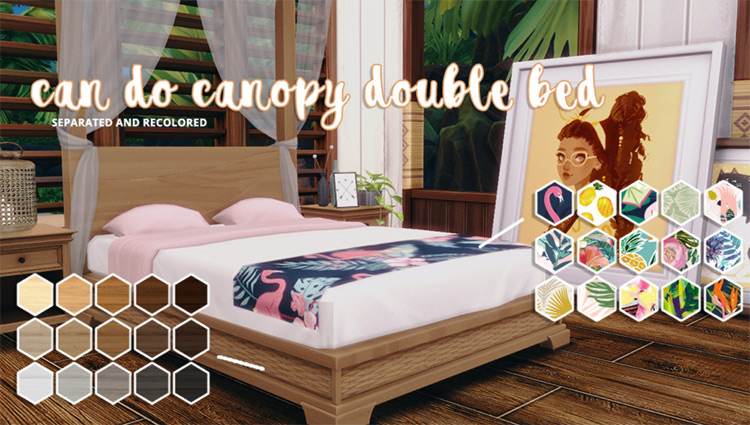 Wooden furniture just drips with finesse.
We just love the country charm that makes you feel closer to nature. Call me a treehugger!
Here's another wooden canopy choice by Sara's Simblr – the Can Do Canopy Double Bed, originally from the Island Living pack that she has separated and recolored!
This CC has two separate elements: a wooden double bed and a canopy with 15 swatches each.
As it is originally from the Island Living pack, it also requires the expansion to use.
1.

French Canopy Bed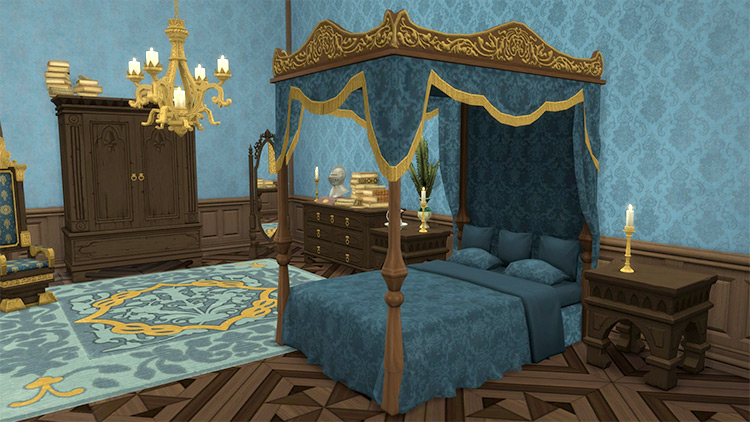 We've arrived on the top spot, the crème de la crème of the canopies.
This French Canopy Bed CC by TheJim07, converted from TS3: World Adventures, will make you wake up like Marie Antoinette… without the threat of execution by treason!
Oozing with decadence, this canopy bed will make you feel like a monarch all day, every day.
It features that classic canopy bed design and look, adorned with Victorian patterns.
Just avoid freaking out your Sim roommates by waking up screaming "Off with their heads!"
Browse:
Lists
The Sims 4
Video Games