Sims 4 Cardi B CC: Hair, Nails & More
This post may contain affiliate links. If you buy something we may get a small commission at no extra cost to you. (Learn more).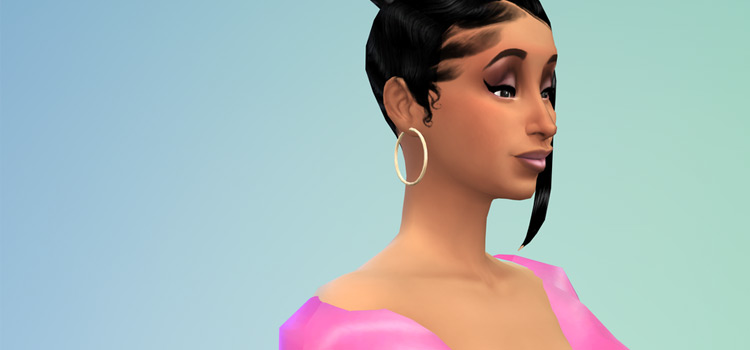 It's hard to imagine 2017 without "Bodak Yellow," the song that launched Cardi B into worldwide fame.
Since then, the Bronx-born rapper has been making money move by releasing countless hits such as "I Like It," "Up," and "WAP."
On top of her earworm-y bops, her no-filter personality has drawn a massive following – and quite a ton of controversies.
However in Cardi's case, it would take more than a few conservative haters to bring her down.
So let's honor the reigning Queen of Rap with a bunch of Cardi B-inspired CC for The Sims 4.
1.

Celeb Posters Part 1
As old school as it sounds, nothing beats putting up posters of your favorite actors or musicians on your bedroom wall.
This traditional display of affection has long been a part of pop culture – and still endures up to the era of NFTs and photo cards.
Let your Sims get that visual impact exclusive to posters, all thanks to this CC created by Cardi Sims.
2.

Cardi Nails
Lindsay Lohan once said, "The limit does not exist!"
And it certainly applies to Cardi B's nails.
The rapper is usually seen sporting nails that look as long as Lady Deathstrike, paired with over-the-top embellishments that would put jewelers to shame.
While growing nails up to four inches aren't exactly the norm, Cardi B never fails to make us feel like we're missing out on something pretty cool.
Before you have your Sim visit their nearest nail technician, have them try out this CC. They might love the look.
3.

Cardi Peacock Tattoo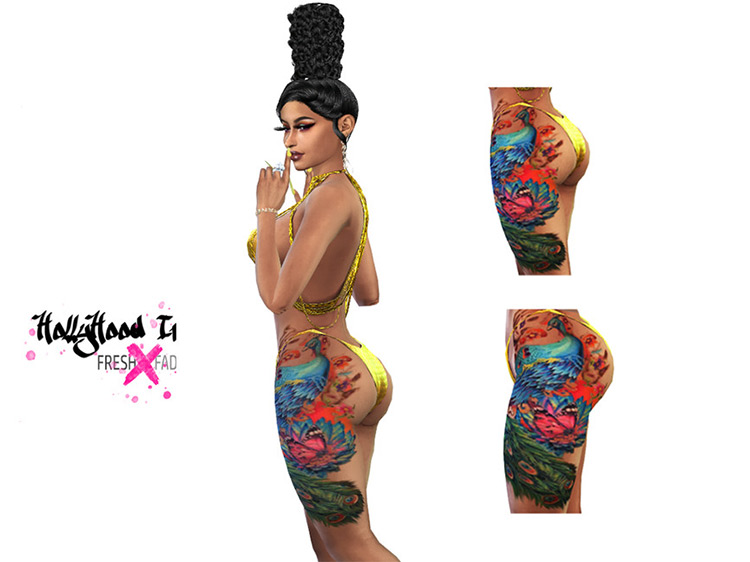 Over the years, we've seen Cardi B wear some of the most revealing clothes in pop culture history.
At one point, the only thing covering her modesty was a pair of edited black bars.
These instances put her huge peacock tattoo on full display, giving fans and photographers a clear view of her 10-year-old ink.
And now your Sims can grab the latest version of Cardi B's iconic hip tattoo with this CC by teekdafreek!
4.

Cardi Hair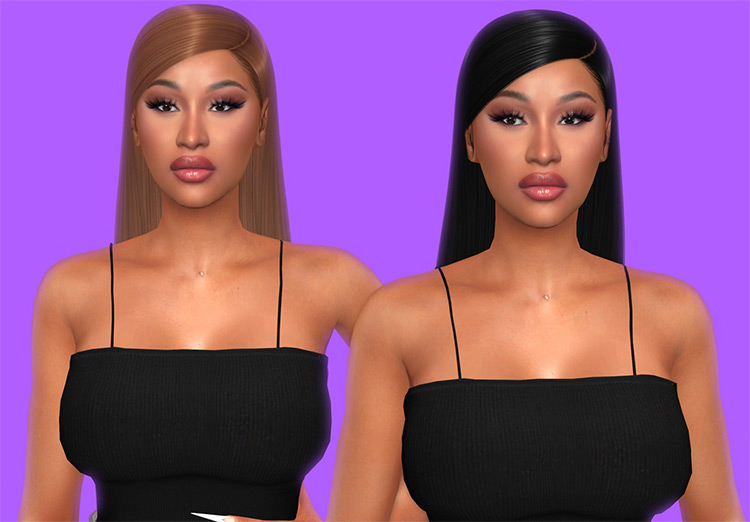 Like any other celebrity, Cardi B has had multiple hair transformations since her explosive debut in the music scene.
Fortunately for her, she hasn't had a bad hair day since 2017.
We've seen her work a platinum blonde bob, a Storm-inspired hairdo, and even rainbow-colored locks.
However, these vibrant variations lack the classy vibe of this brilliant hairdo.
Your Sims can look the part of a history-making artist here – all thanks to this CC created by Alexo.
5.

Bardi Hair
Why settle with one hair color when you can change it every day?
Alexo did us a great service by creating this custom CC, which has up to 45 colors to choose from!
Your Sims probably have fewer outfits than the total number of hair colors here.
From Cheeto orange to Teletubby green, your Sim can have all the colors to match their mood of the day.
6.

Cardi (Chainlink Hairstyle)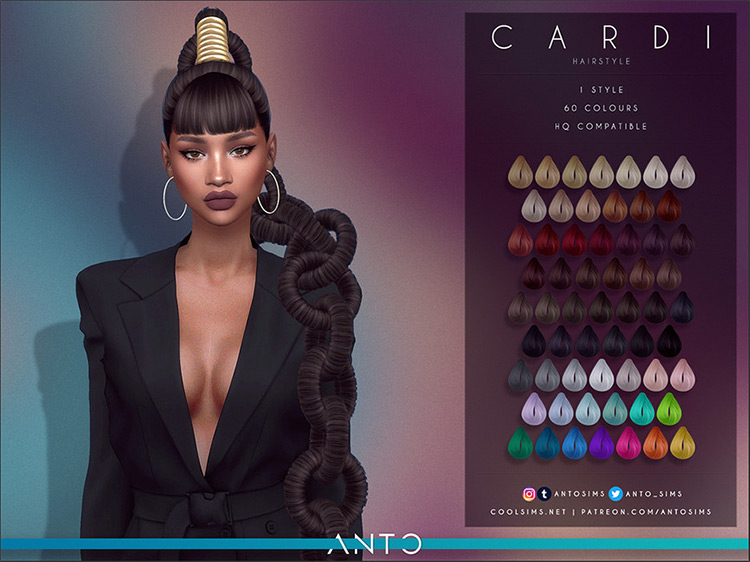 When Cardi B dropped the music video for "WAP" back in 2020, it was safe to assume that the world was in visual shock.
Within the first twenty seconds, viewers had seen naked fountains and butt busts.
Fast forward to the 2:04 mark and we see Cardi B doing the splits while wearing a chain-link ponytail.
It wasn't the weirdest thing I saw in 2020… but it definitely wasn't a hairstyle you'll commonly see across the street.
Now your Sims can copy Cardi's exact look from the "WAP" video with this custom hairdo – and it even comes in 60 brilliant colors.
7.

Cardi B in Versace
A-List stars, supermodels, and almost every person that's rich enough to afford it, all love Versace.
And Cardi B is no exception.
She once dressed her daughter, Kulture, in an $830 Versace snowsuit while she was just six months old.
That's one expensive baby. And she got it all from her momma.
Now you can gift your Sim Cardi's Versace x Balenciaga ensemble for free! Well, at least free for you.
8.

Cardi B Body
Even with all her success and accomplishments, body shamers still find time to pick on Cardi B's figure.
But like a true unbothered queen, she clapped back at trolls for not being able to handle all her "juicy weight."
The fact that body shamers still exist is a tragedy. But we could only hope that Cardi roasts them alive on her next album.
Apply Cardi's signature curves on your Sims with this CC by 3D Muhari – fully available for any Sims aged teen to elder.
9.

Cardi B Met Gala 2018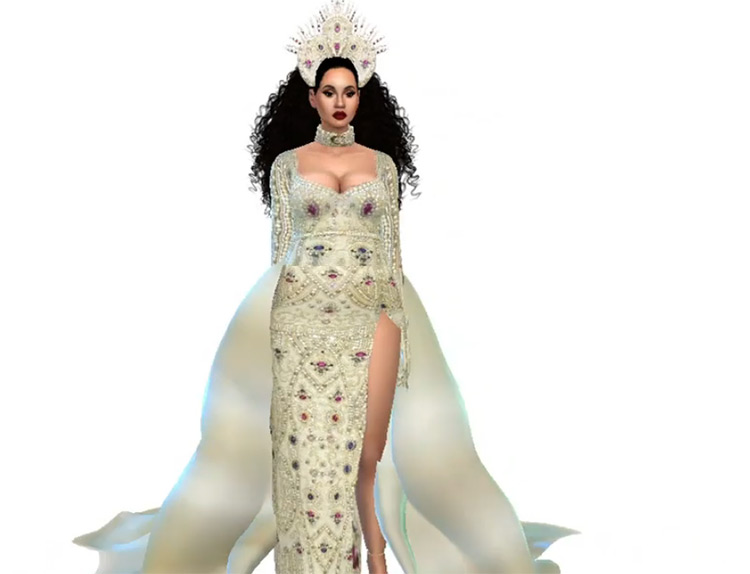 Just a year after everyone (who's not living under a rock) got to know Cardi B, she received an invite to attend the 2018 Met Gala.
The theme was "Heavenly Bodies: Fashion and the Catholic Imagination," and Cardi didn't disappoint the Vatican-sanctioned event by appearing like a goddess on earth.
If your Sim might want a piece of this jewel-encrusted ensemble, then definitely snag this for your CC folder.
10.

WAP Trait Mod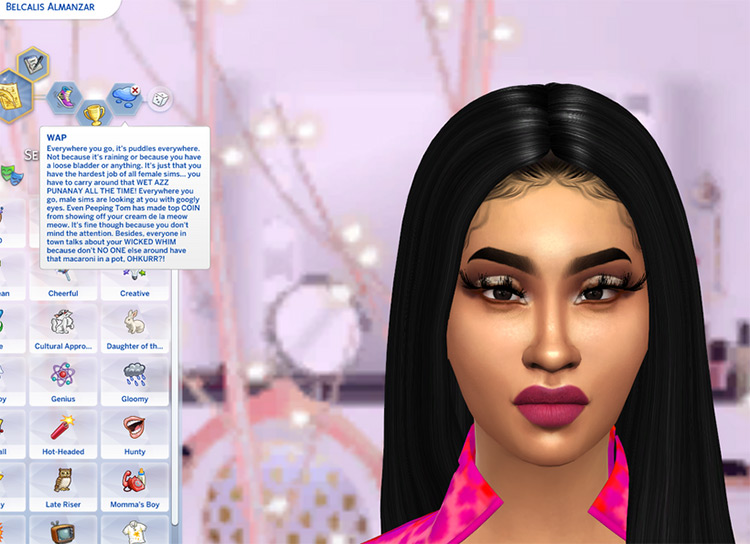 I've seen a lot of custom trait mods throughout the years.
But this WAP Trait by MuvaSimmer is just something else.
Inspired by Belcalis Almánzar herself, this mod aims to turn your character into becoming the sexiest Sim alive.
The buff descriptions would also entertain you to no end because, duh, this is Cardi B we're talking about!
Help your Sim dream big and live like a rockstar with this trait mod, OKURR?!
Browse:
Lists
The Sims 4
Video Games