Sims 4 CC: Best Cardigans For Your Snuggly Needs (Male + Female)
This post may contain affiliate links. If you buy something we may get a small commission at no extra cost to you. (Learn more).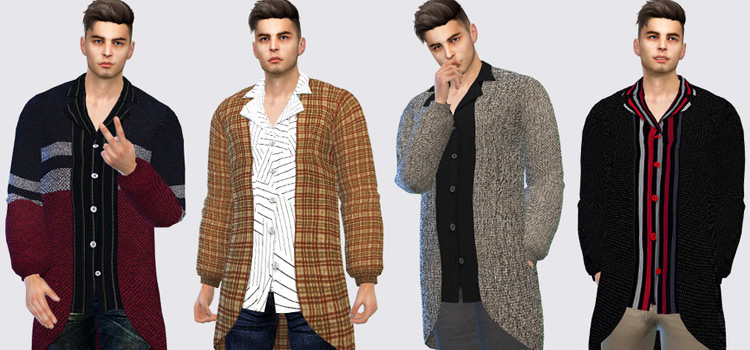 One of the best parts of The Sims 4 is being able to dress your Sims in any and every style. But sometimes having that much freedom can be a bit stressful…
Especially if you have so many options thanks to all of the beautiful custom content available to us.
Personally, I spend what feels like hours (okay, some days it is literally hours) searching for the perfect staple piece to add to my ever-growing collection of Sim fashion. And I'm here to cut out some of that work for you, as I'm bringing you the best of the best when it comes to an incredibly snuggly and comfy staple: the cardigan.
Whether your Sim is walking around Brindleton Bay with their doggos, or strutting their stuff on the streets of San Myshuno, the cardigan works for almost every occasion. And if you've been looking for some handy CC, look no further.
1.

Trillyke's Splash Oversized Cropped Cardigan
We're stepping out of the dressing room first with one of my personal favorite designers, Trillyke.
This cropped cardigan can be paired with just about anything and your Sims will be feeling themselves in front of that mirror.
This CC comes in 30 swatches (with both prints and solids), and if you're looking for something on the longer side, there's also a full version that isn't cropped as well.
2.

Waekey's Oversized Cardigan
If you're a Sims CC fan, I'm sure you've been on either side of the Alpha vs. Maxis Match debate a time or two.
There are fantastic options for both sides, and Waekey's oversized cardigan is a fantastic alpha design.
This one is on the casual end, and it makes me wish I had one in real life.
Long sleeves, dropped shoulders, and a wide variety of patterns and solids (within 18 swatches) should move this one to the top of your wish list.
3.

Darte77's Knitted Cardigan
This one's for the guys!
Darte's beautiful open cardigan over a t-shirt would make for a brilliant addition to your male Sim's closets!
This designer never disappoints, that's for sure.
There are a whopping 45 swatches available (can you even believe?) and they're all phenomenal!
They range from solid cardigans with patterned t-shirts, to patterned cardigans with solid tees, all the way to both solids.
If you've never tried out Darte's designs, I recommend you give this one a look-see.
4.

Dyoreos's Jekyll Cardigan
Have you ever been sitting in Create-A-Sim, just staring at your tops and thinking "boy, I wish I had a nice and puffy cardigan?"
Yeah, we've all been there.
Not to worry though, because Dyoreos is here to save the day with their adorable Jekyll Cardigan!
This one comes with 35 swatches and a warm and cozy turtleneck underneath.
They're all very simple and solid colored, so they're going to pair well with nearly anything.
5.

Dyoreos's Papa Cardigan
While we're still on the Dyoreos train, we need to make a pit stop to see this gem from the designer's Boys Be CC Pack.
This Papa cardigan is made just for those soft boys you've been itching to design.
The Papa comes in 15 swatches, and also offers a nice open look with a layered t-shirt underneath.
6.

Myshunosun's Comfy Cardigan Outfit
Some days I wake up and have to force myself to put pants on… which would have been fine, if I didn't have to go to the office…
….anyway!
I'm sure that all of our Sims have felt the same way, so designer Myshunosun had the greatest idea.
A cardigan outfit.
I know, right? This full body piece is a treasure, I'm telling you.
The dress is belted and comes in 14 swatches from Myshunosun's personal palette, and then 5 bonus color-block swatches.
Do you think this one comes in adult human size? Asking for a friend, of course.
7.

Aharris00Britney & ayoshi's Jasmine top
If you've been in the CC game for longer than fifteen seconds, then you've surely heard of Aharris00Britney.
This amazing designer does the best collab collections with other CC artists, and this one does not disappoint.
This is a thinner option for a cardigan, which would be great for the Spring, and there are two versions with almost 100 swatches!
It also has a quite revealing neckline and tight-fitting sleeves. It's gorgeous, I tell you.
8.

Aharris00Britney & ayoshi's Felix Cardigan
There are times when I've finished a look for one of my male Sims and I decided that it needed a sweater over the top.
But then the dilemma becomes apparent, because in order to do that, I'd need to change the top… but what if I didn't need to?
With CC creators constantly changing the game, this pair has made it possible to get the best of both worlds!
Located in the accessories section is this Felix Cardigan accessory top that will go over a lot of your regular tops.
9.

Black Lily's Cardigan & Knot Shirt
Do you know what I sometimes just don't like?
Buttons.
They take way too long to pair up, and sometimes they just fall off your cardigan.
So, do you know what we should do? Just rid of the buttons!
Black Lily has created this great button-less open cardigan, and it comes with a knotted t-shirt underneath as well.
It only has 3 swatches, but they're a perfect combination of colors, and would look great on any sim.
10.

McLayneSims' Long Male Cardigan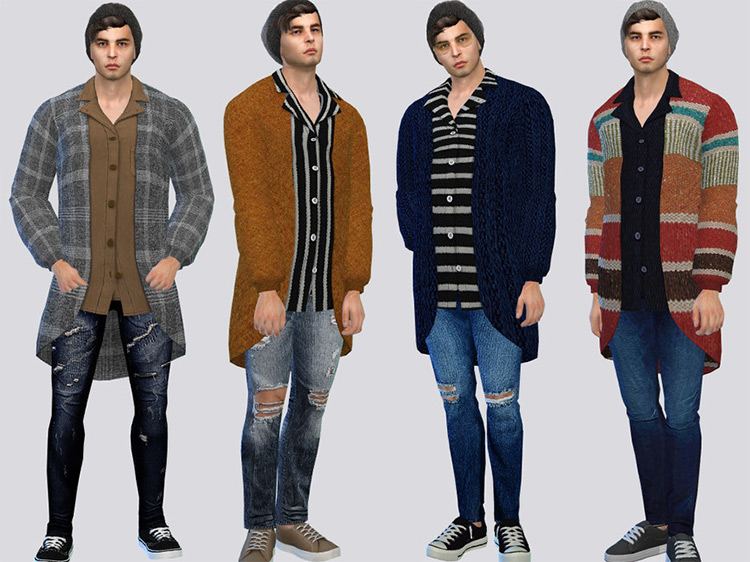 Ohh, do I have a great alpha CC cardigan find for you all!
Sometimes I feel like I ignore my male Sim's fashion designs. But this artist has really helped me lately come up with some great clothing ideas for my boys.
This CC is a much longer cardigan option with a button up collared shirt underneath. And there are swatches for days!
This one would pair really well with jeans, or even slacks for a dressier look. Plus the bottom hem of the sweater is curved, and would look perfect on any body type.
11.

Gorilla's Long Cardigan
Does anyone ever want to throw on a cardigan in the middle of the summer?
I mean, maybe you're cold because of a sun burn. Or maybe those summer nights are just a bit too cold for both you and your Sims?
Gorilla's beautiful long cardigan CC could be the answer to your problem, then!
This one is a thin, open cardigan with a cropped tank top under.
The alpha texture is great, but would also look great with your Maxis Match pieces as well.
12.

Eyemyth Sims' Men's Cardigans
Picture this: it's Saturday morning and your Sim's partner just needs a coffee from the food truck down the street.
As he's hopping out of bed, he grabs this cardigan and haphazardly buttons it as he's out the door for that caffeine boost.
Eyemyth's men's cardigan is so adorable with its mismatched buttons and oversized sleeves. Who wouldn't want to curl up in this beauty and spend a lazy day at home?
Eyemyth's cardigan comes in more than 6 swatches, and they all vary in color and style.
13.

Fabienne's Bed is Full Cardigan for Children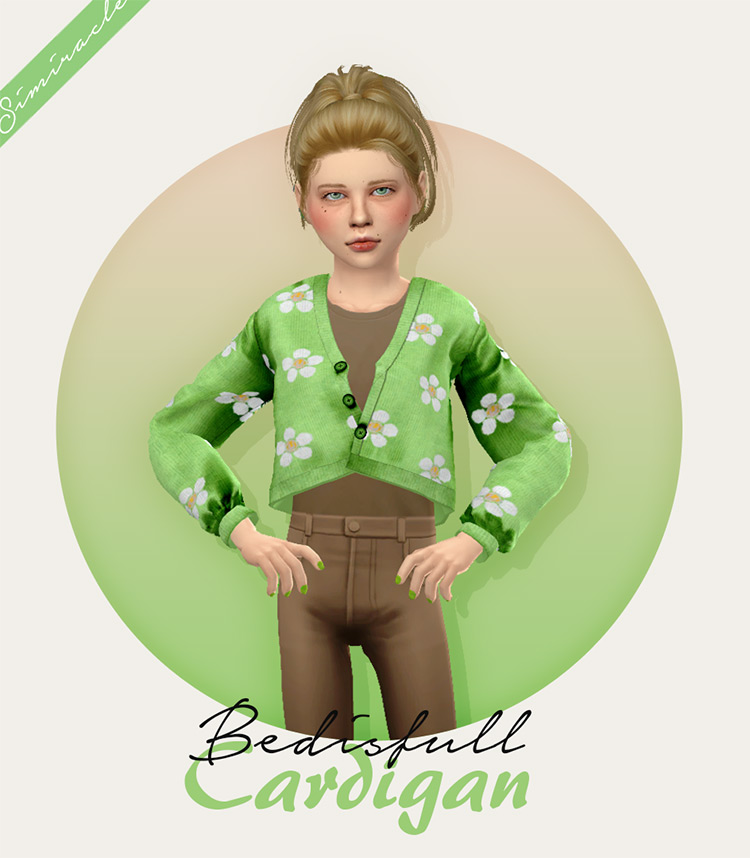 You didn't think I'd forget about the kiddos, did you?
One of the best things I've seen lately in children's CC is when the creators make matching clothes for kids and their parents.
I mean, how cute.
Fabienne has taken their adult version of this cropped cardigan and turned it into a top for the children in the game. And I'm pretty much obsessed with it.
They have an available accessory top that you can download for your kids to wear under it, and the cardigan comes in 30 swatches!
14.

Georgiaglm's Toddler Cardigan Outfit
So, how far are you into your "100 baby" challenge?
I, personally, haven't ever tried this popular Sims challenge. But I know for a fact that if I were to do it, then my kids would all have to have different outfits on so I could tell them apart.
Georgiaglm's Cardigan Outfit is great because it's a whole outfit, but looks like a two piece, which makes it easy for your Sim parents to put these little outfits together in a hurry!
This cute CC comes in 9 swatches, and the cardigan is opened and layered with a t-shirt. It can also also be worn by both male and female toddlers!
15.

NYGirl Sims' Toddler Shirt w/ Hooded Cardigan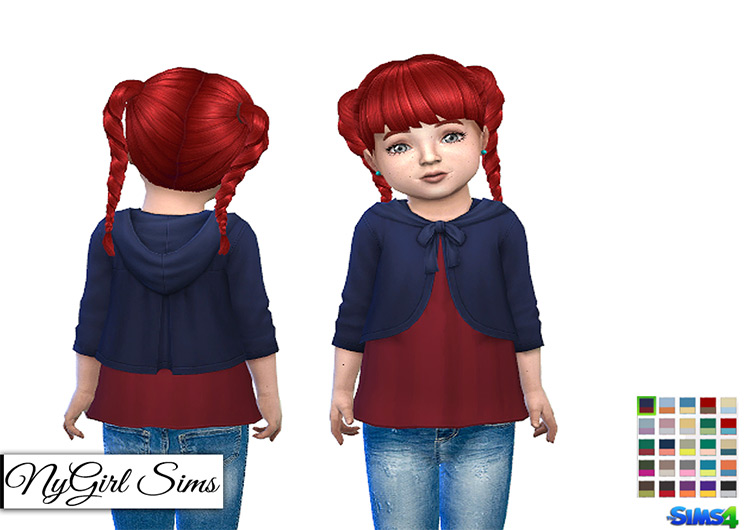 Okay, so this is pretty controversial, but this one is probably my favorite of the bunch!
NYGirl Sims' short cardigan with the little tiny bow and hood is probably the cutest thing on the Internet right now.
Your toddler Sims are going to look like a little teeny tiny Little Red Riding Hood in this top.
And this CC creator has taken it upon themselves to put out a whopping 25 swatches with this cardigan, and all the colors are perfect for your little ones.
Browse:
Lists
The Sims 4
Video Games