Sims 4 Carpet & Floor CC: The Ultimate Collection
This post may contain affiliate links. If you buy something we may get a small commission at no extra cost to you. (Learn more).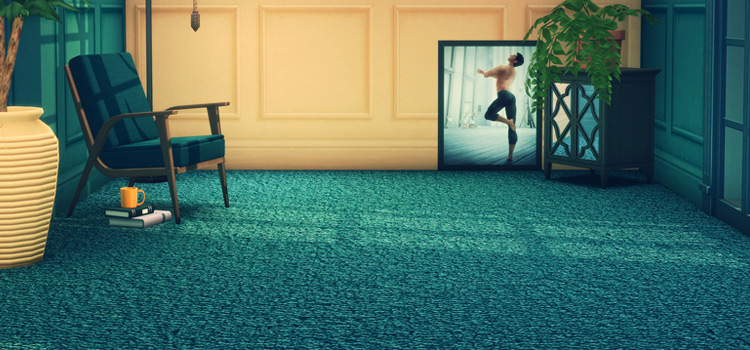 It's no secret that Simmers enjoy the process of decorating as much as actually playing their Sims.
In fact, plenty of players even enjoy that more – and rarely see a moving Sim in the house they lovingly built.
Every facet of building is very important, though. Whether this part of the game is something you love or not.
No home is complete without doors, windows, or flooring.
What we already have in the game is pretty straightforward, but Custom Content creators have really come up with endless things in each category to bring a fresh new feeling to any build.
You can have it all and never lament over not having carpet in the right color, or missing the kind of tile you want again. With this list, you'll have all the choices you need to make the best homes ever.
1.

Sunset Floor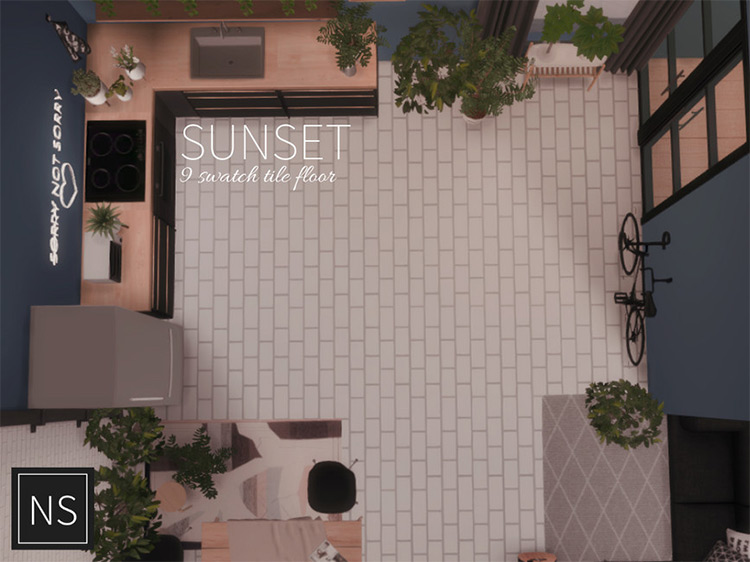 Surely I'm not the only one who has ever noticed most tile in this game looks almost exactly the same.
My bathrooms are really boring.
But this floor from Networksims has a nice twist.
Rather than single tiles, each one is composed of small rectangular pieces, almost like brickwork.
It offers a cool new look while sticking to classic grayscale swatches – so you can easily integrate any interior you'd like around it.
And I know most people think of kitchens or bathrooms when they have tile in mind. But this really would work just about anywhere.
Even an outdoor area could have a nice little boost with these tiles!
2.

Glossy Modern Wood Floor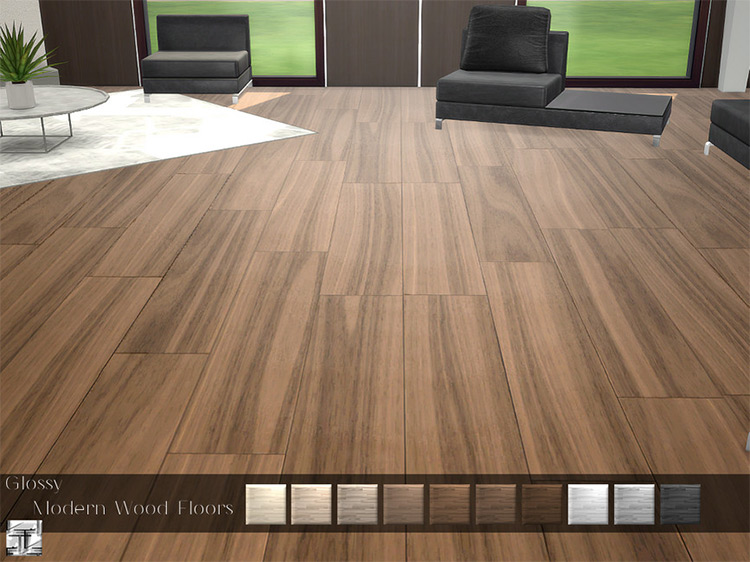 Ah, wood.
A lot of people just can't get enough of it, myself included.
I can have a house full of wood furniture, wood trim on the walls, and still think, "Hmm, you know what this needs? Wood floors."
They just never look bad or go out of style and allow for more decorating. Personally, I only use rugs if I have wood or tile floors.
Rugs on carpet just don't look right when I do it, but they can add so much color and personality to a room.
This floor from .Torque is exactly as it says… glossy, modern, and wooden.
It looks fantastic, with its wide planks and grainy, realistic appearance.
Every swatch has a rich wood coloring, ranging from your typical dark shades to lighter whites and beiges.
3.

Carpet "Powerful"
Carpet can have a powerful impact on a home, which I'm guessing is how the creator came up with the name here.
It also doesn't have to be nearly as simple as you might think with what we have in the game already.
That carpet is quite low-key, just kind of there. It has mostly neutral tones (which are perfect for an array of interiors), but sometimes it's nice to have more choices.
And that's exactly what you'll get with this CC set.
The recolors definitely are powerful, coming in many new bright colorful swatches.
Now you can have a deep red carpet, powder blue, petal pink, and many others to carpet your Sim's home.
Even the yellows and whites, which we already have, seem a little more vibrant here.
Gone are the days of the floors blending into the background. Now they'll be an integral part of the overall look in their own right.
4.

Vintage Floors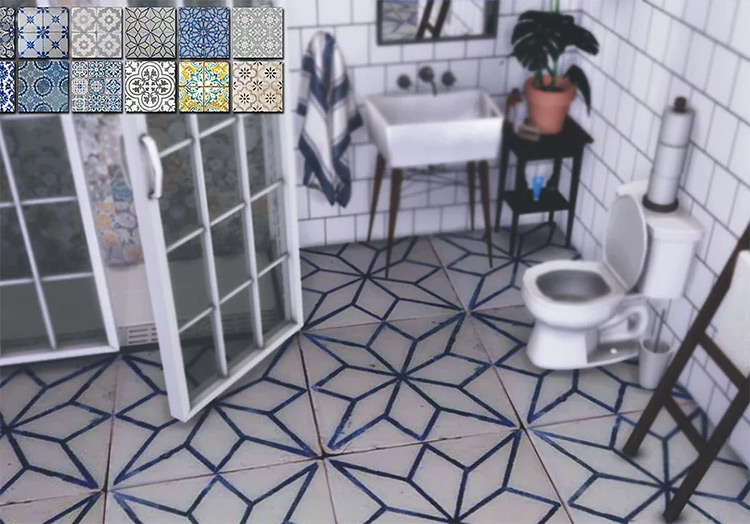 The word "vintage" means different things to different people.
To many, that spurs images of dull walls and floors, gaudy furniture, and decorating schemes so outdated it's liable to give today's interior designers nightmares.
But those who appreciate vintage things know that a lot of good came with the bad.
There were a lot of ornate designs, including geometric shapes and stunning, subtle floral accents like you'll find on these tiles.
They're striking and brilliant, sure to improve any space you use them.
Each of these 12 swatches is honestly an amazing gem in its own right.
No two are alike, so it'll take you a while to get familiar with all of them.
5.

Noodled Carpet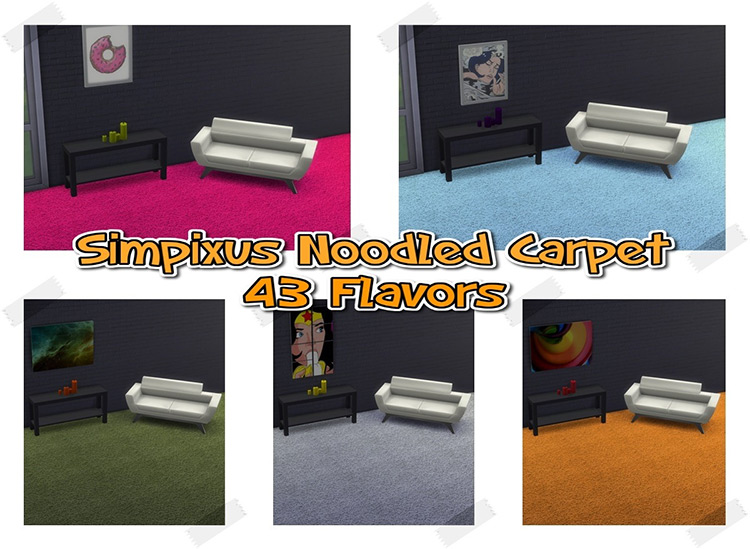 Here's some more carpet, to give you all the choices you could ever dream of, and more.
This time it's from creator Simpixus, who created this highly textured flooring in 43 swatches – er, flavors.
Yes, she dubbed them flavors.
Whatever floats your boat.
Many of the bright colors like blue, pink, purple, and green are kind of reminiscent of candy, so maybe that's why. They're just happy and fun!
But the darker colors are great, too. There's something here to suit all of your needs, whether your build is a modern one, retro, residential, commercial… no matter what, this awesome carpet will be there for you.
6.

The Carpet From My Dad's House
It's rare that custom content can make me snort-laugh, but here we are, with this lovely creation called "The Carpet From My Dad's House."
Kudos, Sillyfidget.
This is truly amazing.
I mean… visually, not so much. This carpet is grungy and faded – but that's exactly what makes it so appealing. The unfortunate truth is that not everyone keeps their floors in great condition.
Dads especially seem to have a way of installing carpet one time and then leaving it there for the next thirty years.
Forget stains and dirt, it's supposed to last a lifetime, darn it!
And that's exactly how long this carpet will look like it's been in your Sim's house.
It has a shag texture with a great range of colors.
7.

Peacemaker's Wood Floors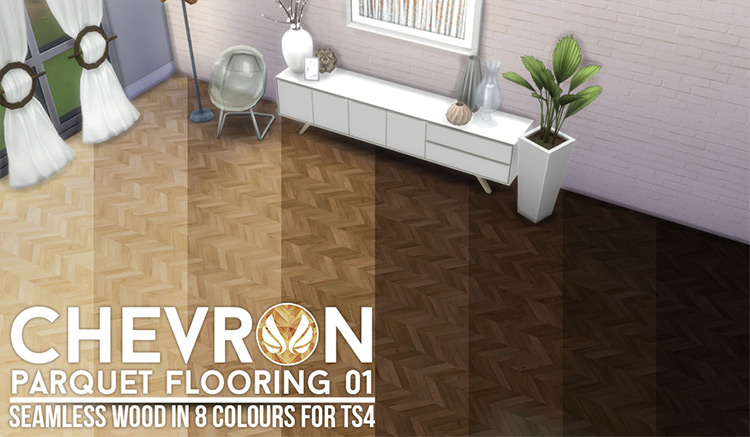 If you've spent a lot of time CC hunting, then you know there are some creators that have made a lot of truly incredible things. Some names you just come to know and admire.
Peacemaker is one of those for many players.
He's made tons of things for the Sim home like furniture and décor, as well as flooring.
This set is all about wood floors.
Their beauty is truly on display here in all four of the variations.
First up is the Herringbone design, something that has really taken off in recent years. That intricate pattern adds an elegant feel to the room and these dark colors are so rich, you'll never grow tired of seeing them.
Chevron is another elaborate pattern, and there are two different styles here: one is a much more defined version, and the other keeps it more subtle.
The last option you'll have from Peacemaker is a simple hardwood floor. But it sure is beautiful.
It has a rather worn look, but manages to be a perfect authentic wood design, without sacrificing the game's style.
8.

Marble Floors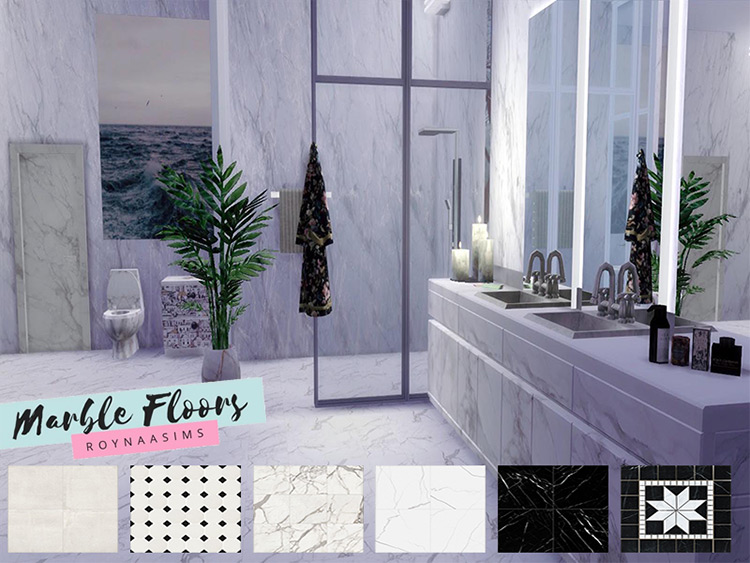 Marble is marvelous, there's no doubt about it.
This is one type of flooring you don't often see, and it's a shame because it sure is elegant.
It has a very unique look that is distinctly, undeniably marble. Any room can benefit from a bit of glitz and glam – and that's the exact feel this CC brings.
The six swatches are all separate and new, with some being rather simple while others incorporate detailed designs.
Black marble looks especially fancy, in my opinion!
This is one flooring type this is so under-utilized that I can't even tell you what we have for it in-game, honestly.
Most of the time, tile is instinctually the thing people choose for bathrooms. But marble has a totally different appearance – one that adds a more uniform look, since it may even be matched to counters or showers.
9.

The Ultimate Masonry Flooring Collection
I always overlook how important flooring is for outdoor areas, until I want to make a patio.
Then I find myself appreciating the stone and brick flooring all over again.
Those types of textures can really look beautiful in this game – as evidenced by this collection from Simsi45.
And this isn't just any CC collection. It's preceded by the word "ultimate" for a reason.
These 9 new masonry tiles were converted from The Sims 2; and they're all amazing additions to The Sims 4.
You'll find simple brick layouts here, as well as much more intricate ones, incorporating designs that will make any space prettier.
Each option also comes with many swatches and they can drastically change the look, too.
Gray bricks and red ones just have totally different vibes, I'm telling you!
No one says you can't use them indoors, either.
I believe these would also be interesting as kitchen flooring. But no matter where you put them, they won't disappoint.
10.

Pile In Carpet: Plush & Plusher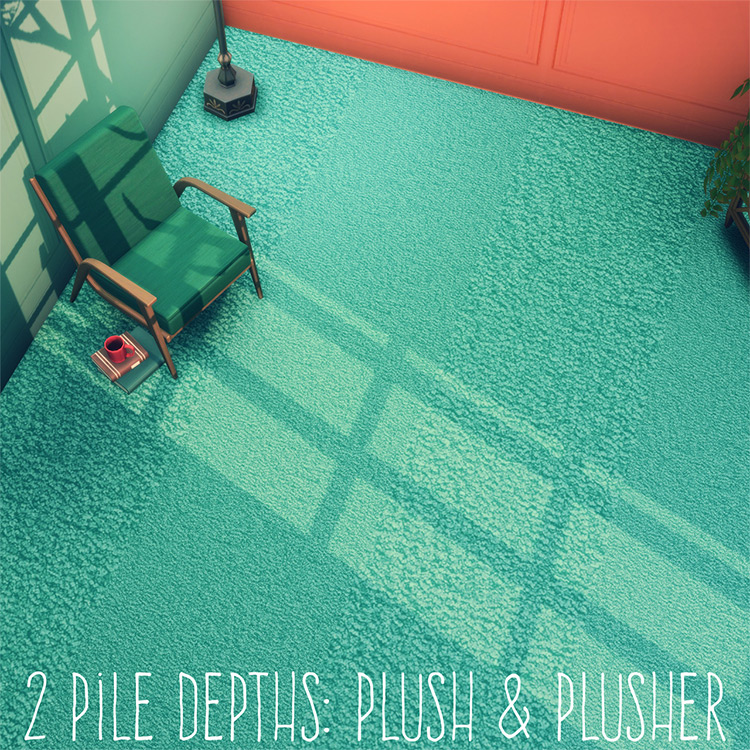 Carpet is more than its color, although that is an important part.
Texture is another matter that must be taken into account – both in the "world world" and in your Sims world.
That can play a big role in the final look of a room – and you want to make sure you'll get it right, since it's something you'll be seeing every day.
This creator made two versions here of an ultra-plush carpet that's just stunning.
Both have a vivid texture that'll stand out no matter the swatch or lighting.
That's the difference between the versions; depending on which you choose, that texture may be more bold or less.
And speaking of swatches, this is another creation where they really shine.
Simmers sure don't leave anything out when it comes to flooring. These are both available in dozens upon dozens of swatches.
Nothing is left out, so pretty much any color scheme you have in mind is definitely possible.
Light, dark, and pastel options are available for all colors known to man, pretty much.
11.

Linoleum Tiles
Ever since The Sims 3, I have wondered why linoleum is a separate category from tile.
It's the same thing… or so I thought.
It turns out linoleum has kind of fallen out of popularity in recent years because it requires regular maintenance, lest you want your floors to start curling up at the edges.
Since that's obviously not a concern in The Sims, I'm still puzzled as to why it's not just considered tile.
I mean, visually it's all the same!
But whatever, semantics aside, this flooring from Midnight Rose is lovely.
These feature the classic design of squares and diamonds, and the alternating colors make for an even more ornate look than you'd expect from linoleum.
This is great for any room that's prone to see a lot of messy work or foot traffic, like kitchens and laundry rooms.
Heck, even basements can benefit from linoleum.
That's certainly a step up from concrete.
12.

Picea Floor No.2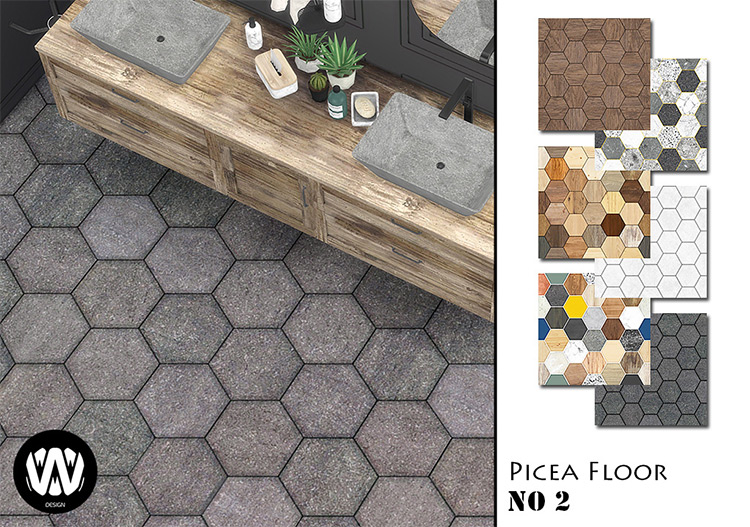 Sometimes, The Sims can actually be educational.
When TS4 players aren't busy scheming to impregnate the entire town or kill off spouses, they're incredibly creative and talented.
I've been introduced to many new styles thanks to CC makers, and these floors from Wondymoon are no different.
This is my first time seeing honeycomb flooring – and now I'm just left to wonder how this isn't something loved and known worldwide.
Those defined hexagon shapes are so unique, especially when paired with the swatches this creator included.
The multicolored ones are very eye-catching, but even the staples likes solid gray, brown, and white are classics in the making.
13.

Golden Marble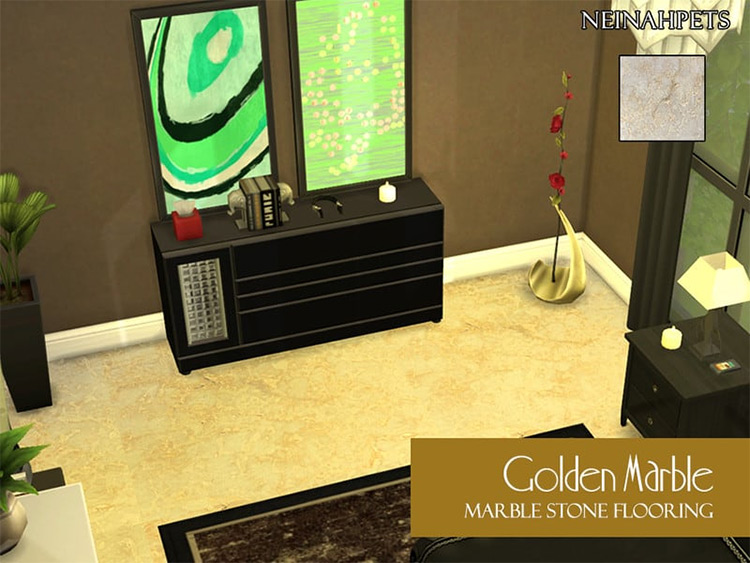 As I've gone over before, marble is pretty fancy lookin'.
This isn't the kind of flooring you'll find in a country cottage or city apartment.
For goodness sake, it's golden. And it's marble.
This is best suited to mansions, good enough only for households like the Landgraabs and Spencer-Kim-Lewis.
You can place it wherever you want, really… I'm no elitist.
But you must admit, there's a definite air of sophistication here that you just won't get from even the nicest & most polished wood floors.
Gold is also one of those colors that's bold in and of itself. But depending on what other colors you use in the room, it can give some interesting results.
Paired with blue or red furnishings, this gold marble will feel rather regal.
But black and silver will compliment it in a more understated way.
14.

Vintage Kitchen Floor Tiles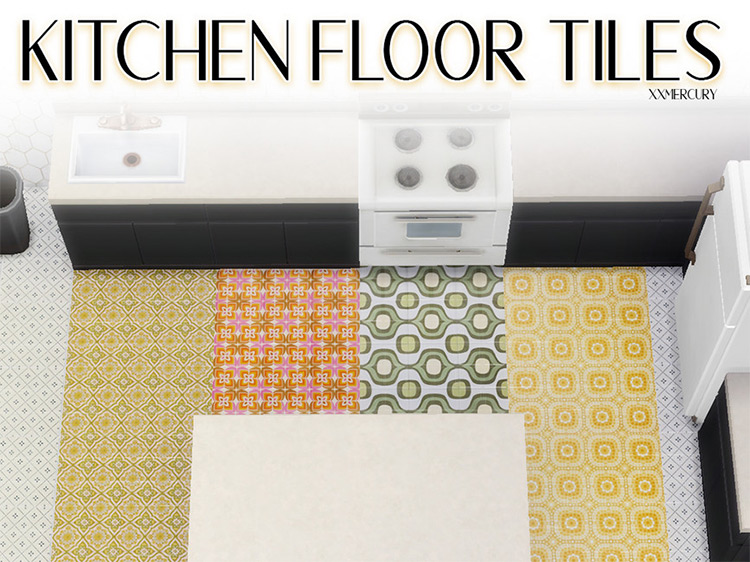 If you want busy and colorful flooring, then vintage is the way to go.
The Mid-Century Modern era especially wasn't afraid to get a little wacky – as you'll see here.
Orange and green and yellow, oh my!
Those three colors were the pillars of interior design back then. And they're so unlike anything we have in the game now, that they'll feel brand new.
But that vintage flair will always remain, even if your Sim's home is filled to the brim with the most modern expensive appliances.
Most of the tile we see is simply square. But the shapes and patterns featured on these are pretty funky.
And remember, that doesn't just mean something is smelly. In this case, funky means cool!
15.

Pastel Wood Floors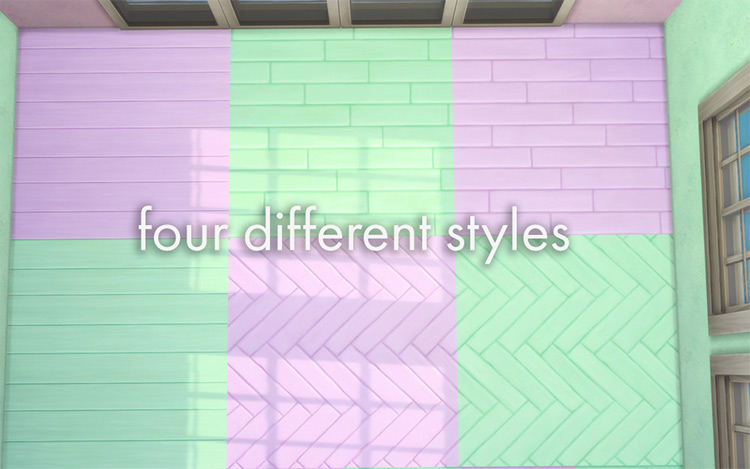 You may be amazed by how much a simple recolor can make something seem brand new.
That's exactly the case with these "new" wood floors.
They're actually as old as The Sims 4 itself. But since this Simmer has given us plenty of swatches with gorgeous pastel colors, they look fresh and fun.
The base game's four usual wood designs are included here, including the various planks and herringbone.
Now it's possible to bring the brightness you usually get from carpet to your Sim's home while getting to use the classic look of wood!
And these are so pretty, they're good to use for any room.
Honestly, what room wouldn't benefit from light pink wood floors!?
From kids bedrooms to bathrooms, these recolors are guaranteed to improve any room.
16.

Colorful Floor Tiles
It can be a difficult endeavor to make sure each room in your build stands out on its own.
After all, if it's somewhere your Sim is gonna be settled down for a while, you'll be seeing a lot of it.
So it's best to make sure it's something you actually like looking at!
And you'll never grow tired of seeing these tiles from Evi.
Each and every one really pops, so all together, it's like the floor is a work of art.
These four swatches feature a variety of floral designs, intricate detailing, and some of the most bold and beautiful colorings you'll ever find in build & buy CC.
These can be used in more than one way, too.
Outside of the obvious, which would be using them on the entire floor of a room, you could make them the center amongst wood or other tile, or create your very own complicated design.
17.

Rustic But Polished Wood Floor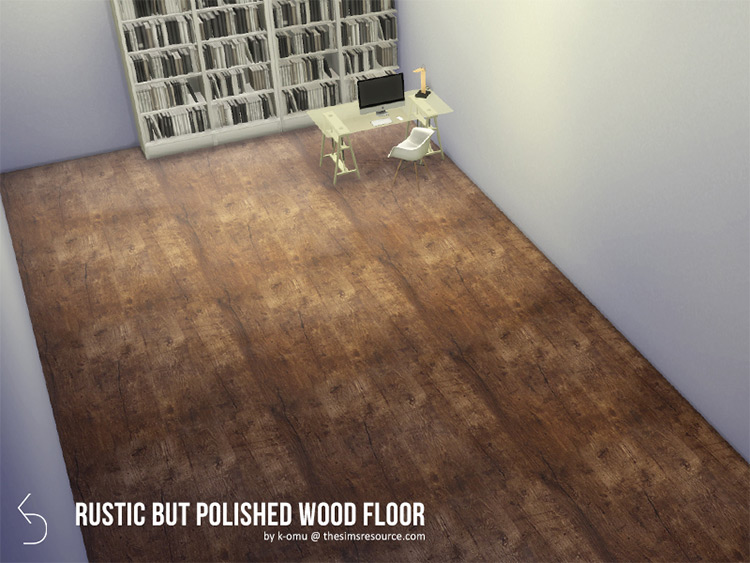 Old wood floors have a certain charm that only comes with time.
They have seen some stuff, y'all.
Generations have lived and died, wars have been fought and won, the energy of the world's triumphs and losses are ingrained in that wood.
But nobody wants splinters in their bare feet. So that old wood usually either gets torn out or redone once new homeowners are in the picture.
But here's an awesome flooring choice if you want a rustic vibe of your own for your Sims.
This is the perfect medium that so many people chase: keeping the natural look of the wood, while also bringing things a little more up to date.
The polished glaze and underlying grainy wood is indeed a flawless combination that'll be a valued addition to homes new and old, large and small.
18.

Geometric Floral Tile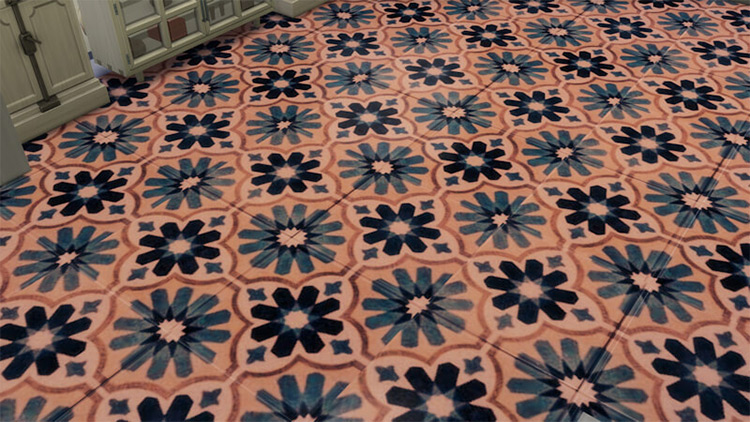 Most of the time, I stay away from patterned tiles.
The houses I build just aren't worthy, to be honest.
Ones as nice as these are deserving of a pretty home that will do them justice, and if anyone can do that, it's Sims players.
You'll have no problem finding a way to incorporate these into your builds.
They feature a dynamic, colorful, floral design that's infinite across the tiles.
The ten different swatches can also heavily influence the look, depending on which one you choose.
Some have a more faded appearance, while the others are darker and more striking, but it's amazing to see the way it all comes together in a room.
19.

Striped Carpet Flooring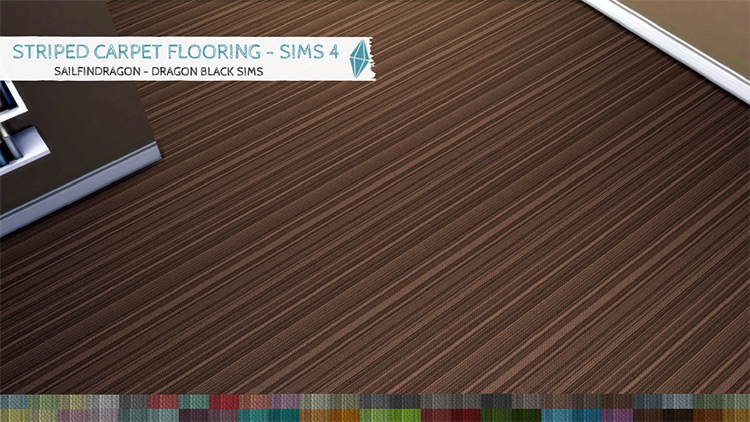 It's rather impressive how this game is so fun.
I just roll with what's available without much question.
All of this time, it has never struck me as weird how there's only plain carpet in the game… when the carpet in my own house is striped!
We're better off the more we don't notice these things, I think. I haven't been able to look at my builds quite the same since I realized there are no light switches or sockets, either.
But no matter, this is just about flooring and how to make it optimal for your Sims and their tastes. This striped design has a classic look as well as a ribbed texture, which helps bring out the stripes even more.
Oh, and if you've ever fretted over a lack of color wheel in the game (who hasn't?) then don't worry.
This creator did all the work for us by including a truly impressive 50 swatches!
You'll never find yourself disappointed by the lack of flooring swatches again, as long as you stick to this CC pack.
20.

Old Floor Tile Set
At the end of the day, this is a life simulation game.
And in real life, floors are seldom as spic and span as they are for our Sims.
But aside from the Bust the Dust kit (which exaggerates the plight of a dusty house a little more than most of us deal with), their floors are spotless most of the time.
And that just doesn't reflect reality, considering how many old houses out there haven't had new floors put in for half a century or more.
This old flooring set will bring things down to a more relatable level.
The tile is worn, faded, and will always be vaguely dirty-looking no matter how much your Sims mop.
Plus there are three variations that change the tile size, and all of them have plenty of swatches you can use as you please.
Browse:
Lists
The Sims 4
Video Games