Fun Cartoon CC & Mods For The Sims 4
This post may contain affiliate links. If you buy something we may get a small commission at no extra cost to you. (Learn more).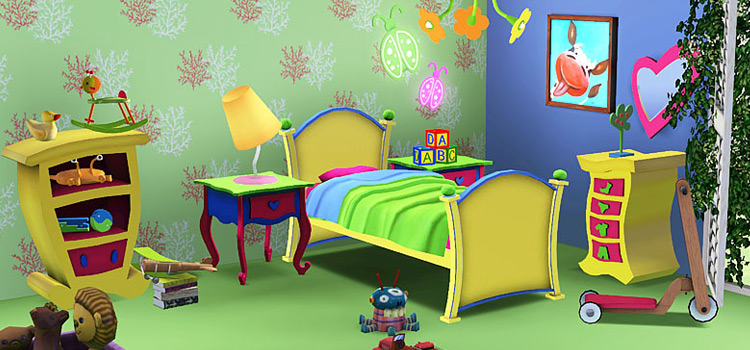 Cartoons were probably the first thing you ever watched on TV.
And if not, they came soon after.
Animated content will forever be soothing and fun, with an undercurrent of innocence.
They're generally a pretty big part of life, whether you're a kid or an adult. From references to clothes, it would be pretty hard to escape from cartoons, if you ever wanted to… though I don't know why you would.
When the rest of the world (and entertainment) gets a little too heavy, you can count on cartoons to lift you up.
It's funny how little official content for them exists in The Sims, but luckily Custom Content creators have made plenty of stuff that'll make you realize how much we've been missing.
1.

Looney Tunes T-Shirts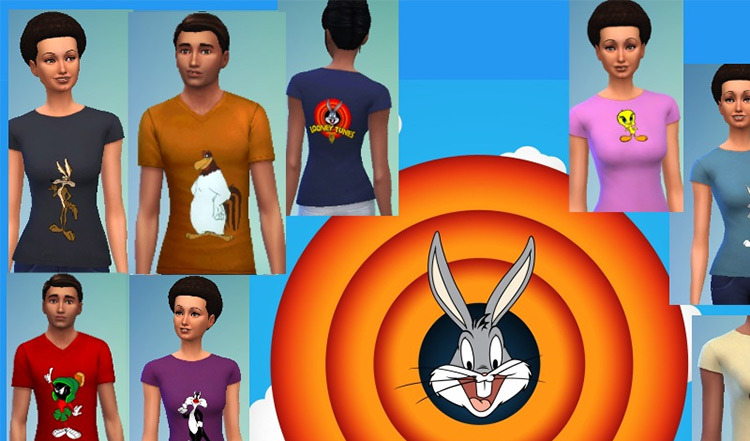 T-shirts are the perfect merch for just about everything.
What's better than being able to wear your favorite character with you, and maybe even find other finds?
Only one thing is better, maybe. And that's being able to express that same fanfare with your Sims.
This Looney Tunes shirt, for both males and females, comes in 56 swatches. They include plenty of iconic characters too, so chances are you can find your favorite that you grew up with.
You've got Bugs Bunny, Daffy Duck, Sylvester, Tweety, The Tazmanian Devil, and many more.
The Bugs Bunny one even has "What's up doc?" in Simlish on the back!
2.

Looney Tunes Toddler Bedding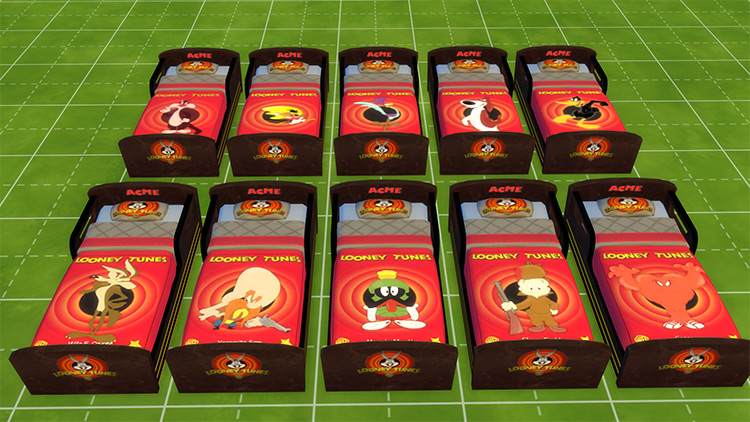 When you're a kid, there's nothing quite as joyous as totally decking out your room with whatever you're into at the moment.
Bedding is obviously a huge part of that.
I think comforter sets are the first "merch" that gets marketed towards children, outside of toys.
Your toddlers can now have the bed that'll be the envy of all the other kids with this Looney Tunes bed.
Not only is the blanket available in 10 swatches of beloved characters, but even the bed frame itself has the Looney Tunes logo with Bugs Bunny's happy face.
3.

Disney Princess Paintings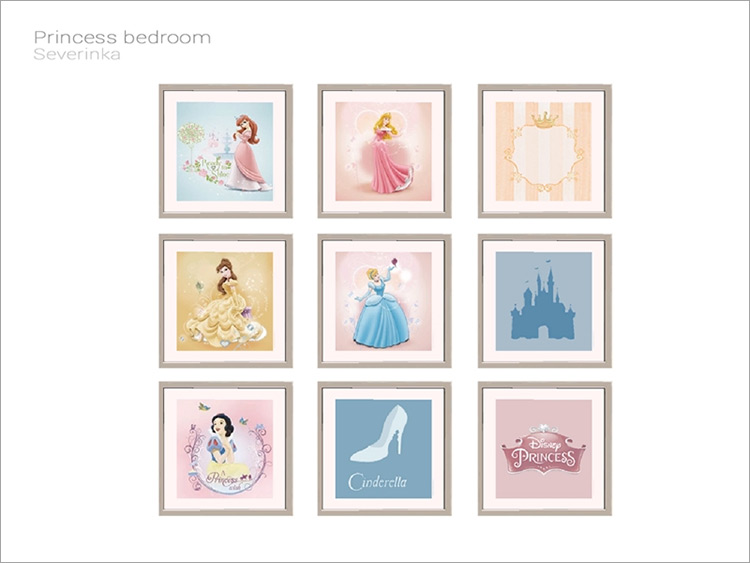 The Disney Princesses have survived the test of time as household names, lasting decades, or even close to a century now.
And everyone has a favorite Disney Princess.
They are always symbols of strength, endurance, beauty, and intelligence.
They're usually pretty cute and inspire good memories, too.
Now you can have your favorite Princess in our Sim's home with these paintings. These framed, pastel pictures are a more sophisticated way to show your Disney love than tacking a poster on the wall.
4.

Toy Story Bedroom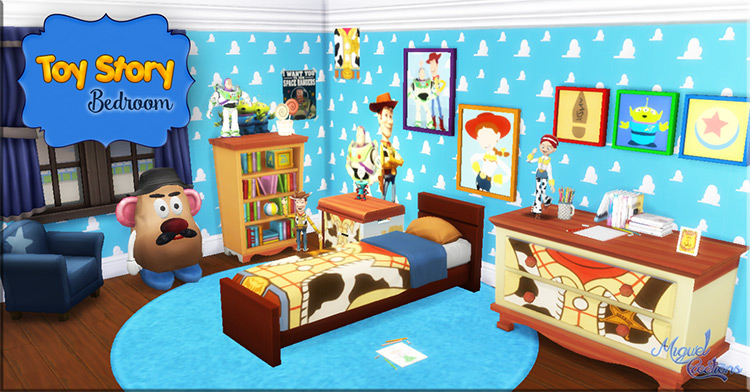 If you were born within the past 35 years or so, chances are you grew up with Toy Story.
It's genius, honestly.
What better way to resonate with kids than portraying their fantasy, that their toys are real, sentient beings with a life of their own?
It clearly worked, since people of all ages continue to love Buzz, Woody, and the rest of the gang.
But that love probably started in childhood. And your Sim kids can be as obsessed as you were!
This bedroom set is like a Toy Story explosion. It has everything, from the dresser, bed, posters, paintings, deco toys, a big Mr. Potato Head, and more.
Plus if you want even more custom Toy Story stuff to go with this bedroom set, just check right here.
5.

Paw Patrol Toddler Outfits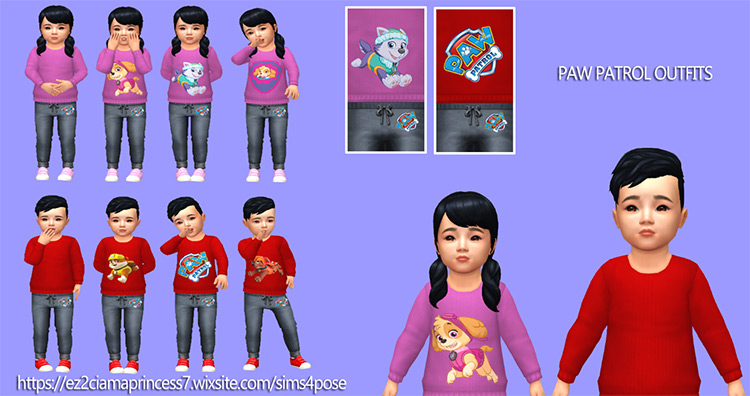 If you know a small child, or at least a child that was small within the past few years, then it's almost guaranteed you've heard of Paw Patrol.
Those heroic pups took the world by storm and stole the hearts of millions of kids.
Honestly, I get it.
Your Sim toddlers can now look a lot more like real toddlers with these Paw Patrol sweaters, which feature some of the dogs themselves as well as the logo.
6.

Cartoon Lunchboxes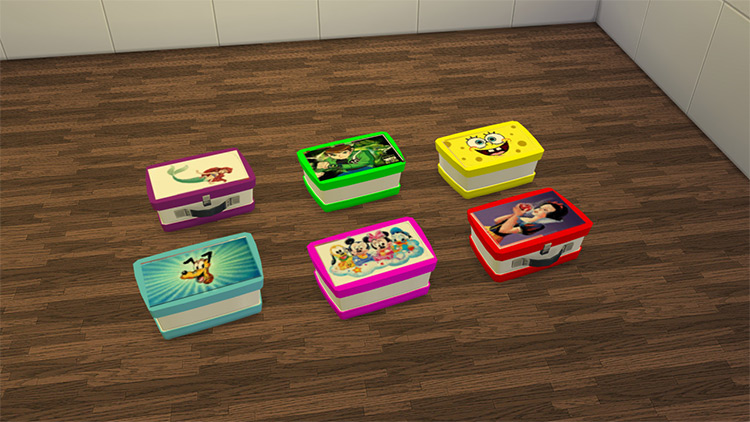 There are all sorts of little ways you can incorporate your favorite things into your daily life, and lunchboxes are definitely one of them.
A metal or plastic box to hold some delicious food is a sure way to brighten a day – even more so when it is Spongebob, Mickey Mouse, or Snow White themed.
These six recolors also include Ben 10, Pluto, and The Little Mermaid lunchbox recolors as well.
This is like the 2000s kid's dream set – but they'll still be nice to have in The Sims!
7.

Finding Nemo Wall Stickers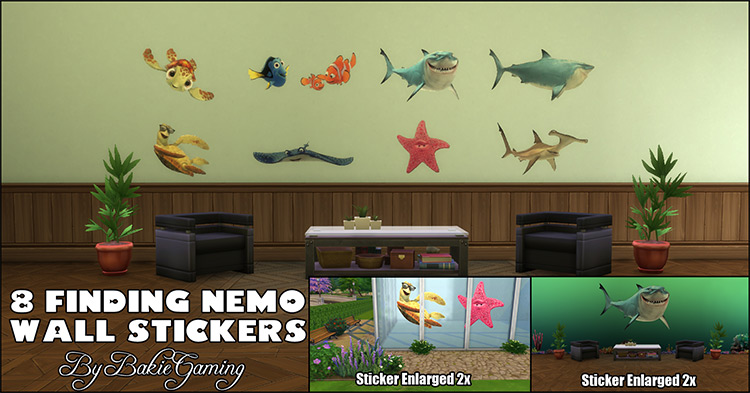 Pixar pretty much changed the world in 2003.
There are millions of people who will forever look at clownfish and blue tangs a little more fondly thanks to Nemo, Dory, and Marlin.
And remember – always keep swimming!
That's actually a great line for Sims to keep in mind. After the pool ladder mysteriously disappears…
Ahem, moving on.
These 8 stickers are amazing, and the characters look exactly as they did in the movie.
You'll get the sharks, Nemo & Marlin, Dory, Crush, Squirt, Mr. Ray, and Peach.
The stickers are quite large and detailed, so anywhere you place them will get a boost of early 2000s ocean vibes.
8.

Mystery Inc. Pack

This fun CC set provides everything you'll need to actually play as Sooby Doo, Shaggy, Velma, Fred, and Daphne!
I don't know about you, but I was obsessed with Scooby.
I still kind of am, honestly.
But even if Mystery Inc. has never even been on your radar, you probably know the gang when you see them.
Their iconic looks really haven't changed much since the characters were first created, in the '60s.
And it's all here!
From Shagy's maroon bell bottom pants, to Daphne's purple ensemble, and even Scooby's blue collar with the SD tag, and much more – this pack won't leave you wanting for anything.
9.

Disney Decor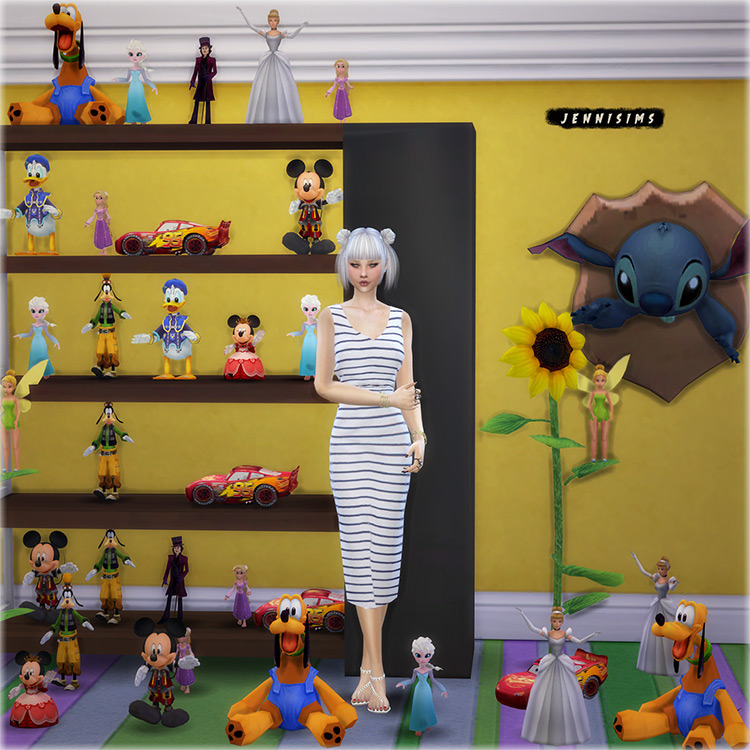 Once you're an adult, what used to just be your toys immediately becomes a collection. That's just how it works.
You can get away with accumulating anything by saying you're a collector.
This makes it a lot easier for people who may be a little embarrassed by just how much they love Disney. You can fill your house with your favorite characters, and visitors will just admire it!
There are tons of decorative Disney items here for you to use around your Sim's home.
Classic Mickey and Daffy statues, Elsa, Goofy, Tinkerbell, Lightning McQueen – they're all here, and many more.
You can even get a wall mount of Stitch… which, depending on how you look at it, can either be Stitch coming out of the wall like a cool 3D sculpture, or those taxidermy things hunters hang up.
The choice is yours… Stitch always makes a day better, though!
10.

My Little Pony Bedroom Set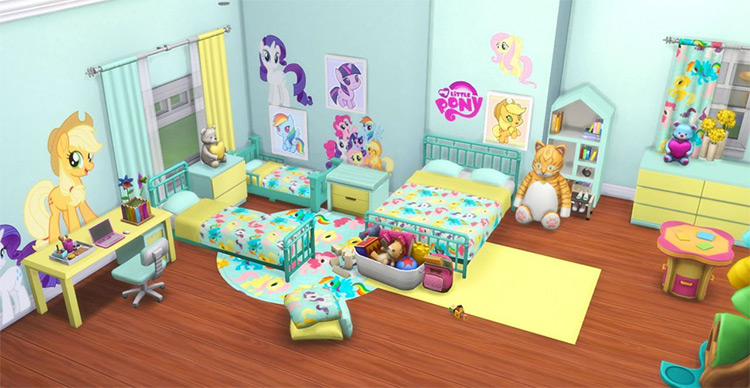 My Little Pony, notoriously, has scores of adult fans.
The themes of friendship and innocence just resonate with so many people, in a world where it's nothing to see violence and anger in "adult" television.
This set has everything you'll need to bring the "friendship is magic" feel to your Sim's own home.
There are matching MLP patterns for a bed, rug, and curtains that are available in dark purple, light blue, and pink.
You'll even get some fitting recolors of the pillow stacks from Toddler Stuff!
11.

SpongeBob SquarePants Shirts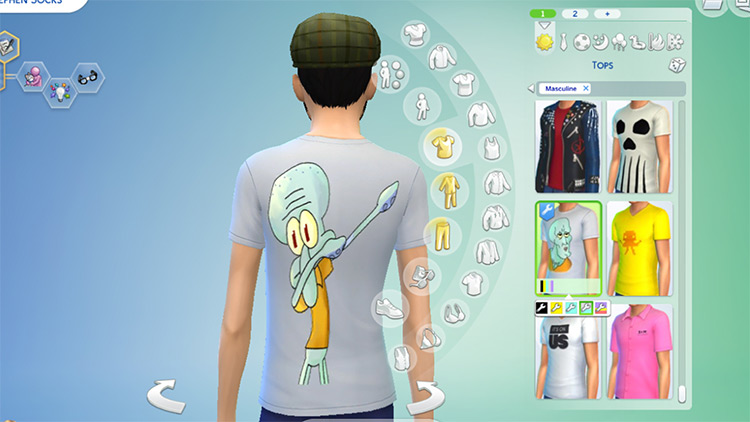 The kids of the generation that grew up watching SpongeBob are all adults now, and we still love that darn sponge.
From an adult's perspective, you probably relate to Squidward more. Imagine actually having SpongeBob and Patrick as neighbors, on top of working with SpongeBob… yikes.
But no matter who you identify with the most from Bikini Bottom, there's a shirt here for everyone.
There is one that is totally yellow and basically all SpongeBob. It looks very familiar, this is one I've definitely seen in real life!
My personal favorites are the Handsome Squidward shirts… there are two options, and such an iconic moment is honestly deserving of multiple shirts.
Also included is one of Squidward dabbing, as well as a couple with Spongebob and Patrick together.
And yes, we also have a whole list of SpongeBob CC for The Sims 4 as well.
12.

Steven Universe Crop Tops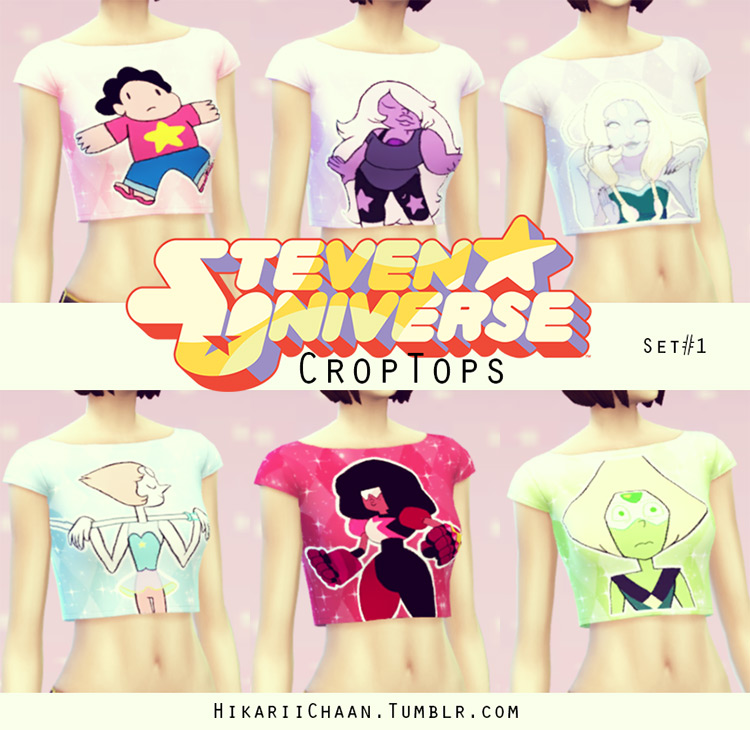 Crop tops are already stylish and cool, but you know would double the coolness?
Adding Steven Universe characters, of course.
Luckily, HikariiChaan has already got it done. The designs on these shirts are just as vibrant as the show is.
All your faves are available, like Steven Universe, Garnet, Pearl, Peridot, and Amethyst.
They have fitting color schemes and are overall, well, pretty.
There's just no better way to say it!
If you're a Steven Universe fan, these are a must-have. Besides, you can always use more crop tops.
13.

Steven Universe Pop Art Posters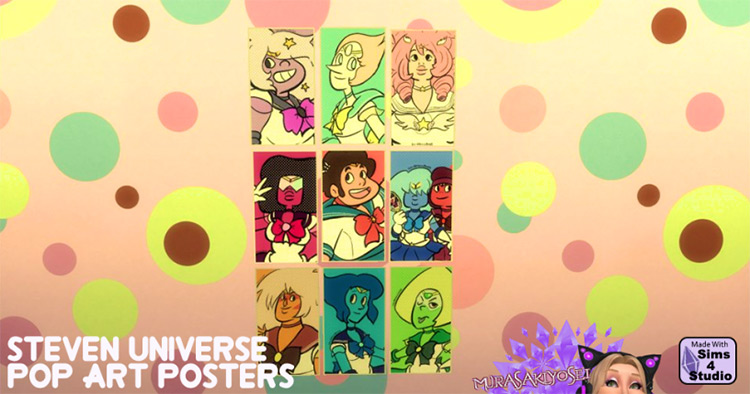 Here's another gem for you Steven Universe fans – posters!
You never get too old for posters.
Some people might say once you're an adult, your home should have "real" artwork like paintings… but forget that noise.
If you love something, and it brings you joy, you might as well paper your walls with it.
Besides, ones like this really are for all ages.
They aren't hung up with visible Scotch Tape or tacks like a kid might use – they look like quality posters. Like you'd have to buy them in a tube, 'cause they're fancy.
There is no doubt this pop art style does indeed pop, and there are 9 swatches with different characters.
14.

Disney Themed Shirts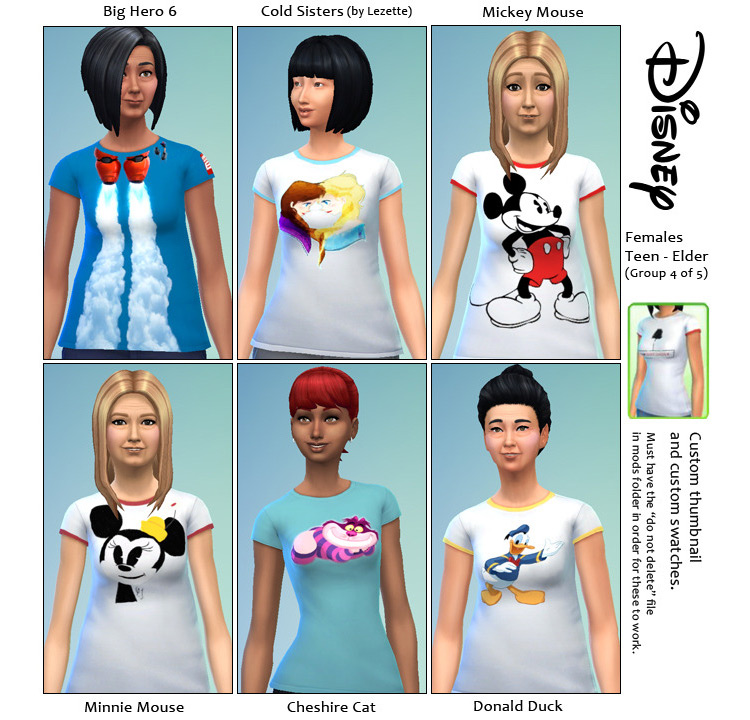 You might not realize just how much Disney stuff you've watched until you see a large amount of their characters all in one place and recognize all of them.
These are honestly some of the coolest shirts I've ever seen for Sims.
They not only feature a wide variety of characters, but they also have very unique designs and coloring, too.
Some even have phrases, and you can choose whether you'd like to go with English or Simlish.
Some of the movies represented here include Aladdin, Alice in Wonderland, Beauty & The Beast, and Big Hero 6.
But there are 30 swatches total, just for your lady Sims, and there's really a cool mix here.
15.

Cartoon Rugs
I mean, I don't have a chart or anything… but I think it's safe to say Adventure Time is one of the most popular cartoons to come out of the past two decades.
There's certainly a lot to be said for a series based on adventure and fantasy.
That might just be the best combination ever, honestly. It just works, especially when you throw a bunch of lovable characters into the mix.
And many of those characters are available in this rug set by CC maker meghewlett.
They're nicely detailed and cute – or should I say kawaii?
Plus they really pop thanks to the vibrant colors, so these will definitely be a fun way to brighten up a space!
Browse:
Lists
The Sims 4
Video Games