Best Sims 4 CAS Poses: The Ultimate Collection
This post may contain affiliate links. If you buy something we may get a small commission at no extra cost to you. (Learn more).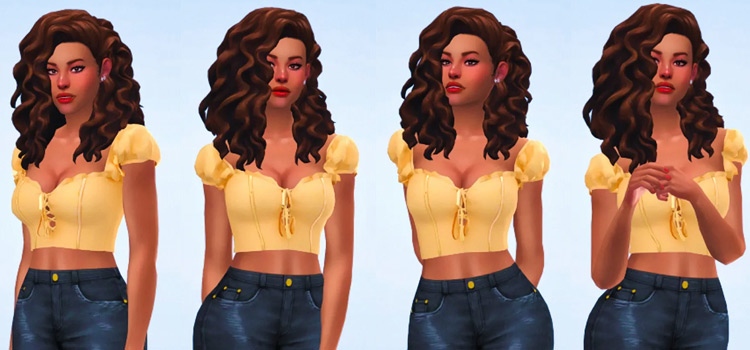 Ever wanted to take your Sims photo in CAS but got frustrated because they just wouldn't. stop. moving?
Yeah. I think we've all been there.
CAS is one of the best places to take screenshots of your Sims since all the little details of their build stand out. If you can't afford to play your game in ultra-crisp, ultra-clean, ultra-HD, your Sims will be the most defined in CAS.
So, yeah. I understand why there's such a demand for CAS pose packs.
Something's got to keep these Sims still long enough for us Simmers to take great portraits of our painstaking creations.
That being said, here are some of the best CAS poses worth checking out!
1.

Toddler Pose Pack #01 by SamanthaGump
CAS Traits: All
Let's start with the tiniest of Sim options: Toddlers.
They're cute, they're adorable, and they're (thankfully) free of the pudding-face, animated-baby-doll curse that plagued Sims 3 Toddlers.
(No shade, I just found unmodded S3 Toddlers really creepy)
Look, despite my distinct lack of CAS skills, I've managed to whip up some visually delightful Toddlers here and there.
And I've always taken the opportunity to immortalize them in screenshots – because you always save your best work.
Now, the basic trait animations have always worked for me in terms of testing how they look with different expressions. But they are limited.
If you want poses that really show off your tiny tot's charm, this starter pack's pretty awesome.
SamanthaGump's set of 15 basic model-esque poses for your own little Toddlers & Tiaras star. Too precious, I tell you.
2.

Child CAS Poses #04 by SamanthaGump
CAS Traits: Active, Insider, and Hot-Headed
Let's go one age level up.
The same creator gives us 9 distinct poses in this pack, and I think they did a great job creating age-appropriate poses for Child Sims.
Honestly, my Child Sim ended up looking pretty dang cute in these poses. And I that's not something I usually notice about them.
(I sort of just age them up and take whatever EA's random genetics generator will give me)
I wasn't sure if they had any Male versions of this set, and the preview photos clearly show a Female model. I will argue, though, that most of the poses in this set look like they could work for both Male and Female children.
It's all a matter of perspective, really.
3.

Male Pose CAS Set by BYANXHLOVE
CAS Traits: Unflirty
I was surprised to find that there weren't as many pose pack options for Males as there were for Females—and even less that were unisex (although I'm not sure if them being CAS poses makes that harder to achieve).
So I decided to prioritize a few sets that were specifically designed for Male models. Just to keep things fair.
This one by BYANXHLOVE is an early favorite.
It nailed the confident-and-unfortunately-attractive-Alpha-male look down to a sharp T — thumb on the chin and all.
I also find it hilariously ironic that the CAS trait for this set is Unflirty. See preview photos and you'll understand why.
4.

Male Poses #04 CAS by HelgaTisha
CAS Traits: Dance Machine
This pose pack is intense, you guys. Seriously.
It gives you so much bang for your buck, I don't even know.
This pack has 22 individual poses, and they all look great. Can't stress this enough.
I honestly love how a bulk of these poses are basically the same pose with subtle – but noticeable – variations.
A stoic expression followed by a smile.
Looking down and then looking up.
Slouching and then straightening up.
It is absolutely baffling how just one or two slight changes can create a completely new pose, and CC creator HelgaTisha executes this concept beautifully.
The poses themselves are also incredibly versatile.
Friendly and approachable, cool and confident, sassy and self-assured, dark, brooding, and anxious… seriously. There's a lot. It's great.
Highly recommend you check it out.
5.

Jewelry Pose v2 by daisylove126
CAS Traits: Clumsy, Geek
I am always blown away by Sims 4 content creators who can come up with unique photoshoot concepts. Because I, honestly, am a sucker for variety.
I don't mind seeing the same theme recycled amongst CC creators since most of them have a different style or a signature approach.
But one-of-a-kind narratives are my jam.
When a creator executes something that no one else has, I've got to check it out.
And in the case of daisylove126's Jewelry Pose v2 pack, I'm glad I did.
Does your Sim have a thing for bling? Downloaded a ton of custom jewelry for them and now you want to show it off?
Or do you want some poses that are not variations of the peace pose, the hands-on-hips pose, and the "I'm-an-Instagram-model!" pose?
Then this pack has 12 unique CAS poses that I'm certain you'll love.
6.

Yearbook Poses by someone-elsa
CAS Traits: Geek, Active
This here's another genius concept that caught my eye.
What better way to showcase your Sim's unique visuals than with a stereotypical yearbook photo pose?
Face slightly angled, smile dazzling (if not just a wee bit awkward), and expressions ranging from uncertain and bashful to pretty darn self-assured.
Yeah, that about sums up all the poses here.
They may not be as versatile or as varied as some other sets on this list.
But you can't deny their practicality.
Honestly, this pack is a sound choice for when you need close-up shots of your Sims that aren't over-animated, themed, or exaggerated.
7.

Make Up Ad.2 Poses Set by FlowerChamber
CAS Traits: Loner
As someone who downloads a crap ton of custom makeup from dozens of talented CC creators, this pose set's got my name written all over it.
I appreciate a custom eyeliner wing so sharp it could kill a man.
I love it when creator's give me eyeshadow options that are soft, subtle, and blend into most (if not all) skintones.
I have several .package files of shiny, juicy, peach-colored lip gloss sets that I cannot justify but refuse to delete.
Long story short, I love makeup. I love The Sims.
I love combining the two and then taking screenshots of them together.
If you found this whole paragraph relatable, then FlowerChamber's set is for you.
8.

Man (CAS Poses, Trait Evil) by Beto_ae0
Traits: Evil
It's a straightforward name for a straightforward pack.
This pose set contains exactly what it says on the tin: custom CAS poses for Male Sims.
And yes, they're definitely very manly poses.
Thankfully, they're not overtly masculine.
No unnecessary over-flexing here (although three out of the ten poses come pretty close, not gonna lie) and no exasperating come-hither-because-I'm-sexy glances.
They're all basically very tame and very typical poses that a male model would probably adopt in front of a camera.
I think the creator nailed the expressions on this one, by the way.
It made my Sim look sufficiently confident, not cocky.
9.

Blackpink Poses V2 by daisylove126
CAS Traits: Goofball
Here's another fun one from daisylove126.
As far as practicality goes, I will say that the poses photograph really well.
As for originality? Yeah, this one's pretty unique, too.
Like I said, I'm a sucker for unique concepts. I Love it when pose packs aren't just a collection of stereotypical modeling poses.
To be completely fair, the poses in this particular pack do curve in that direction.
But as you can tell by the title, they have the distinct feature of being modeled after actual poses that Blackpink (an insanely popular Korean Pop girl group) usually adopt.
So they have that K-Pop flavor going for them.
If you've made any Sim version of Rose, Jennie, Jisoo, or Lisa, then this pack will certainly come in handy.
10.

Turn Your Attention To Me Poses by helgatisha
CAS Traits: Vegetarian, Cheerful
Is your Sim a self-proclaimed star of the show?
Do they like being the center of attention?
Do they prefer it when all eyes are on them?
Then great! This pack's ready-made for you.
It has a grand total of 26 poses for Sims who don't mind putting themselves in eclectic, exaggerated, and/or avant-garde poses.
I'll admit, the poses are toeing the line between artsy and just downright weird. But I think that's what the creator was going for.
They look great, though. Don't get me wrong.
Graceful fingers, pouty lips, come-hither expressions, elegant lines—literally all poses look great.
And if you want your Sim to show off their makeup, jewelry, or accessories in CAS, this would be the pose set to do it.
11.

Hands Up Poses #2 by ratboysims
CAS Traits: Geek
Aside from the fact that the preview photos here are gorgeous (I love how this creator designs their Sims, honestly), the theme that ties all these poses together is pretty cute.
Who knew there were so many ways to put your hands up when posing? (beyond the typical caught-red-handed and touching-my-face-gently poses, I mean)
The theme makes for 8 unique and playfully fresh custom poses for Sims in CAS, so I'd call this a solid win.
Definitely a great choice for anyone looking for something different.
It may not be as packed as some of the other sets here (particularly the ones reaching upwards of 16 poses), but there's no arguing with the quality and originality.
12.

Model Poses In Game + CAS by ratboysims
CAS Traits: Materialistic
I absolutely love it when custom poses don't warp, bend, or distort the Sim models in any way.
It's a lot more obvious with some poses than it is with others, but once you get used to playing with custom pose packs in The Sims 4, the details just stick out a lot.
Weird clipping and blocky patches of obviously twisted pixels just kill the romance for me.
That's why I'm recommending this awesome modeling pack from ratboysims.
Even with all the mods I've put on my Sims (skin replacements, custom skin details, teeth and eye replacements, etc.) there was no warping to be seen.
The pack doesn't really have a specific theme – beyond just a couple of attractive Sims posing. But I love the playful & lighthearted vibe they've got going on.
Small smiles, relaxed fingers, loose-limbed and jumpy… it all makes for a very carefree pose pack of excellent quality.
13.

Roselipa Beauty Portrait by roselipa
CAS Traits: Art Lover
How about some poses that show off just how gorgeous your Sim is?
That's the whole premise of roselipa's Beauty Portrait pose pack. And I, personally, think it's an excellent one.
The Sims 4's Detail Mode in CAS gives us players a lot more control over sculpting and shaping a Sim's face.
This in turn allows us to create some pretty unique (and uniquely pretty) characters.
Since the default trait animations in CAS aren't really meant for serious photo taking, we definitely need poses with flattering facial expressions.
This pack holds 15 awesome solo poses for Female Sims with soft and elegant expressions that perfectly highlight the model's looks.
14.

Greedy Pose by roselipa
CAS Traits: Geek
So, I'mma be honest:
I don't quite get why this pack is called "greedy."
I first thought there was a Greedy trait that I completely missed (hey, it happens) and the CAS pose pack was just named after it.
But then I saw that these poses could be unlocked using the Geek trait, so…
It just left me a little confused.
But odd choice of title aside, I am very much into the feel of this pose pack. It combines the previous Beauty Portrait pack by the same creator (roselipa) and ratboysims's Hands Up pack.
The expressions flatter the character's features and the hands frame their face.
Definitely meant to focus on aesthetics, which I (and I'm sure a lot of Simmers) can totally get behind.
15.

Basic Poses #1 by yun-sims
CAS Traits: Cat-Lover, Commitment Issues
Yun-sims brings us back to basics with this simple, straightforward, no-fuss-no-muss kind of CAS pose pack.
There are seven unassuming poses for Female rigs in this pack, and they all look like cute & sorta bashful stances someone would default to when getting their picture taken.
No Instagram-baddie vibes here. And no sultry exaggerated posing either.
They all feel just wholesome and on-the-spot.
Like the title says, all the poses are basic.
But in this case that's a great thing!
The expressions translate well even with custom skin or skin replacements (no warping or clipping) and the lines are very clean.
It's really just a great pack to have if you want to capture the little details of your Sim.
Browse:
Lists
The Sims 4
Video Games