Sims 4 Castle CC, Mods & Lots (All Free)
This post may contain affiliate links. If you buy something we may get a small commission at no extra cost to you. (Learn more).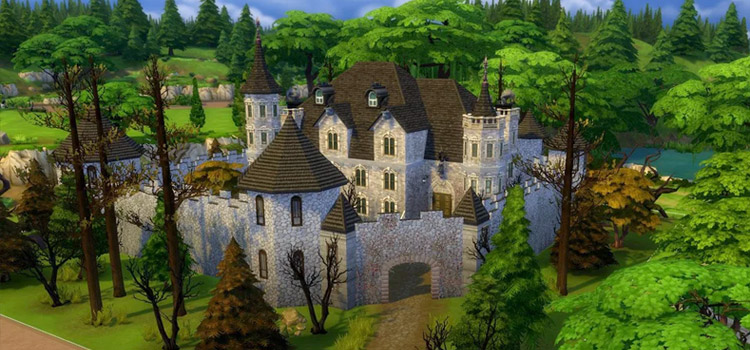 Castles and building go hand in hand when it comes to The Sims 4.
As the most build-friendly entry in the series, many talented CC'ers have created awe-inspiring castles – both original and inspired by structures in movies, television, and games.
Unfortunately (and through no fault of the creators), a lot of these builds are unfurnished because there's not much in the way of castle-friendly furniture.
And while that's true in-game, we're excited to share some CC items that will make those castle builds shine even more (and we'll even share some lots here too, in case you're not up for building a castle yourself).
15.

Castle Build Mode Set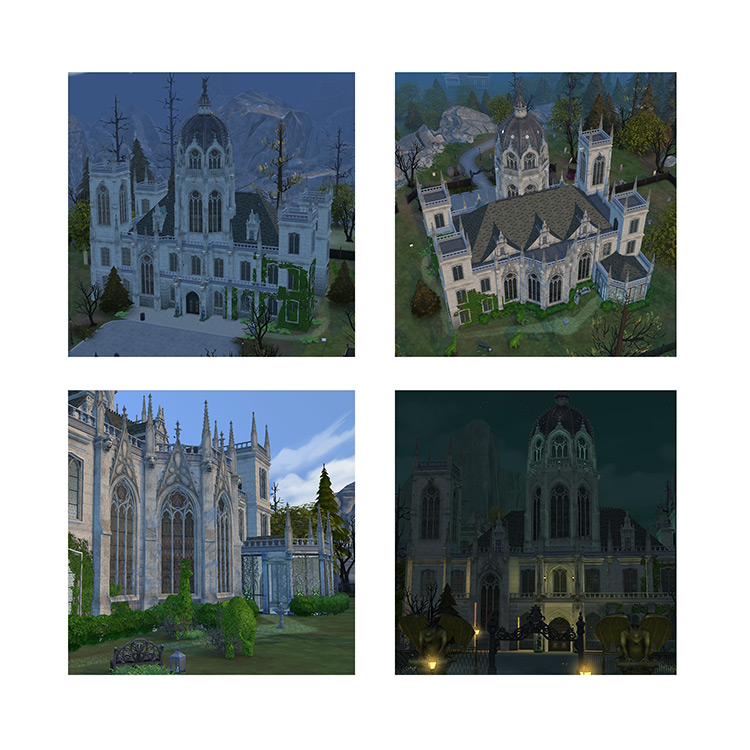 We'll start off this list with the Castle Build Mode Set by FelixAndre.
Included are exterior decor items that really separate castles from sprawling mansions:
Two story gothic windows, a pinnacle, a buttress, gothic vaults, and a gable.
It also includes a dome, arch and window inspired by Scherwin Castle – a real castle located in Germany.
Those up to the task of building their own castles need this set to take their aesthetic to the next level.
14.

Palace Dining Set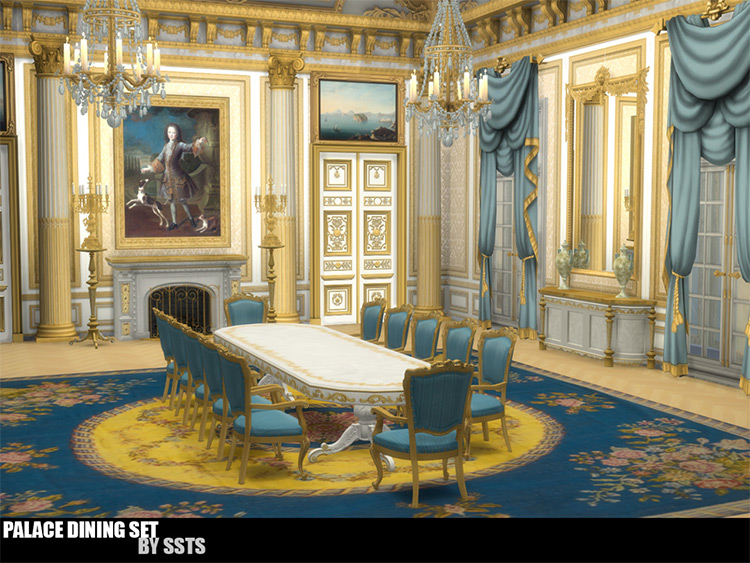 What's a castle without opulence and royalty?
StrangeStorytellerSims's palace CC dining set is an 8-item collection of furnishings worthy of only the finest castles in the land.
Choose between two dining tables (small and large), dining chairs, a wine table, fireplace, and more.
There are a whopping 151 swatches in this collection, but my favorite color scheme is the classic gold and blue.
13.

Breath of the Wild Hyrule Castle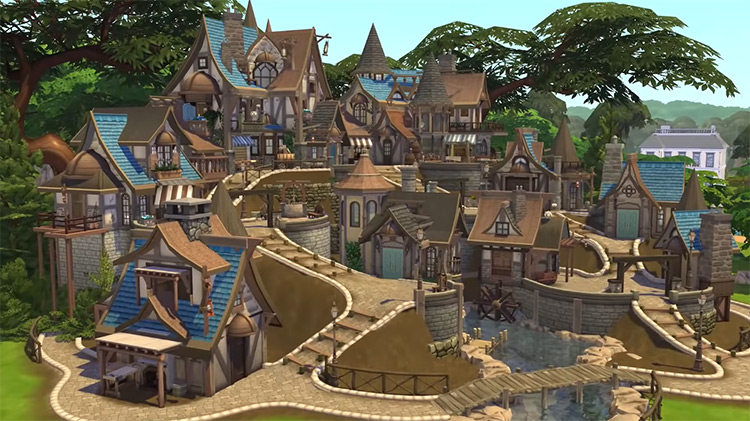 Fans of The Legend of Zelda will recognize this sprawling castle from the latest LOZ release, Breath of the Wild.
This custom Hyrule Castle by SatiSim is a true-to-faith recreation of the game's castle, inside and out.
We're in awe at the amount of time and talent it took for such a massive project – but happy to recommend the amazing end result for download.
And if that wasn't enough, you can download this lot right from the gallery!
Just search for SatiSim and look for the lot name (it'll be on a 64×64 lot). No CC was used, but you will need to own the same packs as the creator to properly enjoy the lot.
Bonus: you can watch the real-time speed build here and support SatiSim by visiting their Patreon link above.
And if you want to add even more LoZ stuff into your build, take a peek at our list of Zelda TS4 CC right here.
12.

Atelier Castle Set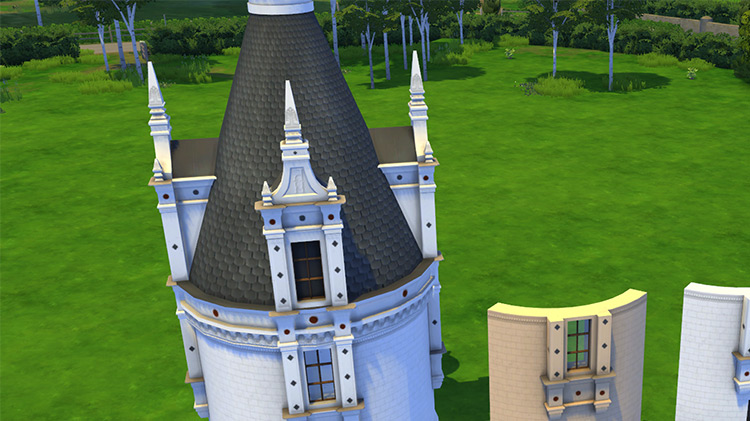 Here we present another FelixAndres creation, again inspired by Germany's Scherwin Castle.
This Atelier Castle Set features 11 items for both build and buy mode.
The build mode items include a tower and tower base, roof window, and three kinds of wallpaper
While the buy mode has two chairs, a statue, plants, candle, and a custom fireplace.
Each item has between one and 20 swatches, and you'll need to own the Vampires and Dine Out packs to use them.
11.

Castle Stokesay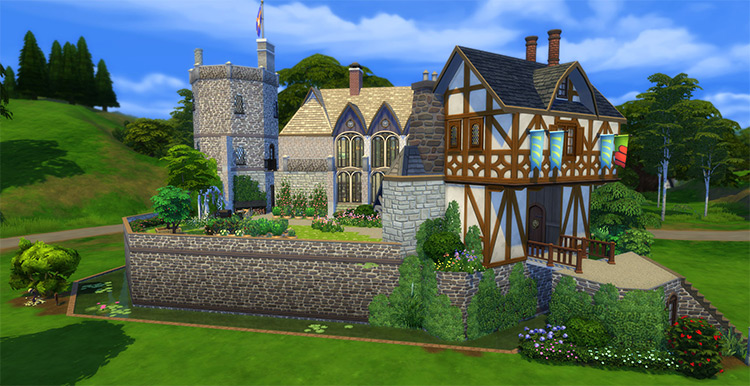 Speaking of Germany, this Castle Stokesay lot by Velouriah is a sprawling estate built with Windenburg in mind.
This 30×40 lot is perfect for historical Simmers, because there are few to no electronics here.
Sims use candles for light, books for entertainment, and so on.
And this is a great download for those who need a legacy home for specific gameplay, but don't want to invest the time or effort to build one from scratch.
You'll just need Get Together to use it.
And while the lot is expensive, there's nothing freerealestate can't fix!
10.

Cinderella's Castle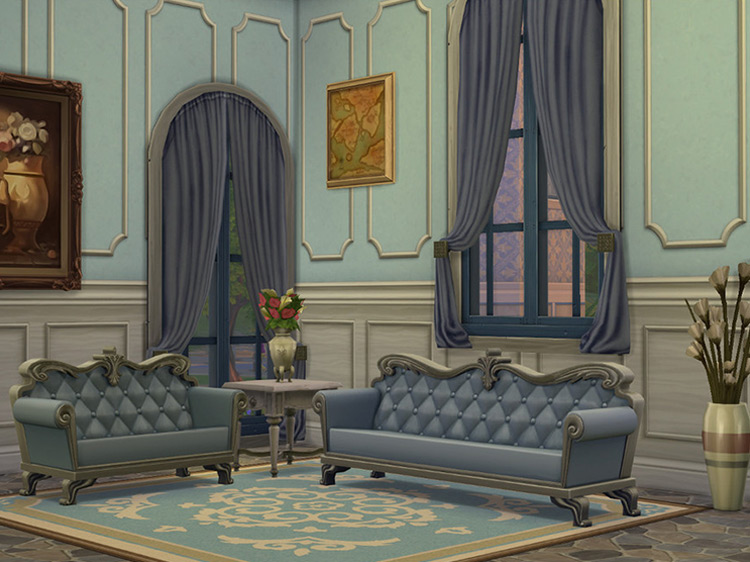 Whether you include the infamous stepmother and stepsisters, or allow Cinderella to luxuriate alone, this Cinderella Castle build created by Cm_11778 is Disney perfection.
Built on a 50×50 lot, the castle has five spacious bedrooms, three bathrooms, a formal dining room, a music room, and much more.
If you're cheat-free, be aware that this absolute work of art will set you back around §270,000.
But hey, at least it's base-game compatible and CC free!
9.

Rococo Portraits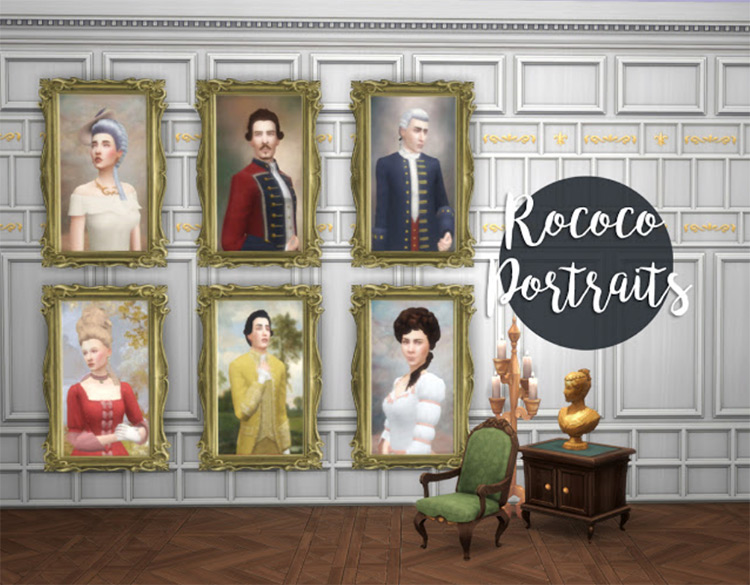 The Rococo style of fashion and art was integral to the 18th century.
So anyone playing The Sims in that era will love these Rococo Portraits by HistoricalSimsLife.
This six-portrait CC set includes fictitious Sims from the creator's own game, consisting of three men and three women of high society and stature.
They're all very much dressed appropriately for the time, which helps with immersion.
And you can find these under paintings in buy mode for §500.
8.

Famous Bust Sculptures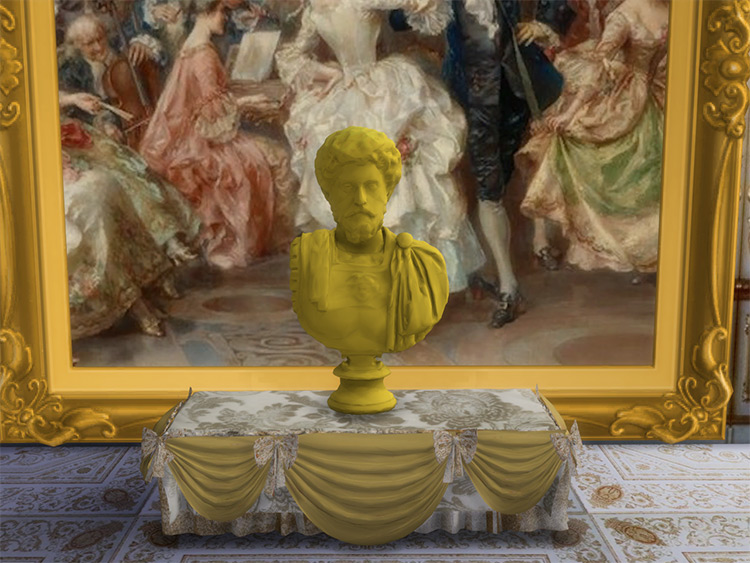 If you'd appreciate real-life historical figures featured prominently in your castle, then check out these 10 Famous Bust Sculptures.
As a collaboration between creators Scan The World, Tom Flynn, and Museo Nazionale, these busts include real-life famous figures in history – such as Adonis, Hercules, and Charles Dickens.
These are HQ meshes, but not quite alpha. So they'd fit in well with all styles of gameplay.
All busts come in three swatches (gray, golden and darken) and are base-game compatible.
7.

Castle Dress CC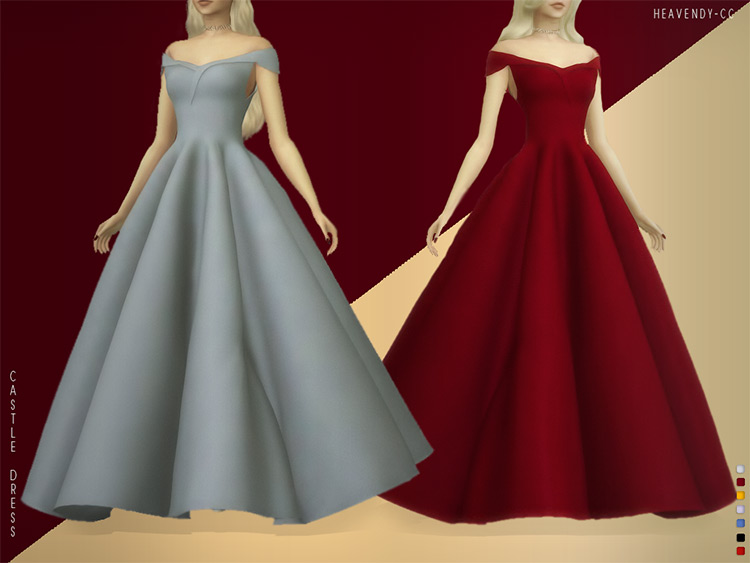 We've covered castles and their furnishings.
But now it's time to talk fashion.
And this custom castle dress from HeavendyCC is dramatic and beautiful, with a trailing hem line and open v-neck.
The contrast of the nipped waist and bell-shaped skirt will compliment any and all figures.
This is the dress to send your royal Sims to an exquisite ball or dinner party and have them turning heads.
It's also Maxis-Match friendly, has seven colors to pick from, and is base-game compatible.
6.

Sectional Library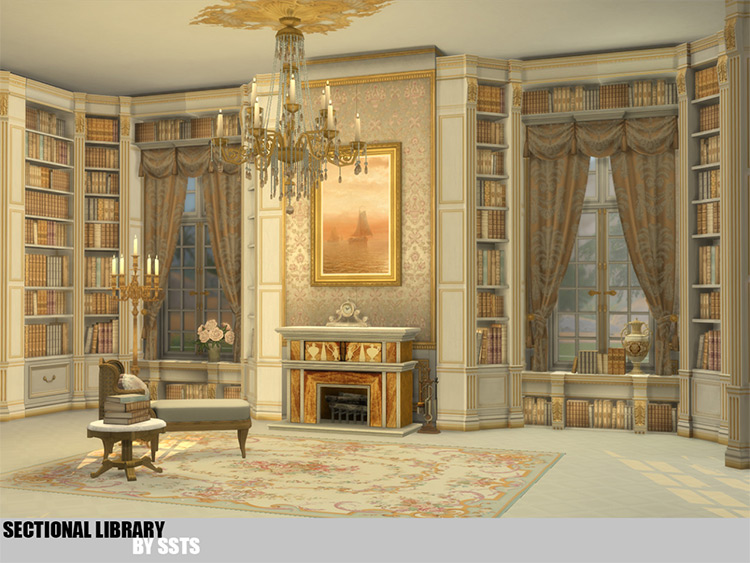 While it may be an unwritten rule, it's totally official to us:
You cannot have a castle without a library.
Here we have another StrangeStorytellerSim's creation, well-named as the "Sectional Library".
It's a sprawling collection with 68 items (yes, you read that right) including ceiling-to-floor sized bookshelves, a giant desk, library steps, and so much more.
If that's not wild enough, the entire set doesn't require a single expansion pack.
You only need the base game to use it!
5.

More Fireplace Sets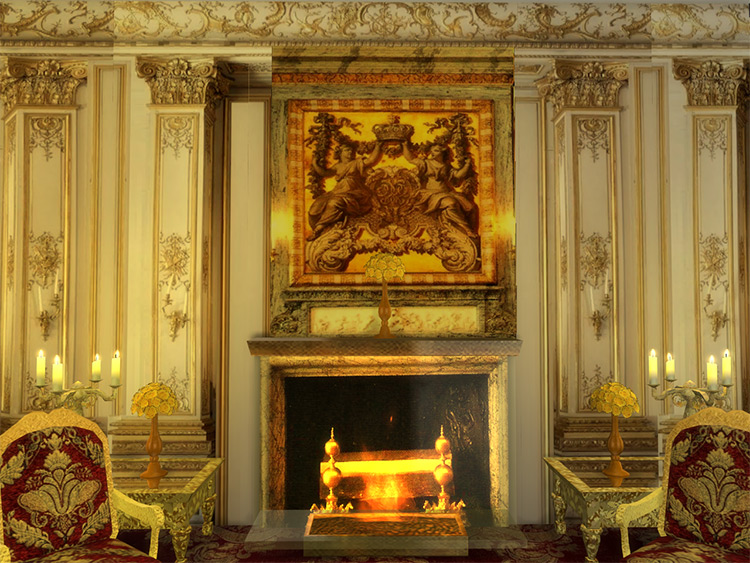 Castle living quarters almost always had fireplaces.
And the more opulent, the better.
We've shared a bunch of custom fireplace CC for The Sims 4, but this Fireplace Sets pack by AnnaQuinn offers one more option:
A fireplace and matching mantelpiece dripping in gold and ornate designs.
These are ultra-high quality, and the fireplace mantelpiece is actually a wall decal in the game.
You'll also need Seasons and City Living before installing this.
In total we count three swatches for the mantelpiece and six for the fireplace. But as always, let us know if you see more in-game.
4.

Fontainebleau Boiserie For TS4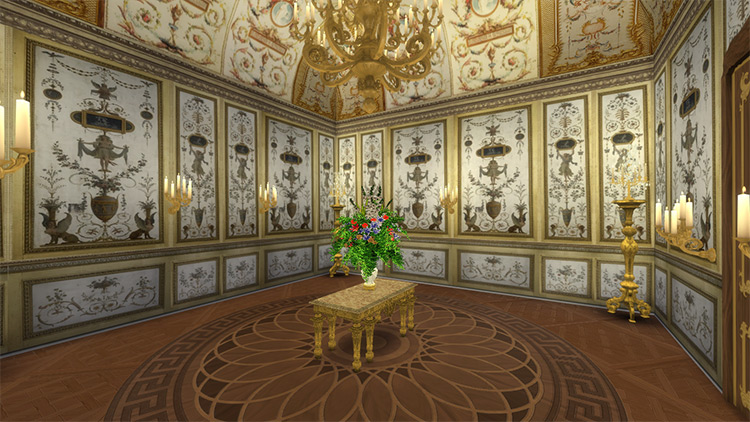 When we think of castles, we often picture the creative wallpaper and paintings displayed within.
There aren't a lot of EA made wallpapers that fit the bill.
So RegalSims' Fontainebleau Boiserie wallpaper set is a much-appreciated gift for CC castle creators.
Inspired by the interior design of a room created for Marie Antionette, this base-game friendly white and gold wallpaper features several designs – including angel-like imagery and foliage.
And as a bonus, there's also two unique paintings that will complement the wallpaper well.
3.

Crystal Chandeliers Set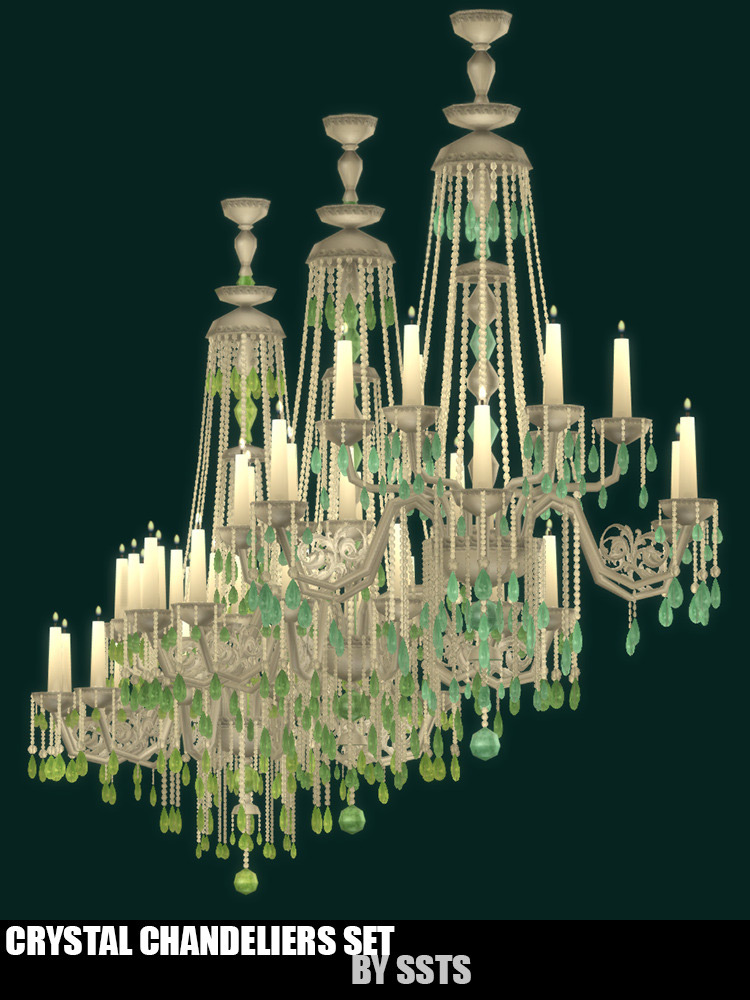 As the third StrangeStorytellerSim entry on our list, we can't stress enough how exceptional this creator is when it comes to creating historical CC.
This Crystal Chandelier CC is truly a sight to behold.
Dripping in crystals and what looks like dozens of lit candles, this makes a great addition to any castle's dining room or main entrance.
It's also available in three size with a total of 66 color variations, and is also base game compatible.
2.

TS4 Historical Portraits
The best part of castles are the art within
Great art gives insight to any castle's storied history.
HistoryLover's custom historical portraits are vintage-themed photos of Maxis-Match friendly Sims.
And they'll add quite an air of intrigue and curiosity to your castle walls.
The best thing about this set is that all Sims photographed could be from different eras in history, so there's a lot of wiggle room to play around.
In total, the artwork offers four Sims and a super-cute dog and cat, for a total of six portraits.
You'll find these under the painting category in buy mode for §500.
1.

Beauty and the Beast Castle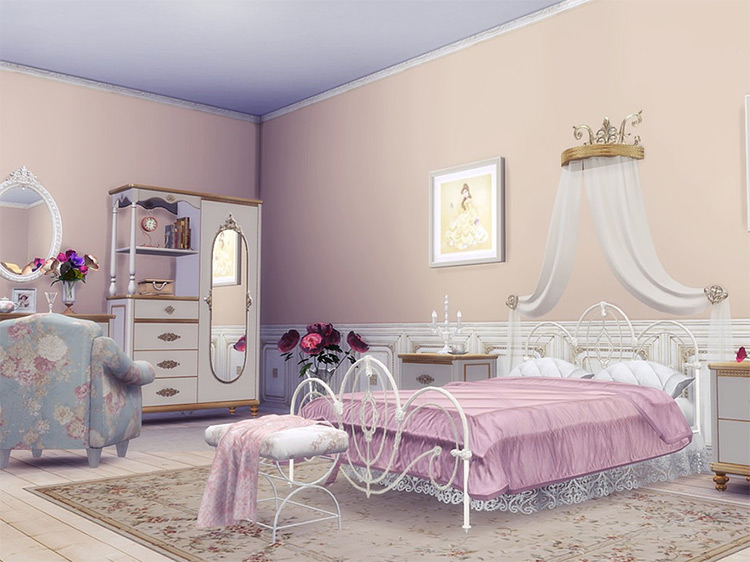 Disney fans, be our guest!
This epic creation from MychQQQ is a recreation of the enchanted castle from Disney's Beauty and the Beast.
This 64×64 lot is immaculately furnished, with similar or nearly identical furniture to its source material.
You get four bedrooms, three bathrooms, two living rooms, and the famous kitchen with the impossibly long dining table – all included right here.
And while it's the most expensive lot featured on this list at a total price of §630,000, it's totally worth every simoleon.
Just remember to check the creator notes and required categories before downloading!
Browse:
Lists
The Sims 4
Video Games