Sims 4 Casual Dress CC To Download (All Free)
This post may contain affiliate links. If you buy something we may get a small commission at no extra cost to you. (Learn more).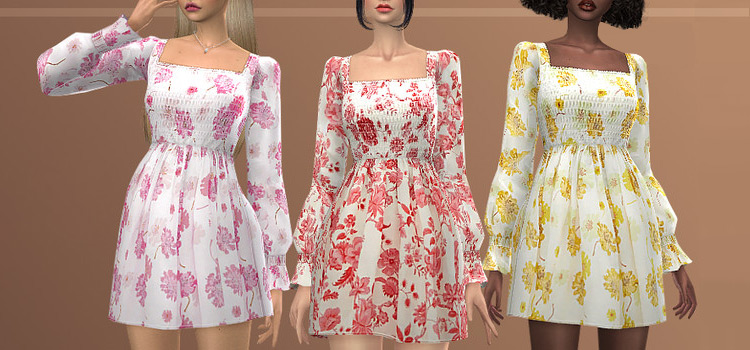 When it comes to my Sims' CAS options, comfort is definitely king.
The variety of themed outfits in the game are great. But I gotta be honest:
More often than not, my Sims are rocking their everyday outfits.
There's no shortage of casual tees, blouses, and jeans. But have you ever noticed a lack of casual dresses in the game?
I have. And I'm happy to say that our days of searching for those much-needed casual outfits are over. Just take a peek below and see what you like!
10.

Autumn Dress
While it's called the "Autumn Dress", PixelCharm's short-sleeved dress is an all-season worthy addition to your Sim's wardrobe.
The ribbed material looks super comfy and soft.
And the dress comes in two different swatches: solid black and floral blue.
It's a great throw-on-and-go outfit, or perfect for those random event invites our Sims are always getting.
9.

Beate Sweater Dress
There's only two words to describe this custom sweater dress – super cute.
From the unique collar to the cozy sweater, you'll love sending your student Sims off to school during the colder months in this outfit.
And get this: creator Tukete's dress comes with a combined 58 different dress colors and 138 collar colors, for a total of 8,004 possible color combinations.
Mind. Blown.
8.

Carmen Dress
Ever see a base game item and think, "I want to like this, but it's not quite right?"
So did Simminginchi.
And thus the awesome Carmen dress came to be.
Converted from a base game top to a long dress, this outfit is somehow full of character (the puffy sleeves and bow!) while still being casual.
Plus there's 28 different color swatches to choose from, because you can never have too many options.
7.

Casual Short Sleeve Pattern Dresses
Summers in The Sims 4 get really toasty.
It's hard to balance fashion with comfort, but Saliwa's casual patterned dresses seem do it effortlessly.
This CC comes in a yellow or dark green floral print, and can be worn by Sims aged Teen to Elder.
It even has a cute little strap across the back for an added bit of flair.
Grab this for your Sims that need a cute breezy dress while they're on the go. Maybe even add this into your massive pile of Summer-themed CC.
6.

Casual Sleeveless Dress
Here's another dress perfect for the harsh summer heat your Sims endure.
And even at a glance, Sims4Marigold's casual sleeveless dress really stands out.
If the previous dress on the list was a little short for your taste, this longer dress makes up for it by ditching the sleeves.
With 39 color swatches in total, it'll become a staple in your Sim's wardrobe.
You can also pair it with boots and a jacket or a sweater for the colder months!
5.

Vanessa Dress
Okay, this one's so cute that I'd really wear it in real life.
PepperoniPuffin's VanessaDress is just right. Not too long, not too short, and its flared sleeves and hem will flatter any Sim's figure.
There's 32 solid color swatches and nine patterned included here, for a total of 41 unique options to choose from.
My favorite is the white floral print. But honestly, they're all amazing.
4.

Cassie Dress
Because who doesn't love a Sims 2 to Sims 4 conversion?
This custom Cassie Dress by Sentate is a much welcomed addition to the growing list of Maxis-Match friendly conversions. And it's a great find for those seeking out casual dresses for their Sims.
It features a super chic winged sleeve, nips in at the waist for a great silhouette, and flairs out into a beautiful flowing hem.
It's totally casual and cute, but can also be paired with accessories to give your Sim a more high-end look.
3.

Charlotte
Simminginchi's back again with yet another edited item – this time from Eco Lifestyle pack!
The Charlotte dress is casual perfection with a button-down design and pinned sleeves.
Not only does it feature the original 12 swatches from EA, but the creator designed an additional eight, for a total of 20 color options.
I love the flared slightly longer back of this dress. It just feels so unique.
Combine it with a pair of comfy boots and your Sim's good to go.
2.

Roxana Dress
When I think of casual dresses, spaghetti straps come to mind.
Honestly, they're so light that it feels like they're barely there.
And while there aren't exactly a plethora of spaghetti strap dresses in The Sims 4 by default, this entry more than makes up for it.
This Roxana Dress CC by Katverse features a light, flowy material with a thin strap that makes for an effortlessly cute option.
There's 20 swatches in total (five patterns, fifteen solid colors), so you can send your Sim out in the same adorable dress again and again… because who's gonna know?
1.

Sweet Summer Day Dress
Floral prints, bright colors, and ruffles are my weakness.
Trillyke's Sweet Summer Day Dress manages to combine them all into one beautiful dress, while still keeping it casual.
Six different colors give your Sim just enough variation without being overwhelming.
And the long sleeves and shorter hem works for both spring and summer weather.
It's already in my mods folder. And if you're looking for a truly one-of-a-kind casual dress, I highly recommend adding it to yours too.
Browse:
Lists
The Sims 4
Video Games