Sims 4 Cat CC: Ears, Tails, Slippers, Outfits & More
This post may contain affiliate links. If you buy something we may get a small commission at no extra cost to you. (Learn more).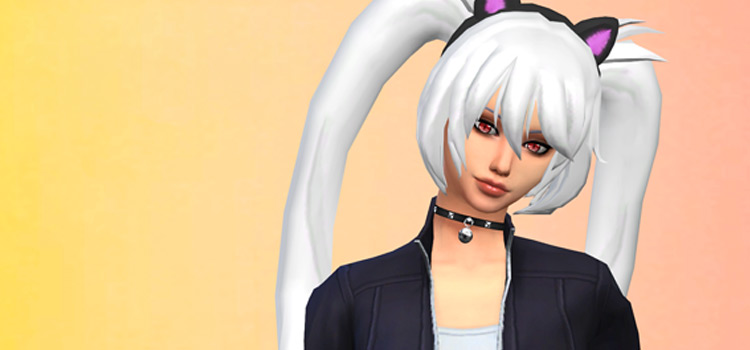 Despite the grumpy attitude and unmistakable god complex, cats have wrapped the Internet in their furry little tails.
Fluffy pandas and handsome huskies can't even compare to the popularity enjoyed by the feline fiends online, and before you ask why, it just is.
Cats also had the honor of being the centerpiece of a Netflix-produced true-crime documentary where internet sleuths brought a cat killer to justice, all because one man forgot that you Don't F**k With Cats – ever.
Whether or not you're a cat person, there's no escape from the onslaught of cat content that litters the web.
And the world of The Sims isn't spared.
Fall into the black hole of feline-themed CC by checking out our top picks below!
10.

Kitty Slippers

Look at what the cat dragged in – Kitty Slippers!
This footwear CC from simlaughlove comes in 23 swatches, all adorable in their own way.
It's even optimized to fit all life stages, offering comfort with every step of a toddler to elder.
So ditch those flip flops and give in to the desire of wearing fluffy slippers at home – I know your Sims want to.
9.

Cat Whisker Face Paint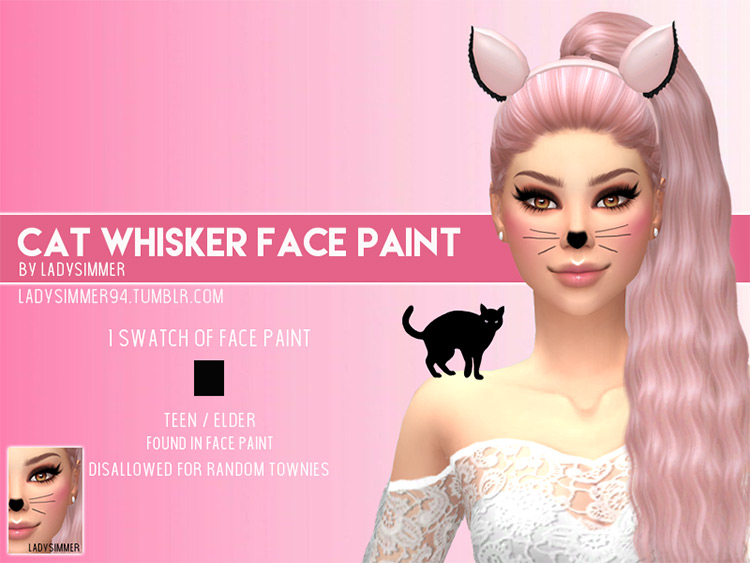 Cats without whiskers – do they even exist?
Of course they do! But why create a catty Sim without it?
The whiskers are one of the most distinguishable features of a cat.
From Hello Kitty to Jason Derulo's cringe-worthy Cats costume, the fine hairs have always been there to replicate an accurate portrait of the internet's no. 1 best friend.
If you don't want to fall behind the pack, then you better get this whisker paint from LadySimmer94. Don't worry though – it's not permanent.
8.

Cat's Eyes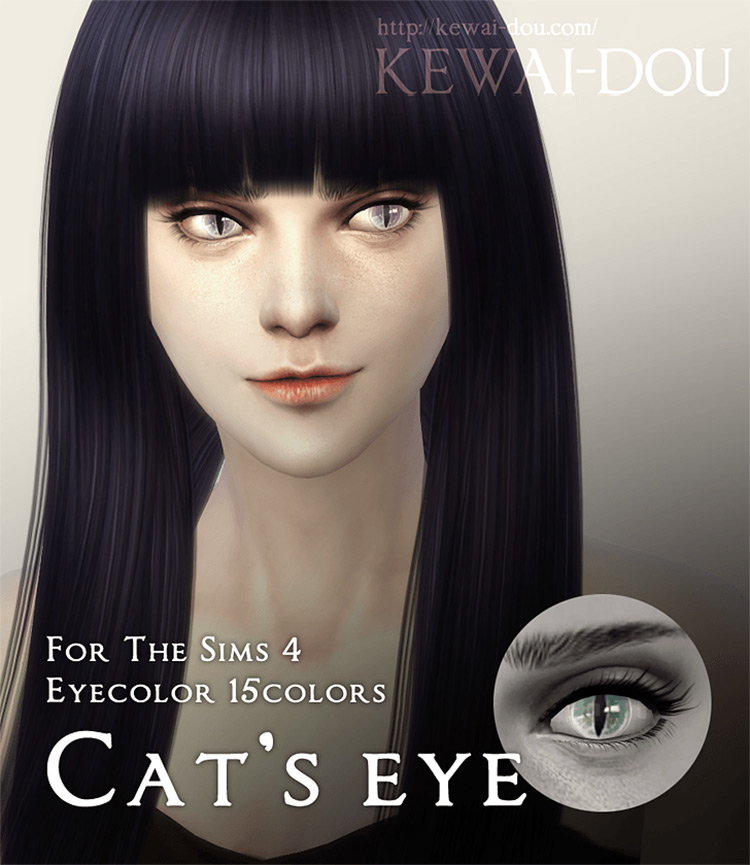 Have you ever stared at the eyes of a cat and thought, "Wow, they have more beautiful eyes than me"?
If your answer is yes, you're not alone.
Cat eyes are so universally beloved that someone even named a whole group of gemstones after them.
So if someone ever says that you have eyes like a cat, take it as one of the best comments you could ever receive.
Have your Sims show off their own pair of shining orbs with this CC, which comes in 15 striking colors ranging from red, yellow, green, and even to multi-colored shades.
7.

Cat Noses + Teeth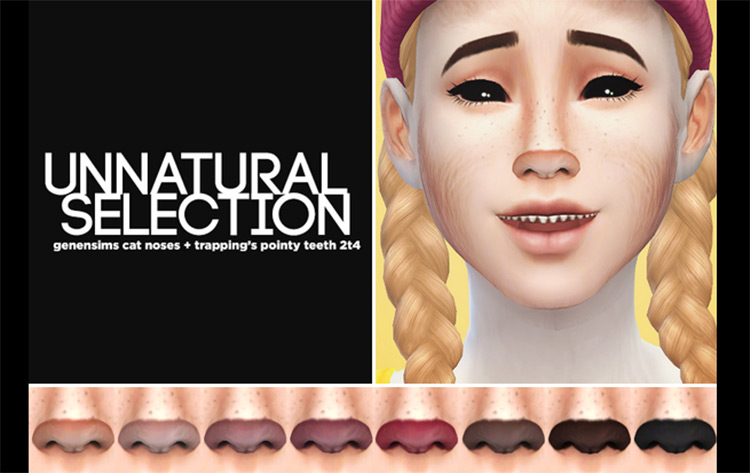 Still trying to convince your Sim friends that you're undergoing a feline transformation?
This CC might do the trick to shut down any doubts.
Pyxis' Unnatural Selection includes a collection of cat noses and a set of teeth that would blend well with other feline features you may have.
With these two as part of your Sim's physical attributes, there's no denying that you've got it bad for cats.
6.

Kitty Ears #2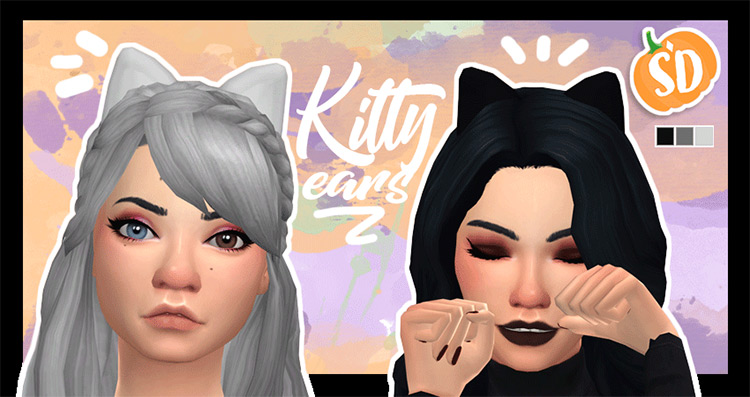 If you want to go with a more subtle but mainstream look, then these custom cat ears are yours to play with.
It can be said that the ears are the most defining feature of a cat.
And judging from the generic Halloween costumes being sold online, this rings true.
There's simply no way for your Sim to look like a cat without this pair of CC, and frankly, they're ten times more flattering than human ears.
Feel cute without having to try so hard by implanting these right on your Sim.
5.

Meirchio Cat Ears Headband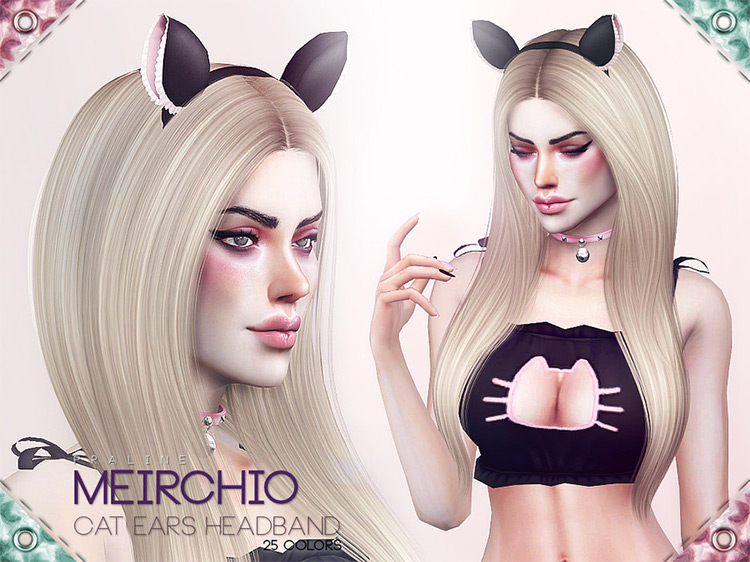 Not ready to commit to surgically implanted cat ears on your head?
Then get these painless and socially acceptable Meirchio cat ears in a headband by Pralinesims. They'll be your next go-to feline accessory!
Have your Sims looking cute while reverting to their baser instincts, all by slapping on this frilly headband which comes in 25 colors.
4.

Katz Tail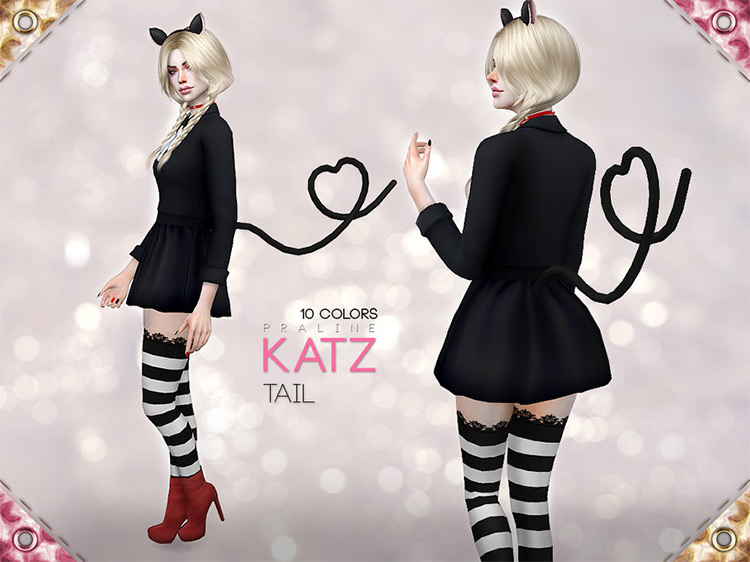 Cats may not have a bubble butt like a corgi.
But their backsides are just as endearing in their own way.
Not only that, but they also use their tails a lot to communicate their emotions.
When cats wag their tails, it's a sign of frustration.
When their tail twitches, it's a sign of excitement.
When it curls into a heart shape, well, it's a sign to download this CC, I guess!
3.

Cat's Meow

The Cat's Meow is your all-in-one CC pack that contains the essentials you'll need for any feline makeover in TS4.
It contains all the basic features required to replicate a cat's look, offering just the right amount of cosmetic tweaks without overdoing it.
We wouldn't want a Cats 2.0 CGI nightmare happening again, do we?
Download this Maxis Match pack and dive into some cat-like eyeliner, lipstick, facepaint, and more.
2.

Luna Boots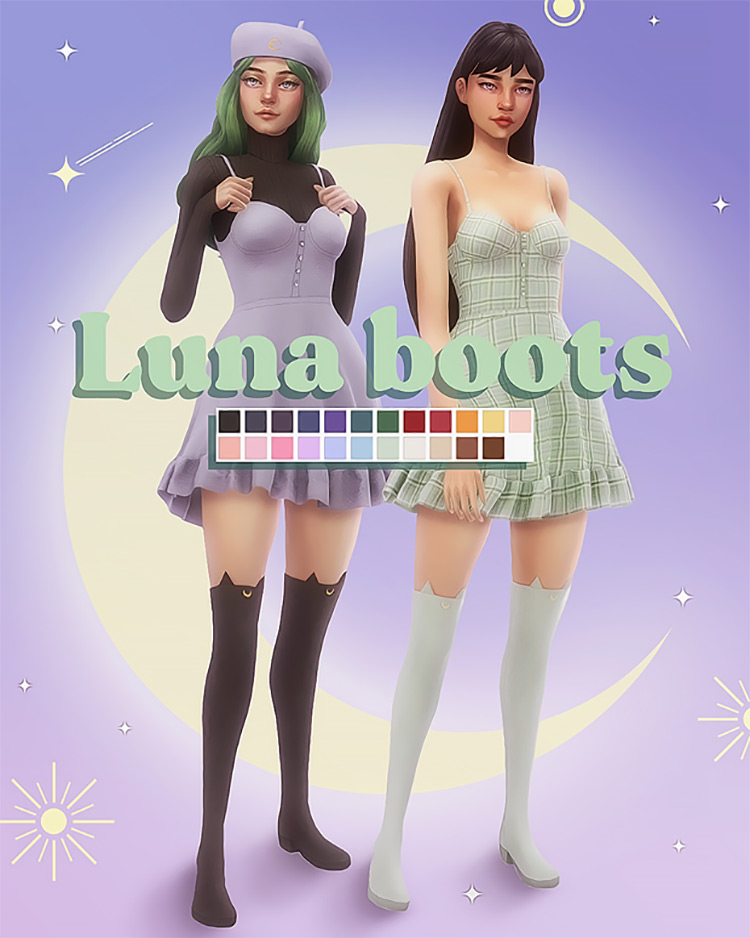 It's been decades since Sailor Moon and her band of Sailor Senshi graced our screens with glittery transformations and outfits that made the #90sanimeaesthetics a classic.
But from the wide range of looks they've served during their five-year run, it was the Sailor Senshi's standard uniform that triggered kids everywhere to cosplay.
Although this CC by Miiko only contains a pair of thigh-high boots, it's stylish and recognizable enough to belong to Sailor Moon's wardrobe.
Feel powerful with these Luna Boots that come in 23 swatches, wearable for teens to elders.
And if you need even more Sailor Moon stuff then take a look at this collection.
1.

Catwoman Outfit

It's no wonder cats get nine lives when they look this purrrrfect.
Selina Kyle aka Catwoman is the comic world's beloved cat burglar, who has managed to hook her claws into the Dark Knight himself – without superpowers!
Using her seductive charms and slippery gymnastics, Catwoman has evaded justice and saved the Justice League one too many times.
You may call her a bitch, but this femme fatale ain't having it.
And now your sims can go on a power trip with this tight-fitting Catwoman suit made by plazasims.
Browse:
Lists
The Sims 4
Video Games