Sims 4 CC: Best Denim Dresses & Denim Skirts (All Free)
This post may contain affiliate links. If you buy something we may get a small commission at no extra cost to you. (Learn more).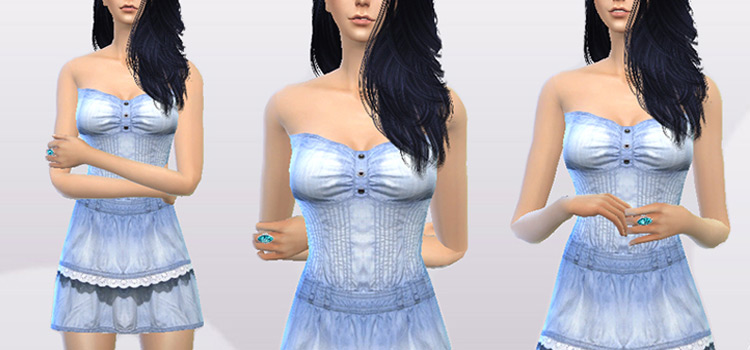 Denim never goes out of fashion. It's comfy to wear for any occasion, even for a Sim.
Denim pants and jeans are your Sim's best friend. Whether you're planning a lazy walk around Pupperstone Park with your dog, fishing at Oasis Springs, or a look around art galleries.
But if denim pants are too hot or maybe not in season, I've got you covered.
For this list I'll share some of the best denim dresses and skirts available for The Sims 4. All free CC, no hassles, just one click and you've got your Sim a new OOTD.
Easy, right? So let's get to it!
15.

M. Selfridge Distressed Denim Skirt by PinkZombieCupcakes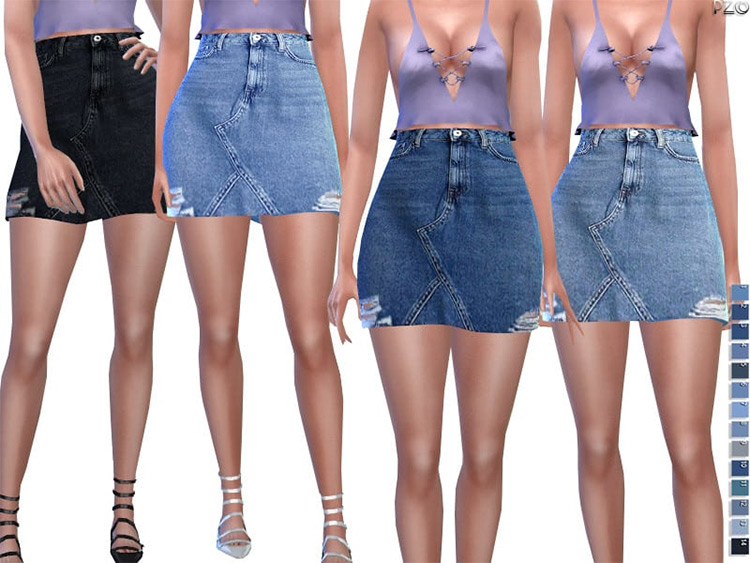 PinkZombieCupcake's Distressed Denim Skirt is going to be your Sim's new favorite mini skirt.
It's the right length, plus it has cute geometric details and ripped sides.
Since it's high-waisted as well, cropped tops will look great with this skirt.
And to complete the girl-next-door look maybe wear a pair of white tennis shoes.
14.

Madelynn Overall Denim Dress by Grafity-CC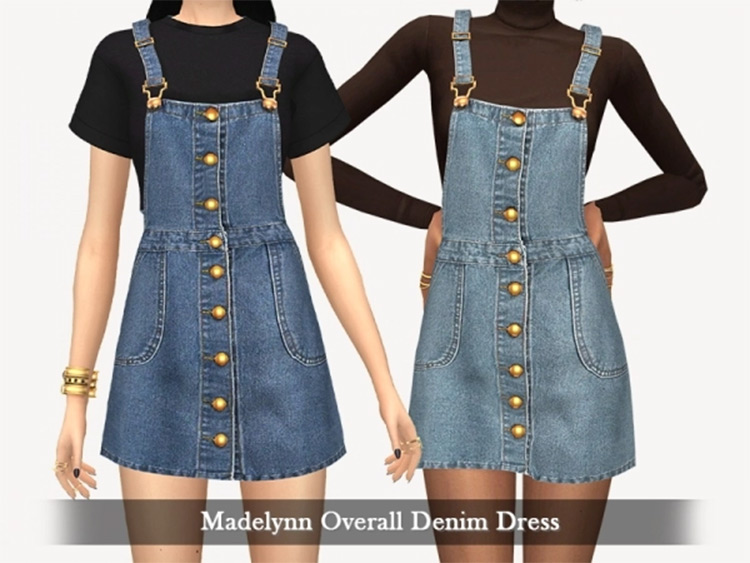 This dress is a great piece to have in your Sim's wardrobe, for the days you want your Sim to look extra cute.
The shiny gold buttons and buckles will really elevate your Sim's overall look. All you need now is a basic tee underneath to complete the outfit.
For a retro glam OOTD, use a long-sleeved rainbow turtleneck as your tee.
Perfect for when you want to meet up with friends at Club Calico or Salty Paws Saloon!
13.

Ripped Denim Skirt by EllieSimple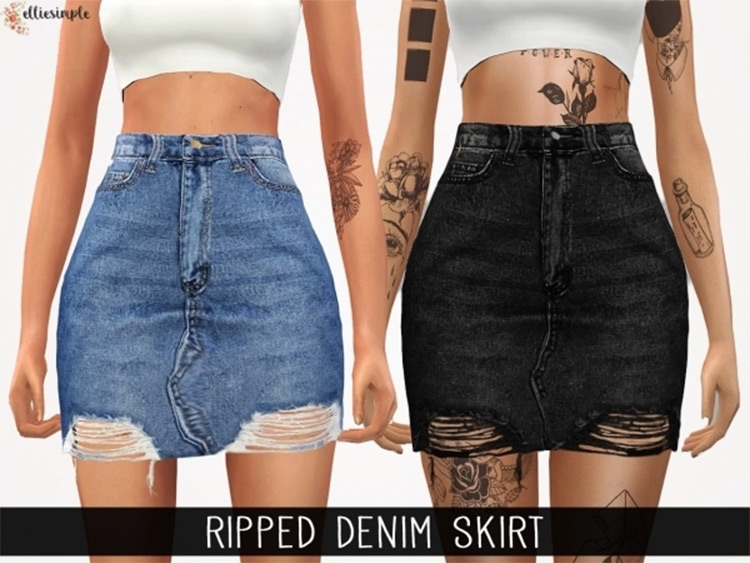 Get 14 cool shades of denim with EllieSimple's ripped skirt CC pack!
Who knew there could be so many different colors of denim?
There's something for everyone here. If you're a lover of pastel colors, this pack has a pastel violet denim skirt, which you can pair with a floral top for a summer look.
If you're a fan of the darker colors, there's a black skirt here for you too.
With the ripped tassel details you get that effortless chic vibe. It's definitely a nice choice for your Sim's everyday wear.
12.

Belted Denim Shirt Dress by Cleotopia
Cleotopia's belted denim shirt dress comes in 4 pretty shades.
It's a simple but comfortable dress your Sim can wear for casual activities, especially for a picnic or barbeque with family/friends in the Granite Falls forest.
This dress goes well with any footwear. But my personal favorite would be some combat boots, just to add some edginess to your look!
11.

Unfair Love Denim Skirt by Trillyke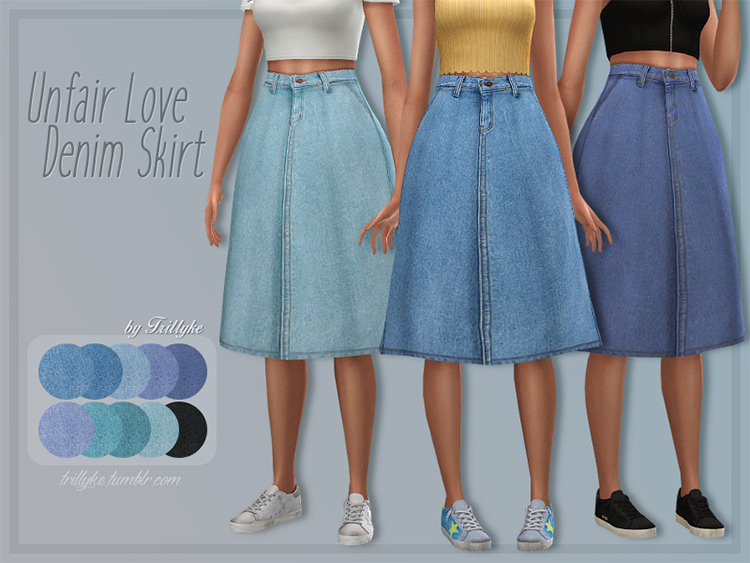 Denim is normally a stiff fabric. So skirts and dresses are usually tight and hugging.
That's why this breezy A-line denim skirt is a one-of-a-kind design that you should immediately add to your Sim's skirt collection.
A knee-length denim skirt for the dainty Sim, this Trillyke creation is nice for a sweet and pretty ensemble.
Since the skirt is quite long, you should pair this with a simple and tight-fitting tube top and some doll shoes. You'll be looking like a modern-day princess in no time.
10.

Gasoline Denim Skirt by Grafity-CC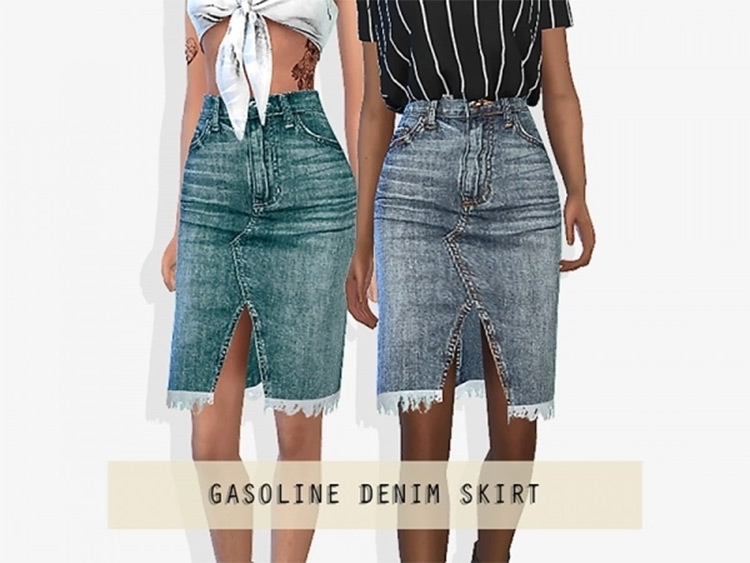 Grafity-CC's gasoline denim skirt design is sexy yet sophisticated at the same time.
It has a modest length, but the front slit and the ripped details give such a cool edge to the skirt. And to your overall outfit!
This is best worn with a tucked-in loose blouse for an Oasis Spring stroll.
And you'll definitely fit in the laid-back southwestern vibe of the whole place.
If you want to take the look even further, wear some leather boots!
9.

MFS Layla Skirt by MissFortune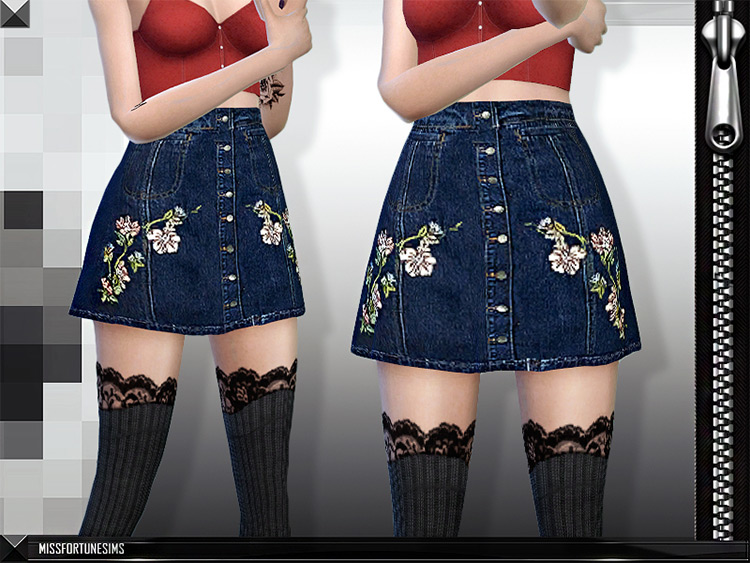 Embroidered flowers in clothing have become all the rage recently.
So here's an embroidered denim mini skirt for your Sim to keep up with the latest trend.
MissFortune's Layla CC features embroidered white flowers on denim, and the simple but super pretty design will surely get lots of attention.
Whatever top you're in the mood for today, this versatile skirt will go well with it.
8.

Buttoned Denim Skirt by Simlark
Pink denim? Count me in!
Simlark's buttoned denim skirt CC pack is your typical denim mini skirt, but set in never-before-seen denim shades of purple, pink, and green.
This one's for the artsy Sim who doesn't settle for drab colors.
Your Sim's life is too short (94 days max, to be exact, unless you're settings are at 'epic') for plain ol' colors.
So give her the best time of her life by downloading these awesome skirts.
7.

Short Dress by Paulo-Paulol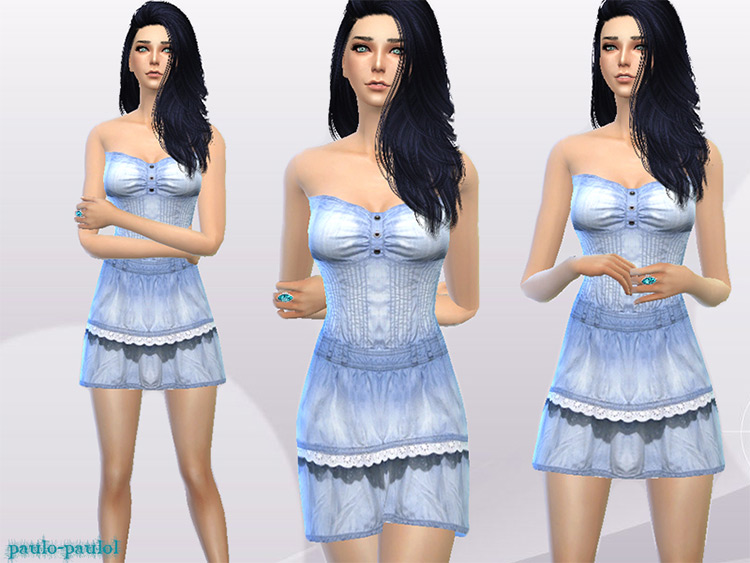 This denim dress by Paulo-Paulol is a great date outfit.
It's sweet, sexy, but not too revealing.
Above all, it's a comfy outfit your Sim can be confident in.
So whatever you and your date have planned for the day, you can just let go and have fun!
6.

Ribbon Belt Denim Dress by Marigold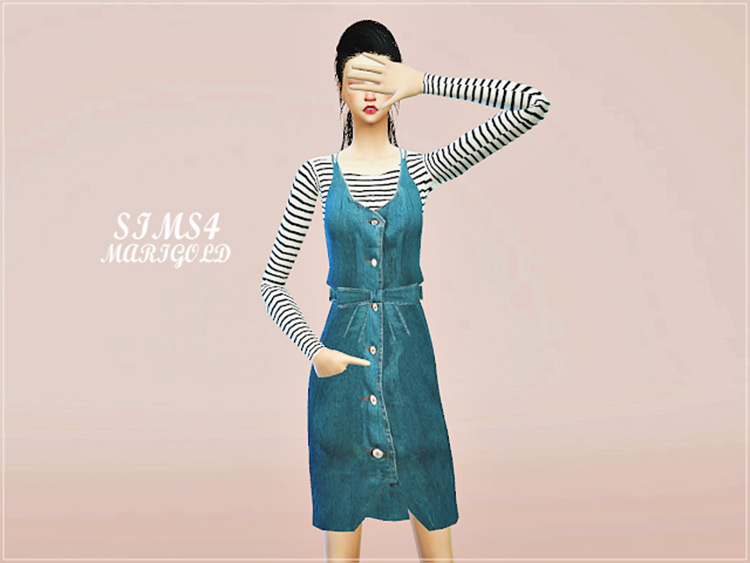 Sleek and stylish, this ribbon belt dress proves that denim can be classy with the right tailoring.
Denim is usually just styled as overalls, or as figure-hugging skirts.
But with this dress you get drape skirts, low backs, and spaghetti straps.
Not only that, but it offers 6 different denim colors, plus a cute striped undershirt! Definitely give this one a try.
5.

Denim Long Dress With Braces by Paulean R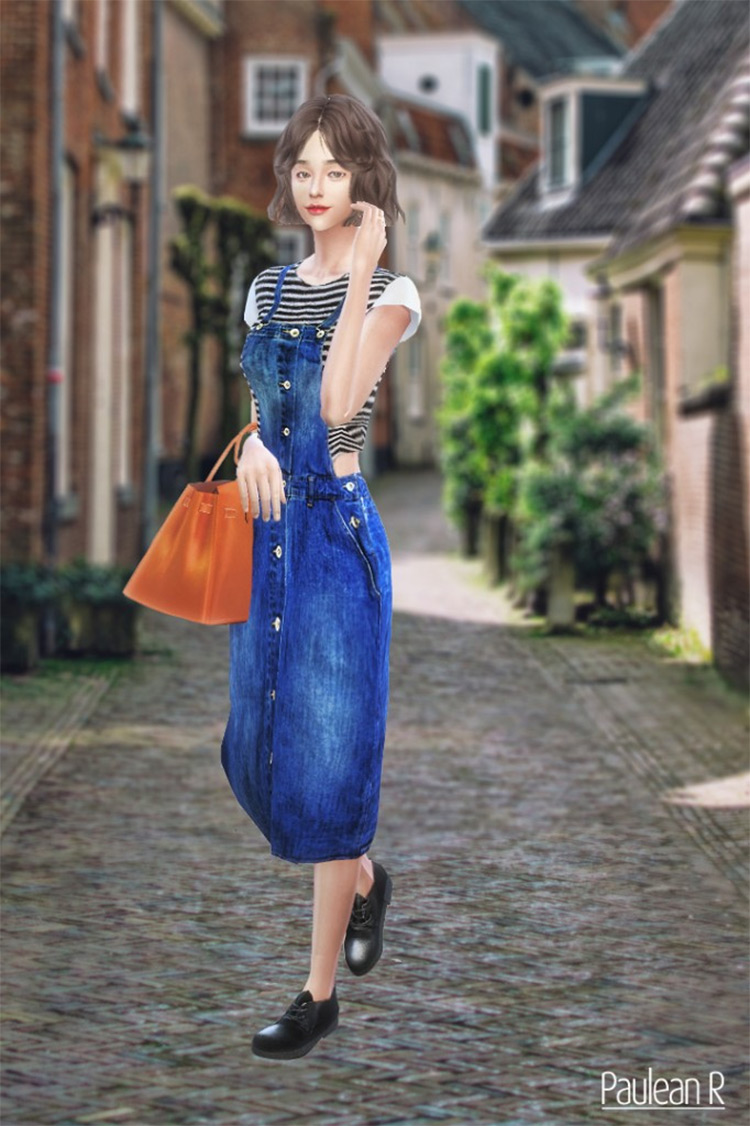 Can't decide if you want overalls or a dress?
With this CC by Paulean R, you'll get the best of both worlds.
It's a hybrid of denim overalls and an ankle-length dress. And it's such a fashionable outfit for a casual day.
The cropped inner tee is included too, so you really get a full outfit with this one!
And though it's a full-length skirt and dress, a little skin is still showing. Perfect for those who love flaunting some.
This dress comes in 3 pretty denim shades, and each comes in 4 different cropped inner shirts. What a steal!
4.

Midi Denim Skirt by Serenity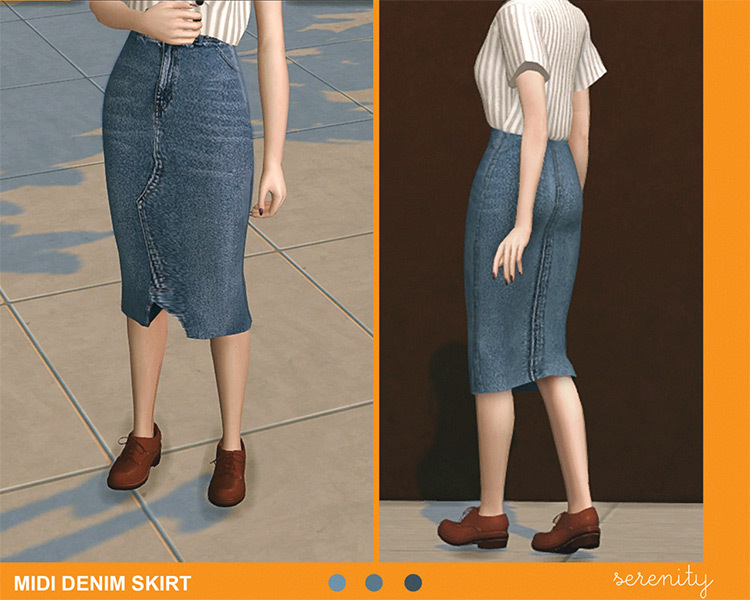 Pencil skirts in denim like this CC give your Sim both a sophisticated and easygoing 80's vintage vibe.
Your Sim will look straight out of a vintage polaroid in any of the three denim shades. Especially if you pair them with a loose polo, some sunglasses, and a pair of white shoes.
All you need now is a convertible to ride off into the sunset, just like in any classic 80's movie.
3.

Denim Jeans Dress by PinkZombieCupcakes
PinkZombieCupcake's denim jean dress is something your Sim needs to have, because you just can't have too much denim in your closet!
Fresh and fun, this dress will make your Sim look exciting and fashionable in any of its seven different denim shades.
But wait, there's more! The CC set has not just one, but two different dresses for you to choose from. Now that's what I call a bargain.
2.

Pin Wrap Mini Skirt by Marigold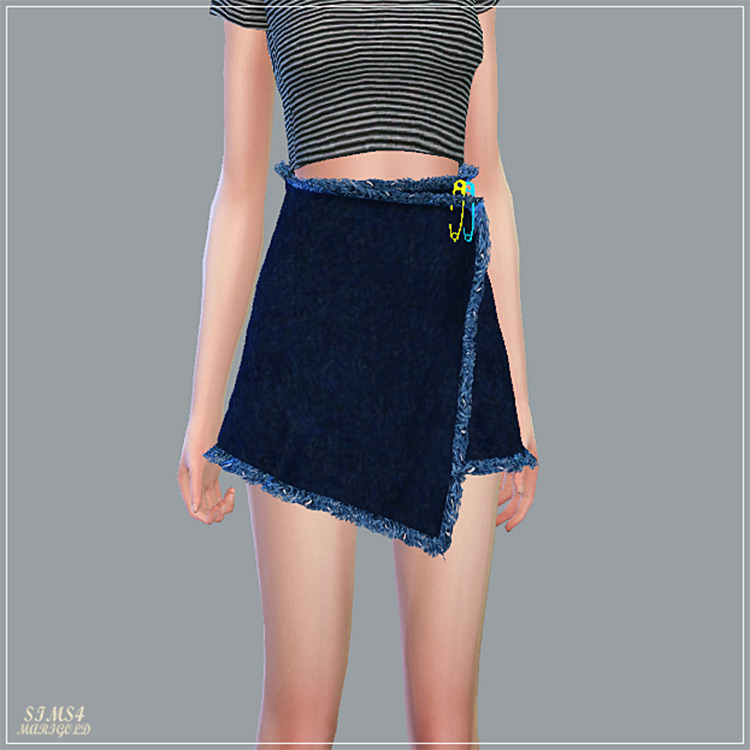 Marigold's denim skirt wrap is the coolest denim mini skirt you can use to level up your Sim's OOTD.
It's basically a mash-up of a regular wrap and denims, with some quirky pin details added to complete the look.
If you want your Sim to look instantly stylish in whatever top they throw on, definitely download this CC.
1.

TT Off-Shoulder Denim Dress by Waekey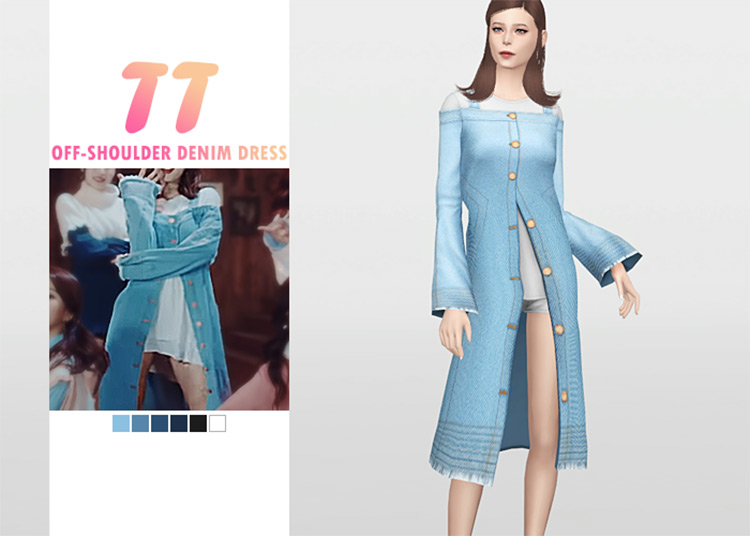 K-pop fans, you know what this is about!
Waekey's off-shoulder denim dress is a replica of the dress worn by Nayeon in one of Twice's music videos.
Even as a CC, the dress is still super adorable. And if I can't have it in real life, I'm going to get it for my Sim.
This dress just has everything: bell sleeves, buttons, off-shoulder sleeves, and of course… denim! It's hard not to love.
And even though your Sim may not be a K-pop fan, it's still a cute and one-of-a-kind dress to collect. Your Sim will turn heads anywhere she goes wearing this!
Browse:
Lists
The Sims 4
Video Games