The Sims 4: Best CD, DVD & Electronics Clutter CC
This post may contain affiliate links. If you buy something we may get a small commission at no extra cost to you. (Learn more).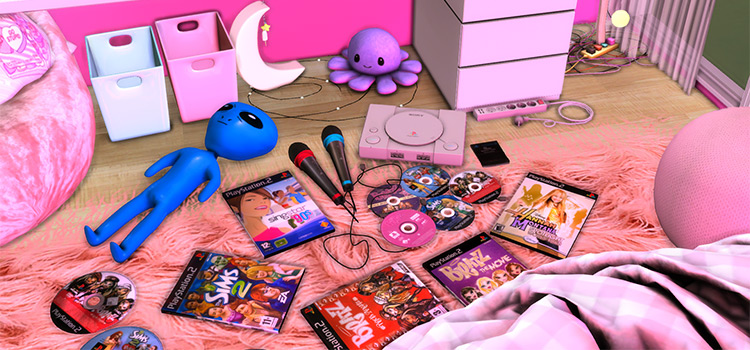 A lot of entertainment has gone digital.
But that doesn't exactly make a Sim's house look like home, now does it?
It's safe to say most of us still have physical copies of music, DVDs, or even video games laying around.
We call that clutter – and that's what our Sims desperately need more of!
1.

It's A K-Pop Thing CDs (Get To Work Required)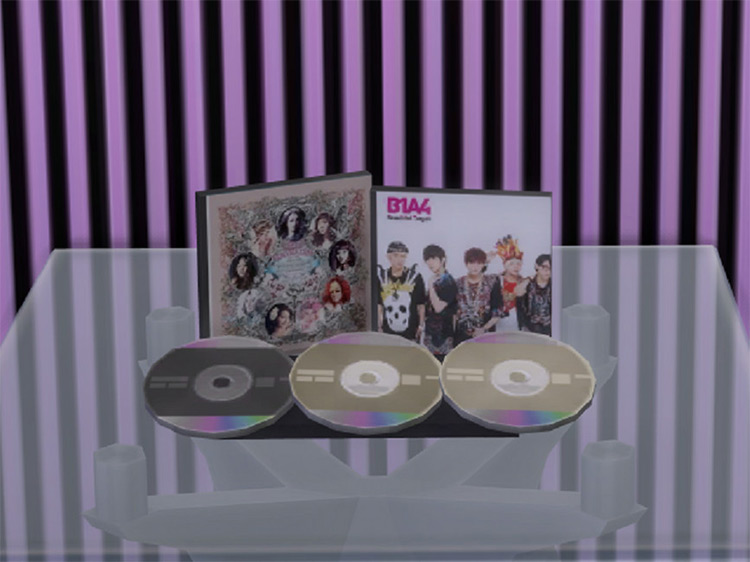 Music is always evolving, and so are the ways we can listen to it.
But there's still nothing wrong with keeping a disc of your favorites handy.
This Maxis Match set of CD discs and cases will be great for shelves or tables. The artwork is kept vague, but it's easy to tell what genre these are.
2.

Disc Sets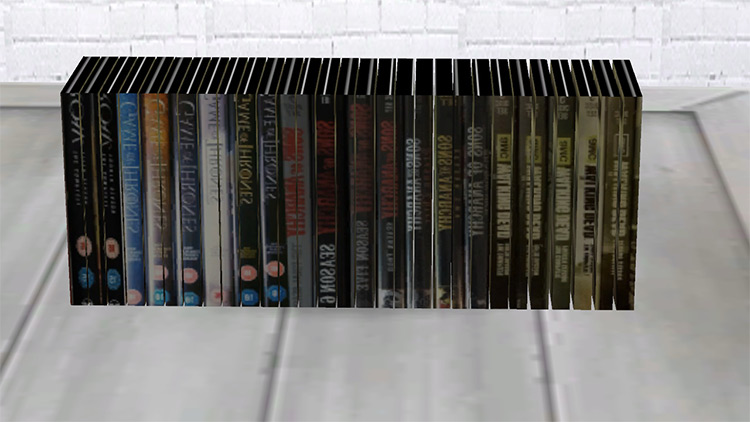 Here's an assortment of DVDs that'll add some much-needed realism to your Sim's entertainment area with just a few clicks.
Some very recognizable and beloved titles are included, like The Walking Dead, Harry Potter, and Friends.
Even just one set will give your Sims a sizable collection.
3.

PC Games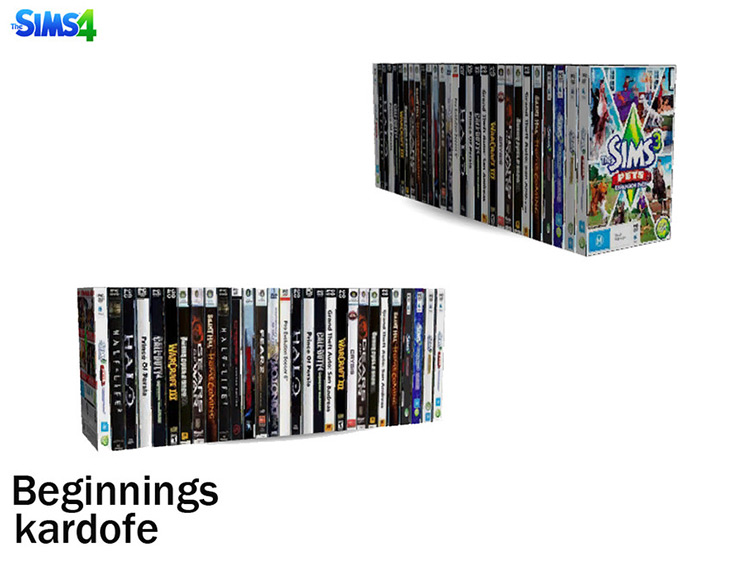 Digital downloads have their perks, but some classic games aren't available that way.
That's what you'll find with these cases.
Some will probably catch your eye right away, namely expansion packs from The Sims 3!
There's plenty more where those came from, however, like various Halo and Call of Duty games. And these would look great in a gaming room build.
4.

"Before Netflix" Set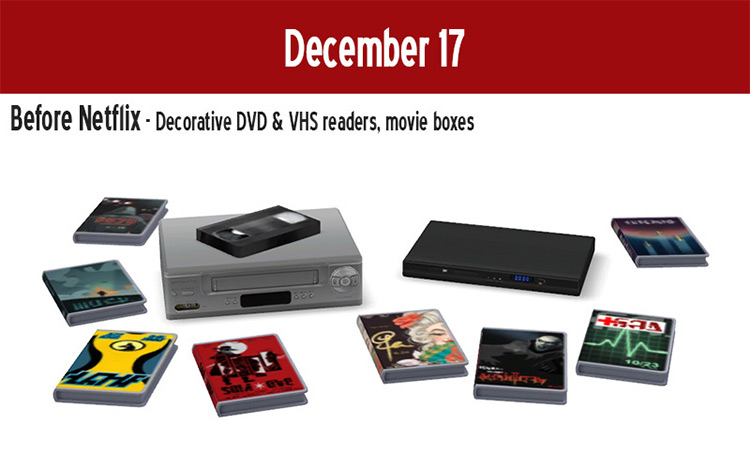 In the ye olde days before streaming, movie night required a little more effort.
This set, released as part of an advent calendar, will give your Sims options. In the decorative sense, at least.
Not only are there DVDs and VHS tapes, but the respective devices to play them, too.
5.

Random Movie DVDs (TS3 to TS4)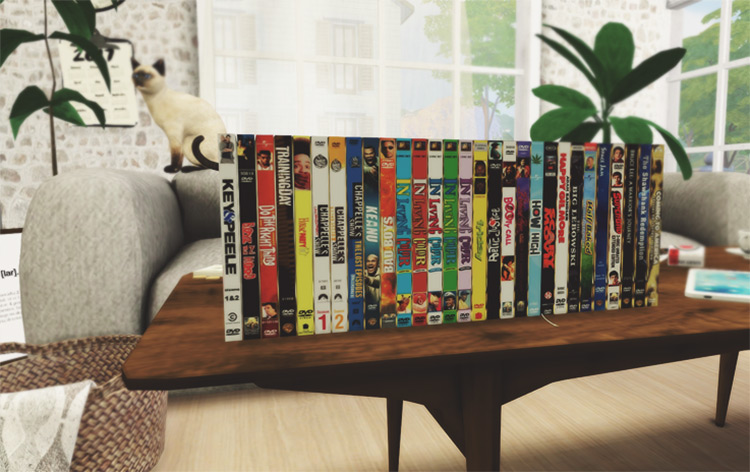 Like most personal movie collections, this one features quite an eclectic mix.
We've got some great titles from the '90s and 2000s. This assortment has comedies, dramas, and everything in between.
What's great about these is that although the titles are legible, they won't look out of place in your game.
6.

DVD Box Series Megapack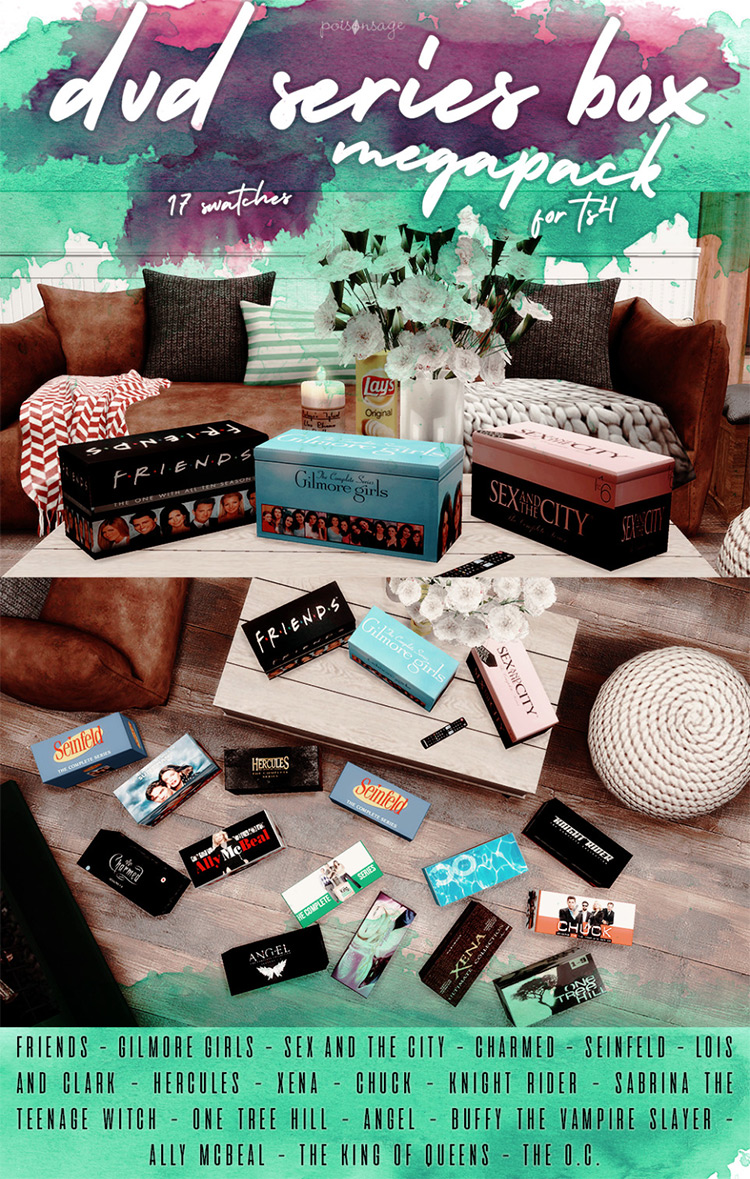 Big fans of any television series know that a box set is still the best way to go if you don't want to worry about a steaming service removing your favorite.
Some of the most popular sitcoms and dramas are part of this fanmade pack.
With 17 total swatches, it might just offer the most options yet.
7.

Clutter Floppy Disks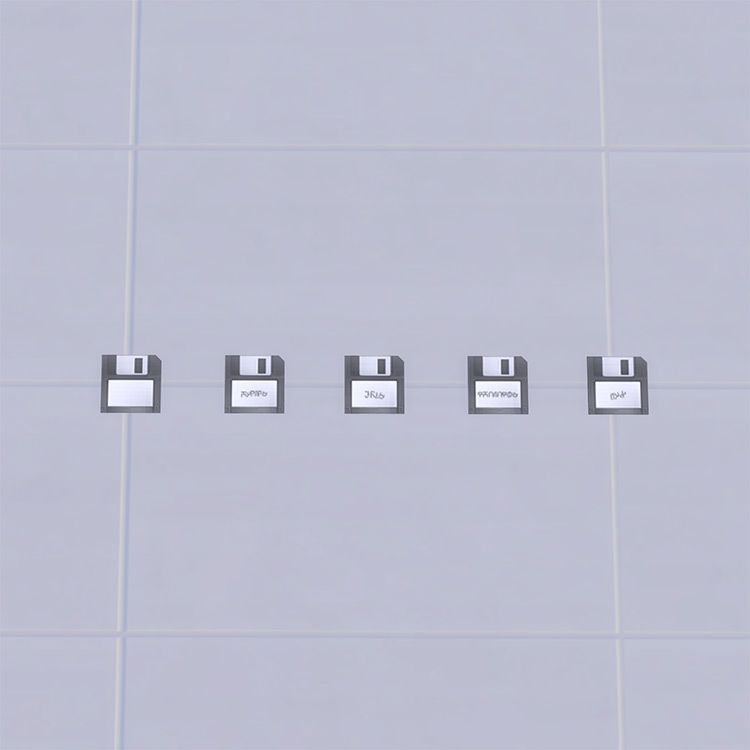 While floppy disks are currently the definition of obsolete, there was a time when they were once part of everyday life.
We now have a lot cooler technology, but for many people, there's something nostalgic about them.
Each disk in this set has some Simlish labels.
They'll fit right into any retro computer room.
8.

Y2K PS2 Pack
This set embodies everything that made console gaming possible before the digital age: tons of games, loose discs, and memory cards.
My fellow 2000s kids will know the trifecta of that era is Hannah Montana, Bratz, and The Sims.
You can arrange those games however you want for maximum clutter!
9.

CD Rack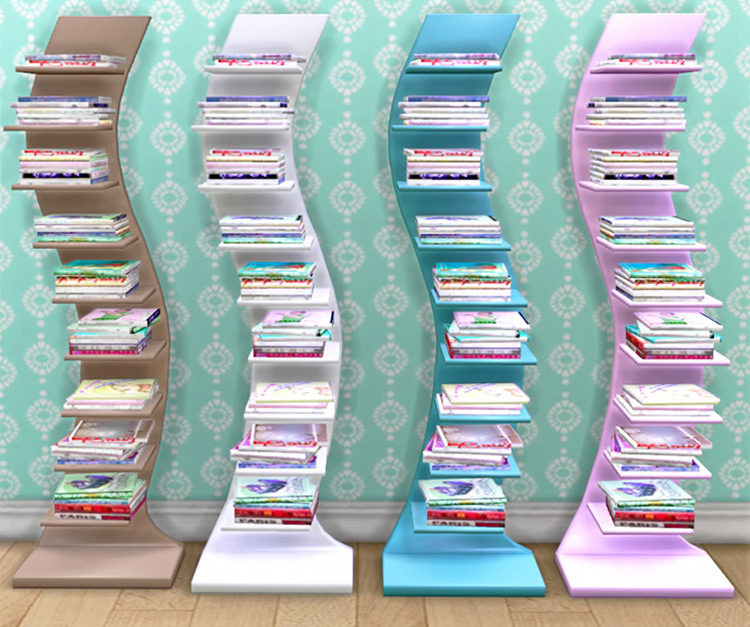 One issue with physical media is that "collection" can turn into "hoard" pretty quick.
A nice rack will fix that, though.
This converted CD display comes with a way better color selection than TS3's original version. Instead of just wood swatches, this Simmer added some beautiful pastels.
10.

The Sims CDs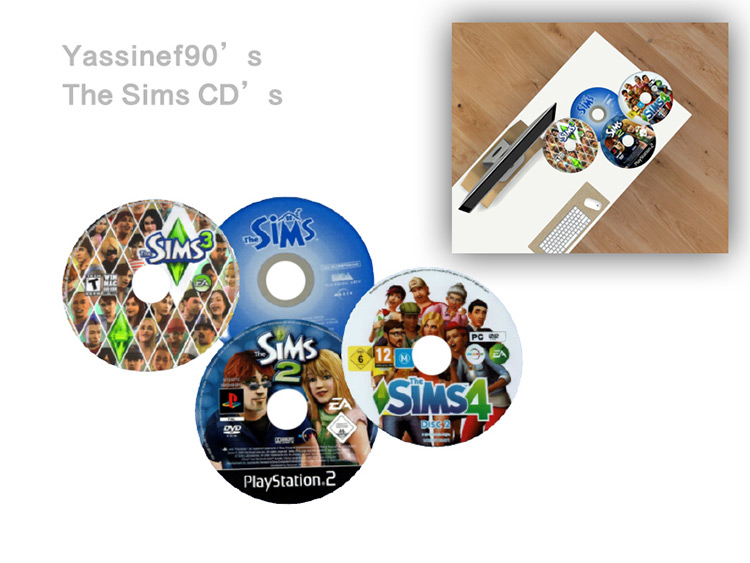 Many of us probably have this exact assortment, albeit they're probably tucked away safely in cases.
Well, Sims live dangerously.
All four major games from The Sims series are here as realistic discs. Just plop them down near your Sim's PC for a bit of inception.
11.

Katy Perry CDs (Get Famous Required)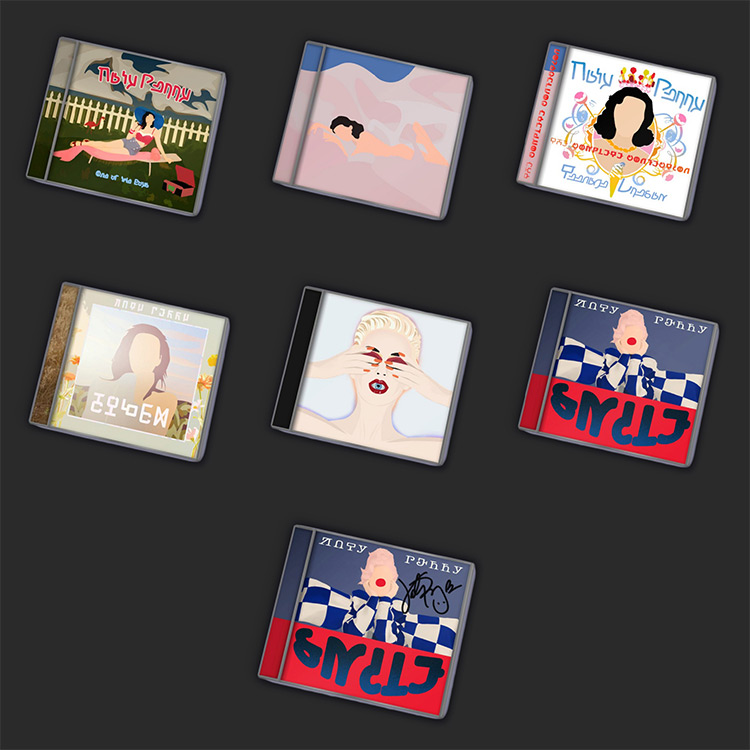 Katy Perry is no stranger to The Sims.
Her Sweet Treats pack for TS3 was iconic and her Simlish covers of her own songs definitely improved our in-game music options.
Now she's back, thanks to these recolors. All of her major albums are featured in this clutter pack.
12.

Mila Living DVD Stack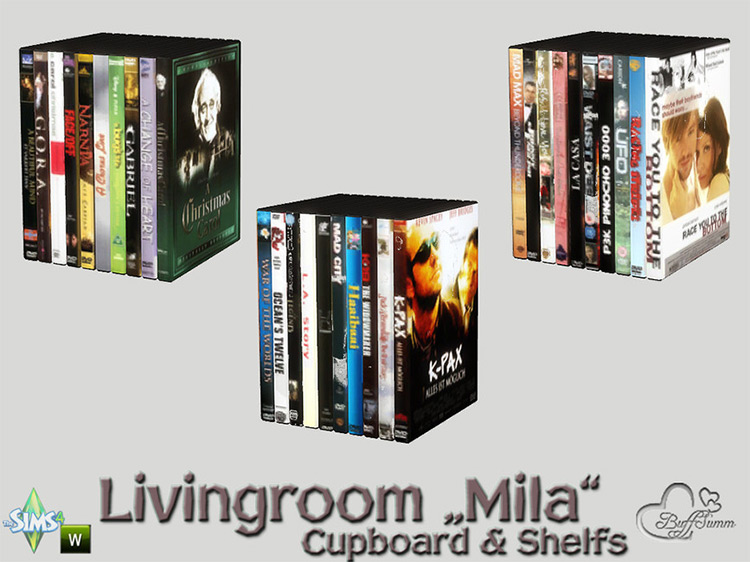 Here are some smaller stacks of movies, many of which are older.
This is another example of a creator balancing a realistic design, and factoring in the game's look.
It's a delicate mix but when done right, it'll really pay off as you're decorating your Sim's home.
13.

Stack of SHINee CDs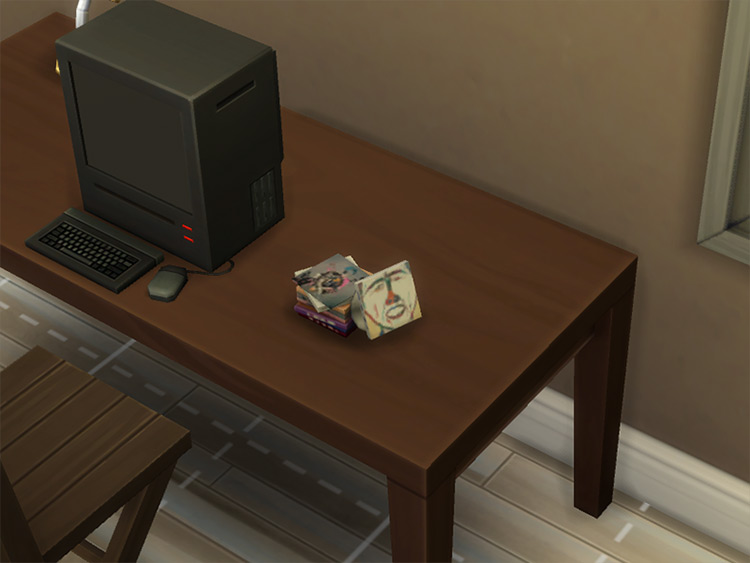 Korean boyband SHINee's discography is the focus of this set.
The simple, messy stack of CDs comes with several swatches incorporating the band's real cover art. They're small enough to easily fit into any surface with a decor slot, making them perfect for bedrooms, living rooms, and more.
14.

My Chemical Romance Albums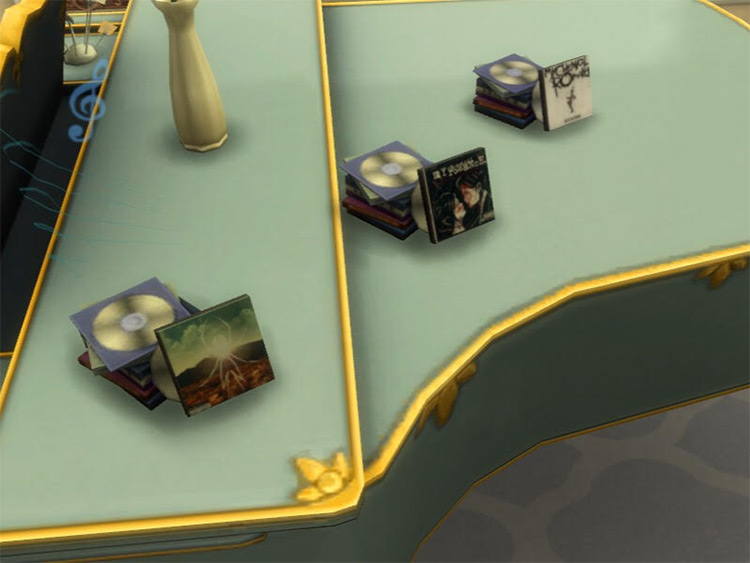 Some things never go out of style and My Chemical Romance is one of them.
Their music has been loved worldwide for years now, so it's fitting that some hard rock is finally brought to Willow Creek, San Myshuno, Brindleton Bay, or wherever else your Sims reside.
All of their most recognizable albums are included!
15.

DVD Clutter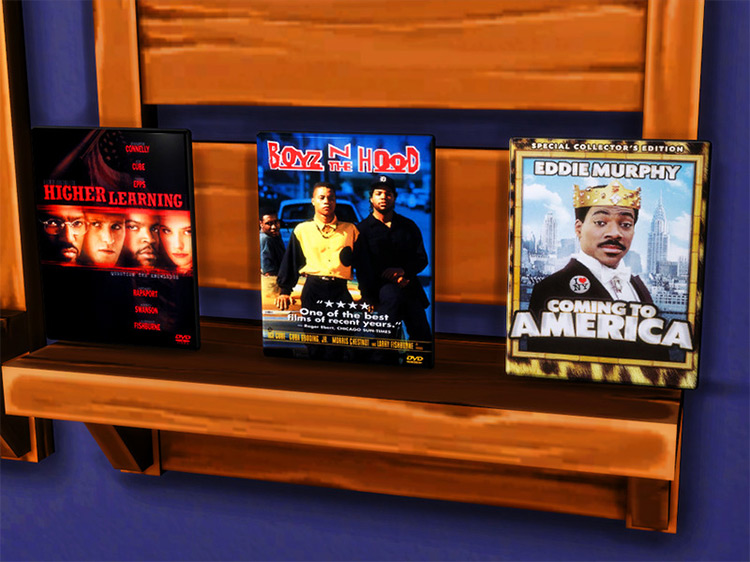 These 21 solo DVDs are great for creating your own personalized assortment anywhere that needs a bit of clutter.
Bookshelves, wall shelves, TV stands, whatever!
A lot of classic films are included, and many are from the '90s and 2000s.
They're actually recolors, but they're so flawless, you'd never know. Each cover looks just as it should in-game.
Browse:
Lists
The Sims 4
Video Games