Sims 4 Ceiling Fans & Ceiling Lights CC (All Free)
This post may contain affiliate links. If you buy something we may get a small commission at no extra cost to you. (Learn more).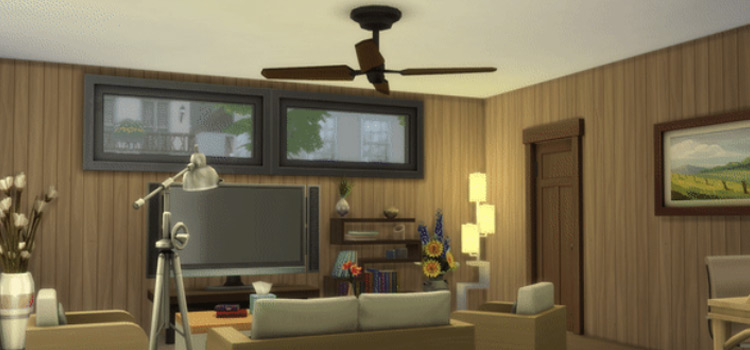 Who would argue that lighting isn't the most important part of every build? Nobody but mole people.
And thankfully we've only had to deal with those in some versions of The Sims 2.
Lighting can always pose a bit of an issue as your build progresses. For one thing, you'll need something that not only provides good illumination, but meshes well with the rest of your interior as well.
Don't be fooled into thinking that because they're usually transparent while in Live Mode, your build won't suffer from unsightly ceiling lights.
Zoom out just a little too far, and yikes… you'll be wishing you had a better selection.
As always, this is where custom content comes in as the saving grace of every Simmer. There's certainly no short supply of ceiling lights out there.
But you may have noticed something else missing from your Sim's ceilings, and that would be fans. Something that's so common in the real world has been missing from our game all of this time – but CC makers have got our backs there too.
Your Sim's ceilings no longer have to be a forgotten place. Now they can be integrated as important parts of your builds, as they should be.
1.

Functional Ceiling Fan
As awesome as all of the deco items out there are, I'm always the most amazed when Simmers manage to make items functional in ways I never even thought possible.
LittleMsSam did that here by going above and beyond improving the ceiling fan we got after a patch a few years ago.
Thanks to her tweaks, this is now functional in every way.
You'll have options to turn it on and off, and it'll actually rotate.
If you have Seasons, you Sims will actually get a moodlet as it cools them down! Now there's some of that realism we all want.
As if this all isn't impressive enough, there's also a lighting option that you control like any other light.
This really is the whole package!
2.

French Quarter Ceiling Fan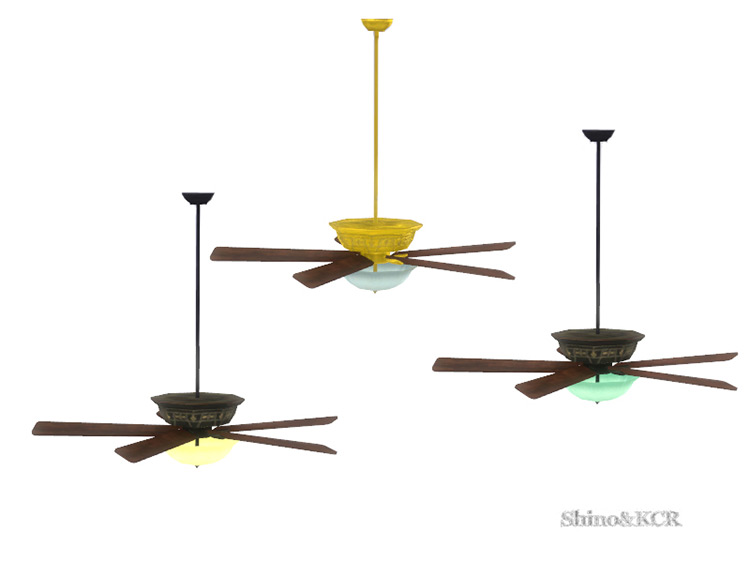 Here's a nice decorative type of ceiling fan with a French Quarter design.
It has a rather vintage look, perfect for old-school builds as well as modern ones you want to have a retro touch.
The swatches are all distinctly separated by the coloring of their fixtures as well as the dome part at the bottom. Two are black with subtle gold detailing, while the third is all gold.
And as for the glass?
Well, those domes sure are something special.
One is a typical yellow color, and the others are shades of blue.
Any of them will be beautiful additions to all rooms in your Sim's house.
3.

Greaves' Ceiling Lights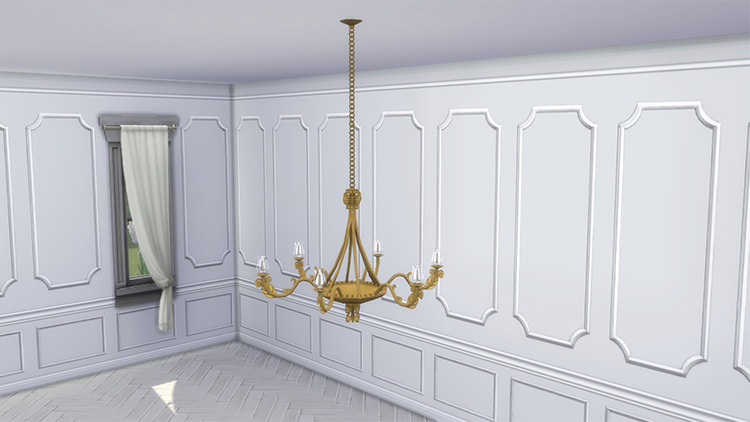 The Sims 3 certainly had some interesting build items.
I suppose that's why so many have been flawlessly converted for The Sims 4.
In fact, you'd never even guess this item wasn't from the current game all along, it's so nice.
Chandeliers can get pretty extra… most of the ones we have now are only fitting for filthy rich Sims, but they don't have to be quite so fancy.
This is a classic chandelier style that includes lots of little details without going over the top.
You'll have to bear with me on the terminology here, but you know those cuppy light parts? Those are splendidly defined, as are the leafy embellishments and swirls coming up the arms.
Something I really like about this is that the lights aren't candles.
That's always bothered me about many of the ceiling lights. I know this is just a game, but open flames so close to the ceiling make me uncomfortable – even if it is just pixels!
4.

Glassy Ceiling Lamp
I think it's impossible to look at these lamps without getting a rush of happiness.
They're basically just balls of color, and I'm living for it.
This talented creator really excelled at giving them a glassy appearance and all ten of the swatches really pop. They remind me a little of candy… maybe that's where the happiness comes from.
You can use them with any wall height, so feel free to utilize them wherever.
These could turn your Sim's living room into a youthful, hip space, or just make their dining room a lot cooler.
5.

Animated Ceiling Fan Light
If you're big into CC, then you surely recognize Necrodog or his creations.
This Simmer is known for making crazy & impressive things, and now we've been blessed with a ceiling fan and light courtesy of him.
This light has a more modern, rounded style and short height.
What I'm saying is, your Sims can still toss their toddlers up in the air without any heart-stopping clipping incidents.
No, that totally hasn't happened to me… ahem. Anyway.
The blades will continuously spin at a slow speed, providing your Sims with air circulation in a very stylish way.
6.

Celtis Ceiling Light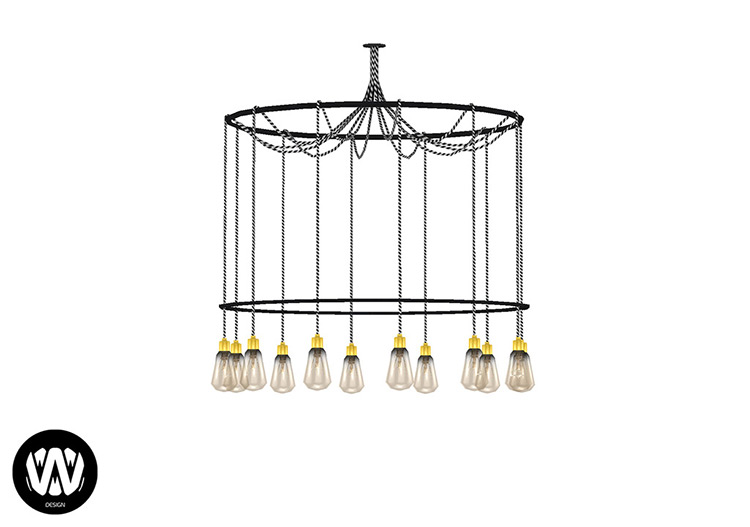 This very unique design comes from Wondymoon.
It features a circular base and bare bulbs cascading down.
I think this is technically a chandelier too? I mean, I don't know the rules or anything, but this has a great mix of casual and elegant!
The way the lights are draped over the circular part looks really cool.
This is one light that hangs a bit low, so you'll probably see a lot of it.
Fortunately, there are five swatches so you can integrate it into any color scheme. You can choose from a variety of gold, black, gray, and white combinations among the bulbs and the fixtures.
7.

Octopus Ceiling Light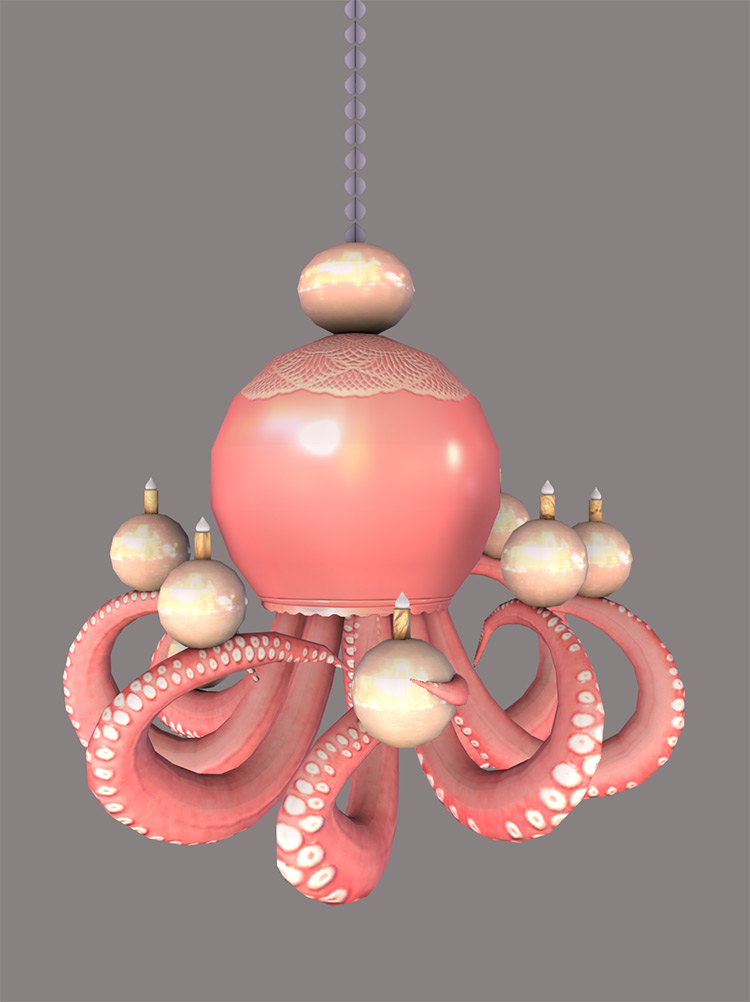 Some of my favorite custom content items are things that are totally unexpected and eccentric… I think an octopus light definitely fits the bill.
This incredible creation was based on a real life lamp – and it shows in the details.
The tentacles are honestly amazing, and they're what's "holding" the lights!
It's a good thing I don't have this in my real house. I'd probably burn my retinas out staring at it.
You'll have nine swatches to choose from here, but come on… it's an octopus lamp! It'll still be amazing no matter the color.
8.

Simpler Times Ceiling Fans
Another ceiling fan, another new animation.
CC like this just never gets old!
Here we have a simple four bladed fan with 18 swatches. Its slow and steady spinning motion will add a laid back vibe anywhere you place it.
This creator put it to use in an interesting way by matching with the rest of the furniture, which is a great idea.
The fact that your Sims have a ceiling and not just a black void below the roof will never slip your mind again.
9.

Erin Ceiling Pendant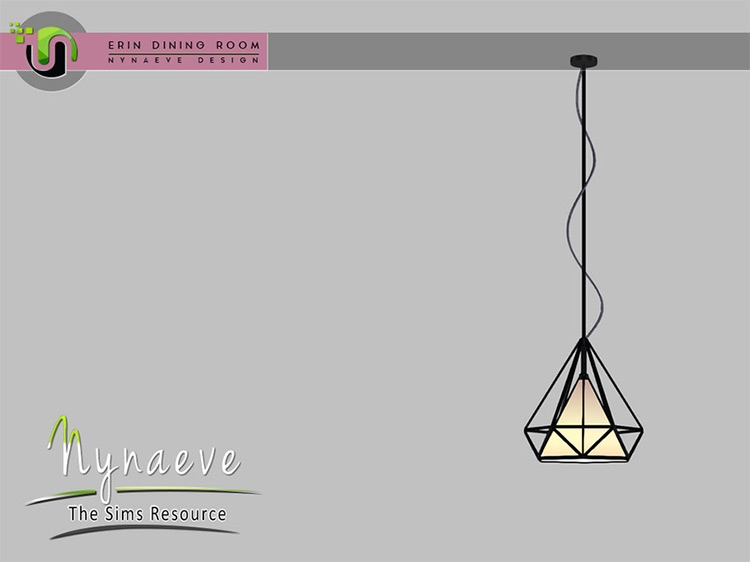 Pendant lights are very chic and modern. They appear in all sorts of remodels nowadays, especially in dining rooms.
But you can do whatever you want with it, obviously.
The geometric lamp fixture and decorative twine effect are just too good to pass up. Plus the black swatch is quite bold as well, and will seamlessly fit in with any furniture or décor.
Depending on the wall height you use, this may be a rather low hanging model.
I think that's what makes a pendant light a pendant light, actually. The end result is guaranteed to be very sophisticated!
10.

Living Vicinc Ceiling Lamp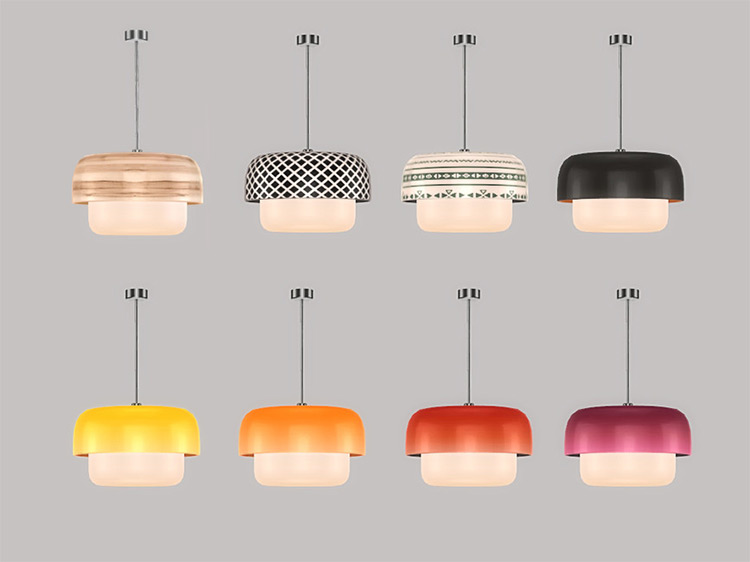 This original lamp from ung999 has an interesting layered design.
It's really just got two parts, and yet they stand out as if this was a massive elaborate chandelier.
I guess depending on how you look at it, it could be like the light itself is wearing a hat. Hmm.
In any case, these unique swatches will not disappoint. You'll have plenty to match your desires with wood, bright solid colors, and even patterns.
This seasoned Simmer clearly knows what we've been needing.
These are unlike anything else that's been added to the game – so your Sim will no doubt have the best decorated house in all the land.
I'm still a little unsure whether lamps are officially considered decor items or furniture, but you know what I'm getting at.
11.

Seraph Ceiling Lamp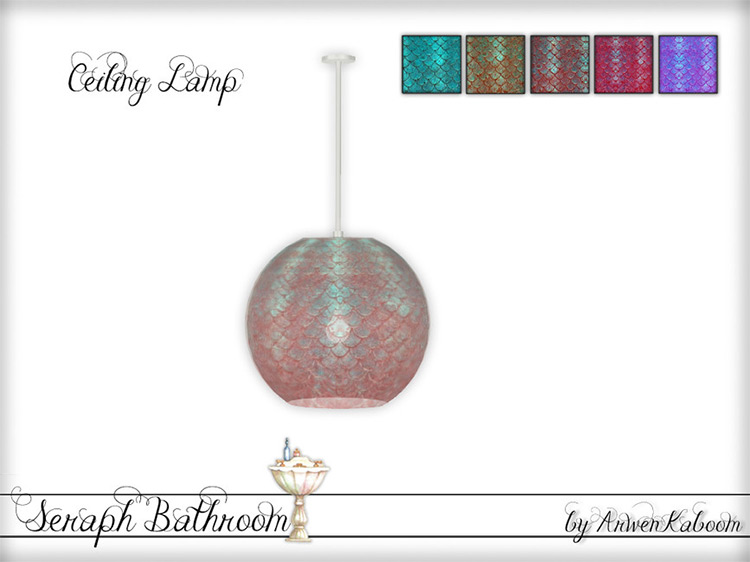 You know what your Sim's house needs more of?
Iridescent scaly things.
And no, I'm not talking about fish… or am I? This is a mermaid-inspired light, so I'll leave the philosophical side to you.
The design of this is one of the most interesting I've seen. It's partially transparent, but the coloring is so intricate and beautiful, it's quite distinct as well.
There are five gorgeous swatches that are sure to add a fun & bright flair anywhere they go.
This CC was actually created for a bathroom set, but hey, your Sim doesn't only have to see when they're fixing one of their less glamorous needs – it's lovely enough to be used in bedrooms and living rooms too.
12.

Fan Ceiling Lights Set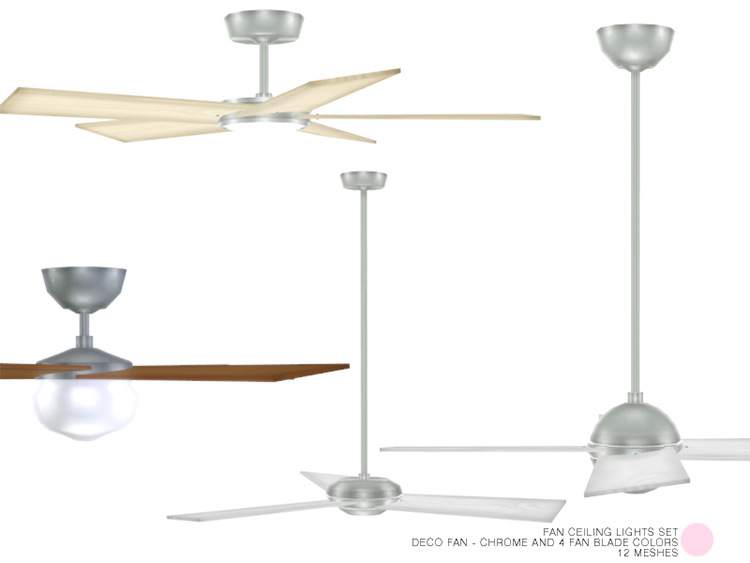 Here we have a strictly decorative ceiling fan set.
Now I've done a lot of praising for the functional ones on this list, but it's not like the deco ones are somehow lesser.
These come with plenty of options too, all of which will look fantastic.
You can choose from two different heights, one short and one long, and that alone can totally change the entire look depending on your wall height.
I'd also like to point out that any fan on this list can double as a light if you use the bb.moveobjects cheat and place them together.
So with a little creativity, this can have even more possibilities!
But even if you just utilize it for all of its decorative glory, you won't regret it.
This fan is simple but mighty helpful for modern builds.
The creator also mentioned that this could be used outside, and it was at that moment I remembered some homes do have fans outdoors. What an amazing life those people must live…
So for even more fun, go all out and build your Sims a roofed deck or porch to include this in!
13.

Siyele Ceiling Lamp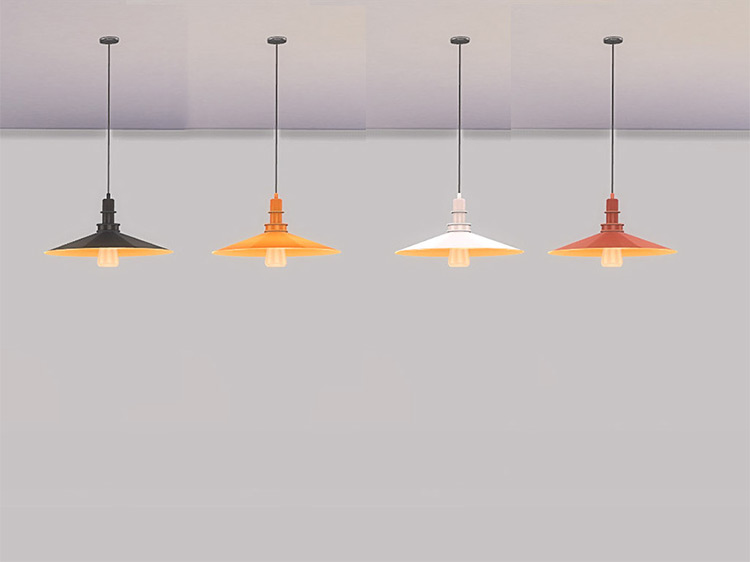 Here's a lamp that looks really familiar to me, and I can't put my finger on why. Was it in a past Sims game? Is it the last thing I saw in my past life before being reincarnated?
We may never know.
But at least as far as lighting goes in The Sims 4, these are unlike anything you've seen.
Their shape is saucer-like and has a bit of a retro feel to me, so I think they would be great for any builds.
In fact, these might be some of the most versatile lamps on this list.
I can totally see them being used for bars, outdoor dining areas, and libraries, as well as typical homes.
14.

Ceiling Lamp Constellation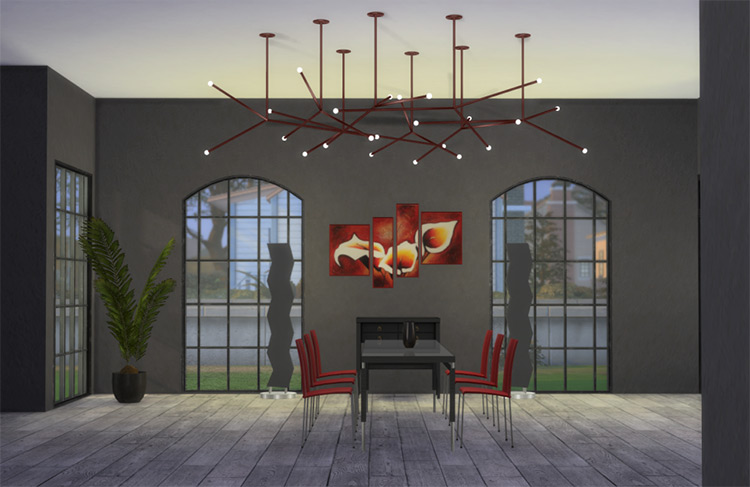 When you think about lamps, it's natural to see the intended purpose as lighting and focus on that.
I mean, that definitely is the primary use.
But what if they could also be like works of art?
That's exactly what's going on here. This elaborate creation is like a constellation for your Sim's home, composed of long fixtures and subtle, beaming little lights.
Many Simmers opt for the short wall options, and this will work for any height.
However, you can really create a dramatic atmosphere by using this on medium or tall walls.
And this lamp will be elegant & artsy for dining and living rooms alike.
It's the perfect mix of the Atomic Age and contemporary, seamlessly blending old and new.
15.

Ceiling Fan with Built-In Lamp
Last but certainly not least, here's one final option for a fan and lamp combo.
Let's talk about the blades first – they stand out 'cause they're just that snazzy.
There are only two swatches here, but their rich, flawless wood textures will be more than enough to make your Sim's house look its best.
While those lovely blades will forever remain as they are (motionless), the light portion is functional.
You'll find this CC under the lighting category in-game, as a matter of fact.
It's designed with a simple rounded style, but it complements the fan wonderfully.
Browse:
Lists
The Sims 4
Video Games