Sims 4 Changing Table CC For Babies & Toddlers
This post may contain affiliate links. If you buy something we may get a small commission at no extra cost to you. (Learn more).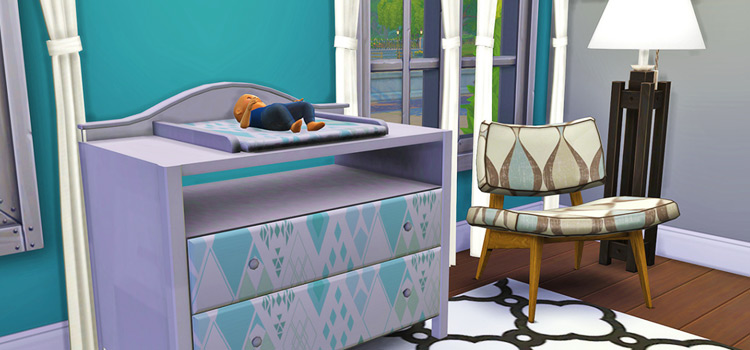 Baby duty is tough work. Especially for new Sim parents.
Unlike gadgets and kitchen appliances, babies don't come with manuals. And they certainly don't have a power switch to turn off their constant needs.
Taking care of their incessant crying is one thing. But changing diapers is a dirty job that would require more than wet wipes and warm water.
So let's take a look at some Sims 4 custom changing table CCs made for babies and toddlers, all of which can help your Sims prepare for messy blowouts!
10.

Sanitation Station Baby Changing Table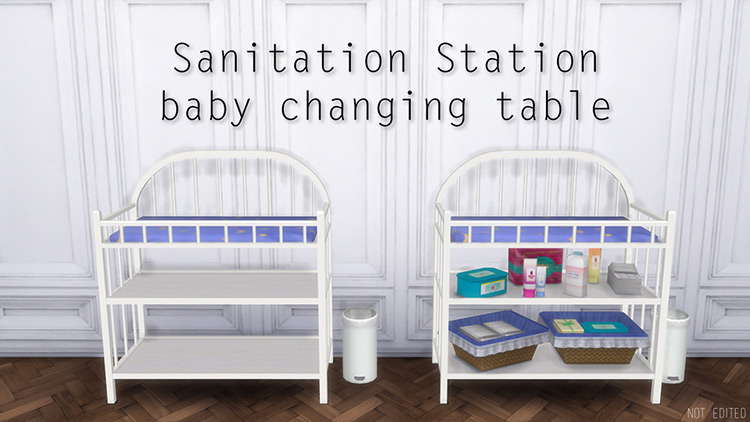 After spamming the Try for Baby interaction, your Sims are finally going to be parents!
From here on out, you can't just sit on your ass and do nothing while your Sim's baby bump grows larger and larger by the minute.
Adjustments have to be made, like allotting space for a nursery and filling it up with everything a healthy baby would need – starting with this organized changing table from plumbpool!
Have all your diaper changing essentials in one place and enjoy choosing adorable pad patterns to hide your baby's numerous poop stains.
9.

Nap Time Nursery Changing Table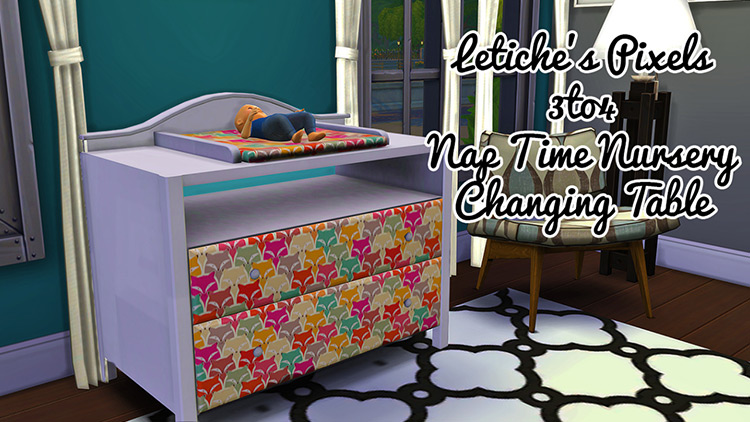 I think everyone would agree that a nursery without color is just wrong.
Babies are like little sponges. They can absorb everything around them, even something as trivial as furniture design.
More importantly, this isn't the middle ages – seeing things in black and white is not trendy anymore.
Give your baby's nursery a burst of color with this CC from letiche's pixels that comes in 23 different color combinations!
8.

Baby Sheep Changing Table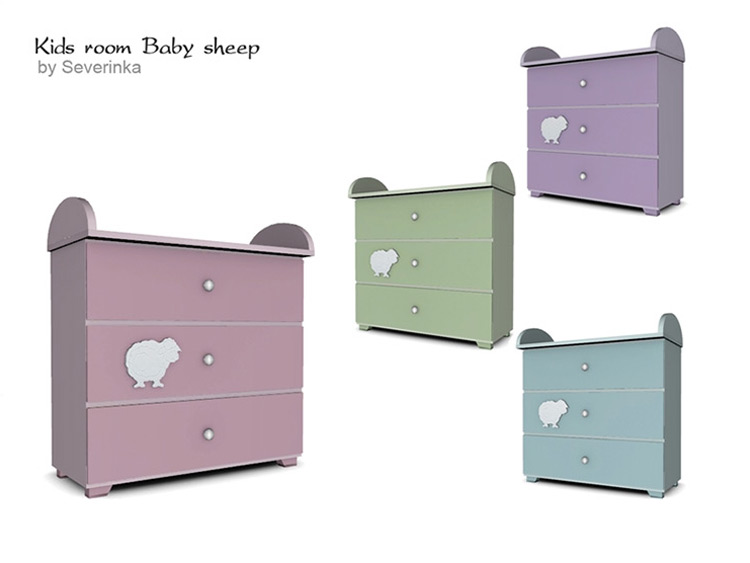 It's no secret that babies are a major cause of sleep deprivation.
Moms and dads often regress to a zombie-like state due to their baby's sudden needs at god-awful hours.
A baby's sleep routine is pure chaos.
But if there's one thing I learned from Mr. Bean, it's that counting sheep may just do the trick to keep the little monsters snoozing.
Get this sheep-embellished changing table and more from this CC pack by Severinka!
7.

Vita Sims Baby Changing Table
Parents have a lot of decisions (and mental preparations) to make before their baby arrives.
Choosing a name or diaper brand can be decided overnight, but designing a nursery would require more time and a whole lot of research.
If you don't have the patience to Google "nursery decorating ideas" then you can find inspiration in this Vita Sims Baby Room CC pack.
Fill your baby's nursery with princess-themed furniture, including a fancy changing table complete with lacy frills and pink padding.
6.

Sweet Buddies Nursery Changing Table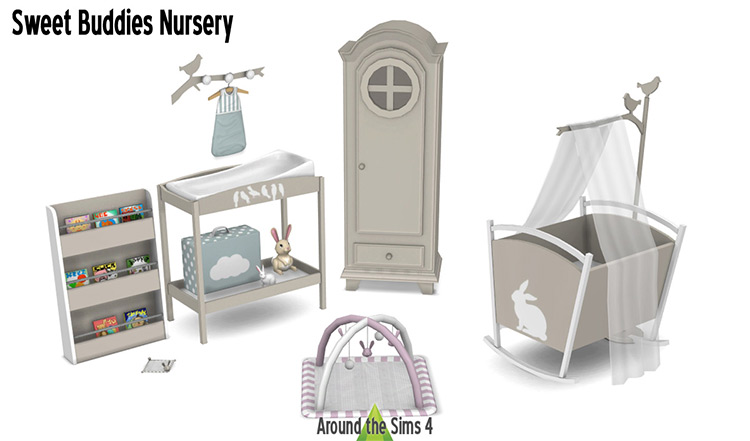 Imagine being a baby and not being able to clean yourself – it's cruel torture, and they don't even know it!
Changing nappies is vital in ensuring a healthy Sim baby.
And to get that done fast, maybe this changing table CC could help.
Secure your pooping machine in a comfortable changing table that's best paired with the other items in the Sweet Buddies Nursery set!
5.

Brittpinkiesims' Nursery Set Changing Table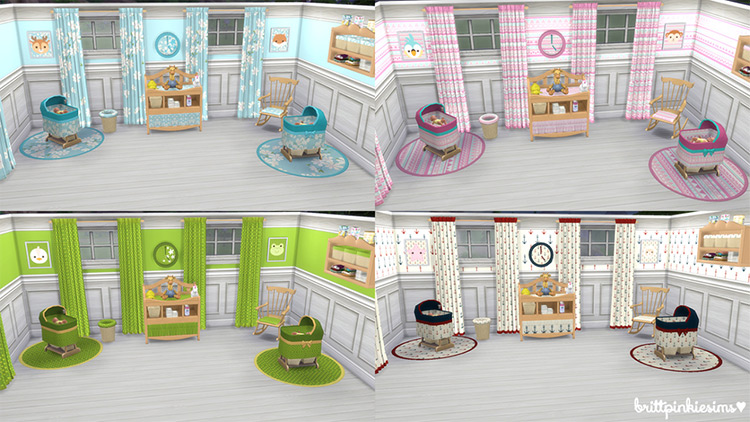 If there's one instance that ruined babies for me, it's that diaper changing scene in The Change-up.
For as long as I'll live, I'll never forget that baby who shat all over Jason Bateman's face… and mouth.
That one scene proved that changing diapers is a nasty business. And if you don't want any of that play-doh to scatter then a changing table is your best chance for decontamination.
Be prepared to clean up your baby's doo-doo with this functional changing table from brittpinkiesims that comes with 16 swatches and additional slots for storage!
4.

Boho Nursery Changing Table
IMO, anything that's made out of wood is beautiful and timeless.
Just like this Boho Nursery Changing Table.
Once your poopers are all cleaned up, this changing table can easily look like a rustic drawer.
If you're going for a cozy cottage aesthetic then this Boho Nursery CC pack has that natural feel that can freshen up a room – even when nature calls.
3.

Laura Nursery Changing Table
When playing TS4, creativity should be valued above all else.
But with a baby on the way, there's not a lot of time for CC shopping and building things from scratch.
Thankfully you can easily download this Laura Nursery set, which comes with a simple yet charming changing table.
Paint your nursery in the delicate colors of pink and beige and have all the important baby stuff that would ensure your bundle of joy survives infancy.
2.

Acnassy Nursery Changing Table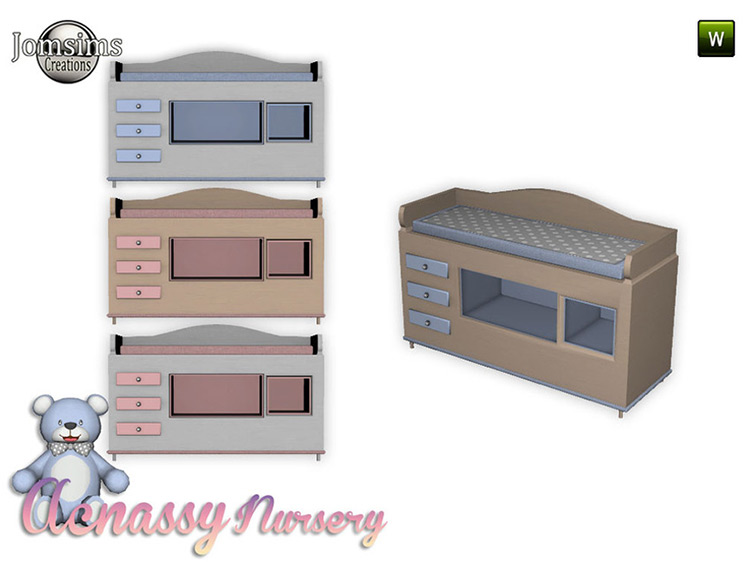 Most baby blogs would advise first-time parents that changing tables aren't necessary since they can use any countertop, or even their own bed, to do the cleanup.
But we know you don't have to put up with this stinky workaround.
If you have the space to spare in your nursery, then this changing table CC from jomsims provides a deluxe diaper changing experience for your Sim Mama-to-be.
Conveniently stock the changing table with baby essentials and never have to worry about missing baby powder, diapers, or messy poop ever again.
1.

Kalehouse Scandi Baby Stuff #2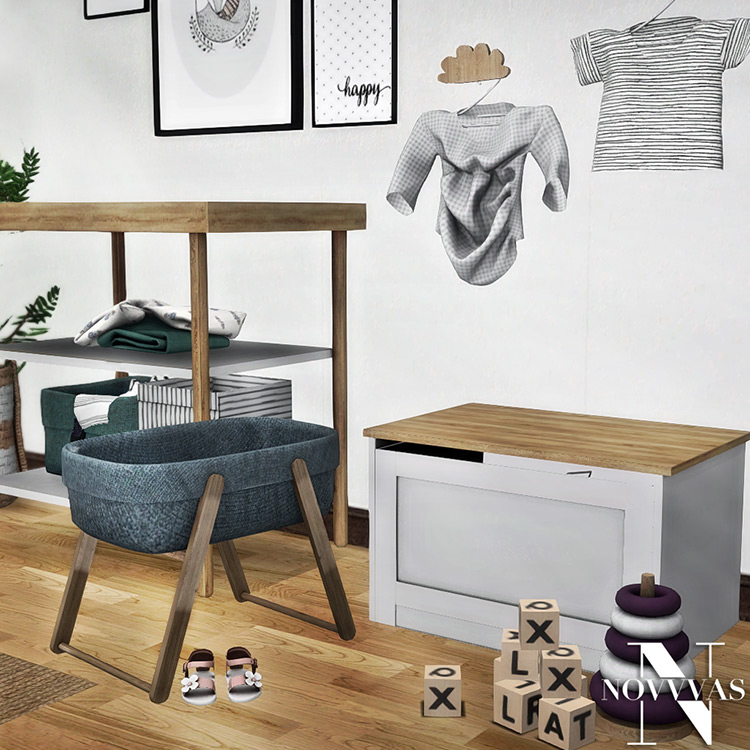 Millennials are a different kind of breed of parents.
Gen Ys love simple designs and are even more in love with anything that's branded as "modern minimalist."
They want something elegant, versatile, and stylish enough that it can fit the aesthetic of their Pinterest mood board.
Luckily, this lovely changing table CC from the Kalehouse Scandi Baby Stuff #2 is all that and more.
Change your baby's nappies in style, and enjoy even more swatches with this recolored version from DK-Sims.
Browse:
Lists
The Sims 4
Video Games