Best Christian Dior CC For The Sims 4 (All Free)
This post may contain affiliate links. If you buy something we may get a small commission at no extra cost to you. (Learn more).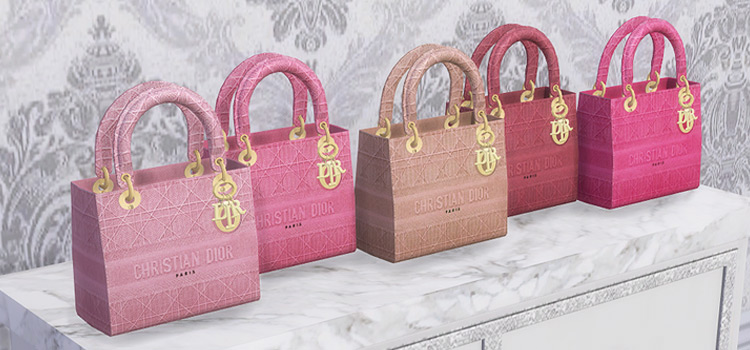 More than any other previous installment, The Sims 4 offers a plethora of fashion-conscious careers.
From being a famous actor to a social media influencer, if your Sim wants to join the elite rank of the rich and famous, they'd better have an immaculate wardrobe.
When fashion's your passion, the label means everything.
And few do it better than Christian Dior.
If you're looking for some Dior CC to spice up your game, then we've got you covered.
11.

Handbag Christian Dior Set
We're kicking off our list with this Christian Dior Handbag CC by JonSims, a super fashionable handbag with gold as the star of the show.
Both the purse's handle and the Dior nameplate are shiny gold, and the clutch-sized bag is sleek enough to go with any outfit.
It comes in four shades (burgundy, purple, brown and black) and it's also wearable!
Just head over to the hat category in accessories so your Sim can try it on.
10.

Lady Dior Bag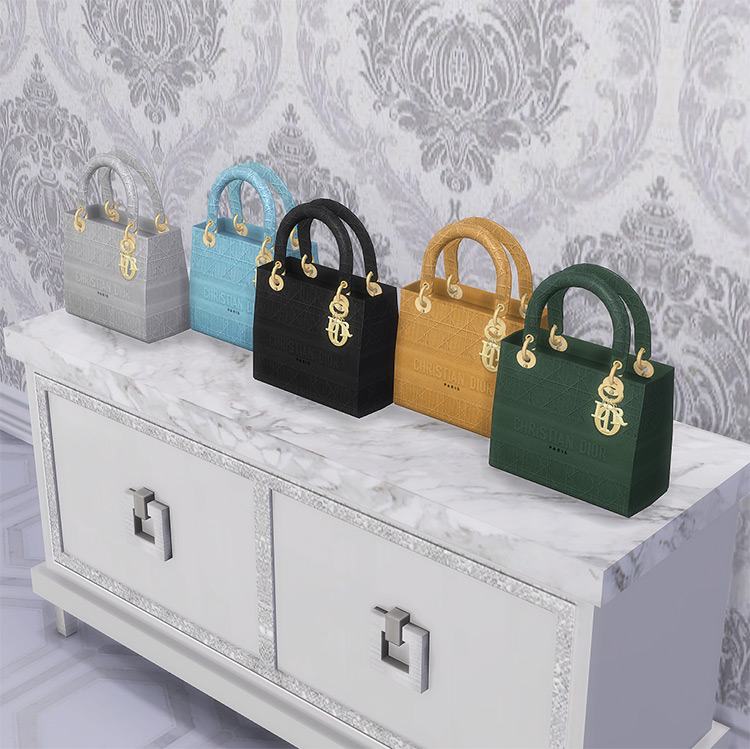 Pretty in pink (and several other colors too!) is the best way to describe PlatinumLuxeSims' Lady Dior Bag.
This decor-only purse comes with thick handles, a unique embroidered pattern and gold accents.
There are ten color variations in all, with half being gorgeous shades of pink.
Head over to PlatinumLuxeSims' Patreon to download for free.
9.

Dior Book Tote
This Dior Book Tote by BergdorfSims is totes cute!
Spacious for all your Sim's belongings with perfectly sized handles, this one's a gem for the 22 different swatches consisting of different colors and patterns.
I love the blue and white palm trees, but there's enough options to go around and suit everyone's tastes.
Best of all: it's available as both decor and a wearable accessory.
And if you like it, BergdorfSims has an entire collection of Dior CC to explore!
8.

Dior Coat
Love the Dior Book Tote?
PlatinumLuxeSims' is back again with a Dior Coat that looks exactly like one of the book tote swatches.
It's black and white, with stripes, and the classic Dior logo and brand name on the back.
Note that you'll need Snowy Escape for this one, as it uses a pack-specific mesh. But if coordination is a must for you, make sure to grab both for your CC folder.
7.

Dior Shoes
When it comes to closet clutter, there's nothing better than shoe CC.
These Dior Shoes by LeoSims give you exactly what you're looking for when furnishing a high-end wardrobe – 20 pairs of stylish Christian Dior heels, all different colors and patterns.
And what's awesome is while they're somewhat high quality textures, they'd still look great in a Maxis-Match friendly home.
6.

Nicki Minaj Christian Dior
Speaking of Maxis-Match, Quen2n's Nicki Minaj Christian Dior outfit is a rarity, pairing together a real-life fashion brand without going Alpha.
The camo-chic bralette, high-waisted briefs and bucket hat were inspired by a similar outfit worn by Nicki Minaj.
There are two colors overall, and I could definitely see model Sims sporting this on a runway.
5.

Christian Dior Vintage Necklace
Bold and gold?
I'm sold.
To call this Dior Vintage Necklace CC by Cleo a statement piece is a total understatement.
The thick gold chain and the massive "CD" initials are definite attention grabbers.
It does have a slightly tarnished look (hence the 'vintage'), but it gives this necklace some character.
This one's high quality, base-game compatible, and can be worn by ages Teen through Elder.
4.

Diamond Dior Stud Earrings For Kids
You're never too young for high fashion.
Giulettasims' Diamond Dior Stud Earrings are the perfect balance of flashy and tasteful.
The CD initials are covered in gems, but subtle enough that they won't overpower any particular hairstyle or outfit.
Choose from eight colors including blue, green, purple, and pink (among others). There's also a toddler version, should you want your littlest Sims in diamonds, too.
3.

Dior Sheer Shirt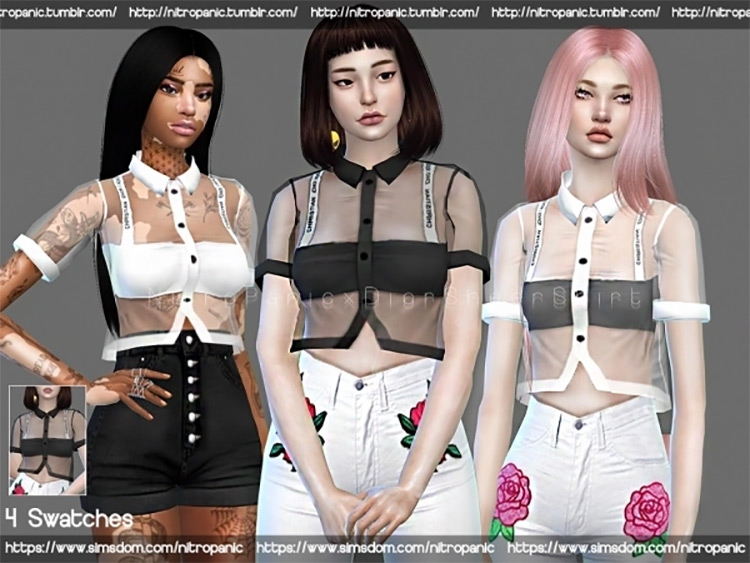 Runway chic and casual don't usually go together.
But somehow, Nitropanic makes it work with this custom sheer shirt CC.
The combination of a cute bralette with a sheer button-up is far more interesting than either on their own. But this also looks like it'd be comfy for your Sims to wear in the heat of summer.
This CC comes in four swatches, including black and white, and you only need the base game to get this installed.
2.

Christian Dior Tulle Corset Dress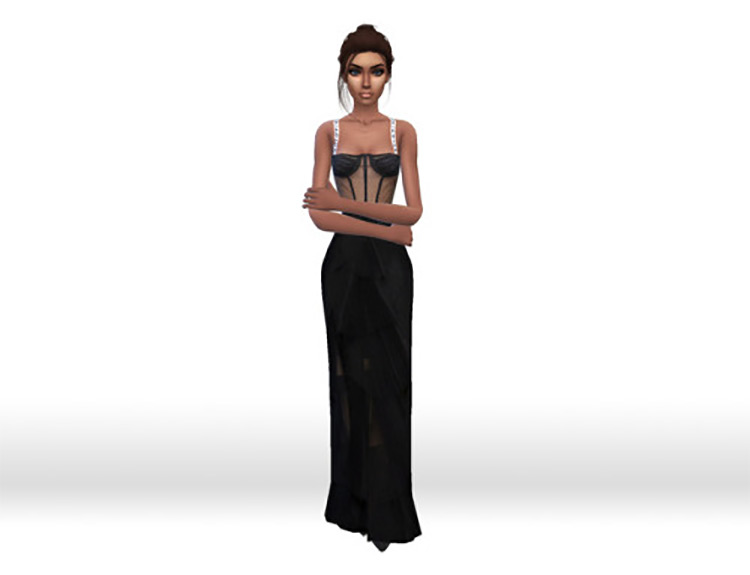 It's super rare to find free recreations of Dior items for The Sims 4.
That's why this Christian Dior Tulle Corset Dress by SimsRunway is an absolute must-have for all Dior fans who can't, or aren't sure about paying for CC just yet.
Inspired by a garment from Dior's Spring 2017 collection, this standard floor-length gown deviates from the norm with its translucent tulle corset and Christian Dior-branded straps.
Wear it in black, white, and two shades of red, and don't forget to grab the mesh first before downloading.
1.

Christian Dior Wedges
If the decor Dior shoes didn't satisfy your need for wearable heels, just know that your time reading this list was not in vain.
RedHeadSims' Christian Dior 01 wedge heels are pure works of art.
Honestly, the heels definitely look over six inches long, and the webbed strap design around the feet and ankles are just fun to look at.
This CC has 16 colors, HQ mesh, and is Teen to Elder friendly.
Browse:
Lists
The Sims 4
Video Games