Sims 4 Christmas Clutter Packs: The Ultimate Festive Collection
This post may contain affiliate links. If you buy something we may get a small commission at no extra cost to you. (Learn more).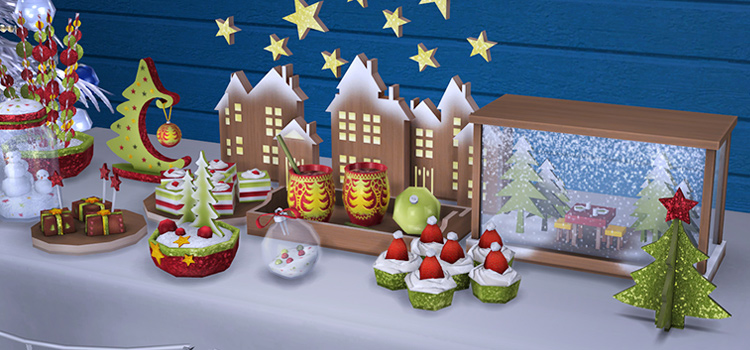 Aside from holiday shopping, there's also holiday decorating.
And believe you me; sometimes the unspoken competition between neighbors reaches all new levels of crazy.
Some family just has to have the brightest, sparkliest, and most jarring holiday house on this side of the Atlantic.
Now your Sims can join in the friendly fire (or not) with these custom Christmas CC clutter & deco packs.
1.

Christmas 2020 by soloriya
A lovely mix of seasonal sweets, treats, and cutesy décor, soloriya's Christmas 2020 set contains vibrant items you can use to clutter up any flat surface.
The dining table, the hallway cabinet, the unused desk in the foyer. I guarantee their custom Christmas candies and inedible peppermint sticks will add a festive, eye-catching pop of color!
2.

Hello Santa by JenniSims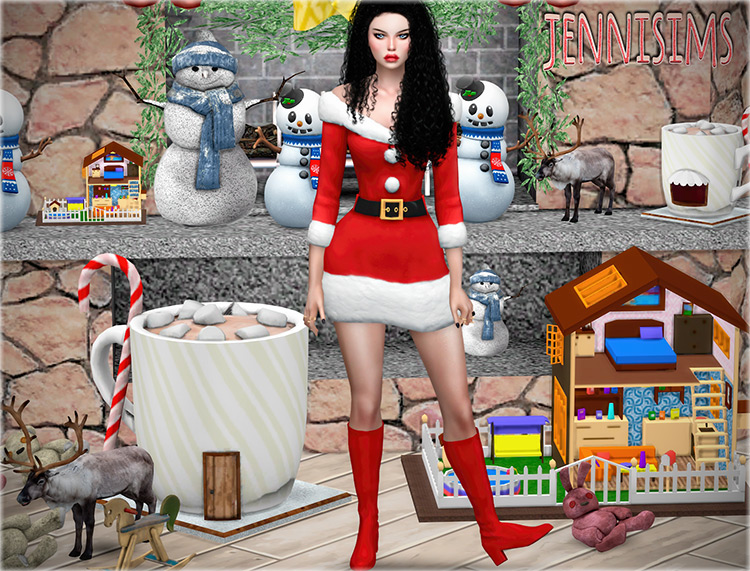 This pack from JenniSims is full of decorative Christmas-themed statues that your Sim can use for photoshoots, Christmas tableaus, or just general festive décor.
They're all available for the low, low cost of a single Simoleon each.
Plus you can resize them as you see fit without messing up the mesh.
3.

Handmade Holidays by soloriya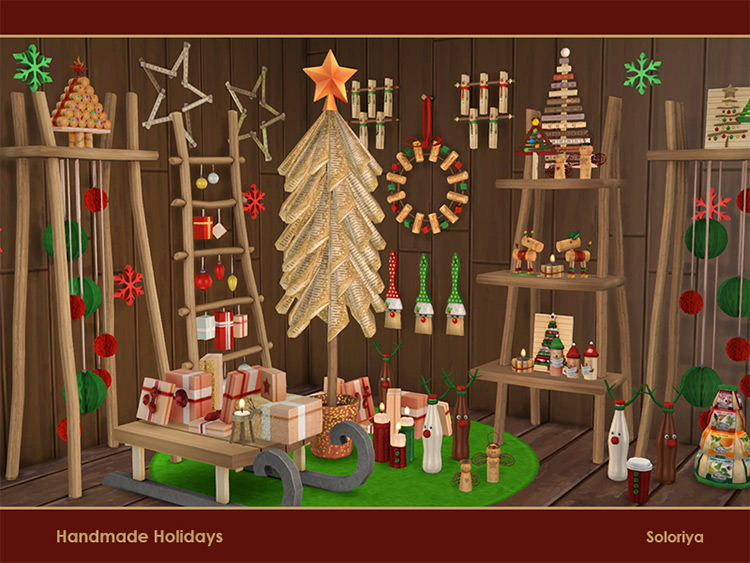 I love the name of this pack! And the concept is so heartwarming. And adorable!
It's basically a set of handmade Christmas decorations. And, amazingly, the customization shows.
It's not 'shoddy' in any way, either.
The items just look personalized — if not a tiny bit lopsided.
Trust me; they look like the furthest thing from 'mass manufactured,' and that makes them so appealing.
4.

Christmas Items by SimmerKate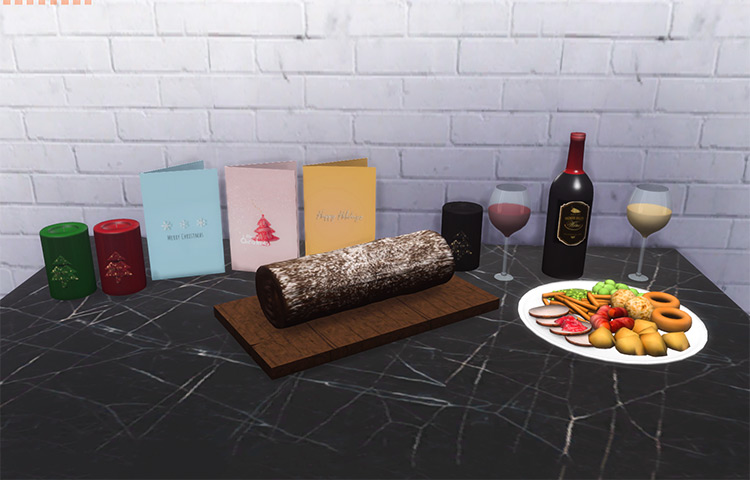 A couple simple holiday clutter items your Sim can use to create aesthetic, Simstagram-worthy pics!
There's a Yule log, a plate of Christmas dinner, and some red wine to wash it down.
Plus, two swatches of a lovely seasonal (and probably scented) candle to set the mood!
5.

Christmas Morning Clutters by jomsims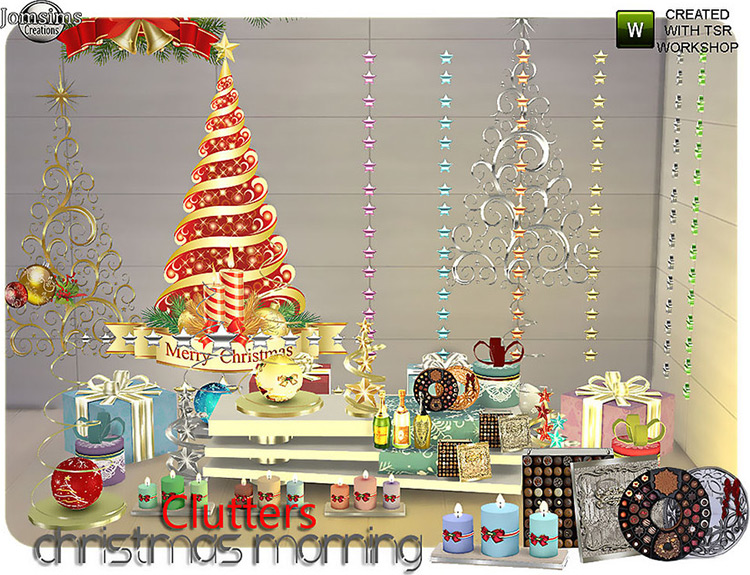 Candles, chocolates, and champagne.
Is there a better way to start the day — specifically Christmas day?
Throw in a couple presents and I'd say you're celebrating the season right. Jomsims clutter pack contains all that your Sim needs (and maybe a little extra) to have a festive, on-brand Christmas morning indeed!
6.

Christmas Treats by neinahpets
If there was ever a perfect season to sneak in a little extra sugar, it's Christmas.
No such thing as a diet during the holidays!
Eat that minced pie, get that extra serving of ham, and load up on the mashed potatoes.
For dessert, check out neinahpets' set.
It's a colorful, festive array of seasonal treats. Cookies, cupcakes, frosted éclairs. All decorative, but still so pretty!
7.

Life is Strange 2 Christmas Set by mimoto-sims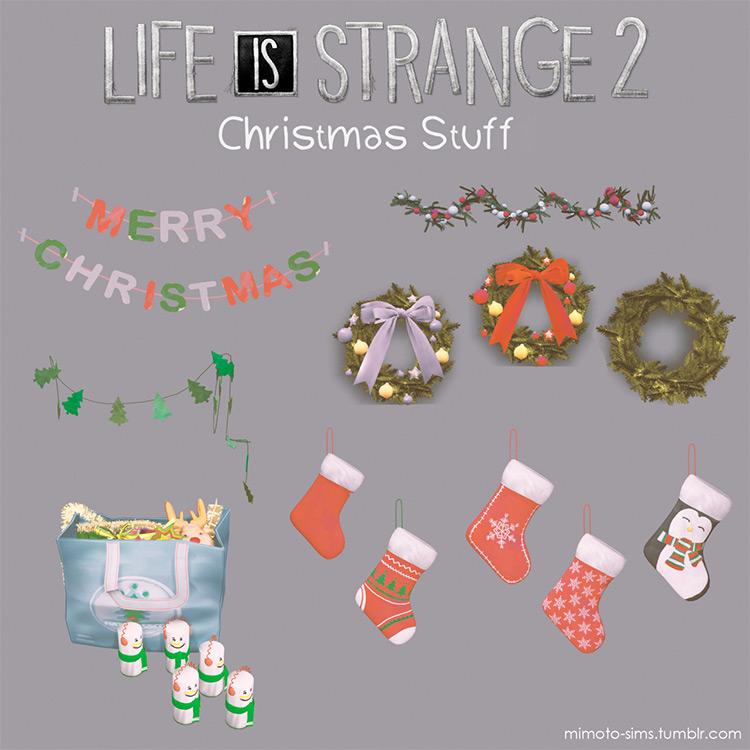 I enjoy seeing TS4 conversions of Life is Strange objects. They just fit EA textures and designs so well despite being from a different game.
Mimoto-sims' Life is Strange 2 Christmas clutter pack includes some decorative snowmen, "hangable" stockings, and three different kinds of seasonal wreaths!
8.

Happy Holidays II by kardofe
This set feels like Santa's workshop.
Toy trains, gingerbread houses, and little wooden sleighs?
Either the family has a lot of kids (and kids at heart!) or jolly old Saint Nick's little helpers have been working double-time. There's even a lovely pile of gifts to fill up the sled!
9.

Winter Choices by SIMcredible!
SIMcredible!'s got another tiny box of goodies; every Simmer's "lovely source for living touch supplies!"
This iteration of the box is wonderfully wintery.
It's got decorative ice skates. It's got a cozy thermos for hot drinks. It's got beautiful checkered blankets.
Basically, if your Sim's pad needs to look more personal and lived-in, this is the seasonal set for you.
10.

Clutter for Christmas by Stefizzi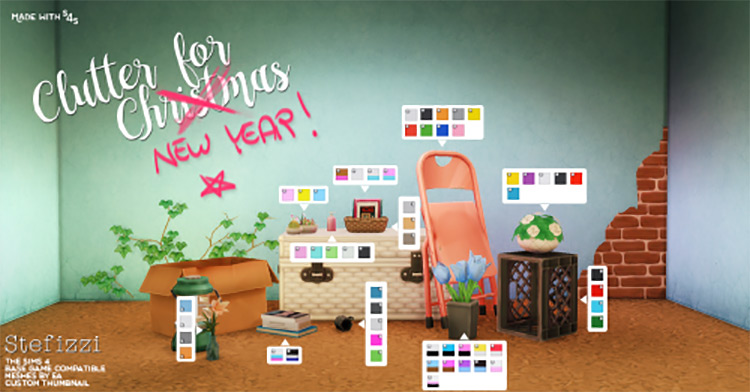 The items in this set aren't as festive or as jolly as the other sets, but they're still colorful enough – and clutter-y enough! – to make the cut.
It's a mix of fresh flowers, brightly-colored folding chairs, and a tiny potted cactus (to name a few).
Maybe your Sims like unconventional Christmas celebrations. Or maybe this is their holiday haul. Either way, the set is charming!
11.

Christmas Buffet by Around the Sims 4

I know this is, like, the third or fourth set of seasonal sweets I've recommended, but I can't help it.
They look really good!
ATS4's Christmas Buffet set has a healthy mix of edibles and non-edibles, so at least there's variety! I mean, technically speaking, they're all purely decorative.
(Please don't let your Sims eat them).
There are at least tea pots, mugs, and Santa plates to balance out the gingerbread cookies and peppermint lollies!
12.

Christmas Décor 2021 by Severinka_
The vibes of this set just scream homey and handmade.
Wooden snowflake stars, tiny, asymmetrical houses, and an acorn candle holder?
They've got the same delicate, painstakingly-crafted feel to them as the items in soloriya's Handmade Holidays set.
Overall? Very wholesome.
13.

Christmas Cookie Jar by ddaengsims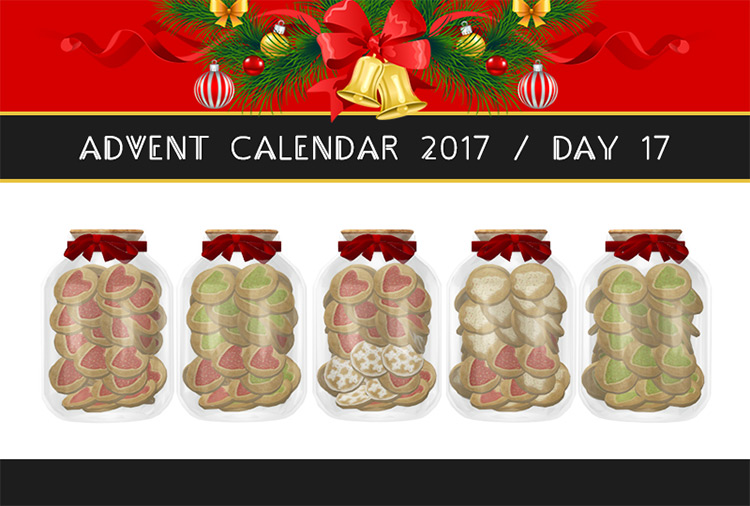 So, who wants cookies?
Ddaengsims got red iced cookies, green iced cookies, and a couple other wintry designs mixed in. All tucked neatly into a pretty glass jar.
This is one of the few single clutter items I'm recommending amidst a sea of packs and sets.
Honestly? I don't mind. This Christmas cookie jar is too cute to ignore!
14.

From Riekus by leosims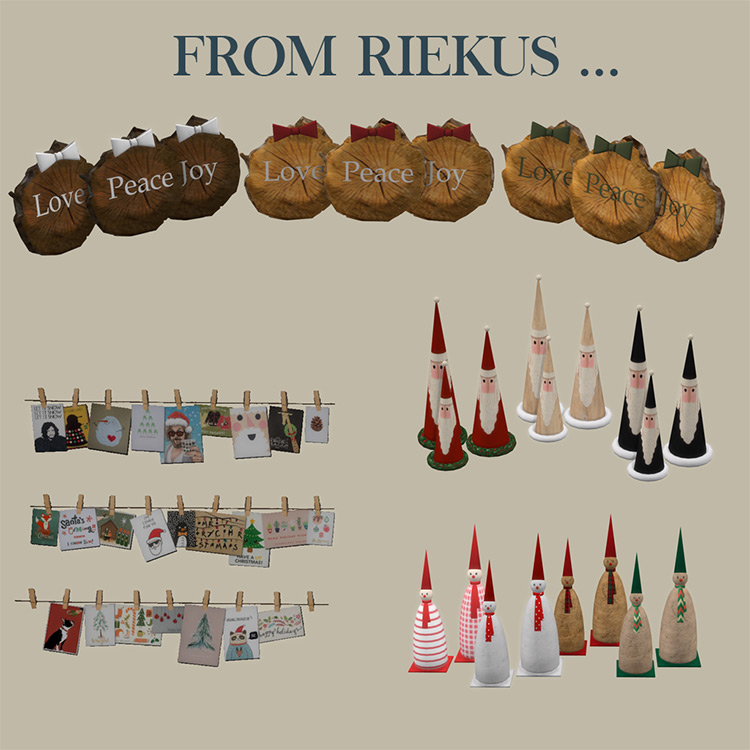 I never knew what Santa cones were until I saw this set by leosims.
Now I've seen them in all their party-hat-esque glory, and I want one.
Sadly, it looks like my Sims (and yours, if you download this CC set!) will be getting them first.
But if the conical Santa décor doesn't appeal to you, don't worry! This set is full of unique, Christmas-y pieces that could look great in your Sim's living space!
15.

Cozy Christmas Clutter – Part 1 by Chicklet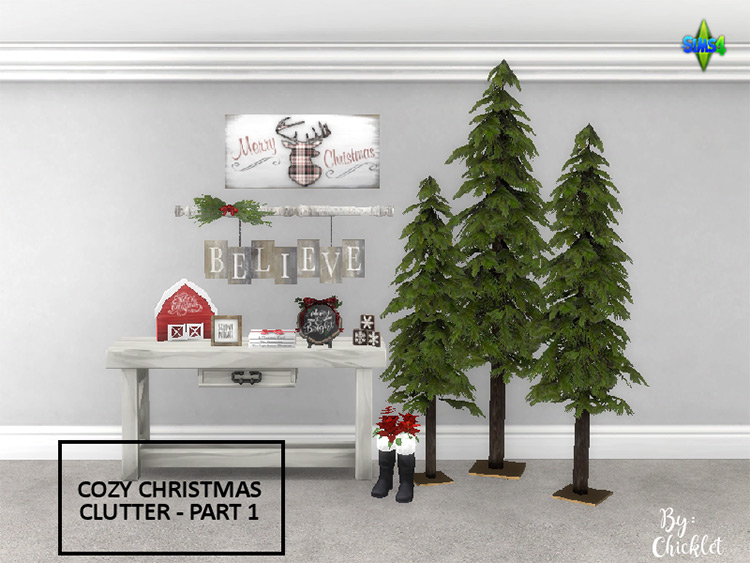 If there was ever a TS4 CC pack that fit the theme of our lists perfectly, it'd be this.
This décor set is part one of a three-part series from Chicklet that – as the name says – is focused on Christmas clutter.
Part 1 contains mostly tabletop decorations (wooden signs, little sculptures, etc.) and about three wall hangings.
16.

Cozy Christmas Clutter – Part 2 by Chicklet
Part 2 of Chicklet's Cozy Christmas Clutter contains slightly bigger clutter items than those in Part 1.
There's a non-functional barn door (that could be used to decorate archways), a moderately-sized window frame painting, and a wood palette floor sign that could challenge any Christmas tree's height!
17.

Cozy Christmas Clutter – Part 3 by Chicklet
Part 3 of Chicklet's Cozy Christmas Clutter set combines the size concepts from the first two parts. There are decorative items that are small enough to fit on a tabletop, like a rustic wooden star, a tiny metal reindeer, and a cute Charlie Brown Christmas tree.
But there is also a full-sized vintage pickup truck.
Hey; if your Sim wants festive, eye-catching Christmas lawn décor, the truck checks all boxes!
18.

Bath & Body Works Candle – Winter Collection by sooky88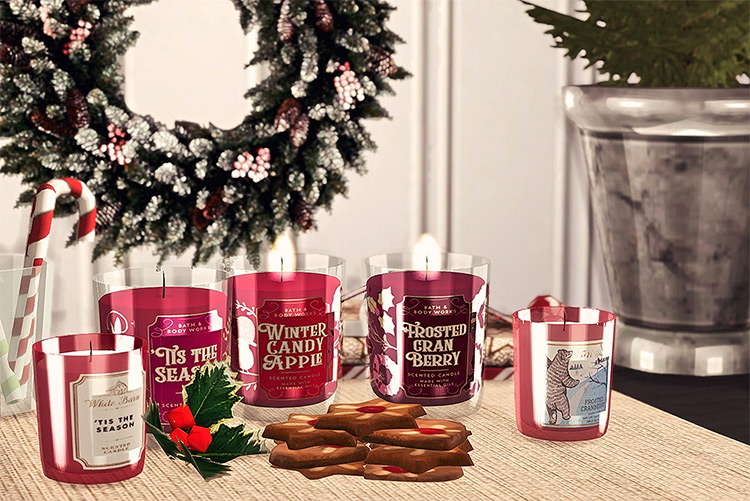 Scented candles are my guilty pleasure (as I'm sure is the case for a lot of people).
They're clunky, expensive, and not meant to last long. But hey; we're here for a good time, not for a long time.
So fill your Sim's house with the wonderfully wintery scents of Iced Vanilla Woods, Sparkline Icicles, or 'Tis the Season from Bath & Body Works. It'll definitely get them into a festive mood!
19.

Rustic Christmas Deco Set by simthingnew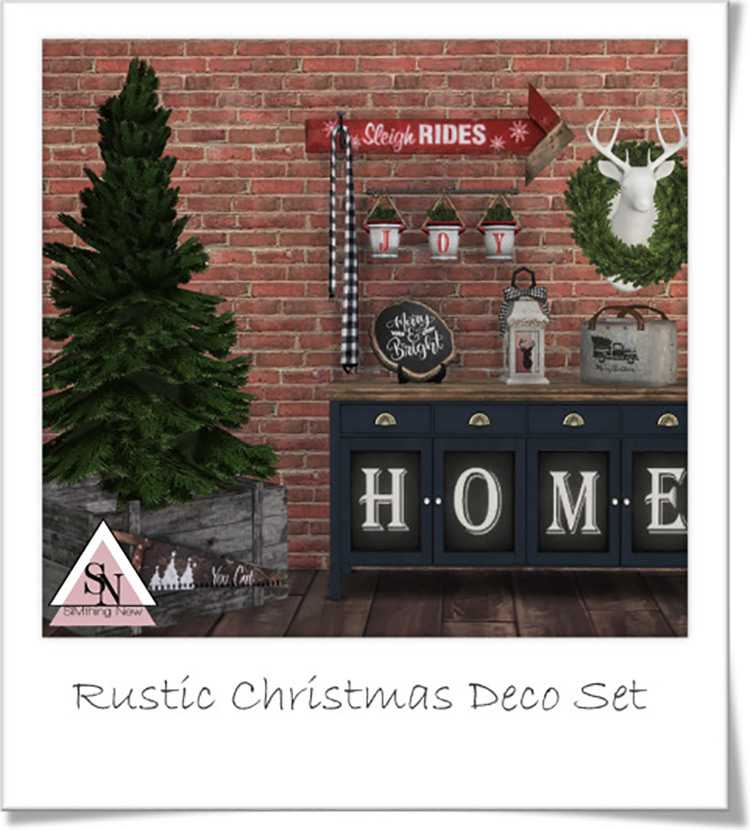 For Sims spending the holidays up in the mountains or out in the woods (far away from the commercialized Christmas community), these lovingly worn clutter items should fill up the space quite nicely.
Especially the wall-mounted planters that spell JOY — that one's my personal fave!
20.

Reindeer Pot & Ginger Biscuit by Miguel Creations TS4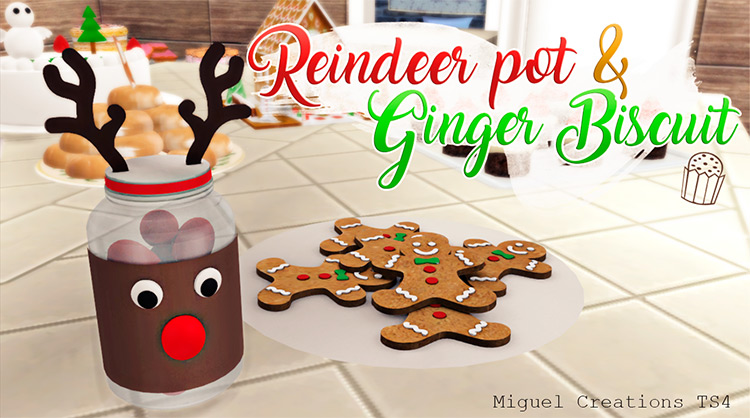 And last – but most certainly not the least – is this adorable reindeer jar + gingerbread men biscuits combo by Miguel Creations.
I know ATS4's Christmas Buffet set had similar items in their set, but I thought I'd include this one anyway.
It's a lot cleaner, a lot more vibrant, and a little less lopsided than its predecessor. At least you've got options.
And, hey; you can always mix the two from each set to create visual texture!
Browse:
Lists
The Sims 4
Video Games